Periodically, airlines devalue their miles. United Airlines is one of the airlines that we earn travel award points through credit card sign on bonuses. In June 2017, United was kind enough to notify us that they will devalue their MileagePlus miles on November 1, 2017. The opportunity allowed us to figure out where to visit next within the next few months. We always wanted to visit Australia and New Zealand or visit other parts of Asia such as Malaysia.
One of United's best values using award points are flights between Southeast Asia to Australia/New Zealand. Since I was in Vietnam for work and Jackie flew out to visit me, it was the perfect opportunity to head down to Oceania area for a short vacation. Our ultimate destination was New Zealand, and we lucked out with having a layover in Sydney, Australia. The cost was 30,000 award points + $12 per person and we were excited to fly on one of the Star Alliance partners, Thai Airways!
Our flight schedule was:
Flight 1: SGN (Ho Chi Minh City/Saigon, Vietnam) to BKK (Bangkok, Thailand) via Thai Airways with an 8 hours layover in Bangkok

Flight 2: BKK to SYD (Sydney, Australia) via Thai Airways with a 12 hours layover in Sydney

Flight 3: SYD to AKL (Auckland, New Zealand) via Air New Zealand
It was a journey of traveling for over 30 hours!
Check out our experiences with specifically the business class Thai Airways flights below. A lot of flight reviews report the first class experience, but we were unable to find flight availability. We were lucky enough to find business class availability from our flights from SGN to BKK and BKK to SYD, and economy from SYD to AKL. We'll share our experience with Air New Zealand in a separate post.
*Disclosure: We have an affiliate link above. As an Amazon Associate, we earn from qualifying purchases. If you click on it and make a purchase, we receive a small commission. There is no cost to you. Appreciate the support.
---
Flight 1: SGN to BKK (Saigon to Bangkok)
We initially had difficulties getting our boarding ticket as we didn't have a visa on file for arriving to Sydney. It was a mistake on our end as we thought we could get one on arrival. We'll share more about our visa fiasco soon.
After crossing Security and Customs at Tan Son Nhat International Airport (SGN), we had access to the Rose Business Lounge. Due to our late arrival at the airport, we briefly went through the lounge to see what was available. It's too bad we couldn't enjoy the amenities such as food and beverages prior to boarding the plane. The offerings are similar to that of Orchid Lounge which the Priority Pass can get us access to.
This flight to Bangkok was on a Boeing 777 aircraft and was a relatively short 1.5 hours flight. Seats were comfy and had a great color scheme of gray, magenta, and purple. We received our pre-flight drink, and were on our way! The flight didn't have an amenity kit which was fine due to the short flight.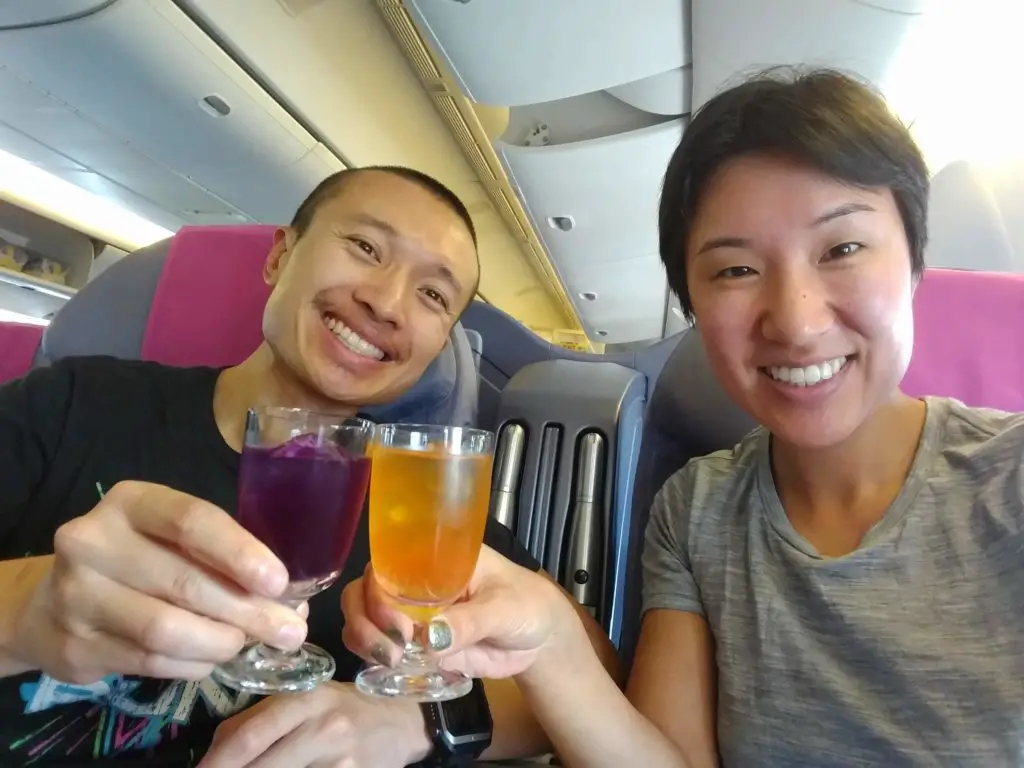 After takeoff, the meal was served. The meal was smoked salmon salad, chicken fried rice, and sticky rice with banana. We requested a seafood special menu for Jackie, but there wasn't one available on the flight.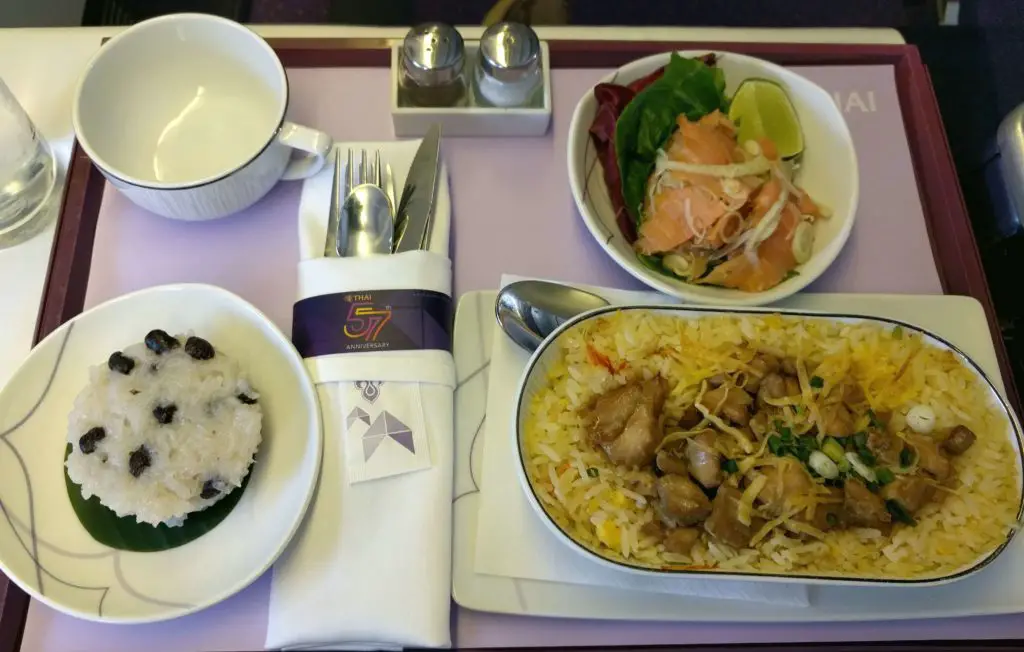 We had a 8 hours layover at Suvarnabhumi Airport in Bangkok. There were good intentions to leave the airport and explore in the city. However, we chose to spend the time at the Thai Airways's Royal Silk Lounge and also work on our Australia electronic visa for $20 AUD per person. The e-visa took less than 5 minutes to complete per person and had instant approvals.   
On a return trip, we'll make use of this stopover and spend at least 3 days in Bangkok to eat and shop our way through this vibrant city.
---
BKK Royal Silk Lounge 
Since we were on business class, we had access to the Thai Airways Royal Silk Lounge. The lounge is quite large and has many sections of seating to choose from. The food selection was also quite good. There were made to order noodle soups, shrimp siu mai, Khao Tom Mad (banana and sticky rice), Hainan chicken rice, pastries, and so much more.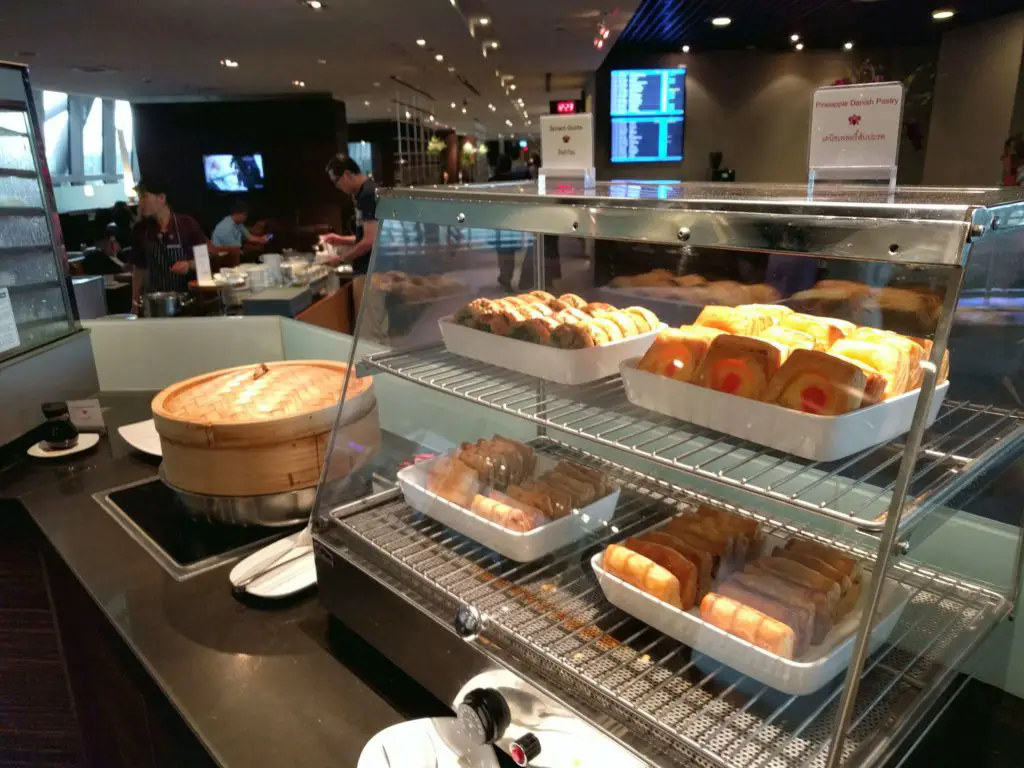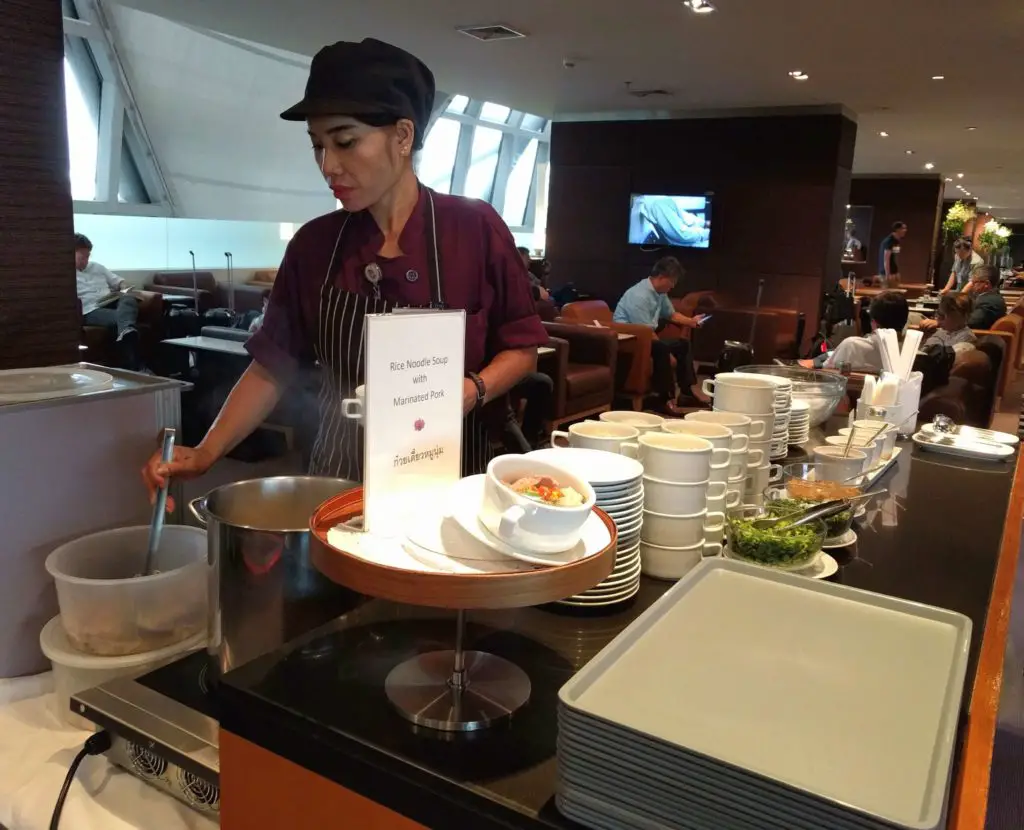 Royal Orchid Spa
One benefit of the Thai Airways business class ticket is a complimentary 30 minute Thai massage and access to their spa at the Royal Orchid Spa. The first class ticket provides a 1 hour full body massage. The spa is across from the lounge. To claim the massage, you show your boarding pass, passport, and complete a form.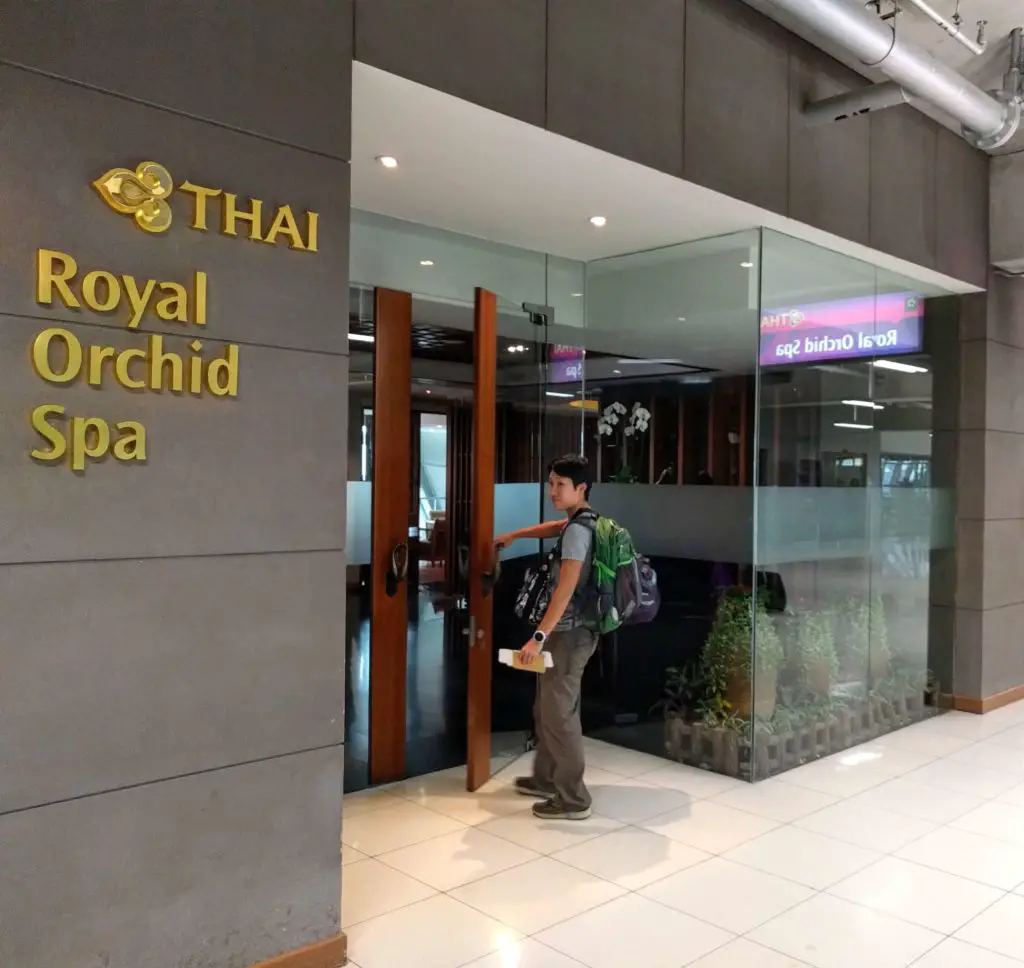 You can choose either a 30 minute neck and shoulder massage or a 30 minute foot massage. We both opted for the neck and shoulder massage and any knots we had were crushed into oblivion. It would have been great to have had even a longer neck and shoulder massage due to the long travels. All guests have a private room for the massage.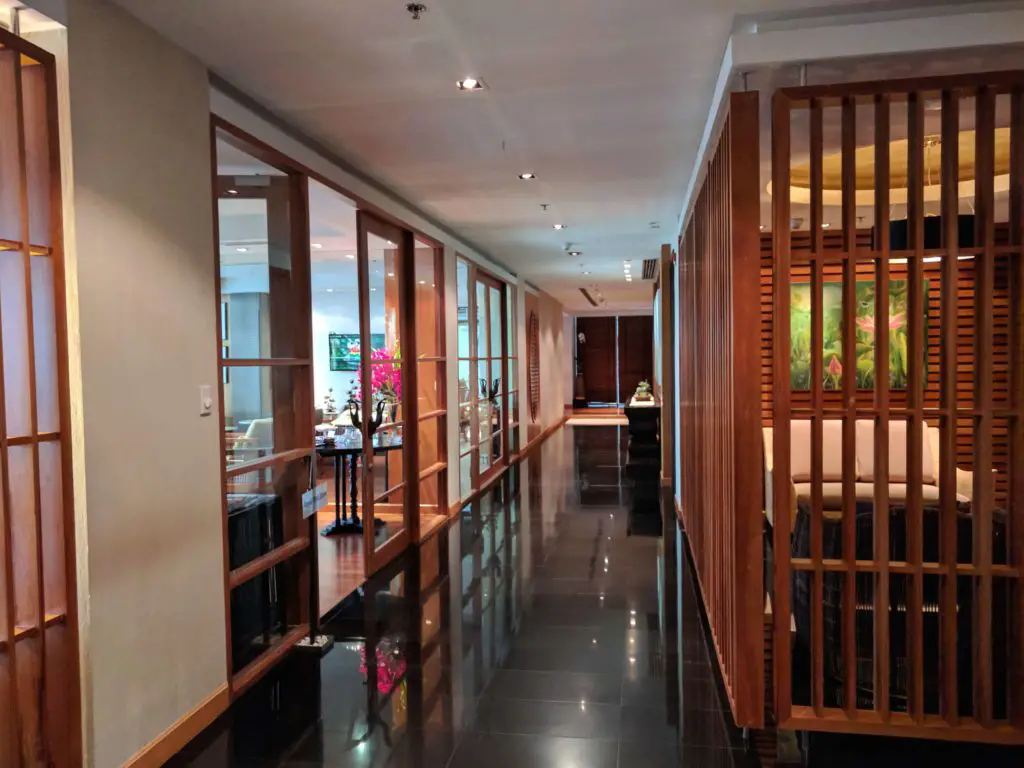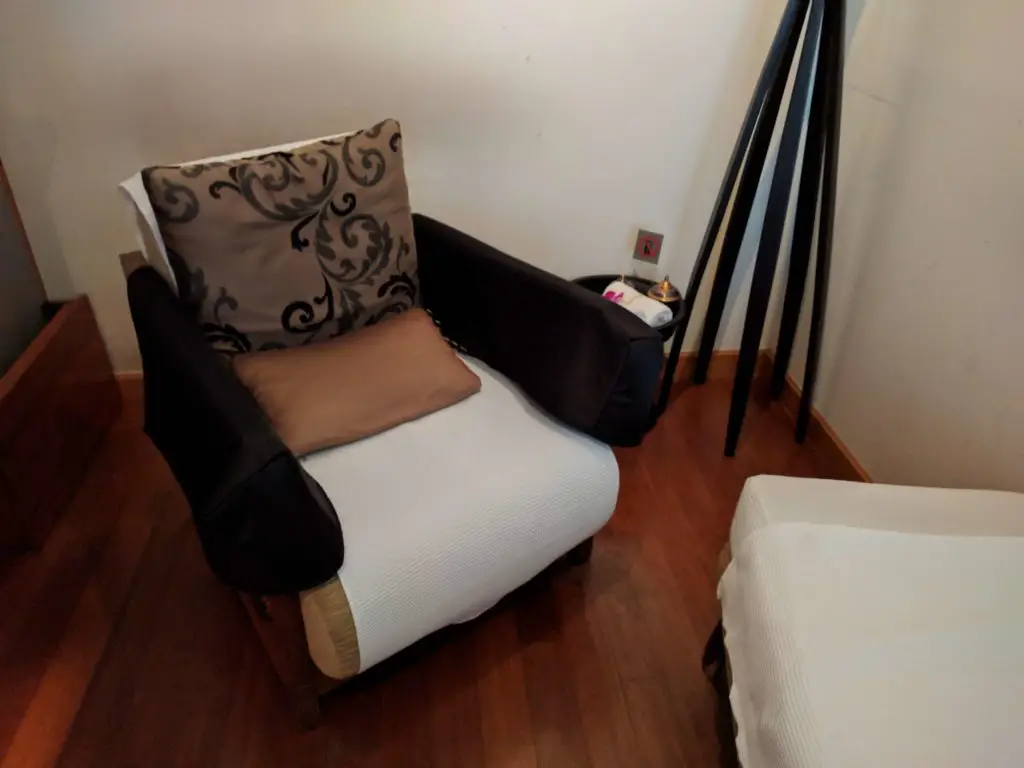 The spa lounge itself had a very peaceful ambiance with the beautiful artwork and friendly workers. Snacks and hot tea were served after the massage. We loved the entire experience.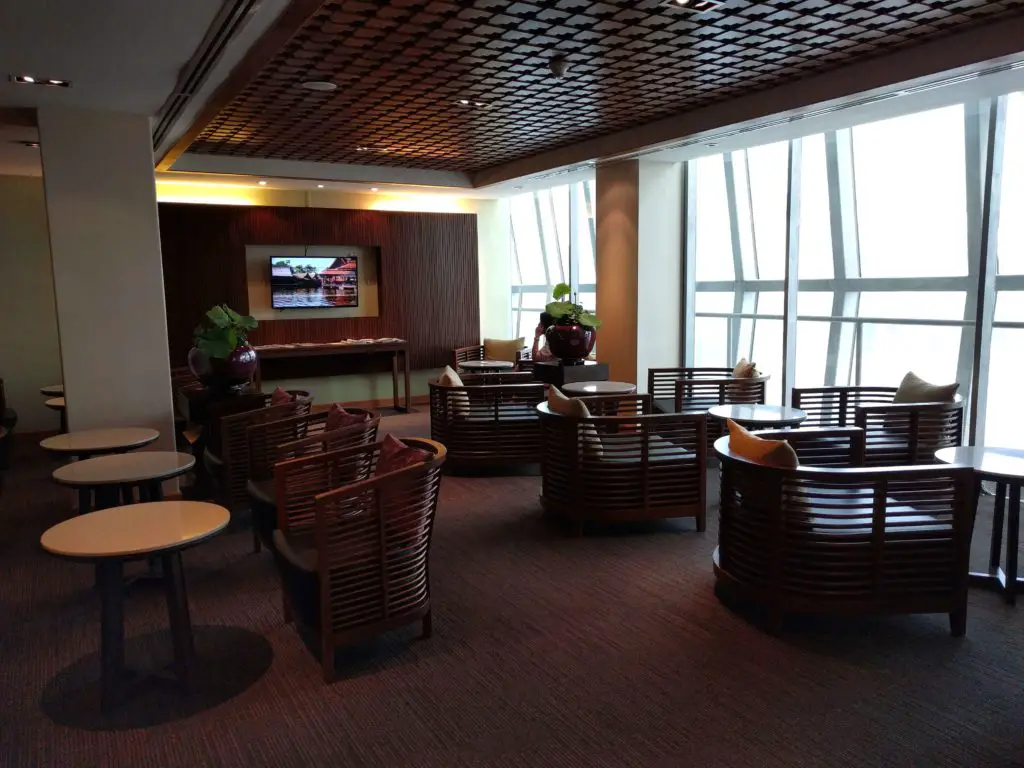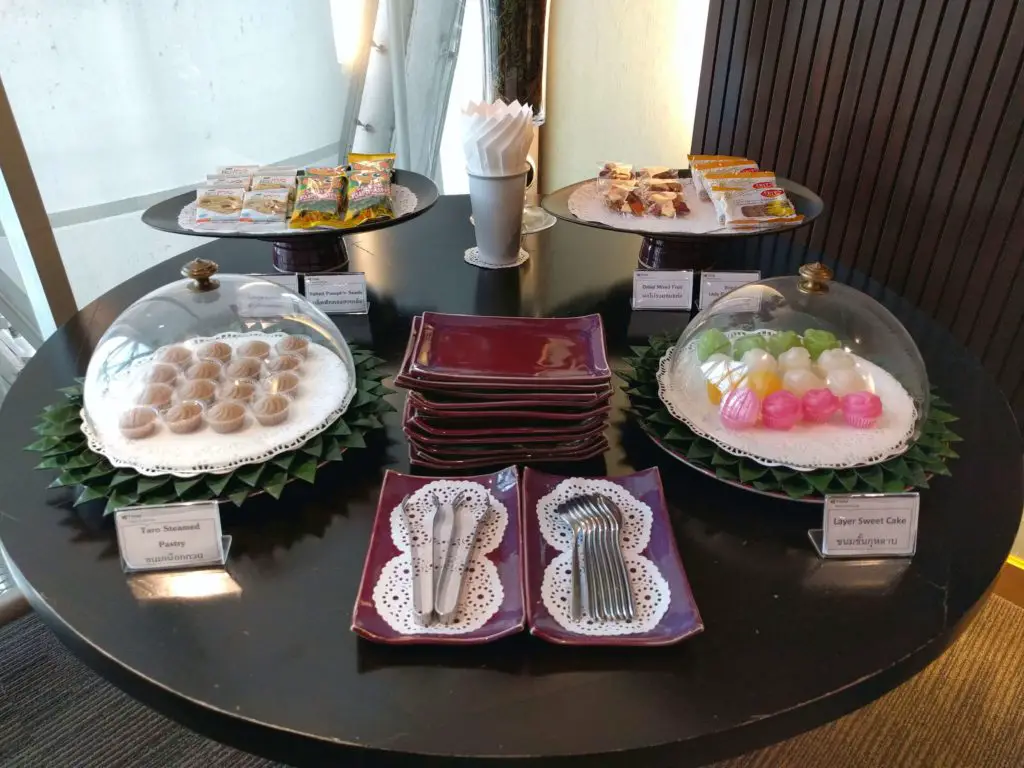 ---
Flight 2: BKK to SYD (Bangkok to Sydney)
We're on our way to Sydney now! This flight was on a Boeing 747-400 aircraft. The plane was older and we were seated on the top level of the double decker. The spacious seats were capable of nearly 180 degree when reclined.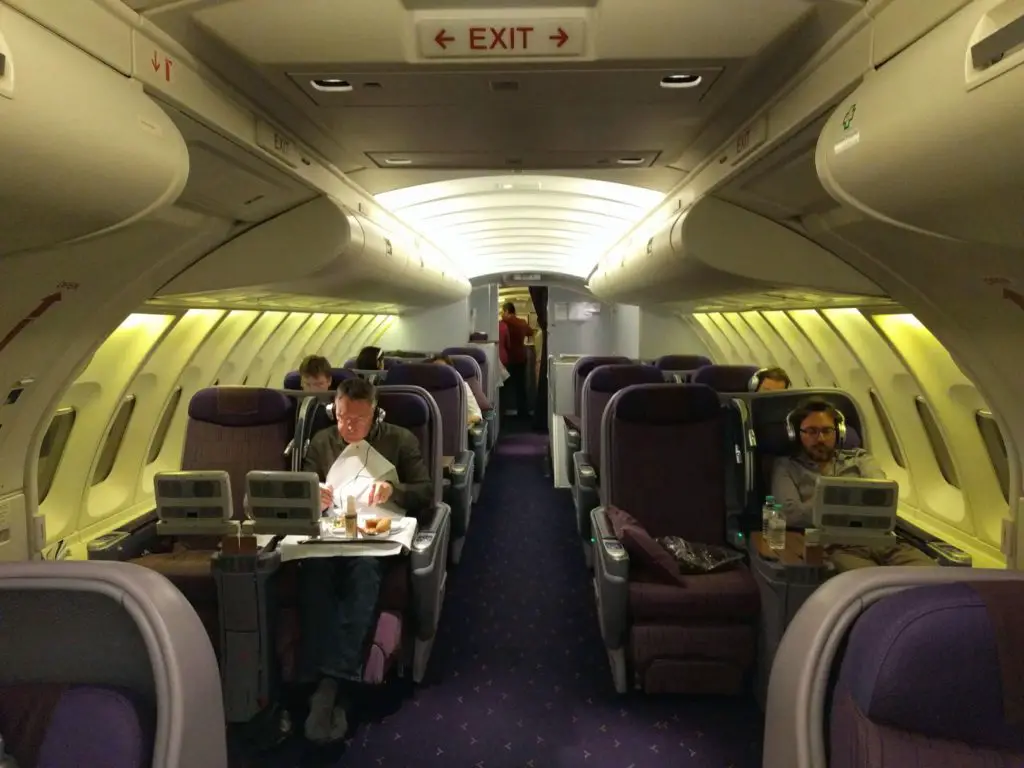 All of the passengers received the amenity kits came in a shimmering royal blue Greyhound zipper pouch and contained a brush, disposable slippers, mouthwash, hand lotion, lip balm, ear plugs, toothbrush and toothpaste, and eye covers.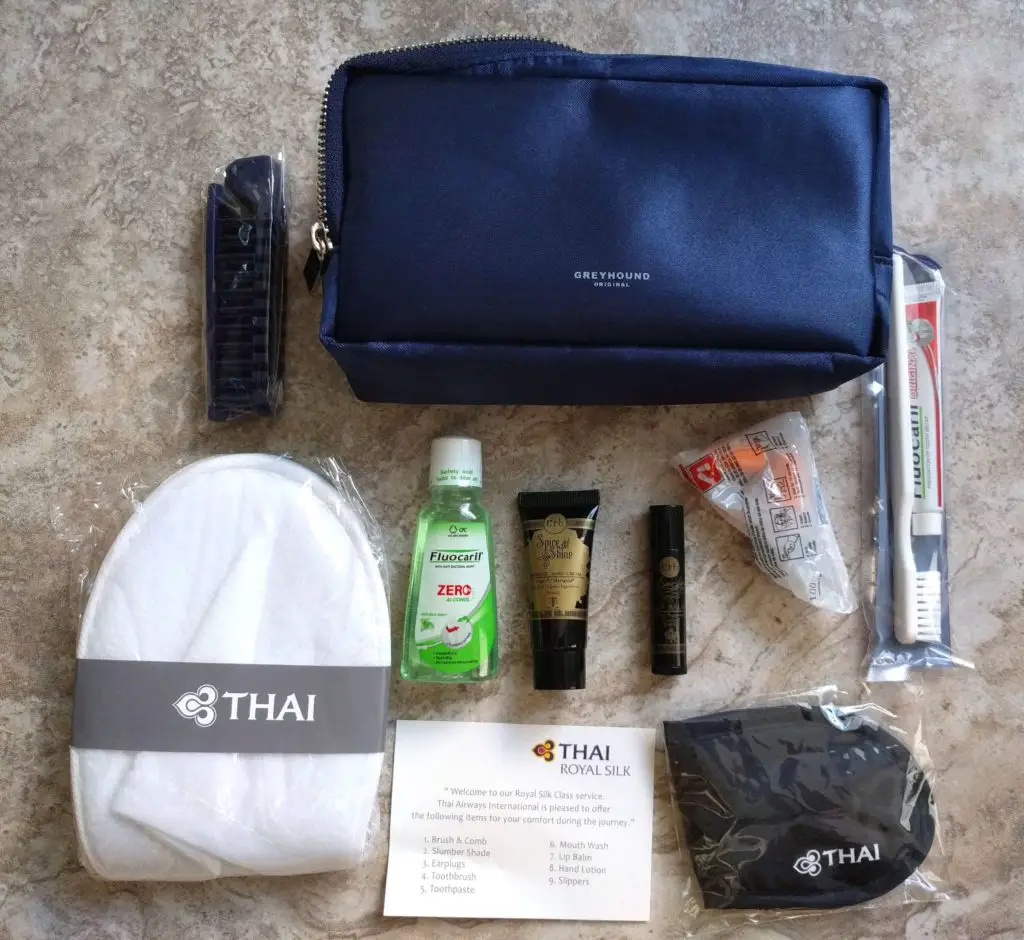 We were served welcome drinks before takeoff. Champagne of course! After takeoff we asked for green tea and were also served warm mixed nuts.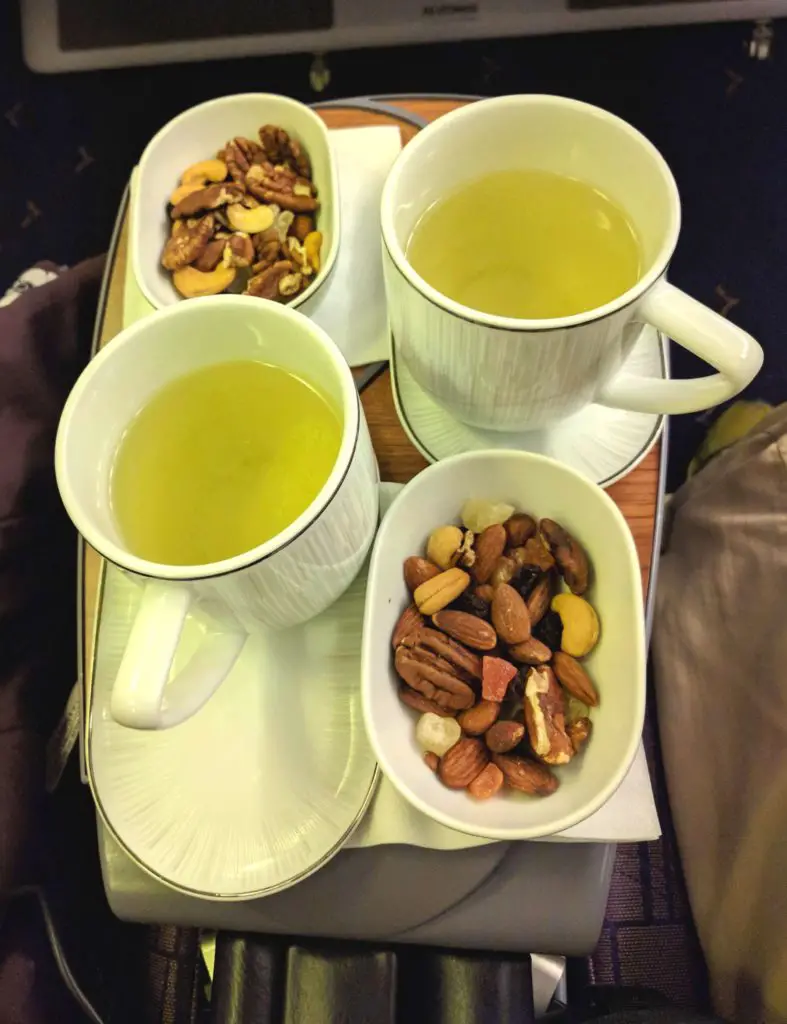 Food
Food was definitely a highlight of this flight.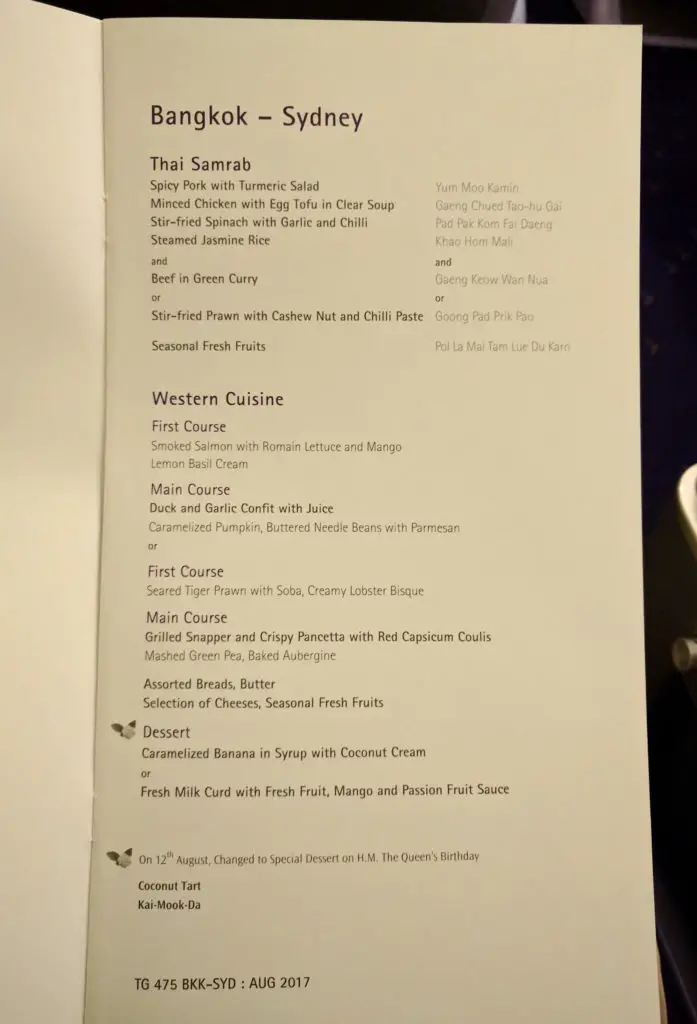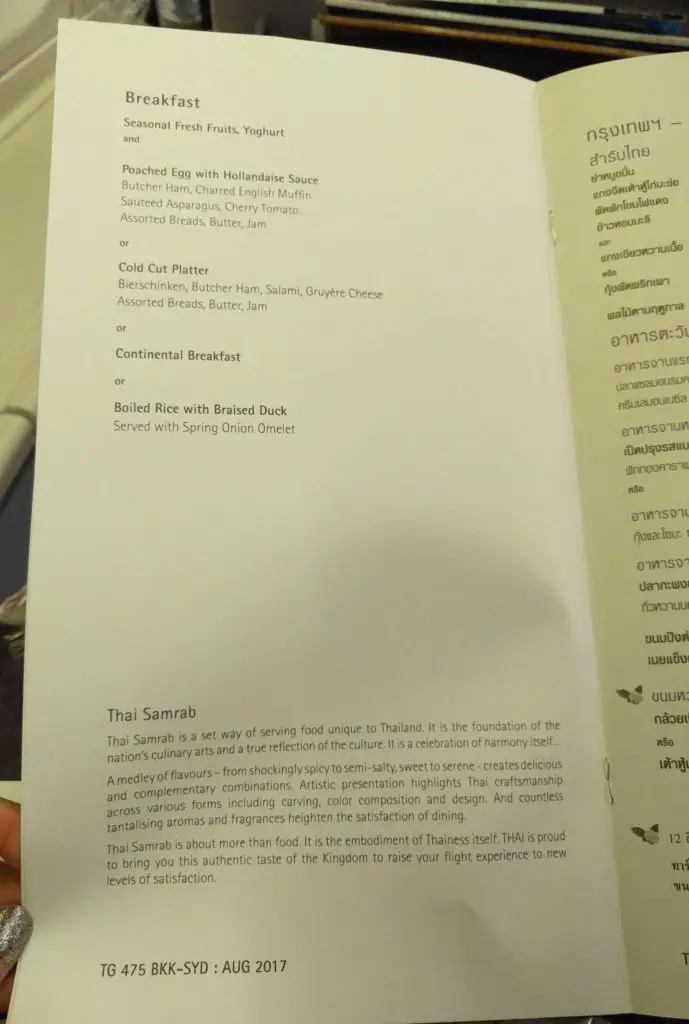 I chose to have the Thai Samrab which gives you a nice presentation of 6 different traditional Thai dishes. I was torn between the main entree of Beef in Green Curry and Stir-fried Prawn with Cashew and Chili Paste. The stewardess whispered that I should order the Beef since that is likely to be chosen by most passengers and she'll try to get me the second entree if there is availability. Her wise advice did not disappoint!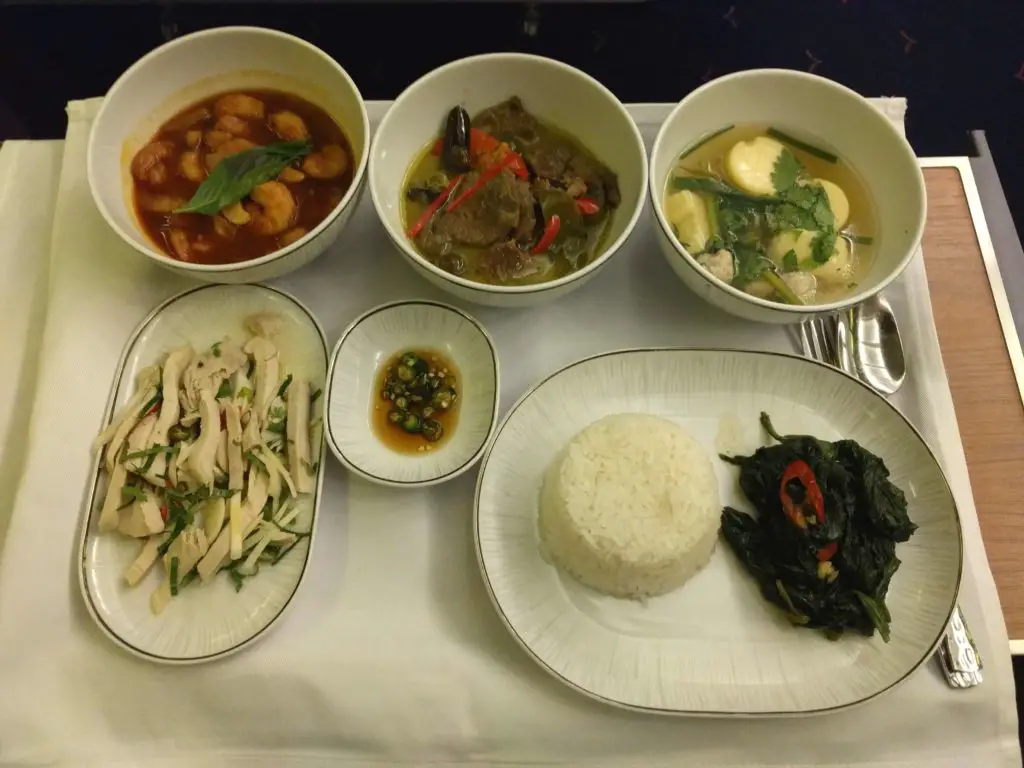 Jackie ordered a special seafood meal option which was smoked salmon appetizer followed by pasta with shrimp and fish in a cream sauce and steamed vegetables.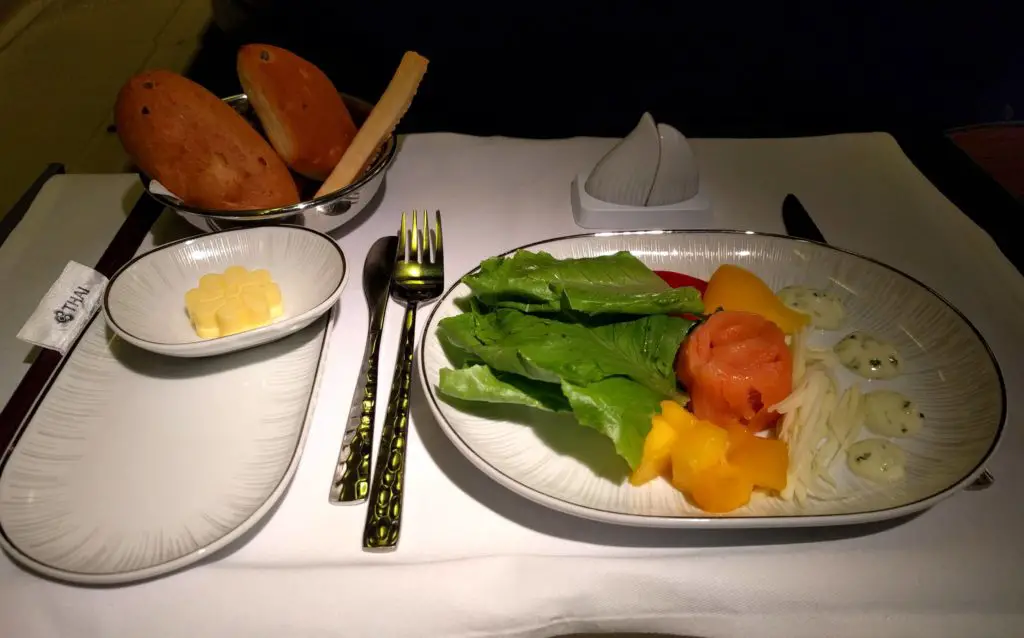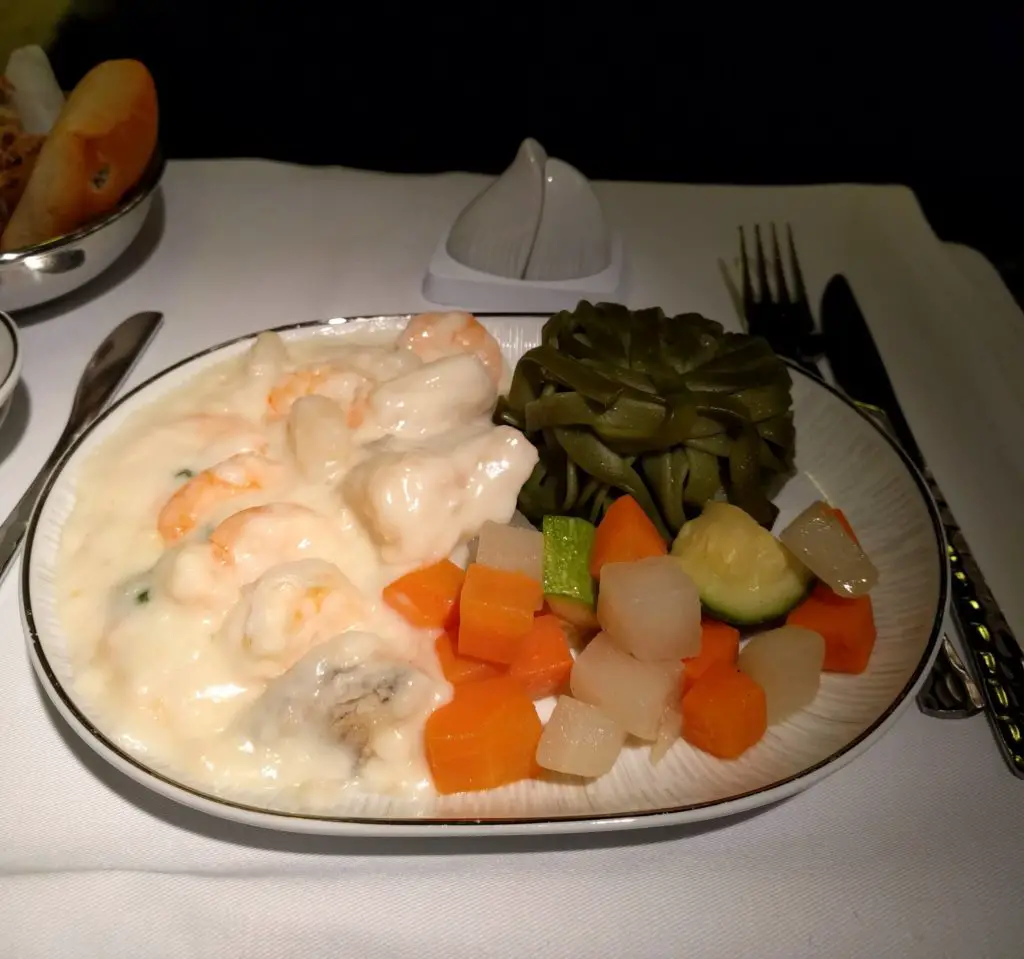 The stewardess noticed my love for food since not a grain of rice was left. Jackie was stuffed so she said no more desserts. I didn't ask, but she presented me the entire dessert selection including banana with coconut cream for dessert.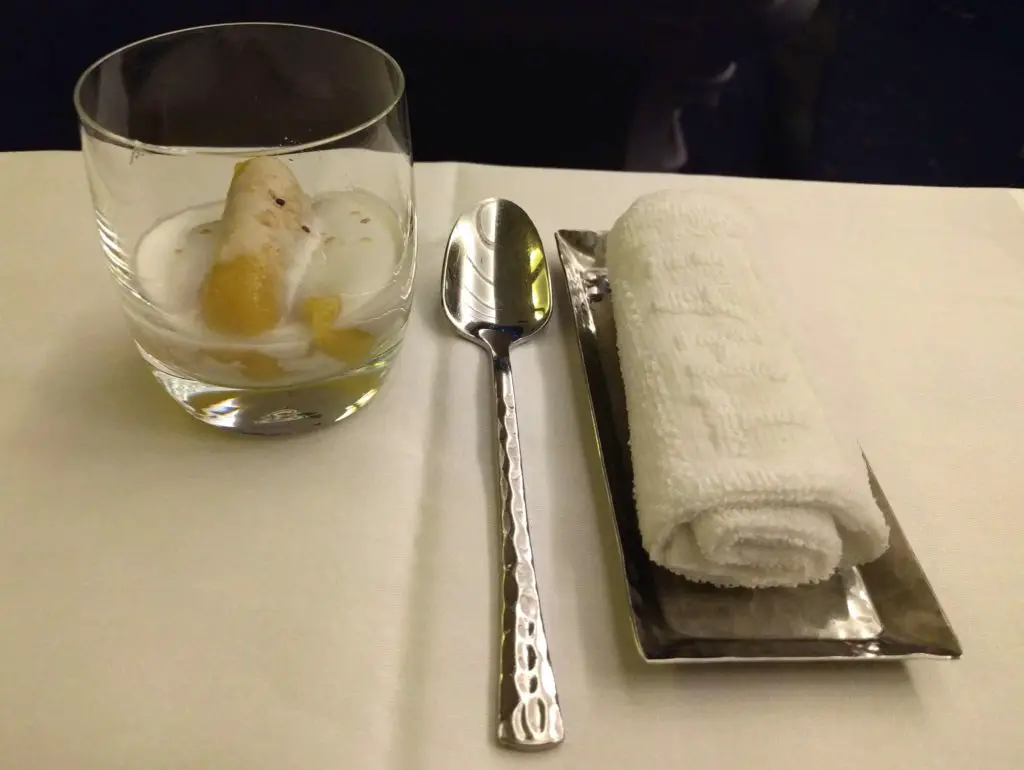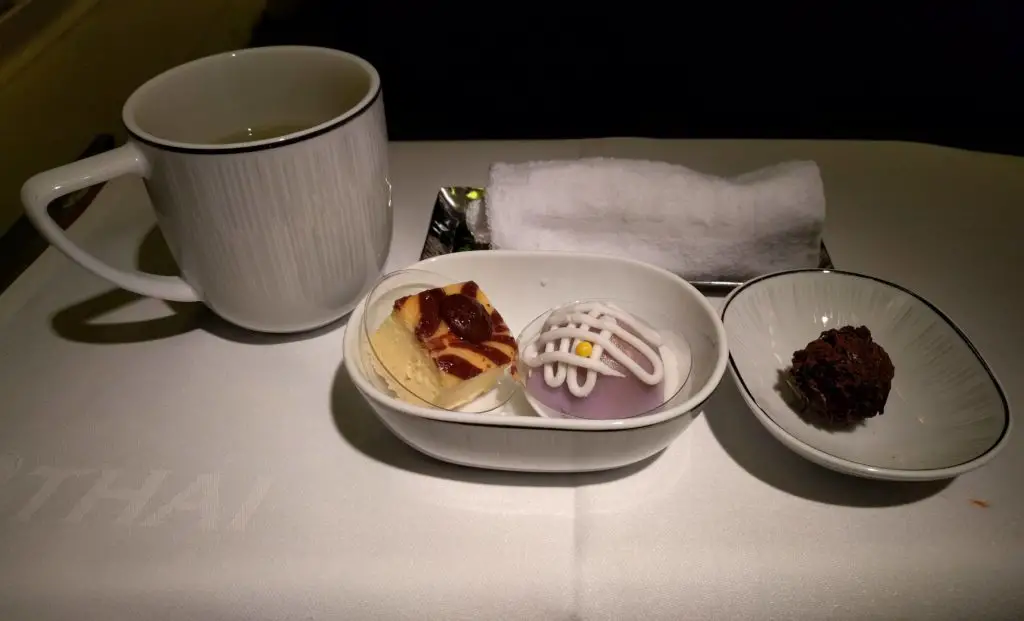 A few hours before landing it was time for the "breakfast." I had the recommended braised duck and rice soup. Being a huge fan of ochazuke, a Japanese dish by pouring soup tea or flavored dashi over cooked rice, and other types of rice with soup (totally different than porridge for those who do not know the difference), this dish was really tasty. The duck was tender and had a lot of flavor which well with the texture of the rice and flavor of the soup. The omelette on the side was also a good complement. Fruit and yogurt were a good way to end the meal service.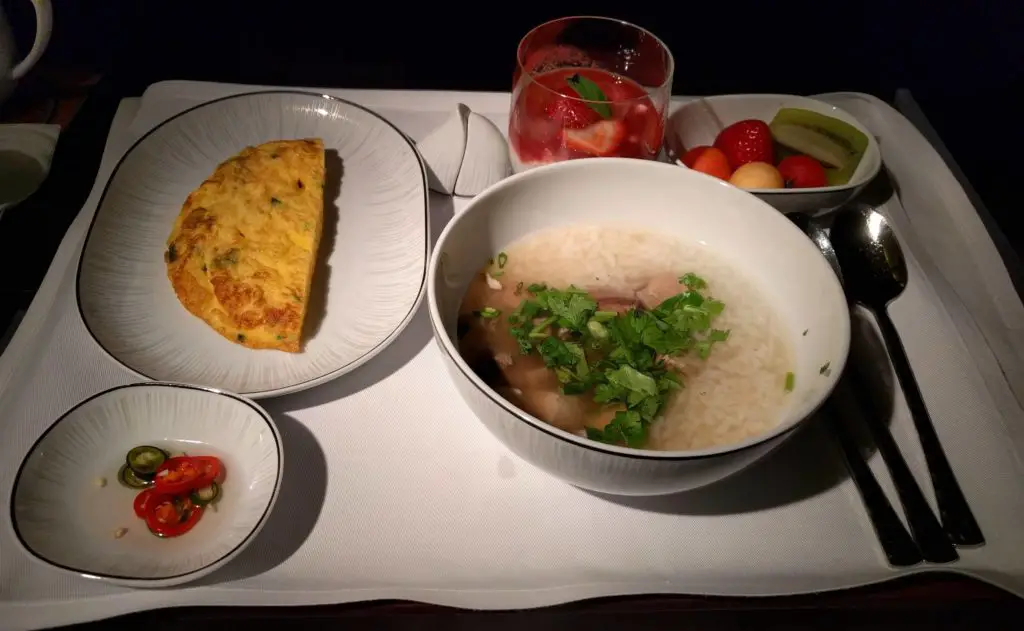 Needless to say the service and food were fantastic on this flight!
Entertainment
Noise cancelling headphones are provided, but from my experience, they aren't as comfortable as the Bose QuietComfort 35 Wireless Noise Cancelling Headphones
 that I travel with. The flight had a wide selection of new movies from Hollywood and also international film associations.
With all the food, entertainment, pleasant service, we chose to get about an hour of sleep on this 11 hours flight. The next thing you know, we've arrived in Sydney!
Final Thoughts
We enjoyed both of our business class flights. It's such a treat to splurge and travel with style and more seating space once in a while. We highly recommend Thai Airways as one of the airlines to fly with! Plus, it was a great way to spend our award points even though the overall travel time was long.
Have you taken a business class flight before? What were your favorite parts about the experience?