Only have one day in Osaka, Japan? You'll get to see the main highlights of this vibrant city and what Osaka has to offer. 
Located in the Kansai area of the Osaka Prefecture, Osaka (大阪市) is the perfect addition to any Japan itinerary. Whether you're visiting Osaka from Tokyo, Kyoto, or using this place as a stopover from the airport, you'll love trying delicious street food (hello takoyaki and okonomiyaki!), visiting numerous shopping centers, and checking out the Osaka Castle. 
To be honest, Osaka in one day will go by quickly. Two or three days would be even better. We've been to Osaka a few times and manage to stay between 1-3 days each time. 
To help you with your travel plans, we've put together this Osaka one day itinerary which gives an outline of the top attractions to visit, how to get to Osaka, places to eat, and other helpful travel tips. Feel free to change the order of the itinerary depending on your interest. 
If you have extra time in the Kansai region, continue your journey to Himeji to see the Himeji Castle. 
*Disclaimer: Traveling to Osaka, Japan? This post contains affiliate links. If you click on them and make a purchase, we receive a small commission. There is no additional cost to you. Appreciate the support.
---
How to Get to Osaka
From Tokyo to Osaka
The easiest way to get to Osaka is to take the shinkansen high-speed train from Tokyo via Japan Railways.
If you have the Japan Rail (JR) pass, then this would be the time to use it! (You can only take the Hikari or Sakura trains, not the Nozomi or Mizuho trains. However, you'll still get to your destination quickly!)
The JR pass is worth the cost for traveling long distances. With the pass, you can also take local JR lines and ferry rides, depending on location. 
Save money and buy your JR Wide Pass here.
From Tokyo Station or Shinagawa Station
First, take the local train to either Tokyo Station (東京駅) or Shinagawa Station (品川駅). Afterward, take the Tokaido-Sanyo Shinkansen to go to Shin-Osaka Station (新大阪駅). The ride will take 3 hours from Tokyo Station or 2 hours and 50 minutes from Shinagawa Station.
From Shin-Osaka Station, take a local train to get to your destination or to Osaka Station (大阪駅).
From Kyoto to Osaka
From Kyoto Station (京都駅) to Osaka Station, you can take the special rapid service train via the Tokaido-Sanyo line or limited express trains via Thunderbird which will take 30 minutes. You can buy an individual ticket if you don't have the JR pass. 
From Osaka Airports to Osaka City
Depending on your departure location, you can take a flight directly to Kansai International Airport (airport code: KIX) for international flights or Osaka International Airport (also known as Itami Airport, airport code: ITM) for domestic flights.
We'll have the ending location to Osaka Station as it's the main train station. 
From Kansai International Airport
Before reading the directions below, check out our Kansai Airport to Osaka by train post for more details. 
Take the JR Haruka Limited Express train to go to Osaka. If you have the JR Wide Pass or the JR Kansai West Pass, this would be the perfect time to use it.
Visit the JR shinkansen ticket office to exchange your JR pass voucher for the physical pass. Ask the ticket agent to make a reservation for the JR Haruka Limited Express train to go to Osaka.
The Haruka trains are decorated with Hello Kitty decor so it's very adorable. It'll take about 50 minutes to go to the Shin-Osaka Station and then you can take a local train to go to other areas of Osaka. 
If you don't have the JR pass, you can purchase the Haruka ticket at a discounted price here.
Another option is to take the Limousine bus transfer between the airport and Osaka. Click here to pre-purchase your ticket. 
From Osaka International Airport
Take the Osaka Monorail from Osaka-Airport Station (大阪空港駅) to Hotarugaike Station (蛍池駅), and then transfer to Hankyu's Takarazuka Main Line via Express Osaka-Umeda to the Osaka Umeda Station (梅田駅).
The station connects with the Osaka Station so you can go to other lines. It'll take 30 minutes. 
---
How to Travel Around Osaka
The Osaka Metro has 9 different subway lines that you can take. You can find the stations and the subway lines on this map here.
Two main subway lines that you can use – Osaka Metro and the JR line.
Osaka Metro line includes the Midosuji Line and Chuo Line. 
The Osaka Loop (Osaka Outer Loop) on the JR line is a good subway line to take to get to Osaka Castle.  
You can consider getting this one day Osaka travel pass for the Osaka Metro, Osaka city bus, and discounts to local attractions such as Osaka Castle, Umeda Sky Building, and more. You'll need to calculate whether this pass will be worthwhile for your Osaka day trip. Click here to buy the Osaka travel pass.
If you have the JR Pass, you can continue to use this pass for all JR lines in the Osaka and the Kansai area (or beyond depending on the type of pass.)
Otherwise, feel free to walk around and see where your feet will take you. Remember to wear comfortable shoes if you decide to walk a long distance. 
---
Map of Places to Go in Osaka in a Day
---
Top Things to Do in Osaka in 1 Day
1. Visit Osaka Castle.
One of the iconic landmarks in Osaka is the Osaka Castle (大阪城). The castle was built around the 1580s under the control of Hideyoshi Hashiba (Toyotomi). However, the castle was taken over after Hideyoshi's death and has been rebuilt several times due to wars and political unrest. 
Osaka Castle's Main Tower is an important National Cultural property. You can browse through the castle which has 8 floors – the first 7 floors is a museum with artifacts while the top floor is an observation deck to see the view of Osaka city. 
We didn't have a chance to visit the castle since we've been to Himeji Castle, Okayama Castle, and Hiroshima Castle. After seeing these castles, we felt that Osaka Castle would have similar interior architecture. 
An alternative to going inside the castle is walking around the Osaka Park area. It opened in 1924 and is a popular spot to visit during cherry blossom season. You'll get some nice photos of the castle from the park and can also see the moat around the castle area. 
Address: 1-1 Osakajo, Chuo Ward, Osaka, 540-0002, Japan (〒540-0002 大阪府大阪市中央区大阪城1−1)
Opening Hours: 9:00am-5:00pm
Admission Cost for Museum: 600 yen ($5.60) adults, free age 15 years and under
How to Get There: Take the JR Osaka Outer loop to Osakajokoen Station (大阪城公園駅) or Temmabashi Station (天満橋駅) on Osaka Metro Chuo Line. 
2. Eat Your Way through Kuromon Market.
Love walking local fish markets or need a snack? Kuromon Market (黒門市場), also known as Kuromon Ichiba Market, is the perfect spot for you. This 580 meters (.40 miles) long market has over 150 shops ranging from fresh seafood, sashimi, fruits, to pickles and snacks. 
Take your time to browse through the stalls and choose wisely on what you want to try. We saw plenty of stalls selling grilled Kobe beef, sashimi in takeaway boxes, and even a small shop that focuses on uni (sea urchin). 
A unique food item to try here is the fugu (blowfish) sashimi. Fugu can be deadly to eat due to its high poison content if it's not prepared correctly. Chefs need to have a license to prepare fugu. Expect to pay around 1,700 yen ($15.90) for a plate of fugu sashimi for takeaway. 
Sign up for a Kuromon Market food tour with tasting here!
Address: 2 Chome-4-1 Nipponbashi, Chuo Ward, Osaka, 542-0073, Japan (〒542-0073 大阪府大阪市中央区日本橋2丁目4−1)
Opening Hours: 9:00am-6:00pm
How to Get There: Take the Osaka Metro train to Nippombashi Station (日本橋駅) and Exit #10. Walk five minutes to the market.
3. Shop and Eat along Dotonbori Street.
Dotonbori Street (道頓堀) is one of the best places to visit in Osaka. With flashing lights and bright, neon signs, this street is Japan's version of Las Vegas but without gambling.
There isn't a set itinerary for exploring this street except to walk around and check out everything. You'll have plenty of restaurants, snack shops, and souvenir shops to choose from. 
Tip: If you come during the evening, this street has vibrant nightlife since many restaurants and shops open late or even 24 hours! 
The top highlights of Dotonbori include:
Visit Don Quijote

, also known as Donki, for your shopping needs at a discounted price. You can get everything that you possibly imagine at this store and at a cheaper price – beauty supplies (that are high quality), Halloween costumes, snacks, clothes, purses, and other miscellaneous stuff. The store has a lot of random stuff so you'll find some unique stuff here. They're located everywhere so it's best to go into each aisle to find what you need.
The Dotonbori Don Quijote store is a must-visit because it's open for 24 hours and it has a yellow and red Ferris wheel. The Ferris wheel is a noticeable landmark along Dotonbori. 
Address: 7-13 Souemoncho, Chuo Ward, Osaka, 542-0084, Japan (〒542-0084 大阪府大阪市中央区宗右衛門町7−13)
Admission Cost for Ferris Wheel: 600 yen ($5.60) per person
Opening Hours for Ferris Wheel: 11:00am-11:00pm (Last ticket sold between 10:30pm-10:45pm)
You can also consider taking a 20 minutes boat ride along the Dotonbori canal area. The docking area for the boat ride is in front of Don Quijote store. More information is here. 
Admission Cost: 1,000 yen ($9.30) adults (junior high students and above), 400 yen ($3.70) children 
Pose with your arms up in the arm with

Glico Man

. This popular signage was installed in 1935 and is of a man wearing a running outfit and has his hands up in the air. You'll feel like a winner when you're standing near this sign. Fun fact: one of Glico's most famous snack products is Pocky, a flavored coated biscuit. The popular flavors are strawberry, chocolate, and matcha. The

Uji matcha

Pocky is one of our favorites!  
Address: 1 Chome-10-2 Dotonbori, Chuo Ward, Osaka, 542-0071, Japan (〒542-0071 大阪府大阪市中央区道頓堀1丁目10−2)
Check out the fun, oversized signage. You'll see the large inflatable fugu balloon (unfortunately this was removed in September 2020),

melon pan

(bread),

gyozas

(dumplings), nigiri sushi, and even a crab with mechanical arms at

Kani Doraku restaurant

. 
Kani Doraku is a chain restaurant in Japan that serves meals with crab. You can order dishes such as a crab gratin, crab sushi roll, and fancier meals such as the full king crab meal. We didn't get a chance to try it but know that it's on the pricier side. Cost starts at 1,000 yen ($9.30) for very basic items and goes up to 14,300 yen ($134) for the fancy stuff.
We can't forget about eating all the

street food in Dotonbori

. From okonomiyaki to takoyaki, you'll enjoy browsing and eating your way around here.
Osaka style okonomiyaki is a pancake that has cabbage, meat, flour, and cooked on a griddle. It's a bit different than Hiroshima-style okonomiyaki which has more layers and includes noodles. 
Takoyaki is a circular ball stuffed with a piece of octopus and topped with takoyaki sauce, mayo, dried green seaweed (aonori), and dried bonito flakes. 
If you don't know what to try, consider going on this food tour with a local in Dotonbori!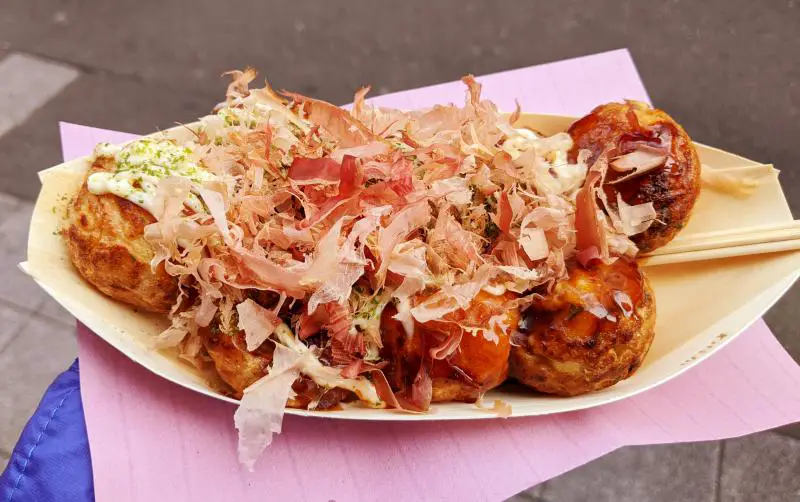 Have you tried takoyaki before?
Dotonbori Address: 1 Chome-9 Dotonbori, Chuo Ward, Osaka, 542-0071, Japan (〒542-0071 大阪府大阪市中央区道頓堀1丁目9)
How to Get to Dotonbori: The closest train stations are Osaka-Namba Station (なんば駅) via Kintetsu Namba Line and JR Namba Station (難波駅),
4. Go Shopping!
Osaka has many shopping areas to choose from. Here are some places that we stopped by to do some window shopping. 
American Village

, also referred to as

Amerikamura (

アメリカ村), is a chic area that has used clothing, Western-brand clothing stores, boutique stores, and plenty of coffee shops. It's a good place if you want to find a good pair of jeans such as at Momotaro Jeans made in Okayama. There is also some street art too, such as the mini Statue of Liberty on top of the New American Plaza building. 
Address: 1 Chome-2-4 Nishishinsaibashi, Chuo Ward, Osaka, 542-0086, Japan (〒542-0086 大阪府大阪市中央区西心斎橋1丁目2−4)
Shinsaibashi-Suji Shopping Street

(心斎橋筋商店街) is a popular spot to visit on your Osaka itinerary. The covered shopping street is over 600 meters (.40 miles) long and has plenty of shops to browse through. There are Western brands such as Sketchers, Polo Ralph Lauren, The Body Shop, and more. You can also find a Calbee store to find unique fried or baked snacks like potato chips. (Calbee makes some of our favorite snacks from Japan.)
Address: 2 Chome-2-22 Shinsaibashisuji, Chuo Ward, Osaka, 542-0085, Japan (〒542-0085 大阪府大阪市中央区心斎橋筋2丁目2−22)
Opening Hours: 11:00am-8:00pm
Namba City

is an underground shopping mall that is conveniently located in the Namba Station. With 250 shops, you'll have a chance to shop at boutique shops and eat at restaurants. 
Address: 5 Chome-1-60 Nanba, Chuo Ward, Osaka, 542-0076, Japan (〒542-0076 大阪府大阪市中央区難波5丁目1−60)
Opening Hours: 10:00am-9:00pm (Stores), 11:00am-10:00pm (Restaurants)
Love Daiso? Check out the

Daiso nearby the Namba Station

. We love Daiso since it's a 100 yen ($.90) store that has everything you didn't know you needed. From household products to arts and crafts, it's your one-stop shop to find what you need. It's a multi-level building so there are so many cute things to buy here too! It's random but we even bought a bicycle repair kit and a Tengui (decorative cloth) hanger here. 
Address: 2 Chome-2-17 Nanbanaka, Naniwa Ward, Osaka, 556-0011, Japan
Opening Hours: 10:00am-9:00pm
---
If You Have 2+ Days in Osaka
Since we did a quick trip to Osaka, we couldn't see everything in Osaka. Here are some attractions and new experiences that are on our bucket list for a return trip.
1. Go on a food tour! 
Want to go off the beaten path and visit more local spots for food? Consider going on a food tour with an English-speaking local tour guide. Here are some options to consider:
2. Head to Umeda Sky Building's Observation Deck.
Umeda Sky Building is a unique building that has an observation deck (Kuchu Teien) on the top. It's a fabulous spot to see the sunset or spend the evening seeing the city view. 
Address: Japan, 〒531-6039 Osaka, Kita Ward, Oyodonaka, 1 Chome−1−88 梅田スカイビル (〒531-6039 大阪府大阪市北区大淀中1丁目1−88 梅田スカイビル)
Opening Hours: 9:30am-10:30pm
Admission Cost: 1,500 yen ($14) adults, 700 yen ($6.50) children (4-12 years)
 

 

View this post on Instagram

 
3. Visit Universal Studios Japan.
Ready for some theme park action? Universal Studios Japan is one of the most exciting theme parks to experience in Asia.
You'll love the thrill rides, such as Jaws and Spiderman, and live shows/performances. Check out the Wizarding World of Harry Potter while you're here and drink the delicious Butterbeer.
In addition, you'll want to visit Super Nintendo World and earn coins and stickers with the Power Up Band!
Address: 2 Chome-1-33 Sakurajima, Konohana Ward, Osaka, 554-0031, Japan (〒554-0031 大阪府大阪市此花区桜島2丁目1−33)
Admission Cost: 7,800 yen ($72.75) adults (12+ years and up), 5400 yen ($50.40) children (4-11 years old), 7,100 yen ($66.20) seniors (65+ and up). 
Buy your 1-day park tickets in advance here. Also, buy your Express Pass ahead of time here!
4. Take a cooking class and learn how to make sushi and other delicious meals.
5. Visit Cup Noodles Museum and learn about ramen
.
This is the sister museum to Yokohama's Cup Noodles Museum where you get to learn about Momofuku Ando's invention. This place is smaller than the Yokohoma site.
The main highlight is the opportunity to make your own Cup Noodle. You design your cup and customize the soup and topping flavors. 
It's a perfect stop for everyone from children to adults. 
Address: 8-25 Masumicho, Ikeda, Osaka 563-0041, Japan (〒563-0041 大阪府池田市満寿美町8−25)
Opening Hours: 9:30am-4:30pm
Admission Cost: Free admission, but some attractions require an extra fee. (The Yokohama museum has an entrance fee, so this place is a good deal!)
6. Walk along the suspension bridge at Hoshino Buranko.
At Hoshino Buranko (星のブランコ), check out one of the largest wooden floor suspension bridges (also known as Star Swing) in Japan at 280 meters (.17 miles) long. The Osaka Prefectural Forest area is also a good place to hike and walk through gardens.
Address: 5019-1 Hoshida, Katano, Osaka 576-0011, Japan (〒576-0011 大阪府交野市大字星田5019-1)
Opening Hours: 9:00am-4:30pm (Closed on Tuesday)
Admission Cost: Free
7. Take a day trip from Osaka.
If you prefer to explore an area outside of Osaka city center, there are a few choices to choose from.
Check out Minoh Waterfall and Minoh Park for amazing fall-colored leaves. 
You can visit Himeji to see the historic Himeji Castle and explore the small city.
Kyoto is the neighboring city to Osaka and would be a perfect stop to explore the traditional temples and shrines. Or, visit Uji in the Kyoto area for delicious green tea desserts!
Another recommended place is to visit Nara to meet deer, the celebrities of the city. 
---
Where to Stay in Osaka
Osaka has a variety of places to stay depending on your budget. Since you have a full day in Osaka, we recommend that you stay overnight somewhere. We've stayed at an Airbnb, hotel, and a luxury hotel during our various visits. 
For a full list of Osaka accommodations, click here.
Or, check out these fantastic Osaka Airbnb options here. 
Airbnb 
We've stayed at two Airbnbs in Osaka and they've been great. We specifically choose Airbnbs which are private apartments with an ensuite bathroom and a washing machine. 
One of our favorites is this Hello Kitty room. Located in a residential area in Namba, this cozy one-bedroom apartment had Hello Kitty bedding, pillows, wall art, and other fun decorations. Plus, this place had bathroom amenities.
It was easy to communicate with the owner for check-in and to ask any questions over the Airbnb app. It took about 15 to 20 minutes to walk to the Dotonbori area.
Unfortunately, the listing wasn't available but we rented it for $70 per night. 
Sheraton Miyako Hotel Osaka
Located in the Tennoji area, Sheraton Miyako Hotel Osaka is a good place to stay for the night. You'll receive the Marriott hospitality with its customer service. The hotel is right next to the Osaka-Uehommachi Station (大阪上本町駅) which connects with the Tanimachi Yonchome Station (谷町四丁目駅) via Osaka Metro Line. It's about a 40-minute walk from Osaka Castle. 
We stayed here before the recent renovation and used hotel points for our stay. We noticed that many people on our tours stayed here. The cost of the stay is $170-$850 per night for 2 person occupancy depending on the room.
Book a room at Sheraton Miyako Hotel here. 
St. Regis Osaka
St. Regis Osaka is a luxury hotel that was one of the top highlights of our Osaka trip a few years ago. Normally, we wouldn't stay at this type of place since it's quite expensive. We saved up our credit card points and spent one night here. 
If you're willing to splurge, you may find that it's well worth spending the night with the gorgeous decor and large size room. The room also had an espresso machine, wine glasses, and a refrigerator already stocked with wine and beverages. We had our own personal butler too who brought drinks and snacks to us! The experience was heavenly and we didn't want to leave!
We would love to stay here again if we win the lottery or want to go on another honeymoon. Room costs $450-750 per night for 2 person occupancy depending on the room. 
The nearest train station is Hommachi (本町駅) via Osaka Metro Line which is a few minutes away by walking. Otherwise, it's a 15-20 minute walk from Dotonbori Street. 
Reserve a room at St. Regis Osaka here. 
---
Your day in Osaka has come to an end. Hope you gained some travel inspiration on what to do in Osaka! We would love to go back just to eat street food and visit the other places on our bucket list. We will be back again.
What would you like to see in Osaka? Let us know in the comments below. 
Enjoyed this Osaka travel guide? Save it to your Japan Pinterest board.  

Featured photo: Ikunl via Depositphotos.com