Visiting Universal Studios Japan in Osaka for the first time, and you are not sure what to do? We're here to help! 
Universal Studios Japan, located in the Konohana area of Osaka, is one of the five Universal Studios theme parks around the world. The other locations are Hollywood and Orlando (U.S.), Singapore, and Beijing (China).
It's a popular and exciting amusement park with rollercoasters, rides, and shows based on your favorite Universal movies. 
What is exciting about Universal Studios Japan's location is that there are sections dedicated to Minions, Harry Potter, and Super Nintendo World. This is the first Super Nintendo World built for Universal Studios, so it's the hottest area with interactive games and rides. 
In this guide, we're sharing the best Universal Studios Japan tips for your first visit. We're including details on transportation, buying tickets, and more. It'll be a jam-packed one or two days here. 
*Disclaimer: This post contains affiliate links. If you click on them and make a purchase, we receive a small commission. There is no additional cost to you. Appreciate the support.
---
1. Buy Universal Studios Studio Pass tickets ahead of time. 
Universal Studios has several Studio Pass ticket options to choose from – 1 day, 1.5 days, and 2 days. You'll need to decide how many days you want to stay here and which day you'll visit. 
It's recommended to buy the tickets before your arrival date. You'll save time and can enter the park quicker.
Once you purchase your tickets, download the tickets with the QR code to your phone or print a physical copy of the ticket with the QR code.
TIP: Buy the Universal Studios Japan tickets for a discounted price here! (This is where we bought our tickets.)
You can also buy the tickets directly on the website or at the ticket counter. 
Here are the official ticket costs:
1 Day: 8,400 yen for Adults, 5,400 yen for Children (4-11 years), 7,600 yen for Seniors (65+ age)
1.5 Days (valid after 3:00pm on the first day and consecutive days): 13,100 yen for Adults, 8,600 yen for Children (4-11 years)
2 Days (consecutive days): 16,300 yen for Adults, 10,600 yen for Children (4-11 years)
---
Recommendation: 
If you have the time, we suggest that you stay for 2 days. You won't feel as rushed with getting through the rides. 
---
2. Buy Universal Express Pass if you have the budget and want to skip the long queues.
If you're visiting this theme park for 1 day and want to maximize your time, then consider getting the Universal Express Pass. It's an opportunity to reduce your waiting time in lines for popular rides. 
The downside is that this is an additional cost to your Studio Pass ticket and is valid for 1 day. It can double the cost of entry and the fees add up if you have a family or a large group. 
The Express Pass cost varies from 6,800 to 10,800 yen depending on which package you want to do. You can choose from 4 or 7 rides that you want to queue up faster for. Read more about the Express pass here. 
TIP: Buy your Express Pass at a discounted price here! Click here for a 4-ride or a 7-ride pass.
---
What Did We Do?
To be honest, we did not buy this pass. Since we were here for 2 days and visited on weekdays in the low season, we opted to wait in lines. 
---
3. Visit the park on a weekday for fewer crowds.
It's recommended that you check the park calendar to see when it's the high and low seasons. 
Weekends, holidays, and summer tend to be the most crowded and busier days. This is when the Express Pass will come in handy to bypass the long lines. 
The best days to visit Univeral Studios will be the weekdays. There will be fewer crowds. Although, Monday is still crowded with schoolchildren. 
We went on a Monday and Tuesday and noticed the difference in the crowds. Even though it rained on our visit on a Tuesday, we were still surprised at the number of visitors.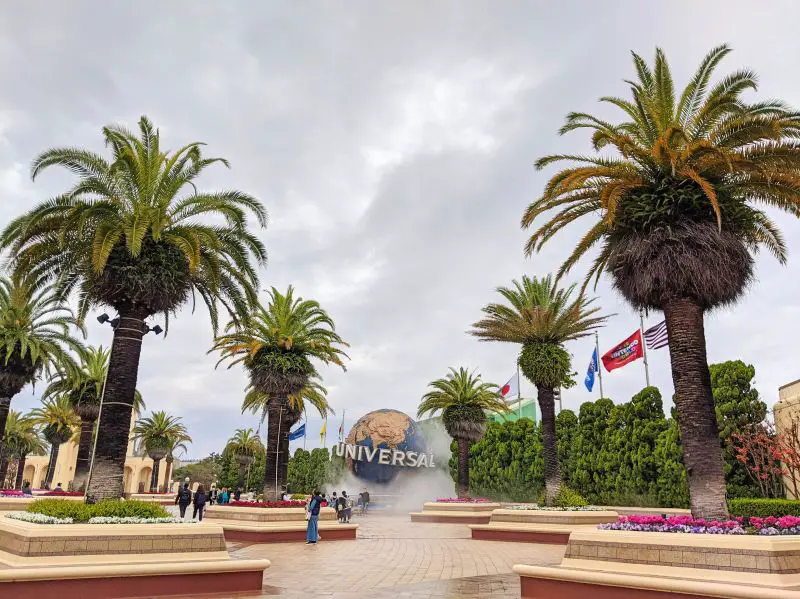 ---
4. Take the train to Universal Studios.
If you're staying at one of the hotels nearby Universal Studios Japan, then it is convenient to walk to the park.
Check out places to stay near Universal Studios Japan here. 
If not, the easiest way to get to Universal Studios from Osaka and Kyoto is to take the train and get off at Universal City Station. 
The JR West line operates the station. Therefore, you can use a JR Pass or JR West Pass. 
Buy a JR Japan-wide pass ahead of time here. 
Click if you want to buy a JR West Kansai Rail Pass only. 
If you don't have either, then you can use an ICOCA card or pay cash at the ticket machine.  
You'll take the JR Osaka Loop Line to Nishikujo Station and then transfer to the JR Yumesake Line heading to Sakurajima. Luckily the Yumesake Line is on the same platform so no need to take the stairs or escalator to transfer to another platform. Then, you'll get off at Universal City Station. 
The Universal City Station leads to University Citywalk where there are restaurants and shopping, and then the amusement park is only a short walk from there. It's so convenient!
---
5. Arrive at the park before opening time.
The theme park allows people to enter the park early – about 45 minutes before the official park hours! There is a countdown before the park opens and then everyone cheers. 
Opening early is a great perk so you can tackle the popular rides before the major crowds enter. 
Check out the official park hours here.
---
6. Do not bring outside food into the park.
There is a security check of bags and backpacks before entering the park. The security checkers have hawk eyes and will find snacks inside. 
As with drinks, each person is allowed one bottled drink that is a maximum of 600 mL. 
Otherwise, finish your breakfast and snacks before entering the park.
7. Download the Universal Studios Japan (USJ) app ahead of time.
This app will be the best resource to use during your Universal Studios visit as it has information on
Food and restaurants
Description of the rides
Wait times for the rides
Area timed entry ticket registration for Wizarding World of Harry Potter and Super Nintendo World
Super Nintendo World – You'll sync your Power Band to the app to check your current score, rankings, stickers and coins collected, and more. 
Here are links to download the apps: Android Download | iOS Download
Note: You can also grab a park map and a list of the showtimes at the entrance. Just know that the map will be in Japanese, so it's best to use the USJ app as well. 
---
8. Register for Super Nintendo World as soon as you enter the park.
Super Nintendo World is a fascinating new section that looks just like the games from Nintendo and has your favorite characters. 
Opened on March 21, 2021, this is the first of its kind in the Universal Studios theme park to have a section dedicated to the Nintendo theme. 
---
Once you enter the park, you'll need to register your tickets into the app. Here are the instructions:
Open the USJ app 
Go to Timed Entry eTicket 
Click on Register Park Passes 
Take a photo or screenshot of your tickets with the QR code and upload them
Then, sign up for a time slot for Super Nintendo World. 
In the app, click on Area Timed Entry Ticket/Standby Entry Ticket
Click on Get An e-Ticket tab and click on Super Nintendo World
Choose your time of entry 
Save a screenshot of your time with the QR code
If you are not able to get a Timed Entry Ticket, then you can sign up for a Standby Entry Ticket. 
The park has free wifi in the entrance area and Super Nintendo World so you can connect to the app. 
---
9. Have a game plan on which areas to visit first.
If you only have one day at Universal Studios Japan, then you'll need to think about which rides to go on first. 
The popular rides include Despicable Me Minion Mayhem, Harry Potter Flight of the Hippogriff, Harry Potter and the Forbidden Journey, Hollywood Dream Ride, and The Flying Dinosaur. 
For Super Nintendo World, expect long lines for Super Mario Kart: Koopa's Challenge and Yoshi's Adventure Ride. 
Having the Universal Express Pass can help reduce the stress of waiting in endless lines. 
Otherwise, use the Universal Studios Japan app to check the current wait times. 
---
10. Take advantage of the Single Rider line. 
Want to complete the ride faster and don't mind separating from your group? Consider going into the Singe Rider line. You do not need to get the Universal Express Pass for this option. 
For the rides with an odd number of riders, the Single Rider fills in the gap so there is a constant 100% fill-capacity for the ride. 
We used this option for the Flying Dinosaur, Hollywood Dream Ride, and Mario Kart: Koopa's Challenge. From queuing in line to going on the ride, it took about half of the time to finish compared to if we had stayed in the regular line. 
---
11. Some of the rides will require bags and backpacks to be placed in a coin-operated locker or a shared storage space.
This is for safety as the ride either suspends upside down or spins fast. 
Don't worry. Your stuff will be safe and nothing will be stolen. 
Here are the rides that we experienced with the storage: 
Space Fantasy requires all bags to be stored in a coin-operated locker. A 100-yen deposit is required to use the locker. You'll get the 100-yen deposit once you retrieve the bag after the ride. If the bag is in the locker for longer, then the deposit will be used for the locker fee. 
The Flying Dinosaur in the Jurrasic Park section is a rollercoaster ride where you're in a forward position as if you're "flying." Due to the nature of the ride, bags must be stored in the storage space and nothing can be in the pockets. There is an extra scan done before riding. 
The Hollywood Dream Ride also requires baggage storage. 
---
12. Rides will be in Japanese.
If you're used to hearing the ride narration in English, then it may be a shock to hear the rides in Japanese. Don't worry too much about it. Just go with it and have fun on the rides. 
We don't know much Japanese yet it was exciting to hear the voice actors for various characters such as Harry Potter, Hermoine Granger, and Ron Weasley for the Harry Potter ride and Gru for the Minion Mayhem ride.
Note: There is signage for each of the rides in English, such as warning signs for those with certain health conditions.
---
13. Buy theme park food during the off hours.
We saw huge lines for food and snacks during lunchtime. If possible, go to the lines during the off hours so you don't need to wait in line for a while. 
---
14. Buy souvenirs as soon as you see something you like.
While many of the souvenirs are available in multiple locations around the park, some unique souvenirs are for specific areas only (ie: Super Nintendo World or Hello Kitty Store).
If you see something that you want to buy, it's recommended to buy them as soon as you see them. An example is the special popcorn containers based on a themed ride, such as Jujutsu Kaisen. 
Otherwise, it will be hard to go back and purchase something, especially if it's in a limited entry area such as Super Nintendo World.  
---
15. Wear a mask and sanitize your hands in the amusement park (Optional).
As of May 2023, it's optional for wearing masks at Universal Studios Japan.
All of the lines have hand sanitizer. You may be requested to use it prior to getting on the ride.
---
16. Wear comfortable shoes.
You'll be on your feet for most of the day, so wear comfy shoes to walk around. 
17. If you want to take photos with characters, social distancing is still required.
Before the pandemic, we could hug characters in costume and take photos up close. Now, the park has tape on the ground to provide distance between you and the character. 
---
18. Leave selfie sticks and drones at home.
Unfortunately, these are not allowed in the park. You can store them in the coin-operated lockers outside of the park.
---
19. Leave luggage at the coin-lockers.
If you plan to visit this theme park before a late evening flight, there are extra large coin-operated lockers for luggage in the Guest Services area before the entrance.
The lockers hold luggage for this size – 536 mm x 617 mm x 926 mm (21 inches x 24 inches to 36 inches).
---
20. Have a fun time!
Whether you're spending time visiting this amusement park with your family, friends, or significant other, enjoy yourself! This place is a fun escape from the daily grind.
If things aren't going as planned, don't stress too much and just go with the flow.
You'll have awesome memories from this day!
---
Final Thoughts
After reading these tips for Universal Studios Japan, we hope you feel better prepared for your upcoming visit there. We suggest visiting this theme park after you've explored the best of Osaka for the day. It'll be even better to stay in Osaka in 4 days.
After your visit here, you'll be a pro at visiting other Universal Studios theme parks around the world!
Looking for other places to explore in the Kansai area? Read our posts:
If you have any questions about our experience and what we've shared, feel free to ask a question in the comment section below.