Minoh Park (also referred to as Minoo Park, Mino Park, 箕面公園) is a beautiful park to explore when you're in Osaka Prefecture. 
Located in Minoo City, north of Osaka, Minoh Park is a part of the Meiji-no-Mori Minoh Quasi-National Park. 
With the vast nature and walking opportunities, this is the ideal place for visitors who want to escape the busy vibe of central Osaka, see gorgeous foliage (especially in autumn!), and check out Minoh Waterfall. 
In this Minoh Park travel guide, we're sharing what to know about planning a trip to Minoh Park as a day trip, how to get there, what to see, and more. 
You'll want to check out Minoh Park after visiting Osaka for the day or taking a break from the temples in Kyoto. 
*Disclaimer: This post contains affiliate links. If you click on them and make a purchase, we receive a small commission. There is no additional cost to you. Appreciate the support.
---
How to Get to Minoh Park (Minoo Park) & Minoh Waterfall by Train
Minoh Park (Minoo Park) is about 30 minutes away from Osaka Station by train. Visitors need to get off at Minoo Station. Since this place is close by, it's a convenient day trip from Osaka. 
Hankyu Railway manages the train line to get to Minoo Station. Therefore, you are not able to use the JR Pass or JR West Kansai Pass for this line. You can either use a prepaid ICOCA card or pay cash at the ticket machine. 
---
From Kansai International Airport to Minoh Park and Minoh Falls 
Depending on which train you take, it'll take 1 hour 30 minutes to 1 hour 50 minutes to get to Minoo Station from the KIX airport. 
The fastest way to get there is this route: 
Leg 1: JR Haruka Express Train to Tennoji Station (Note: You can use the JR Pass for this route)
Leg 2: At Tennoji Station, walk to Midosuji Line heading to Senrichuo and get off at Umeda Station
Leg 3: Walk to Hankyu Lines at Osaka-Umeda Station and take Takarazuka Main Line and get off of Ishibashi handai-mae Station.
Leg 4: Transfer to Hankyu Minoo Station.
---
From Osaka Station to Minoh Park and Minoh Falls
At Osaka Station, walk to the Osaka-Umeda Station for a few minutes. Then take the Hankyu Takarazuka Main Line and get off of Ishibashi handai-mae Station. Afterward, transfer to the Hankyu Mino Line and get off at Minoo Station. 
Once you exit Minoo Station, it's easy to find where to go. Signs point to Minoh Park and Minoh Waterfall, yet all you need to do is follow the crowds until you reach the waterfall. 
NOTE: If you have a car, there are several parking lots around the park. You can find out more about the parking locations on the official website here (the site is in Japanese).
---
How Long to Spend at Minoh Park
From the Minoo Station to Minoh Waterfall, it's a 2.8-kilometer (1.7 miles) walk one-way or a 5.6-kilometer (3.5 miles) round trip. You can walk to the waterfall in 45 minutes or so if you don't take any breaks. 
Otherwise, expect about 1-1.5 hours one-way to get to the waterfall. This includes breaks and taking photos along the way. 
You'll need the same amount of time to get back to the train station. Therefore, it'll be 2+ hours round trip excursion. 
---
Best Time to Visit Minoh Park & Minoh Fall
Minoh Park is open all year round. 
The main walking path is well-maintained and paved. Since it isn't technical, hiking boots are not required here. 
If you have the chance to visit on a weekday, the crowds are fewer. Otherwise, you'll encounter crowds on the weekends.
Also, you can experience the different seasons and colorful foliage from spring to fall time. 
We highly recommend visiting in the fall season! The season is from mid-November to the beginning of December. You can do a search online for an accurate time frame as it may change every year. 
We went here at the end of November and Minoh Park was bursting with red, orange, and yellow leaves from maple trees (momiji) and ginkgo trees. The area is photogenic and perfect for visitors seeking fall foliage in the Osaka area. 
---
Entrance Fee
It's free to visit Minoh Park.
---
Awesome Things to do in Minoh Park 
1. Try momiji tempura 
One of the unique snacks to try at Minoh Park is the momiji tempura. Yes, it's deep-fried red maple leaves with sesame seeds. 
You'll see many vendors in the park preparing the momiji batter and frying them. So, you're guaranteed a fresh batch!  
The tempura batter is thicker than vegetable tempura. It's similar to a rice cracker (senbei) with a thin maple leaf inside. The texture may be too hard for some people so be careful with chewing.
To be honest, the leaf doesn't have any flavor. Yet it's a fun snack to try and enjoy while walking through the park. 
A small bag ranges from 300-400 yen. A large bag is 500 yen. 
Not a fan of trying a maple leaf? Other snacks along the way include roasted chestnuts, ice cream, grilled mochi, and more. 
---
2. Awe at Minoh Waterfall
Minoh Waterfall is the main attraction of Minoh Park. At 33 meters (108 feet) high and 5 meters (16 feet) wide, it's a smaller waterfall with gentle cascades. 
If you visit during the fall time, there are gorgeous maple leaves around the waterfall. 
There is a viewing platform to see the waterfall from afar. Swimming or entering the waterfall and stream is not allowed. 
Many visitors hang out here to enjoy the waterfall and take a short snack break. A few snack stalls are next to the viewing platform so you can view the waterfall. 
---
3. Explore Minoh-san Ryuan-ji Temple
This Buddhist temple is about halfway between the train station and Minoh Waterfall. What makes this place stands out how gorgeous and well-maintained it is. 
You can walk through various parts of the temples to take photos. The red bridge is a must-visit photo spot with the momiji leaves in the background. 
Check out more information about the temple here. 
TIP: There is a creek that passes through the temple. You may see a large salamander hanging out in the creek. It tends to attract a large crowd of people.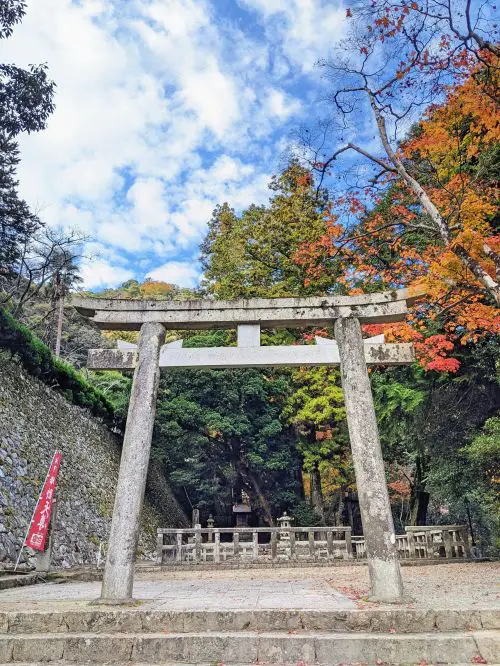 ---
4. Stop by Minoh Park's Insect Museum
Want to learn more about insects and entomology? Here is your chance! 
This insect museum has insects on display and a chance to learn more about local and other non-native species. There is a butterfly garden and special exhibits to see unique insects on display. 
Additional information about this place: 
Opening Hours: 10:00am to 5:00pm (Closed on Tuesday)
Admission Fee: High school students & Adults 280 yen; Junior high students and children 200 yen
Website: https://www.mino-konchu.jp/ (in Japanese)
---
5. Explore the hiking trails
Japan is known to have incredible hiking trails. After visiting Minoh Waterfall, you may want to explore the hiking trails that are off the main road. It's an opportunity to explore a quieter and off-the-beaten path route. 
We heard that there is a hiking trail that leads to Katsuoji Temple. This temple is located north of the park and is known to have thousands of darumas statues around. Unfortunately, we couldn't find the signage to lead us there so we'll visit this temple at another time. 
---
6. Try one of the restaurants around the park
You may have noticed the traditional houses when walking through the park. Many of the houses are now restaurants so feel free to stop by and try them. We saw a few places offering vegetarian and traditional meal sets. 
---
Other Things to Know About Minoh Park (Mino Park)
There are plenty of public bathrooms around the park. While you don't need toilet paper, you need to have a hand towel or paper towels to wipe your hands. 
Please bring your trash with you. While there are trash cans around the park, they aren't everywhere. 
The forest areas have monkeys living in there. If you see one, do not feed them! We saw one sitting patiently as a few people took photos of it. 
Final Thoughts
Minoh Park is a peaceful and beautiful area to spend the day. There are plenty of things to do here from exploring a temple, awing at the foliage, and seeing the Minoh Falls. 
If you have time, you can also combine a visit to Ikeda City, the neighboring city of Minoh. This place is known for the Cup Noodles Museum Ikeda and other historical sites. It can be visited before or after visiting Minoh Park. 
Enjoy your time in nature!
Looking for ideas on other places to visit in the Kansai area? Read our posts below: