Is Super Nintendo World at Univeral Studios Japan (USJ) in Osaka worth the visit? Yes, it is! 
Opened on March 18, 2021, Super Nintendo World is a unique themed area specifically on the Nintendo video game franchise. This themed area has 2 rides, 2 places to eat, characters meet and greet, and tons of interactive games to earn coins and stickers (with the help of a Power Up Band). It's a fantastic place for the whole family!
Even if you're not a fan of Nintendo or don't know much about the games or characters, this themed area is beautifully done with the Nintendo World details and bright colors. 
We had the opportunity to visit at the end of November 2022 and had a blast. It was the highlight of our USJ visit. 
If you're hyped up about visiting this place, continue reading this guide where we share our best tips on visiting Super Nintendo World. We have information on how to get there, how to register to enter, what to do, and more. 
Don't forget to check out our other post on insider tips for Universal Studios Japan here. 
If you're not able to make it to the Osaka site, there will also be Super Nintendo World in Hollywood and Orlando (USA) and Singapore sites opening in the future. 
*Disclaimer: This post contains affiliate links. If you click on them and make a purchase, we receive a small commission. There is no additional cost to you. Appreciate the support.
---
Super Nintendo World is Fun for Everyone
After exploring Osaka's sites for the day, visiting Universal Studios and Super Nintendo World is a great change of pace. 
Adults and children will love visiting this area! It's very interactive with the games and tons of fun so time will pass quickly. 
Even if you're not a fan, you can't help but smile when you visit Super Nintendo World. The details of the area with the POW and Question Boxes, costume characters, and instrumental music capture the Nintendo World spirit. The themed food at Kinopio's Cafe is also adorable. 
While this place isn't large, it can be overwhelming with the crowds. Even though the entrance is regulated (we'll share the process below), you'll need to have patience with the lines. 
If you're tired, take a snack and rest break so you're not burned out.
---
How Long to Spend at Super Nintendo World
Once you've entered the area, you can stay as long as you want. There are no in-and-out privileges for this area. 
There are a lot of interactive games to pass the time, so having the Power Up Band will be an integral part of your experience. 
If you have the chance to visit Universal Studios for two consecutive days, then you have a chance to explore this area further. 
We went on a Monday and Tuesday and were able to enter Super Nintendo World twice. The first day focused on games and rides, while the second day was more low-key with rides and shopping.
On the first day, our time slot to enter was from 11:30am to 12:30pm, and entered around noon. We didn't leave until after 5:30pm. So we were there for over 5.5 hours!
On the second day, our time slot was from 9:30am to 10:30am, and entered around 10:00am and we stayed for 1.5 hours. 
---
Take the Train to Super Nintendo World at Universal Studios Japan
The easiest way to get to USJ is by train. The closest station to Universal Station Japan is Universal City, which is on the JR line. 
Note: You can use your JR pass or Kansai West JR Pass to take these lines. 
---
From Osaka Station to Universal City Station
Take JR Osaka Loop Line to Nishikujo Station and then transfer to the JR Yumesake Line heading to Sakurajima. 
For Yumesake Line, it's located on the same platform when exiting at Nishikujo Station. Therefore, you do not need to go down a set of stairs to change lines. Afterward, you'll get off at Universal City Station. 
It takes about 12 minutes one way.
---
From Kyoto Station to Universal City Station 
The cheaper route will take about 50 minutes to get to Univeral Studios. 
From Kyoto Station, take the Tokaido-Sanyo Line to Himeji (Special Rapid if available) and get off at Osaka Station. Then, you walk to the Osaka Loop Line (Counter-Clockwise) and get off at Nishikujo Station. Then, transfer to Yumesake Line to Sakurajima and get off at Universal City. 
A more expensive route is to take the shinkansen and local trains. From Kyoto, take Tokaido-Sanyo Shinkansen from Kyoto to Shin-Osaka. Then, take the Tokaido-Sanyo local train to Osaka Station. Afterward, take the Osaka Loop Line to Nishikujo Station, and then transfer to Yumesake Line and get off at Universal City. 
---
Buy Studio Pass Tickets and/or Universal Express Pass Early to Save Time
Studio Pass
Since Super Nintendo World is a part of Universal Studios, you only need to pay for the general admission cost of the Studio Pass. 
TIP: Click here to buy discounted Universal Studios Japan Studio Pass ahead of time. It'll save you time. 
Here are the costs of the Studio Pass if purchasing at the USJ website or the ticket counter:
1 Day: 8,400 yen ($62 USD) for Adults, 5,400 yen ($39.90) for Children (4-11 years), 7,600 yen ($56.10) for Seniors (65+ age)
1.5 Days (valid after 3:00pm on the first day and consecutive days): 13,100 yen ($96.70) for Adults, 8,600 yen ($63.50) for Children (4-11 years)
2 Days (consecutive days): 16,300 yen ($120.30) for Adults, 10,600 yen ($78.25) for Children (4-11 years)
---
Universal Express Pass
You can also consider buying a Universal Express Pass. This is an opportunity to skip the long lines. 
The Express Pass can also bypass the lines for two of the rides at Super Nintendo World – Super Mario Kart: Koopa's Challenge and Yoshi's Adventure Ride. 
This is an additional cost to your general Studio Pass ticket and is valid for 1 day. You will need to show a QR code for the Express Pass at each of the rides. 
TIP: Buy your Express Pass at a discounted price here! Click to buy a 4-ride or a 7-ride pass.
You can buy the Express Pass on the day of arrival. The cost is between 6,800 to 10,800 yen ($50.25 to $79.80) depending on which package you purchase. 
---
Register for Super Nintendo World Time Slot in the USJ App
Super Nintendo World has restrictions on the number of visitors who can enter the park. Therefore, you need to register for a time slot in advance. 
Below are the steps to follow:
Before entering the park, download the Universal Studios Japan app. Download to your device: Android Download | iOS Download
Register your ticket in the Universal Studios Japan app. Open the app > Go to Timed Entry eTicket  > Register Park Passes > Upload a screenshot of your tickets
Afterward, click on Area Timed Entry Ticket/Standby Entry Ticket > Get An e-Ticket tab and click on Super Nintendo World > Choose your preferred time > Receive a QR code
IMPORTANT: Take a screenshot of the registration page with the QR code just in case the app crashes.
Note: The park needs to be officially open before you can sign up for a time slot to visit Super Nintendo World. Even if you enter the park early at 8:30am and the park officially opens at 9:00am, you'll need to wait until after 9:00am to sign up for the slot. 
Once the time slots are out for the day, then that is all. If you have a 2-day ticket, then you can try again the next day.
---
Is the Power Up Band Necessary?
The Power Up Band is a colorful wristband (that looks like a watch) that syncs with the USJ app. It's an opportunity to interact with the games, earn coins by hitting the question boxes and other boxes, earn stickers, and feel like you're in a part of the Nintendo world. 
There are six designs to choose from:
Mario – With a red "M" on the face and a red and blue wristband
Luigi – With a green "L" on the face and a green and dark blue wristband
Peach – With a golden crown on the face and a pink wristband
Daisy – With a flower on the face and a yellow and orange wristband
Yoshi – With a white and green egg on the face and a brown and green wristband
Kinopio (Known as Toad outside of Japan) – With a Kinopio/Toad mushroom character on the face and a colorful polka dot and white wristband
The cost of the Power Up Band is 3800 yen ($28). 
---
Helpful Tips About the Power Up Band
Buy the Power Up Band at the souvenir shops nearby the park's entrance or the Super Nintendo World entrance. You will want to earn coins immediately!
The Power Up Bands can be used for multiple visits back to Super Nintendo World. If you're a local, you can get the USJ season pass and come back here many times and earn more coins and stickers. 
Since the Power Up Bands are pricey, you can consider having two people share the band and take turns playing the games. This is what we did and we had a blast participating in the games!
---
Don't want to get the Power Up Band?
It's perfectly fine if you do not purchase one. You can still go on rides and take photos with the characters. 
You don't need to wait in lines for the games so your time in this area will go by quicker. Then, you can visit the other areas of the theme park.  
Take a Group Photo Coming Out of the Green Pipes
Before entering Peach's castle, you'll see the colorful Super Nintendo World sign and then green pipes. 
This is one of the photo spots where you can pretend to jump out of the green pipes just like in the game. Since there are three pipes, you can have up to three people in your group photo. 
While the line is long, everyone is patient and courteous to help and take photos of the group standing behind them. 
---
Go on the Rides As Soon As Possible
There are two rides in this area – Super Mario Kart: Koopa's Challenge and Yoshi's Adventure Ride.
If you do not have the Univeral Express Pass, we suggest that you complete these two rides as soon as you enter.
TIP: Super Mario Kart has the Single rider line. If you don't mind if your party gets separated, you can get through the line faster and fill in seats for uneven parties.
Super Mario Kart: Koopa's Challenge
Super Mario Kart: Koopa's Challenge is a fun VR game where you participate in the Super Mario Kart game. You wear a red visor with a VR system to enhance your game experience. During the game, you drive, throw shells at the other team, earn coins, and try to place as high as you can.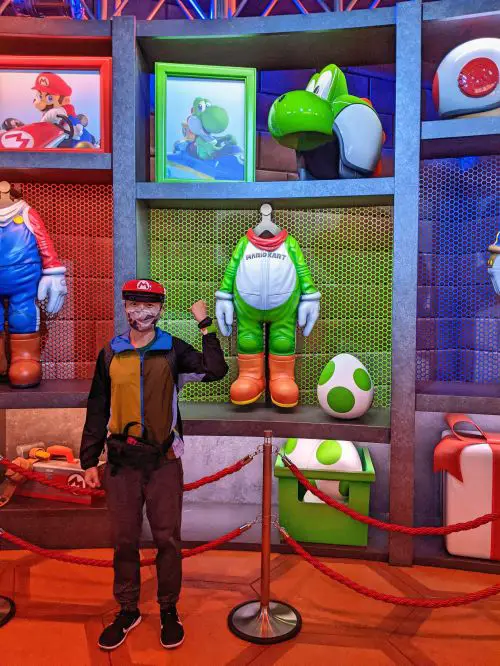 ---
Yoshi's Adventure Ride
Yoshi's Adventure Ride is a family-friendly ride where you see colorful Yoshi and Yoshi's friends. It's a very short ride, similar to It's a Small World at Disneyland, and you get to go outside to see the themed area. The interactive part is pressing the matching colored dinosaur egg when you pass by one on the ride.   
---
Check Out the Super Nintendo World in the App to See What Stickers to Earn & Total Progress
If you're eyeing to earn as many coins and stickers as possible, check out the USJ's Super Nintendo World app. Click on the blank stickers and see what you need to do to earn them. 
For example, there are stickers for hitting a certain number of question boxes, finding a character through observation binoculars, and more. 
---
Participate in the Mini Challenge to Battle Bowser Junior in the Final Battle
Note: A Power Up Band is required.
The backstory is Bowser Junior has taken over the Golden Mushroom. So, you need to collect three keys by playing mini-games and then you battle Bowser Junior in the final round. 
What is cool about this aspect is that it is hidden. These mini-games blend in naturally with the rest of the interactive games. 
To find them, head to the left side when entering and look for the golden coin on top of a ? box. If you see players syncing a Power Up Band after completion, then you know that it's one of the mini-games. 
We played the following:
Where you need to time a spinning shell through a pipe and then hit the POW box to have it shoot upward
Where you need to spin a dial quickly for Goomba, the small mushroom, to walk on a wheel
Where you're in a group and solve puzzles 
After completing the 3 games and unlocking a "key", your Power Up band is checked as confirmation for the final battle. 
The last round against Bowser Junior is a lot of fun for the participants. It's in a group setting where everyone stands in front of a wall and then starts interacting with the wall by jumping, punching, ducking things that fall, and more. It's as if you've been integrated into the game system.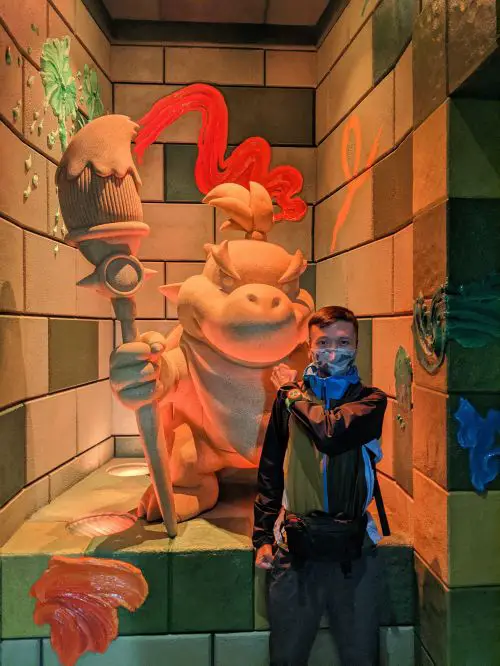 ---
Try the Nintendo-themed restaurants, Kinopio's Cafe, or Yoshi's Snack Island
Kinopio's Cafe
You can't miss Kinopio's Cafe, a red and white giant mushroom building. It's the only sit-down restaurant in the area. The line will be long to enter the restaurant, yet the food comes quickly after ordering. 
The menu has various options such as bacon cheeseburger, teriyaki chicken and rice, spinach carbonara, omelet rice, spaghetti and meatballs, and more. 
For vegetarians, the options are mushroom soup, caprese, fruit and vegetable salad, and desserts. 
Note: You can find the current menu and pricing on the USJ app. 
After ordering, you're led to the Drinks area. If you didn't order any drinks, you can get cups of complimentary water here. Then, you're led to a table. 
Currently, the tables have plastic barriers for social distancing measures. They're disinfected after visitors leave. 
The food is delivered to your table. In addition, the server takes customer service to the next level and asks if you want a group photo with the food. It's a nice touch. 
We had the Super Mushroom pizza bowl with mushroom tomato sauce and a question box tiramisu. They were reasonably priced at 1600 yen ($11.80) for the pizza bowl and 800 yen ($5.90) for the tiramisu and were good! The pizza bowl is a twist to French Onion soup. The topping (the bread with the poppy seeds) is what you use as a bowl to pour the mushroom tomato sauce. 
The question box tiramisu was adorable with the "?" box cookies surrounding the tiramisu filling. 
---
Yoshi's Snack Island
Prefer to have a snack instead? Stop by Yoshi's Snack Island for Snacks for sweet bread and drinks. Some of the offerings include Yoshi Lassie, Yakisoba and cheese bread, and Neapolitan and cheese bread. 
---
Pit Stop Popcorn
At the popcorn stand, you can also buy a Super Mario Kart popcorn bucket which doubles as a souvenir. 
---
Character Meet and Greets are Still from A Distance
Want to meet your favorite Nintendo character? You can meet Mario, Luigi, Kinopio (Toad), and Peach in the area. 
Unfortunately, you aren't able to go directly up to the characters due to Universal Studios' social distance requirement. There is a line on the floor so you can say your hellos and take photos from a distance.
---
Buy Souvenirs at Super Nintendo World Before You Leave this Area
There are a few shopping outlets, such as 1 Up Factory and Mario Motors, to buy souvenirs. We suggest that you buy your souvenirs before you depart Super Nintendo World. 
After spending two days in the park, we noticed that there are exclusive souvenirs and products specifically for Super Nintendo World. Therefore, you can't find it outside of this area.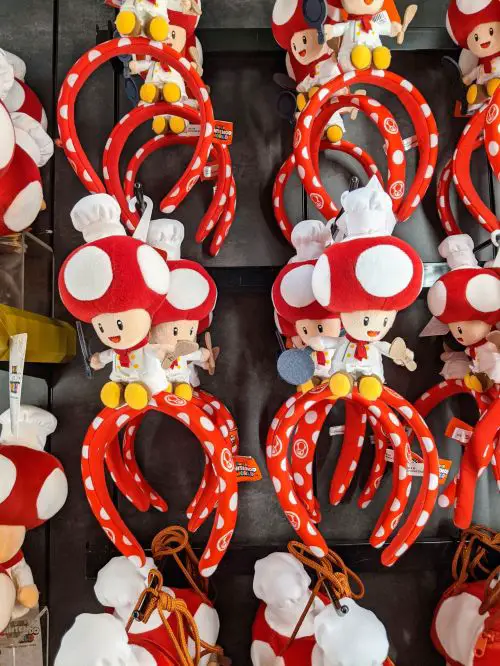 ---
Final Thoughts
Who wants to visit USJ Super Nintendo World? After reading these tips on USJ Super Nintendo World, we hope you feel more prepared for your next visit.  
If you're able to visit Universal Studios Japan for 2 days, then you can register and visit this area twice and have double the amount of excitement. You'll wish you had more time here. 
Have fun hitting the ? boxes and earning coins!
After your visit, check out other places to visit in the Kansai area: