Osaka Travel Requirements
Japan Visa Requirements
For U.S. citizens, a visa is not required for Japan. You can stay in the country and travel around for 90 days visa-free. 
---
How Many Days Needed in Osaka?
For your first visit to Osaka, we recommend at least 4 days in Osaka city to see the top attractions and go on nearby day trips. 
We see many travelers recommend 3 days, but we think an extra day is worth it to see the sights and also slow down with the travel.
If you have 5 days in Osaka, then the timing is even better to spend time in the city and do day trips to neighboring cities. 
---
Japan Entry Procedures
For the Visit Japan Web, create an account and follow the prompts. You can use the same account to log in for every Japan trip that you'll take in 2023. If you're traveling with family members and friends, you can add the information under the same trip. 
Allocate at least 15 to 30 minutes to complete. 
The 2 documents are
Immigration – This section is where you include your passport information and accommodation details. 
Customs Declaration – This section is to confirm that you're not bringing anything illegal to the country such as fruits, seeds, etc. 
Once completed, you'll receive different colored QR codes. Download or save the QR codes to your phone in advance. 
When you arrive at the airport, show the QR codes to the airport representatives at the check-in sections to expedite your arrival. You can be out of the airport in 30 minutes!
If you do not complete the documents in advance, then there are paper forms for Immigration and Customs to complete on arrival.
---
---
Best Ways to Get to Osaka
Various Japan Transportation Cards
We need to share different transportation card options to use when in Japan. These transportation cards can be used for buses, ferries, and trains. 
Shinkansen (high-speed trains) and limited express trains may need separate tickets, so ask Customer Service if the transportation cards will work. 
---
JR Passes 
You may have heard about the convenient JR Pass. Offered by Japan Railways, a JR Pass is a pass that allows unlimited transportation along the JR lines. 
There are different types of JR passes to consider depending on your itinerary and length of stay in Japan. 
The JR Wide Area Pass is the perfect pass if you plan to explore many cities in Japan. The pass can be used across the entire country, so it's beneficial for long-distance train travel. There are 7, 14, and 21 days available for this pass. 
We used the pass on separate trips – traveling from Tokyo to Osaka, and Osaka to Kyushu Island. 
Note: The cost of this pass will increase in October 2023. Read more here. This is the first major increase in years, so you'll need to decide if the pass and new amenities are still worth the price. 
If you plan to stay in one area then a JR Wide Area Pass isn't necessary.
There are JR Regional Passes to consider. These will be cheaper than the JR Wide Area Pass. The duration of the passes will vary. 
Here are passes to check out: 
---
Nankai Passes
---
Hankyu Tourist Pass
---
From Kansai International Airport to Osaka
Most international travelers will arrive at the Kansai International Airport, located on a manmade island at Izumisano City in Osaka Prefecture. 
From Kansai International Airport (airport code: KIX) to Osaka, the easiest way to get there is by train. 
---
Option 1: Express Trains
The prices and time of arrival will vary if you take a limited express train or local train. The limited express train gets to Osaka faster in 30 minutes and requires reserved seating. The ticket costs more than the local train. The local train is slower yet cheaper. 
---
Option 2: Airport Bus or Taxi
Other options include taking an airport bus and taxi. Taxi will cost the most out of these options. If you have a lot of luggage, you may consider taking a taxi. 
---
From Osaka International Airport to Osaka
Osaka International Airport, also referred to as Itami Airport (airport code: ITM) ) is 19 kilometers (11.8 miles) away from Osaka city center. This airport is closer to Osaka compared to Kansai Airport. 
The easiest way from Itami Airport to Osaka city center is to take the Itami Airport limousine bus or train. 
The second option is to take the local train. It'll take at least 50 minutes to get to Osaka. 
---
From Tokyo or Other Areas of Japan
Depending on the starting location, you'll take either a local train or shinkansen to get to Osaka. 
If taking the JR shinkansen, then you'll get off at Shin-Osaka Station (新大阪駅) and then take the local train lines to get to your accommodation. 
The two major train lines are the Midosuji Line (Osaka Metro) and Osaka Loop Line (JR), which will take you to many places in Osaka. 
---
How to Travel Around Osaka
The best way to travel around Osaka is to take the train. Osaka has 9 different train lines so there are plenty of train lines to take you to your final destination. 
As mentioned earlier, Midosuji Line (Osaka Metro) and Osaka Loop Line (JR) are the two main lines to take during your trip. 
Osaka has Japan Railways (JR) lines (Osaka Loop Line) so you can use your JR Pass or JR Kansai Wide Pass here.
If you don't have these passes, you can use an ICOCA card (or any IC card such as Suica or Pasmo) to pay for transportation. It's a prepaid transit card to use for trains, buses, and ferries. 
---
City buses and taxis are available as well for areas where there isn't a subway line available. 
---
Osaka is also a walkable city. Wear your comfy walking shoes and start exploring different areas of Osaka. On average, we get around 20,000-25,000 steps per day when walking around Osaka. 
---
Tours are also a fantastic way to explore the city. If you want to meet a local and explore the major attractions, check out these options:
---
Where to Stay in Osaka
Osaka has many accommodation options to consider from capsule pods, guesthouses, Airbnbs, to luxury 5-star hotels. It depends on your location, budget, and how comfortable you want to be for your stay. 
We noticed that the daily price for accommodations is cheaper in Osaka compared to Kyoto and Tokyo. 
Tip: If you plan to visit Kyoto for a few days and want to save budget by staying in Osaka, then you can easily take the train to get to Kyoto. It takes from 30 minutes to 1 hour one-way depending on which train station is the closest to your Osaka accommodation. 
We recommend staying in the Namba or nearby Dotonbori area if you want to be close to the action and food options. Otherwise, staying somewhere nearby a train line is suitable to travel around Osaka and neighboring areas. 
---
Our Recommendations 
We've stayed at two hotels in Osaka as we used Marriott (formerly Starwood Preferred Guest) points: 
We also recommend checking out Airbnb. You can filter options that you're looking for such as location, price, amenities, etc. Many of the options are one-bedroom apartments so you can feel more comfortable in a home setting. 
We've stayed at 3 Airbnbs in Osaka. The Airbnbs have been one-bedroom apartments with a small kitchen, washing machine, and bathroom. The washing machine is the best amenity to have so you can wash clothes more frequently and pack lighter. 
Since we like to try new places, we stayed in three areas – Namba, next to Kuromon Market, and Naniwa. 
---
Osaka Map of Places to Visit
---
Osaka Itinerary Day 1: Explore Namba Area
You've finally arrived in Osaka by flight or train. It's time to explore Osaka's Namba area. 
---
Stop by Namba Yasaka Jinja. 
Nearest Train Station: Namba (難波駅) or Daikokucho (大国町駅)
One of the unique places to visit in Osaka is Namba Yasaka Jinja (難波八阪神社). It's a small Shinto shrine with a 12 meters tall giant lion statue with its mouth open. Many visitors come here to pray for good luck. 
You don't need too much time here, so if you're in the area, stop by and take a photo of the lion! 
---
Eat Sushi and Grilled Seafood at Kuromon Market. 
Nearest Train Station: Nipponbashi (日本橋駅)
Kuromon Market (黒門市場) is a touristy market that sells fresh seafood, sushi, grilled shrimp, grilled lobsters, wagyu beef, strawberry mochi, and more. 
This market is 80 meters (.40 miles) long, so you can browse and explore the various food offerings. 
Everything looks delicious, so you will be tempted to take a food break and try the seafood dishes and sushi. Many of the stalls allow visitors to sit down and enjoy the food, or you can do takeaway. 
Due to the high amount of visitors in this area, the food cost is on the higher end. There is a supermarket in the area, but the prepackaged sushi and produce cost a few hundred yen more than other local supermarkets. 
The weekends at Kuromon Market are super crowded, especially during lunchtime. So, it's best to go early in the morning. Or, if you have the time, visit on a weekday. 
---
Visit Nipponbashi Denden Town. 
Nearest Train Station: Namba (難波駅)
For those who like anime, Denden Town (でんでんタウン 日本橋筋商店街) is similar to Tokyo's Akihabara area but on a smaller scale. 
Browse through the many stores selling anime figurines and toys such as One Piece, Dragon Ball, Sailor Moon, My Hero Academia, and more. 
Many of the stores have gacha machines, the capsule toy vending machines, so you can play a few times and see what prize you get. 
There are also maid cafes in this area. 
---
Wander along Dotonbori Street and Eat Street Food. 
Nearest Train Station: Namba Station (難波駅)
Dotonbori Street (道頓堀)is a popular and vibrant street to visit when you're in Osaka. 
It has tons of street food, flashy lights, and large-than-life artwork of the food item sold at the restaurant. You'll see giant gyozas, steamed buns, sushi, and more. 
We suggest that you try snack items such as Osaka-style okonomiyaki (grilled pancake), takoyaki (grilled octopus balls), strawberry mochi, and more. 
This area is super touristy and crowded at night. If you want to avoid the crowds, then visit this street in the daytime. 
---
Take a Photo with the Glico Man Sign. 
Nearest Train Station: Namba (難波駅)
Glico is one of the most famous snack companies in Japan. You'll recognize Glico if you've eaten Pocky, the chocolate, matcha, or strawberry-coated biscuit, and Pretz, the pretzel sticks. 
In the Dotonbori area, there is a sign of a man with his arms in the air. The man is called "Glico Man" (道頓堀グリコサイン). 
Installed in 1935 to advertise the Glico company, currently, this sign is where you can channel your own running pose. 
---
Go Shopping. 
Namba area has plenty of shopping opportunities depending on your interest. 
Don Quijote Stores
Don Quijote is a discounted store where you can get everything  – Halloween costumes, clothes, toys, beauty supplies, cosmetics, food, secondhand luxury goods, and much more. 
This place is a sensory overload as there is a lot of inventory and stuff everywhere. If you don't like narrow aisles, you may want to skip this store. 
If you plan to buy a lot of stuff here, consider spending 5,500 yen ($38 USD) (including tax) and your final cost will be tax-free. You'll need to have your passport to get this offer. 
There is a location in Dotonbori area, and you can't miss it with the mini roller coaster in front. 
---
Namba Walk 
This is an underground shopping center that connects Namba Station and Nipponbashi Station. 
It's quite long at 715 meters (.44 miles) and has a variety of boutique clothing stores, beauty, 100 yen type of shops, and restaurants. There is also a store where you can play gacha toys. 
If the weather is rainy or too sunny, then this place is a good hiding spot for a few hours. 
Note: Although it's easy to get from Namba to Nipponbashi Station (one end to the other), if you plan to veer off to the side exits, it can get confusing. You'll need to read the signs or use Google Maps to determine which exit to use. 
---
Shinshibashi-Suji Shopping Area
Once you exit Dotonbori Street, you'll reach the Shinshibashi-Suji Shopping Street (心斎橋筋商店街). 
Check out your favorite brands for clothing and shoes such as Uniqlo, Gap, Asics, Onitsuka Tiger, ABC Mart, and more. If you're a fan of Sanrio and Hello Kitty, there is a Sanrio Gallery store with a whimsical theme and decor.  
It's a covered street, so you can enjoy this shopping street at any time. Many shops close around 9pm to 10pm. 
Some of the stores have tax-free offers for foreign tourists. There will be a sign if the shop has the offer. As mentioned above, you'll need your physical passport to receive the offer. 
---
Amerikamura Shopping Area 
Looking for more shopping? Check out the Amerikamura Shopping Street (also known as Amemura, American Village, or (アメリカ村)) for boutique shops and Western clothing. There are tons of places selling jeans too. 
---
Osaka Itinerary Day 2: Osaka Castle & Other Attractions
On your second day in Osaka, feel free to visit any of the attractions that were missed on the first day. Otherwise, we'll continue to explore the Osaka area. 
---
Visit Osaka Castle. 
Nearest Train Station: Morinomiya (森ノ宮駅), Tanimachiyonchome  (谷町四丁目駅), Temmabashi (天満橋駅), Ōsakajōkōen (大阪城公園駅), or Osaka Business Park (大阪ビジネスパーク駅)
Osaka Castle (大阪城) is a famous landmark in Osaka. Located in the Chuo Ward area of Osaka, the main castle is a five-storied white castle surrounded by a moat. 
The inside of the castle area finished building in 1585, and the outer area expanded afterward. The castle has gone through various war factions over the hundreds of years. 
Recently, it's been restored and upgraded. Visitors get the chance to walk around the interior of the castle and see views from above. 
TIP: If you're interested in seeing other castles in Japan, check out Hiroshima Castle, Okayama Castle, and Himeji Castle.
During the spring season, the cherry blossoms around the park area are gorgeous. You can experience this area for free and enjoy the peak blooms in late March to early April time frame. 
---
Visit the Expo 1970 Commemorative Park.
Nearest Train Station: Bampaku-kinen-koen (万博記念公園駅)
If you want to travel back in time and see what the area looked like for the Osaka Expo exhibit in 1970, then check out this Commemorative Park. Located in Suica, it's a 35 to 40-minute train ride to get here. 
This park has the famous landmark, the Tower of Sun, which you'll see at the main entrance. It's a 70-meter (230 feet) tall statue with four faces on it. 
Other highlights of the park include a Japanese garden, Expo '70 Pavillion to see artifacts from the Expo event, and Flower Hill to see pretty seasonal flowers. Tulips are gorgeous in the springtime. 
There are also lots of nature walking paths to go through where you see waterfalls, a bamboo forest, cherry blossoms, and more. 
---
Explore Umeda Sky Building. 
Nearest Train Station: Osaka-Umeda (大阪梅田駅)
You get the chance to see Osaka City from above from the Kuchu Teien Observatory's rooftop area. It's a pretty place to see the sunset. The see-through escalator to reach the observatory is a photogenic spot to take photos. 
For those who like art, there is a Koji Kinutani Tenku Art Museum on the 27th floor. The museum uses 3D visuals on the paintings and sculptures. There is a separate admission for the art museum.
---
Visit the TeamLabs Botanical Garden at Nagai Botanical Garden at Night. 
Nearest Train Station: Nagai (長居駅)
Have you been to a TeamLabs exhibit in Japan? TeamLabs is known for gorgeous digital artwork made with sounds and lights. 
If you've been to an exhibit before or want to experience it for the first time, the TeamLabs Botanical Garden is the perfect place to visit. 
What is cool about this place is that it's only open at night and all of the exhibits are outdoors. 
You'll get to walk through a forest area to see colorful oval-shaped sculptures. Or, walk along the lake and see golden lights glow whenever wind or movement passes by. 
The artwork can provide sensory overload, but it's quite fun to experience. 
---
Osaka Itinerary Day 3: Other Areas of Osaka
On your third day in Osaka, it's time to visit neighboring cities in Osaka Prefecture. You get the chance to leave central Osaka. 
We suggest that you visit a few of the options below. You won't be able to visit all of them but choose what you're interested in seeing. 
---
Option 1: Visit Ikeda for Cup Noodles Museum and Wombats.
Nearest Train Station: Ikeda (池田駅)
Ikeda is a small city north of Osaka's main city area. It takes about 20-30 minutes from Osaka-Namba Station. 
Most visitors head to Ikeda for the Cup Noodles Museum. Momofuku Ando created his first instant noodle product here in Ikeda and had success with the Cup Noodles invention. 
At the museum, visitors can customize their own Cup Noodle and learn more about the instant noodle history. The museum is free to visit. 
TIP: If you're visiting the Tokyo area, consider taking a trip to Yokohama. There is a larger Cup Noodles Museum compared to the Ikeda one. You can also make your own Cup Noodle. 
If you have the chance, stop by the Satsukiyama Zoo to see Wain, the Guinness World Record holder as the longest-living wombat in captivity. He is currently 34 years old. You can also see his other wombat buddies – Yuki, Fuku, and Ko.
There are other animals for children to pet. This place is free to visit. 
---
Option 2: Visit Minoh Park in Minoh City. 
Nearest Train Station: Minoo (箕面駅)
Need a quick getaway from main Osaka city and want to be surrounded by nature? Head to Minoh Park in Minoh. This place is 30 minutes away from Osaka Station. 
Minoh Park is a beautiful place to go on a nature walk. The route is flat and paved, so it's doable for all ages. Along the way, there is an insect museum, which children will enjoy. Also, there are gorgeous shrines and temples.  
At the end of the walking path, you're rewarded with Minoh Falls, a pretty waterfall with gentle cascades. The waterfall isn't tall, but it's a relaxing place to hang out 
Many locals and tourists love visiting here during the fall season as the maple leaves burst orange and red colors. It's quite a sight to see these colors surrounding the waterfall.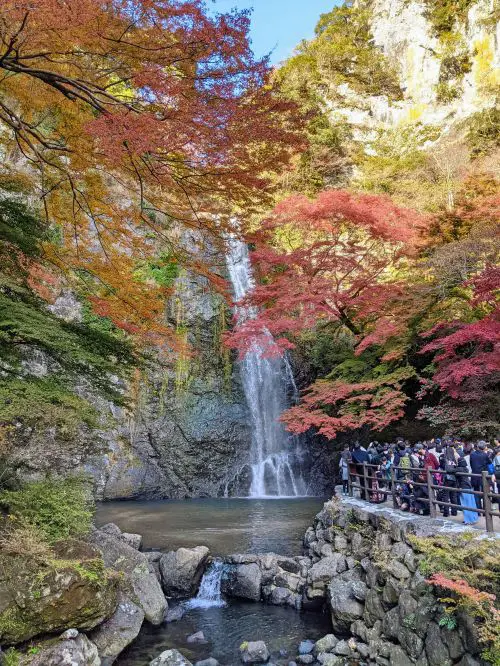 Note: If you have extra time, you can add a visit to the Katsuoji Temple and see thousands of darumas, red dolls with painted faces. Unfortunately, we didn't have a chance to visit this place but it's on our bucket list. 
---
Option 3: Spend a day or two at Universal Studios Japan. 
Nearest Train Station: Universal City (ユニバーサルシティ駅)
Located in the Sakurajima area of Osaka, Universal Studios Japan is an exciting theme park to visit. 
From movie themes to thrill rides to posing with your favorite Minion character, this place is a great addition to your Osaka itinerary. You can visit the Wizarding World of Harry Potter, get frightened by dinosaurs in Jurassic Park, ride a boat and see if Jaws will appear, and more. 
For those who like anime, USJ usually has one attraction dedicated to a current anime. On our visit, there was a Jujitsu Kaisen 4D ride.
We suggest spending at least 2 days at Universal Studios Japan so you have more time to go on the rides and explore the newest section, Super Nintendo World.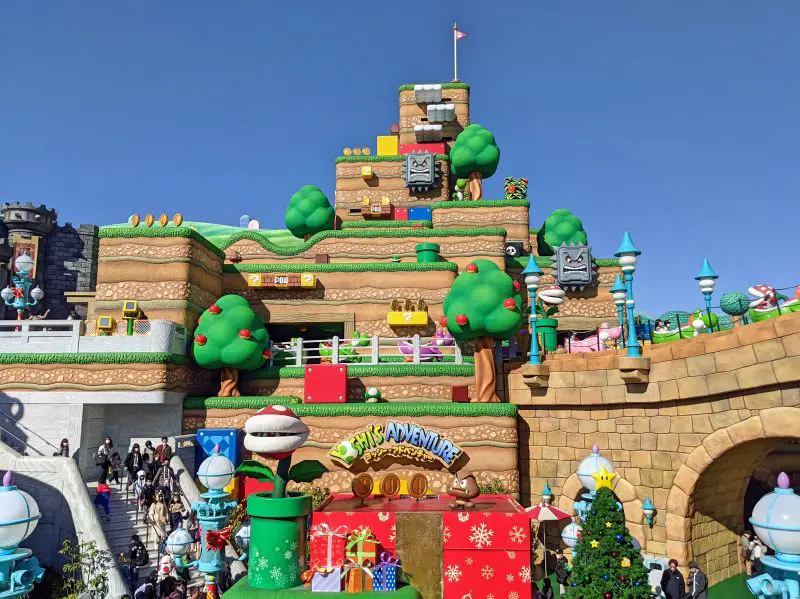 ---
Osaka Itinerary Day 4: Day Trips or Departure
On your fourth and final day in Osaka, let's take a day trip from Osaka. 
With the convenient subway and train system, it's easy to get to one of these destinations in an hour. Unfortunately, you'll only have time for one place so choose one that interests you the most. 
---
Option 1: Kyoto
Nearest Train Station: Kyoto (京都駅)
Kyoto, the former capital of Japan, is an ideal place to visit to see traditional temples, shrines, and Japanese gardens. You can easily spend the entire day exploring temples such as the Kinkakuji (Golden Pavillion). 
Another cool area to visit is the Arashiyama area for the bamboo forest (albeit a very small forest) and the Tenryuji Temple. 
Since Kyoto is a huge city, we recommend at least 5 days in Kyoto. 
---
Option 2: Himeji 
Nearest Train Station: Himeji (姫路駅)
The main attraction of Himeji is the castle, a UNESCO World Heritage Site. This 17th-century castle is a stunning white color and a nice place to explore the interior. 
The neighboring Koko-en Garden is also recommended to check out after Himeji Castle. 
---
Option 3: Uji
Nearest Train Station: Uji (宇治駅)
For those who love drinking matcha tea and eating matcha desserts, Uji is the perfect destination. This area has many restaurants and dessert shops selling tea and matcha-flavored foods. 
Uji's temples are also considered a UNESCO World Heritage site. 
---
Option 4: Nara 
Nearest Train Station: Nara (奈良駅)
Who wants to see deer wandering around the temple grounds and park area? Nara is the perfect destination for you. 
Besides the deer, there are beautiful temples (Todaiji Temple is the most important one) and shrines to wander through. 
---
Option 5: Kobe
Nearest Train Station: Shin-Kobe (新神戸駅)
While Kobe is famous for its Kobe beef, the city has incredible hiking opportunities on Mount Rokko. 
Since we've only been to Kobe once to go hiking, we recommend an easier day hike from Nunobiki Falls to Nunobiki Herb Garden. You'll pass by four waterfalls along the way and reach a beautiful garden area on a hill. 
---
Option 6: Departure
If you need to depart Osaka on your last day, we hope you had a fantastic time exploring Osaka. As you can see, there are so many incredible attractions to see in this city. 
Whether you're leaving to return home or extending your trip to other areas of Japan, have a safe trip!
---
Places to Eat in Osaka
Osaka has plenty of food options so you won't be hungry during your four days here. You can easily eat affordable street food off of Dotonbori or find hidden gems in residential areas. 
---
Here are some places that we tried and loved:
Maruyoshi Sushi (まるよし)
Located in Naniwa Ward and nearby the Daikokucho Station, this place serves delicious kaisen chirashi bowls. The sashimi is super fresh as the local seafood market is next door. You can't go wrong with a variety of sashimi. The cost is 2,750 yen ($19 USD) for the kaisen don.
Or, you can try a rice bowl topped with fatty tuna or sea urchin.   
---
Sushi Zanmai
This mid-level sushi chain is located on Dotonbori Street and is open 24 hours. You can have sushi at 3am if you'd like!
We love getting the sushi nigiri platter, especially the platter with the large anago (salt water eel) nigiri. This platter is 4700 yen ($32.50 USD) and so yummy! 
---
If you are overwhelmed by the food options, consider going on a food tour. You meet an English-speaking local who will take you to a variety of small shops and places to eat. 
---
Final Thoughts
We hope you enjoyed this itinerary on what to do in 4 days in Osaka. There is so much to do in this city, which is why you need at least four days to explore. 
If you have any questions about this Osaka itinerary, please ask a question in the comment box below.
Like this post? Save it to your Japan or Asia Pinterest board.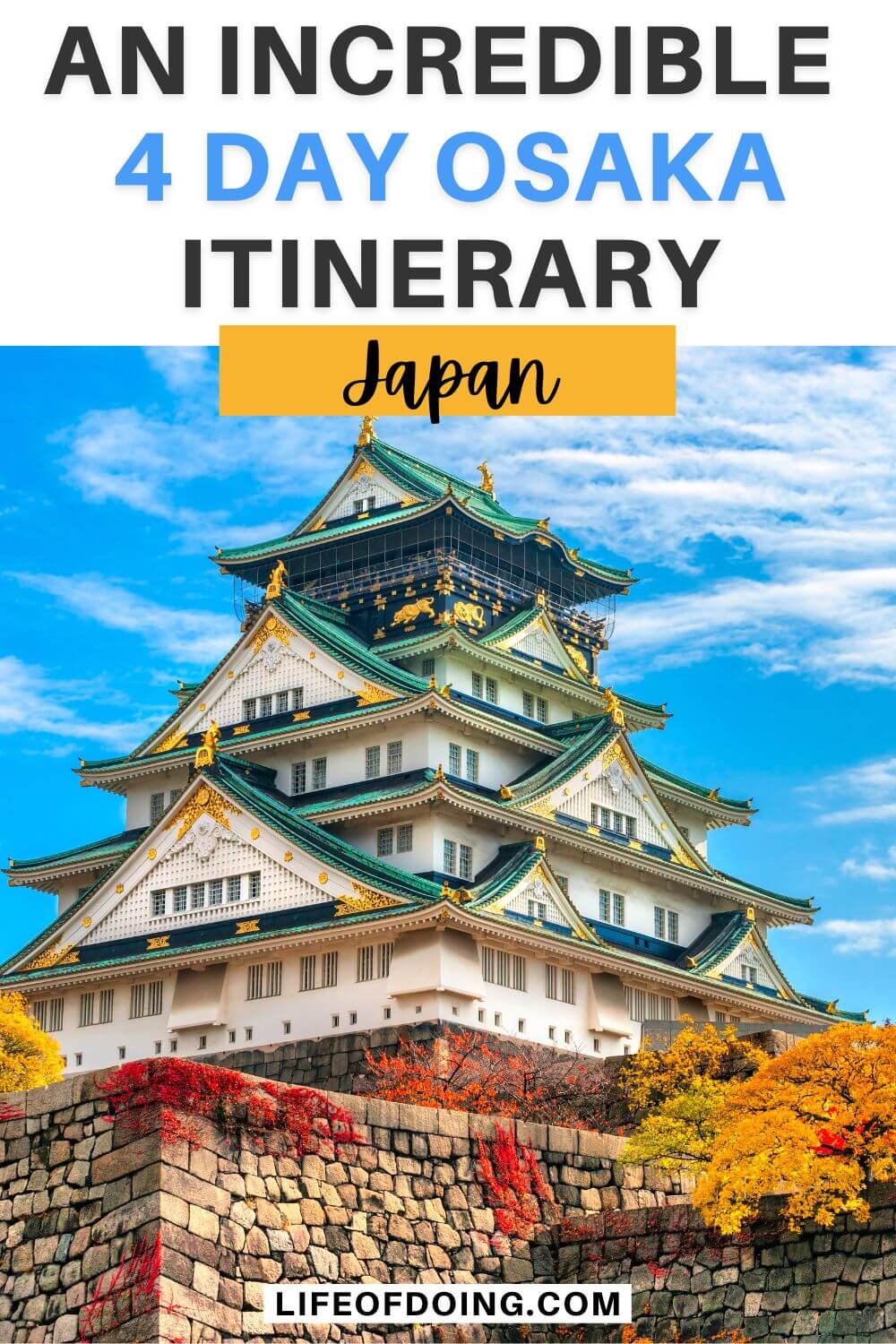 Featured photo & Pin #1 photo credit: masterlu via Depositphotos.com