How to Get to Nagai Botanical Garden from Osaka City Center
If you're staying in Osaka, then the easiest way to get to Nagai Botanical Garden is to take the train to Nagai Station (長居駅). Osaka Metro and JR Lines operate train lines through this station. 
Tips: 
---
Step 1: From Osaka Station to Nagai Station
From Osaka Station (大阪駅), walk to Umeda Station (梅田駅) to Nagai Station, it'll take 25 minutes on the Osaka Metro Midosuji Line (Local Nakamozu.) This will be the easiest way to get there. 
From Osaka Station to Nagai Station via JR lines, it'll require transfer stops. First, head to Tennoji Station (天王寺駅) from Osaka Station, and then transfer from Tennoji to Nagai Station via Hanwa Line (Local Otori). It'll take around 30 minutes with this route. 
---
Step 2: From Nagai Station to Nagai Botanical Garden
After exiting Nagai Station, head towards the park and follow the road.
There isn't much signage pointing to the entrance of the Botanical Garden, but it's located in the middle of the park. Just follow the crowds of people.
It'll take around 8 to 10 minutes to walk to the entrance. 
---
TeamLab Botanical Garden Admission Cost & Tickets
It's recommended to buy tickets ahead of time online. The prices will increase starting in July, so it's reflected below:
Adults (high school and up): 1,800 yen ($12.90 USD)
Children (elementary and junior high): 500 yen ($3.60)
Disability Discount (for those with a disability certificate and one accompanying adult): 900 yen ($6.50) 
At the moment, tickets are available for the current month and the following month. For example, it's currently June and tickets are available for June and July.  
TIP: We suggest that you check the weather forecast before buying a ticket for a specific date. You may not want to visit if there is rain expected. 
---
Where to Buy Tickets
---
To Redeem Voucher
The process was seamless to redeem our Klook voucher. 
We showed a TeamLab team member the Klook voucher with the QR code from our phone. (You can use either the Klook app or open the Klook email with the voucher PDF). It was scanned and we were allowed inside after a bag check. 
Therefore, you do not need to get a physical ticket. 
---
When to Visit TeamLab Botanical Garden
This place is only open at night. The opening hours are 7:30pm to 9:30pm and closed on the second and fourth Mondays of each month. 
Going on a weekday will be better since there will be fewer crowds. We went on a Monday and the crowds were manageable.
---
How Long to Stay at TeamLab Botanical Garden
You'll need at least one hour to walk through the various exhibits. 
We stayed for 1.5 hours and felt it was the perfect amount of time. We didn't feel rushed as the attractions at the venue are spread out. 
---
Tips to Know Before Visiting Botanical Garden
This is an outdoor venue and it is dark. Please be careful when walking around since street lights are limited. You'll need to rely on the lighting from the exhibits to get around. 
Wear comfortable walking shoes. You will be walking on uneven sidewalks and grass with tree roots. We wouldn't want you to have any foot or ankle injuries. 
There is a bag check at the ticket entrance. 
Bring water and snacks. Feel free to bring drinks and water into the park. Do not litter as trash must be brought with you back to your hotel to dispose of properly. 
Download the TeamLab App. You can read and interact more about each exhibit. 
Download the Distributed Fire App. The "Universe of Fire Particles in the Forest" is one of the artworks with a giant flame. When visiting the artwork and launching the app, you can light the fire and keep the fire ignition as a souvenir. 
No free wifi in the park. You'll need to have a SIM card or use a pocket wifi to get data. 
There are bathrooms in the park, located next to the Floating Resonating Lamps on Oike Lake.
Re-entry to the park is not possible, so stay in the park as long as you want. 
What happens if there is bad weather? The park still operates as usual. We suggest bringing an umbrella.  
What if I want to change the ticket date? If you want to change the date of the ticket, only tickets bought on the official website can be changed. You'll need to go through the website's ticketing to change the date (up to 3 additional times). If you bought the ticket through a third-party vendor such as Klook, unfortunately, there are no date changes available. 
To exit the park, follow the Exit signs. Everyone is led to an indoor museum where there are toilets. 
Tip: There is an optional survey (available in English) so you can provide feedback. The survey takes a few minutes to complete. It's not advertised, but you will receive a gift for your time. We got TeamLab stickers! 
---
What to See at TeamLab Botanical Garden
Since we want you to experience this park for yourself, we'll share a few of our favorite sections to check out. 
Resonating Microcosms in the Common Camellia Garden
There are three sections filled with colorful ovoids (egg-shaped, but we call them "jelly beans") and trees in the camellia garden. It's a beautiful sight to see the colorful eggs and trees and the changes in colors coordinated with the music. 
In one section, you could interact and touch the eggs/jelly beans. 
We had a blast in the camellia garden area and stayed here for the longest time.
---
Forest of Autonomous Resonating Life in Eucalyptus Area
If you've been to TeamLab Borderless in Tokyo, then you may remember the giant inflatable eggs where you can touch and push them. 
At Botanical Garden, it's the same concept and is located in an area with eucalyptus trees. The inflatable eggs come in all colors and you can gently push them. Please do not kick them since they may pop. 
Tip: Be careful in the darker areas as there are tree roots and you may trip over them.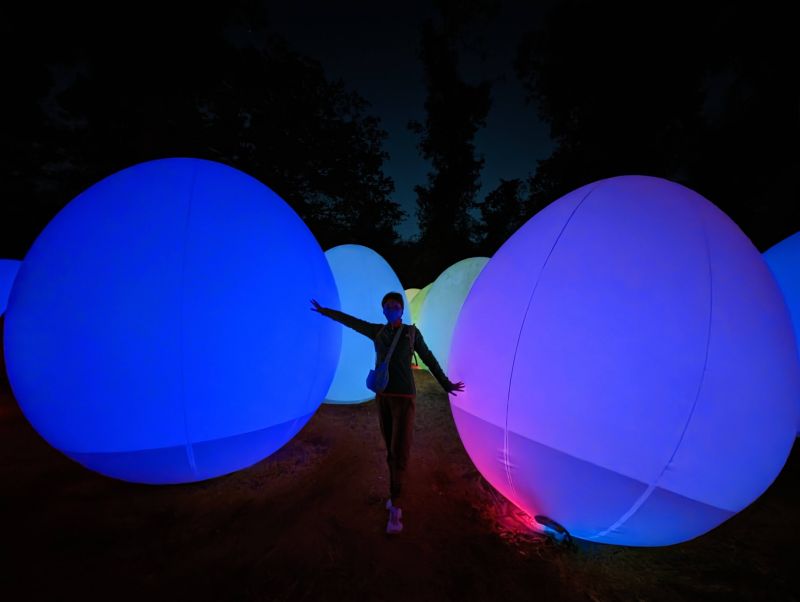 ---
Sculptures of Dissipative Birds in the Wind
Located on the lake, this artwork has three large screens displaying colorful swirls. The swirls represent birds flying around and how their energy affects the surrounding environment. 
When seeing this artwork, it reminded me of Vincent van Gough's The Starry Night painting.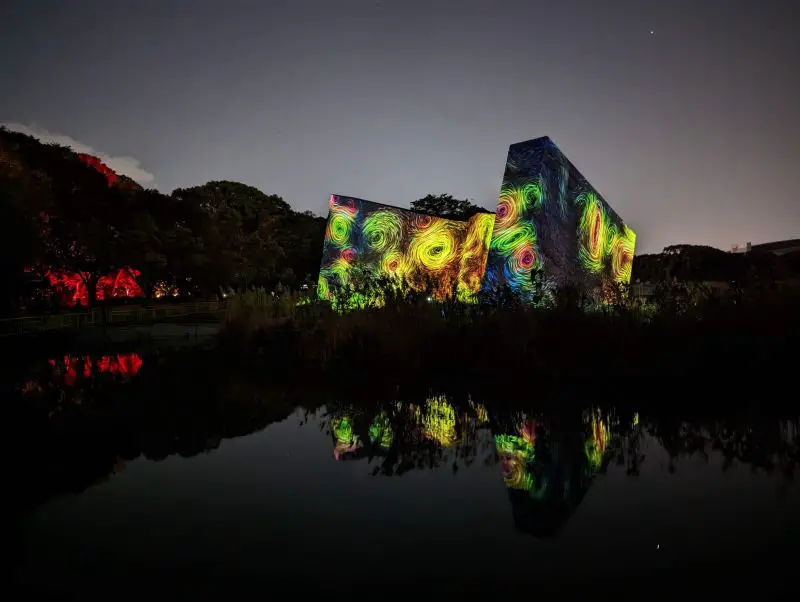 ---
Universe of Fire Particles in the Forest 
This interactive artwork is a giant flame that is ignited based on visitors' help.
As mentioned above in the Tips Section, you can download the Distributed Art app. Once you open the app, you can save a copy of the flame. If another person is nearby and has the app open, then the flame spreads around the world and is captured on the Map of the Flame. 
---
Floating Resonating Lamps on Oike Lake
This is another artwork on the lake where golden yellow lamps float and get brighter when someone stands nearby or the wind passes.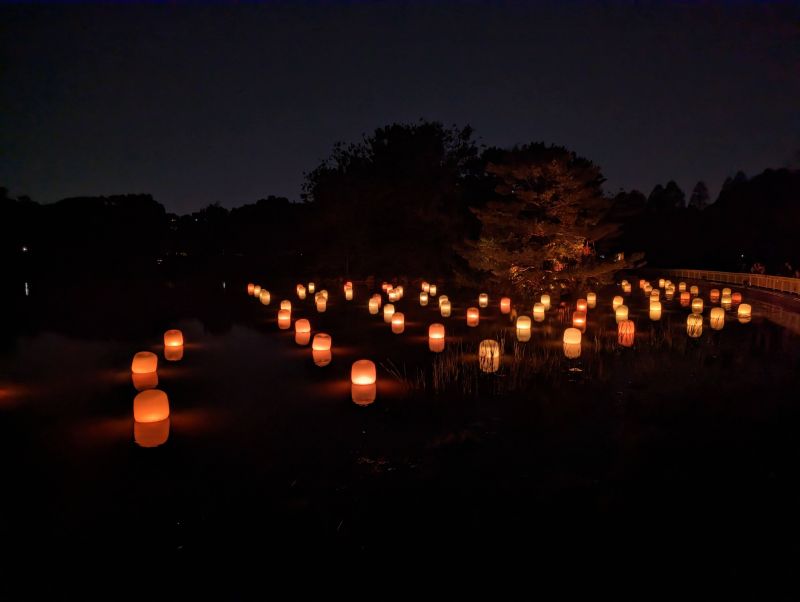 ---
Life is Flickering Light Floating in the Dark (Seasonal and Limited Release) 
When visiting in the springtime (late April to May), you'll get the chance to see nemophila (also called Baby Blue Eyes) flowers glow in low light. 
While nemophila are gorgeous to see in the daytime, the nighttime lighting gives an eerie vibe and the nemophila look like they're frozen. 
Final Thoughts
We enjoyed our time visiting TeamLab Botanical Garden Osaka. 
From the interactive artwork to the beautiful colors and complementary music with each artwork, we thought it was well worth the time and cost. 
We recommend this spot as a fantastic addition to your Osaka itinerary. 
Look forward to seeing more from the TeamLab group!
Check out other blog posts that we've written about in Osaka area: