What are recommended apps to use on your Indonesia travels? 
After visiting Indonesia many times, we're here to share the 12 best travel apps that you need on your next trip to Indonesia. 
From language translation to food recommendations and where to stay, these apps have been tried and used personally by us. All of the apps that we mentioned are free too. 
We recommend that you download these apps on your phone or tablet ahead of time so you don't need to stress to download them when you land in Indonesia. With each app mentioned below, we share a link to download the app on iOS or Android devices. 
To help with your Indonesia travel planning, check out our posts below: 
Important: Get Data When You Arrive in Indonesia
SIM or eSIM Options
Accessing data on your phone or tablet is important for your Indonesian travels. 
When you land at an international airport in Indonesia, we recommend that you buy a SIM card with 3G or 4G immediately. 
---
International Phone Plan 
If you have an international phone plan, feel free to use it when you're in Indonesia. 
For U.S. travelers looking for a new international phone plan, consider getting Google Fi, formerly Google Project Fi. 
This phone plan has data access in over 200 countries and there is no additional charge. You can also get free calls and text over wifi. 
We've used this phone plan since 2016, and have successfully used it in Indonesia many times. 
Even though we live in Ho Chi Minh City, Vietnam for the past 5+ years, we still keep the U.S. phone number and phone plan. 
---
Recommended Indonesia Travel Apps for General Travel
Google Translate
Indonesia's official language is Indonesian, a slight variation of Malay. Due to the influences of Dutch colonization, Indonesia's written language is Romanized. Therefore, you'll recognize letters when reading signs and menus. 
The app is easy to use to translate Indonesian words into your native language. 
The best function is to use the "live translation." You can take either a photo or hold your camera against printed text with Indonesian words and the app will translate words immediately. Unfortunately, the app will not pick up handwritten words. 
Sometimes the camera angle is wonky and the app translates the text into something weird. So, you'll need to try a few times.  
We use this function often if we eat at a local warung and the ordering system is done on a piece of paper. 
---
Google Maps
If you need to find the nearest attraction, landmark, coffee shop, restaurant, etc. to your location, you can use Google Maps and search "X (ie: "coffee) near me." You'll need to have your location turned on your phone so Google Maps can find your exact location. 
Besides maps, Google Maps has functionalities such as saving restaurants, attractions, and places that you want to visit. You can also take those pinned places to create private lists and organize them by themes. 
While the internet connection is decent in Indonesia, there may be times when the connection is poor. Therefore, it's recommended to save an "offline version" of the map. 
---
Best Indonesia Apps for Transportation
Gojek
The app is the same as Uber, U.S. ride-hailing app. Unfortunately, Uber is not available in Southeast Asia. 
In the Gojek app, you request either a motorbike or car, input your starting and ending location, and the cost of the fare is listed in the app. Payment is done through the app via credit card or in person by cash with exact change. 
It's very convenient to take Gojek since you don't need to worry about haggling and can follow the app to see where the driver is going. 
Besides Indonesia, Gojek has expanded to other Southeast countries – Vietnam, Singapore, Thailand, Philippines. We live in Ho Chi Minh City, Vietnam, and have seen Gojek motorbike drivers around the city. 
---
Grab
The app works exactly like Gojek and Uber. Everything is done within the app from requesting where to go and payment via credit card. You can pay in cash but you'll need exact change. Motorbikes and cars are available for hire. 
In Indonesia, we used a Grab car for shorter distances in major areas such as going from our hotel in Yogyakarta to local attractions and restaurants, and around Bali's Seminyak area. 
---
Other Tips for Gojek and Grab
Gojek and Grab have a similar green color for the company logo. Before riding any vehicle, check the license plate with your app so you have the correct driver. 
If you're hungry during your travels, you can use Gojek or Grab to order food delivery. The food will be delivered to your location of choice, such as hotel accommodation. All you need to do is pick it up from the driver when it arrives. It's convenient if you don't want to travel anywhere for food. 
If you're traveling in Bali, there are certain areas that do not allow ride-hailing cars for pick-up and drop-off. There will be signs that restrict ride-hailing cars. 
Even though ride-hailing is allowed on the island, the local area prefers to support local taxi drivers and private drivers. 
---
Tiket.com
If you plan to take trains or flights within Indonesia, you may have difficulties using your international credit cards to process payment for the train or airline platform (ie: Lion Air or Air Asia). 
We used them to buy train tickets from Surayaba to Yogyakarta and a flight on Lion Air from Yogyakarta International Airport to Bali Denpasar Airport. The process was easy. We received confirmation of our purchases via email and WhatsApp. 
If there are any issues with buying tickets with your credit card, you can contact Customer Service on WhatsApp and someone will assist. The Tiket.com team may need to whitelist your credit card number before payment. 
Note: There is a small processing fee for using the site or app, but at least the process is hassle-free.   
---
Helpful Indonesia Travel Apps for Accommodations
Booking.com
The app is convenient to use. You input your city, travel dates, and filter the type of accommodations, amenities, pricing per night, refundable or nonrefundable room, and more. 
Guests provide their rating for accommodations and share what went well and opportunities for improvement. 
The pricing in the app is the final cost of the accommodation. Depending on the terms of the accommodation, you'll pay ahead of time via credit card or at the property in local currency. 
Your booking confirmation is saved in the app and can be accessed at any time. 
Tip: If you use Booking.com often, you'll be added as a "Genius Member" and earn loyalty levels. Depending on the property, you can earn a Genius Member discount. So, you'll save money! It's a win-win situation. 
We use Booking.com to book accommodations for most of our trips. 
---
Agoda
The app is the same as Booking.com. You can find accommodations based on date, location, and filter amenities based on your preferences. Reviews are also shared on the platform. 
We noticed Agoda has the FOMO (fear of missing out) and act now call of action. They want you to book a place NOW. 
The prices are not consistent. They change if you use a different browser (on the computer), or check on another day. 
Plus, the final price is shared once you go through the booking process. Sometimes, the pricing looks cheaper on Agoda compared to Booking.com. But there aren't any taxes and fees included yet. (Booking.com pricing already has these fees included.) 
---
Best Indonesia Travel Apps for Attractions and Tours
Klook
We like to use Klook as it saves us time when buying tickets. Sometimes the lines to the attractions are long, so this saves time. 
The pricing on Klook is also reasonable. It's usually the same price as the attraction or even cheaper. Saving money is always a positive! 
When you buy something through the app, you'll receive a confirmation. You'll need to check the terms on how to redeem your ticket. Most of the time, you show the QR code through the app or PDF in the email to the main ticket office, and then can proceed. 
If you write a review, you earn credits. These credits can be used for future purchases so you get a small discount. 
---
Get Your Guide
The app is easy to use as you can find things to do based on location. Reading reviews from other guests is also helpful. 
Once you purchase something through the app, a confirmation is saved. You can access the information at any time. 
---
Tips for Klook and Get Your Guide
Sometimes the same tour operator is on both platforms for the same tour. You'll need to compare both platforms on the pricing and what is offered. Klook tends to be slightly cheaper than Get Your Guide. 
---
TripAdvisor 
Many things listed on TripAdvisor are "touristy" as the platform relies on reviews from other visitors. Sometimes the reviews are not authentic and are "shill reviews" so you'll need to read through them and make your own judgment.  
Besides reviews, they've expanded their offerings where you can book hotels, flights, and tours. (We still prefer to use Booking.com or Agoda for our hotel reservations.) 
TripAdvisor also has a forum in a message board format. You can ask questions based on the country or city of interest, and other Tripadvisor members can answer them. The response rate varies depending on who is on the forum and whether the question has been answered before. 
---
Important Indonesia Travel Apps for Communication
WhatsApp
To use the app, you can send messages, call, or do video calls to an individual or a group. The contact must have WhatsApp and a phone number. 
In Indonesia, we used WhatsApp to communicate with our tour guides and private drivers in Bali and Yogyakarta and tour guides. 
---
Messenger
Messenger, created by Facebook, is another way to communicate with others. 
While Messenger is used to talk with friends, it can also be used to contact local businesses. If a restaurant, cafe, massage place, etc, use Facebook, then you can send a message through Messenger. 
The response time will vary depending on how active the business is on Facebook. If there isn't an answer within a reasonable time, you can give the business a call.  
Final Thoughts
Which of these essential travel apps will you download and use for your next Indonesian travels? We hope you feel more at ease with the important apps to use in Indonesia. 
If you have any questions about these apps, please ask us a question in the comment section below. 
Happy travels! 
Like this post? Save it to your Indonesia or Asia Travel Pinterest board.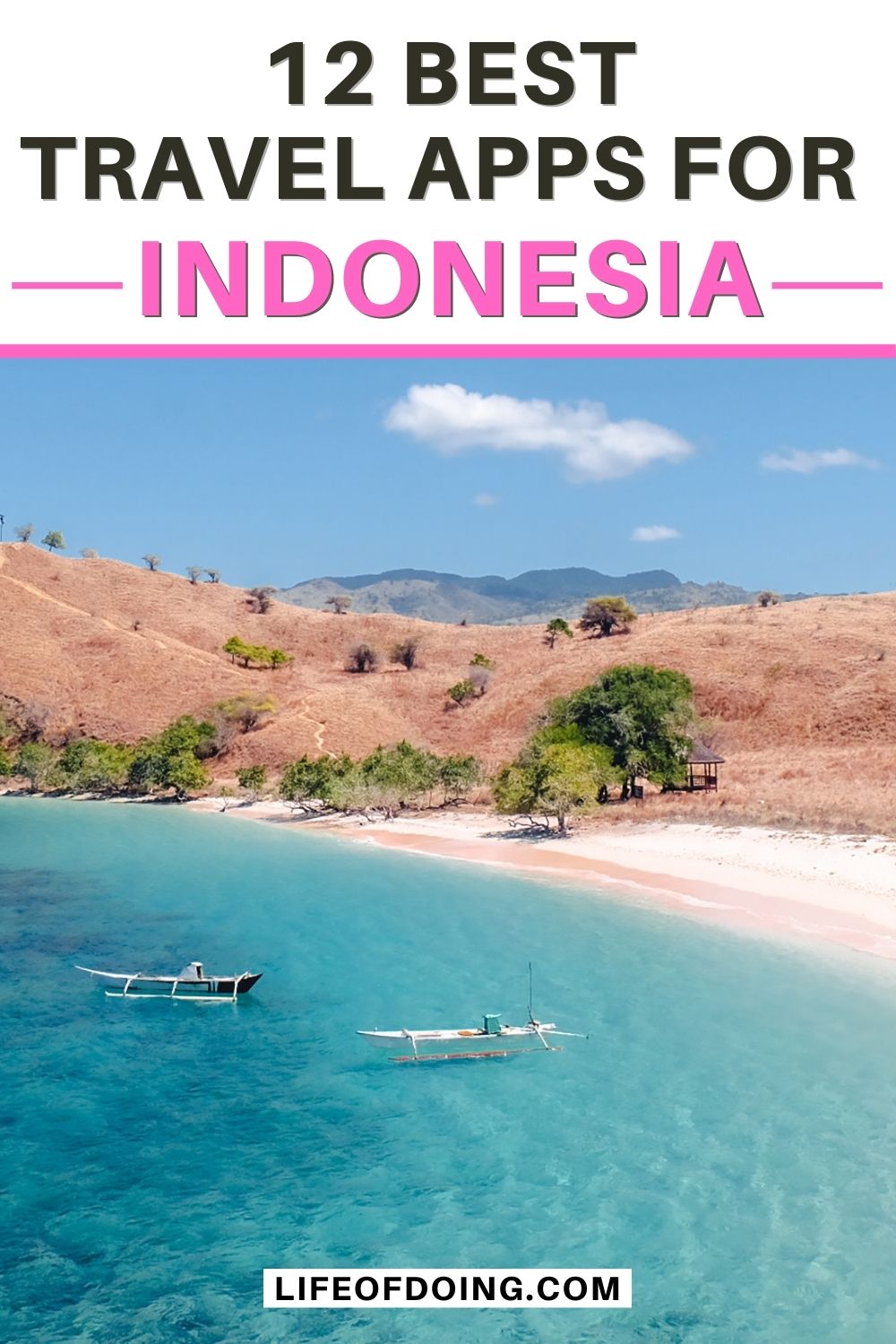 Featured photo & pin #1 photo credit: Gatot Adri via Scopio Photos