What is the Average Cost of Spending Per Day in Malaysia?
As mentioned earlier, you should expect to spend around $50 USD per person per day for all basic amenities, shopping, and miscellaneous spending. 
Therefore, a one-week trip through Malaysia will cost approximately $350 USD per person and a two-week Malaysia trip will cost $700 USD per person. 
Luckily, Malaysia has plenty of cultural icons, landmarks, temples, and hiking trails that are free. So, there will always be plenty of days to keep your wallet in your pocket. 
Below we have broken it down into five main categories to show you exactly how to save your hard-earned cash. 
---
Budget Accommodation Tips for Malaysia
Go to Malaysia in the off-season.
Countries like Malaysia thrive on tourism for income. This is more apparent in the high travel season, especially for accommodation. Every hotel, hostel, and resort will increase prices over the holidays and in the summer months. 
You can save money by avoiding the months when the prices are purposely raised. We recommend the fall and winter seasons. 
In Malaysia, the low season is during the monsoon (rainy) season from April to May and from October to November. 
While the rainy season may deter you from visiting, you shouldn't be scared to visit. The rain doesn't last all day long. As long as you have an umbrella and a cafe, mall, or indoor place to hide during the rain, then you'll be fine! 
We visited Kuala Lumpur in October and Penang in May and November. These are at the peak of the rainy season. When we visited KL, it had more off-and-on rainy days. While in Penang, we didn't encounter any rain. 
---
Book flights & accommodations separately. 
Are you tempted by ads showcasing flights and accommodations showing cheaper prices? 
Well, don't fall for pre-packaged flights and traveling plans through travel agencies. They will say that there is a deal for certain dates but will show marked-up prices and charge extra fees. 
You can book flights and accommodations yourself for a lower cost. 
This brings us to the next topic…
---
Try house sitting in Malaysia. 
If you want to avoid paying for accommodations, you could try house sitting. 
With a city full of expats there are always house sitting assignments available. You never know you might even be caring for a villa with a pool or a luxury rooftop apartment.
With the money you save, you can spend it on other experiences such as massages, food, tours, and more. 
---
Plan your itinerary and accommodations thoroughly.
We're huge planners and love creating an itinerary for each of our trips. 
Researching where to stay is a part of the fun. It takes time to research hundreds of places to stay, but knowing that you're getting a good deal and staying at a clean place is worth the time and effort. 
To determine places to stay in Malaysia, we like to use Google Travel, Agoda, Booking.com, and Google Reviews to compare pricing, read current reviews, and browse accommodation photos. 
Sometimes the reviews are not authentic (shill reviews) and come from reviewers with a low number of reviews, so you need to consider everything written with a grain of salt and create your own opinion.  
---
Save money for accommodations by contacting them directly to accommodations. 
Whether you call, email, or contact accommodations directly through social media channels, it is possible to save money. 
Third-party sites like Booking.com, Agoda, or Expedia are easy and time-saving. However, they charge a fee on top of the booking which can go back to you. 
Smaller businesses typically offer direct booking discounts and better cancelation policies, so it doesn't hurt to ask.
---
Do not disregard budget and low-cost accommodations. 
Had a bad hotel experience in the past? Worried about hotel amenities and the room? 
If you're on a budget, simple accommodations will be sufficient. With a warm bed, electricity, security, and a bathroom, you're in good hands for the evening. 
Don't be disheartened by lower-budget motels or hotels. The service and offerings may surprise you!
As mentioned earlier, check current reviews and photos (if available) to avoid a bad experience.
---
Use hotel points or credit card points for hotel stays. 
If you have a credit card or hotel credit card and earn points for your spending, you may consider using your saved points to stay at a nicer hotel. 
The chain hotels, such as Marriott, Hilton, Intercontinental, etc. are located in larger cities, such as Kuala Lumpur. 
You'll need to read the terms and conditions for redeeming the points. 
Here are some things to consider before using the points:
What category/level is the accommodation? 
How many points are needed to redeem for the accommodation? 
What is the value of the room if you use points versus paying cash?
Can you use both points and cash payment if you don't have enough points?
---
Budget Transportation in Malaysia
Walk everywhere!
What is a better way to experience Malaysia than by walking? 
Walking is free and a great way to explore areas that you would have missed by taking a car or other modes of transportation. You may come across a fun shop, a back alley to see street art, or find delicious street food along the walk. 
Plus, walking is an excellent form of exercise. 
Depending on the area, there are adequate sidewalks. We noticed that Kuala Lumpur had sidewalks. However, when we went to Penang, the sidewalks are narrow or blocked by motorbikes. So, walking on the street is highly likely. 
Regardless, just be aware of the sidewalks, streets, and incoming traffic when walking around. 
---
Hire a motorbike but with caution.
If you're checking out a city for a long period and know how to drive a motorbike, then consider hiring one for your travels. It's a main source of transportation for locals and travelers. 
Hiring a motorbike is not expensive due to ample availability.
But if you do not know how to drive a motorbike, do not attempt to learn how to drive one for the first time in large cities. With the high traffic and congestion, you will get hurt and injured. 
If you drive a motorbike, please wear a helmet, use the turning signal lights, and be mindful of making turns. Everyone drives on the left side of the road, the same as in Japan, United Kingdom, and New Zealand. 
---
Use ride-hailing apps, such as Grab. 
Riding a motorbike is not for everyone, so consider using ride-hailing apps to call for cars or vans. Prices are cheaper than using taxis. 
We recommend that you use Grab, a Southeast Asia ride-hailing app similar to Uber. We've used this app for travels in Vietnam, Indonesia, Singapore, Thailand, and Malaysia. 
It's easy to use as you input your starting and ending location and type of car. 
The app interface is seamless as you get to see your driver's location and the cost of the ride. The payment is done through the app by credit card or cash (with exact change). 
It's safe to use and cars are readily available at all hours. 
Besides cars, there are drivers available on motorbikes for cheaper prices. 
We've used Grab for airport pick-ups and drop-offs in Kuala Lumpur and Penang and around town. It's convenient since we don't need to worry about navigating the roads. 
If you're not able to use Grab, you can find a taxi. But, you'll need to ensure the taxi driver uses a meter to calculate the fare. 
---
Use trains or overnight buses for long-distance travel in Malaysia. 
If you're visiting other cities in Malaysia, consider taking the train or overnight buses to save costs. Flying domestically will be easier and faster but the cost will be higher per person. 
---
Budget-Friendly Tips for Day Trips, Tours, and Attractions
Plan what you want to see the most. 
What is the main highlight of your Malaysia trip? 
Whether it's the street art in Penang or a mangrove tour in Langkawi, it's recommended to have an idea of what you want to experience to budget accordingly. 
Then you can work around your schedule such as transportation and accommodations to reduce extra expenses. 
While it can be fun doing a spontaneous activity, it helps to be prepared and anticipate costs.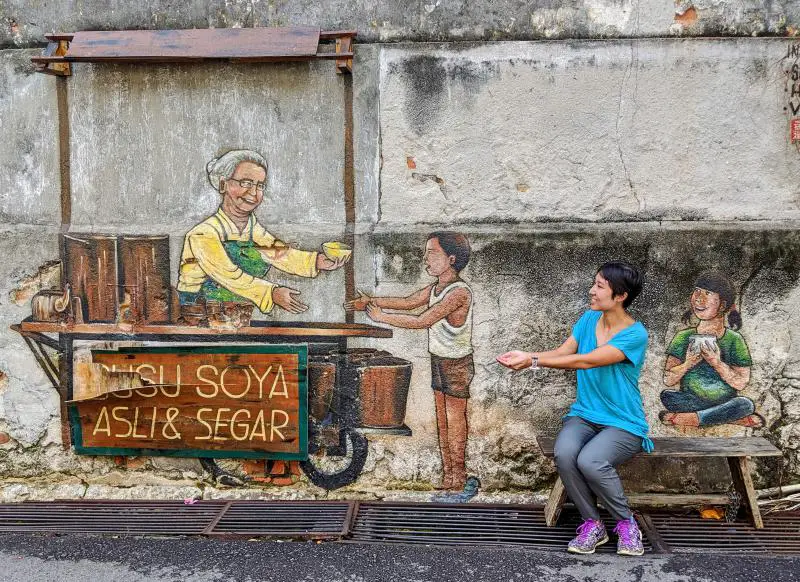 ---
Shop around for tours and negotiate as needed.  
Looking for a specific tour to do in Malaysia? A popular tourist attraction will have many companies competing. You will find local sales reps offering a similar experience at different prices.
Don't be afraid to speak to multiple companies about the package they provide. You will find a variety of prices as well as experiences on the tour.
If you're browsing online, we use Get Your Guide and Klook to compare prices with other online tour packages. 
If you're browsing in person, you can use the online price as a basis and then negotiate. It's part of the culture to negotiate, so you can find the right price.
Never go with the first choice.
---
Booking tours on the day of can be cheaper.  
Unlike accommodations, the prices will vary for specific tours on the day of. 
While you may get a good deal for booking on the day of, there are unaccountable situations like the weather or illness. What's the point of a boat tour if the sea is too rough?
If booking through a travel rep or a third-party company, the cancelation and refund terms and conditions will vary. They often upcharge the pricing and do not have any refunds for cancelations. 
Note: There is a fine balance between budgeting and restricting yourself, especially when it comes to day trips. 
---
Do you even need a tour?
Since Malaysia has sufficient transportation, it's doable to do many trips and attractions on your own. 
Many attractions are free to visit too. Therefore, you don't need to rely on rigid schedules and higher costs from tour agencies that profit off of free landmarks and attractions. 
You can inquire with the tour agencies to see what they offer and determine if you can do it yourself. 
Do you need a private guide to lead you the way with historic references? Or, can you navigate yourself and listen to a podcast to learn more about the historical place yourself?
An example would be an open temple to hike up, such as Batu Caves nearby Kuala Lumpur. It's easy to take a Grab car from Kuala Lumpur and then walk up the colorful steps of Batu Caves to see the Hindu shrines. A tour isn't necessary, but it's up to you what you want from the experience.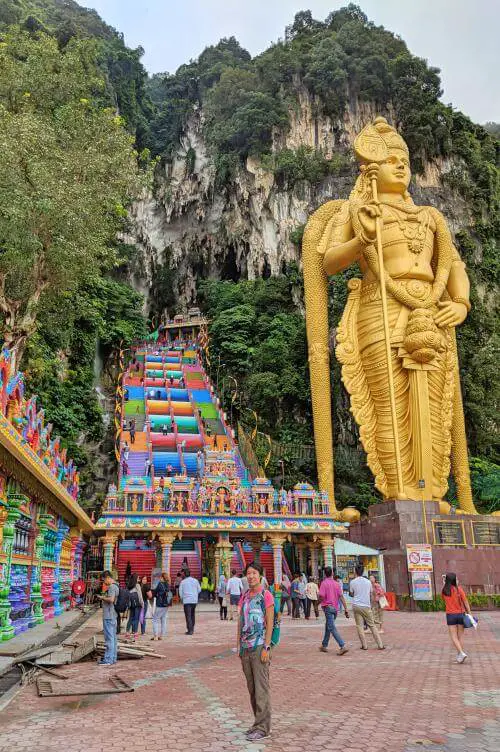 ---
Tips for Affordable Food & Drinks Around Malaysia
Eating street food is cheaper than restaurants. 
Malay cuisine is diverse and delicious. From the Indian influence with colorful spiced curries to eating the popular stir fry noodles (char kway teow), there are so many incredible foods to try in Malaysia. 
You will find that the street food vendors are authentic and nearly always cheaper. We had small size char kway teow at a local spot in Penang for breakfast and it cost 7 MYR ($1.50 USD). It was yummy too. 
The best way to find out the nearest street food is to ask your accommodation for recommendations on where they would eat. Also, you can refer to Google Maps and type "street food near me" or "cheap food near me" to see options nearby your location. 
Eating in restaurants is great as a one-off but will be more costly. 
---
Avoid commercialized Western shops and restaurants.  
Since we're Americans living in Ho Chi Minh City, Vietnam, we often miss the flavors of home – whether it's the American diner taste of burgers or American Chinese food (think: Panda Express). 
While 7-11s and Western restaurants are available in Malaysia, the food cost is higher due to imported Western goods. If you don't mind paying the touristy prices for a splurge, then go for it. 
Otherwise, it's recommended to stick with the local cuisine and street food. 
---
Shop at local markets and make your own meals. 
Eating street food every day is affordable but you can save even more money by cooking. 
If your accommodation has a kitchen, then you can shop at local markets to buy groceries. You'll find fresh produce and fruits and delicious ingredients to cook with. 
It's usually healthier to cook at home since you can control the amount of oil and salt in your meals. 
---
Alcohol is expensive in bars and shops.
The majority of Malaysian people don't drink due to religious reasons. 
This is why most of the bars are targeted at tourists and have high taxes. A beer can cost as much as in the U.S. Bear this in mind when planning on having a night out.
Tip: Take advantage of happy hours and look around for cheaper prices.
---
Currency & Cash
Use a prepaid debit card with low bank exchange rates. 
There are lots of ways you can plan and have money ready before traveling. 
Consider opening up a bank account that offers free or low exchange rates. You can transfer money over in stages based on your budget and use the ATM with low withdrawal rates. 
These cards also don't charge you for international transactions.
Some examples of these prepaid debit cards include Wise and Revolut. 
---
Use an ATM card with low or no ATM bank fees.  
If you use an ATM card to make cash withdrawals, consider getting an ATM card with no or very low ATM fees. While the ATM can charge a fee for the withdrawal, the bank of your ATM card could also charge another fee. The fees can add up!
What is amazing about the Schwab ATM card is that the bank refunds any ATM bank fees at the end of the month. You'll see the refunds on the monthly statements. Therefore, this is an incredible opportunity to save money on your travels. 
---
Shop around for the best exchange rates for cash. 
Taking cash that needs exchanging? There will be many currency exchange shops that have different prices. The current rate is nearly always up for viewing. 
Look around for different ones and see which is cheaper. The exchange rates can change hourly basis. 
You can use xe.com or Google to see the current currency rate and compare the currency exchange shops. 
Many countries are picky with their currency exchange, so ensure that you have clean bills with no markings, folds, and tears and have a current date. 
---
Don't carry a large amount of cash with you.
What was the point of budgeting when you're carrying all of your money and losing it?
You will need some cash in Malaysia (ie: 230 MYR/$50 USD) worth for a day, but don't take it all with you. Leave some behind in your locked luggage. 
While Malaysia has a low crime rate compared to other Asian countries, you never know what may happen. It's common to misplace money or be pickpocketed when in a new environment. Please be aware of anything suspicious when you're in new surroundings. 
---
Use a credit card with no foreign transaction fees, instead of cash. 
Malaysia is one of the more developed Asian countries. This means there is more chance of places having a credit card machine.
Using a credit card when you can is recommended for a few reasons.
Can cancel the card if it's lost, but still use the app or transfers money across
Transactions are insured and can be removed for any fraudulent activities
Earn credit card points
No need to find cash in your wallet or purse when buying something
We recommend that you use a credit card that does not charge any foreign transaction fees. 
We use these two travel cards – Chase Sapphire Preferred and Chase Sapphire Preferred Reserve. 
These are U.S.-based credit cards and require an annual fee. The Chase Sapphire Preferred cost $95 per year, while Chase Sapphire Preferred Reserve cost $550 per year.
They do not charge foreign transaction fees. These credit cards have other amenities such as annual travel credits, access to airport lounges, etc. 
Many of the credit cards that do not have an annual fee charge 3% per transaction for any international spending. While 3% is a small amount, it can add up if there are hundreds of dollars worth of expenses. 
Other Tips For Saving Money In Malaysia
Before wrapping up, here are other ideas on how to budget Malaysia when traveling.
Plan a daily or weekly budget to include the tips above.
Watch travel vlogs or read forums from experienced people to help with your planning.
Understand typical scams and traveler exploits.
Keep your money safe and secure at all times.
---
Final Thoughts
We hope you feel more comfortable planning a trip to Malaysia. This country is very affordable to travel through. With a little bit of planning, you can now figure out your daily budget for food, drinks, transportation, and attractions. 
Happy travels!
Like this post? Save it to your Malaysia or Asia Travel Pinterest Board.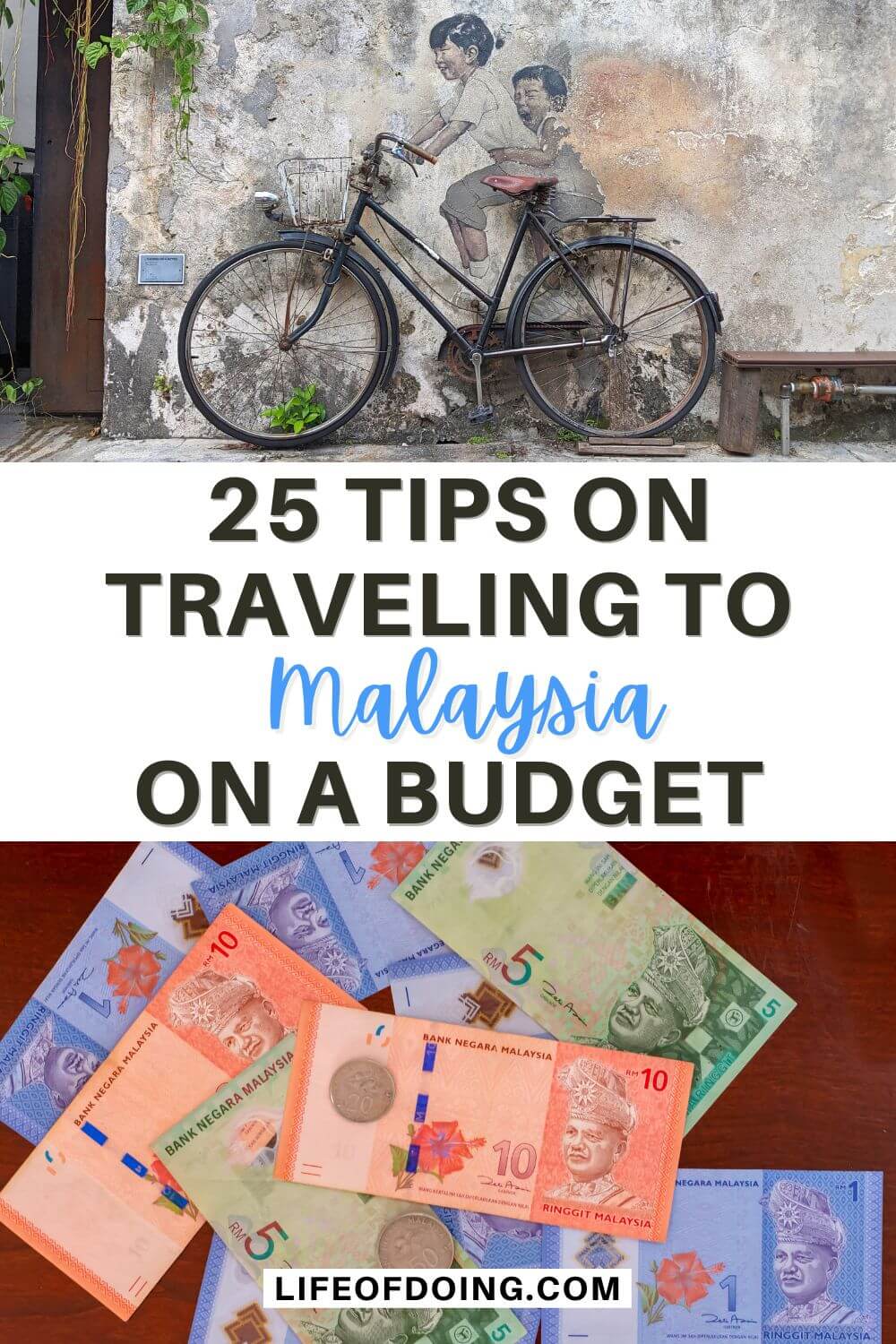 Featured photo and Pin #1 (bottom photo) photo credit: Deborah Middleton via Scopio Photos