Where are the most adventurous and best islands to visit in Asia? There are thousands of Asian islands to choose from so it can be challenging to figure out where to go.
With the help of our travel blogging friends, we've put together this list of 26 adventurous Asia islands to add to the bucket list. 
While relaxing on the beautiful beaches is a highlight of visiting an island, we're always itching for new and exciting outdoor experiences. 
Therefore, we're off hiking, finding swoonworthy waterfalls, exploring jungles, doing water activities, and much more from East Asia, Southeast Island, and South Asia islands. 
This post is separated by regional areas. Click to jump to a certain area of this post:
*Disclaimer: This post contains affiliate links. If you click on them and make a purchase, we receive a small commission. There is no additional cost to you. Appreciate the support.
---
Things to Know Before Visiting an Island
Please do not litter and take all trash with you. Let's keep the islands clean! Many of the islands do not have a way to process garbage, so it's best to bring it with you back to your accommodations to dispose of. 
Limit plastic bottle usage and bring a reusable water bottle. While drinking from plastic bottles is convenient, it's best to limit your usage. Many islands do not have any recycling centers and often get thrown away in the ocean or burned. 
If possible, bring a reusable water bottle and ask your accommodation for filtered water. We recommend using this water bottle. 
Prepare for any weather changes and be flexible with your schedule. While the weather in Asia is mostly stable, you never know when a storm may happen. You may need to hide out somewhere when it rains. 
Buy travel insurance before your trip. Accidents can happen at any time during your outdoor adventures, and you may need medical treatment. By purchasing travel insurance ahead of time, you can get necessary treatment and transportation from a medical center when needed.
---
Map of the Asian Islands to Check Out
---
Best Islands in East Asia
1. Lantau Island, Hong Kong
By Jackie and Justin, Life Of Doing
Lantau Island is considered the largest island in the Hong Kong territory. Most people tend to visit Disneyland yet there are some incredible sights to visit.  
Hiking is a top thing to do on Lantau Island. One of the recommended hikes to do is Lantau Peak to the Ngong Ping area. Other hiking spots are Sunset Peak and Lin Fa Shan. These are the next two highest peaks on the island. 
From the Pak Kung Au bus stop to Lantau Peak to Ngong Ping, it's 4.5 kilometers (2.8 miles) one-way and takes 2.5 hours to complete. The dirt path is easy to follow with some climbs up the mountain. The route eventually reaches the highest summit on the island at 934 meters (3,064 feet). 
When continuing from the summit, you'll reach the Ngong Ping area. The top attraction is the giant 85 feet high bronze Buddha (Tian Tan Buddha). As a heads up, there will be more stairs to climb to reach the Buddha. Your legs may be tired from the Lantau Peak hike!
The Tung Chung Monastary is also available to walk through.  
You can also take the bus to visit several fishing villages. Tai O and Pui O are two popular ones to check out. Tai O has hundreds of houses on stilts. When walking around, you'll see many vendors selling dried salted fish and shrimps. 
How to Get There: The nearest airport is Hong Kong International Airport (airport code: HKG). Lantau Island connects to the airport. Therefore, you can take a 30 minute to 1-hour bus ride from the airport to various areas of the island. 
---
2. Penghu Archipelago, Taiwan 
By Mariza, Hoponworld
The Penghu Islands are a cluster of roughly 90 idyllic islands and islets just off the west coast of Taiwan.
Only a small number of them are inhabited, so it's best to base yourself near Magong, the largest city on the main island from where you can easily access all of the incredible things to do in Penghu. 
Penghu is a mecca for adventure seekers with plenty to keep you busy. For the best snorkeling and scuba diving opportunities, head out to the Penghu Marine National Park, where you can get close to various fish species and colorful coral reefs. 
If you prefer to stay closer to land, both Longmen and Aimen beach offer excellent conditions for a wide range of water sports activities, including SUP, banana boat rides, and jet skiing. 
Penghu is also one of the best places for kitesurfing in Taiwan, offering strong, consistent winds between October and March. However, keep an eye on the weather forecast, as typhoons could impact your trip. 
Another unmissable thing to do here is island hopping, with several smaller islands near the main island. Visit Qimei – a beautiful little island home to the iconic Twin Heart Stone Weir and Jibei, where you can lounge on the Jibei Sand Tail – a secluded 4 kilometers (2.5 miles) stretch of soft powdery sand.
Day trip excursions to both of these islands can easily be booked online or organized via your hotel. 
How to Get There: Magong is reached by ferry from Budai Harbor in Chiayi City (1.5 hours) or plane from Taipei Songshan Airport (airport code: TSA), Taichung Airport (airport code: RMQ), and Kaohsiung Airport (airport code: KHH) (less than 1 hour). 
---
3. Iriomote Island, Japan
By Mia, Walk a While with Me
Visiting Japan? Although Japan is an island in itself, there is one Okinawan Island with a reputation of being the top adventure and nature retreat in the entire country, and that island is Iriomote.
While Iriomote Island is the second-largest island in Okinawa, it's sparsely populated. A lot of the secluded island comprises the lush jungles of Iriomote Ishigaki National Park, and around 90 percent of the entire island is uninhabited.
And as Iriomote is located closer to Taiwan than it is to the rest of Japan, it enjoys a subtropical climate. 
This warm and humid weather makes it the perfect destination for tons of adventurous activities, from kayaking through the mangrove forests, trekking up the tallest waterfall in Okinawa, spotting the critically endangered Iriomote cat, exploring the vast caves, and scuba diving beside the migrating manta rays.
Needless to say, there is an abundance of tours and guides to choose from. 
And if you're a beginner hiker just starting to hit the trails, don't worry! There are several stunning easy hiking trails around Iriomote. 
The island also offers pristine beaches and spectacular star gazing, perfect for decompressing after a long day exploring the great outdoors.
How to Get There: Iriomote Island is best accessed through a ferry from Ishigaki Island, located 36 kilometers (22 miles) away. There are frequent high-speed ferries from Ishigaki that connect you to Iriomote's Ohara Port to the south and the Uehara Port to the north, which takes anywhere between 35 to 50 minutes to sail. 
Ishigaki itself is best accessed through airplane, as it holds a small regional airport (airport code: ISG) that connects the island to most major cities in Japan.
---
4. Okinawa, Japan
By Mackenzie, A Wandering Scribbler 
Okinawa is a subtropical group of islands in Southern Japan that offer visitors amazing beaches and outdoor activities, tourist attractions, unique culture, and great food. 
The central part of Okinawa Main Island, which contains the capital Nara, is urbanized and densely populated, while the northernmost Yambaru area is mainly covered in forested hills and small fishing villages. 
Yambaru National Park's lush forests, mangroves, cliffs, and limestone mountains are great for hiking and are home to rare plants and animals. 
Of course, one main draw to Okinawa is the beautiful turquoise blue water. 
One of the best diving spots on the main island is Manza Dream Hole. As the name suggests, there is a large hole in the center of the reef where you can descend to 25 meters (82 feet) before exiting the tunnel through a bright blue window leading to the deepest part of the reef. Because of the necessary buoyancy control, it's recommended for advanced divers. 
If diving isn't your thing, you can snorkel, try SUP paddleboarding, kayaking, or just relax on the many white-sand beaches on the island. 
Mirabu Beach, located along the southeast coast of the island, is a secluded and quiet area, perfect for relaxing or having the water to yourself.
How to Get There: The main airport in Okinawa is Naha (airport code: OKA). Most flights entering Naha come from Tokyo or Osaka, but you can also fly in from South Korea, China, Taiwan, Hong Kong, Singapore, and Thailand.  
---
5. Yakushima Island, Japan 
By Steve, The Trip Goes On
Yakushima is a small island located off the south coast of Kyushu in Japan. It's a haven for lovers of nature and the outdoors thanks to its many hiking trails. These range in difficulty from short day hikes to multi-day hikes with lodges for use by campers.  
One of the highlights of a trip to Yakushima is the hike to Jomon Sugi, one of the oldest trees in the world. The Sugi is a type of Japanese cedar that is estimated to be between 2,000 to 7,000 years old! The hike also encompasses some of Yakushima's beautiful waterfalls! 
In addition to hiking, kayaking is popular on the island's rivers and around the coast. Diving and other activities are also available. 
Many of the beaches are also home to some unique onsens (natural hot springs), perfect for revitalizing after a long hike! 
For those fortunate enough to visit between April and August, visitors can witness loggerhead turtles nesting on the beaches (some beaches will be closed to keep from disturbing the turtles). 
Thanks to its subtropical location, Yakushima does have a high amount of rainfall but the downpours are usually short-lived. The monsoon season runs from early June for about four weeks. This can be an amazing time to see the rain-forested interior spring to life!  
How to Get There: Three ferry services operate between the city of Kagoshima on the mainland. There is a fast hydrofoil that takes around three hours and two car ferry services, including an overnight one. 
The island also has a small airport (airport code: KUM) with direct flights to Fukuoka, Kagoshima, and Osaka. 
---
Awesome Southeast Asia Islands
6. Phu Quoc Island, Vietnam
By Jackie and Justin, Life Of Doing
Phu Quoc Island is a popular destination in Vietnam and one of the best islands in Asia for international and domestic travelers. It's Vietnam's largest island and is located south of Vietnam and Cambodia. 
Many visitors head to Phu Quoc to relax at the 5-star resorts. There are tons of resorts to choose from depending on your budget. The resorts also have their beach area lined with palm trees so you can enjoy the beach without the crowds. 
Phu Quoc is known for its beaches and beach hopping is another way to explore the island. Sao Beach is well-known to relax on the white sandy beaches and swimming in the calm ocean waters. 
Add a day trip from the mainland Phu Quoc to visit the surrounding islands to your Phu Quoc itinerary. A popular trip is to snorkel at a couple of nearby islands, such as Fingernail Island and Gam Ghi Island, and enjoy lunch on a boat.
Another cool experience is to ride the longest cable car, according to the Guinness World Record, at 7.9 kilometers (4.9 miles) long from An Thoi Island to Hom Thom Island. Hom Thom Island has an amusement park to spend the day. 
To travel around the island, rent a motorbike or take a taxi. Unfortunately, the attractions are not close to each other to reach by walking.
How to Get There: Take a flight to Phu Quoc International Airport (airport code: PQC) and take a taxi or rent a motorbike to go to your accommodation. 
---
7. Con Dao Island, Vietnam 
By Jackie and Justin, Life Of Doing
Con Dao Islands is an archipelago of 16 islands located south of Vietnam. Con Son Island is the largest island and the only habitable one. It's easily the most beautiful island in Vietnam and where all the action occurs. 
The best part about visiting Con Dao Islands is the clean beaches and turquoise waters. As fewer people visit Con Son (compared to Phu Quoc), the beaches are not littered with garbage and have soft white sand. Dam Trau Beach is a unique spot to see airplanes land close to the beach. Nhat Beach is a recommended spot to see the sunset. 
A fun day trip is to visit one of the inhabitable islands and go snorkeling and relax on the beach. Snorkeling is a memorable experience as the coral reefs are still alive and bursting with colors.
Other outdoor activities include exploring the Con Dao National Park and hiking to shingle beaches (beaches with no sand; only rocks) in the outskirt of the island. 
You can also learn about the former prison system and see the "tiger cages" used for 113 years. 
While the island isn't large, it's recommended to rent a motorbike or bicycle. There is an electric golf cart that travels along the main street. 
How to Get There: There are two ways to get to Con Dao. The fastest way is to take a domestic flight to Con Dao Airport (also referred to as Con Son Airport; airport code: VCS). The longer but affordable way is to take a 4-5 hour ferry ride from Vung Tau or Can Tho.  
---
8. Bali, Indonesia 
By Jackie and Justin, Life Of Doing
Bali is one of the most prettiest islands in Southeast Asia to visit. From the jaw-dropping landscapes and cultural experiences to the bucket list activities, there is so much to do on this island. 
You'll want to focus on a few areas of interest and spend a minimum of 4 days or up to 2 weeks here. 
If you love pretty spots and photography, then Bali has incredible sights to visit. Wander through Jatiluwih or Tegalalang rice terraces and see various stages of rice growing on the fields. You can also try one of the "Bali swings" at Tegalalang. 
The temples are also impressive to photograph, such as Pura Lempuyang and Ulun Danu Beratan Temple. Don't forget to wear a sarong before entering the temples. 
For the early risers, trekking Mount Batur and seeing the sunrise is memorable.
A visit to one or more waterfalls in Bali is a must-do. The waterfalls are surrounded by green forest areas and have high cascades. Sekumpul Waterfall is considered the most spectacular, yet the smaller ones are charming and worth the visit. 
For those who need fun-filled water activities, you can go water rafting, surfing, and walking through a hidden canyon. 
Due to the island's large size, you'll need to rent a motorbike or hire a driver to visit attractions. Many roads are only single-lane so it can take some time to travel around.  
How to Get There: Many international countries have flights that fly directly to Bali's Ngurah Rai International Airport (airport code: DPS).  
---
9. Nusa Penida, Indonesia
By Jackie and Justin, Life Of Doing
Nusa Penida, located south of Bali, has a mix of gorgeous landscapes, beautiful beaches, and tons of outdoor adventures. 
One of the must-visit places to visit is Kelingking Beach. It's a photo-worthy spot as the cliffside is surrounded by the ocean. People say that the cliffside looks like the backbone of a T-Rex. 
The adventurous part of Kelingking is hiking down a treacherous makeshift staircase that leads to the undisturbed Kelingking Beach. Once you've spent enough time on the beach, you'll have a leg workout to ascend to the parking lot.   
Other fun adventures on Nusa Penida are swimming with manta rays, snorkeling, or diving. 
Nusa Penida has a few waterfalls to visit. Peguyangan Waterfall is recommended as it has a small waterfall and a temple. You can sit in a natural spring water pool. Getting to the waterfall requires a trek down a blue steel staircase. It's not an easy descent but has some lovely ocean views along the way that are worthwhile. 
To see these attractions, you'll need to rent a motorbike or hire a driver. Driving a motorbike on Nusa Penida is already an adventure in itself. The roads are not in the best conditions and the hills are STEEP. It will be daunting to descend the mountain if you aren't comfortable with driving a motorbike. 
How to Get There: Nusa Penida does not have an airport, and the nearest one is Bali (Ngurah Rai International Airport (airport code: DPS)). 
From Bali to Nusa Penida, take a direct boat ride. Or, take a boat ride to Nusa Lembongan (a smaller Nusa island) and take another boat ride to get to Nusa Penida. 
---
10. Rinca Island, Indonesia
By Jackie and Justin, Life Of Doing
Komodo National Park is a unique UNESCO site to visit in Indonesia. The national park comprises of three major islands – Komodo, Rinca, and Padar – and smaller surrounding islands. The area is known for the Komodo dragons, pink beaches, and turquoise ocean.
Many people recommend going to Komodo Island to see the Komodo dragons, but Rinca is a fantastic alternative. Rinca Island is smaller compared to Komodo, yet there is a higher concentration of Komodo dragons. You'll see at least a handful of Komodo dragons on your day tour. 
It's an exciting opportunity to see the Komodo dragons up close, especially when they're walking. They look intimidating with their strong bodies and long tail. Komodo dragons are carnivorous, so they flick their tongues to detect odors and determine where food is located. 
It's best not to get too close to them as they're wild creatures. Luckily, the guides direct them in another direction so they do not attack the visitors.
Another part of the Rinca Island tour is to do a short hike up a hill. It's slightly steep, yet you're rewarded with awesome panoramic views of the ocean and the surrounding area. 
How to Get There: Many of the Komodo National Park tours depart from Labuan Bajo town on Flores Island. Labuan Bajo has the Komodo International Airport (airport code: LBJ) so you'll need to take a flight to get here. 
From Flores or Labuan Bajo, guests take a boat or speedboat to get to Rinca, Komodo Island, or other surrounding islands.
---
11. Samosir Island, Indonesia
By De Wet and Jin, Museum of Wander
Lake Toba on the island of Sumatra is a place of unbelievable beauty. If a stunning lake on an island is not enough, how about adding an island to the lake? It's pretty hard to beat an island on an island! 
This island is called Samosir, and those who know about its magic will tell you it's one of the most relaxing places in Southeast Asia.
Surrounded by calm waters and dramatic mountains, Samosir sits in a caldera of an ancient super-volcano. Words can't describe its beauty.
Outdoor enthusiasts will fall in love with Samosir in no time. If you need a break from swinging in your hammock or chilling lakeside, you can take to the water on a canoe or try stand-up paddleboarding. The calm waters are perfect for this.
Or, ask the local fishers to take you out on the lake for fishing.
To enjoy the island best, rent a scooter from your guesthouse. A ride along the narrow roads will take you past stunning waterfalls, rice paddies, coffee farms, friendly Batak villages, and incredible views.
Hikers will enjoy endless hiking opportunities, especially Pusuk Buhit. The view from the summit (1,972 meters) is breathtaking! The hike takes about 4-5 hours.
How to Get There: The nearest airport is Kualanamu Airport (airport code: KNO) in Sumatra's capital, Medan. Shared taxis leave from outside the arrival hall and take about 4 hours to reach the town of Parapat. Hourly ferries connect Parapat to the town of Tuktuk on Samosir Island.
---
12. Bohol, Philippines 
By Rachel, The Superyacht Chef 
Bohol, one of the islands in the Philippines, is famous for its peculiar land formations known as The Chocolate Hills. 
The best way to explore the island is by hiring scooters and setting off. The roads are calm and easy to navigate, and the scenery is a stunning drive through rice paddies and small villages. 
There are plenty of options to help you create a full-day experience driving around Bohol after visiting the Chocolate Hills. You can stop along the way at small roadside snack bars, Phangog Falls, or the Tarsier Sanctuary.
In addition, there is a river cruising down in the south of the island and a stunning look-out area in the north that takes you above the low-lying cloud. 
Be aware of the time of year you are visiting. The Chocolate Hills are only brown in summer. The rest of the year is a lush green color from the rain. 
If you plan to travel further, the semi-attached Panglao Island to the south has a cliff diving bar called Molave. This is where daring travelers leap from the 10 meters (32 feet) high cliff into the water.
How to Get There: It's easy! Flights operate daily from Manila (airport code: MNL) to Bohol-Panglao International Airport (airport code: TAG). There is plenty of local transport once you are there, but it's recommended to rent a scooter to have ultimate freedom.
---
13. Siquijor, Philippines
By Kriszti, She Wanders Abroad
If you're looking for a place to relax and enjoy the natural beauty of the Philippines, Siquijor is the perfect destination. This beautiful island is located in the Visayas region and is known for its pristine beaches, clear waters, and lush jungle scenery.
Siquijor is a great place to unwind and enjoy the laid-back atmosphere. There are plenty of activities to keep you busy, including swimming, snorkeling, hiking, and exploring the many caves and waterfalls.
Siquijor is home to some of the best beaches in the Philippines. The most popular beaches on the island are located on the east coast, such as Talisay and Salagdoong Beach. 
If you're looking for a more secluded beach experience, head to Paliton Beach on the west coast of the island. This beach is less crowded and offers stunning views of the sunset.
Siquijor is also home to many cascading waterfalls. One of the most popular falls is Cambugahay Falls, a three-tiered waterfall where you can play with Tarzan swings and bamboo rafts. Another must-visit is Lugnason Falls where you can also find some man-made hot springs.
If you're looking for an adventure, be sure to explore some of Siquijor's many caves. One of the most popular caves on the island is Cantabon Cave, featuring many stalactites, stalagmites, and rock formations.
The island is small so spending 2 days in Siquijor is all you need. Although the weather is warm all year round, it's best to visit between January and May to avoid the rainy season.
How to Get There: Siquijor doesn't have an airport and is only accessible via ferry from Negros Oriental or Bohol. A ferry ride takes around 1-2 hours, depending on which port you choose and what kind of vessel you're traveling with. 
The closest airport is Dumaguete (airport code: DGT) on Negros Island but Bohol-Panglao International Airport (airport code: TAG) is a great option as well.
---
14. Palawan, Philippines
By Lena, Not Another Backpacker
Palawan is an island in the Philippines known for its majestic limestone formations, crystal clear water, and beautiful, tropical beaches. Therefore, it's a great place to visit if you're planning an adventurous vacation with plenty of outdoor activities!
One of the most popular things to do in Palawan is island hopping in El Nido (a town in the northern part of the island). El Nido's bay decrees of 45 islands featuring dreamy beaches and several magnificent lagoons, where you can relax in the sun or cool off in refreshing water. 
There are also many snorkeling spots where you can explore a variety of fish, sea turtles, and corals. 
When visiting Palawan, be sure not to overlook all of the other amazing attractions the island has to offer!
You can chase waterfalls, try your luck with diving, go surfing in the northern part of the island, or visit the mind-blowing rock formations of the Underground River cave in Sabang – one of the New 7 Wonders of Nature.
Given the variety of things to do, you'll have an incredible vacation in Palawan; whether you simply want to relax in the sun or are keen to try new water sports and explore hidden hiking trails.
How to Get There: Palawan is home to three airports. You can either fly to Puerto Princesa (the capital of the island; airport code: PPS), Lio Airport in El Nido (airport code: ENI), or the airport in San Vicente (where the longest sand beach in the Philippines is located; airport code: SWL). 
---
15. Koh Yao Noi Island, Thailand
By Janelle, Make the Trip Matter
Koh Yao Noi is one of the most incredible hidden gems in Thailand with beautiful beaches and some of the friendliest people in the country. 
The best activity is to take a longboat island-hopping excursion. You will visit 2-4 of the local uninhabited islands (a few are national parks) where you can snorkel, feed bananas to the fish, see the mangrove trees, and likely encounter some monkeys! Or, rent a kayak for the day and paddle between the islands.
Additionally, this is the perfect place to rent a motorbike if you have been curious to ride one but not quite ready to jump into the madness of city motorbiking.
Take a motorbike around the whole island and stop at multiple of the gorgeous (and mostly secluded and empty) beaches where you can go for walks, swim in the water, explore the tidepools, or lay on the sand to soak up the sun.
Koh Yao Noi is one of the smaller Thai islands so you will have a more authentic experience, but it is large enough (~6,000 inhabitants) to still have tours, restaurants, and plenty of accommodation options. 
The island is very affordable, and the locals are happy to help you find every experience you want to enjoy your stay. 
This is not the island for partying, but rather for enjoying the incredible nature, exploring the rainforest and beaches, and maybe even working remotely from an island paradise. 
How to Get There: To visit Koh Yao Noi, you'll fly into Phuket International Airport (airport code: HKT) first (though you can get to the island from Krabi as well) and take a boat from the Bang Rong Pier (Phuket) to Manoh Pier (Koh Yao Noi). 
The boat takes about 30 minutes to 1 hour depending on the conditions of the day. The cost varies and starts at ฿300 ($9.00 USD).
---
16. Koh Phi Phi, Thailand
By Victoria, Guide Your Travel 
Koh Phi Phi is a beautiful island located on the western shore of Thailand not far from the island of Phuket. Often rated as one of the most beautiful islands in Thailand and even all of Asia, this little piece of paradise is a must-see. 
Koh Phi Phi actually consists of two islands, one inhabited by lots of hotels and resorts, and the other a deserted national park that is best seen as part of a day trip. 
This is the home of Maya Bay, the filming location of Leonardo DiCaprio's 2000 film "The Beach" which was shot here. Enjoy blue waters with fantastic snorkeling locations, pretty lagoons, and lots of opportunities for kayaking or stand-up paddling. 
In the evening, you'll love the bioluminescent plankton which can be seen in the surrounding area once it gets dark. 
If you're up for it you can also enjoy Koh Phi Phi's wild nightlife with fire shows on the beach, drinks served in buckets, and Muay Thai fights. 
There is always something to do on the island even if it's just a relaxed day on the beach. 
Don't forget to hike up to the popular lookout point which provides visitors with breathtaking vistas over the island's peaks and stunning views.
How to Get There: The easiest way to get to Koh Phi Phi is by boat from Phuket which has a major international airport (airport code: HKT).
---
17. Koh Mook, Thailand
By Martina, PlacesofJuma
Koh Mook Island in Thailand is one of the hidden jewels of the Asian island world. This Thai dream island fascinates mainly by its extraordinary beauty, far away from mass tourism and the hustle and bustle. 
Expect a tiny, very quiet, and car-free environment. There are no parties and no big supermarkets – all in all, it is the true dropout paradise. 
Absolute relaxation awaits you but also some adventure attractions! Most of the island consists of deep jungle and part of it even belongs to the Hat Chao Mai National Park. The area is ideal for hiking, snorkeling, and diving.
An absolute highlight is certainly Sivalai Beach, one of the most beautiful beaches in Thailand. Fine white sand, a striking sandbank, and tall palm trees conjure up a picture-perfect setting. 
Another must-see is the Emerald Cave on Koh Mook. This is an 80-meter (262 feet) long, pitch-black cave that can only be crossed by swimming. At the end, an emerald-blue lagoon with a hidden pirate beach awaits you.
How to Get There: Koh Mook Island is located in the Trang region of southern Thailand. Trang town has its own airport (airport code: TST) and the island is easily accessible by small ferry or speedboat.
---
18. Koh Samui, Thailand
By Sylvie, Travels with Eden
Koh Samui is one of the most beautiful islands in Thailand and can't be missed on any trip to Asia. The island is located on Thailand's Southeast coast nearby three areas that can be reached via day trips.
Koh Tao is the perfect spot for snorkeling and diving day trips. Ang Thong Marine Park has amazing views and is an ideal spot for boat trips. Lastly, Koh Phanghan is famous for its full moon parties and beautiful beaches.
There is plenty to do in Koh Samui. Chaweng is the best place to stay in Koh Samui. The main resort area has a large beach, great souvenir shops, and fantastic places to eat. 
Chaweng is a water sports fanatics dream, with ample opportunities for all ages. 
Elsewhere in Koh Samui, be sure to visit The Grandmother and Grandfather Rock, The Big Buddha, Namuang Waterfall, Lipa Noi Beach, and Lamai Beach.
How to Get There: Koh Samui has a medium-size airport (airport code: USM), serving flights from major destinations in Asia, other Thai Islands, and major cities. The most common flight routes to Koh Samui are from Bangkok. 
To reach Koh Samui overland, catch a train or bus to Chumpong before boarding a Lompayah ferry to Koh Samui.
Buses and trains also travel to Chumpong from the South of Thailand in Hat Yai (just over the Malaysian border).
---
19. Pangkor Island, Malaysia
By Marco, The Penang Insider
Floating in the shadows of Malaysia's more popular islands Langkawi and Penang, it's a pity that few consider visiting Pangkor.
Located off the southwestern coast of Perak state, Pangkor Island gets busy on weekends as a short getaway for nearby city-dwellers who come to enjoy the best Pangkor hotels and outdoor activities.
The easiest way to explore is by renting a scooter at the main jetty and doing a full loop. Stop by the beaches, Pasir Bogak and Teluk Nipah. Check out Sungai Pinang village to see wooden boat making.
Speaking of old, the 1670 fort built by the Dutch colonizers in the island's southwest sits next to the enigmatic Tiger Rock. It's a stone where you can still see an engraved tiger next to the unmistakable "VoC" symbol of the Dutch East India Company. 
Drive further to see a floating mosque that is picturesque against the island's famed pink sunsets.
Pangkor's more rugged center can be negotiated by hiking or by taking a leisurely ATV ride through the jungle. These guided tours end up in Pangkor's northern bay.
Get on a dingy and go snorkel at nearby Giam Island, with its beautiful corals, or organize a diving expedition to the islets of Pulau Sembilan, a protected marine park in Perak.
Lastly, and free of charge, spot the oriental pied and rhinoceros hornbills that seem to love nesting on Pangkor. It's very hard to see this many elsewhere in Malaysia. 
Take a stroll on the beach at night, where the strangest phenomenon called "blue plankton" comes to shimmer azure hues against the dark seashore.
How to Get There: Ferries to Pangkor leave from the town of Lumut every two hours. Lumut is connected by bus to Kuala Lumpur, Ipoh, Penang, and other major cities in Malaysia. The Pangkor ferry terminal is within walking distance from the bus stand.
---
20. Langkawi, Malaysia
By Renata, bye:myself
Pulau Langkawi is Malaysia's northernmost island and therefore, very close to its neighbor Thailand. However, far fewer tourists are occupying the white sand beaches alongside the turquoise waters of the Andaman Sea. 
One of the most beautiful of Langkawi's beaches is Pantai Cenang on the western shore – which makes it also perfect for watching the sunset while enjoying a wonderful Malay dinner. Mind you, local food is a major part of Malaysian national pride.
Since Langkawi has far more to offer than just a couple of beaches, you should go on some day trips – on land and at sea. A very popular activity is a visit to the Sky Bridge at the peak of the Gunung Mat Chinchang for breathtaking views. 
Or, hop on a boat that takes you to some small secluded isles or through Langkawi's coastal mangrove forest where you can visit a monkeys' refuge.
Due to an incredible number of duty-free outlets, Pulau Langkawi is also a popular shopping destination – for locals and visitors alike. 
On the island, there is no real public transportation, so you have to take a cab. Don't worry. There is a standard fixed-price system. Alternatively, you can rent a car or a motorbike.
How to Get There: There are ferries to Pulau Langkawi from Kuala Kedah and Kuala Perlis on the Malaysian peninsula, as well as George Town on Pulau Penang. 
If you prefer to fly, there are domestic flights from Kuala Lumpur and from some Asian countries such as Singapore to Langkawi International Airport (airport code: LGK). 
---
21. Sabah, Malaysian Borneo
By Kerry, VeggTravel
Borneo is the world's third-largest island and provides an enchanting landscape of nature and wildlife popular for eco-tourism and adventure travelers. 
Borneo is split into three different countries – Malaysia, Brunei, and Indonesia. However, one of the most popular places to visit is the Sabah region of Malaysian Borneo on the north coast.
There are many things to do in Kota Kinabalu, such as visiting the historical clock tower, the handicraft markets, the lively harbor front, or even climbing Mount Kinabalu.
However, most people travel onwards on a quest for wildlife discovery. Popular stops include Kinabatangan River, an escape to simple but authentic eco-lodges with your days filled with river safaris and jungle trekking. 
Another stop is Sepilok Orangutan Rehabilitation Centre and Sun Bear enclosure. Be prepared for an emotional journey from hearing about the plights of these animals to seeing them in such brilliant care now.
Another consideration for your itinerary is a visit to Pulau Libaran (Turtle Island.) Visit the turtle hatchery and learn about the conservation program, followed by an evening or two camping on the beach in the hope you'll waken to turtles laying their eggs.
Getting around Borneo is easy on public buses and coaches, but an organized tour is easiest. 
How to Get There: Getting to Sabah is straightforward with international flights into Kota Kinabalu (airport code: BKI) from Kuala Lumpur, Singapore, and other destinations running frequently. The terrain makes journey long, but you can also take a domestic flight to Sandakan (airport code: SDK) to reduce your travel time. 
---
22. Koh Ta Kiev, Cambodia
By Annelies, Travelers & Dreamers
Koh Ta Kiev is a remote island in the Gulf of Thailand close to the Cambodian mainland and Ream National Park. It's one of the most beautiful islands on earth. 
Because of the lack of touristic facilities and only a handful of accommodations, it still retains a gorgeous natural charm. This fact makes it the perfect island to live out your Robinson Crusoe dreams.
A great place to stay is Crusoe Koh Ta Kiev. They offer both tents and open wooden cabins and prepare fantastic food.
There is no electricity or wifi on the island, so it's getting back to basics. Although, most accommodations have a generator to provide light for a few hours in the evening.
Activities on the island are plenty but don't expect to be able to go shopping or anything. The island doesn't even have roads or a supermarket. 
Koh Ta Kiev is all about enjoying the natural beauty. Long beach walks, jungle hikes, snorkeling, and rock jumping are the activities to fill your day. 
There is a small fishing village you can hike to in a few hours from any of the accommodations on the island. It's built over the water and is an amazing place if you want to discover what island life is like without electricity. 
How to Get There: Head to Sihanoukville by flying directly to Sihanouk International Airport (airport code: KOS), or taking a bus or train. 
The only way to get to Koh Ta Kiev is from Otres Beach in Sihanoukville. You can buy an open-end ticket for $13 USD and take a ferry here. 
Be aware though that most of the accommodation options on the island are not close to one another. Some of them have their own boats and organize pick-ups on the mainland themselves so check with your accommodation what the best option might be for you.
---
23. Koh Trong, Cambodia
By Lauren, The Planet Edit
Koh Trong is a sleepy 8 kilometer (5 miles) long island on the Mekong River, located a short way offshore from Kratié Town in eastern Cambodia. It's peaceful, rural, and community-driven, with no motorized vehicles allowed on the island.
Thanks to the smooth dirt road that loops around the entire island, Koh Trong is best explored by bicycle. You can cover the whole island in a day this way. There is plenty to explore including beaches, temples, viewpoints, and a floating village. 
On arrival, simply walk up the beach to the small tourism center, where you'll be able to rent a bicycle for a couple of dollars. 
There is an official "Koh Trong Trail" that loops around the perimeter of the island. Most of the points of interest can be found on the trail.
As you cycle, you'll pass by tiny farms, bamboo huts, and palm trees, as well as little cafes where you can stop to indulge in coconuts, mangos, and more. It's a peaceful island; a far cry from the bustle of Kratié town. 
Make sure to cycle around to the west side of the island, as Mekong snail-eating turtles are commonly seen here. If you're really lucky, you might even spot rare Irrawaddy dolphins playing in the river.
How to Get There: The closest airport is Kratié Airport (airport code: KTI). In the center of Kratié Town,  there is a restaurant called Jasmine Boat. You can catch a boat to Koh Trong from here, which takes 5 minutes and costs 25 cents.
---
24. Koh Rong, Cambodia
By Phil, JOURNICATION
The island of Koh Rong is one of the most beautiful places in Cambodia. It's a small island located off the coast of Sihanoukville, and it's known for its white sand beaches, clear blue waters, and lush jungle foliage.
If you're looking for a place to relax and enjoy the natural beauty of Cambodia, then Koh Rong is the perfect place for you. There are plenty of activities to keep you busy!
Koh Rong is also a great place to enjoy the nightlife. There are many bars and clubs located on the island, so you can party until the sun comes up.
There is plenty to do in Koh Rong, from hiking and jungle trekking to swimming and sunbathing on the beach. You can also go snorkeling or diving, or take a boat tour to see the island's many caves and reefs.
For those who want a more adrenaline-pumping experience, there is kitesurfing, wakeboarding, and other water sports. There is also a zip line and tree-climbing adventure park in Koh Rong. 
And of course, no visit to an island would be complete without a sunset cruise.
How to Get There: The closest airport to Koh Rong is Sihanoukville (Sinanouk) International Airport (airport code: KOS). It's located about 30 minutes away by boat.
---
25. Don Khone, Si Phan Don (4,000 Islands), Laos
By Sarah, ASocialNomad
Si Phan Don, or 4,000 islands, are just north of the border with Cambodia. There are 4,000 Islands there, most of which are uninhabited. 
Three of the largest islands are destinations to visit. The island of Don Khone is where you should go to relax and enjoy the soothing waters of the Mekong River flowing by. There are plenty of tourist facilities here, and many rooms – which are some of the best value in Asia – have balconies overhanging the Mekong. 
While on Don Khone, you should see the Irrawaddy Dolphins – with less than 80 of them left in the wild, these endangered dolphins make their home here. 
Swim in the river and hike to the waterfalls on the river. Also, take a walk to the Old French Railway Bridge and the old French Steam Engine. 
The railway track here was built by the French to avoid the Khone Phapheng Falls. It's just a 4.3-mile track but opened a trade route for the French up the Mekong through Cambodia and Laos to China.
How to Get There: To get to Don Khone, take a bus from the Laos border town of Pakse. If you're heading south or from Cambodia, there are regular buses from Phnom Penh, which is the best airport to fly to (airport code: PNH).
---
South Asia Island To Check Out
26. Sri Lanka
By Laura, Laure Wanders
The pearl shaped-island of Sri Lanka is one of the best Asian destinations for lovers of adventure and the outdoors. With an abundance of national parks, beaches, and mountains waiting to be explored, this
country-island is one of the most diverse countries in the world.
For outdoor enthusiasts, some of the best things to do in Sri Lanka include diving, hiking to Ella Rock or Little Adam's Peak, and going on a safari in one of the national parks (you might even spot a leopard if you're lucky).
But this country also has many places where you can go ziplining, rappelling, or whitewater rafting.
Apart from the great outdoors, one of the best things about Sri Lanka is its rich culture. There are many temples and archaeological sites that you can visit when you need a break from all the adventuring. The famous Lion Rock Fortress (Sigiriya) and the beautiful cave temple of Dambulla are just a few world-famous examples.
All in all, Sri Lanka might be quite a small island, but it doesn't lack diversity or things to do! Its friendly locals, rich culture, golden beaches, and amazing wildlife make it a destination that is worth adding to your travel bucket list.
How to Get There: The main international airport is Bandaranaike (also known as Colombo International Airport; airport code: CMB), close to Colombo. From here, you can venture through other areas of Sri Lanka.  
---
Final Thoughts
How many of these islands in Asia do you want to visit? 
We hope that you're inspired to plan a trip to visit one or more of these gorgeous Asia islands and add some adventures. 
Whether you're visiting Southeast Asia, South Asia, or East Asia, it's time to explore and do some awesome outdoor activities. 
Check out our Asia posts for more travel inspiration:
Like this post? Save it to your Asia Pinterest Travel board.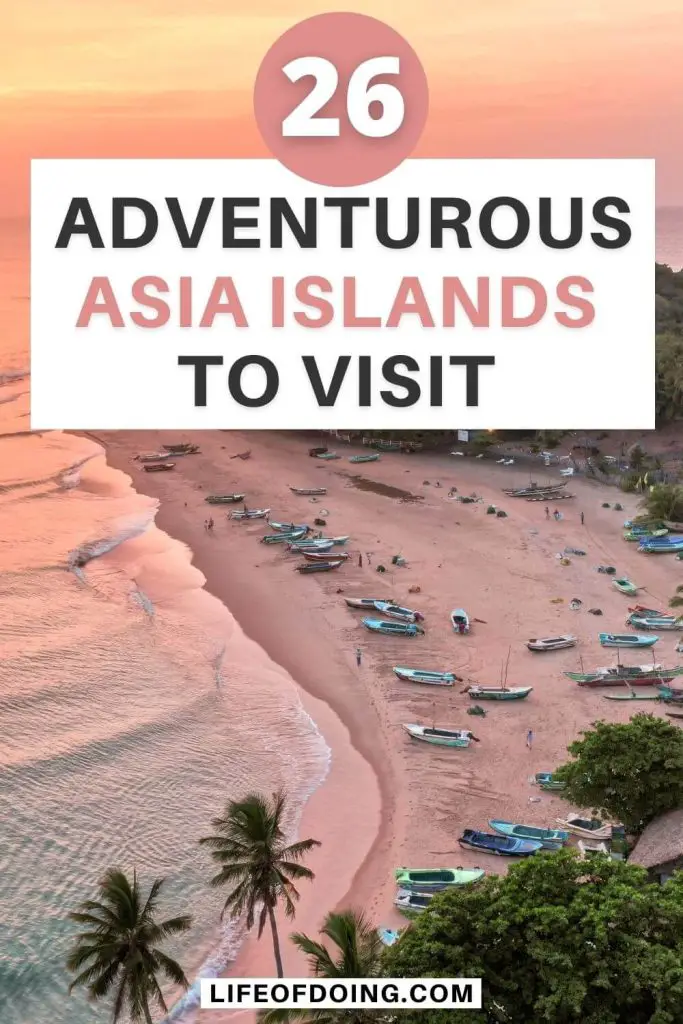 Featured photo credit & pin #1: Nick Arundel via Scopio Photos