Where are the most delicious places to eat in Dalat, Vietnam? Dalat's food scene has a mix of everything – Vietnamese, Italian, burgers, and of course, street food. 
We currently live in Ho Chi Minh City and have visited Dalat on average once a year. It's one of our favorite weekend getaways from HCMC. Since we love trying new restaurants, we're on the lookout for the next place to try.   
Without further ado, here are the 11 restaurants in Dalat to experience on your next visit. 
The list below has a mix of local Vietnamese food and Western cuisine and has various budgets. We've also included information if there are vegetarian and vegan options and other helpful information. 
We tried all of these restaurants and paid for our meals. Therefore, we did not have any meals sponsored. 
Enjoy all the good food in Dalat!
Check out other blog posts on Dalat and the Central Highlands here:
---
Map of the Places to Eat in Dalat
---
How to Get to These Restaurants
You can use a variety of transportation to travel to these restaurants. You can ride a motorbike, use a ride-hailing app (Grab app for car or motorbike), or take a taxi. We used Grab car as it's easy and convenient to book. 
Of course, walking is a good option. Dalat's city center isn't too large, so you can get to many of the restaurants within a 20 or 30-minute walk.
---
Where to Eat in Dalat
1. Primavera Italian Cafe and Restaurant
Primavera is considered one of the top Italian restaurants in Dalat. It's a cute place with indoor and outdoor seating (on the main street or balcony). This place is a bit hidden but well worth the find. 
The menu has traditional Italian foods such as appetizers, salads, pastas, risotto, main dishes, and dessert. 
There are plenty of vegan and vegetarian dishes here such as pumpkin soup and Tagliatelle Primavera. The menu indicates the vegan and vegetarian items as V and VG, respectively.
The homemade pastas are a winner here. We tried the Penne alla Arrabbiata and the Tagliolini al Salmone. Pour some of the homemade chili oil for some extra kick to the pasta sauce. 
Note: There is gluten-free pasta available on request. 
If you love wood oven fire pizzas, then there are many options to choose from. We ordered a Margherita pizza and it was yummy. The soft crust and the high-quality cheese perfected this pizza. 
It's highly recommended to make a reservation, especially on the weekends. Or, head to this restaurant early (around 5:00pm) before the dinner crowds come.  
Address: 54/7 Phan Đình Phùng, Phường 1, Dalat (Off a narrow road with street art) 
Cost: Pastas start at 185,000 VND ($8.10). Pizzas are from 160,000-220,000 VND ($7-$9.70)
Payment: Credit card and cash 
More Information: Facebook | Website 
---
2. Tiệm Bánh Thành Hôn / Still Cafe
Still Cafe is a trendy cafe that serves coffee, tea, and juice. It's a hidden area located off a residential area with small cafes and shops. In addition, it's a hot spot to take photos with Totoro and No-Face characters and large teddy bears. 
Since Still Cafe didn't serve breakfast on our visit, we found another place, Tiệm Bánh Thành Hôn, that served sweet breakfast items (more like dessert) – toast and waffles. This place also serves pastries, but we were here for the toast and waffles. 
The waffle came with two pieces of waffles with fresh fruits of blueberries and strawberries and a scoop of coconut ice cream. 
The thick toast came with red bean and green tea ice cream and drizzled with matcha syrup. It reminded us of Taiwanese-style thick toast. 
Between the two options – the toast was the winner! There was enough texture and variety from the toppings. It wasn't too sweet. 
The waffle was fine, but we saw a bucket of waffles already premade so that knocked down a point. 
Note: It takes 20 minutes to prepare the toast and the waffle, so you'll want to order a drink from Still Cafe or another place. 
We tried the pomelo juice from Still Cafe. It was beautifully presented with the salted rim on the glass and the slice of pink pomelo. There is sugar added to the drink so you'll need to request no sugar (không đường).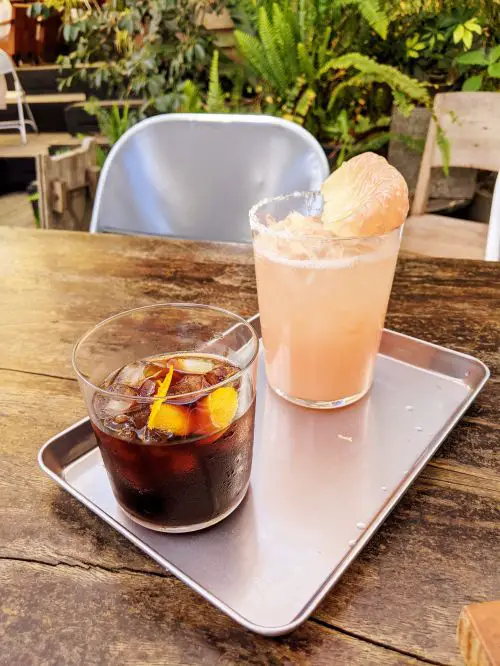 Address: Behind Still Cafe, 59 Nguyễn Trãi, Phường 9, Dalat
Cost: 75,000 VND ($3.30) for the waffle and toast. Drinks at Still Cafe start at 35,000 VND and up.  
Payment: Cash only
More information: Tiệm Bánh Thành Hôn Facebook | Still Cafe Facebook
---
3. La Viet Coffee / Barn House BBQ and Beer 
La Viet Coffee and Barn House BBQ and Beer co-share a spacious barn-like building. Whether you want to enjoy a cup of coffee or juice or have a meal, then this is the place to eat and drink in Dalat. 
When you enter this place, you'll notice the Western-style decor and a parked tractor in the middle of the walkway. (You're allowed to hop onto the tractor to take a photo). 
This place is huge and spacious. It's great for those who want to practice social distancing. The lower level has longer benches which are better for larger parties. 
La Viet Coffee has several branches around Vietnam – Ho Chi Minh City, Dalat, and Hanoi. In Dalat, there are two locations. (The other one is on Số 4 Đ. Trần Quý Cáp, Phường 9). Here, you can order an espresso, cold brew, drip coffee, milk tea, coconut milk coffee, and fresh juice. 
Barn House has two menus – Western menu and Vietnamese menu. 
The Western menu has choices such as roasted pumpkin soup, fish and chips, sausages, spaghetti carbonara, Australian strip loin steak, and more. 
Vietnamese food options include fried rice with seafood (cơm chiên hải sản), fish hot pot (lẩu cá), grilled shrimp with cheese (tôm nướng phô mai), grilled chicken (gà nướng ngũ vị), and more. 
If you're looking for vegetarian items, then you'll need to stick with the Western menu. There are options such as pumpkin soup, mixed salad with grilled vegetables, and roasted baby potatoes. 
We tried three dishes – fish and chips, Asian salad with seafood (gơi hải sản), and grilled pork with betel leaves (thịt heo nướng lá lốt). The food was delicious! 
The fish and chips were not bad. It's made with basa fish and had a unique flavor to the batter. 
The Vietnamese food was also yummy. We tried the seafood salad which came with shrimp, squid, shredded mango, and a bowl of fresh shrimp chips. The grilled pork with betel leaves was beautifully plated and another winner. 
Note: This is a fantastic spot to work remotely. We saw quite a few people working from here. The seating areas have plenty of plugs to charge laptops and other electronics. 
Address: 198 Nguyễn Công Trứ, Phường 8, Dalat 
Cost: Drinks cost 35,000-55,000 VND ($1.50-$2.40).  Food price is between 50,000-380,000 VND ($2.20-$16.60).  
Payment: Credit card and cash
More Information: La Viet Coffee Facebook | Barn House Facebook
---
4. Bánh Căn Nhà Chung
Have you tried bánh căn before? It's a specialty food item in Dalat. They are circular cakes made from rice flour and baked in a circular mold. (Similar to takoyaki in Japan). Since the mold only has half, each "piece" is two halves put together. 
The stuffing is made with quail eggs (trứng cút), chicken eggs (trứng gà), or a mix of eggs with beef (trứng cút or trứng gà and thịt bò). Some places add seafood, but this shop does not.  
The dipping sauce is a sweet and salty concoction made with fish sauce, sliced raw mango, fried onions, and a meatball (by special request). 
We went here in 2018 on our first trip to Dalat. Fast forward to 2022, and this local place has expanded to a larger spot around the corner of the original spot. 
We ordered the bánh căn one set with egg and another set with egg and beef. The consistency is still the same as before. We prefer eating bánh căn with quail eggs versus chicken egg since it has a different texture. 
Each dish comes with five pieces (10 halves total). You take each half and place each half in your dipping sauce, and enjoy! It's very filling so you may need to go for a walk afterward to digest the food. 
While you're here, try the hot or cold fresh soy milk with your meal. 
Since this is a local spot, it's best to know some basic Vietnamese. Otherwise, you can just point to the menu on what you want. 
Address: 1 Đường Nhà Chung, Phường 3 (Next to the Chicken Church/Cathedral of Dalat Diocese)
Cost: Bánh căn with egg is 40,000 VND ($1.75), and egg and beef is 60,000 VND ($2.60). Dipping sauce and soy milk are 10,000 VND each ($.45).  
Payment: Cash only
---
5. Burger House
Dalat has quite a few burger shops around town. We decided on Burger House as another restaurant that we wanted to go to closed and this place was nearby the Dalat Market. 
The menu has a variety of affordable burgers such as beef burger, wagyu burger, buffalo burger, chicken burger (sandwich), and even a vegetarian one called Greenie Burger. 
We ordered two burgers – Oz Burger and Greenie Burger. The Oz Burger has a thick beef, a fried egg, bacon, and a slice of beets. The beef patty was moist and had a lot of flavor. The bun is also nicely toasted on the grill. 
The Greenie Burger is perfect for vegetarian and vegan travelers. The veggie patty is made with beans, sweet potato, and bell peppers. There are also slices of beets.  
All burgers can be made into a combo (with drink and fries). 
Or, you can order a la carte. We decided to order one large fries and they were great. The fries were thin like McDonald's fries and super crispy. 
If you don't want burgers, there are main entrees such as steak, pumpkin soup, spaghetti bolognese, and more. 
This place also serves Western breakfasts such as pancakes, bacon and eggs, egg benedict, and more. 
Address: 63 Ba Tháng Hai, Phường 1, Dalat
Cost: Burger cost is 90,000-190,000 VND ($3.95-$8.30). Breakfast cost is 50,000-100,000 VND ($2.20-
$4.40). 
Payment: Cash only
More Information: Facebook
---
6. Emai Italian Restaurant
Emai Restaurant is another popular restaurant in Dalat to try. This place has Italian and European flavors. 
It's located in a residential area and has a gorgeous courtyard setting. With the greenery and plants surrounding the courtyard, you'll want to eat outside. It's such a romantic spot to eat with a significant other or with a group of friends.
The menu has starters, soups, pizzas, pastas, main courses, cheese platter, and dessert. Prices are higher here, but you'll get high-quality ingredients. 
There are plenty of vegan and vegetarian items, such as gnocchi and veggie pizzas, noted on the menu with a leaf. The menu also has an icon to indicate dishes with gluten, spiciness, and nuts. 
Since we had a group of three, we ordered three items – Funghi e camembert (mushroom) pizza, Margherita pizza, and Tagliatelle with beef ragu. 
The pizzas were pretty good. The crust is crispier than what we're used to though. The Mushroom pizza was yummy with three types of mushroom- enoki, shiitake, and straw, and the baked camembert cheese. The Margherita had yummy mozzarella cheese. 
The homemade pasta was also a winner. The pasta was cooked al dente and had plenty of sauce coating it.
Since this place gets busy, it's recommended to call in advance to reserve a seat. 
Address: 1 Đường Thi Sách, Phường 6, Dalat
Cost: Pizza costs 160,000-260,000 VND ($7-$11.40). Main courses are 310,000-650,000 VND ($13.50-$28.40). 
Payment: Credit card and cash
More Information: Facebook | Website 
---
7. Katie's Bistro
Kate's Bistro is a fun place for drinks and food. It's not too far from the Dalat Market area. 
One of the main highlights of visiting here is the awesome interior decor. Each level has a different decor – the lower level is a cafe, the second level has a cute cafe vibe, and the third level has painted artwork. (You'll see a wall with three women – two of them listening to music and one holding a camera.)
We ate here for dinner and sat on the third level by the window. 
The menu isn't large but has enough food for a meal. There are a few salads, pizzas, pastas, and steaks. Unfortunately, there aren't any vegetarian items here, so you'll want to go elsewhere. 
We ordered a large version of the seafood pasta and the taco. The seafood pasta is beautifully plated with large prawns, clams, and mussels on top. It's a decent portion for two people. The pasta is rich in garlic butter sauce. The downside to the dish was that a handful of the clams were duds and didn't open during cooking. 
The taco has a Vietnamese twist. The taco shell is similar to bánh xèo (sizzling pancake made from rice flour) and these are mini size. Inside has beef, lettuce, tomato, and cheese. The salsa is made from bird-eye chilis so it's SPICY!
We also received a complimentary appetizer of dried chicken. 
If you don't want a full meal, you can also just come here for drinks, cocktails, and coffee. 
Address: 12 Đường Trương Công Định, Phường 1, Dalat 
Cost: Pastas start from 130,000 VND ($5.70). Steaks start from 550,000 VND ($24) for a small portion of beef. 
Payment: Credit card and cash
More Information: Facebook
---
8. Hoa Sen Vegetarian Place
Want to try a Vietnamese vegetarian restaurant? Head to Hoa Sen Vegetarian. 
Reviews tend to vary for this place but we enjoyed our meal here. You get to try a variety of vegetarian items from noodles, soup, porridge, vegetables, and more. 
We tried the lotus sen fried rice, mushroom claypot, sweet and sour Thai soup, banana leaf salad, and fried eggrolls. The egg rolls can be skipped as they weren't too crispy. 
Address: 62 Phan Đình Phùng, Phường 1, Dalat
Cost: Starts at 50,000 VND ($2.20) and up
Payment: Cash only
More Information: Facebook
---
9. Chè Thái Bà Triệu
Love eating Vietnamese desserts (chè)? Head to Chè Thái Bà Triệu.
This place is well known for Thai Vietnamese desserts. You can also try ice cream (avocado, coconut), flan, milk tea, smoothies, juice, and yogurt.
We suggest that you order the special (Chè Thái đặc biệt) or the regular Thái chè. Each mug is filled with layers of jellies, lychee, jackfruit, a scoop of durian, and mixed with coconut milk. The durian can be strong, which is what we like!
We ate here every evening since our accommodation was nearby. This place doesn't disappoint! 
Address: 15 Bà Triệu, Phường 1, Thành phố Đà Lạt, Lâm Đồng
Cost: 30,000 VND ($1.30) and up
Payment: Cash only
---
10. Quán Hoa Sữa
Ok, this place isn't a restaurant, but has some yummy hot soy milk and bean milk. You'll see soy milk for sale everywhere in Dalat and we suggest that you stop by Quán Hoa Sữa. 
It's a popular drink place for locals, especially in the evenings. You'll see crowds of people sitting on the squatty chairs along the sidewalk with cups of hot beverages. 
The menu has a few items:
Soy milk (sữa đậu nành),
Green bean milk (sữa đậu xanh)
Peanut milk (sữa đậu phộng)
Black sesame milk (sữa mè đen), and
Corn milk (sữa bắp)
You can request the beverages without any sugar or condensed milk. 
We've tried soy milk, green bean milk, and black sesame milk. They are delicious. Each of the beverages is freshly made and has a smooth texture.   
Note: The beverage is HOT. You'll want the drink to cool down for a few minutes. Otherwise, you'll burn your tongue and the roof of your mouth. 
While this place doesn't serve food, you can order fried sweet and savory bread next door and eat them with your hot beverages.
Address: 64 Đường Tăng Bạt Hổ, Phường 1, Dalat (Across from Katie's Bistro)
Cost: 10,000-14,000 VND ($.45-.60)
Payment: Cash only
---
11. Optional: Dalat Market or Lam Vien Square
Have you seen the vendors grilling sweet potatoes, corn, grilled rice paper snack (bánh tráng nướng), and selling soymilk? It's a popular way to try various grilled foods and snacks. 
Head to the perimeter of Dalat Market or Lam Vien Square (where you see the artichoke and sunflower building). Pick a vendor, sit down on the squatty chairs, state what you want, and enjoy your food when it's ready.  
The Dalat Market also has a section where you can eat shellfish (ốc) and seafood. We tried it once and it was pretty good. 
Tip: If you choose fresh seafood, then you'll need to ask how much it costs per weight. Prices will not be marked on the menu or at the tanks.  
Address: Dalat Market: 6b Nguyễn Thị Minh Khai, Phường 1 ; Lam Vien Square: Đ. Trần Quốc Toản, Phường 1
Cost: Varies. 
Payment: Cash only 
---
Other Dalat Restaurants to Try
With our limited time, we couldn't eat at all of the restaurants. Here are some other restaurants that expats recommend trying in Dalat. 
Biang Dalat Garden Restaurant – This restaurant is a popular spot for Italian and Mediterranean food. It's on the pricier side yet people love the food and the location. This place is also open for breakfast. 
Address: 94 Đường Lý Tự Trọng, Phường 2, Dalat
More Information: Facebook 
Restaurant Ichi – It's a tiny place that serves delicious Japanese food. This place is only open during dinnertime. 
Address: VN Thành phố Đà Lạt Phường 4 71C, 37, 3/2, Vietnam
Le Alpi – Dalat Restaurant – Need to eat more Italian food? Try Le Alpi for authentic Italian food, such as homemade pastas and cheeses. 
Address: 87 Đường An Dương Vương, Phường 2, Dalat 
More Information: Facebook
---
Final Thoughts
When you're exploring this city, you're bound to try one or more of these places to eat in Dalat! As you can see, you can get some tasty Italian food or try local Vietnamese foods. Enjoy your time eating through Dalat. 
If you've been to Dalat before, what other restaurants would you suggest? 
For more posts on Vietnam, check out the popular ones below: