Tegallalang Rice Terraces is one of the top places to visit in Bali's Ubud area. 
Seeing gorgeous views of the green rice terraces, trekking through the labyrinth of rice fields, and soaring high in the skies on one of the Bali swings are the top reasons to visit here. 
Visiting Tegallalang is a quick day trip from the main Ubud area as it takes about 30 minutes to get there by car or motorbike. You can also get here from other regions of Bali easily. 
Once you get there, the main question is where is the real entrance to Tegallalang Rice Terrance? It's not easy to figure out as there are multiple ways to enter the rice terraces so we're here to help. 
If you're also looking to go trekking around Tegallalang, we'll share trekking tips to enjoy your visit.
Now let's go to one of the beautiful rice fields in Ubud! 
*Disclaimer: This post contains affiliate links. As an Amazon Associate we earn from qualifying purchases. If you click on them and make a purchase, we receive a small commission. There is no additional cost to you. Appreciate the support.
---
How to Get to Tegallalang Rice Terraces
Before we share where the entrance is located, you need to get to the terraces. 
The best way to travel to Tegallalang is by hiring a driver, driving a motorbike, or taking a day tour. 
Whenever we go to Bali, we have a driver as we don't feel comfortable riding a motorbike. If you need a private driver and need a recommendation, please contact us. Or, you can hire one directly here.
As with riding a motorbike, you can rent one from your accommodations or a motorbike rental company. Click here to reserve a motorbike in advance here. 
You can also consider going on a day tour. Here are tours to consider that include Tegallalang:
Here are the expected driving distance and approximate times from various areas of Bali:
Ubud – 9 kilometers (5.6 miles) in 30 minutes (Read more: Ubud 3 Day Itinerary)
Denpasar – 34 kilometers (21.1 miles) in 1 hour 30 minutes
Canggu – 37 kilometers (23 miles) in 1 hour 30 minutes
Seminyak – 39 kilometers (24.2 miles) in 1 hour 45 minutes (Read more: Seminyak 1 Day Itinerary)
Nusa Dua – 54 kilometers (33.4 miles) in 1 hour 50 minutes
Once you're closer to the terraces, there are many signs along the main road, Jalan Raya Tagallalang, pointing to free parking. Many of the parking spots are in front of warungs so it's obligatory to stop by and purchase a drink or meal. 
When you're driving into the area, there is free parking on the left side of Jalan Raya Tagallalang. A sign points to free parking. Here, you can also buy tickets to Tegallalang. Many private drivers use this parking lot since there is more space for cars. 
---
The Cost to Enter Tegallalang
It cost 25,000 IDR ($1.70 USD) per person to enter. You can purchase the ticket office at the main parking lot (where there is free parking) or from one of the workers walking along the Jalan Raya Tagallalang.
---
The Real Way to Enter Tegallalang Rice Terraces
The main entrance to get to the rice terraces can be missed in a blink of an eye. This unassuming entrance has a yellow banner that says, "Entrance" and underneath on the left side says, "Rice Terrace."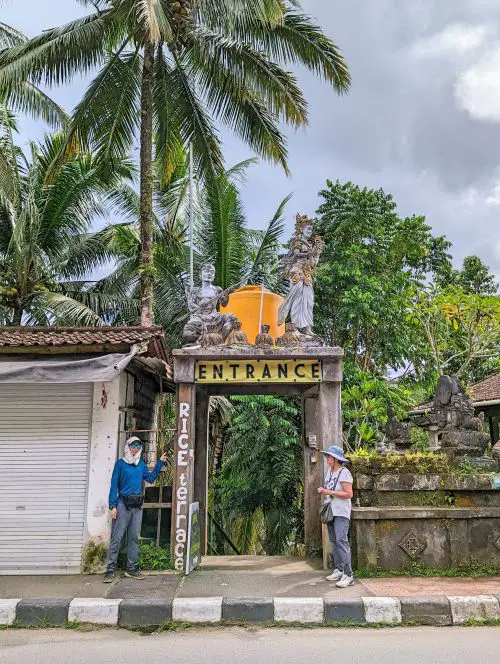 Normally, you'll see someone standing in front of the warungs to usher you inside. But this entrance doesn't have anyone managing it so it's a hassle-free way to enter. 
Don't forget to hold on to your entrance ticket if you prepurchased it at the parking lot. A worker will pop his/her head through the door to ask to see the ticket. If you haven't purchased a ticket, then you can buy one from him/her. 
If you take this way, there are paved stairs that will take you to the bottom of the terrace. You can also take a detour to the neighboring warung and the rice fields to take photos. 
If the goal is to go trekking, you'll need to cross the rice terrace to get to the other side. 
We visited this place back in 2019, it was easy to cross. At the time of our visit in January 2023, when continuing to the bottom of the stairway, the route is blocked by fallen trees and branches. Therefore, the crossing is not feasible. 
Another way to cross is to walk along one of the dirt paths and pay an additional fee of 10,000 IDR ($.68 USD) per person. A person sits at a collection point. Since the rice terraces are private property, the owners can do whatever they want! 
Here is the signage on the bucket, "The Best View Kedisan Village. Pay for the bridge/preservation. Put here your money – 10,000/1 person ($1 USD). Another area owner."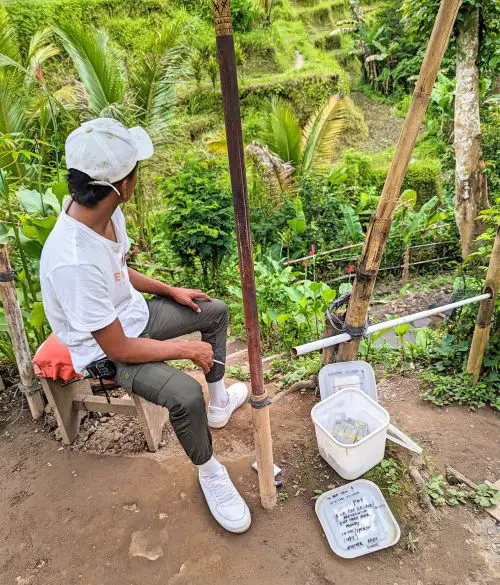 It's up to you whether you want to cross and pay an additional fee. We did not pay and looked for another way to cross. 
---
Another Entrance to Consider to Go Trekking
Along Jalan Raya Tagallalang, another signage says, "Rice Terrace Trekking" and has an arrow pointing. There are tons of motorbike parking in front of this entrance. This is another spot where you can cross the rice terraces to go trekking.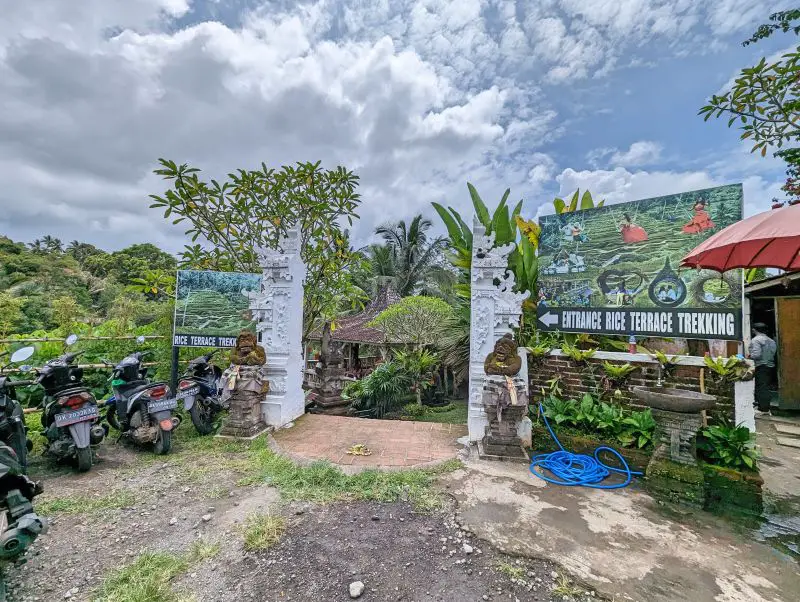 When walking down, you'll enter Uma Ceking.
This place is popular with tourists. You've seen the famous swings of Bali with the rice fields in the background and people sitting in bird's nests on social media. Here, there are plenty of bucket list opportunities to go on the swing to get your perfect Instagram photo. 
Note: Our driver mentioned that there aren't any safety regulations for the swings here. Therefore, you use them at your own risk. 
An additional admission fee is not required but you will need to pay for the swings and bird's nest, etc.
This place also has a restaurant for drinks and food. 
One of the coolest parts about this place is that you can go trekking here. The signage from the main road is correct.  
When walking down the terraces and passing the swings, you reach a bamboo bridge to cross. Hooray! This is the place to start trekking and seeing the beautiful fields.
Once you've crossed, you'll also pass by a small waterfall with Uma Ceking signage.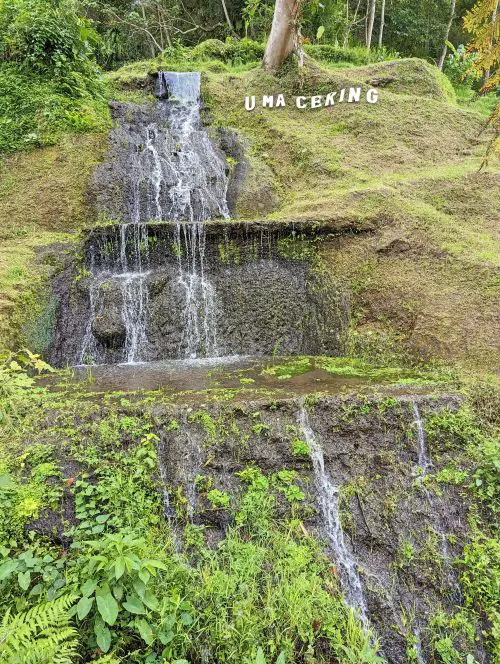 Then you can explore the terraces and visit other warungs and cafes on the other side. 
It's highly recommended to spend some time wandering. The rice terraces are not too crowded as more people are interested in the swings. We think the landscape views are better too.
---
Tegallalang Rice Terraces Trekking Tips
1. This trek is doable for everyone
Whether you're a beginner walker or an advanced hiker, the trekking route is not technical. While there are stairs, children can walk on this path. 
There are some areas to go up and down the fields, so take extra precautions and go slowly. 
For older people, the hardest part could be walking down from the main road to the bottom of the terrace (before crossing to the other side). The uneven steps and pavement could be challenging.
---
2. A guide isn't needed 
All you need to do is follow the dirt path around the terraces and return to the same area (ie: Uma Ceking) to get back to your driver or motorbike. 
If you're on a day tour, then your guide may accompany you. 
---
3. Wear comfortable clothes
We prefer wearing moisture-wicking clothes since it gets sweaty walking around. Yet, wear whatever you find comfortable for the day. 
---
4. Bring water 
It's hot in the rice fields so you want to stay hydrated. You can always stop by one of the warungs along the way to buy cold drinks and fresh coconuts. 
---
5. Wear insect repellent
There are a lot of mosquitoes and insects in the rice fields. You want to cover yourself with insect repellent if you're prone to getting bites. 
After entering the area for five minutes, I already had two insect bites on my arms! I wasn't proactive with wearing repellent beforehand. Yet, I used Tiger Balm as a natural repellent afterward. Buy Tiger Balm here. 
---
6. Wear shoes
While wearing sandals is perfectly fine, you will be walking through dirt and mud. Be careful with the dirt-packed stairs as they aren't stable. We prefer wearing shoes just in case we roll our ankles. 
---
7. Wear sunscreen and a hat
There is some shade when trekking around Tegallalang but otherwise, it is very hot and has tons of sunshine. Protect your skin with sunscreen and wear a hat. 
---
8. Bring additional cash  
The area has small warungs along the rice terraces so you can buy cold drinks. 
Some of the terraces ask for a small donation to cross. You'll see a bucket next to the entrance for the donation. It's up to you whether or not you want to give. 
---
Frequently Asked Questions about Tegallalang Rice Terraces
How much time do you need at Tegallalang? 
It depends on your schedule. You can stay for 30 minutes up to a few hours. If you plan to trek around Tegallalang and take breaks, then you'll need 1-2 hours to explore. 
---
When is the best time to visit Tegallalang?
You can visit at any time! It's recommended in the morning when it's not as crowded or in the late afternoon before sunset time. 
---
What about visiting Tegallalang in the rainy season? 
You can visit Tegallalang during the rainy season from November to March. We visited at the end of January which is considered the heaviest rain storm of the year. 
Tip: We visited in the morning as there was less chance of rain compared to the afternoon. During our visit, we noticed that the afternoon often had rain. 
Final Thoughts
Whether you're visiting Tegallalang Rice Terraces to go on the swings or trekking around, it's a must-visit attraction when visiting Ubud for the day. It's such a beautiful rice field to explore and take photos of. 
We hope you have more confidence in finding the proper entrance to Tegellalang and can go on a short trek. 
If you have any questions, please ask in the comment section below. 
Check out our other Bali posts for more travel inspiration: