Lahangan Sweet is a new attraction in East Bali to explore as a day trip. 
Located in the Karangasem Regency area, it's a gorgeous place to take photos from treehouses and platforms. The notable view is Mount Agung, Bali's tallest mountain, in the background, especially on a clear day.
We found out about this place after exploring Google Maps and zooming in the area. It was cool to see a new spot to check out on our Bali itinerary.  
If you want to add Lahangan Sweet to your Bali bucket list, continue reading this post on how to plan to visit Lahangan Sweet and know what not to do. We made mistakes when visiting this place and want you to have a smooth and enjoyable experience. 
Since Lahangan Sweet is still considered a hidden gem, we suggest that you visit as soon as possible before hoards of crowds come.
*Disclaimer: This post contains affiliate links. If you click on them and make a purchase, we receive a small commission. There is no additional cost to you. Appreciate the support.
---
1. Not accounting for the driving time to get there
Lahangan Sweet requires some time to drive as it's on the eastern side of the island. Click here to see the location on Google Maps. 
Whether you hire a driver or drive a motorbike, you want to account for the long drive. If you need a driver, you can hire one here. We can also recommend a driver that we've used a few times. Please send us a message here for the contact information. 
If you need to rent a motorbike, click here to reserve one in advance. 
Here are the distances and approximate driving times one-way:
Kuta – 91 kilometers (56.6 miles) – 2.5 hours
Seminyak – 94 kilometers (58.4 miles) – 2 hours 40 minutes to 3 hours (Read more: 1 Day in Seminyak) 
Canggu – 95 kilometers (59 miles) – 2 hours 45 minutes to 3 hours
Uluwatu – 110 kilometers (68.3 miles) – 3 hours 
Ubud – 67 kilometers (41.6 miles) – 2 hours 15 minutes (Read more: 3 Days in Ubud)
---
2. Not going for sunrise or sunset
According to the person at the ticket office, the best time to visit Lahangan Sweet is in the mornings. 
If you're in the area, then visiting Lahangan first thing in the morning for the sunrise or at least the mid-morning will have better weather for photos. You may even see Mount Agung, the tallest mountain on Bali. 
Unfortunately, we visited in the mid-afternoon (after 3pm) and it was not a good time to visit since it had just rained and the fog rolled in. We took advantage of quick break to take photos. Then, we didn't see anything after the fog appeared.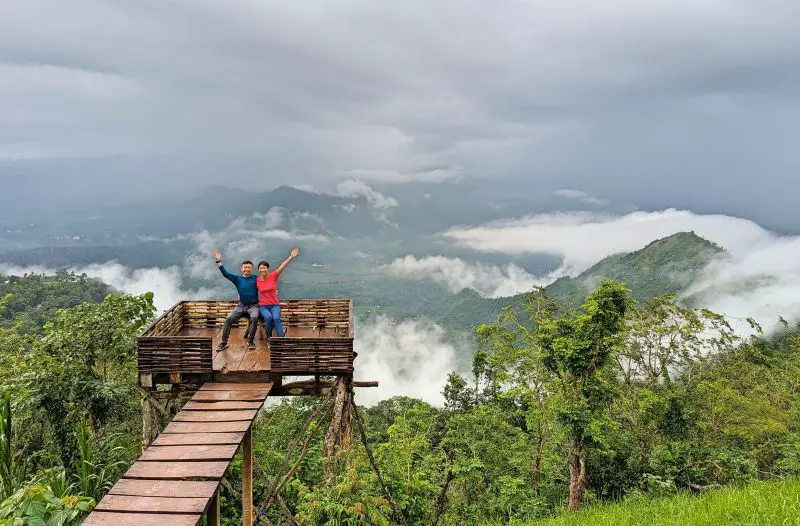 We've seen photos of people arriving at sunset. While we don't have any experience with visiting at sunset, the photos are beautiful. The only thing that we worry about for sunset is the walk back down to the parking lot since it will be dark on the dirt road.  
---
3. Visiting Lahangan Sweet in the rain during the rainy season
Bali's rainy season is from November to March. While there is nothing to be scared about for the rainy season, rain can appear at any time of the day.
We visited Lahangan Sweet at the end of January which is in the midst of Bali's rainy season (November to March). 
As mentioned earlier, we visited in the afternoon, so it rained on our way up to the entrance. The skies cleared up 15 minutes after the rain stopped. Although we didn't see Mount Agung, it was still a pretty place to take photos. 
But the fog rolled in for the next 30+ minutes and then we couldn't see anything. Since we're on top of a mountain, anything goes when it comes to the weather. 
---
4. Not considering the distance from the parking lot to the Lahangan Sweet entrance
Lahangan Sweet is located on top of a hill, so it requires two ways to get there – by Jeep or by walking. 
The dirt road is shared by both the Jeep and walkers, so it's up to you which way you want to go up. 
From the parking lot to the entrance, it takes about 15-20 minutes to walk up depending on your speed. The distance isn't long – over half a mile or so but it is uphill. 
---
5. Not taking the Jeep transportation from the parking lot to the entrance
For those who have difficulties walking or do not want to hike, it's highly recommended to take the Jeep. 
The car makes a round-trip journey. The drive is around 5 minutes each way depending on the road conditions (ie: the mud). 
Once you're done with your visit to Lahangan Sweet, there will be a Jeep waiting for you at the entrance.
The cost is 50,000 IDR ($3.30 USD) per person round-trip. Payment is done when returning to the parking lot. 
We went to Lahangan Sweet with my mother-in-law and she took the Jeep. It was safer for her to sit in the vehicle rather than worry about her slipping in the mud. 
---
6. Not wearing proper shoes when walking from the parking lot to the entrance
If you are physically fit and want to go for a short hike or want to save money, you can walk up to the entrance instead of taking the Jeep. This is what we did. 
We suggest wearing shoes with traction. Do not attempt with wearing sandals or flip-flops. It can get slippery since there is an incline going up the hill. 
If you walk up in the rain, prepare to walk in the mud. The Jeep and walking trail share the same road so the road is not in the best condition. 
It will be slippery when walking down so watch the road and go slowly. We slipped on a few spots but did not fall.
7. Not bringing enough cash
Bali is a cash-centric place, especially when visiting all of the attractions.
At Lahangan Sweet, you'll need to pay for the admission cost (30,000 IDR/$2 USD per person), Jeep cost (50,000 IDR/$3.30 per person round trip), parking (5,000 IDR/$.33), and optional snacks and drinks at the warung in the area. 
The cost adds up so ensure that you have enough money for your visit. 
---
8. Not having a selfie stick or camera tripod to take photos
You'll want to have a device to help prop your smartphone or camera up while you take photos, selfies, or videos from the treehouses and viewing platforms. It'll be easier for you to stage the photos to your preference. 
Another option is to have someone in the area or from your party take photos for you. We were lucky that my mother-in-law helped take photos of us. 
---
9. Not being considerate of others who are waiting in line for photos
This place currently has a handful of places to take photos. 
Closer to the entrance, there are two treehouses and 1 seating area with views of Mount Agung. When walking further down, there is a boat and a few other set-ups. 
Since this place can get crowded in the mornings, it's best to think about your poses while waiting in line and snap a few photos as quickly as possible. 
Otherwise, it's rude to hold up the line while others are waiting patiently for their turn. 
Plus, please do not photobomb other people's photos. We've noticed more and more entitled people barging in on other people's photos at other attractions (not specifically this one).
---
10. Not bringing water or drinks with you
Bali is hot and humid all year round so you need to stay hydrated. If you hike up to the entrance from the parking lot, you will work up a sweat. 
While the top of Lahangan Sweet should be cooler temperature, there is a warung to buy drinks and take a rest. 
---
Is Lahangan Sweet Recommended to Visit?
Absolutely! Since Bali reopened to tourism and visitors love eye-catching photo spots, this place will boom in popularity. 
Although we encountered rain and fog during our visit, we will return. On our next visit, we will go here in the morning and hopefully, we'll be luckier to capture Mount Agung. We've learned from our mistakes!
While you're in the area, add a visit to Lempuyang Temple (also referred to as Pura Lempuyang). It's 3.6 kilometers (2.2 miles) away from Lahangan Sweet. Depending on your visit, you may get an awesome view of Mount Agung through the Lempuyang's Gate of Heaven. Check out our Lempuyang Temple guide here. 
Check out other Bali posts that we've written to plan your trip:
If you have any questions or need more Lahangan Sweet travel tips, please ask in the comment section below.