We can't stop talking about Bali, Indonesia with our family and friends. This place has beautiful views, serene temples, delicious places to eat, some of the finest cooking classes around the world, and the best part – amazing waterfalls.
Knowing that Bali has many waterfalls (arguably the most extraordinary waterfalls in Asia) it was difficult to choose which one to go to with our limited 4 days in Bali.
We decided to visit Sekumpul Waterfall, considered one of the most beautiful waterfalls on the island and also an adventurous thing to do in Indonesia. Due to its remote location in North Bali, it's a hidden gem with few visitors. It was magnificent to see it in person albeit a bit of a journey to get here.
We're sharing with you this guide which has everything that you need to know on how to visit Sekumpul Waterfall in Bali and to have an awesome time at this place!
Before you read more about this waterfall, check out our Bali planning posts:
Click on the links below to read about this Sekumpul Waterfall guide and jump to the various sections:
*Disclosure: We have affiliate links in this post. As an Amazon Associate, we earn from qualifying purchases. If you click on the links and make a purchase, we receive a small commission. There is no extra cost to you. Appreciate the support.
---
Why Visit Sekumpul Waterfall?
Sekumpul is absolutely beautiful. The three cascading streams are 260 feet (80 meters) high. The bucket list worthy views are stunning no matter where you are – either from high up on the hill or from the bottom of the falls. You will need to take a walk down the hill to get to the waterfall, and there are many picturesque spots along the way. We loved the peacefulness, quietness, and the surrounding greenery in the area.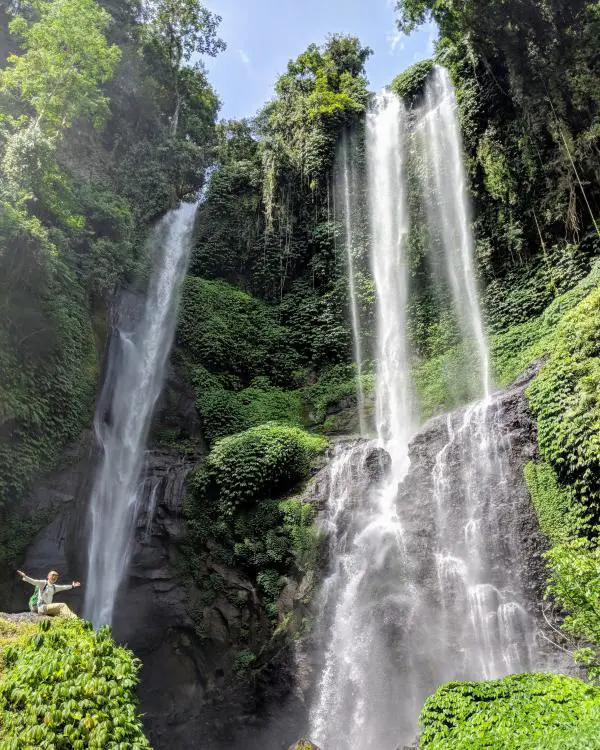 What is great about visiting here is that there weren't a lot of people. We arrived around 11am and only saw about 20 other visitors along the way.
You're more than welcome to take a swim under the waterfall. The water is clean. At the time of our visit, the water was cold. The waterfall area is misty so you will get wet.
If you have extra time, consider visiting Fiji Waterfalls which is in the same area.  We'll share more information below in the "Fiji Waterfall" section.
---
How to Get to Sekumpul Waterfall From Ubud
Located in North Bali, it's a 2 hours drive from Ubud City Center and about 66- 72km (41-45 miles) one way depending on the route. Therefore, it's a fantastic day trip to take from Ubud!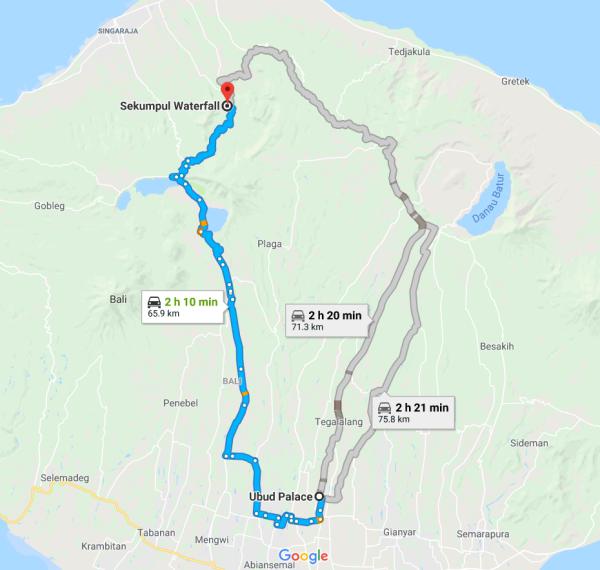 There are four options to drive to Sekumpul. Remember that traffic will be heavy as you leave and enter the main city areas.
1. Rent a motorbike/scooter – If you're comfortable with riding a motorbike/scooter, it's a budget-friendly and affordable option and you're flexible with your schedule. Here are some places to get a motorbike:
Rental shops in main city areas for pricing and the motorbike conditions.
Cost ranges from 60,000 IDR to 300,000 IDR ($4.10 – $20.60 USD) per day depending on the size.
Be careful when riding the motorbike as many of the roads are the size of one lane – one-way roads but have two-way traffic. Ensure that your GPS works as you'll be in a remote location.
2. Rent a car – Renting a car is another option and you can rent one from the Bali Airport (Ngurah Rai International Airport). Car rentals prices range from 200,000 IDR to 300,000 IDR ($13.75 – $20.60 USD) per day depending on the size. The driver's side is on the right hand side (like England) and you'll need an International Driver's License to drive.
3. Hire a driver – Drivers are plentiful in Bali and one of the easiest ways to travel. Some ways to find a driver are:
Outside the airport. Once you leave the Bali Airport (

Ngurah Rai International Airport), many drivers will approach you who will be more than happy (or maybe a little aggressive) to take you around.

Hear recommendations from TripAdvisor forums or friends. We found our reliable driver through a friend referral. We're happy to share with you our driver's contact information. Contact us via email for more information.
Depending on your activities for the day, drivers can range from 500,000 IDR to 650,000 IDR ($34.50-$45 USD).
4. Prebook a day tour – Consider the one day tour here. Tour picks you up from your hotel, takes you to try luwak coffee, and see Sekumpul Waterfall and temples. 
---
Entrance Fee to Sekumpul Waterfall
The entrance fee is 20,000 IDR ($1.40 USD) per person (as of July 2018). There is a small parking fee for cars.
We did research ahead of time and knew that a guided tour was not necessary. As you drive on the curvy road to Sekumpul, beware of the fake admission fees stalls each labeled as a "Registration Station." It's a tourist trap!
We passed by 6-7 stalls along the road. People will wave at you and your driver to pull over to their stall. We read stories that visitors were pressured to take a guided tour and paid 150,000-300,000+ IDR ($10.40-$20.60 USD) per person for the tour. If you want a guided tour, you're more than welcome to stop by and inquire.
Our driver also warned us of the stalls and went straight to the parking lot.
---
How to Get to the Sekumpul Waterfall From Parking Lot
1. From the parking lot, turn left and go up the road. There will be another "Registration Station" stall as you exit the parking lot. Ignore them and continue to walk along the paved path. It's a 10 minutes walk to the waterfall entrance where you'll pay for your official admission fee.
2. Turn left when you see a sign that states, "Sekumpul Waterfall." Walk along the brick road.
The walking path is quiet as you pass by residential houses and small shops to purchase cold drinks or food.
3. At the end of the path, pay for your admission fee at the official stall. We thought it was another pseudo-registration fee places until they chased us down. Make sure that you see this stall: 
4. Continue on the trail to go down a steep hill and staircases to get to the base of the hill. Be careful as the path can get slippery. The walk down isn't too bad (not recommended if you have knee problems) and will take around 20 minutes, including stops for taking photos.
You'll see these stairs to go down: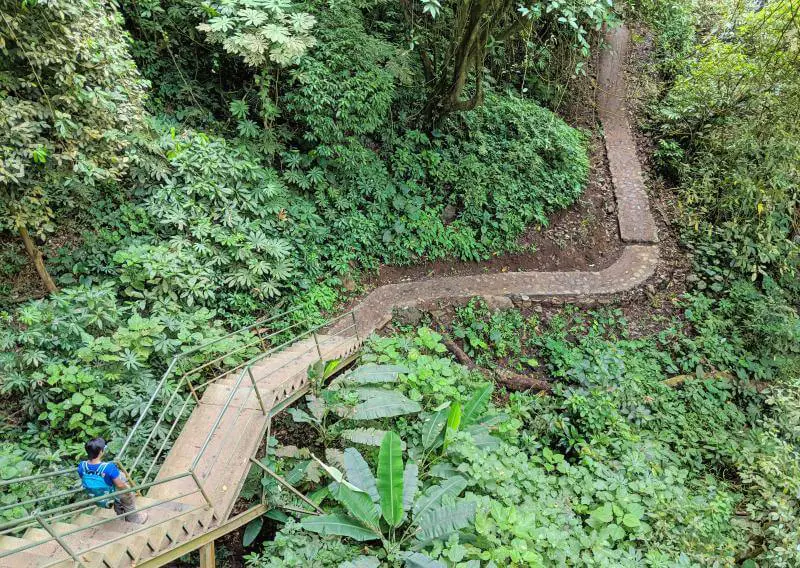 5. Now for the fun part. Cross a nearly calf-deep stream. It's best to wear shorts and water shoes or flip flops to plow through the water. We had hiking pants and hiking boots, which helped grip onto the rocks and kept most of the water out.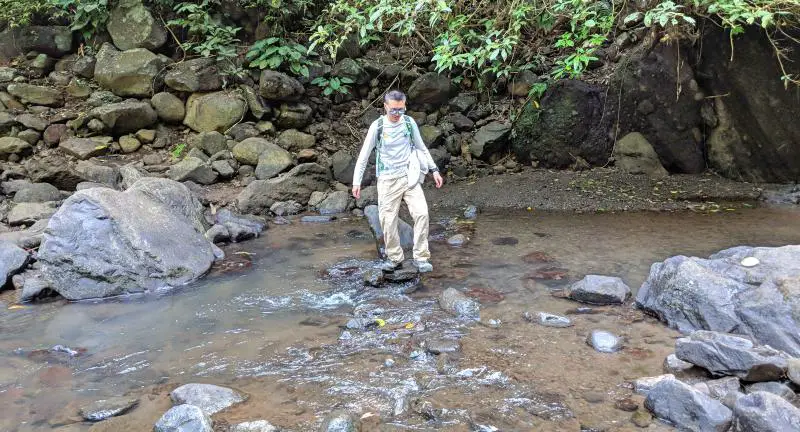 6. Yes! You've reached the waterfall! Enjoy the sunshine and the water!
7. If you're hungry or need a place to sit, continue to the right of the waterfall and cross another stream. There is a small shop with fruit, snacks, and drinks.
From the shop, you can either:
Cross the bridge and follow an "Exit" sign to head back to the parking lot.

Walk up steep staircases to reach Fiji Waterfalls.
---
Fiji Waterfalls
Fiji Waterfalls is within the same area as Sekumpul. You'll need to walk up the stairs and pass through the Lemukih Village to see Fiji. There is another registration station that chargess an admission fee to enter. A visit to Fiji would need another 1-2 hours.
Unfortunately, we didn't spend the time to visit. We walked up the stairs to see what was up there but there weren't a lot of views from the edge of the hill to see them up close. It'll be another return visit to see Fiji Waterfalls.
---
Time Needed at Sekumpul Waterfall
We suggest at least 2 hours. The breakdown of the timing:
Round trip from parking lot to official entrance fee stall: 20 minutes

Round trip from entrance fee to walk down to the bottom of the hill: 40 minutes

Hanging out at the waterfall: 30-40 minutes
Add additional time if seeing Fiji Waterfalls.
---
Things You Should Bring to Sekumpul Waterfall
Water shoes or flip flops (Men/Women) (These will help when crossing the waters)

Swimsuit (It's best to wear the swimsuit ahead of time since we didn't see any changing room locations)

Shorts

Change of clothes

Extra cash for drinks or food
---
You must add Sekumpul Waterfall to your list when visiting Bali. You won't be disappointed with the vastness and beauty of the waterfall.
If you need other ideas on things to do in Indonesia, check out our post below:
Would you like to see Sekumpul Waterfall? What other waterfalls do you recommend that we visit on our return trip to Bali?
Pin post and read again later!