Who loves to add a hike to their travels? *Raises hands* 
Asia is one of our favorite areas to travel to. After living in Asia for 6+ years and traveling to many countries to experience the food and culture, hiking and spending time outside are still the most memorable aspects of our trips. 
With the help of our favorite travel bloggers, we've put together an exciting list of the 21 hikes in Asia to do. 
We're covering popular, less visited, and bucket list worthy day hikes and multi-day hikes in West Asia, Central Asia, South Asia, and East Asia.  
Each hiking trail includes important information such as the hike duration, length, difficulty level, and insider tips. So, whether you're a beginner or an experienced hiker, there is a trail suitable for your level. 
You're probably wondering what happened to Southeast Asia treks?! We didn't want this post to be too long and overwhelming, so we have a separate post on the best hiking trails in Southeast Asia. Check it out for more inspiration. 
Click to jump to certain areas of this post: 
Let's put on your hiking boots and start trekking in Asia! 
*Disclaimer: This post contains affiliate links. As an Amazon Associate we earn from qualifying purchases. If you click on them and make a purchase, we receive a small commission. There is no additional cost to you. Appreciate the support.
---
How to Prepare for Hiking in Asia & Other Tips
Before your hike, it's highly recommended to take some time to prepare gear and train. Here are recommended hiking tips: 
It's important to train for the hike. If you plan to do moderate and challenging hiking trails, you will need to do strength and cardio training to prevent injuries. Read our post on how to train for your next hike. 
Prepare for hiking in hot weather. Summertime is notorious for hot and humid weather in Asia. While you may feel like skipping a hike, read our post for tips on hiking in hot weather. 
Bring a sturdy, lightweight daypack or a trekking backpack for longer hikes. You'll need to have some sort of backpack to hold snacks, gear, and medical kit. 

We recommend a backpack that has shoulder and hip belts to adjust the weight of the backpack as needed. Here are the two options that we use. Click Osprey Talon 22L and Osprey Talon 20L to learn more.
Use a reusable water bottle and stay hydrated. To lessen the plastic waste, bring a reusable water bottle. Many hiking trails do not have stores to buy water so make sure that you have enough. 
Wear hiking boots or sturdy walking or trail running shoes. Having the proper shoes will prevent blisters and hot spots from appearing. You'll need to determine the terrain for the hike and the type of shoes you'll need. 
Wear moisture-wicking clothes to absorb sweat. Any polyester or wool clothing will help absorb the sweat. 
Protect yourself from the sun. Wear sunscreen and a hat at all times to prevent sunburns. We use this sunscreen and sun hat for our hiking trips. You may consider wearing long-sleeved shirts or arm covers or long pants. 
Bring hiking poles. The challenging hikes will be tough on the knees so using hiking poles will help lessen the stress. We suggest using these hiking poles. Or, you can ask the trekking company to see if they'll rent hiking poles to you. 
Do not litter and follow the Leave No Trace principles. The hiking trails are fragile and many of them do not have anyone cleaning up after visitors. So, bring all your trash with you and dispose of them properly. Read this post on Leave No Trace ideals. 
Travel insurance is important, especially with the challenging trails. If you plan to go on a multi-day trek, then travel insurance is highly recommended. You never know what may happen during your adventure. Please read the terms and conditions of your travel insurance plan to see what is covered in case of an emergency.
---
Map of Hiking Trails in Asia
---
Amazing Hiking Trail in West Asia
1. The Lycian Way – Oludeniz to Antalya, Turkey
Recommended by Louisa, The Turkey Traveler
Round-Trip Distance: 520 kilometers (320 miles)
Duration: 6 to 7 days
Difficulty: Moderately challenging
Best Time to Visit: Spring (April to May) or Autumn (September to October)
There are many great hikes in Turkey. For those looking for a multi-day hike that combines history, incredible coastal views, and a good workout, then the Lycian Way Trail should be at the top of your list.

The Lycian Way is a trail that follows the original routes used by an ancient civilization, the Lycians, who used the paths to travel between coastal ports used for trade. 
The ancient trail was then mapped out in the early '90s by a British expatriate and is now more famous for its jaw-dropping natural beauty of the Turkish Riveria.

The hike not only offers hikers with panoramic views of the coast and craggy cliffs, but it also passes by famous landmarks such as the Blue Lagoon in Oludeniz, Butterfly Valley, Letoon (the historic capital), a UNESCO World Heritage Site in Seydikemer and the charming village of Olympos, nestled among Roman ruins. 
You can take a slight detour and hike to Mount Chimera. It's famous for its ever-present flames that emerge from the ground.

As you hike through pine forests and olive groves, you'll come across hidden and secluded beaches such as Kabak and Kaputaş beach. These spots are perfect for a refreshing dip or a picnic with a view.

While there are campsites along the route, you can also stay in guesthouses in the villages, meaning you don't have to carry heavy bags along the trek.

Wear sturdy hiking boots and plenty of sunscreen as the Turkish sun can be intense and there are parts of the trail that have steep, rocky terrain. 
Don't forget your camera as every step along the Lycian Way is a photo opportunity waiting to happen.
How to Get There: The start of the trail is from the town of Oludeniz, near Fethiye. You can start the trail from the town, and follow directions to Aydede Camping Ölüdeniz. Continue on the road and you'll find a huge wooden sign that signals the beginning of the trek.
---
Incredible Hiking Trail in Central Asia
2. Ak Suu Traverse – Jyrgalan, Kyrgyzstan
Recommended by Dotti, Travel Oasis 
Round-Trip Distance: 110 kilometers (68 miles)
Duration: 7 to 10 days
Difficulty: Challenging
Best Months to Hike: June to September
The Ak Suu Traverse is for the hardcore hikers out there: the ones who like their hiking trails long, hard, and nothing short of spectacular. 
Traversing over 100 kilometers (62 miles) through Kyrgyzstan's Ak Suu region, the Ak Suu Traverse features some of the most magnificent alpine scenery in Central Asia (if not all of Asia). 
With towering mountains, green valleys, shimmering lakes, and icy glaciers, it has everything you could want in an alpine hike and much more – such as encounters with friendly nomads and multiple invitations for a cup of tea in a yurt. 
The trail takes in some of Kyrgyzstan's biggest highlights, including the Altyn Arashan hot springs and sparkling Ala Kul Lake. 
The Ak Suu Traverse is a challenging hike and requires thorough preparation. 
With over 7000 meters (22,966 feet) of elevation gain throughout the trek, you must be physically prepared to conquer many high-altitude mountain passes.  
You do not need a guide and can hike the trail completely independently if you wish. Supplies, gear, and a map can be picked up easily in Karakol, Kyrgyzstan's trekking hub. 
However, if supported hiking is more your thing, then guides and porters can also be arranged in Karakol. 
TIP: Take a rest day at the Altyn Arashan hot springs. Conveniently located mid-way through the hike, your legs will be thanking you as you soak in the delightfully warm mineral waters, with your beverage of choice in hand. 
How to Get There: You can easily reach the Ak Suu Traverse trailhead just outside Jyrgalan village via a regular minibus (3 times a day) from Karakol, or via a shared taxi. 
---
Top Hiking Trails in South Asia
3. Taktsang Monastery Hike – Paro, Bhutan
Recommended by Pooja, Fairytale Studios
Trail Difficulty: Moderate
Round-Trip Distance: 6.5 kilometers (4 miles)
Duration: 5 hours
Best Months to Hike: March to May (Spring season)
Hike to Taktsang Monastery, popularly known as Tiger's Nest Monastery, is one of the most popular hikes in Bhutan and is rapidly gaining global popularity. 
The monastery sits on an impossibly steep and rocky cliff, about 800 meters (2,625 feet) above sea level, and is a sight to behold.
The hike is best done on foot. However, you can also hire a pony that will ride you only till mid-point, after which everyone must ascend on foot. 
Since the round trip takes about 5-6 hours and you might want to spend at least 2-3 hours at the monastery, it's advisable to start early in the morning.
Bright red, wild rhododendron flowers bloom along the hiking trail in the spring season (March to May), which in addition to the colorful Buddhist prayer flags, elevates the surrounding landscape and makes for a beautiful trek. 
The trail is a mix of rocky paths and concrete stairs.
A guide is generally not required as the trail is easy to follow. However, having a local guide will be helpful to accompany you through the interiors of the maze-like monastery and help you understand the history, legends, and culture of the sacred temple.
Dress appropriately for the Taktsang monastery hike. You can enter the monastery only if your hands and legs are covered. 
Also, remember to buy the entrance tickets (Nu 2000/$24 USD) from the base; they aren't available at the top.
Keep your eyes out for a viewpoint mid-way, from where you can get the best photographs of the monastery perched on the copper-colored cliff, with the breathtaking valley in the background.
How to Get There: The starting point of the hike to Taktsang Monastery is 12 kilometers (7.5 miles) away from Paro town. You can easily reach the trail base via a car or a hired taxi.
Paro has an international airport and is usually the gateway to Bhutan for those who prefer to fly.
---
4. Brahmatal Trek – Uttarakhand, India
Recommended by Raksha, Solopassport
Round-Trip Distance: 30 kilometers (18.6 miles)
Duration: 4 days
Difficulty: Moderate
Best Time to Visit: December to February
With spectacular views of Mount Nanda Ghunti and Mount Trishul in the Himalayas, Brahmatal Trek in Uttarakhand state of India is a multi-day trek. 
Passing through old oak forests and mountain passes, the trail of the Brahmatal Trek goes to a maximum height of 3,734 meters (12,251 feet). 
It's one of India's best and most popular treks, especially during the winter season.
Starting and finishing at a small town named Lohajung in Uttarakhand, the trek is for 4 days and you'll cover a total distance of 30 kilometers (18.6 miles). 
During these 4 days, you'll be camping in the wild with basic facilities. 
The best time to do this multi-day trek is during the winter season between the months of December and February as you get snow while trekking. 
The trail is equally popular during the spring (March to May) and autumn (September to November) seasons. 
If you are doing the trek during the winter, be prepared for extreme cold weather because of the altitude.
As this trek is in the mountains with limited facilities and directions, it's best to go with a trekking agency like IndiaHikes who are known for their expertise in Himalayan treks. They are also the best because of the safety standards they have. 
If you wish to do the trek without any agency, you can hire a local guide at Lohajung so they can easily navigate in the area.
How to Get There: The best way to get to Lohajung which is the starting point of the trek is by taking a taxi from Rishikesh. The distance is around 260 kilometers (161.5 miles) and the roads are windy in the mountains.
---
5. Ramadevara Betta Trek – Karnataka, India
Recommended by Raksha, Bengaluru Prayana
Round-Trip Distance: 5 kilometers (3.1 miles)
Duration: 1 day
Difficulty: Easy except for the last part
Best Time to Visit: December to February
With stunning views of Ramanagara district in Karnataka state in India, the Ramadevara Betta Trek is a day trek and is dedicated to Lord Rama and has relevance in Hindu mythology. 
At mid-way, there is a temple that is believed to be more than 1000 years old. 
Standing tall at a height of 3,800 feet, the Ramadevara Betta Trek is one of the easy treks and places to visit within 100 kilometers from Bangalore.
The trail of the trek is divided into three parts. 
The first is from the base to the temple which has around 400 steps. The second is from the temple to the viewpoint with unmarked steps. 
The third is from the viewpoint to the peak, which is the highlight and the difficult part of the hike. The third stretch is almost 80 degrees incline and requires a bit of rock climbing. It can be skipped if you're afraid of heights.
You can do this trek by yourself without any trekking agency as the trail is straightforward and has other trekkers on the path. 
It's best to do the trek during the winter season between December and February as the weather is pleasant. Summer can be very hot as there is not much shade on the trail. 
Also, do the trek in the mornings to avoid crowds. 
Ensure to spend around 2 to 3 hours to enjoy the stunning views at the peak.
How to Get There: The best way to get to the base of the trek is by driving from Bangalore. It's around 70 kilometers (43.5 miles) from Bangalore city and is towards Mysore.
---
6. Alpine Meadow Trek – Kashmir, India
Recommended by Shweta, Zest In A Tote
Round-Trip Distance: Approx. 23 kilometers (14.3 miles)
Duration: 4 days / 3 nights
Difficulty: The trek is beginner-level in parts, and moderate on the day you climb Aparwat Mountain.
Best Time to Visit: Spring (April to June) and Autumn (October to November)
Completing the 5-day trek of Alpine Meadows Trek is an unforgettable experience. This trek is an opportunity to get out of your comfort zone by camping and using dry toilets. 
Yet, the vast lush meadows and panorama views in Kashmir make up for any discomfort you may have during hiking and camping. 
One of the best parts about this multi-day hike is seeing the impressive snow-capped mountains. In previous skiing trips to Gulmarg, the white snowscape was beautiful, yet the Alpine Meadows area is even better. 
The first day of the hike is a village trail through the Drung Valley. Meander for 4 kilometers (2.5 miles) and complete in 2-3 hours. In the evening, learn how to set up tents on a cleared meadow next to Drung River.
On the second day, it's an early morning start with crossing the Drung River. As you ascend slowly, climb through thick pine and fir forests and across lush green meadows. You'll see wildflowers blooming across the valley in October. The campsite is located in the middle of these meadows with the Pir Panjal Range in the backdrop.
Day 3 is the toughest part of the trek. Climb from the campsite to Aparwat Mountain and continue to the Frozen Lake. The distance is 12 kilometers (7.5 miles) and the elevation of more than 3,000 meters (12,000 feet). 
There is an easier option, especially if your group has many young kids. From the campsite, walk to Kongdori Phase 1 Gondola Station for 2 hours and then take the cable car to reach Phase 2. This cut the distance by more than half. Then, climb further to reach the Aparwat Summit. 
The final day is a downhill walk to the point where the cars will transport you back to Srinagar.
How to Get There: Take a flight to Srinagar and then a 2-hour road trip to reach the Drung Valley (outskirts of Gulmarg), where the hiking trail began.
---
7. Everest Base Camp Trek – Nepal 
Recommended by Tom and Katie, Trekking the Dream!  
Round-Trip Distance: 130 kilometers (81 miles)  
Duration: 11 to 14 days  
Difficulty: Moderate to Challenging/Strenuous  
Best Time to Visit: March to May / Mid-September to November  
Everest Base Camp is a hugely popular trek in the Nepalese Himalayas and is worth a spot on any adventurer's bucket list. 
It offers stunning views of the world's highest mountain and the opportunity to follow in the footsteps of Sir Edmund Hillary, the first recorded person to reach the summit of Mt Everest.   
At 5,364 meters (17,598 feet), it is almost two-thirds of the way up Mount Everest. You will feel the effects of altitude but pacing the trek will see you to the end.  
All trekkers must be accompanied by a licensed guide, booked through a reputable agent well before your arrival.   
The hike starts from Lukla before passing through several traditional Nepalese villages in the Sagarmatha National Park. The paths are generally well maintained although rocky in parts. 
You'll traverse over glacial rivers by suspension bridges and share the track with yak and donkey trains carrying supplies to mountain villages. 
Accommodation is in traditional tea houses, and you'll spend time with locals while acclimatizing. 
It is worth visiting the Tengboche Monastery to watch the Monks pray and carry out their daily rituals.   
The views are spectacular on a clear day, and walking on the ancient glacier is truly special. 
The Everest Base Camp trek is tough enough that you will feel truly challenged and rewarding enough to be worth it!
 How to Get There: The hike typically starts by flying into Kathmandu, before a short flight to Lukla. Alternatively, you can drive to Jiri and hike seven additional days to Lukla.     
---
8. K2 Base Camp – Pakistan
Recommended by Kate, Bags-Always-Packed
Round-Trip Distance: Approximately 180 kilometers (112 miles)
Duration: 12 to 16 days
Trail Difficulty: Challenging
Best Time to Visit: July and August
While thousands flock to hike to Everest Base Camp every year, only a mere fraction of those hikers make the trek to Pakistan to tackle EBC's big brother, K2 Base Camp (5,150 meters/16,896 feet).
Not only is it the second tallest mountain on earth, K2 is also known as the world's deadliest mountain. 
Although the trek to base camp is nowhere near as treacherous as the summit climb, do not underestimate the endurance needed to complete this incredible trek, most of which is on top of a glacier! 
The effort and skill required to tackle this hike will be rewarded tenfold with unparalleled views of some of the world's tallest mountains as you make your way through the Karakoram Mountain Range, known as "the Throne Room of the Mountain Gods".  
Guides are required by law to hike in the region. There are next to no facilities available along the trail aside from a handful of drop toilets, so pack lots of toilet paper. 
Your guiding company will organize camping, cooking, and safety equipment, and provide porters to help carry gear for the trip. 
Be prepared to tip the whole crew as a lot of people are involved in ensuring you have a successful trek. 
Perhaps one of the best stops along the way is the last campsite before you reach Base Camp. 
This special junction is called Concordia and stands at the intersection of 3 impressive glaciers. 
From this single spot, you can see four 8,000 meters (26,247 feet) peaks dominating an impressive landscape of nearly 40 different mountains over 6,500 meters (21,325 feet). 
After reaching K2, your group will either backtrack the way you came or continue to cross the Gondogoro La mountain pass, reaching the maximum altitude of 5,585 meters (18,323 feet). 
How to Get There: After arriving in  Islamabad (the capital of Pakistan), take another domestic flight to the city of Skardu. From here it is a 6-hour 4WD drive to Askole where the trek begins.
---
9. Shimshal Pass – Hunza Valley, Gilgit Baltistan, Pakistan
Recommended by Samantha, Intentional Detours
Round-Trip Distance: 80 kilometers (50 miles)
Duration: Around 5-6 days round trip, including a rest day at the top
Difficulty: Challenging
Best Time to Visit: June to September
Shimshal Pass is undoubtedly one of the most stunning and challenging hikes in Asia, yet few people know that it exists. 
Located in high-altitude Hunza Valley, a remote region technically a part of Pakistan but closer to Central Asia, you'll gain more than 1,524 meters (5,000 feet) of steep elevation as make your way to the top of the pass. 
While you won't cross any glaciers or need any technical skills, this trek will challenge you mentally unlike any other. 
After several days of a dry and unforgiving landscape, you'll eventually find yourself in a lush paradise, complete with two lakes, plenty of yaks, and a small village that shepherds frequent in the warmer months.
A local Shimshali guide is required, but this can be arranged on the spot and does not mean you need to spend a lot of money or join an expensive tour. 
Historically, the Shimshal Pass was used as a way to get from Hunza Valley (which used to be an independent state) to China. 
Once you get to the top of the grassy 4,735 meters (15,534 feet) pass, the Pamir Mountains most commonly associated with Tajikistan and Kyrgyzstan will be on display. 
Water is available throughout the trail, though you should definitely have some sort of purification system like a filtered water bottle. 
As the region is so high, July is the absolute best time to head toward the pass, especially if you'd like to swim in the lake. 
Another fact that makes this one of the best treks in Pakistan is that there are a ton of well-stocked shepherds' huts to sleep and cook in along the way. 
While you absolutely still should have a tent, there are options in case it rains or gets super cold. Many of these are marked on maps.me.
How to Get There: You'll first need to get to Shimshal, which is located deep off a truly perilous road some 3-4 hours from Central Hunza. From there, the trail roughly begins at the tail end of the village, where locals will be happy to direct you to.
---
10. Adam's Peak – Sri Lanka
Recommended by Karla, Colorful Journeys
Round-Trip Distance: 10 kilometers (6.2 miles)
Duration: 4 hours
Difficulty: Moderate
Best Time to Visit: December to May
Adam's Peak, also known as Sri Pada, is one of the most popular hikes in Sri Lanka. 
It stands at 2,243 meters (7,359 feet) and offers panoramic views of the surrounding mountains and valleys of central Sri Lanka. 
Not only that, but Adam's Peak is also a historical site with religious significance for devotees.
Sri Pada means "Sacred Footprint" in Sinhala and refers to a dent at the top of the mountain that resembles a huge footprint. For Buddhists, it symbolizes Buddha's footprint. Hindus attribute it to Lord Shiva. Christians and Muslims think it was Adam's first step after leaving the Garden of Eden. 
The best time to hike is during the pilgrimage season, which runs from December to May. Not only will you have better weather, but you will also be climbing with devotees, making your experience more festive and spiritual. 
However, try to avoid climbing during the weekends and full moon, as it can get quite busy.
The trail consists of around 5,500 steep stone steps and is lined with vibrant prayer flags and illuminated with string lights. 
There are also tea shops along the way where you can stop and have a warm cup of Ceylon tea and snacks. 
The trail is straightforward with only one way up, so a guide is not necessary. 
Spend the night in one of the guesthouses at the bottom of the mountain so you can start your hike early. It takes about 2 to 3 hours to hike up, so start around 3:00am to catch the magical sunrise at the summit. 
If you're lucky, you might see a religious ceremony at the top, so wait a little bit after sunrise before going down. 
Remember to layer up, as it gets quite chilly, and bring plenty of snacks and water with you.
How to Get There: Take the train to Hatton Station, then a tuk-tuk or a bus to Delhousie town, where the trail begins.
---
11. Meemure – Sri Lanka
Recommended by Gladis, Happiness on the Way
Round-Trip Distance: Approximately 7 kilometers (4.3 miles)
Duration: 1 day
Difficulty: Moderate
Best Time to Visit: May to September
Meemure, Sri Lanka's most remote village, offers one of the most beautiful hiking experiences in all of Asia. 
With its rice fields, numerous rivers and waterfalls, and a sense of peaceful isolation, this hiking trail is something you might expect to see in a jungle movie.
Meemure is the perfect blend of adventure and tranquility. The trail begins in the village with mud houses and rice plantations, leading you through dense tropical forests and alongside rivers, eventually ending in a stunning waterfall. 
It's an untouched forest, so be prepared to encounter wildlife. A memorable experience was seeing a peacock spontaneously dancing in a rice field at the start of the hike. 
Along the way, you'll also encounter Lakegala Mountain, known for its challenging hike. If you're feeling fit, you can attempt to hike its summit but know that this is a difficult hike.
Hiring a local guide is required for your Meemure hike for your safety and enjoyment. Throughout the hike, your guide will share insights about the area's flora and fauna, and ensure your safety in case you encounter wildlife.
It's highly recommended to stay at least a day in Meemure in one of the mud houses and try the local cuisine prepared by villagers. This adds warmth and authenticity to your hiking experience.
How to Get There: Take a 2-hour bus ride from Kandy to Hunnasgiriya and then take a 3-hour van to Meemure. Alternatively, you can book a private tour to get directly to the village.
---
---
Incredible Hiking Trails in East Asia
12. Tiger Leaping Gorge – Lijiang, Yunnan, China
Recommended by Pafoua, Her Wanderful World
Round-Trip Distance: 28 kilometers (17.5 miles) 
Duration: 2 days, 8 to 14 hours on the trail
Difficulty: Challenging
Best Time to Visit: October to December 
Embark on an epic 2-day adventure by hiking the awe-inspiring Tiger Leaping Gorge on the High Trail in one of China's hidden gems, Lijiang. 
One of the most famous landmarks on the trail is the "28 Bends," which are a series of hairpin turns that lead you to the astounding panorama of the gorge. The sense of accomplishment when you conquer these bends is absolutely unbeatable.
On the High Trail, you may also meet the Naxi and Tibetan people who live in the mountain range. 
Toward the end of your 5 to 8 hour hike, you'll come across the Halfway Guest House where you can refuel and recharge. The cozy atmosphere and the feeling of camaraderie with other hikers make it a great place to take a break and stargaze.
On the second morning, make the 2-hour trek to Tina's Guesthouse. 
If you have time and would like to hike further, a guide will take you through the Middle Gorge to see the rushing Jinsha River and the rock where the legendary tiger once made an incredible leap across the Gorge.
Hiking Tiger Leaping Gorge will leave you with lasting memories, new friends, and a deep appreciation for the splendor of our planet. So lace up your hiking boots and get ready for an experience of a lifetime!
How to Get There: To get to Tiger Leaping Gorge, book a round-trip bus ticket in Old Town Lijiang. The bus will drop you off early in the morning at the trailhead, Qiaotou, and you'll start your trek on the High Trail.
There is a morning and afternoon pick-up time at Tina's Guesthouse, which will take you back to town. 
---
13. Huangshan – Anhui Province, China
Recommended by De Wet & Jin, Museum of Wander
Round-Trip Distance: Roughly 15 kilometers (9.3 miles) one-way (The norm is to hike up and get the cable car down)
Duration: Half day to three days (depending on the route)
Difficulty: Moderate to challenging depending on the route
Best Time to Visit: Spring or Fall
Hiking Huangshan (the Yellow Mountains in China) is an epic adventure. This UNESCO World Heritage site is renowned for its otherworldly granite peaks, ancient pine trees, and stunning vistas. 
With its surreal landscapes that have inspired artists and poets for centuries, it's easy to see why the Chinese will tell you it's the most beautiful mountain in China. 
Depending on your route, Huangshan can be a challenging multi-day hike or a beautiful day walk. 
Hardcore hikers will enjoy the three-day hike from the base to the summit (1,870 meters/6,135 feet) along more than 60,000 steps carved, almost vertically into the mountain at points. 
Or you could take a cable car to the summit and enjoy a beautiful walk before floating down again over the incredible landscape. 
Regardless of your route, Huangshan will wow you with its surreal peaks, pine trees, and landscapes. Famous viewpoints include Beginning-to-Believe Peak, West Sea Grand Canyon, and the Guest Greeting Pine (a 1,500-year-old tree symbolizing longevity).
After hiking Huangshan, treat yourself and your legs to a relaxing soak in the Huangshan hot springs at the base of the mountain. 
Trails are well marked, and there'll be MANY other hikers, so you can't really get lost. A guide is not really necessary for Hunagshan, but tours are available.
Avoid weekends and Chinese holidays unless you want to share the beauty with a billion others. 
How to Get There: The entrance to the mountain is in the town of Tangkouzhen. To get to Tangkouzhen, catch a bullet train to Huangshan North Stations or Tunxi International Airport.
---
14. Dragon's Back – Hong Kong Island, Hong Kong
Recommended by Ausra, The Road Reel
Round-Trip Distance: 5 kilometers (3.1 miles)
Duration: 2 hours
Difficulty: Moderate
Best Time to Visit: October to March when the weather is dry and cool, and skies are clear.
Dragon's Back Hike (龍脊) in Hong Kong Island is a gem among the city's outdoor adventures, renowned for its unique blend of natural beauty and accessibility. 
The hiking trail follows a ridge in a wavy pattern with gentle inclines and declines that resemble the shape of a dragon's back, hence the name. 
With its proximity to urban Hong Kong, the Dragon's Back Hike combines the best of both worlds. You can easily reach the trailhead and escape into nature, enjoy lush greenery and unique panoramic views over distant cityscapes, and the South China Sea.
What truly sets Dragon's Back apart is its relatively manageable difficulty level and well-maintained path with gentle ascent, making it perfect for both beginners and experienced hikers. 
The peak of the trail offers spectacular viewpoints, making it a photographer's paradise. You'll find yourself surrounded by vibrant greenery, and as you traverse the trail, the fresh sea breeze provides a refreshing contrast to the bustling city life.
Dragon's Back hike is the most popular trail in Hong Kong, therefore to avoid the crowds make sure to go on a weekday or very early in the morning on a weekend. 
Bring plenty of water and wear suitable footwear, as the terrain can be uneven in some places. 
If you're up for a longer adventure, you can extend the hike to Big Wave Bay (hike distance 8.5 kilometers/5.3 miles), where you can relax on the beach or try some of the local seafood. 
How to Get There: To reach the trailhead, take the MTR (Mass Transit Railway) to Shau Kei Wan Station (Island Line). From there, you can either take a taxi to the trailhead at To Tei Wan or use public bus 9 from Shau Kei Wan Bus Terminus. The bus stop is near the trail entrance.
---
15. Lantau Peak – Lantau Island, Hong Kong
Recommended by Jackie & Justin, Life Of Doing
Round-Trip Distance: 4.5 kilometers (2.8 miles) for Ngong Ping to Pak Kung Au, 9 kilometers (5.6 miles) round trip 
Duration: 2.5 to 3 hours (or 6+ hours for round trip)
Difficulty: Moderate to Challenging
Best Time to Visit: Any time except during the rainy times
Lantau Peak, known as Fun Wong Shan or Phoenix Mountain 鳳凰山, is an impressive hiking spot in Hong Kong. 
Located on Lantau Island, this is the highest peak on the island at 934 meters (3,064 ft) high, and the second highest peak in Hong Kong. 
The hiking route has various starting routes so you can choose your own adventure. You can start from Pak Kung Au and then end at Ngong Ping Tourist Area, or do the reverse. 
Most people tend to hike one way as the hiking route is steep and challenging in many sections. But the hard-core hikers can do a round-trip journey. 
A recommendation is to hike from the Pak Kung Au bus stop and then walk along the Lantau Trail to end at Wisdom Path at Ngong Ping Tourist. 
There will be fewer people going this way, so you can have the trail to yourself. 
The trail is a dirt path and has some stone rocks to help with the ascend. There isn't much shade on the trail though. When getting closer to the peak, the trail gets more intense with the incline, so take your time. 
At the peak, you'll see the Hong Kong skyline, nearby islands, and the stunning greenery on the mountains. Take a few minutes to rest, refuel with snacks, and enjoy the breathtaking views. The fog rolls in, so hopefully you have clear skies at the peak.
Continue the trail, and you'll end at Wisdom Trail at the bottom of the Ngong Ping Tourist area. Your legs will be jello by then. 
If you have the energy and can climb more stairs, check out the giant bronze Buddha and Po Lin Monastery. 
How to Get There: There are a few ways to get to Lantau Peak along Lantau Trail. You can either start from Ngong Ping Tourist Area and end at Pak Kung Au Bus Stop or do the reverse.
If starting at Ngong Ping, take the cable car or bus to get there. If starting at Pak Kung Au, take the bus from Tung Chung MRT to Pak Kung Au bus stop. 
---
16. Mount Takao – Tokyo, Japan
Recommended by Jackie & Justin, Life Of Doing
Round-Trip Distance: Various depending on which trails you do but expect to trek between 1.8 to 9.8 kilometers (1.1 to 6.1 miles) 
Duration: 30 minutes to 3+ hours
Difficulty: Easy to Moderate
Best Time to Visit: Any time as the trails are always open, except avoid the rainy days 
Mount Takao, known as Takaosan 高尾山, is a fantastic day hike to try in the outer Tokyo area. 
It's the perfect place to hike as there are trails suitable for all hiking levels. The highest point is the peak at 599 meters (1965 feet) high, so it's doable to reach. Check out the map of the various trails when exiting Takaosanguchi Station to see the trail options. 
The easiest and most popular trail is Omotesando Trail. The route is paved and passes through the beautiful Yakuoin Temple and kid-friendly Monkey Park. 
From there, you can connect to other trails for more distance and/or more challenging trails that go through the forest area. Inariyama Trail is recommended for those who want more nature and to walk on dirt trails. 
Once you reach the peak, you'll see the vast forest areas and the seasonal foliage. The seasonal foliage of cherry blossoms in springtime to red and orange leaves for the fall season brightens up the mountainside.  
It is crowded at the summit area, so you may not want to spend a lot of time there. There are plenty of seats in the rest area though. 
If you're hungry, you can eat soba at a soba shop at the peak area, or grab grilled mochi or ice cream on the way down. 
There are also cable cars or chair lifts available at Mount Takao's Peak for non-hikers or those who have mobility issues. 
How to Get There: Take the subway to Takaosanguchi Station via Keio line and then do a short walk to the desired trailhead. 
---
---
17. Mount Fuji – Yamanashi Prefecture, Japan
Recommended by Erika, Erika's Travelventures
Round-Trip Distance: 5 kilometers (3.1 miles) to Mt. Fuji's summit from the 5th station, 10 kilometers (6.2 miles) round-trip 
Duration: 6 to 10 hours
Difficulty: Moderate
Best Time to Visit: The Mt. Fuji hiking season is only open to the public in the summer months, with the summiting season usually starting at the beginning of July and ending early September (depending on snow). 
Mount Fuji is the tallest peak in Japan at 3,776 meters (12,388 feet) above sea level, as well as a sacred pilgrimage site for the locals. 
For avid hikers, summiting Mt. Fuji is a challenging and rewarding hike in Asia, which can be undertaken both during the day and overnight to reach the summit for the sunrise. 
Out of four main trails, the Fujinoymiya trail is the most popular trail to summit Mt. Fuji, since it is the shortest and the most accessible from Tokyo and nearby Fujikawaguchiko town. 
Hikers can "bullet climb" this trail independently in 6 to 10 hours by starting at the Fuji Subaru 5th station, which is already partially up Mt. Fuji at around 2,300 meters (7,546 feet) above sea level. 
The 4 to 6 hour ascent gains 1,300 meters (4,265 feet) and is mostly above the tree line and on rocky trails, while the 2 to 3 hour descent down a different path is mostly over loose volcanic gravel. 
Summiting in one day is only recommended for seasoned hikers due to the rapid elevation gain, uncertain terrain, and weather patterns. 
The alternative option is to split the hike into two segments with an overnight stay in one of the mountain huts at the 7th and 8th stations on the trail to the summit. 
The summit of Mt. Fuji, when there are no clouds or mist, has incredible views of lakes and towns located at its base. 
A trail circles the summit rim of the Mt. Fuji volcanic crater for a full 360 views from the top of Japan. 
How to Get There: The best way to reach Mt. Fuji 5th station is by highway bus from Tokyo, or shuttle bus from the base of the mountain. In some seasons, like the 2023 climbing season, private cars were prohibited from driving to the 5th station. 
---
---
18. Hallasan – Jeju Island, South Korea
Recommended by Erika, Erika's Travelventures
Round-Trip Distance: 18.4 kilometers (11.4 miles)
Duration: 6 to 8 hours
Difficulty: Moderate
Best Time to Visit: Hallasan hiking trails are open year-round but the best season to hike is the spring or fall when the weather is not too hot (summer) and there is no snow on the trail (winter)
Hallasan is the highest mountain in South Korea, a registered UNESCO World Heritage Site, and rightfully one of the best hikes in Asia. 
Hallasan, or Mount Halla, is located in the center of Jeju Island off the southern coast of South Korea. 
The mountain and active volcano reaches 1,950 meters (6,398 feet) above sea level and can be summited by beginner-to-moderate hikers in 6 to 8 hours. 
Four separate trails reach the summit, each taking only one day to ascend and descend, making Hallasan a very accessible rooftop of Korea.
The best trail to hike Mt. Hallasan is the most gradual – about 10 kilometers (6.2 miles) up and 9 kilometers (5.6 miles) down – so expect it to take the full day. 
The Hallasan hike takes place through beautiful, forested trails over rivers and rocks – a landscape shaped by the same volcanic activity that formed Jeju Island itself. 
Because there are few amenities along the trail to summit Hallasan, only a boardwalk where hikers can spread out and rest, pack food and water accordingly. 
At the summit, hikers will be rewarded with stunning views over Jeju Island, as well as a view looking down into the grassy volcano crater. 
How to Get There: The best way to reach Hallasan is by bus, so hikers can climb up and down using different trails. The base of Hallasan also has parking available for personal cars, which will restrict hikers to going up and down Hallasan using the same trail.
---
19. Cheonhwangbong Peak Trail – Songnisan National Park South Korea
Recommended by Linda, Linda Goes East
Round-Trip Distance: Approximately 6.2 kilometers (about 3.9 miles) 
Duration: Around 3-4 hours to complete 
Difficulty: The Cheonhwangbong Peak Trail is considered to be of moderate difficulty. While it's not overly challenging, it does involve some steep sections and uneven terrain.
Best Time to Visit: The best time to hike in Songnisan National Park is during the spring (April to early June) and autumn (September to early November) when the weather is pleasant, and you can enjoy beautiful foliage. Summer can be quite hot and humid, while winter can be very cold, so those seasons are less recommended for hiking.
The picturesque Songnisan National Park is considered one of the best South Korea national parks to visit. 
The 3.9-mile round-trip Cheonhwangbong Peak Trail offers a moderate challenge, making it accessible to both beginner and seasoned hikers.
What sets this trail apart are the enchanting landmarks that are nestled along the route. 
For example, on your hike, you'll encounter the serene Beopjusa and Seonamsa temples. Their ancient architecture and tranquil surroundings make for a serene pause, allowing hikers to connect with Korea's rich spiritual heritage.
When you arrive at Cheonhwangbong Peak, the trail's pinnacle, you'll be greeted with a breathtaking panorama of Songnisan National Park, particularly during the autumn season when the foliage transforms into a vibrant tapestry of colors. It's an Instagram-worthy moment you don't want to miss.
An insider tip for hikers is to visit during the quieter weekdays to fully savor the tranquility of the trail and its landmarks. 
No guide is necessary, as the trail is well-marked and maintained.
Back at the bottom, don't miss any of the local Korean restaurants to fill your most likely empty stomach! Some local favorite dishes to grab here include mountain vegetable bibimbap, Korean pancakes, and local makgeolli, a popular rice wine.
How to Get There: Getting to Songnisan National Park is a straightforward journey. First, make your way to the town of Boeun, which is the gateway to the park. From Boeun, you can easily catch a bus that will take you directly to the park's entrance.
---
Life Of Doing Editor's Note: 
---
20. Jade Mountain – Yushan National Park, Taiwan
Recommended by Jackie & Justin, Life Of Doing
Round-Trip Distance: 31 kilometers (19.2 miles)
Duration: 1 to 2 days
Difficulty: Challenging
Best Time to Visit: All year round, but you'll need winter gear and equipment for the snow 
Jade Mountain, also known as Yushan 玉山, is an epic place to trek in Taiwan. Located in central Taiwan in Nantou County, Jade Mountain is the highest mountain on the island at 3,952 meters (12,966 ft). 
This challenging hike requires some planning as you need to apply for hiking permits to enter Yushan National Park. It is possible to hike Jade Mountain in one extremely long day or complete it over a few days. 
Another thing to consider is reserving hostels along the way for overnight stays. There is one at the base of the mountain and another halfway up the mountain. The rooms fill up quickly so reservations are a must.  
One of the challenges of the hike is the high altitude and thin air. You may consider taking altitude sickness medicine. Also, it gets chillier and windier the closer you get to the peak. So, take your time to acclimate and rest as needed. 
The hiking trail does not require guides. Yet, it has some adventures from hopping over overgrown tree routes to squeezing through narrow single-track trails and even using a chain to go up rocky paths.  
Once you reach the peak, you're rewarded with jaw-dropping views of the endless mountain range and the layers of clouds. There is a Mount Jade Main Peak landmark, so take a photo with it to remember your accomplishments. 
While you may want to spend a long time on the peak and soak in the views, it will be very cold and windy. 
You also need to consider the amount of time to descend to catch a shuttle from the bottom of the trailhead to the parking lot. 
How to Get There: The trail starts about 1 kilometer (.62 miles) away from Dongpu Villa Hostel. You'll see signage for the Jade Mountain trailhead. 
---
21. Elephant Mountain – Taipei, Taiwan 
Recommended by Jackie & Justin, Life Of Doing
Round-Trip Distance: 1.1 kilometers (.7 miles)
Duration: 30 minutes to 1 hour
Difficulty: Moderate 
Best Time to Visit: Any time as long as it's not rainy or the area has a typhoon warning 
Elephant Mountain, known as Xiangshan 象山, is one of the most accessible hiking trails in Taipei, Taiwan. It's convenient to take the MRT train to get to the trailhead. 
This short and mighty out-and-back hiking trail is suitable for beginner hikers. It's well-maintained and easy to follow. All you need to do is follow the stairs straight up to the peak. 
The stair climbing is a good leg and glute workout as there are over 200 meters (656 feet) of climbing. It's steep over a short distance. Don't worry. There are a few rest stops along the way to take breaks. 
The top of Elephant Mountain is an observatory area and provides the most gorgeous panoramic view of Taipei 101 and the skyline. Hopefully, you will have clear skies on your visit. 
You can hike here at any time of the day as the trail is open for 24 hours. But it can get very hot and humid in the mornings and afternoons. 
It's recommended to visit either early in the morning or late evening to avoid getting as sweaty. 
If you hike in the evenings, you can see the Taipei 101 Building illuminated until 11:00pm. It's a unique view to experience. 
But, if you finish hiking after midnight, you'll need to figure out an alternative transportation (ie: Uber or taxi) as the MRT closes at midnight. 
How to Get There: Take the MRT to Xiangshan Station and Exit 2. Walk through Xiangshan Park to get to the trail. 
---
Final Thoughts
How many of these beautiful day hikes and treks in Asia do you want to do? We hope you're inspired to plan a trip and add one or more of these trails to your itinerary. 
Many thanks to our travel blogging friends who shared their insights on these incredible places! 
And don't forget to check out our detailed post on hiking trails in Southeast Asia for more ideas. 
Happy hiking!
Like this post? Save it to your Asia or Hiking board on Pinterest!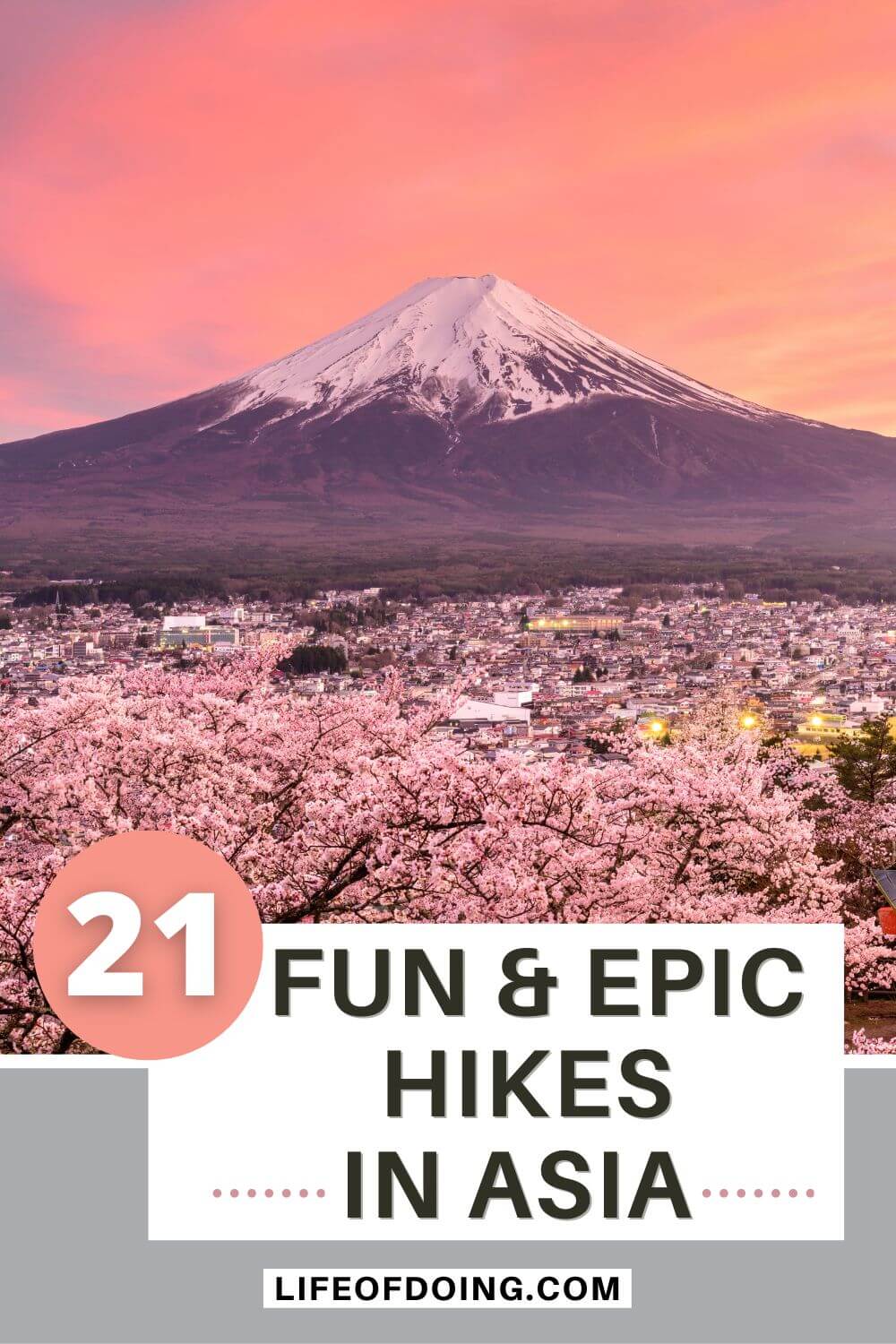 Featured photo & pin #1 photo credit: sepavone via Depositphotos.com