The enchanting city of Nara (奈良市 in Japanese) is a beautiful representation of Japan, brimming with idyllic scenes as if from a storybook. If you're looking for the top things to do in Nara, you're in luck.
Nara is a must-visit if you're planning to travel to the Kansai region. It's a place where history comes to life and the past gracefully intertwines with the present. 
A visit to this captivating corner mixes natural beauty with cultural treasures and serene spirituality.
So, wondering what to do in Nara if it's your first time here?  
Celebrated for its iconic Nara Park, where friendly deer roam freely, and the world-famous Todaiji Temple resides, it makes a brilliant addition to any itinerary based around Kyoto, Arashiyama, or Osaka.
Read on to discover the best things to do in Nara for your first visit from exploring historic temples to enjoying seasonal festivals. 
Whether you're a nature lover, a history buff, or simply someone seeking a serene escape, Nara has something special for you. 
*Disclaimer: This post contains affiliate links. If you click on them and make a purchase, we receive a small commission. There is no additional cost to you. Appreciate the support.
---
Map of Places to Visit in Nara
---
1. See the Great Buddha at Todaiji Temple
One of the most iconic and historically significant Buddhist temples in the country, Todaiji Temple (東大寺) is home to the giant Buddha, a popular attraction in Nara. 
Standing over 15 meters (49 feet) high and weighing a massive 250 tons (551,156 pounds), the bronze statue was first constructed in the 8th century and has been repaired on several occasions since.
The scale of the temple's architecture is impressive, though the modern-day Daibutsuden Hall is only two-thirds the size of the original construction. 
As a UNESCO-listed site for a "historical monument of ancient Nara," Todaiji Temple is one of the most prominent landmarks in Nara.
Address: 406-1 Zoshicho, Nara, 630-8587, Japan
For More Information: Website | Facebook
---
2. Horyuji Temple – Home to the world's oldest wooden buildings
Founded by Prince Shotoku in 607, Horyuji Temple (法隆寺) is one of Japan's oldest surviving temples and wooden structures. 
Listed as a UNESCO World Heritage site in 1993, the site is split across two precincts – western and eastern. 
The western precinct features the central gate, main hall, and five-story pagoda.
At the eastern precinct, you'll find the Yumedono, an octagonal hall, devoted to Prince Shotoku which accommodates a life-sized statue of the prince, encircled by statues of Buddha and various monks. 
Between the two precincts is the Gallery of Temple Treasures which displays a collection of Buddhist relics, artworks, and paintings.
Address: 1-1-1 Horyuji Sannai, Ikaruga, Ikoma District, Nara 636-0115, Japan
For More Information: Website 
---
3. Hang out with Nara's deer
Perhaps one of the best-known things to do in Nara is visit the local semi-wild sika deer. 
Seen throughout Nara, but mostly in Nara Park, these super cute animals have become a symbol of the city. 
Considered the messengers of the Gods, the deer in Nara are sacred, just like those found on Miyajima Island.
There are around 1,000 deer that call Nara home, and visitors can enjoy interacting with them responsibly. 
The deer in Nara have become internet sensations, as they have grown accustomed to people and now can be seen 'bowing' for the deer crackers that are sold around the park. 
Note: Please be careful when serving the deer the crackers. They can be very aggressive when they smell them. 
---
4. Wander around Nara Park
A trip to Nara isn't complete without a visit to Nara Park (奈良公園). 
Not only popular for its deer, the park is also a beautiful place to enjoy "hanami" (flower viewing) in the sakura (cherry blossom) season or see the incredible fall foliage in autumn. 
Established in 1880, Nara Park is the location of numerous activities in Nara, including Todaiji Temple, Kasuga Taisha Temple, Kofukuji Temple, and the Nara National Museum.
Located around a 5-minute walk from Kintetsu Nara Station or about a 20-minute walk from JR Nara Station, it's easy to reach and will form a central part of most visitors' Nara itinerary. 
Nara Park is especially popular during spring when the sakura are blooming. When the cherry blossoms are in full bloom, the park is covered in beautiful pink and white flowers, creating a stunning and festive atmosphere.
Don't miss visiting Mount Wakakusa (若草山) to the east of Nara Park for stunning views across the city.
Address: 469 Zoshicho, Nara, 630-8587, Japan
---
5. Uncover Buddhist art at the Nara National Museum
One of Japan's most prestigious museums, Nara National Museum (奈良国立博物館) is dedicated to displaying artistic and cultural treasures. 
Many of the exhibitions at the museum focus on sculptures, paintings, calligraphy, textiles, ceramics, and religious objects dedicated to the period when Nara was once the capital of Japan, between 710 to 794. 
There are two wings in the museum which are connected by an underground passage, the newer of which hosts both a permanent collection and rotating temporary exhibitions. 
Ideally located close to other key sites that are popular with visitors, stopping in at the Nara National Museum is a great rainy-day activity too. 
Address: 50 Noboriojicho, Nara, 630-8212, Japan
For More Information: Website
6. Explore the beautiful Isui-en Garden
Japan is known for its immaculate gardens, and Isui-en Garden (依水園) is a brilliant example of this. 
The garden earns its name from Isui-en which translates to "garden founded on water" and is due to the ponds that are scattered throughout the gardens which are fed by the Yoshinogawa River.
Built during the Meiji Era, the garden features several teahouses where visitors can stop to enjoy a traditional matcha tea ceremony, the most notable being the teahouse on an island in the pond in the front garden. 
If you're looking for a quiet place to enjoy the serene surroundings, then this is a great place to admire the various plant life within the gardens, including seasonal flowers, trees, and moss.
Address: 74 Suimoncho, Nara, 630-8208, Japan
For More Information: Website
---
7. Stay overnight in a ryokan
One of the best things to do in Nara is to stay overnight in a ryokan, a traditional Japanese inn. 
An excellent way to experience the rich heritage, hospitality, and customs of Japan, many of Nara's ryokans are located in the Naramachi district. 
Staying at a ryokan lets guests enjoy traditional architecture, usually consisting of wooden machiya houses with tatami mats. The night is spent sleeping on futons on the floor. 
Many ryokans offer the chance to enjoy a kaiseki meal which is a meticulously prepared multi-course, traditional Japanese dining experience. 
For the ultimate evening of relaxation, choosing a ryokan with an onsen will let you soak tired muscles after a long day of sightseeing and is a highlight of any ryokan experience.
Book accommodations in Nara on Booking.com here and filter the search to "ryokan." 
See options for places to stay in Nara on Agoda here.
---
8. Walk around the streets of Naramachi
South of Sanjo-dori Street, Naramachi (ならまち) is a traditional district of Nara and the perfect place to feel like you've taken a step back in time. 
Traditional wooden buildings are home to cozy cafes and local stores, making the best way to enjoy your time in Naramachi by taking a stroll and seeing what catches your eye.
---
9. Pay a visit to Kofukuji Temple
With a history dating back more than 1,300 years, Kofukuji Temple (興福寺) was once the family temple of one of the most powerful aristocratic clans during the Nara and Heian Periods. 
At the height of the Fujiwara family, the temple site consisted of more than 150 buildings, the most prominent of which still remains is the five-story pagoda, which is the second tallest in Japan.
Kofukuji Temple hosts various cultural events and festivals throughout the year. 
One of the most famous is the Kofukuji Temple Mantoro festival, where lanterns are lit throughout the temple grounds, creating a beautiful nighttime ambiance. 
Kofukuji Temple is also a great place to purchase a goshuincho book, which is used to collect unique stamps from the temples you visit – a beautiful memento from your travels to Japan.
Address: 48 Noboriojicho, Nara, 630-8213, Japan
For More Information: Website
---
10. Sample Sake
Nara is the birthplace of refined sake, making it an excellent place to plan a sake tasting. 
There are numerous breweries and sake stores throughout Nara where you can sample this fermented rice spirit. 
The family-run Imanishi Sake Brewery is a great choice, where you can opt for a brewery tour or sake-tasting experience. 
Why is sake so renowned in Nara? 
As the first capital of Japan, Nara is considered the place where sake was first crafted. 
Brewers use pure water from underground sources of the Kasugayama Primeval and Yoshino/Ikoma mountain ranges. 
Nowadays, breweries in Nara carry on the traditional methods of brewing sake, with each brewery creating its own unique drink determined by its own yeast type or blend.
---
11. Discover the best view in Nara from Mount Yoshino
If you have more time than just one day to explore Nara, one of the best things to do nearby within Nara Prefecture is to take a day trip to Mount Yoshino (吉野山). 
As of 2004, Yoshino is a UNESCO World Heritage site recognized as one of the three "sacred sites and pilgrimage route in the Kii Mountain range." Learn more here.  
The most ideal time to visit is during cherry blossom season, when the landscape transforms into a sea of pink and white blooms, usually in early to mid-April. 
Considered one of the most renowned cherry blossom viewing spots in Japan, it shouldn't be missed. 
It's also a fantastic place to go hiking in Japan. So, take your time and reach the peak at 350 meters (1,150 feet) and admire the blossoms along the way.
The journey to Mt Yoshino takes around 1.5 hours via Kintetsu Railway from Nara Station, transferring at Yamato-Saidaiji Station and Kashiharajingu-mae Station along the way, and alighting at Yoshino Station.
Address: Yoshinoyama, Yoshino, Yoshino District, Nara 639-3115, Japan
---
12. Find Pokémon Lids in Nara
*Life Of Doing Recommendation*
One of the unique things to do in Nara is find Pokémon manhole covers, also known as Poké Lids. 
They're located across the country and are a fun way to explore popular and off-the-beaten-path areas.
It's also a fun activity for children and families as a scavenger hunt as the Poké Lids are in various locations. 
In Nara's Ikaruga town, there are five adorable manhole covers with your favorite Pokémon characters such as Growlithe, Bellsprout, Deerling, Bronzong, and more. 
Ikaruga is in a quieter area of Nara and will take 50 minutes to 1 hour to get there from Nara Park by bus and train. 
Read this post for details on how to find these Poké Lids. 
---
Frequently Asked Questions
When is the best time to visit Nara?
Nara is full of great things to do all year round, but it is especially popular during sakura season when people gather under the cherry blossoms for hanami. 
Nara Park is also especially beautiful in autumn and is the perfect addition to a fall trip in Kyoto. 
---
Can you use the JR Pass to visit Nara?
Nara is easily visited as a day trip from either Kyoto or Osaka. If you have a JR pass, the JR lines are covered by the pass meaning travel for a day trip is included. 
During peak periods, such as cherry blossom season, seats can sell out fast (if taking a high-speed train/shinkansen to Kyoto), so it's advisable to book a seat in advance.
Click here to buy a JR Japan Wide Pass for 7, 14, or 21 days
Or, click to buy a JR West Kansai Pass if staying in Osaka and Kyoto area, including Nara 
---
What if I don't have a JR Pass? 
Don't worry. You can buy tickets at the train station with cash or use a reloadable IC transportation card (ICOCA card for the Kansai area). 
---
Final Thoughts
Nara is a beautiful destination full of historic significance and a wealth of cultural sites. 
There are many incredible places to visit whether you choose to come here as a day trip or linger for a little longer. It's the perfect place to add to your Japan itinerary.
If you're looking for another nearby destination to check out after Nara, add a day trip to Uji. It's an area that produces green tea (matcha, sencha, and gyokuro), so indulge yourself with delicious matcha foods and desserts. 
Happy traveling! 
Like this post? Save this pin to your Japan Travel Board on Pinterest.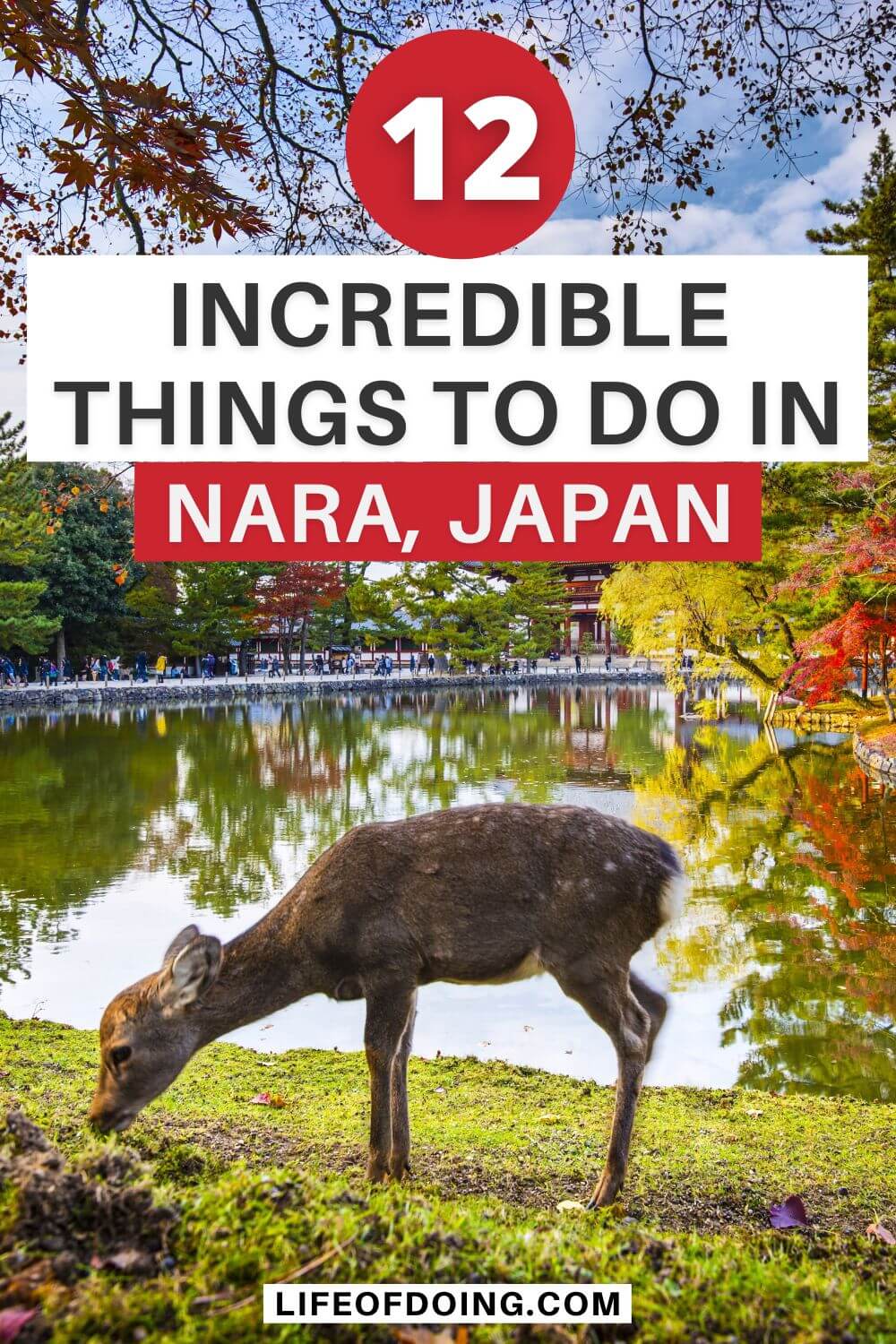 Featured photo & pin #1 photo credit: sepavone via Depositphotos.com