Southeast Asia is one of the best places to travel. It has some of the best beaches, gorgeous tropical islands, adventurous activities, and unique foods. 
Yet, for those who love outdoor adventures and hiking, Southeast Asia also has incredible hiking trails. 
Whether you're looking for jungle treks, mountainous peaks, or trails through caves and abandoned hotels, there is a hiking trail for everyone and all skill levels. 
As you know, we're always looking to add a hike or two whenever we travel through Southeast Asia. 
So, we're excited to share the 17 best hikes in Southeast Asia to add to your bucket list. 
With the help of our travel blogging friends, we're recommending day hikes and multi-day hiking trails from popular routes to hidden gems in Cambodia, Indonesia, Laos, Malaysia, Philippines, Singapore, Thailand, Timor-Leste, and Vietnam. 
Each hike includes helpful tips such as personal experience, difficulty level, when to do this hike, round-trip distance, time duration, and how to get there. 
Now, let's see where to go!
*Disclaimer: This post contains affiliate links. As an Amazon Associate we earn from qualifying purchases. If you click on them and make a purchase, we receive a small commission. There is no additional cost to you. Appreciate the support.
---
Important Hiking Tips for Southeast Asia Trails
Southeast Asia has many beautiful hiking trails to experience. Before starting your hike, preparation is necessary. Check out these tips below so your hiking trip can go smoothly. 
Train for the hike. Depending on the length and elevation of your hike, you may need to do some training to improve strength and prevent injuries. Read our post on how to train for your next hike. 
Bring a sturdy, lightweight backpack. It's important to have a backpack to hold essential hiking gear such as snacks and medical kits. You'll need a larger backpack for the multi-day trips.  
We recommend a backpack that has shoulder and hip belts so the weight of the backpack can be shifted throughout the hike.
We use this Osprey Talon backpack for all of our trips. Click Osprey Talon 22L and Osprey Talon 20L to learn more. 
Bring a reusable water bottle. Stay hydrated during your hike, especially with the humidity of Southeast Asia. 
Many of the trails don't have running water or stores, so it's recommended to bring water. Bring a reusable water bottle to reduce single-use plastic waste.  
Wear hiking boots or sturdy walking or trail shoes. Depending on the hiking terrain, hiking boots will be helpful to wear. You may need waterproof shoes if you plan a hike during the rainy season. 
We've used these Salomon Quest 4 GTX Hiking Boots (men) and Lowe Renegade Hiking Boots (women) for years and they've held up well. 
As with trail shoes, we've used Altra shoes. Check out the Altra Superior 5 Trail Shoes for men or Superior 5 Trail for women. 
Wear proper hiking clothes and sunscreen and bring a hat. Technical clothing will be helpful to absorb sweat quickly. The sun will be potent, even if it's overcast, so wear sunscreen and bring a hat to block off the sun. We use this sunscreen and sun hat for our hiking trips. 
Bring insect repellent. Mosquitoes and other insects are notoriously hungry in Southeast Asia. 
Use hiking poles. Some of the hiking trails will be steep so hiking poles will be helpful. Plus, they help save your knees from hiking downhill. You can also inquire with your tour company if they will provide hiking poles or require a rental. 
Do not litter and follow the Leave No Trace principles. Let's keep the trails litter-free. Bring all your trash with you and dispose of them properly at your accommodations. Read this post on Leave No Trace ideals. 
Travel insurance is important to have. Something may happen during the hike and you may need medical attention immediately. Please read the terms and conditions on your travel insurance plan to ensure that trekking/hiking is covered. 
---
Map of Southeast Hiking Trails
---
1. Kep National Park – Kep, Cambodia
Recommended by Carina, bucketlist2life
Trail Difficulty: Easy
Round-Trip Distance: 8 kilometers (5 miles)
Duration: Around 2 hours
Best Months to Hike: Dry season from October to May
While Cambodia is not particularly famous for its hikes, there are still some hiking opportunities making it worth your while to put Cambodia on your Southeast Asia itinerary. 
Kep National Park on the southern coast of Cambodia is one of them. If you're lucky, you can spot exotic birds, monkeys, squirrels as well as other small animals.
Kep National Park was established in 1993 and covers an area of 11.52 km2. The park includes a small mountain range as well as many hiking trails. 
The easiest and most famous one is a concrete loop offering spectacular views of Phu Quoc, Vietnam, and the Bokor Mountain Range on the south and west sides. The highlight of the trail is the watch tower.
As the concrete path is in good shape and you're in Southeast Asia after all, do expect some motorbikes on the trail. 
Currently, the entrance fee is $1.00. 
There are no possibilities to buy food or drinks except for Led Zep Cafe which treats you with amazing views and some wildlife spotting while you relax. You can also get a map of Kep National Park at Led Zep Cafe. 
If you don't want to hike the main circuit, some interior trails are well-signposted. 
Highlights along these trails include Sunset Rock, Phnom Kep, and Little Buddha. 
These paths are significantly harder and steeper than the main circuit but also potentially more rewarding as it's easier to spot wildlife off the beaten path.
How to Get There: The Kep National Park Ticket Office is roughly 1 km (.62 miles) from downtown Kep. You can either hike or take a bike.
---
2. Mount Batur – Bali, Indonesia
Recommended by Jackie and Justin, Life Of Doing
Trail Difficulty: Beginner – Moderate
Round-Trip Distance: 8.5 kilometers (5.3 miles)
Duration: 3.5+ hours
Best Months to Hike: Any time, but it's not recommended to visit when it's raining. The chance of seeing the sunrise is very low with the rain. 
Mount Batur is the most popular day hike in Bali, especially to see the sunrise. This inactive volcanic mountain is located in eastern Bali and has a peak of 1,717 meters (5,633 feet) high. 
Most hikers join a group or private hiking tour as it includes guides, transportation to/from Ubud, breakfast, and a box lunch. It's not required to join a hiking tour, but it is convenient. 
The tours start at 1:00am with pick up from accommodations, and a quick stop for breakfast at a local warung around 2:00am. The hike starts around 4:00am and arrives at the peak around 6:00am.
The hiking trail is easy to follow as it's only one narrow trail along the mountain. But it's dark so be careful when hiking. 
Wearing running shoes is fine, but just be careful as there are loose rocks everywhere. 
Once everyone reaches the top, find a place to sit, enjoy your boxed breakfast, and watch the sunrise. 
Hopefully, the day of the hike will have clear skies for sunrise. 
It's a magical sight to see Lake Batur and the surrounding town glow. Seeing the colorful purple, blue, and orange skies is a fantastic start to the morning. 
Also, monkeys wake up from their sleep and start to roam around the area.  
TIP: Bring a jacket, wear long pants, or bring a blanket as the summit is extremely windy and cold. 
After sunrise, everyone heads down the same trail. Depending on the tour, groups either return directly to Ubud or visit a coffee and tea plantation or a hot spring before returning to Ubud. 
Since it's still the morning, the whole day is still available to explore Ubud or other areas of Bali. 
How to Get There: If taking a tour, hikers get picked up from their Ubud accommodations and then the driver takes them directly to the Batur trailhead. 
---
---
3. Mount Ijen – Java, Indonesia
Recommended by Jackie and Justin, Life Of Doing
Trail Difficulty: Moderate
Round-Trip Distance: 9 kilometers (5.6 miles)
Duration: 4-5 hours
Best Months to Hike: All year round, but the rainy season (November to March) will be more challenging with the mud 
Mount Ijen is an epic hike to experience when you're in Indonesia. 
Located on the east side of Java Island in the Banyuwangi area, you start early in the morning to see the sunrise over the caldera. 
You also have the chance to witness the natural occurrence of the blue flames, also known as Blue Fire. 
Ijen produces natural sulfur, so the caldera is a hot spot for sulfur mining. It's a tough job as many miners carry over 50 kilograms (110 pounds) of sulfur up and down the mountain each day. 
The hiking trail is shared with the miners. So, if you see miners carrying sulfur, please give them the right of way. 
Taking a group or private tour is recommended since it includes a guide, driver, admission, water, gas mask, and flashlight. 
The hike starts around 2:00am, and everyone follows the same trail. It's a wide dirt path, so there is plenty of room to pass others. Once you reach the large, uneven rocks, please walk slowly. 
It's quite a sight to see the Blue Fire. The vibrant cobalt color can only be seen at night. 
TIP: Wear your gas mask as it's hard to breathe in the Blue Fire area. The wind changes direction often so smoke will get into your eyes. 
Afterward, climb to another area along the caldera to wait for the sunrise.
While the highest peak is at 2,769 meters (9,085 feet), many hikers wait halfway up the caldera since the view is just as good.  
It's well worth it to see the beautiful sunrise with the pink skies shining over the turquoise lake. 
How to Get There: If taking a tour, the tour guide will pick you up at midnight at your accommodation in Banyuwangi and then drive you to the trailhead. 
---
4. Pha Daeng Peak – Nong Khiaw, Laos
Recommended by Annelies, Travelers & Dreamers
Trail Difficulty: Moderate
Round-Trip Distance: 3.4 kilometers (2.1 miles)
Duration: 4 hours – Allow half a day for the ascend/descend and some time spent at the top
Best Months to Hike: November to March
Pha Daeng Peak is one of the most fantastic hikes in Laos. While the trail is short, it's a pretty tough hike up the mountain. 
Pha Daeng Peak is known for its morning "sea fog." A lot of travelers like to embark on this hike before dawn to see the sunrise and to witness the clouds slowly dissipate. As of 2023, camping is also possible at the top.
At the entrance to the trail, you'll probably be greeted by two children asking you to pay the entrance fee. 
The admission cost is 40,000 kips ($2.00). This hike is a community-run project so the money goes straight to the local villagers.
There are also signs with instructions at the entrance. Read them carefully. 
It's important to stay on the trail since there are still some unexploded bombs from the Vietnam War hidden in the mountains that can be dangerous.
Hiking up the mountain takes about 1.5 hours on well-marked trails. There are many resting areas along the way with benches and bins. 
TIP: Don't forget to bring a lot of water and snacks. You won't be able to buy anything on the trail or the top.
Arriving at the top, you will be rewarded with a wonderful view over Nong Khiaw town and the snaking Nam Ou River. 
There is a wooden platform where you can have a rest and catch your breath. It takes about an hour to get back down.
Note that the trail involves some rock climbing. Ropes are provided to help you navigate the rocks more easily.
How to Get There: The starting point of this hike is located in the village of Nong Khiaw in Northern Laos. 
The beginning of the trail is called Nong Khiaw Viewpoint Trail Entrance and Ticket Office on Google Maps. It is just over the bridge, where the majority of the guesthouses are located. 
Nong Khiaw is easily reachable by a four-hour bus ride from Luang Prabang.
5. Nam Xay Viewpoint – Vang Vieng, Laos
Recommended by Delilah, Travel Sim Expert
Trail Difficulty: Moderate
Round-Trip Distance: 0.6 kilometers (.38 miles)
Duration: 1 hour 15 minutes
Best Months to Hike: Perfect to hike all year round, but watch out for heavy rain as the trail will become unsafe.
Laos is a place that would amaze anyone with its spectacular natural landscapes. It's a diverse and beautiful country and the town of Vang Vieng is definitely one of the best. 
Surrounding this town are farms dotted with randomly placed rocky outcrops. These large rocks appear to explode out of the farmland and the best spot to view them is from atop one of them.
The perfect spot for this is the Nam Xay Viewpoint. 
At the entrance, you'll need to pay a small entrance fee of 10,000 kip/$.50. So make sure you bring cash. 
Then embark on the harrowing, 40-minute uphill journey to the top. 
The steps in some places are actually large rocks and there will be a small amount of scrambling. Don't worry. It's definitely achievable for most people.
TIP: You'll need to be even more careful on your way back down as it's easy to lose your footing, especially if it's dark.
From the top, you'll get to view some of the most stunning views in the country. 
For some reason, you'll find a motorbike chained to the top of the rock. It's a perfect spot for a comical, yet epic photo. 
The best way to enjoy this spot is undoubtedly at sunset with a cold Beerlao.
How to Get There: To reach it you will need to head out from Vang Vieng on foot, by bike, or by taxi.
It's easily walkable to the entrance in around 40 minutes, and the landscape along the way is so stunning that it's a highly recommended option. 
Just download offline maps as the Laos Sim cards can offer pretty patchy coverage out here.
---
6. Penang Hill – Penang, Malaysia
Recommended by Jackie and Justin, Life Of Doing
Trail Difficulty: Moderate
Round-Trip Distance: Various depending on the starting point, but expect around 5.8 kilometers (3.6 miles) if taking the Heritage Trail
Duration: 2.5 hours + Time to Explore
Best Months to Hike: Any time but be extra careful during the rainy season as the path will be muddy
One of the best hikes to do in Penang, Malaysia is Penang Hill. 
It's a popular destination for hikers as there are over 26 trails to start from, so each time hikers can have a new experience with hiking to Penang Hill.
Starting from Penang Hill Heritage Trail, located next to the cable car, is a fantastic option as the route has a mix of concrete stairs and dirt paths through the forest. 
Since many people use this trail, hikers will not get lost or feel isolated from others. Also, this path has a lot of shade so it's a great reprieve from the sun. 
One of the coolest parts about this trail is walking under the cable car underpass and seeing the cable car pass by. There is a nice view of Penang city from here. 
At the top of Penang Hill, snap a photo of the city view and take some time to explore the summit and attractions. 
There are many attractions to visit such as Sri Aruloli Thirumurugan temple, Locks of Love area, and The Habitat. The Habitat is highly recommended to visit and visitors walk on suspension bridges and through nature. 
A tour guide is not needed to climb Penang Hill. There isn't any admission fee, so it's a budget-friendly activity to do in Penang. However, some of the attractions at Penang Hill have an additional cost. 
If climbing to the top of Penang Hill is too tiring, consider taking the cable car down. 
How to Get There: There are different starting spots to reach Penang Hill. A popular route is to go via Penang Hill Heritage Trail at the Lower Station. You can get to the start by taking a taxi or Grab car. 
---
7. Mount Kinabalu – Sabah, Malaysia – Borneo
Recommended by Martina, PlacesofJuma
Trail Difficulty: Challenging
Round-Trip Distance: 17.4 kilometers (10.8 miles)
Duration: 2 Days 
Best Months to Hike: February, March, and April
One of the best hikes in Southeast Asia is definitely the imposing Mount Kinabalu in Borneo, Malaysia. 
This spectacular 4,095-meter (13,435 feet) mountain is one of the highest in all of Southeast Asia. It's also one of Malaysia's most important landmarks. 
If you are traveling through Borneo and are in reasonably good physical shape, this is one climb you should not miss!
Mount Kinabalu, thanks to its pristine nature and stunning mountain scenery, has been on the UNESCO World Heritage List since 2000. This is just one more reason why trekkers from all over the world come here to climb this mountain.
Guided 2-day tours are on offer every day of the week. These tours are mandatory as it's not allowed to hike on your own. 
The start of the trip is always in the morning around 9:00am at the headquarters. At this time of day, the weather is stable. In the late afternoon, it usually starts to rain. 
During the trek, you'll be able to admire many different types of landscapes and vegetation from deep, lush jungles with carnivorous plants to the bare rocky plateaus on the way to the summit. 
You'll spend the night at the Laban Rata mountain station, where you'll have dinner. The first stage will take about 4-5 hours.
The next day, the hike starts at 1:00am. The goal is to reach the 4,095-meter summit by sunrise. 
The effort will be worth it as the sunrise is an experience in itself! 
Afterward, you'll descend to the valley station. You can expect to spend between 8 and 10 hours doing this.
How to Get There: The tour operator will pick you up from the hotel or designated meeting spot and then bring you to the Kinabalu Headquarters for registration. 
---
8. Niah National Park – Sarawak, Malaysia – Borneo
Recommended by Penny, Globetrove
Trail Difficulty: Easy
Round-Trip Distance: 6.2 kilometers (3.9 miles)
Duration: 1.5 hours
Best Months to Hike: July to September is the dry season
One of the many trails in Borneo to explore is Niah National Park. 
This gorgeous park is located in the Sarawak district of Malaysia and is sadly one of the lesser-visited attractions in this part of town. It is sad because the park is amazing, and more people need to come and see it.
Niah National Park is known for its cave paintings that date back to the Iron Age. 
The route is easy enough with a wooden boardwalk that takes you from the start to the finish of the route. 
It is doable for everyone to explore, including those who are pregnant (coming from first-hand experience at 23 weeks), so you know just how easy this path is!
The caves can get pretty dark inside, so make sure that you carry a torch (flashlight), or that your phone is sufficiently charged. 
Aside from cave paintings, you will find that the caves themselves are fascinating. 
The trail in itself is short and you can finish it quickly, but feel free to take your time wandering around and taking in the sights. It's a perfect way to spend the day.
TIP: Make sure that you wear some good hiking shoes and carry a raincoat because the weather can be unpredictable sometimes. Oh, and don't forget mosquito repellant!
How to Get There: The best way to reach the park is to drive from Miri which is the closest town.
---
9. Osmena Peak & Lugsangan Peak – Cebu Island, Phillippines
Recommended by Kate, Bags Always Packed 
Trail Difficulty: Moderate (short but steep)
Round-Trip Distance: 2 kilometers (1.2 miles)
Duration: 40 minutes return for each peak
Best Months to Hike: February
Osmena Peak and Lugsangan Peak are spectacular hikes located in the Dalaguete mountain region in South Cebu, Phillippines. The area features numerous rocky peaks that resemble the famous Chocolate Hills in Bohol.
Osmena Peak is the most popular of the two destinations and is easier to reach. Yet, it's recommended to complete both peaks for the ultimate experience. 
The hike begins at a small shack where you pay 30 PHP ($.35) per person to access the peak as it's located on a farmer's property. 
It takes around 20 minutes to reach the peak with the first 15 minutes being flat through the beautiful farmer's field, followed by 5 minutes of rocky scrambling. The path is easy to follow.
At the top, you're rewarded with stunning 360-degree views of the surrounding hills and the ocean. 
You don't need a guide to complete this hike. If you wish to book one, there are plenty of locals waiting to be hired at the base. 
Lugsangan Peak (also known as Casino Peak) is less visited but even more stunning to experience. It's a 5-minute drive or a 1-hour hike into the jungle from Osmena Peak.
After paying 50 PHP ($.90) for the entrance fee, you'll be directed to the trailhead by the land's owner. 
The trail is less defined but still easy to follow on your own. Be prepared for the rocky path to be slightly steeper and more exposed than on Osmena Peak. 
The added difficulty is worth it as you can climb along ridges, perch atop rocky mountain tops, and usually have the view to yourself.  
Both peaks are best visited at sunrise or sunset. If you're looking for some solitude, opt to visit at sunrise or choose the more off-the-track Lugsangan Peak.
How to Get There: Osmena Peak is located a 1-2 hour drive from Moalboal or 30 minutes from the town of Dalaguete. 
While buses go to Dalaguete, there is no public transport to either peak so the best way to reach them is by hiring a motorbike or taking a habal-habal (motorbike taxi).
---
10. Masungi Georeserve – Rizal, Philippines
Recommended by Gladis, Happiness on The Way
Trail Difficulty: Moderate
Round-Trip Distance: Approximately 7 kilometers (4.3 miles)
Duration: 3-4 hours
Best Months to Hike: November to April
Located a few hours away from Manila, Masungi Georeserve is known as the last green corridor of the Philippines. It is a conservation area in the rainforests of Rizal, offering a moderate-level hiking experience.
Masungi Georeserve is renowned for its unique limestone formations, lush rainforests, and well-preserved biodiversity.
As part of Masungi's preservation efforts, you are required to have a guide who will ensure that you stay on the designated trails to minimize your impact on the environment. The guide will also share facts and legends about each spot, along with the conservation efforts in the area.
During your hike, you'll encounter a web-like viewing platform perched above a limestone karst. It's one of the best spots to witness the panoramic surroundings.
In addition to the breathtaking views, you'll also experience thrilling activities like climbing up a web rope, descending another rope perched on spiky rocks, and walking on a bridge while gazing at the forest below.
The hike also leads you to the "Yungib ni Ruben," a cave where you can explore unique rock formations or simply enjoy a cooler temperature away from the sun.
Masungi Georeserve has strict visitation policies, so be sure to make a reservation in advance through their official website to secure your spot and enjoy this unique hiking adventure.
How to Get There: Masungi Georeserve is located in Baras, Rizal, Philippines. To get there, you can take a private vehicle or public transportation from Manila, the capital of the Philippines.
---
11. Mount Faber Peak – Singapore
Recommended by Jackie and Justin, Life Of Doing
Trail Difficulty: Beginner 
Round-Trip Distance: 2 kilometers (1.2 miles)
Duration: 30 minutes to 1 hour
Best Months to Hike: Any time
After visiting Singapore for a few days and eating delicious street food at hawker stalls, you may want to burn off extra calories with a hike.  
Visiting Mount Faber via Marang Trail is an excellent choice for a quick day hike. It's a beginner-friendly out-and-back route as most of the trail is along a staircase and paved sidewalks.
A guide is required as the trail is easy to follow. Plus, many hikers are on the trail, so you can ask questions if you're lost. 
The first part of the hike goes through a luscious forest area.  
Note: There are monkeys in the forest, so be careful with your belongings and food. Ensure that everything is out of sight and placed inside your backpack. 
Once you reach Mount Faber Peak, there are a few lookout points. 
The more popular viewpoint is where you can see the bay and a portion of Sentosa Island, an island with attractions, beaches, and Universal Studios. Attached to the cable car station is a restaurant, so you can stop by here if you're hungry. 
Another viewpoint from the peak is tall apartment buildings. It's not as interesting as the cable car view. 
Yet, if you walk further down from this viewpoint, there is a small Merlion statue. Unfortunately, there isn't any water coming out of this Merlion Statue's mouth, unlike the one at Marina Bay. 
To continue your journey in this area, you can take the cable car to Sentosa Island. You can relax on one of the beaches or visit Universal Studios theme park.  
Otherwise, head back the same way to reach the MRT station. 
How to Get There: Take the MRT to HarbourFront Station and follow the signs to Mount Faber trail. 
---
---
12. Abandoned Laem Thian Hotel Hike – Koh Tao, Thailand
Recommended by Victoria, Guide Your Travel
Trail Difficulty: Beginner
Round-Trip Distance: 5 kilometers (3.1 miles)
Duration: 2 hours return
Best Months to Hike: November to March
If you're looking for an adventure off the beaten track in Koh Tao, Thailand, the abandoned Laem Thian Hotel is a must-visit destination. This hidden gem offers a unique hiking experience on the island. 
Nestled on the east coast near Tanote Bay, the Laem Thian Hotel is a testament to a forgotten time. What sets this hiking trail apart is its sense of exploration and intrigue.
Hiking to the abandoned hotel is an adventure that immerses you in Koh Tao's untouched forests and natural beauty. The trail, though adventurous, is relatively safe. 
Most travelers embark on this journey on foot, starting from the famous Sairee Beach, a one-hour hike through the jungle. You can also take a taxi or scooter to shorten the distance.
For those who prefer a less strenuous approach, kayaking from Tanote Bay offers an exciting alternative. Rent a kayak and paddle to the abandoned resort, enjoying the crystal-clear waters and serene surroundings.
Once at the Laem Thian Hotel, urban explorers will find a treasure trove of experiences. 
Admire the graffiti that backpackers have left behind over the years, leap into the clear waters for cliff jumping, or indulge in snorkeling in the secluded bay. 
You can even camp overnight, enjoying the peaceful ambiance of this forgotten place.
Remember, safety is paramount. Avoid hiking during heavy rain, start early, and ensure you have enough supplies. 
This hidden spot in Koh Tao promises an unforgettable adventure for those willing to venture off the well-trodden path, making it a must-visit destination for intrepid travelers.
How to Get There: Take a taxi, drive, or walk to Tarna Align Resort.
---
13. Doi Ang Khang – Chiang Mai, Thailand
Recommended by Dotti, Travel Oasis 
Trail Difficulty: Beginner 
Round-Trip Distance: Unknown. Estimated 3 kilometers/1.9 miles return 
Duration: 2 hours 
Best Months to Hike: From November to February, when the weather is generally dry and cool(ish) 
For those looking for a first-class, short but sharp day hike with excellent views, look no further than Northern Thailand's Doi Ang Khang. 
Home to Thailand's highest campground and 15th highest mountain, the mountain makes for a great reprieve from the lowland heat as well as a fun urban escape from Chiang Mai. 
The trail starts about 200 meters up the road from the Doi Ang Khang Campground (towards the Doi Ang Khang Royal Agricultural Station). It can be hard to miss, so keep your eyes out for a small path to the right. 
The trail takes about 30 – 60 minutes and is quite steep. 
When you get to the top of Doi Ang Khang, you'll be rewarded with some of the most beautiful views in Northern Thailand. There is a 360-degree view of the entire area, including into neighboring Myanmar. 
Sunset is a particularly great time to go to see the beautiful colors. Just be sure to bring a headlamp for the way down.
The summit sits above the park's campground and despite the area potentially being very full during your visit, you can be completely alone at the peak. 
The trail can easily be assessed independently and there is no need to get a guide. 
The route is pretty obvious as the peak is the highest point in the region, however, if you're unsure where to go, either ask a local or one of the employees at the campground. 
It's important to note that Doi Ang Khang is located within a national park which costs 300 THB ($8.30) per person to enter. 
How to Get There: Doi Ang Khang is located approximately 150 kilometers (92 miles) north of Chiang Mai. 
No public transportation is available to Doi Ang Khang so you will need a private vehicle to take you there. Fortunately, it's a great stop on a road trip from Chiang Mai. 
Driving from Chiang Mai, it should take around 3 hours to get there. 
---
14. Monk's Trail to Wat Pha Lat – Chiang Mai, Thailand
Recommended by Ellie, This Remote Corner
Trail Difficulty: Beginner
Round-Trip Distance: 2.6 kilometers (1.6 miles)
Duration: 1-1.5 hours roundtrip, plus any time spent at the temple
Best Months to Hike: November to February
Almost everyone visiting Chiang Mai knows about Wat Phra That Doi Suthep, the famous mountaintop temple overlooking the city. 
Fewer people have heard of Wat Pha Lat, a smaller temple tucked into the forest about halfway up the mountain. 
Wat Pha Lat is beautiful, serene, and surrounded by nature. Its shaded grounds are a popular place for quiet meditation. 
Although a paved road passes just next to Wat Pha Lat, the best way to reach it is by walking up from the city. This hiking path, known as the "Monk's Trail," takes about 45 minutes one way. 
The hike is beginner-friendly, as the trail is easy to follow and ascends gradually through the forest.
The route is marked with orange fabric (the same used for monks' robes) tied around tree trunks. Several short detours from the main path lead to small waterfalls. 
As you approach the temple, you'll find a lovely view of Chiang Mai on a clear day.
Make sure to pack some light clothing to cover your knees and shoulders once you reach the temple. You'll also want to bring water, sun protection, and insect repellant. 
Hiking boots aren't necessary, but athletic shoes are recommended to navigate the tree roots and potential mud along the path. 
Note that even though the trail doesn't see too many tourists, it is popular with locals, expats, and Chiang Mai's large digital nomad community. Try to avoid weekends if you're looking for a quiet experience! 
How to Get There: You can drive yourself or take a taxi/Grab right to the trailhead in Chiang Mai. (It is marked on Google Maps.) 
If you're relying on songthaews, you can take one of these shared red trucks to the end of Suthep Road and walk from there. This will add 10-15 minutes to your hike.
---
15. Mount Matebian – Timor Leste
Recommended by Catherine, Nomadicated
Trail Difficulty: Challenging
Round-Trip Distance: Approximately 10 kilometers/6 miles
Duration: At least one day per summit up to 3 days total
Best Months to Hike: August through October when the cloud cover is minimal and visibility is best on the mountains.
Mount Matebian, also known as Matebean, is the third highest mountain in Timor Leste, standing tall with two summits, Mane (2,372 meters/7,782 feet) and Feto (1,963 meters/6440 feet). 
This off-the-beaten-path hiking trail is challenging but has breathtaking views along the way and is shrouded with a recent bloody history.
The mountain is also considered sacred by the Timorese people, who see it as the residence of the spirits of their ancestors.
Ascending Mount Matebian is not for the faint-hearted, given its remote location and unclear trail markings. While each summit can be conquered in a single day, summitting both peaks requires a challenging three-day hike.
During the journey, hikers will come across various landmarks, such as waterfalls and the Christ Cross. 
However, one significant location to highlight is the tunnels where Timorese guerilla soldiers took refuge and strategized their attacks against the Indonesian occupation for over a decade. 
These crevices served as their shelter, battleground, and resting place, offering the only safety from the ongoing massacre below.
Although it is possible to hike Mount Matebian without a tour guide, the challenging terrain and remote location make it advisable to hire a local guide for navigation. 
Many of these guides have firsthand experience surviving in the mountain's rugged terrain during the occupation in the late 1900s.
How to Get There: To get to this Timor-Leste tourist attraction, take a taxi or bus from Dili to the town of Baguia, and from there, you can take a 4×4 ride to the trailhead. 
A less popular, longer route is to start from the northwest side in the town of Quelicai.
---
16. Mount Fansipan – Sapa, Vietnam
Trail Difficulty: Challenging
Round-Trip Distance: 22.5 kilometers (14 miles)
Duration: 1-2 Days 
Best Months to Hike: Any time, but avoid the rainy days 
Before the convenience of taking the cable car and funicular to Fansipan, the only way to reach Fansipan's summit was by trekking. 
If you have one or two days to trek Fansipan, it's still one of the most epic things to do Sapa. 
Fansipan Peak is considered the "Roof of Indochina" as the highest peak in Indochina (Vietnam, Laos, and Cambodia) at 3,143 meters (10,312 feet).
This challenging hike requires stamina and mental strength through the Hoang Lien National Park and forest area. It's a slow climb up the narrow trail and requires some scrambling up rocks. So, it's helpful to have a guide. 
Once you reach the cable car station at Fansipan, you've reached Sun World Fansipan Legend, a tourist attraction. This tourist attraction has pagodas, Great Buddha Statue, Lady Buddha Statue, and more. 
There is still more stair-climbing through Fansipan Legend to reach the summit. Your legs will feel like jello here. 
You're finally at the peak when you see the giant flagpole with the Vietnam flag and plenty of signage of "Fansipan 3143 m." Choose either a triangle-shaped landmark or the large letters to take a commemorative photo. It's such an accomplishment! 
Hopefully, the summit has clear skies so you can see the mountain range. Otherwise, it'll be foggy at the peak. 
The descent is the same route as the ascent and you may be tired, so be careful. Or, you could consider taking the cable car down. 
TIP: If you hike Fansipan in 2 days, you will stay overnight in a large shed with other hikers and guides.  
How to Get There: The starting point is at the Tram Tom Station where registration occurs. Then, your guide will take you to the hiking trail. 
If you've been to Love Waterfall, then you'll recognize the same parking lot. Instead of going on the right side to the waterfall entrance, the Fansipan hiking trail is on the left side. 
---
Related Posts: 
---
17. Hang En Cave – Phong Nha, Vietnam
Recommended by Jackie and Justin, Life Of Doing
Trail Difficulty: Easy – Moderate
Round-Trip Distance: Approximately 9.5 kilometers (5.9 miles)
Duration: 2 Days
Best Months to Hike: December to September
Phong Nha in Central Vietnam is home to Phong Nha-Ke Bang National Park, one of the UNESCO World Heritage Sites. 
This National Park is known for its numerous caves, and many of the hidden caves require multi-day treks with a trekking group. 
Son Doong is currently the world's largest cave in the world and costs $3000 per person. Yet, Hang En is the third largest cave in the world and costs $330 per person. Son Doong and Hang En Cave are both operated by Oxalis Adventure. 
Hang En Cave is a fantastic trek to do on your Phong Nha itinerary. This trek covers the first 1.5 days of the Son Doong Cave trek, and hikers stay overnight in the Hang En Cave. 
The first part of the trek isn't difficult as everyone goes through a luscious jungle area. 
But expect to get wet as hikers cross 25+ streams. Don't worry, hikers get additional help from the Oxalis team when crossing the streams as some of them are knee to mid-thigh deep. 
Once hikers reach the cave, they need to go on a raft to cross the small lake in the cave. Tents, sleeping bags, and food are provided. 
Since the cave only has the trekkers and Oxalis team, the cave is quiet at night with insects buzzing and the river flowing. 
The next day is another short hike through the Hang En Cave. Hopefully, the sun shines into the cave opening as the campsite glows brightly with the sun's rays. 
There is a short hike through Hang En Cave to the other side, and then hikers return to camp for lunch before heading back to Phong Nha town. 
How to Get There: All hikers are brought to Oxalis Headquarters for an orientation and then driven to the hiking trailhead. 
---
---
Final Thoughts
How many of these hikes in Southeast Asia are now on your bucket list? 
Whether you're doing a day hike or a multi-day hike in the city or in the mountains, there are many options to choose from. 
Feel free to add one or more of these hikes mentioned to your next Southeast Asia trip. 
For our readers looking for recommendations on hiking trails to do in other areas of Asia, stay tuned. There will be a post in the future to address these hikes. 
Happy hiking!
Like this post? Save it to your Asia Travel or Hiking Pinterest boards.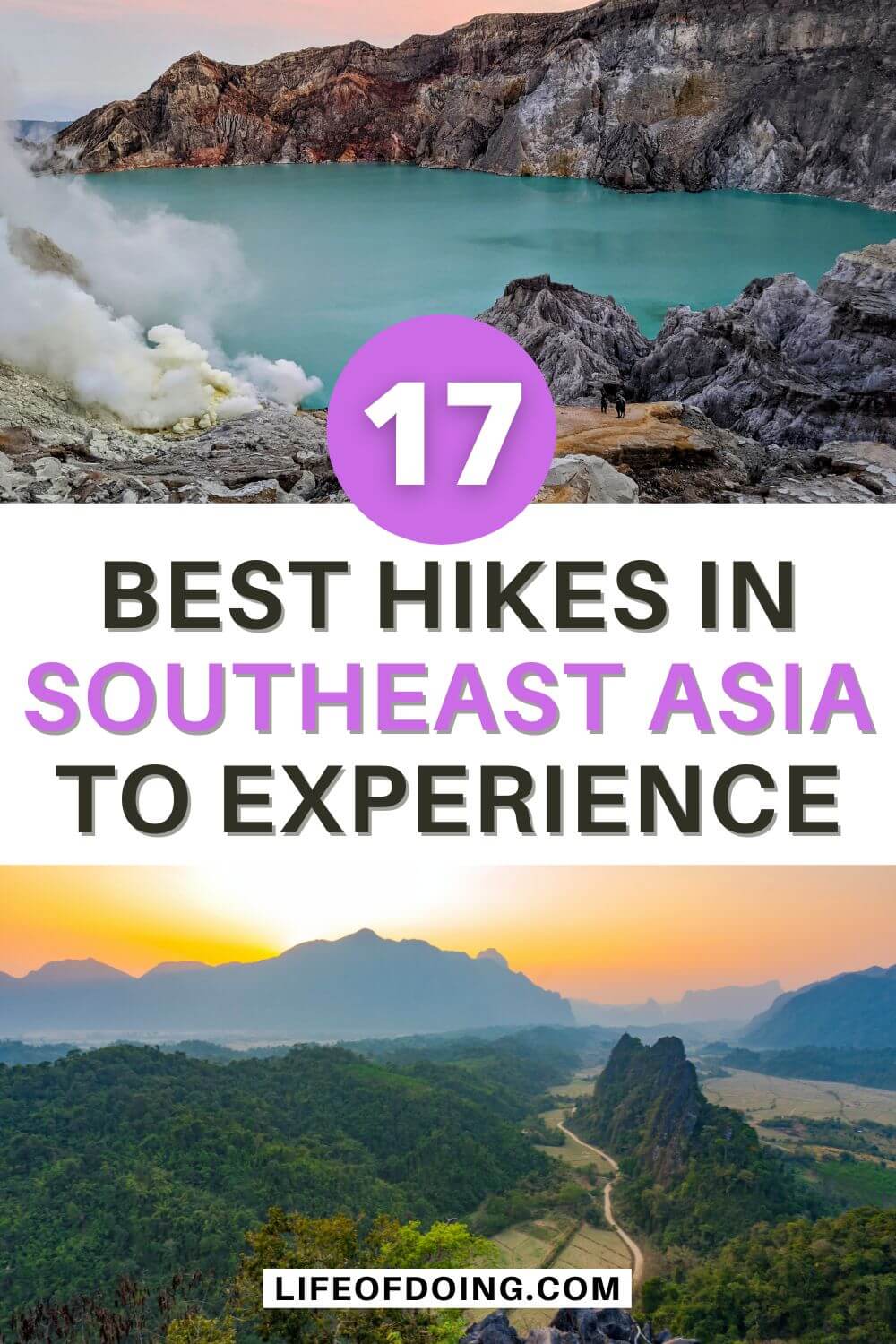 Featured photo & pin #1 photo (bottom) photo credit: casanowe1 via Depositphotos.com