Sanur, a coastal town located on Bali's southeastern coast, stands out with its quiet beaches and a mix of cultural and historical sites. 
How many days are recommended to explore Sanur? Three days is an ideal amount of time without feeling rushed. 
So, if you're looking to explore Sanur in three days, our ultimate itinerary covers the best attractions, activities, and food options in the area. 
Whether you're a solo traveler in Bali or exploring the island as part of a group tour, you'll have to stop by Sanur. This hidden gem is a must-visit destination and a true highlight in Indonesia. 
Click to jump to certain areas of this Sanury itinerary:
*Disclaimer: This post contains affiliate links. If you click on them and make a purchase, we receive a small commission. There is no additional cost to you. Appreciate the support.
---
Best Places to Stay in Sanur
Sanur has a fantastic selection of hotels, guesthouses, and private villas. Whether you're hoping to stay beachfront or want to save some money, you'll find the perfect fit for you.
Find accommodations in Sanur on Booking.com
---
Prama Sanur Beach Hotel
Prama Sanur Beach Hotel offers a lot, and its facilities are excellent for families or couples. While it's a bit pricey to stay here, the central location more than makes up for it.
Read reviews for Prama Sanur Beach Hotel and book a room on Booking.com 
Find availability for Prama Sanur Beach Hotel on Agoda here 
Address: Jl. Cemara, Sanur Kauh, Denpasar Selatan, Kota Denpasar, Bali 80228
---
Prime Plaza Hotel Sanur
Prime Plaza Hotel Sanur is a great alternative if you want to stick to a budget, and their large pool and spacious rooms make a stay here extra special.
Learn more about Prime Plaza Hotel Sanur and book a room on Booking.com 
Find availability for Prime Plaza Hotel Sanur on Agoda here 
Address: Jl. Hang Tuah No.46, Sanur Kaja, Denpasar Selatan, Kota Denpasar, Bali 80228
---
Rent a Villa
For more privacy, consider renting a whole villa for you and your loved ones. There are plenty to choose from in Sanur, and they're actually more affordable than you might think.
---
Map
---
Sanur Itinerary – Day 1: Exploring Sanur's Natural Beauty and History
This first day in Sanur is a relaxing schedule spending some time along the beach, visiting a museum and temple, and eating your way through a night market. 
Sanur Beach Boardwalk
Start your day early with a walk along the beach boardwalk. 
The peaceful atmosphere and the sound of the waves will set the tone for the day and will leave you feeling refreshed and excited to explore. 
The long stretch of sandy beach is perfect for a morning stroll, and you might catch a glimpse of the traditional Balinese fishing boats known as jukungs.
After your walk, treat yourself to a beachside breakfast at one of the local cafes.
Address: Jl. Sanur Beach Street Walk, Sanur Kaja, Denpasar Selatan, Kota Denpasar, Bali
---
Le Mayeur Museum
Afterward, head to Le Mayeur Museum, a homage to the Belgian impressionist painter Adrien-Jean Le Mayeur. 
Wander through his personal home and marvel at the collection of his works, most of which are dedicated to his muse and wife, the Balinese dancer, Ni Polok.
Address: 87G7+2FV, Jl. Hang Tuah, Sanur Kaja, Denpasar Selatan, Kota Denpasar, Bali
---
Pura Blanjong
Later, delve into Sanur's historical side by visiting Pura Blanjong Temple. 
This ancient Hindu temple houses Bali's oldest known artifact – a pillar bearing inscriptions that date back to the 10th century.
Address: Jl. Danau Poso Pura Blanjong No.80227, Sanur Kauh, Denpasar Selatan, Kota Denpasar, Bali 80228
---
Sindhu Night Market
As dusk sets in, make your way to Sindhu Night Market. 
Experience the local flavors and indulge in delicious Balinese street food, from satay sticks to traditional sweets.
Address: 8776+W29, Jl. Pungutan No.2, Sanur, Denpasar Selatan, Kota Denpasar, Bali
---
Sanur Itinerary – Day 2: Adventure and Relaxation
On your second day in Sanur, you're going on a fun day trip to Nusa Penida. The island is famous for its dramatic landscapes and rugged terrain makes it an adventure lover's dream. 
Quick Tips About Nusa Penida
Take a quick 45-minute speedboat ride from Sanur Port to Nusa Penida Harbour, and then start exploring. 
You'll need to arrange transportation ahead of time for Nusa Penida, such as taking a tour, hiring a driver, or renting a motorbike from someone at the port.
While the roads have been recently paved, they can be challenging for inexperienced drivers. So avoid renting a motorbike unless you have experienced driving skills. 
---
Top Nusa Penida Attractions
Explore its famous landmarks such as Kelingking Beach with its iconic T-rex-shaped cliff, Angel's Billabong, and Broken Beach. Angel's Billabong and Broken Beach are next to each so it's convenient to visit. 
The island's raw beauty and picturesque landscapes are perfect for taking photos and experiencing the beauty of Bali.
If you're brave and ready for some adventure, you can even attempt the hike down to Kelingking Beach, which is notoriously steep and involves quite a bit of climbing. 
It's not for the faint of heart, but the stunning white-sand beach at the bottom makes it more than worth it.
Note: Swimming at Kelingking Beach has been banned since January 2023 due to safety. There were a few tourists who were washed away by the waves and needed rescuing. 
---
Crystal Bay
Crystal Bay is a must-visit for snorkeling enthusiasts, yet the swimming opportunities are just as fun. 
After grabbing lunch at Crystal Bay and going for a swim, it's time to head back to the harbour to catch your boat.
---
Spa Time in Sanur
Return to Sanur and rejuvenate with a soothing massage at one of the town's reputable spas. 
Let the therapists work their magic as you drift into relaxation and think about all the exciting things you got to experience today. 
---
Beach Club at Night
After your massage, unwind at a beach club. Sip on cocktails, enjoy gourmet dishes, and immerse yourself in the chill vibes as you listen to the soft lapping of the waves.
---
Sanur Itinerary – Day 3: Leisure and Exploration
On the third day in Sanur, you'll relax at the beach and visit an abandoned theme park, Taman Festival. 
Water Activities & Beach Time at Sanur Beach
After a good night's sleep, it's time for an action-packed morning of watersports. Whether you're a fan of jet-skiing, parasailing, or windsurfing, Sanur Beach has something for every adrenaline junkie.
If you're not a fan of water adventures, you can also go for a swim at the beach. 
The calm waters of Sanur are perfect for a refreshing dip, and the ocean is usually flat and not too wavy.
Life Of Doing Editorial Note: If you're looking for another adventure and want to walk through the waters in a canyon, consider visiting Hidden Canyon Beji Guwang. It's a 30-minute drive (14 kilometers/8.7 miles away) from Sanur Beach. 
---
Taman Festival
Grab a quick lunch in town before you go to visit an unusual attraction, an abandoned theme park on the beach formerly known as Taman Festival.
While nature has reclaimed most of it, the park's eeriness and graffiti art make it an intriguing spot for photography and exploration.
Just make sure not to get lost in the jungle that surrounds the property.
Address: Jl. Padang Galak No.3, Kesiman, Kec. Denpasar Tim., Kota Denpasar, Bali
---
Dinner Along the Beach
For your final evening in Sanur, indulge in a lavish dinner at one of its renowned beachfront restaurants. Toast to the memories made and the adventures experienced.
---
Sanur Itinerary – Day 4+:  Day Trips from Sanur
Sanur, with its tranquil beaches and relaxed atmosphere, is not just a destination in itself but also an ideal base for exploring some of Bali's most beautiful areas. 
If you have extra time on your Sanur itinerary, here are some of the best day trips you can take from Sanur:
Nusa Lembongan
Earlier, Nusa Penida was mentioned as a day trip option. Closer to Sanur and smaller than Nusa Penida, Nusa Lembongan is a tropical paradise perfect for a relaxed day trip. 
There are daily speedboat rides from Sanur Port to Nusa Lembongan Harbour, so it's easy to get to.  
The island boasts pristine beaches, such as Dream Beach and Mushroom Bay. 
The seaweed farms provide a unique backdrop, and activities include snorkeling, diving, and surfing. 
A walk on the famous Yellow Bridge connecting Lembongan to its tiny neighbor, Ceningan Island, is also recommended.
TIP: Combine your Nusa Penida trip with Lembongan and Ceningan and spend 4 days on Nusa Islands. It's well worth the extra days so you don't need to go back and forth between Bali mainland and Nusa Islands. 
---
Ubud
Nestled amidst lush rice terraces and dense forests, Ubud is the cultural heart of Bali. 
Around an hour's drive from Sanur, a day trip to Ubud offers an exciting mix of experiences, from the majestic Tegalalang Rice Terraces and Monkey Forest to the Ubud Royal Palace and local art markets. 
Don't forget to try some local Balinese cuisine at one of the many warungs or restaurants. Read this post on where to eat in Ubud. 
TIP: If you have more time, consider spending at least 3 days in the Ubud area. There are plenty of attractions and day trips to visit from Ubud. 
---
Nusa Dua
Located on the eastern side of the Bukit Peninsula, Nusa Dua is synonymous with luxury. 
About a 45-minute drive from Sanur, it offers manicured beaches, high-end resorts, and an array of water sports. 
The Water Blow, where waves crash into a limestone cliff, creating a dramatic natural water fountain, is a must-see. 
The area is also known for its shopping with the Bali Collection Mall providing a fantastic selection of shops.
Best Places to Eat in Sanur
Soul On The Beach
Soul On The Beach in Sanur is an unmissable beach restaurant with fantastic views and authentic Indonesian food. Prices are reasonable, and you'll find yourself wanting to come back here over and over again.
Address: Jl. Pantai Sindhu, Sanur, Denpasar Selatan, Kota Denpasar, Bali 80228
---
Massimo
Massimo is another fantastic option and provides delicious Italian food for those nights when you're craving some more Western options. This is the perfect place for a special occasion or romantic dinner.
Address: Jl. Danau Tamblingan No.228, Sanur, Denpasar Selatan, Kota Denpasar, Bali 80237
---
Coco Bistro
Coco Bistro is another fantastic waterfront spot with some of the best seafood in town. You'll love their diverse menu and will be spoiled for choice.
Address: Banjar Semawang, Jl. Duyung, Sanur, Denpasar Selatan, Kota Denpasar, Bali
---
---
Bali Travel Requirements
Before entering Bali, check if you need to apply for a visa ahead of time. 
Or, if you're from one of the 90 qualified international countries, you can get a 30-day visa on arrival (VOA) at the airport or apply for an electronic visa on arrival (e-VOA). 
The visa on arrival cost 500,000 IDR ($35 USD). Equivalent currency is acceptable as payment such as Euros, Japanese yen, etc. Credit cards are not accepted. 
For those who want to spend more than 30 days in Bali, it is possible to extend the visa. If you've applied for an e-VOA, the extension can be done through the website. Otherwise, you'll need to visit the Immigration Office to extend if you did the VOA. 
---
How to Get to Sanur
There are plenty of transportation options in Sanur, but it's important to do some research before you arrive. 
By Ride-Hailing 
For those familiar with app-based services, both Grab and Gojek provide efficient rides that can be booked right from your phone, ensuring a seamless journey without having to worry about possible taxi scams.
If you arrive at Ngurah Rai International Airport, Grab and Gojek have a pick-up location. Therefore, you can use these ride-hailing apps to go to Sanur.
TIP: Before departing the Bali airport, buy a SIM card here. Or, set up an Indonesian eSIM in advance here. 
---
By Bus
Alternatively, if you're looking for a more budget-friendly option and a chance to mingle with the locals, hopping on a bus heading towards Sanur is an option, though it might require some patience and flexibility with timings. 
There are some bus routes available, but destinations are limited, so keep some backup options in mind.
---
By Boat
For those coming from nearby islands such as Lombok, Nusa Lembongan, or Nusa Penida, you can opt for a boat ride. The boat ride not only offers beautiful views but is also quick and convenient. 
Just make sure to book a few days in advance and pack some medication if you're prone to seasickness. The ride can be a bumpy one.
---
By Private Driver
If you're looking for comfort and convenience, a private driver can pick you up at the airport and take you directly to Sanur. 
This is usually cheaper than an airport taxi, and you can keep your driver's number for possible day trips around Bali in the future.
Life Of Doing Editorial Note: If you need a recommendation for a private driver, send us a note here. We have used our driver several times and have recommended him to other travelers. He is a safe driver and can take you around the island and/or to or from the airport. 
---
How to Travel Around Sanur
By Walking
Bali is generally not very walkable, but Sanur, with its laid-back atmosphere and scenic coastal walkways, is somewhat of an exception. 
While the sidewalks might not be ideal in some places, it's still possible to explore Sanur on foot, and you won't have to worry about finding a taxi or spending unnecessary money.
The beachfront promenade is especially popular for sunset strolls, offering scenic views of the ocean and plenty of restaurants and cafes along the way.
---
By Ride-Hailing Services
For those who prefer a faster mode of transportation, Grab and Gojek are app-based services widely used in the area. They offer both car and motorbike rides, providing quick and efficient trips to various destinations within and around Sanur. 
TIP: Just keep in mind that Grab and Gojek are not allowed to operate in the street leading to Sanur's busy harbour, and you'll have to walk to the main street to get a ride.
---
By Taxis
Traditional taxis are also available and can easily be flagged down on the main roads. While they might be slightly more expensive than Grab or Gojek, they're a reliable way to get around, especially if you don't have internet access at the moment.
---
By Private Driver
If you're planning to explore multiple destinations in Bali or simply want the luxury of having a vehicle at your disposal, hiring a driver for the day can be a great option. 
These drivers often have deep knowledge of the area, providing both transportation and even guided tours if requested. 
They can give insights into the culture and recommend hidden gems, and you'll get to explore Bali from the comfort of an air-conditioned car.
---
By Motorbike/Scooter
Lastly, if you have the proper license, renting a motorbike or scooter is a popular choice. 
Scooters offer the flexibility to navigate Sanur's streets at your own pace and can be an exciting way to explore the broader surroundings. 
However, always ensure you're comfortable with local driving conditions, go slow, and wear a helmet at all times for safety.
Rent a motorbike/scooter here and have it delivered to your accommodations.
---
Final Thoughts
Three days in Bali's Sanur area is a fantastic amount of time to explore and a great addition to your next Bali itinerary. 
From relaxing on Sanur Beach to visiting an abandoned theme park, Sanur is worth the visit as there are tons of exciting and relaxing things to do here. 
Have fun!
Looking for places to visit after Sanur? Check out these areas: 
Like this post? Save it to your Indonesia Pinterest board.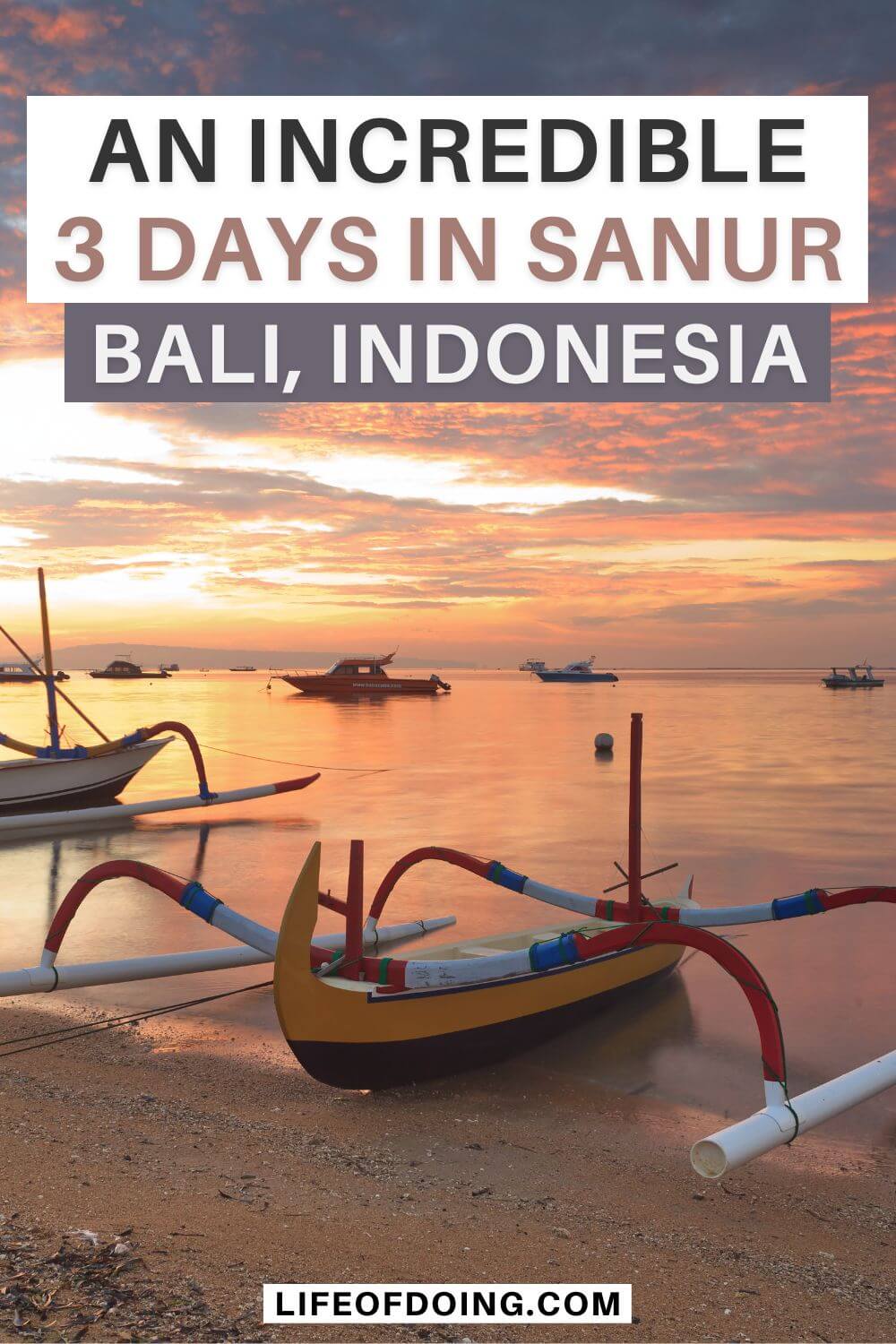 Featured photo & pin #1 photo credit: HonzaHruby via Depositphotos.com