Canggu is the south coast area of Bali, Indonesia where all the influencers and digital nomads have settled. This makes it a melting pot for different cultures, cuisines, and activities. 
It's one of the most fun areas in Bali as there are countless cafes and places to eat, beaches, and relaxation opportunities, so it's a great addition to any Bali itinerary. 
How many days should you stay in Canggu? Three days in Canggu is the perfect amount of time to fully explore this area and not feel rushed. Since you're in paradise, it's ideal to sit back and enjoy the slower pace.  
This post has everything that you need to know to have the best 3 days in Canggu, Bali. From food options to important travel tips, this post will help you plan your upcoming stay here. 
Click on the links to jump to certain areas of this Canggu 3 day itinerary: 
*Disclaimer: This post contains affiliate links. If you click on them and make a purchase, we receive a small commission. There is no additional cost to you. Appreciate the support.
---
Map
---
Canggu Itinerary: Day 1
Enjoy brunch at LowCal Cheatery
The best way to start your 3 days in Canggu is with a delectable brunch at LowCal Cheatery. This charming cafe near the beach has lots of different menus for different diets including pescatarian, paleo, vegan, and low cal. 
The restaurant's company values include employing deaf people for the restaurant. The LowCal Cheatery website has informational videos on how to communicate with the staff in Indonesian sign language. 
The chef is very good with creative food options. The avocado toast, signature protein pancakes topped with fresh fruits and drizzled with maple syrup, and chicken breast with lemon sauce are the best dishes on the menu. 
Add a freshly brewed cup of coffee or a smoothie bowl to this order and you'll be ready to conquer your first day in Canggu.
Address: Jl. Pantai Batu Bolong No.94, Canggu, Kec. Kuta Utara, Kabupaten Badung, Bali
More Information: Website | Facebook 
---
Surf at Batu Bolong Beach
After a hearty brunch, head over to Batu Bolong Beach to catch some waves. Whether you're a beginner or an experienced surfer, this beach has great waves for everyone. 
The inside area has good white water for beginners to practice surfing and the lineup has some great 4 feet waves on most days. 
You can rent a board for IDR 50,000 ($3.30 USD) on the beach for 2 hours. 
Or, you could take a lesson. The friendly local instructors charge IDR 300,000 ($19.80) for a 1.5-hour lesson and they will ensure you have a safe and enjoyable surfing experience.
Address: Jl. Pantai Batu Bolong, Canggu, Kec. Kuta Utara, Kabupaten Badung, Bali
---
Chill at The Lawn
After you are done surfing, spend a relaxing afternoon at The Lawn. 
This is a beach club very close to Batu Bolong Beach and you can easily walk to it. Bask in the sun on their comfortable sun beds, sip on some cocktails, and take a dip in the pool. 
The beach club has amazing ocean views and the pool is right next to the beach. The sun beds are huge and very comfortable. 
Plus their menu has delicious food options. Who doesn't like eating fries while getting a golden tan in the sun? 
In the evening, the club has live music so you can continue your night here. 
Address: Jl. Pura Dalem, Canggu, Kec. Kuta Utara, Kabupaten Badung, Bali 
More Information: Website | Facebook
---
Head to Old Man's for Dinner and Party
As the sun sets, head to Old Man's, a popular beachfront bar and restaurant, for a delicious dinner with a side of great dancing. They have a great menu with a diverse selection of local and international dishes. 
The party is amazing here every night so join the lively crowd on the dance floor and groove to the beats of international DJs or local talent. This energetic spot is one of the best places to party in Canggu.
Address: Jl. Pantai Batu Bolong No.117X, Canggu, Kec. Kuta Utara, Kabupaten Badung, Bali
More Information: Website | Facebook
---
Canggu Itinerary: Day 2
Start with Breakfast at Milk & Madu
Begin your second day with a scrumptious breakfast at Milk & Madu. This is one of the most famous cafes in Canggu so you might find it packed if you come a little late. 
It has everything from classic favorites like fluffy pancakes dripping with syrup to smoothie bowls filled with superfoods. The coffees are even better and its bakery can rival those found in France. 
If you end up coming here for lunch or dinner, the most recommended dish off their menu is the pesto gnocchi. The gnocchi has the perfect blend of zest, salt, and bitter from the baby leaves. 
Addresses: 
Location 1: Jl. Pantai Batu Bolong No.92, Canggu, Kec. Kuta Utara, Kabupaten Badung, Bali
Location 2: Jl. Pantai Berawa No.52, Tibubeneng, Kec. Kuta Utara, Kabupaten Badung, Bali
More Information: Website | Instagram
---
Visit Tanah Lot Temple
Tanah Lot is a famous Hindu temple on a rock in the middle of the Indian Ocean. 
The temple can only be accessed at low tide. At high tide, the water fills the passage between the beach and the temple. 
The temple complex is very beautiful and you can see lots of Balinese architecture here. There is a nice walking path along the edge of the cliffside so you can admire the temple from different viewpoints. 
Outside the temple complex has vendors selling sarongs, hats, and other souvenirs. 
The temple is 45 minutes away from Canggu on a scooter. To get here, you can easily rent a scooter in Canggu to do this road trip. 
The cost to visit this temple is IDR 60,000 ($4.00) per person and IDR 5,000 ($.33) for parking. 
Address: Beraban, Kediri, Tabanan Regency, Bali
More Information: Facebook | Instagram 
---
Explore Rice Paddies in Canggu
On the way back from Tanah Lot make sure to stop by the rice paddies in Canggu. It's quite surprising to find these quiet gems hidden in Canggu just meters away from some of the noisiest bars. 
The place is great for a quick midday stroll or a fantastic stopping point during the road trip. Please pull over to the side of the road safely. 
The rice paddies also make for some amazing shots. Don't forget to capture Instagram-worthy pictures to share with your friends and followers.
---
---
Relax with Spa Time
Once you're back in Canggu, you'll be tired so why not treat yourself to a spa session before dinner? Bali has some of the best spas in the world and Canggu has quite a few itself. 
Tonic Day Spa and Goldust Beauty Spa are two of the top spas in Canggu. They are both not too expensive and have some very interesting treatments like gold facials and seaweed facials. 
Alternatively, you can also head home and call a masseuse to give you a massage at home. That will be much cheaper than a spa. For the best at-home massage you can call Nuriani at (+62) 818-1819-3778.
---
Dinner at Miss Fish
End your day with a delightful dinner at Miss Fish, a trendy Japanese restaurant. 
It has a variety of fresh and flavorsome seafood dishes, such as the signature grilled snapper or prawn linguine. The menu also has traditional nigiri sushi and handrolls. Vegetarian and vegan options are available upon request. 
It's an upscale restaurant with a cozy atmosphere and very friendly staff. To enjoy a night out here, you can dress up in your pretty night outfit and put on some high heels. 
Miss Fish is one of the local secrets so don't be surprised if you don't see any tourists during your dinner. Reservations are required to dine here. 
Address: Jl. Raya Semat No.4, Tibubeneng, Kec. Kuta Utara, Kabupaten Badung, Bali
More Information: Website
---
Canggu Itinerary: Day 3
Eat Breakfast at Shady Shack
Start your day off right with a nutritious and delicious breakfast at Shady Shack. 
This vegan hotspot has a huge menu of plant-based dishes that are not only healthy but also bursting with flavor. 
Try their avocado toast, colorful smoothie bowls, or their famous vegan pancakes. Their Haloumi Bowl and Nori Bowl are delicious and packed with superfoods. The Shack Attack burger also seems to be well-liked among everyone that goes there. 
The restaurant is right next to some rice fields so you will have a nice view while you eat brekkie. 
Address: Jl. Tanah Barak No.53, Canggu, Kec. Kuta Utara, Kabupaten Badung, Bali
For More Information: Website | Facebook 
---
Go Shopping
Canggu has a very vibrant shopping scene with boutiques everywhere in the town. 
Love Anchor is an ethical boutique clothing store. It also has a small market that is open every day. It sells local arts and crafts and trendy fashion. You should make a point to visit it. Learn more here. 
La Brisa Beach Club also has a Sunday market from 10:00am to 4:00pm. The market has food, drinks, clothing, beauty products, and more. 
When shopping in Canggu, you'll notice plenty of creative, local designers that cannot be found anywhere else. Some other local and international brands here are Flook, Cute Mistake, Bamboo Blonde, and Atilaa & Co.
---
Enjoy Lunch at La Brisa
La Brisa is a renowned beach club with a bohemian atmosphere in Canggu. You'll find a lot of the locals having brunch here. 
You should try something off their menu of international and Indonesian dishes, paired with refreshing cocktails for lunch. 
They have a pretty seating area overlooking the ocean, so you can enjoy the sea breeze and look at the surfers while eating lunch. 
With the beautiful views and overall vibe, it is very easy to spend your whole day in the club. 
Tip: If you visit La Brisa in the late afternoon, it is also a gorgeous spot to see the sunset in Bali. 
Address: Jl. Pantai Batu Mejan, Canggu, Kec. Kuta Utara, Kabupaten Badung, Bali
More Information: Website
---
Do an Afternoon Workout at a Studio
After chilling at La Brisa for a couple of hours, it's time to incorporate some movement in the body. Head to one of the world-famous workout places in Canggu. 
Whether you prefer high-intensity interval training, cycling, pilates, yoga, or just want a recovery session there are options for every fitness enthusiast. 
Body Factory has day passes where you can use the gym or their recovery area with an ice bath, sauna, and a beautiful pool. They also have movies every Sunday night. 
Zycle Studio has cool cycling classes for all levels in the morning and evening. 
The Practice is one of the best yoga studios in Canggu and has great classes.
Finally, Revive + Pilates is a great place to get your sweat on in a Pilates workout.
---
Have Dinner at Revolver Canggu
Make your last dinner in Canggu a memorable one and head to Revolver Canggu. 
It's a trendy cafe known for its delicious cuisine and decor. The fusion dishes combine traditional Balinese cuisine with international flavors. This place has everything from mouth-watering curries to yummy desserts. The drinks and music are equally wonderful. 
Be prepared for a wait because a lot of people love coming here for dinner and the place is always packed.
Address: Jl. Nelayan No.5, Canggu, Kec. Kuta Utara, Kabupaten Badung, Bali 
---
Party at Potato Head Beach Club
End your Canggu adventure with a bang by heading to Potato Head Beach Club in the Seminyak area. 
It's an iconic club known for its crazy parties every night. World-renowned DJs play here every week. 
The club has stunning ocean views and a diverse crowd of both tourists and locals. The best and wildest parties happen here so you have to experience this at least once in your lifetime.
With all the fun that you're having, you may end up leaving at 4:00 am having had the best night of your life. 
Address: Petitenget St No.51B, Seminyak, Kuta Utara, Badung Regency, Bali 80361
More Information: Website
---
Places to Stay in Canggu
Canggu has many places to stay depending on your budget and comfort level. There are options such as hostels, guesthouses, or boutique accommodations. 
It's recommended to book accommodations ahead of time to get the best deal. 
Find accommodations in Canggu on Booking.com here
---
Important Visa Information for Bali
Before you arrive in Bali, check if you need a visa to enter Indonesia. 
If you're from 90 qualified countries, you can get a Visa on Arrival (VOA) at the airport or e-Visa on Arrival (e-VOA). 
It's easy to receive the VOA at the airport. The cost is IDR 500,000, $35 USD, or an acceptable equivalent currency. 
Apply for the e-VOA on the official website here. 
The visas are valid for 30 days. To extend another 30 days, visitors can visit the Immigration Department or extend online (if originally submitted to the official e-VOA website). 
---
How to Get to Canggu from Bali Airport
Canggu is 20 kilometers (12.4 miles) away from Ngurah Rai International Airport in Denpasar, Bali. Depending on the traffic, it can take up to an hour to get there from the airport. 
By Airport Pick Up/Driver
After a long travel, it's best to organize an airport transfer to Canggu. Hiring a driver ahead of time is a good option so you don't need to worry about what to do when you arrive in Bali. Book one here.
If you need a recommendation, Life Of Doing has a driver that they've used a few times. Click here to request more information. 
---
By Taxis
Taxis are available but they're known to hire a flat rate instead of using the meter. 
---
By Ride-Hailing
Grab, the Southeast Asia ride-hailing app similar to Uber can be used at the airport for pick-up. If you have any questions, there is a Grab Customer Service office towards the parking lot/car pick-up area. 
If you decide to use Grab or GoJek, Indonesian's ride-hailing app, you'll need to get a SIM card, eSIM, or an international phone plan to call the vehicle. 
Before departing the Bali airport, buy a SIM card here. Or, set up an Indonesian eSIM in advance here. 
---
---
How to Travel Around Canggu
By Scooter/Motorbike 
Canggu is spread out so it's best to travel around a scooter/motorbike. If you know how to drive a scooter or motorbike, then feel free to travel around the area in one. You can ask your accommodations if they have rentals. 
For those who do not know how to drive one, please use one of the options below.  
---
By Walking 
Walking is possible if staying in the heart of Canggu. It's a healthy option to travel around. 
---
By Ride-Hailing or Private Driver
If you want to sit in a car, then using a ride-hailing service or private driver would be recommended. 
For single riders, you can also request a motorbike to ride instead of a car. It'll be cheaper and faster to travel through the narrow roads. 
---
Final Thoughts
If you have the chance, Canggu is worth visiting on your next Bali trip. It's a beautiful area where you eat mouthwatering healthy foods, party all night long, or hang out and relax at a beach or beach club. You can easily enjoy filling up 3 days worth of activities in Canggu. 
Enjoy your time!
Looking for more things to do in Bali? Check out these posts: 
Like this post? Save it to your Asia Travel Board on Pinterest.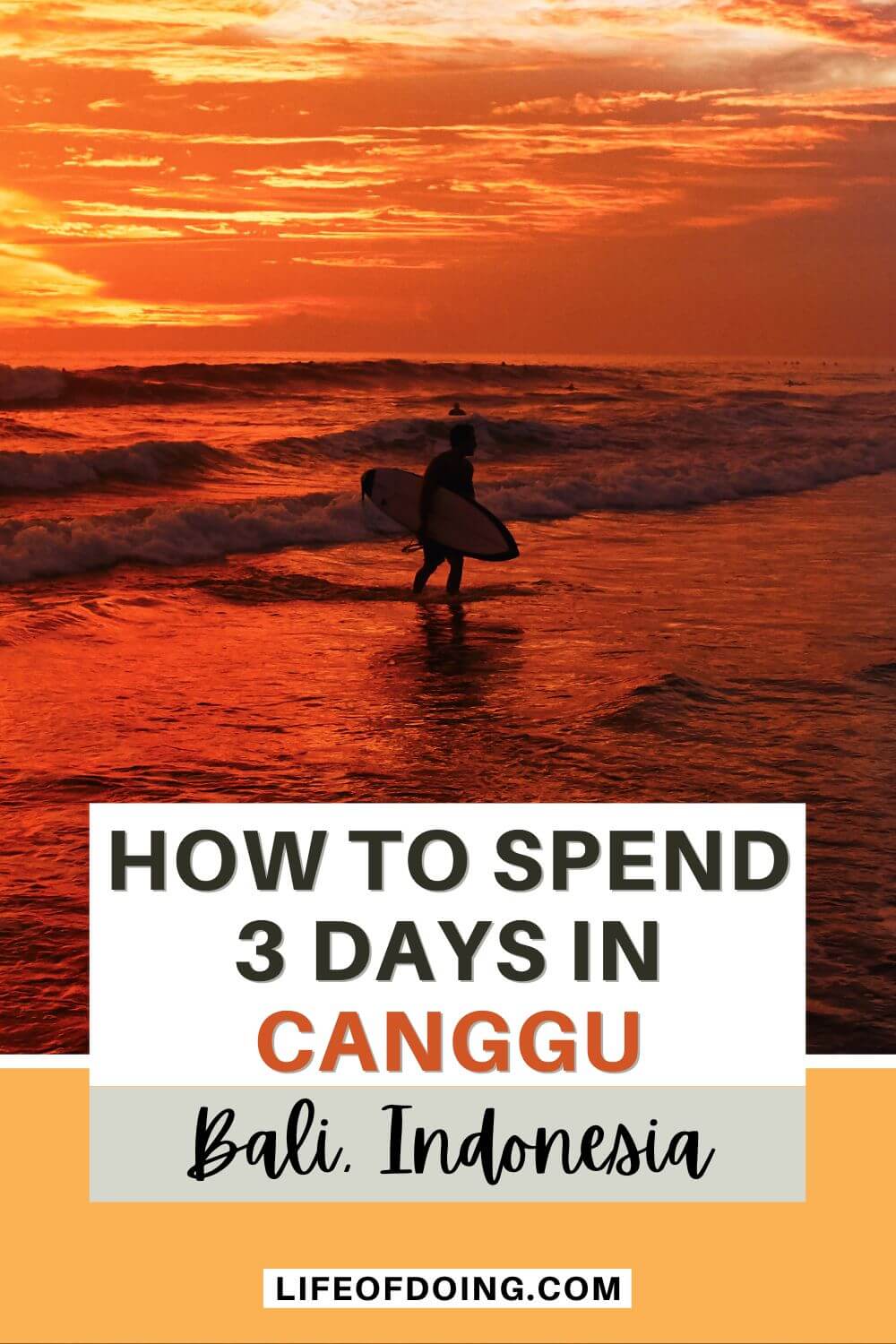 Featured photo & pin #1 photo credit: Dimanikin via Depositphotos.com