Sapa (Sa Pa in Vietnamese), located in the northern part of Vietnam and bordering China in Lao Cai Province, is one of the best places in Vietnam. 
It was previously known as a sleeper town but now many tourists visit Sapa on their North Vietnam itinerary. 
We've been to Sapa twice as we have lived in Vietnam for 6+ years and love the area. 
While it has become "touristy" with new constructions of hotels and attractions, the areas away from Sapa Town are peaceful and absolutely beautiful to explore for a few days. 
We recommend Sapa if you want to hike through rice terraces, check out waterfalls, wander through ethnic minority groups, and visit Fansipan Mountain. 
In this post, we've compiled 21 best things to do in Sapa for first-time visitors. This list will help you figure out what you want to do here. 
Not sure how to plan these activities on your visit? Check out our 3-day in Sapa itinerary for recommendations. 
*Disclaimer: This post contains affiliate links. If you click on them and make a purchase, we receive a small commission. There is no additional cost to you. Appreciate the support.
---
Map of Sapa Attractions to Visit
---
1. Go trekking for one or more days.
One of the popular things to do in Sapa is to go trekking. 
Whether you have one day or several days to go trekking, it's highly recommended to see the gorgeous mountains, get some fresh air, and wander through the endless rice terraces. 
We went once in May and another time in November so we had different trekking experiences and views of the terraced rice fields. May was the start of planting rice so it was very green with the young rice plants, while the end of November was more brown as the rice was already harvested. 
TIP: Hire a trekking guide
If you prefer to DIY and go trekking on your own, it isn't advisable. There aren't any specific trails and signage, so it's better to hire a guide. 
Your guide will know where to go and how to navigate through the trails. 
The treks are easy to moderate level. There is some hill climbing but it's more of a rolling climb versus going vertical like a Fansipan hike. 
The trek includes lunch and a walk through ethnic minority villages such as Hmong, Dao, Xa Pho, Tay, and Day. 
Plus, the guide will arrange food and overnight stays at the homestays if you're doing a multi-day trek. 
---
Read our two guides for more details:
---
How to hire a guide? Hiring a guide can be done at your accommodations. Or a woman may approach you in the Sapa city center to inquire if you need a guide. 
*Our Recommendation*
We recommend that you contact Zaazaa from Zaazaa Trekking before your arrival. She is a local guide who lives in Sapa and has been leading treks for foreigners for many years. 
We've done two different treks with her and love her enthusiasm and passion for trekking. She can customize your trek and can arrange non-trekking tours such as seeing waterfalls or visiting Bac Ha Market. 
---
2. Visit ethnic minority villages on the trek.
Vietnam has 54 ethnic minority groups. In Sapa, the main ethnic groups are Hmong, Dao, Xa Pho, Tay, and Day. 
As a part of your trekking experience, you'll have the chance to wander through one or a few local villages and see the locals doing their day-to-day activities. 
To be honest, there isn't much interaction with the locals, but you can see traditional houses, people making rice wine, and women practicing their embroidery skills.  
Here are a few of the ethnic minority villages that you could walk through: 
Cat Cat Village: This is the most popular village to visit, so it's more touristy and developed compared to other villages. It's located the closest to Sapa town and only takes 20-30 minutes to walk there, which is why it's more frequently visited by day hikers. 
The village has mostly Hmong people living here. In the area, there are watermills, traditional Hmong houses, and a waterfall flowing through the river. 
Sin Chai Village: It's a smaller, underdeveloped village next to Cat Cat Village, so you'll have a quieter and non-touristy experience. Most people walk through the village and stay in homestays here. 
Lao Chai Village & Ta Van Village: Located south of Sapa and in the Muong Hoa Valley, these two villages are near each other and have incredible landscape views of the rice terraces. These villages have a few ethnic groups such as Hmong, Dao, and Day people. 
We stayed in this village area, so check out our experience here. 
Y Linh Ho Village: This is another quieter village that has Hmong and Dao people living here. Most people wander through here on their trek and see rice terraces and traditional houses.
---
3. Awe at the beautiful rice terraces.
Sapa has some of the best rice terraces and rice fields that you'll see in Southeast Asia. The luscious green or yellow leaves are beautiful to see in person. 
The best way to see the rice terraces is along your one-day or multi-day trek through Sapa. Or, you can rent a motorbike and drive around to see the rice fields. 
If you plan to stay at a homestay, it will most likely have its own rice field so you can admire it there.  
So, when is the best time to see the rice terraces? 
The planting season is in mid-May so you'll see young rice plants in the fields. Also, the rice terraces are a gorgeous golden color at the end of August and early September for the harvest season. 
We visited in mid-May and the end of November, so we haven't seen the golden terraces. But, you can go at any time and still awe at the landscape. 
---
4. Take an indigo dyeing class.
You'll notice gorgeous indigo-colored textiles on clothing, handbags, pillowcases, bedsheet covers, and more when exploring Sapa. 
This dark blue dye is naturally occurring from the Indigofera plant which grows on Sapa's mountainside.  
The women from the Hmong ethnic minority group spend many hours dying and drying fabrics into the dark blue color. The darker the color, the more highly valued it is. You'll see artisans' hands a deep purple from the dying. 
One of the coolest things to do in Sapa is to take an indigo dyeing class where you can create your own textile using indigo. 
It's not easy to find a class on your own but some of the homestays in Sapa offer this type of workshop. 
Consider staying at Indigo Snail Homestay, which has offered this class in the past. 
Also, you can inquire with your hiking guide for suggestions on where to take this class. Who knows? Your guide may know how to do the indigo dying and will teach you personally! 
---
5. Hike Fansipan Mountain in 1 or 2 days.
Who wants to hike the highest peak in Vietnam? Fansipan Mountain is one of the most challenging hikes that we've done in Vietnam. 
The hike starts at Tram Ton Ranger Station (Núi Xẻ Ranger Station Trạm Tôn) where you need to register. 
Afterward, climb through the quiet forest area of Hoang Lien National Park and into the fog to the highest point of Indochina (Indonesia, Cambodia, and Vietnam) at 3,143 meters (10,312 feet). It's not an easy task. 
Having a guide is recommended since the hiking route is not marked. You will also need to climb some boulders so a guide will help in this situation. 
It can be completed in 1 or 2 days depending on your hiking skills and the amount of time that you have. 
We climbed Fansipan in 1 day but we recommend 2 days with 1 night of overnight camping at the halfway point due to the altitude. 
As a heads up, the Fansipan Peak is the same spot as the tourist attraction, Sun World Fansipan Legend. 
In the past, hiking Fansipan was the only way to reach the peak. Now there is a convenient, non-hiking route which we'll share below. 
---
6. Visit Sun World Fansipan Legend by cable car & funicular.
Sun World Fansipan Legend is a famous tourist attraction in Sapa. As mentioned previously, the one-day or multi-day trek was the only way to reach Fansipan. 
Now, it's easy and convenient to reach Fansipan by taking a combination of funiculars and cable cars. 
There are two ways to get to Fansipan by funicular and/or cable car. 
The first option is to take the Muong Hoa funicular from Sapa Center's Sapa Station to Fansican Cable Car Station and then take the cable car to Fansipan Legend. 
The second option is to take a taxi or drive from Sapa Center to Fansipan Cable Car Station and then take the cable car from there.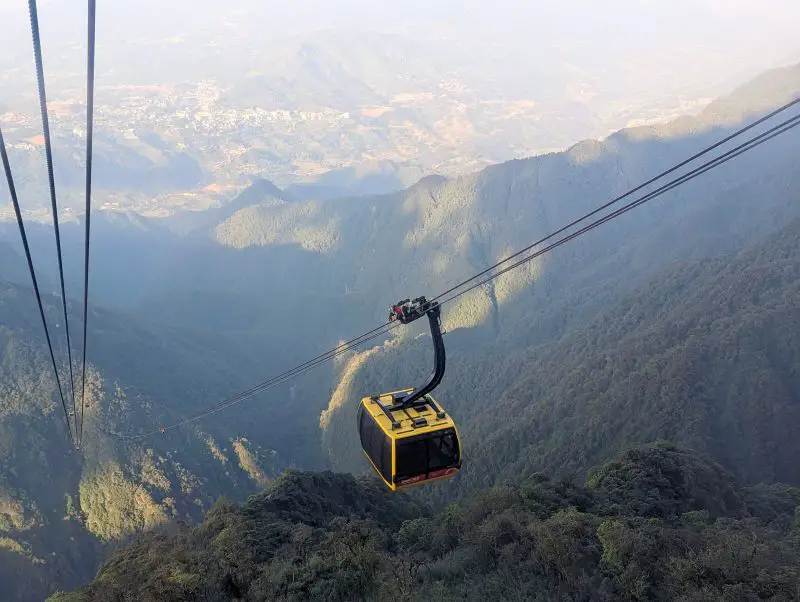 Once you reach Fansipan, you'll do some stair climbing to pass by pagodas, temples, the Giant Buddha, and the Guanyin Statue. 
Reaching Fansipan Peak is a milestone and then you can take tons of photos with the "Fansipan 3143 m" sign. 
Note: Set your expectations low if you expect to have a clear view of the mountainside from Fansipan Peak. The chances of Fansipan being overcast and foggy are very high. We went two times – once around lunchtime and another time after 3:30pm and haven't seen the mountains except for fog. 
Save money with your Fansipan Legend cable car tickets here. 
7. Sapa Plaza
A major landmark in Sapa is the Sapa Plaza. It's a gorgeous yellow French-style building next to the central plaza in the center of Sapa Town.  
It's best to visit at nighttime when the building lights up at night. You'll see many people take photos in front of the building. 
Inside Sapa Plaza, there are a few restaurants, souvenir shops, stores selling puffy jackets, and a ticket office (Sapa Station) to buy funicular and cable car rides for Sun World Fansipan Legend. 
If you need a taxi, you can easily grab one here. Many taxis park on the side of the street or circle the plaza. 
Address: 8RMR+W49, TT. Sa Pa, Sa Pa, Lào Cai
---
8. Sapa Lake
If you take a sleeper bus to Sapa from Hanoi, the bus stations are about a 20-minute walk or 5-minute drive from the Sapa Station/central area of town. 
On your way to the city center, you'll pass by the Sapa Lake (Hồ Sa Pa). 
The lake is small and looks average, yet it's a nice place to walk around the lake and get some fresh air. 
As a heads up, the sidewalk around the lake area isn't in the best condition, so be careful for any uneven bricks or holes. Some parts are not walkable so you'll need to walk on the street. 
Around the lake, there are a few places to take photos. Or, you can stop by a restaurant or cafe for food and drinks. 
Address: Between Xuân Viên & Ngũ Chỉ Sơn Streets
---
9. Sapa Market
For those who want to go shopping, there is a local market, Sapa Market (Chợ Sapa) near Sapa Lake. 
There is a tented area where vendors sell souvenirs, backpacks, and other gifts. 
When walking further down, there is a traditional building that caters to locals. There are bulk goods for sale such as slippers, tea, coffee, dried fruits, jewelry, toys, and more. The market has a section to buy fresh produce. 
If you're hungry, there are plenty of noodle shops open. We stopped by here to do a to-go order of noodle soup before catching our bus to Hanoi airport. 
The Sapa Market is 1.4 kilometers (.87 miles) from Sapa Center so it's doable to walk there. Or, you can take a taxi.  
If you don't have time to visit this place, you can skip it as there are similar stuff sold in the main town area. 
Note: The Tinh Night Market (Chợ Tình Sapa) next to the main Sapa plaza is closed. During my last visit in May 2023, the area was fenced off, so we shall see what appears in the future. 
Address: Lương Định Của, TT. Sa Pa, Sa Pa, Lào Cai, Vietnam
---
10. Notre Dame Cathedral
Another place to visit in Sapa is the Notre Dame Cathedral (Nhà Thờ Đá Sapa). 
Built in 1895 by the French, this Catholic church is located across from the Sapa Station and around the main plaza area. 
You can't miss this building with the white church with the Roman Gothic architecture. 
You can visit the church to explore or to attend mass. Mass is held at 7:00pm from Mondays to Fridays, and 9:00am and 5:00pm on Sundays. Check out the website for more information (website is in Vietnamese).
Note: There are hawkers, including young children, around the Notre Dame Cathedral. They will try to sell you souvenirs and bracelets. Please do not buy from or take photos of them as they're most likely not attending school.
Address: Between Phố Hàm Rồng & Phạm Xuân Huân Streets
---
11. Eat a warm chestnut cake.
Roasted chestnuts and chestnut cakes (bánh hạt dẻ) are popular food souvenirs in Sapa. You'll see many vendors selling the chestnut cakes on a griddle in Sapa Town. 
The chestnut cakes are delicious and affordable. Each one costs 10,000 VND ($.40). 
The outer layer is a flaky pastry dough and the inside has mashed chestnut, butter, and mung beans. 
We love it as it's not too sweet so it can be eaten for breakfast or as a snack. As a heads up, they are oily as they've been reheated on a griddle, so you'll want to have tissue on hand. 
Once you eat one, you may be tempted to eat another one or buy a box of chestnut cakes to enjoy at home. 
While chestnuts are not native to Sapa and Vietnam, the ingredients come from South China and then cakes are made in Sapa. 
---
12. Try the local foods.
What are the best foods to try in Sapa? During our research, we found out that horse meat, salmon or sturgeon hot pot, dried buffalo meat, and chestnut cakes are unique foods to try. 
Salmon is farmed in the Sapa area, so we had to try it. We tried it on a sizzling platter instead of a hot pot, and it was delicious. The salmon is leaner – more like trout than Pacific salmon. 
Sturgeon is a heartier fish compared to salmon. We also tried it on a sizzling platter. 
If you're looking for horse meat, you'll need to ask where to find it. We saw dried buffalo meat for sale as a food souvenir but didn't buy any. 
Need ideas on where to eat in Sapa? Check out our detailed Sapa restaurant guide, which includes vegetarian/vegan restaurants. 
---
13. Get a massage.
Sapa town has many places to get massages. You may consider getting a back or feet massage after your day hike or multi-day trek. 
Many of the massage places have prices listed in front of the store, so enjoy various massage treatments. 
Your hotel may also have an on-site spa and provide massage services. 
---
14. Silver Waterfall
Silver Waterfall (Thác Bạc) is one of the easiest waterfalls to visit when you're in Sapa. It's located along the main road, QL4D, and is a 20-minute car ride outside of Sapa town. 
Silver Waterfall is 200 meters high (656 feet) so you can see a part of the cascades from the main road. 
But if you go inside, you can enjoy a closer view of the photogenic waterfall. 
Stair climbing along a well-maintained path and a short walk over a bridge are required to see the top portion of the waterfall. 
If you have mobility issues, you can also see the waterfall from the bottom of the cascades. 
Since it's only the waterfall here, you can finish seeing this place in 10 to 15 minutes. Swimming is not allowed here. 
Address: 9Q6H+Q35, San Sả Hồ, Sa Pa, Lào Cai, Vietnam
---
---
15. Love Waterfall
Doesn't the name of this attraction, Love Waterfall, pique your interest? 
Love Waterfall and Golden Stream (Suối Vàng Thác Tình Yêu) is a fantastic place to visit outside of Sapa town. 
The waterfall is located in the Hoang Lien National Park and requires a short 15 to 20-minute walk next to a stream and through a forest area to see it.
Don't worry. The walk is easy but does include an incline up a small hill, but it's doable for everyone including children. 
Love Waterfall has gentle cascades at 100 meters (328 feet) high and has a heart-shaped rock in the pool area so you can pose with it. 
At the bottom of the waterfall, there is a large pool of water. The area isn't fenced off, so you could swim in it. However, the water will be cold. 
Address: 8QWC+RV8, Sơn Bình, Tam Đường, Lai Châu
---
16. Sapa Heaven Gate at O Quy Ho Pass
Sapa is O Quy Ho's Heaven Gate (Khu Du Lịch Cổng Trời Ô Quy Hồ) is located on the highest peak of O Quy Ho mountainous pass. 
This tourist attraction was not on our original itinerary, but it was a nice surprise. Our taxi driver dropped us off here. 
At 2035 meters (6,675 feet), you get gorgeous views of the mountains and the windy roads. 
Other highlights of this place include fun photo opportunities with hearts and love themes, the triangular-shaped landmark at 2035 meters, a replica of Bali's Lempuyang Temple gate, and a spiritual temple. 
TIP: Hold on to any hats as the peak is extremely windy. 
This place is 30 minutes away from Sapa Plaza by car. 
Address: 9Q38+66 Tam Đường District, Lai Chau
---
17. Cloud Dragon Glass Bridge Tourist Area
Cloud Dragon Glass Bridge Tourist Area (Khu Du Lịch Cầu Kính Rồng Mây) is one of the newest attractions in Sapa's outer area. 
You'll get the chance to walk along a glass bridge at 2,200 meters above sea level and see the O Quy Ho Pass. 
It's a place to visit if you want to test your fear of heights. The glass bridge is clear and you'll see the forest area under your feet. 
It's recommended to visit on a clear day for the best views. Otherwise, it'll be foggy and not worth the high ticket price (500,000 VND/$20.40 USD for adults and 300,000 VND/$12.25 for children). 
Our taxi driver wanted to take us to this incredible attraction, but we didn't have time. We returned to Sapa town to catch our bus to the airport. 
Click here for a tour of Cloud Dragon Glass Bridge which includes a visit to Silver Waterfall 
It'll take 40 minutes to get here by car from Sapa town. 
Address: QL4D, Sơn Bình, Tam Đường, Lào Cai
---
18. Moana Sapa
Opened in February 2021, this attraction focuses on photo opportunities with popular landmarks around the world. 
You can take a photo with replicas of Bali's Pura Lempuyang (Gates of Heaven), a Moana statue with hands in front (a twist on Disney's Moana character), a large golden hand, with a swing overlooking the mountains, and more. 
The ticket comes with a water bottle. 
This place is only a 7-minute car ride or a 15-minute walk from Sapa Plaza. If you're staying at a hotel along Mường Hoa Street, then you can easily walk to this attraction. 
We haven't had a chance to visit but will check it out on our next visit. 
For more information, check out the Facebook page. 
Address: Số 68 Violet, Phường Cầu Mây, Sa Pa, Lào Cai 330000
---
19. Ansapa Park (Ansapa Village)
Similarly to Moana Sapa, Ansapa Park is another attraction to visit to take photos of famous landmarks and statues and admire the rice terraces of Muong Hoa Valley. 
We found out about this attraction after reading this article about unattractive statue designs such as the Statue of Liberty and Elsa from Disney's Frozen. 
Since there are very limited copyright laws in Vietnam, everyone has the liberty to create their version of monuments and iconic characters. 
While we haven't been to this attraction yet we know that photo opportunities with the Golden Hands Bridge from Ba Na Hills in Danang (in central Vietnam), the Eiffel Tower, and more are popular. 
The ticket price includes a drink, so you can relax and enjoy the scenery. 
This place is located 10 minutes from the Sapa Plaza. 
Address: 289 Nguyễn Chí Thanh TX, Sa Pa, Lào Cai
---
20. Bac Ha Market & Ban Pho Village
As a popular day trip from Sapa, Bac Ha Market (Chợ Văn hóa Bắc Hà) is the largest traditional market held on Sundays in Bac Ha, Lao Cai Province. 
Thousands of tourists and local ethnic minority people visit Bac Ha Market to see produce, household goods, souvenirs, and more. It's quite a sight to see ethnic minority people wear their traditional outfits. 
There are also animals for sale such as ducks, dogs, cats, and pigs. 
While Sundays have huge crowds, you can also visit on Saturdays to see the sale of buffaloes and horses. Originally these animals were sold on Sundays, but then the selling area was too crowded. 
Note: You can skip the animal section if you're sensitive to animals getting sold. 
It's not required to have a tour guide but it's helpful to have so you won't get lost in the market. 
As a heads up, Bac Ha Market is 2.5 hours one-way by car from the Sapa Plaza area. You'll need to factor in the transportation time for the round-trip journey. 
Many tours also include a side trip to Ban Pho Village (Bản Phố). It's a small traditional village where each family makes corn wine. 
Everyone takes a short 10-minute walk through the village and may stop by a traditional house to see corn wine in production.
Address: G7MV+X48, TT. Bắc Hà, Bắc Hà, Lào Cai, Vietnam
---
21. Day Trip to Vietnam – China Border 
Want to see what the Vietnam-China international border looks like? There is a border gate at Lao Cai, Vietnam, and takes you to Hekou, China. 
One of the landmarks in the area is a stone marble monument that says, "Vietnam 102 (2), 2001." Many people take photos of this monument and have the border crossing and tall buildings from China's side. 
Across the river, China has one 102 (1) milestone.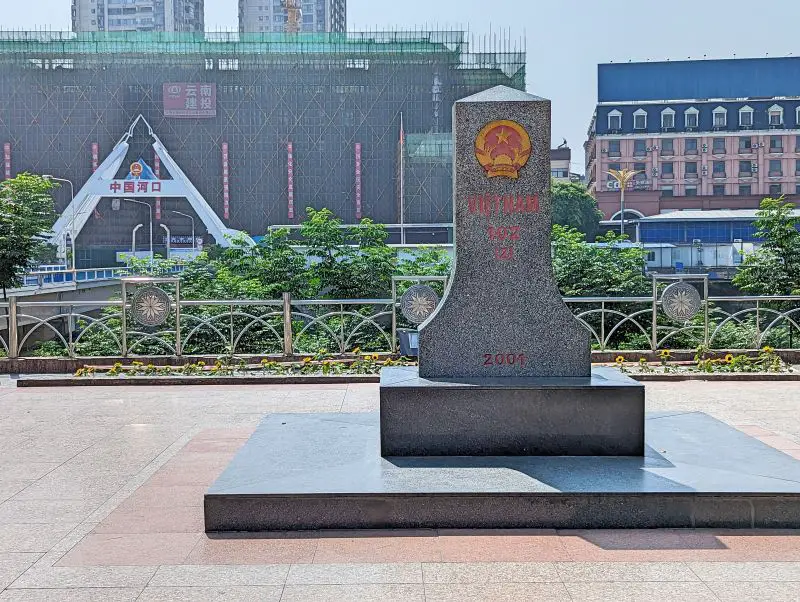 Another place of interest is the Đền Mẫu, a small pagoda. It's located across from the stone marble monument. There are small statues of deities and gods which you could pray to. 
It's not necessary to make a special trip to see this border crossing as a day trip from Sapa, but many Bac Ha Market tours stop by this area on the way back to Sapa. This place is located 1 hour away from Sapa Plaza by car. 
Note: If you decide to cross to China here, ensure that you have the proper visa documentation. 
Address: GX48+V5R, Lào Cai
---
Final Thoughts
How many of these attractions do you want to experience for your first visit to Sapa? Feel free to pick a few of these suitable activities for your itinerary. 
We hope you feel more confident with organizing what to do on your next trip to Sapa. 
If you have any questions about visiting Sapa, please feel free to ask a question in the comment section below. 
Like this post? Save it to your Vietnam Pinterest board.