If you're based in California and looking for a weekend trip to do, consider visiting San Diego! Whether you have 2-3 days in San Diego for a weekend getaway, it's a decent amount of time to explore this city. 
San Diego is known for warm and humid weather all year round, pretty beaches, ideal surfing conditions, delicious food, and tons of outdoor activities to explore. 
We had the chance to visit San Diego as our friends moved there from the Seattle area. It was a short weekend escape as we made the road trip from the Bay Area. We would love to return to spend more time here. 
Without further ado, continue reading on how to spend a weekend in San Diego. We know that you'll have an awesome time here!
Click on certain areas of this San Diego weekend travel guide to jump to certain areas:
*Disclaimer: This post contains affiliate links. If you click on them and make a purchase, we receive a small commission. There is no additional cost to you. Appreciate the support.
---
How to Get to San Diego
Since we're coming from the Bay Area, San Diego is quite a distance to travel. Here are some transportation options to take to get to San Diego for your weekend getaway. 
By Car – If you're planning to do multiple stops along the way, then driving a car is the way to go. It'll take 7-8 hours of driving one-way from San Francisco or San Jose, and without any breaks. Since that is a long time on the road, adding a stop halfway to rest or spend the night is recommended.  
Here are places to consider as stopovers:
Big Sur – Take the drive along Highway One to go hiking and see gorgeous ocean views. Check out Big Sur road trip stops here.
San Simeon – It's a small town to see elephant seals, stop by beaches, and take a tour of Hearst Castle. Click here how to spend the day in San Simeon.
Solvang – Visit this adorable Dutch town and spend the day here. 
San Luis Obispo – Known as a college town, it's a fun city to explore the Downtown area, go hiking, and visit nearby beaches. Consider staying in SLO for the weekend. 
Pismo Beach – If you need a beach stop along your trip, visit Pismo Beach for the day. Relax for a few hours in the main Pismo Beach area, see the monarch butterflies, and stop by the sand dunes in Oceano. 
Santa Barbara or Los Angeles – This would be a good halfway point before heading down to San Diego. 
By Plane – From San Francisco (airport code: SFO) to San Jose (SJC) to San Diego (SAN), it's a 1.5-hour plane ride one-way. After your plane ride, you'll need to rent a car or utilize a ride-hailing option to travel around the city.  
By Train – Amtrak has two stations in San Diego – Old Town Transportation Center (OLT) or Santa Fe Depot (SAN). From San Francisco to San Diego, it'll take 12 to 15 hours one-way depending on the time of departure. Since there isn't a direct line, there is a transfer partway through the ride. The cost of the ride starts at $70 (coach seating) and $90 (business seating). 
---
How to Travel Around San Diego
By Car – Since San Diego is a large city, it's best to have a car. Rental cars are available if landing at the San Diego International Airport. With the car, you have more control over your schedule. 
By Bus or Trolley – San Diego's Metropolitan Transit System has a network of buses and trolleys that travels throughout the city. Use this trip planner to figure out where to go. 
From the airport to Old Town, there is a free airport shuttle called San Diego Flyer. Check out more here. 
By Ride-Hailing – Uber and Lyft are available in San Diego. 
If you're arriving from the San Diego International Airport, these two ride-hailing companies are available. Click here to read more on Uber pick-up or Lyft pick-up. 
---
Things to Do on a Weekend in San Diego
San Diego is a large city with different areas so figuring out what to do will depend on your interest. 
We took a low-key and relaxed approach when exploring the city with our friends. Therefore, there isn't a jam-packed itinerary like what we usually share.
1. Spend the day in La Jolla.
La Jolla is a popular place to hang out for some gorgeous views of the coastline, beaches, and swimming. There are also plenty of opportunities to wander around the streets to check out the art galleries and souvenir shopping. 
Walking around the La Jolla Coast Boulevard/La Jolla Cove area is a great starting point to see the picturesque ocean views. The walking path is flat and has stopping points for Shell Beach, Boomer Beach, and La Jolla Cove. The beaches are a popular weekend spot so it will be crowded. 
La Jolla Cove is also a good spot to practice scuba diving. We saw a few people with scuba diving gear. There are a few seals and sea lions who hang out in this area. They'll swim around and relax on the rocks. 
**Do not approach the wildlife. We saw a few people getting close to a seal who was on a rock and it was very vocal about people getting too close. 
Other fun experiences include learning how to surf, go kayaking, and visit a cave. Check out the Sunny Jim Caves (the starting point is at the Cave Store.) We, unfortunately, didn't have time to visit but this will be on the to-do list for the next visit. 
There are tons of restaurants to eat at in this area. We tried Bobboi Natural Gelato for delicious gelato. 
We also tried a small pop-up shop called Bunny Chow for South African food. The menu was simple with lamb, beef, chicken, vegetarian, vegan curry, and optional in a bread bowl. The curries had lots of flavors and the owner was friendly. 
**Note: It looks like Bunny Chow has moved to a permanent location at 7128 Miramar Rd #1, San Diego.
---
2. Wander through in Balboa Park.
Balboa Park is easily one of the best places to visit in San Diego on your weekend trip. Established in 1835, Balboa Park has 17 museums, the famous San Diego Zoo, gardens, walking paths, and beautiful architecture to explore. The park is huge so you can spend half a day to a full day wandering around. 
One of the photogenic spots to visit is the Lily Pond. It's located across from the Botanical Building (which was closed on our visit). There are a few koi fish swimming but most people just hang out around here. Also, check out the incredible Casa del Prado buildings for the intricate architectural details.
Depending on your visit, there may be street vendors selling arts and crafts or snacks along the Plaza de Panama Fountain area. The fresh churros stuffed with look delicious. 
For more fun in Balboa Park, take a walking tour or go on a scavenger hunt. 
The San Diego Zoo borders Balboa Park and does a lot of conservation work for wildlife. While you're here, check out the botanical gardens, take a guided bus tour, and see the majestic wildlife. It's a fantastic place to spend the day in San Diego, especially for those with children and families. 
You can also visit the sister site, Safari Park, in Escondido for more fun. 
Click here for 1-day discounted tickets to San Diego Zoo. 
Click here for 2-day discounted tickets to San Diego Zoo and Safari Park. 
---
3. Go hiking. 
We love hiking and San Diego and the neighboring cities have a few hiking trails to conquer. Mission Trails Regional Park in San Diego has over 65 miles of trails to explore. For those who love conquering peaks, check out 3-miles Cowles Mountain Trail to reach the peak at 1,592 feet high. 
The Potato Chip Rock on Mount Woodson's peak is a popular hike in Ramona. It's an Instagram-worthy spot for the thin chip-shaped rock ledge. 
As a heads up, you'll need to start hiking early in the morning to avoid the heat and humidity. Don't forget to stay hydrated and bring lots of water with you. 
---
4. Eat Mexican food.  
Food is an important part of a trip. Whenever we go to San Diego, we love to eat Mexican food. Eating tacos and burritos is high on the list. 
We're used to eating Mission-style burritos in the Bay Area and we miss the California style with no rice and includes french fries. 
We love eating at Lolita's Mexican Food. There have 7 locations in the San Diego area and we stopped by the Kearny Mesa location. There are a variety of options from burritos, tacos, chimichangas, tortas, quesadillas, and much more. We ordered a large Tsunami fries (carne asada with grilled shrimp, guacamole, sour cream, and cheese) which is enough for sharing. We also had a shrimp and fish taco (these were huge). 
Another favorite of ours is Roberto's Taco Shop for the tacos. The restaurant has expanded to over 60 locations in the San Diego area and Nevada. Check out the menu here. 
---
5. Explore Old Town. 
San Diego's Old Town is a historical area with museums, buildings, shopping, and restaurants. The area is home to the Old Town Historical Area. Learn about how the city of San Diego started and see what life was like in the early days at the historical buildings. 
To take a tour of this area, consider taking the Hop On, Hop Off trolley. It passes by 100 landmarks in San Diego and Coronado Island and you can explore at your own pace. Click here to buy tickets. 
---
6. Visit the Maritime Museum. 
Want to learn more about historical sea vessels? Consider visiting the Maritime Museum. It's considered one of the best three Maritime Museums to visit around the world. 
You get the chance to walk on restored ships and submarines (at the time of publication, the submarines are not accessible due to the pandemic). It's a fun place for children to learn and explore what life was like on a ship.
Buy tickets to the Maritime Museum here. 
---
7. Visit Julian as a day trip. 
Julian is a former mining town and a fun day trip from San Diego. It's only 1 hour away from San Diego. 
The historic main town is small, yet walkable. There are plenty of souvenir shops and restaurants here. If you visit the Visitor Center, they'll have information on a DIY walking tour of the town to visit historical sites.
The best part about visiting Julian is eating a slice of warm apple pie and drinking apple cider. Try the pies from Julian Pie Company or Mom's Pie House. You can also bring back a whole pie with you to enjoy at home. 
If you have the chance, consider taking a mining tour. We went to Eagle Mining Company and enjoyed learning about the history, panned for gold, and went inside an actual mine.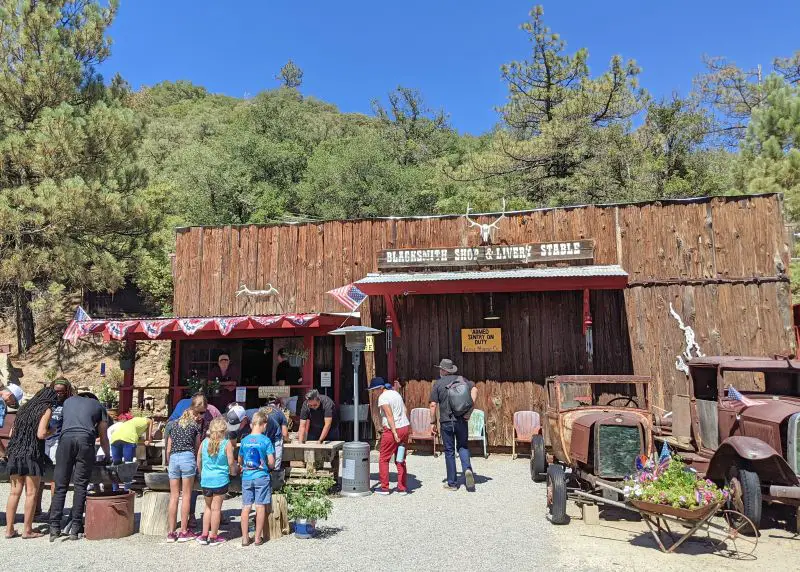 ---
Where to Stay in San Diego
San Diego has many places to stay depending on your preference and budget. As a heads up, 
Click here to see the availability and reviews of accommodations in San Diego. 
We stayed over at our friends' house, but here are some recommended places to stay based on the reviews. 
---
Where to Eat in San Diego
We mentioned some places above for Mexican food. Here are some other places that we tried and would recommend if you're in the area. 
This place is located in an unassuming spot along Clairement Mesa Boulevard. There is indoor and outdoor seating.
---
This place is a chain and has locations in Southern California, Nevada, Florida, Idaho, and Texas. 
---
Our friends introduced us to Somi Somi and we've been hooked. This place has expanded to other locations across California, Washington, Texas, and Nevada. We even found one at Westfield Mall in Santa Clara which is close to our house!
---
Final Thoughts
Who wants to go to San Diego now? You'll love the opportunity to explore the best of San Diego on a weekend or when you have 2-3 days. Enjoy your time here. 
If you have any questions, please ask one in the comment section below.
Featured photo credit: sepavone via Depositphotos.com