Have you been to Julian in San Diego County, Southern California? Julian is worth the visit as it's a former gold mining town and is a fun, short getaway place to visit as a day trip from San Diego. 
The history goes that the original settlers of Julian were three brothers, Drury, Frank, and J.O. Bailey, and the cousins, Mike and Webb Julian. They were on the way from San Bernadino to Arizona and loved the beauty of the area. According to Drury Bailey, the town was named after Mike Julian, a former Confederate soldier and was the more handsome one of the group. quickly boomed after finding gold in 1869-1870. Eventually, the gold rush stopped in this area after 1906 and people continued to live in the town.  
Currently, this California historical landmark is a fantastic place to spend a few hours and explore the old town. It's a bit touristy, yet this place is great for those who enjoy wandering through historical buildings and eating apple pies. You heard that right – apple pies! There are a few shops that sell this sweet and decadent dessert. 
After returning to California from Vietnam for a few months, we took a road trip to San Diego over the Labor Day weekend to visit friends. Justin's sister used to live in San Diego as she went to university there and recommended this town as a good place to explore. After hearing about the yummy pies, we had to do this Julian day trip and see what the hype was about for ourselves. 
Since we've piqued your interest, continue reading more about how to spend your day in Julian, California, and what to do here. 
*Disclaimer: This post contains affiliate links. If you click on them and make a purchase, we receive a small commission. There is no additional cost to you. Appreciate the support.
---
How to Get to Julian from San Diego
San Diego is the closest major city to Julian and it takes over 1 hour to drive there. You can easily add this spot to any San Diego itinerary or SoCal road trip. 
From Downtown San Diego to Julian, it'll take 1 hour 13 minutes to travel 62 miles by car. There are a few ways to get there:
From I-5 South to CA-94 East and I-8 East to CA-79 North. Click here to see the directions in Google Maps.
From I-5 South to CA-163 North to CA-67 North to CA-78 East. Click here to see in Google Maps.
From I-5 South to CA-94 East to CA-67 North to CA-78 East. Click here to see the directions in Google Maps.
**Heads up – The roads are windy so you may need to take motion sickness medication if you're sensitive to curvy roads. 
---
How Long Do You Need to Visit Julian?
This is a very small town as the main area is about four blocks long. You would need a few hours or stay here for up to half a day if you take your time to dine and browse through the shops. Most of the shops are along Main Street. 
A full day in Julian is possible if you decide to add a hike or two to the itinerary. We'll share more hiking opportunities below. 
---
Top Things to Do in Julian for a Day Trip
1. Eat apple pie. 
Julian's apple season is from August to December. Since there are lots of apple orchards in the area so it's recommended to stop by two popular pie shops – Julian Pie Company or Mom's Pie House – to try a slice of apple pie. There are other flavors if you don't like apple pie, such as strawberry rhubarb, pecan, blueberry, cherry, and more (all based on availability).
We tried the Dutch apple pie from Julian Pie Company as this place was recommended by a resident. The pie was oh so delicious and not too sweet. The crunch from the crust crumbles and the burst of cinnamon and other spices in the pie slice was heavenly. Top the pie with whipped cream and/or ice cream for a more decadent experience. 
Expect to pay $4.75 for a slice of pie and add $2.25 for two scoops of vanilla ice cream and another $2.25 for whipped cream. 
At the Julian Pie Company, you can pick one up in the refrigerated section and bake it at home. 
Or, you can pick up a baked whole pie at both Julian Pie Company and Mom's Pie House to take home. 
As a heads up, the shops in Julian are busy and packed with visitors waiting in line and/or dining inside. Both of these places have locations outside of Julian which will have fewer people. 
Locations: 
Julian Pie Company:
2225 Main Street, Julian, CA 92036
21976 Highway 79, Santa Ysabel, CA 92070
Mom's Pie House: 
2119 Main Street Julian California 92036
4510 Highway 78 Julian California 92036
---
2. Drink apple cider. 
If you prefer to drink apple juice, try the apple cider here. There is hard cider available for those who need some alcohol. 
Along the way to Julian, there are a few souvenir and gift shops selling apple cider so you can bring it hope. You can also buy apple cider in a large bottle at Julian Pie Company or at several of the smaller shops around Main Street. 
---
3. Go on a mining tour. 
One of the coolest experiences in Julian to go on is a mining tour. It's an opportunity to get some inside scoop on how life was like during the mining era and get to go inside an underground mining cave.
We went on a tour at Eagle Mining Company and it was a highlight of our day trip here. The 1-hour tour covered three areas:
1) History of the town and the mining boom. 
2) Tour of an actual underground mining cave.
3) Panning for gold. 
The tour is children-friendly as we had a handful of children attend. Plus, the tour guides engage with the children to get them excited about gold. Don't worry, there are plenty of fun facts for the adults too.   
If it's a hot day in Julian, you'll appreciate going through the mining cave as it's about 20 degrees cooler than outside. There is some stair climbing up to an upper level of the cave, so it's just a heads up for those who have knee or leg problems. 
We loved the part about panning for gold. It's not easy to find gold as it requires some patience. You grab a rubber bowl, dig some dirt and sand, and swirl the water into the bowl to slowly remove the sand and sediments from the bowl. You'll eventually see flecks of gold! 
Do you get to keep the gold? Unfortunately, not since it's an educational activity. But, you can buy flecks of gold in the souvenir shop for $10. 
Address: 2320 C St, Julian, CA 92036
Admission: $15 Adults, $8 Children Ages 5-11, and $1 Children Under 4 years. Cash preferred, otherwise, there is a $1 fee for using credit cards. Reservations are not needed in advance. 
---
4. Take a self-walking tour of Julian. 
Want to explore Julian and the historical buildings at your own pace? Check out this DIY self-walking tour courtesy of the Julian town. Download your free copy here. 
You'll start at the Julian Town Hall and end up at the Pioneer Cemetery. Julian Town Hall is also a Visitor Center so you can walk inside to ask questions about the area. 
There are 27 other spots to visit and they're highlighted on the second page of the download with the map of the area. Luckily, the majority are located in the main town area and within walking distance. There are two spots (#25 and #26 on the map) that will require a short drive up the road.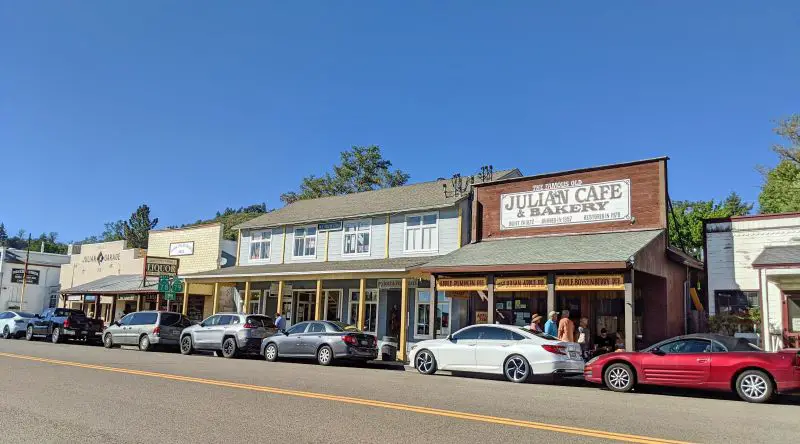 ---
5. Take a Wolf Tour at a Conservation Facility.
We walked into California's Wolf Center Nature Store thinking that it was only a souvenir shop. Yet, the volunteer mentioned that there are guided wolf tours available to see endangered wolves at a nearby conservation facility. 
There are two tours available – Wolf Conservation and Behavioral Enrichment. They cost between $30-$45 per person and are available from Fridays to Mondays. Book a tour here.
We didn't have a chance to sign up for a tour but would be interested in seeing them on a return trip. 
The souvenir shop has adorable gifts to purchase from children's clothes to books to stuffed animals. All purchases go directly to the nonprofit organization and the cause. They also show a 15 minute documentary on wolves. 
Address: 2775 B St, Julian, CA 92036
---
6. Go hiking in Julian.
There are a few hiking trails to have a full-day trip in Julian. We didn't have a chance to go on a hike yet this will be on the to-do list when we return. Check out the following hiking spots. 
**As a reminder, please remember to wear the appropriate clothing and pack enough water and snacks for your journey.
---
7. Stop by Julian for the special events. 
Depending on your visit, you can schedule a trip around a few memorable events in the area: 
Julian Gold Rush Days is a 2-day weekend event that takes place in April and has exciting activities for the family. You can pan for gold, make candles using traditional methods, practice ax throwing, see Civil Wars re-enactments, and more. The cost is $5 for adults (over 16 years old).
Julian Grape Stomping Festa takes place in September and is catered to the adults as it's an opportunity to stomp grapes using your bare feet. In 2021, the event took place at the Menghini Winery. Admission cost is $20 which includes a wine glass, entertainment, and grape stomping. 
---
Where to Stay in Julian
Since Julian is a short drive from San Diego and the surrounding areas, many people do not stay overnight here. We can imagine the town being super quiet after 6:00pm. 
If you plan to stay overnight in Julian, there are a few places to stay based on the high reviews. 
Click here to check the current availability of all of the places to stay in Julian. 
---
Final Thoughts
Who wants to visit Julian now? We hope you have a chance to spend a few hours away from San Diego to explore a new place and see what a former mining town looks like. 
If you're continuing your journey in Southern California, check out our other posts below: