We need to get a t-shirt that says, "Hiked Mount Whitney in One Day and Survived." Hiking Mount Whitney was on our bucket list, especially as it is the highest peak in the contiguous 48 U.S. states at 14,505 feet and over 7,100 feet of elevation gain. It was an ambitious challenge to hike the 22 miles round-trip on the out-and-back trail in one day, and we did it!
The Mount Whitney hike itself wasn't easy in one day. In fact, it was purely miserable for us. Although the weather was absolutely beautiful with clear blue skies, the altitude, long distance, and fatigue took a toll on us. Our feet also hurt. We originally estimated 12-15 hours to complete, however, it took us almost 21 hours (a very long day hike)! Yes, it was snail-paced slow and a really long day. We didn't train enough at altitude to prepare for Mount Whitney. In the end, it was well worth the experience as the hike tested our mental and physical strengths. We're glad that the hike is over!
We'll share more of our experiences below.
*Disclosure: Links in this post are affiliate links. If you click on them and make a purchase, we receive a small commission. There is no extra cost to you. Appreciate the support.
---
Mount Whitney Lottery and Permits
All hikers must participate in a lottery in order to get a permit for Mount Whitney. More information about the lottery process is here. We chose dates in the Fall season as there would be fewer people on the trail and cooler weather. For some hikers, this time may be too cold.
Permits must be picked up at the Visitor Center in Lone Pine (off of US-395 and CA-136) 1-2 days prior to the hiking date. If the group size is confirmed prior to arrival, you can pick up the permit the day of the scheduled hike until the Visitor Center closes at 5pm. Since our hiking day was on Sunday, we spent 6.5 hours to drive up from San Jose Bay Area to the Visitor Center in Lone Pine on Saturday.
At the Visitor Center, hikers receive a tag for their daypacks which has the hiking date and must be visible along the trail. In addition, the leader of the group holds onto the official permit (paper copy). No one checked the permit during our time on Whitney, but you'll need to have it just in case.
Mount Whitney is one of the cleanest and most respected areas. Since Mount Whitney is "pack in and pack out / leave no trace behind" where you carry all garbage with you in and out of the park, the park rangers give everyone a WAG (Waste Alleviation and Gelling) bag at the Visitor Center to hold poop and other waste. These can be disposed at Whitney Portal once the hike is done. We saw no more than 5 pieces of trash on the trail which was amazing! As with doing your business, there aren't a lot of hidden places except in the campground area where you can go behind a tree. If you need to urinate, you can go anywhere off the trail and just need to be 100 feet away from a water source and campground.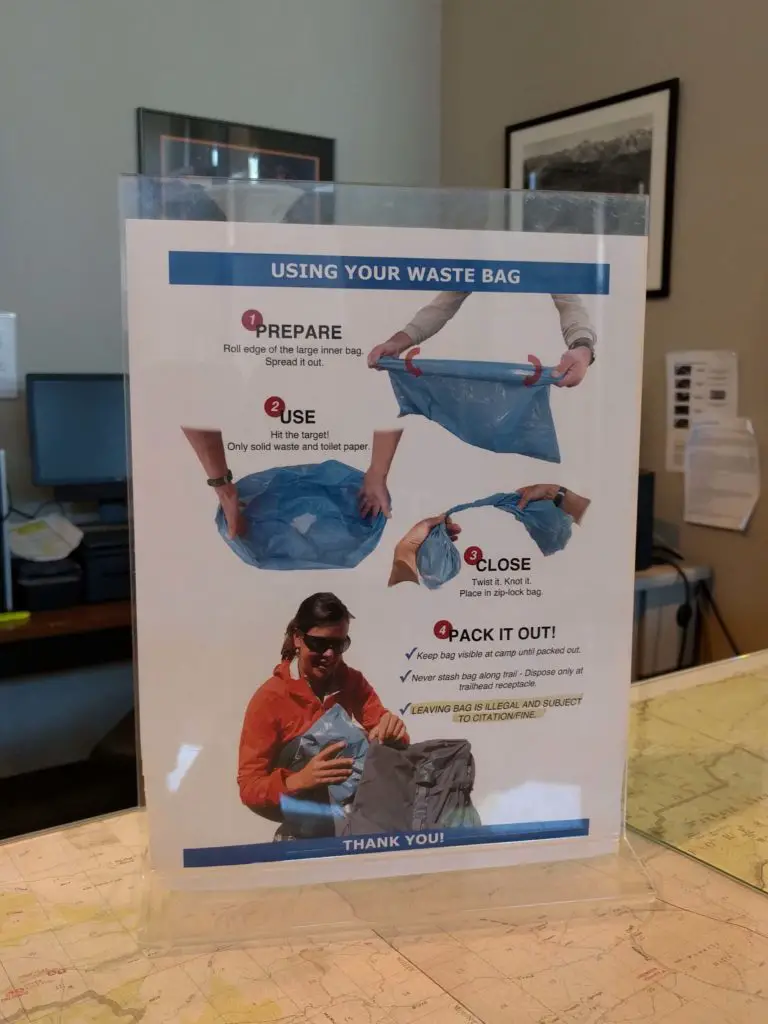 ---
Mount Whitney Accommodations
Motels
We stayed in Lone Pine for two nights – the day before and the day of the hike. Lone Pine is a very small city as it is only five blocks or so. It has the cutest Western theme facade on the buildings and restaurants. There are plenty of motels to stay at and are close to the Whitney Portal Road. There are no motels or hotels on Mount Whitney. Book your accommodations early.
We stayed at Trails Motel which was basic but was fine for the stay. We didn't have a lot of options as we booked three weeks prior to the trip. Reserve your motels in Lone Pine here. There weren't any Airbnbs available during our dates.
Camping at Mount Whitney
If you have a two-day permit for the hike, there are camping accommodations on Mount Whitney. You can either reserve at the official campsite at the Whitney Portal Campground, or hike up Mount Whitney and stay at the non-reservable campsites either at mile 4 (Outpost Camp) or mile 6 (Trail Camp). The Outpost Camp at mile 4 is less windy compared to the Trail Camp. Plus, you can leave your stuff at the campsite while you summit Mount Whitney.
---
Mount Whitney One Day Hiking Experience
It was an early start for us as we left our motel at 12:30am, and arrived at Whitney Portal just before 1am. The drive from the main Lone Pine area to Whitney Portal Road was steep and curvy and had amazing views of the stars. At Whitney Portal, there were plenty of free parking spots available next to the start of the trailhead.
We started the hike at 1:10am thinking that we would reach the summit at sunrise and to beat the crowds. In the beginning of the trailhead, there is a scale so you can weigh your daypack. Our backpacks weighed 18.5 pounds and filled with 3.5 liters of water, 2 water bottles, jackets, and lots of snacks.
Ladies, if you need a new backpack, consider one of these travel backpacks to bring with you on your hike.
The best snack that we had were a DIY trail mix of Jelly Belly jelly beans and king cashews, a special gift from Vietnam.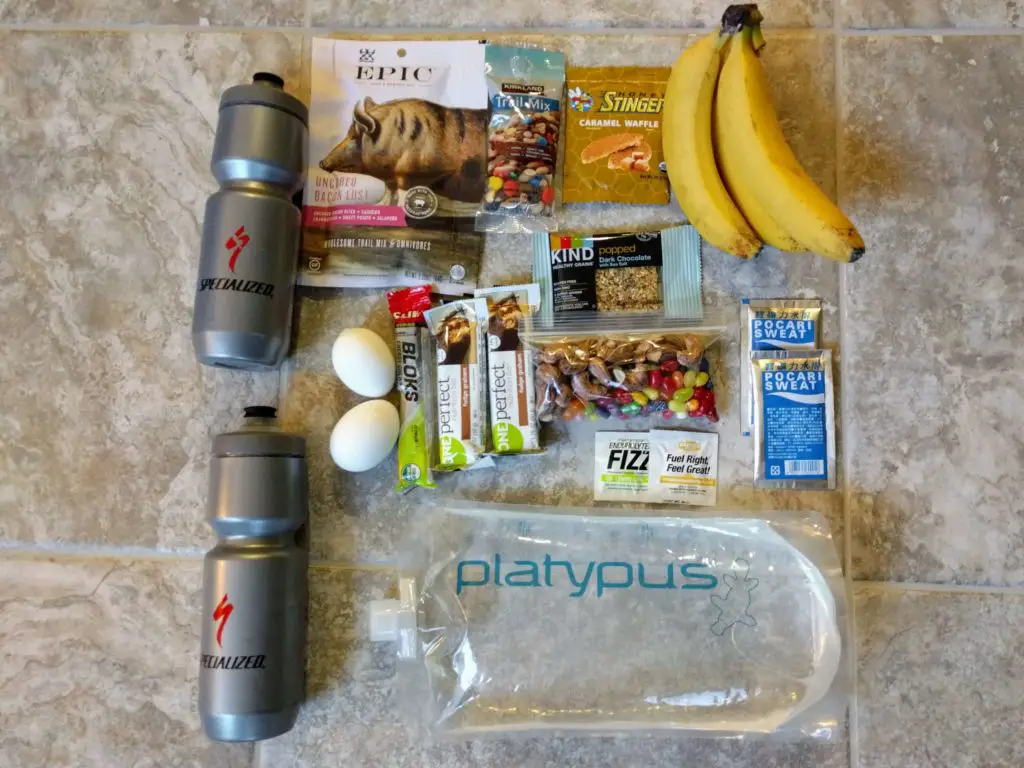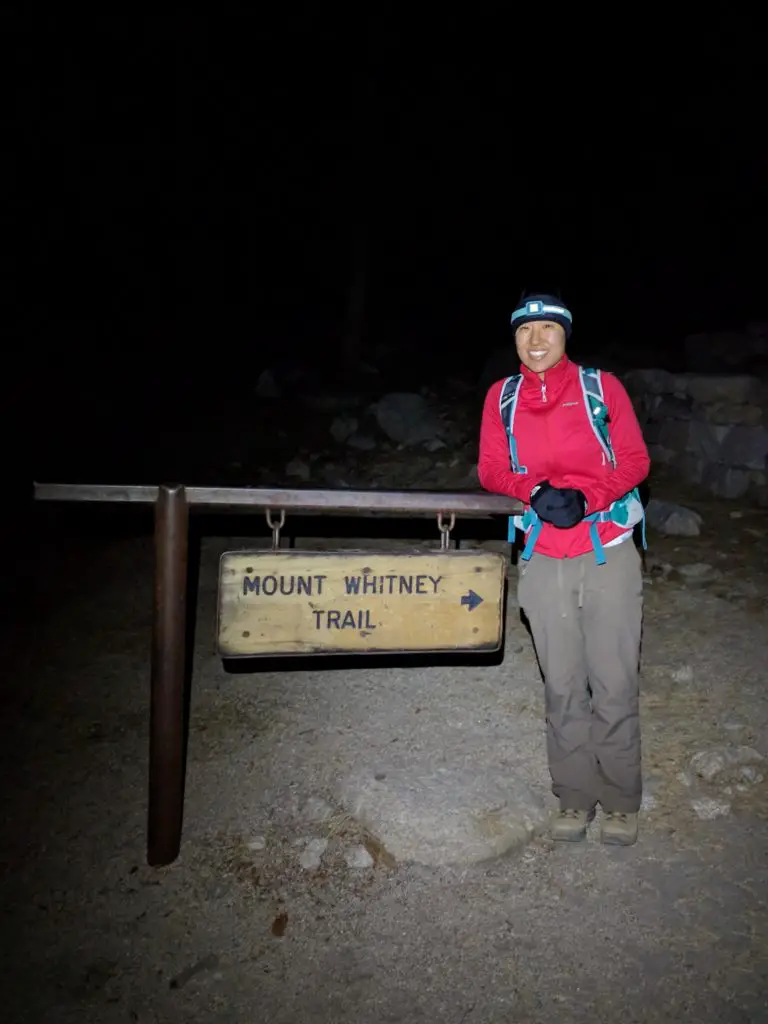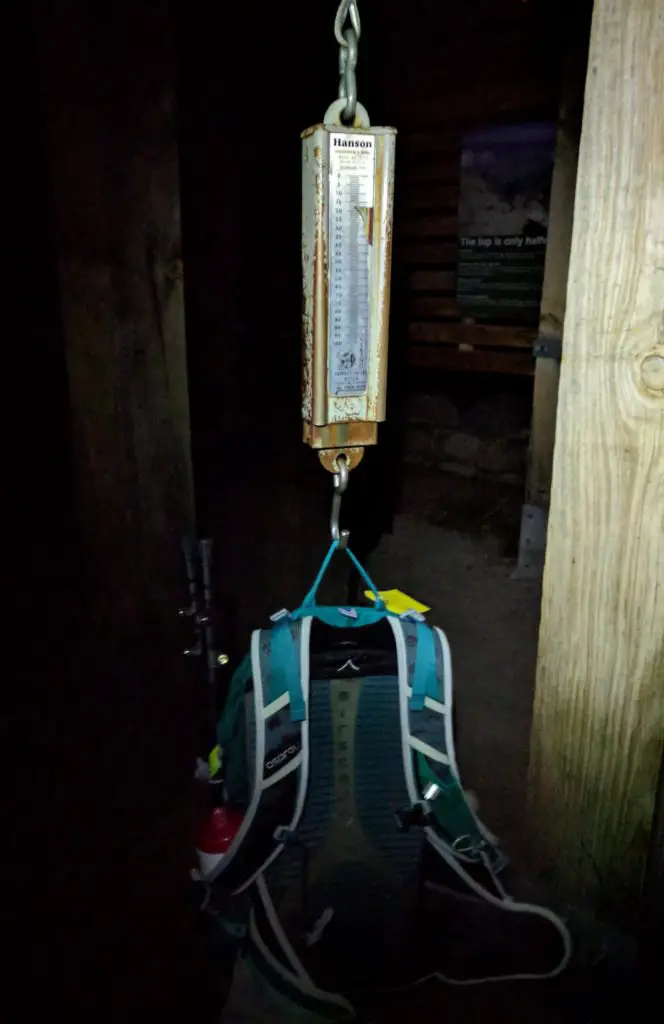 The first four miles were awesome. We had our headlamps on, felt good and upbeat, passed by multiple waterfalls and streams, and encountered some switchbacks in the forest area. The route itself was not even marked, so we relied on well-traveled sections to get to the next spot. It was a quiet early morning and our minds started to change after seeing two groups trudging down the hill past 3am. One of the groups started at 8am the previous day and then planned to end their hike at the Outpost Camp at mile 4. Yikes, what a long day for them.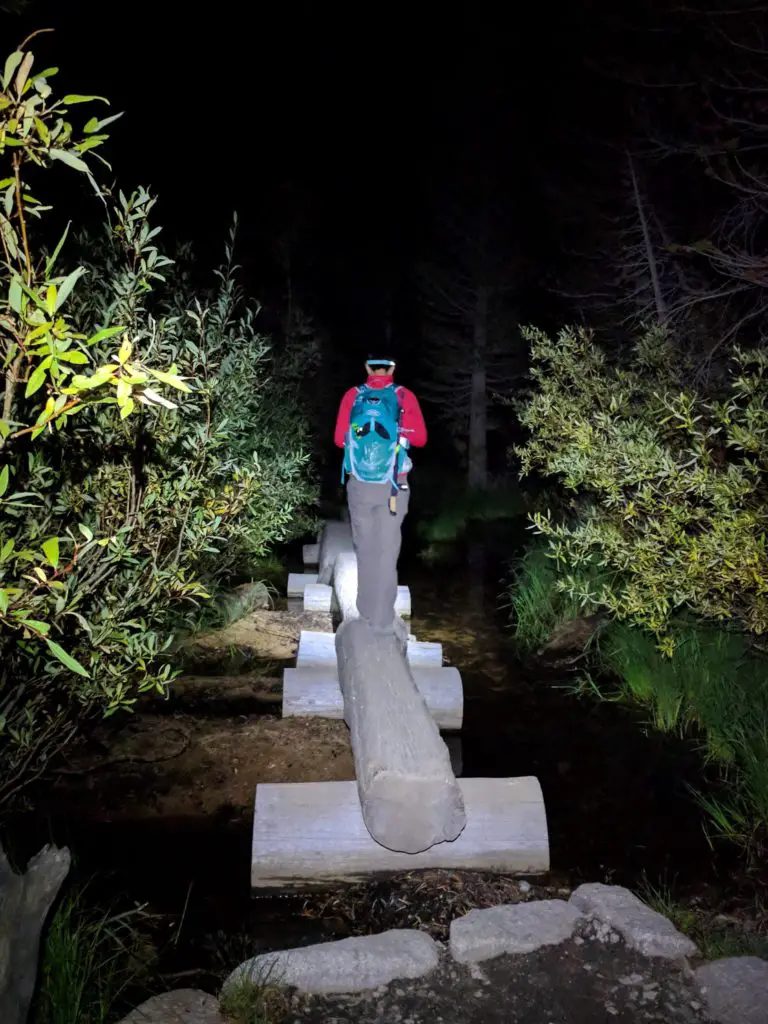 The wind and cold weather kicked as we approached the Trail Camp at mile 6. At that time, the sun rose, so we definitely missed the opportunity to see it at the summit. Our heads started to hurt with the altitude, and our walking pace slowed down. We both ate a Diamox pill to help with altitude sickness, however, we realized that we were supposed to consume it 24 hours prior to the hike. All this did was made us the bathroom a lot as a side effect.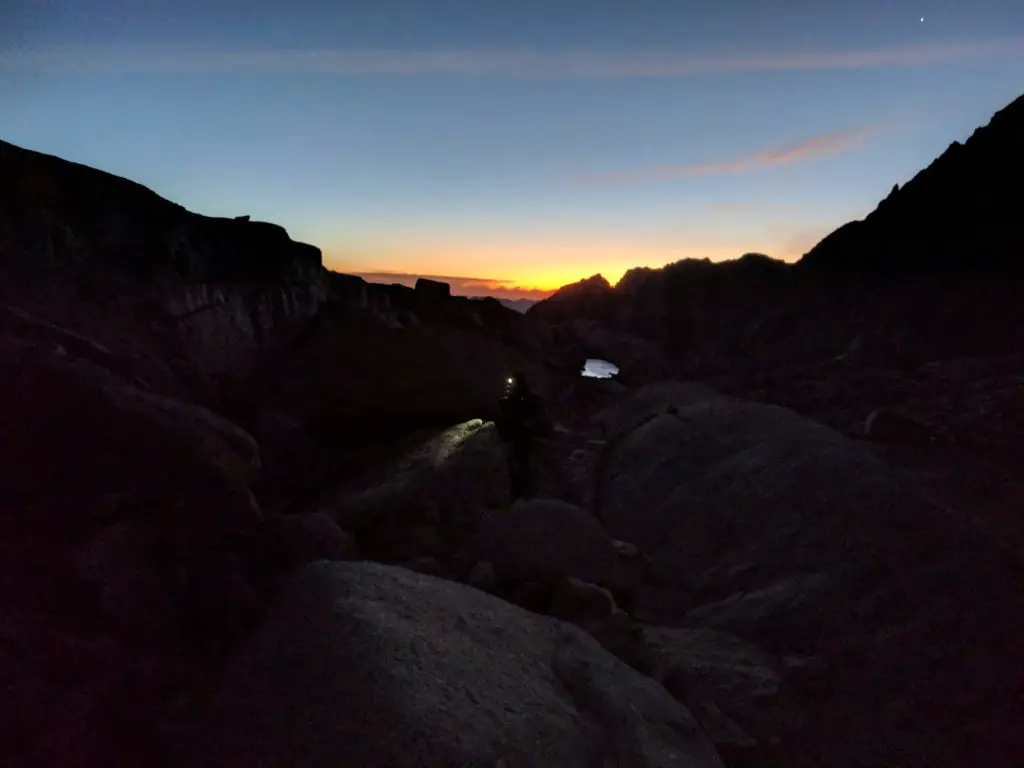 Once we passed the campsite, we reached the "99 switchbacks of hell." The switchbacks tested our patience as the route was less steep but so long. There were lots of resting times here since I especially was mentally drained already.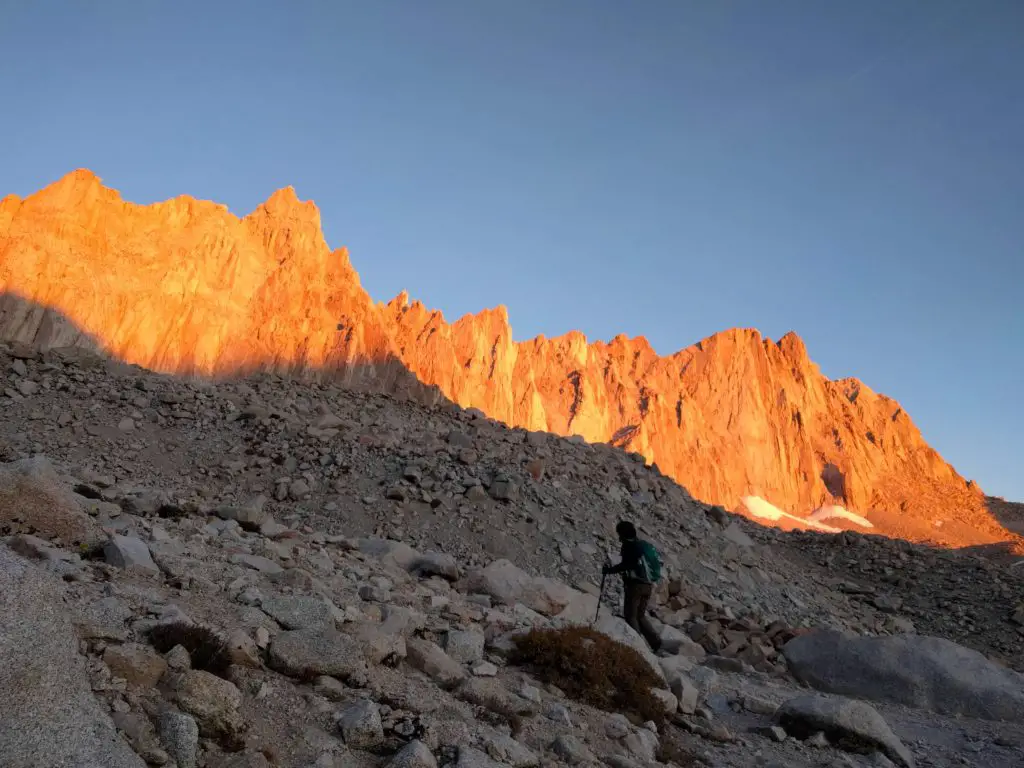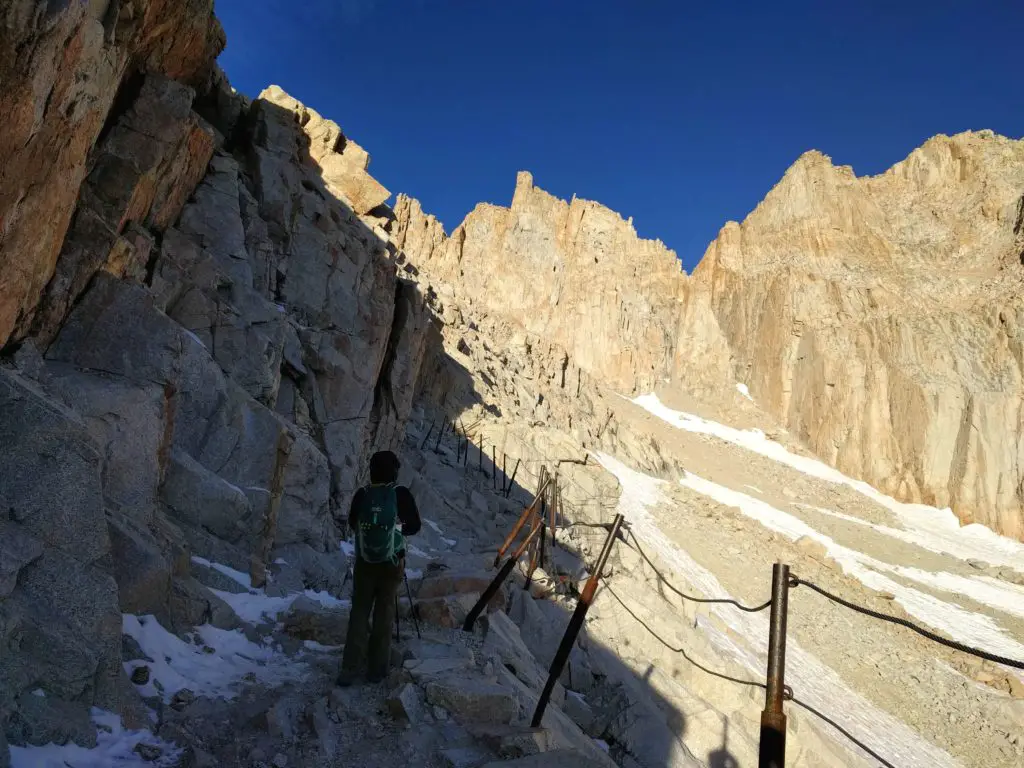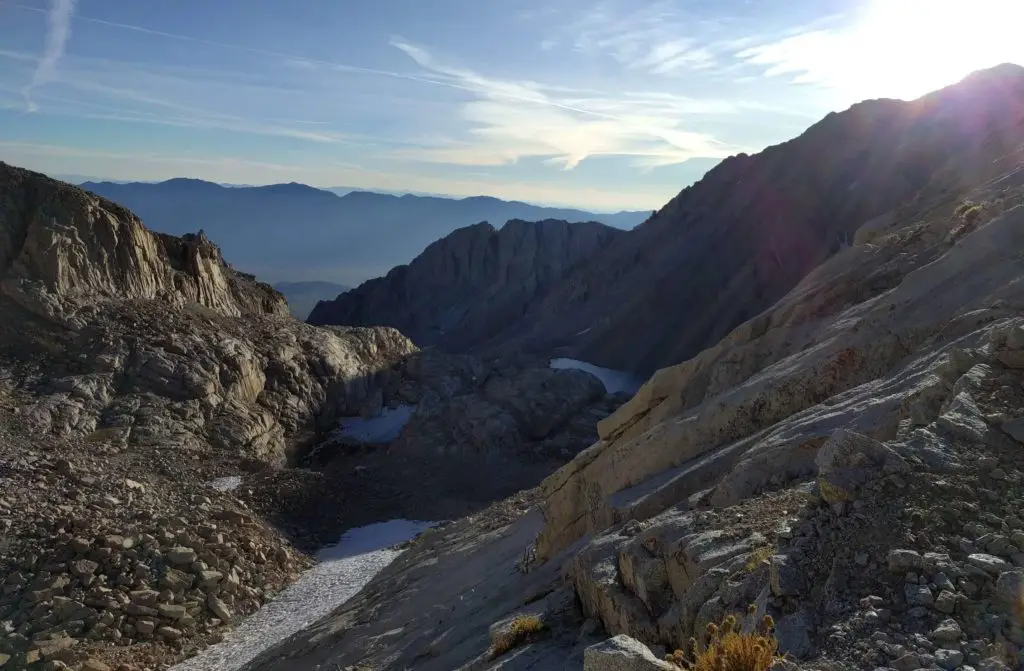 We finally reached the top of the mountain which ended the switchback. Excitement rushed in as we saw the "Entering Sequoia National Park – Trail Crest and John Muir Trail." However, it was another 1.9 miles to the trailhead which seemed like 20 miles. The walking pace was slow and steady. The tiny granite rocks didn't help as our hiking poles got stuck a lot. We had to rest a lot due to altitude sickness, but we were determined to reach the summit. Many people who passed us on the way up were already on their way down.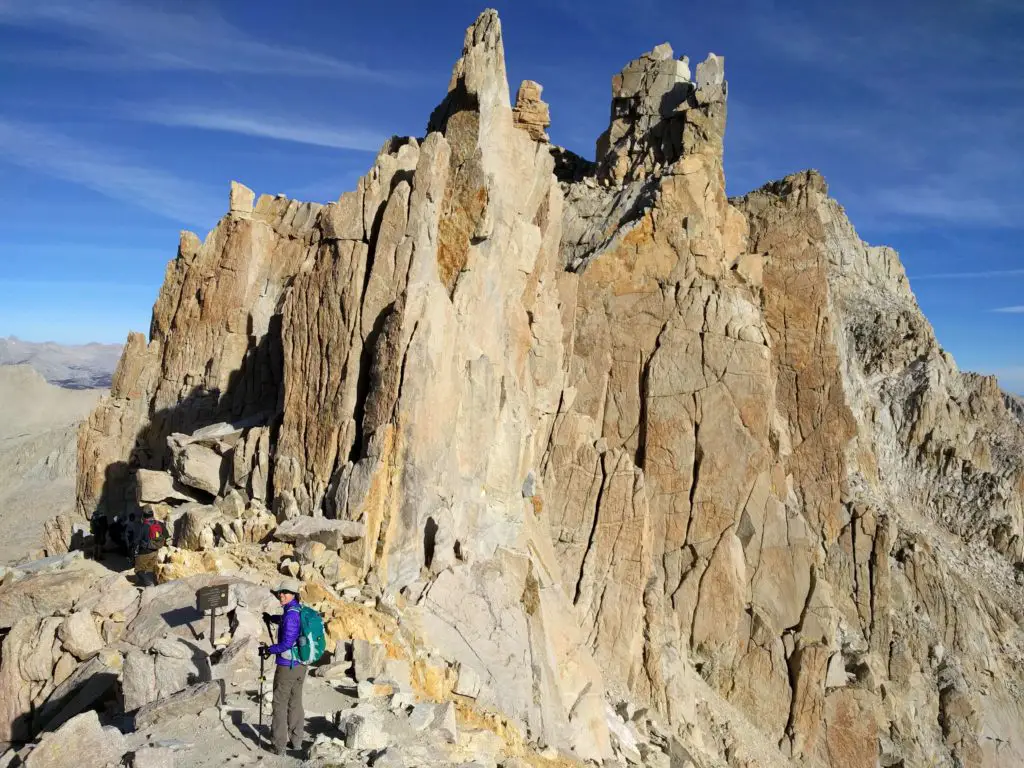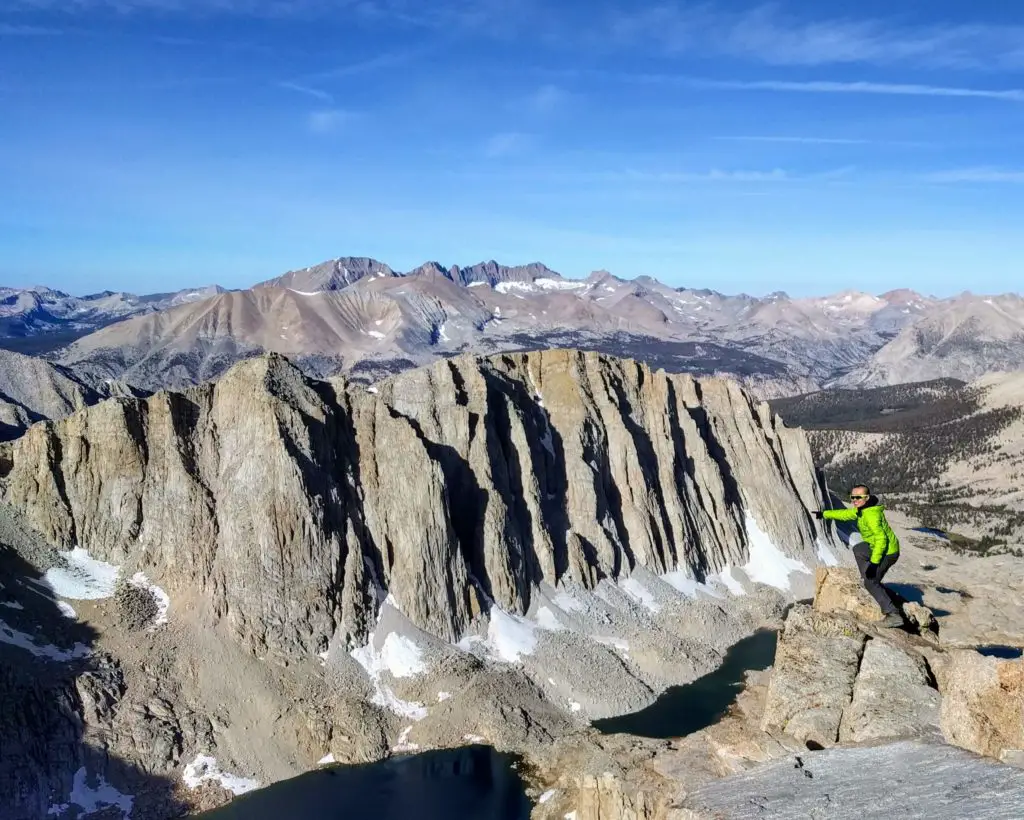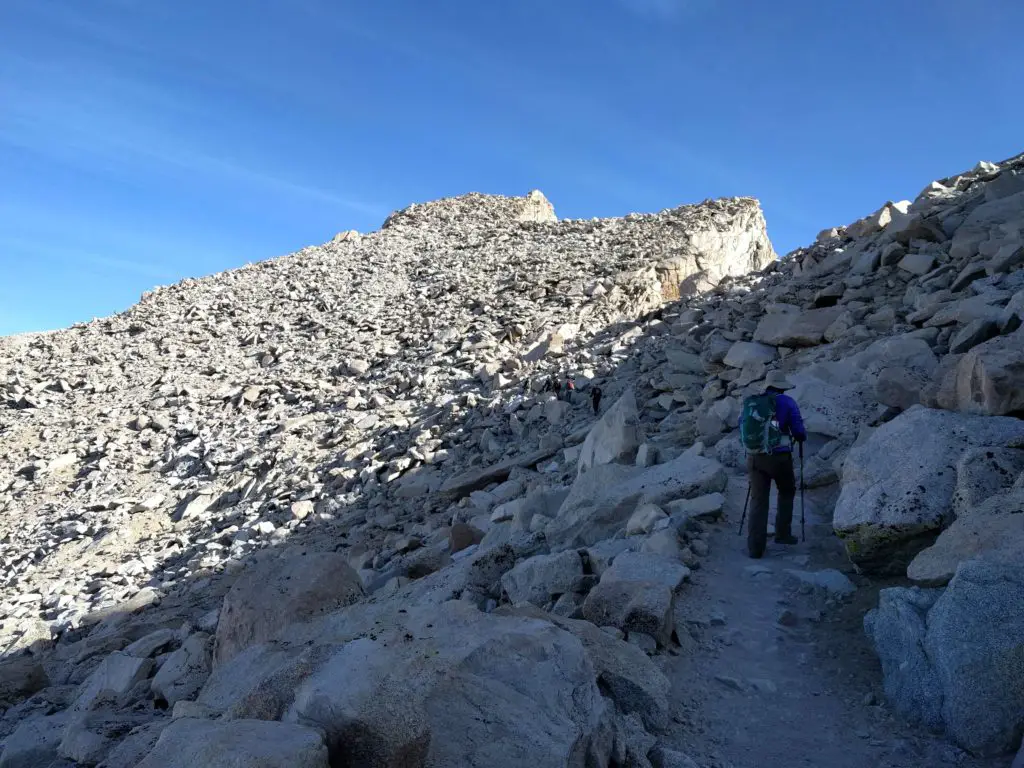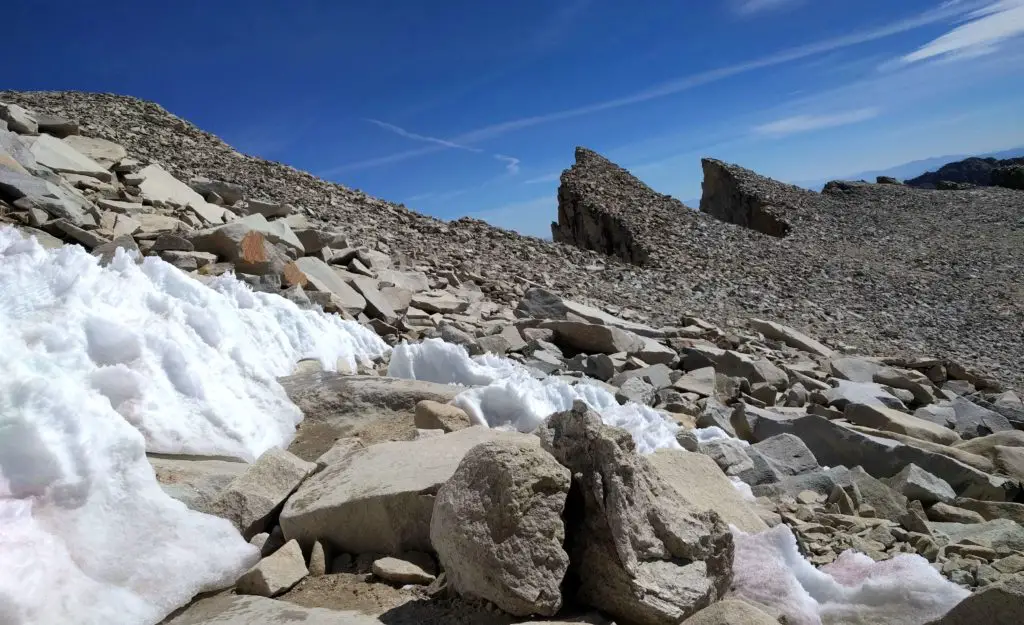 Yay! After 11 hours hiking up, we reached the summit at 14,505 feet. The summit was super windy so we didn't stay that long. We took several photos with the Mount Whitney sign in the rock and also explored the overlook.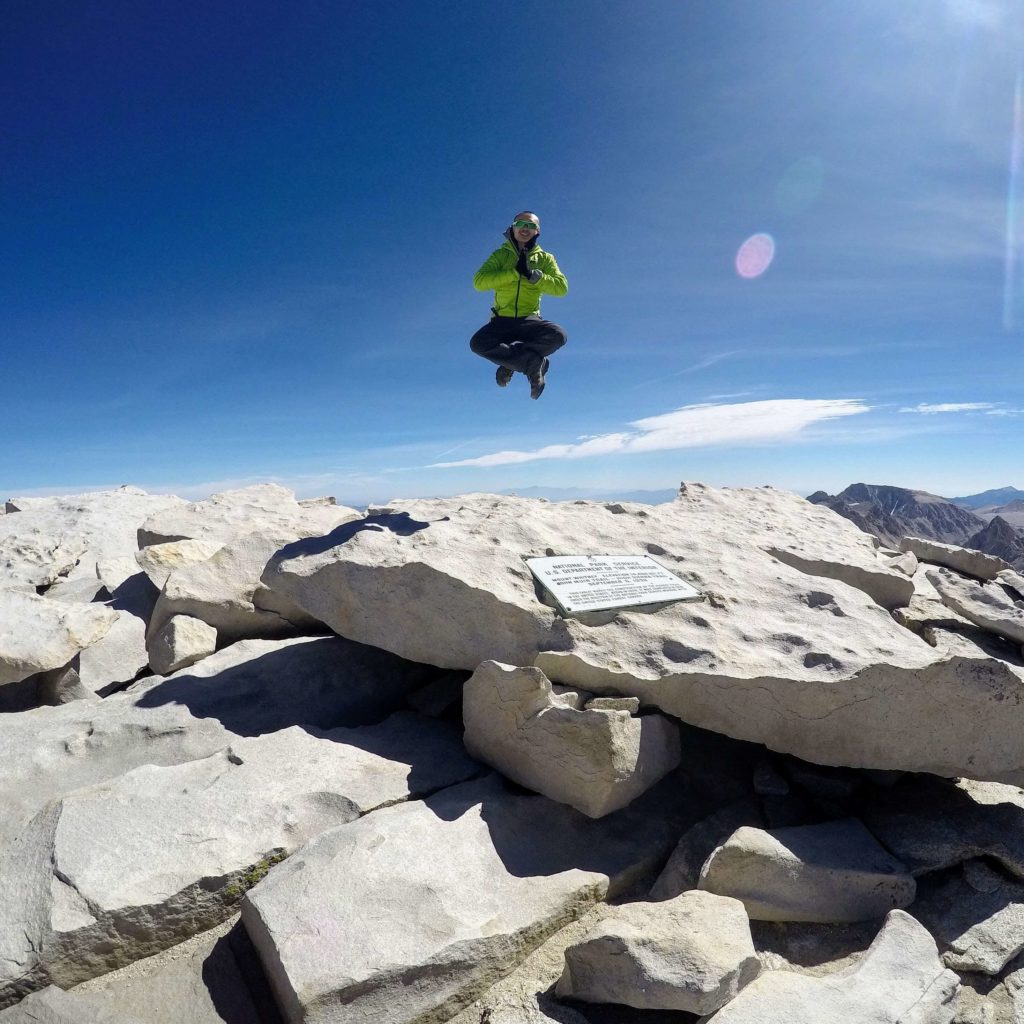 The way down was the exact path as coming up. It was painful as our bodies hurt a lot, especially our feet. We were impressed at the many hikers who wore Vibrams and Nike Free shoes while we wore heavy duty hiking boots.
It was a slow pace going back down with the small rocks everywhere. At this point, I pretty much hated every single rock on the ground and didn't want to talk to anyone due to the fatigue. The 1.9 miles between the Trail Crest sign and the summit was the most difficult part. We took many breaks throughout the way down and luckily the altitude sickness got better. It eventually became dark and we brought out our headlamps once again.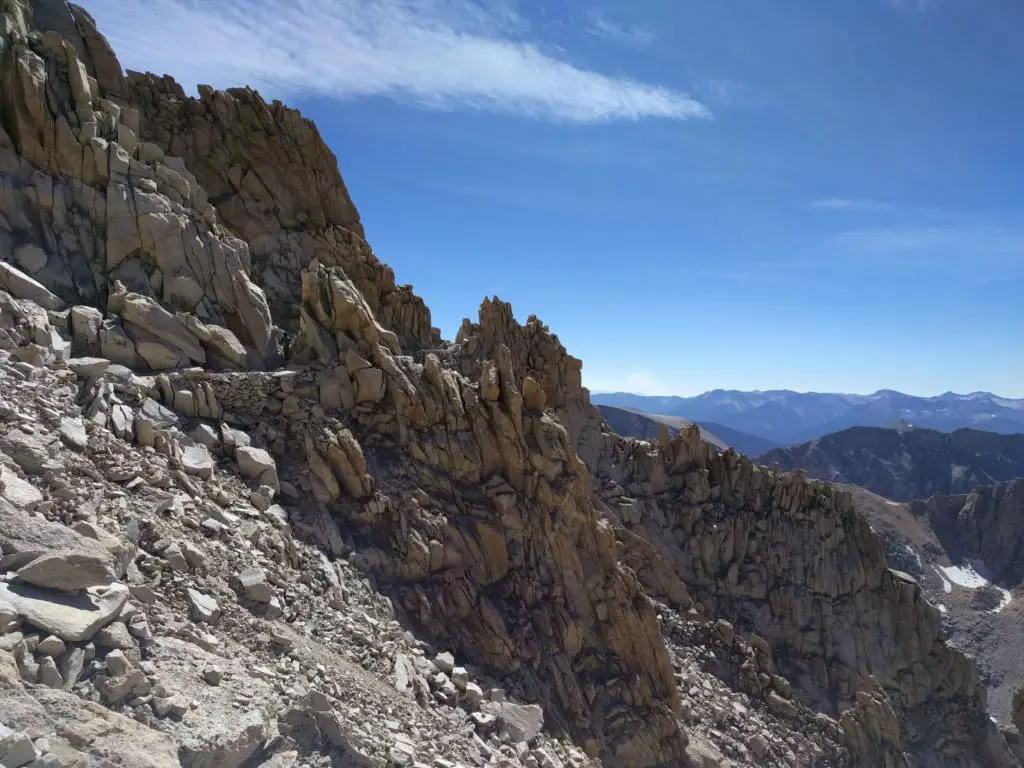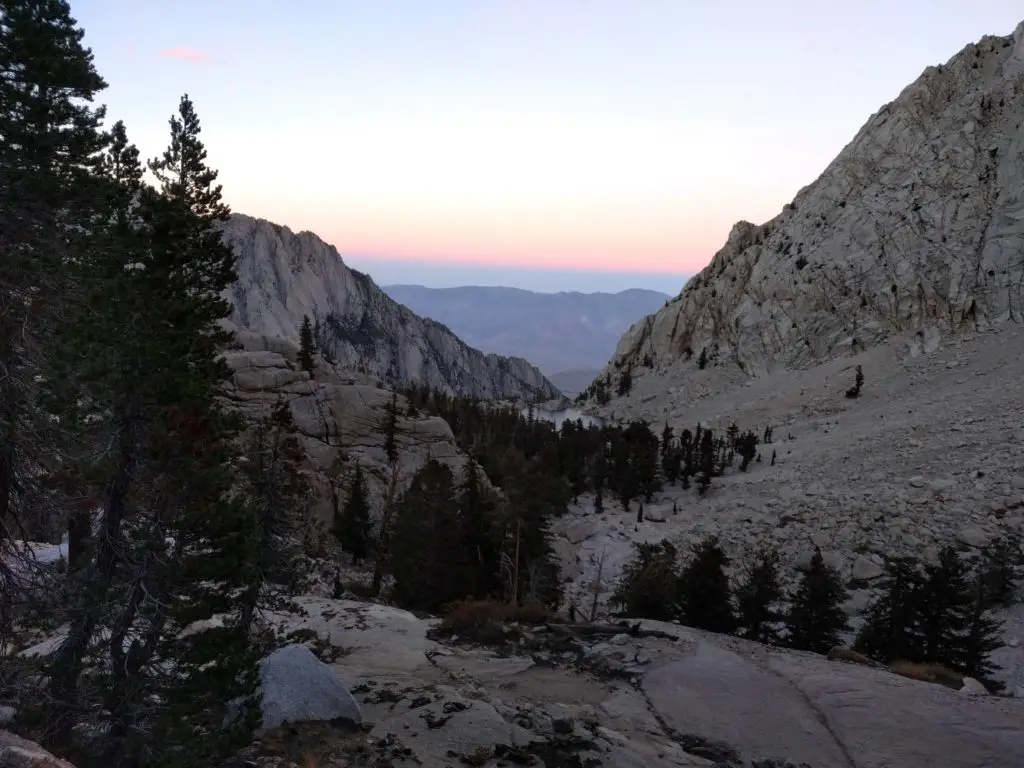 The last stretch to the car was so close. We saw the moon and stars again, just like how it was when we started earlier in the morning. Somehow, my pace picked up faster even though my feet throbbed. Justin sped down the mountain as he had extra motivation from the sunset, though he did wait for me at an unmarked location where he took the wrong fork and got lost. He came back to make sure I didn't have to repeat his same mistake. Three hikers hiked up along the trail as we were going down.
Our hiking time ended when we reached the car past 9pm. Yes – 21 hours of completion! We instantly collapsed in the car for 10 minutes and took off our boots and socks. Our feet finally breathed! No loss of toenails or bloody feet this time. Although we were one of the last groups to arrive at the Whitney Portal trailhead this evening, we felt victorious with our accomplishments! We're finally done and ready for the well-deserved sleep.
---
What We Would Do Differently with Hiking Mount Whitney
If we are to do the hike again, we would have done it in two days. The hike from Whitney Portal to Outpost Camp at mile 4 and Trail Camp at mile 6 is doable for the first day to acclimate, and then spend the next day finishing the rest of the 11 miles hike to the summit. We would need to bring food with us and leave them in a bear canister. We saw lots of people reach the summit full of energy as they had the two-day permit.
It is highly important to train at elevation and also the distance. We hiked Mission Peak in Fremont, California which is known to be a steep route, 2 times on the same day for training prior to Mount Whitney. The training was 12.6 miles and at 4146 feet elevation gain. However, we should have done 3 or 4 times a day to practice the elevation gain. We would also take a weekend trip to Tahoe to prepare for the altitude.  
If you want a longer trip in Southern California, consider stopping by Joshua Tree National Park for more hiking opportunities. Or, consider heading to Oregon to check out the hiking opportunities at Newberry Caldera and seeing the nearby beautiful Paulina Lake and East Lake. We love seeing blue waters anywhere!
Let's hike another mountain again!
Have you hiked Mount Whitney before? How was your experience?