Are you a fan of J.R.R. Tolkien's The Hobbit or Lord of the Rings book or movie series? 
If so, visiting Hobbiton Movie Set, located in the Matamata town of Waikato Region, North Island, is one of the ultimate bucket list activities in New Zealand. Even if you haven't read the books or seen the trilogy movies, it's still worth a visit.
In this post, we're sharing our experience with visiting Hobbiton Movie Set, what to expect on your guided tour there, and how to get there. 
To visit the movie set, it's required to take a guided tour that ranges from 2 to 4 hours. 
It's worth the visit since the Hobbiton Movie Set is a beautiful place to visit as the area is surrounded by luscious green rolling hills and open farmland.
When you walk onto the set, it's impressive to see the details and effort put into the Shire such as the hobbit holes, local garden, and even the trees.
Plus, it's pretty cool to see where the actors, Elijah Wood and Sir Ian McKellan filmed the movies. 
*Disclaimer: This post contains affiliate links. If you click on them and make a purchase, we receive a small commission. There is no additional cost to you. Appreciate the support.
Before you head to Hobbiton Movie Set, consider getting a SIM Card at the Auckland Airport to get data and access to maps.
---
How to Get to Hobbiton Movie Set
The Hobbiton Movie Set is a 15 to 20 minutes drive from the main town of Matamata. The starting location is at the Shire's Rest (also the Ticket Office) (501 Buckland Road, Matamata). 
It's highly recommended to have a car to drive to the Shire's Rest or take a taxi. The Shire's Rest is not located in the main area of Matamata.
There is plenty of signage along the road so you won't get lost arriving at The Shire's Rest. Parking is available for free.  
From the Shire's Rest, you'll take a shuttle directly to the Hobbiton Movie Set. This transportation is included in your ticket price. 
---
From Auckland to Shire's Rest
From Auckland's Central Business District to the Shire's Rest, it's 170 kilometers (106 miles) away and will take 2 hours one way to drive there. Therefore, it's possible to visit Hobbiton Movie Set as a day trip from Auckland.
If you don't have your own transportation, you can take a small group tour directly from Auckland to the Movie Set. It's convenient as everything from the ticket arrangement and round-trip transportation is done for you!
Click here to book your spot for the Hobbiton Movie Set group tour from Auckland. 
Click here for a tour of Hobbiton Movie Set and Waitomo Caves from Auckland.
---
From Rotorua to Shire's Rest
From Rotorua to the Shire's Rest, it's 69 kilometers (43 miles) away and will take 50 minutes to get there. 
---
From Tauranga to Shire's Rest
From Tauranga to the Shire's Rest, it's 60 kilometers (37 miles) and will take 50 minutes to drive there. There is a tour option that goes from the Tauranga Port to the Movie Set here.
---
Hobbiton Movie Set Ticket Prices
There are several tour options depending on your availability and time preference.
All tours include a tour guide, transportation from the Shire's Rest to the Movie Set, and a complimentary drink from the Green Dragon Inn.
We've included the pricing in New Zealand Dollars and U.S. Dollars. 
---
Hobbiton Movie Set Tour (2 Hours): This is the most popular tour option to take. There are plenty of opportunities to take photos. 
Adults $89 NZD ($56 USD)
Children (9-16 years) $44 NZD ($28) 
Children Under 8 Years Free
Family Pass (2 Adults, 2 Children) $225 NZD ($142)
Click here to buy your tickets. 
---
Second Breakfast (3 Hours): This is a new tour where you get the chance to have a "second breakfast" and enjoy a continental breakfast, including tea and coffee.
Breakfast items include freshly baked pastries, fruits, yogurt, cheese, cold meats, scrambled eggs, bacon, and more. 
Adults $149 NZD ($94)
Children (9-16 years) $99 NZD ($62.40)
Children (5-8 Years) $49 NZD ($31)
Children (Under 4 years) Free (Must be with a paid adult)
---
Evening Banquet Tour (4 Hours): Want to have the full dinner spread in addition to the tour?
You get the opportunity to enjoy a two-course meal at the Green Dragon Inn. Food options include chicken salmon, beef casserole, lamb shanks, roasted veggies, salad, and a variety of desserts.
Plus, there is an evening walk with lanterns and lit Hobbit holes. 
Adults $199 NZD ($125.50)
Children (9-16 years) $162 NZD ($102)
Children (5-8 years) $104 NZD ($65.60)
Children (Under 4 years) Free (Must be with a paid adult)
There are other special tours available through the official website, such as Christmas, Beer Festival, Summer Harvest, and more. 
---
Where to Buy the Tickets
Tickets can be purchased online, online at the Hobbiton website, at the Matamata Information Visitor Center, or on-site (times subject to availability). It's best to pre-purchase ahead of time to get your preferred time. 
We purchased the tickets online and showed our confirmation at the Shire's Rest Ticket Office. We received a copy of the ticket as a souvenir.
---
Things to Know About the Hobbiton Movie Set Tour
The tour occurs rain or shine. According to the Movie Set website, umbrellas are provided. 
Do not be late for your scheduled tour. Otherwise, you'll need to contact the Ticket Agency regarding other options. You'll most likely get placed in the next available tour slot. 
Arrive at your pick-up spot at least 15 minutes before the scheduled tour. 
Choose the earliest tour available (9:00am or 9:30am) so you'll have fewer crowds. 
Wear sunscreen, a hat, and sunglasses if it's sunny. 
Wear comfortable walking shoes as you'll be walking a lot. 
Do not bring any luggage as there isn't any place to store them. 
Multiple tours occur at the same time, so do not lose track of your tour guide. 
Bring a water bottle with you in case you get thirsty. 
---
Our Hobbiton Movie Set Experience
Visiting the Hobbiton Movie Set was an incredible experience. It was a well-organized production from the transportation to the fun and informative tour guides.
We opted for the 2-hour Hobbiton Movie Set Tour and the earliest time starting at 9:00am. (Although, we would love to return to try the Evening Banquet Tour!)  The two hours went by quickly and we would have loved to stay longer. 
The day started with clear blue skies and sunny weather and stayed that way for the rest of the day. We were afraid that our tour would be spoiled by the rain since it rained heavily the night before. 
The tour started promptly at 9:00am with a shuttle ride from the Shire's Rest to the Movie Set. Our tour guide showed us a quick video of an overview of the history of the area and why it was chosen for the movie set. 
Once we arrived at the movie set, we were in awe of this gorgeous place. At first glance, we saw Hobbit holes, a green hillside, and a few people tending to the garden nearby the entrance.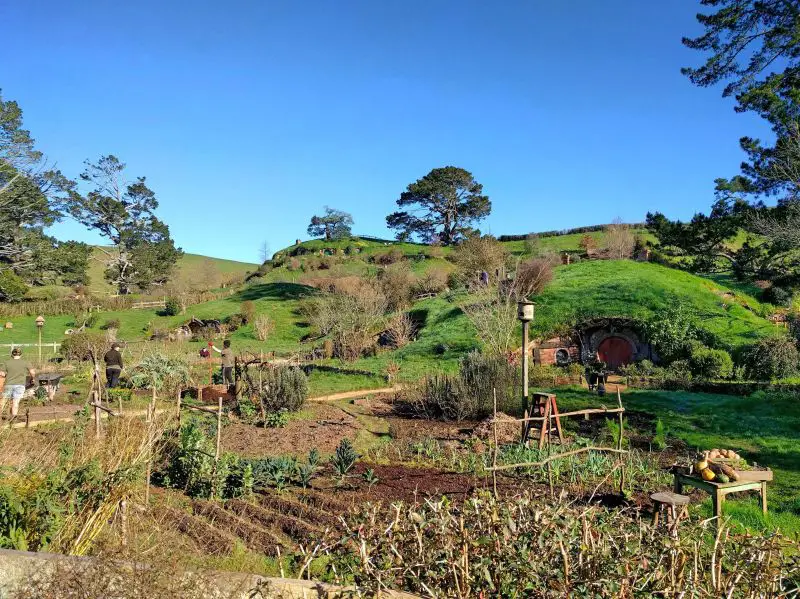 Since we were the first group of the day, we had the Shire exclusively for ourselves for 10-20 minutes before the next tour group arrived. 
---
Our tour guide shared interesting facts about the movie set.
First, Hobbiton was built for the Lord of the Rings filming and then destroyed. The background crew rebuilt everything for the Hobbit films with permanent materials and worked with the Alexanders, owners of the land, to continue the Shire's legacy.
In addition, one of the largest trees on the movie set is not real. It's made out of silk leaves that were shipped from Taiwan. Each of the leaves was wired onto the tree to give it the voluminous look. 
---
There were plenty of opportunities to take photos and our tour guide was even the photographer at various stopping points. 
The colorful hobbit holes are the main attraction of the Hobbiton Movie Set. They're 44 hobbit holes on the set and scaled to different sizes – life-size or half the size depending on the needs of the filming.
Each of the hobbit holes is customized to the hobbit's occupation, such as baker, gardener, cheese maker, and even the town's drunk with empty bottles everywhere.
Many of the Hobbit holes are not fully furnished and built as they're just the exterior, yet there are a few Hobbit holes where you can go inside.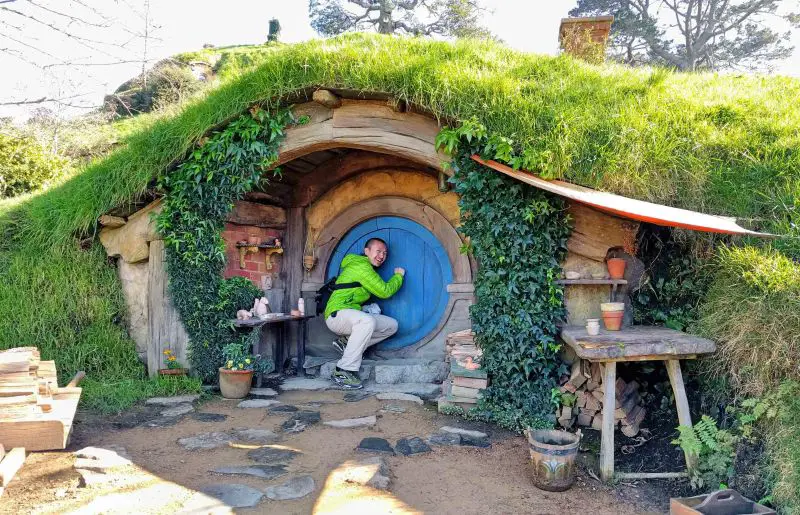 We stopped by the famous Hobbit holes – Bilbo and Frodo Baggin's Bag End Home and Sam Gamgee's Hobbit Holes.
---
The tour continued to other parts of the movie set such as a lake and fun props to take photos of.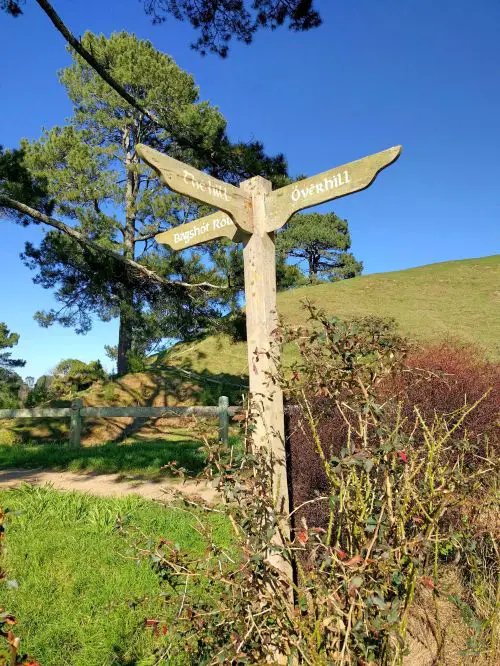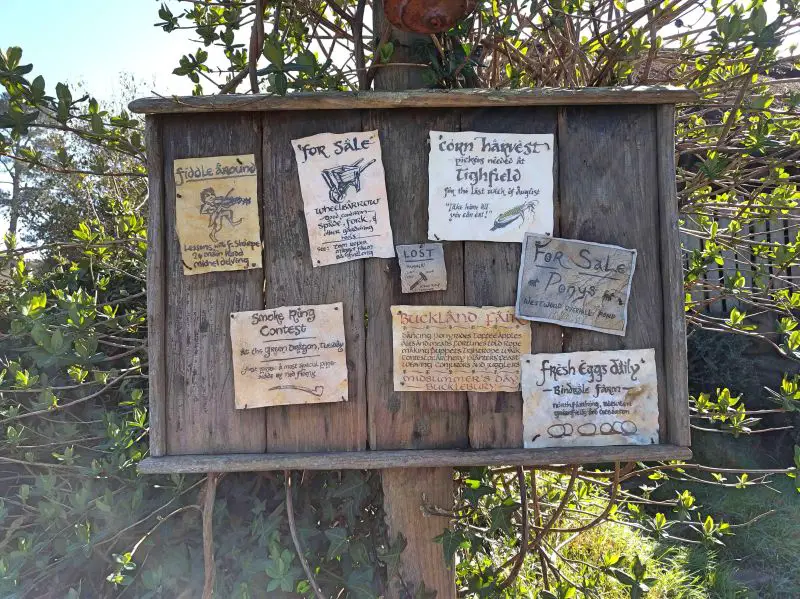 ---
Our tour ended with one complimentary drink at the Green Dragon Inn. Currently, they offer three alcoholic beverages – amber ale, apple cider, traditional English ale, and one non-alcoholic ginger beer. 
All of the beverages are made by Good George Brewing, and exclusively provide these beverages for the movie set. You can buy the beverages at the Shire's Rest souvenir shop or Matamata Information Center.
We opted for the ginger beer. It was sweet and fizzy. Since we enjoyed the beverage outside, the bees loved the drink and swarmed around our mugs. 
If you're hungry, Green Dragon Inn also sells hot food. Although, the timing will be tight to sit down for a meal.
The tour ended after two hours. We boarded the shuttle and returned to the Shire's Rest. There is a gift shop to purchase souvenirs.
---
Where to Stay in Matamata
If you plan to stay in Matamata for the night, there are a few options to consider such as bed and breakfast and guesthouses. The cost per night ranges from $85-$180 USD. 
Check out Matamata accommodations options here. 
Here are some recommendations of places to stay in Matamata based on the high reviews. 
We did not stay overnight in Matamata as we drove back to Auckland for the night.
---
Hobbiton Movie Set General Information
Address: Shire's Rest – 501 Buckland Road, Matamata 3472, New Zealand
Official Website: https://www.hobbitontours.com/ 
Purchase Tickets here
Credit Cards: Accepted if purchasing tickets online.
---
Is Hobbiton Movie Set Worth the Visit?
Yes, it is! While the admission cost is high, it's a fantastic place to explore a movie set and imagine what life is like as a Hobbit. The tour guide, transportation, easy-to-follow walking route, and complimentary drink made this tour memorable. 
We recommend visiting Hobbiton Movie Set if you have additional time on your New Zealand North Island trip. 
Need ideas on other places to visit in New Zealand?
Have you been to the Hobbiton Movie Set? What was your favorite part of the tour? Let us know in the comments below.
Like this post? Save it to your New Zealand Travel Pinterest board.