Visiting Auckland, New Zealand, and only have one day? We'll show you how you can maximize your time in Auckland. 
Since there is so much to do here, we'll share with you our one day Auckland itinerary with tips on where to go, places to eat, and how to get around Auckland. We've included Auckland's must-visit tourist attractions and including free attractions. Feel free to modify the itinerary as much as you want since this is your vacation!  
For those who have more time to explore Auckland, you can easily spend 3 to 4 days here to soak in the various charms of the city and take ferry rides to neighboring areas and depart from the waterfront, such as Devonport or Waiheke Island. Consider going on these five day trips from Auckland.
Now, let's explore Auckland!
*Disclaimer: This post contains affiliate links. If you click on them and make a purchase, we receive a small commission. There is no additional cost to you. Appreciate the support.
---
Check New Zealand Travel Requirements
---
How to Get to Auckland
Most visitors will take a plane ride to Auckland and land at Auckland International Airport (airport code: AKL). Local visitors can also visit Auckland by domestic flights or by ferry.
---
How to Leave Auckland Airport
There are many ways to depart from the Auckland International/Domestic Airport. 
From the Airport to Auckland Central Business District, it's 20 to 27 kilometers (12.4 to 16.8 miles) away and will take 30-40 minutes one way. 
By Bus: There is an AirportLink Bus that travels between the airport, Puhinui Station, and Manukau Station. 
You can also take Bus #38 which travels between the airport and Onehunga via Mangere Town Centre. This bus arrives every 15 minutes. 
---
By Taxi: Once you leave Arrivals, head to Door #8 for taxis on the International side or Door #4 for the Domestic side. 
Note: There is an additional $5 NZD ($3.20) surcharge for leaving the International airport and $3 NZD ($1.90) for dropping off at the airport. For Domestic, there is a $4 NZD ($2.50) charge for each pick-up and drop-off. 
---
---
By Ride-hailing: Three companies offer ride-hailing in New Zealand – OLA, Uber, and Zoomy. There is a specific pick-up area at the airport – at the multi-level parking lot in the Domestic airport and Door #11 at International. Don't forget to download the apps ahead of time.
There is a surcharge for pick up and drop off at the airport which you can refer to in the Taxi section above. 
---
By Rental Car: Both Domestic and International Airports have rental cars available for pick up. It's best to reserve a car ahead of time. There is Avis, Budget, Europcar, Ezi Car, Hertz, Thrifty, and other smaller car rental budget companies. After extensive research, we used Go Rentals and enjoyed the services. 
---
How to Get Around Auckland
By Bus: Taking the bus is a sustainable and cheaper way to travel around Auckland. Since you only have one day in Auckland, it may not be the most time-effective way to travel. You must use your AT Card. 
---
By Taxi: There are taxis available at designated taxi stands around town. 
---
By Ride-hailing: Taking Uber, OLA, or Zoomy around Auckland is an option. It can be cheaper than taking a taxi. 
---
By Car: Having a car is the easiest way to travel around Auckland and also to other areas of New Zealand. You have the freedom to set your schedule and go wherever you want. 
The cons about driving a car are that Auckland is a large city so there is more traffic and cars. It can be stressful to drive around, especially when you're not used to right-hand driving (like us – from the U.S.) Parking is also a challenge, but at least there are parking lots.
---
Map of Auckland Activities
---
Things to Do in Auckland in a Day
We're off to explore the best of Auckland in a day. 
1. Hike Mount Eden.
There are several entrances to get to Mount Eden – off of Batger Road, Clive Road, Glenfell Place, Hillside Crescent, Rautangi Road, and Owens Road. We took the Batger Road entrance. 
The 2-kilometer  (1.2 miles) hiking path is easy and easily maintained. Just follow the trail and you'll eventually the summit. For us, it took about 15 minutes to walk to the summit from the Badger entrance. There are small inclines along the path, but nothing drastic. Hiking boots are not needed as the dirt is nicely packed.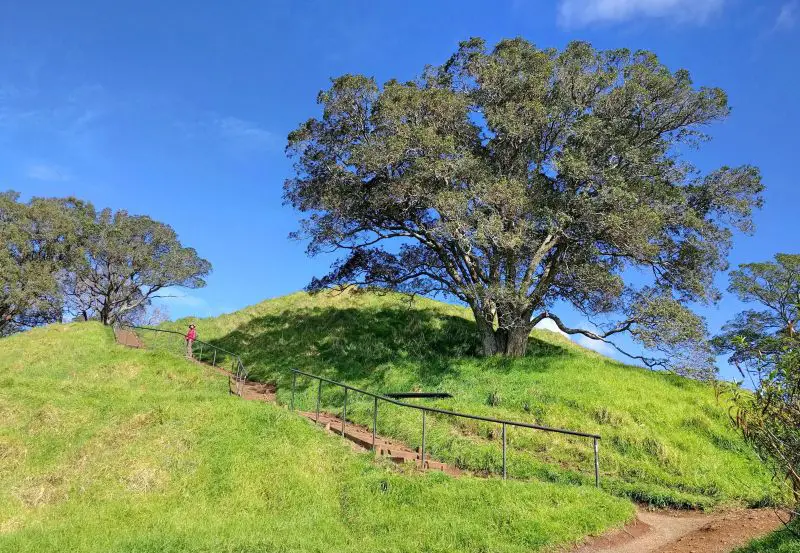 Once you reach the summit, you'll see a giant crater that is 50 meters (164 feet) deep. During our visit, the crater and surrounding area were luscious green.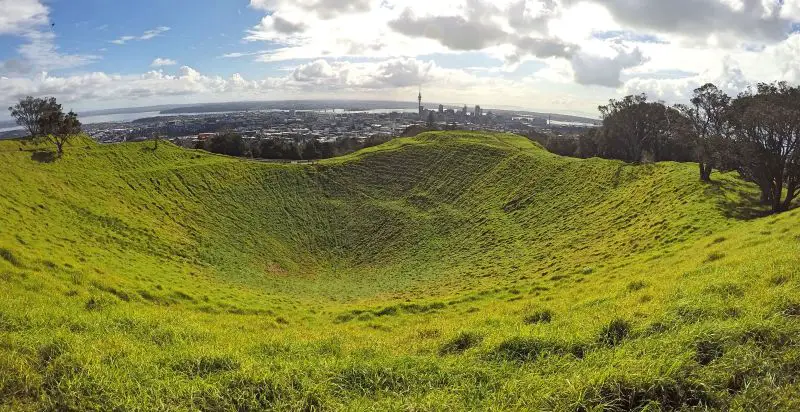 The views from the summit are gorgeous as you get to see Auckland city and the waters. 
If you have time, you can also visit the Eden Gardens off of Omana Avenue if you want to learn and see more plants.
Parking is tricky as street parking is only available. Once you find a parking spot close to the entrance, grab it quickly. 
Address: Mount Eden, Auckland 
---
2. Explore Auckland's Central Business District Waterfront.
Now it's time to explore Auckland's Central Business District and go walking. 
The first stop is the Auckland Ferry Terminal (Downtown Ferry Terminal). It's a restored Victorian building that is currently in use for ferries to neighboring areas, such as the north, south, and west of Auckland. It's a nice spot to take a photo and see the sunset. 
Address: Quay Street, Auckland CBD, Auckland 
HELPFUL TIP: If you're parking your car to explore the Waterfront and surrounding Auckland Central Business District, consider parking in a paid lot. We parked at the Downtown Carpark Parking Lot (Address: 31 Customs Street West) as it was a reasonable cost and close to the waterfront. The hourly fee is $4.50 NZD ($2.85 USD) for up to 8 hours a day ($40 NZD/$25.40).
---
Nearby the Ferry Building is the Princes Wharf. There are restaurants and the Hilton Auckland Hotel that overlook the waterfront. We just took a walk through this area. 
Address: 137-147 Quay Street, Auckland CBD
---
3. Visit Wynyard Quarter and the surrounding areas.
One of the best places to visit is Wynyard Quarter. As a former area used for timber trade, it's now a bustling residential-commercial place with hotels, a theater, apartment buildings, restaurants, an outdoor venue, and more. 
What is cool about this place is that you get an amazing view of Auckland's CBD area from here. It's such a picturesque area to take photos.
During our visit, the area was first getting developed. We loved the decor with converted shipping containers as an outdoor library, boutique stores, and even restrooms. 
In the same area, there were giant wooden lawn chairs and plastic chairs located next to the library. It was a fun spot to take a rest and do some people-watching. 
Address: 82 Wyndham Street, Auckland 1010
---
Fish Market
Nearby the Wynyard Quarter is the Fish Market, off of Jellicoe Street. The Fish Market has been around for over 100 years. 
One of the highlights is visiting the fish market such as Sanford and Sons, to see the fresh seafood and daily catch. The seafood is on display and you can order online. 
Besides the main market, there are restaurants serving coffee, Asian fusion, lobster rolls, sushi, Western food, and more. You can grab something to eat while you're in the area.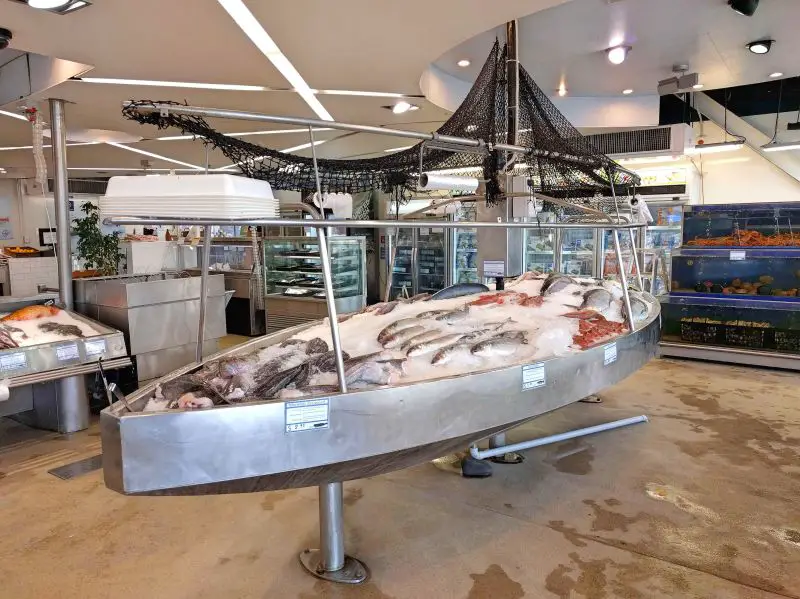 Address: 22-32 Jellicoe Street, Auckland CBD, Auckland
---
Silo Park 
Stop by Silo Park which is within the same walking path as Wynyard Quarter. It's an area to relax with seating areas, a playground, a huge grassy area, and views of the waters. 
When walking through this area, you'll see six silos (also named Silo 6) and a solo Silo 7 (at 35 meters/114 feet high). These are tall silos that were used to store cement.
Currently, each of the silos in Silo 6 is used as an art exhibit and Silo 7 has a light projection on it at night. You can't miss the artwork on the silos.  
There is a unique multi-level steel bridge that overlooks the park and has some views of the waterfront (although a bit small). In addition, the newest addition to Silo Park has repurposed pipes as a playground area. It's an interactive spot for children to play.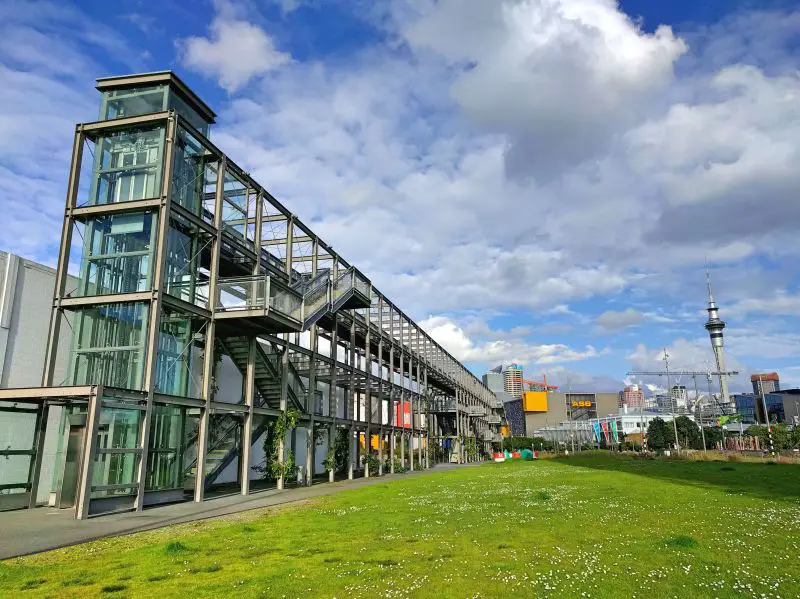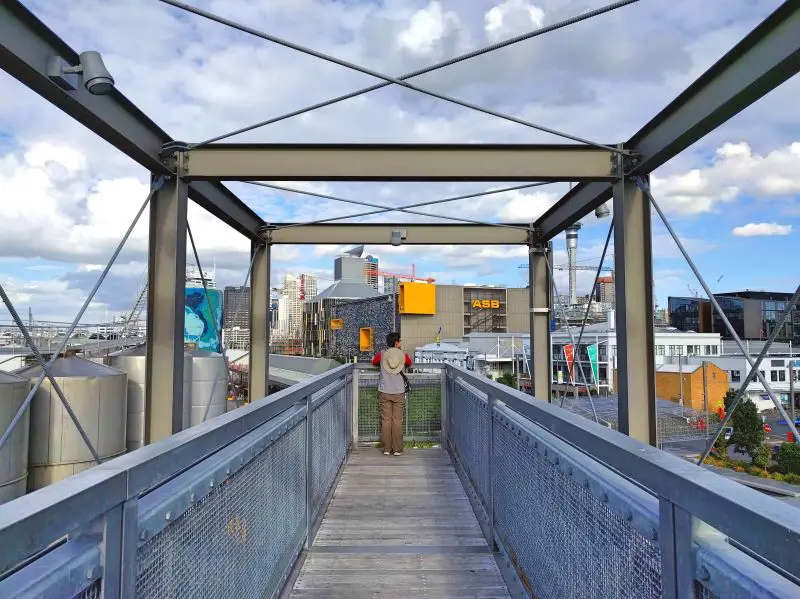 Address: Corner Beaumont Street and Jellicoe, Jellicoe Street, Auckland CBD, Auckland 
---
Heritage Landing
At the end of the Silo Park is an area called Heritage Landing. There are over 300 classic yachts and boats on display and floating in the water. 
All are in the restoration process with the partnership between Waterfront Auckland and the Classic Yacht Association of New Zealand. 
To qualify as a heritage yacht, there is an application process. Each yacht needs to be made in New Zealand and meet certain qualifications.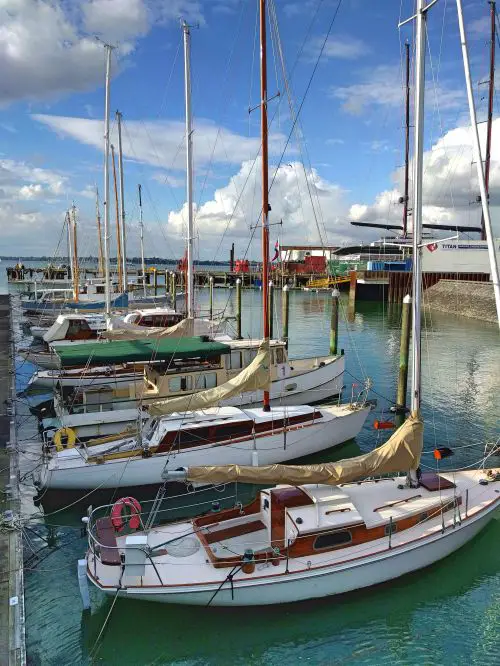 Address: West side of Silo Park 
---
4. See the views from Sky Tower. 
You can't miss Sky Tower as it's the tallest building in Auckland at 328 meters (1,076 feet) high. Check out the observation floor at Level 51 (186 meters/610 feet) to see 360º aerial view of the Auckland CBD area and the greater area. 
Besides the observation tower, Sky Tower offers fun activities such as Skyjump (similar to bungee jumping), Skywalk (walking along a platform), and Skyslide (a virtual reality simulator of sliding down the Sky Tower). Each of these attractions has an additional fee to the general admission. 
On Sundays from 8:30am-9:30am, there is a unique opportunity to do yoga from the observation floor. There is an additional fee for this special class. 
The Sky Tower also has restaurants. Try Orbit 360º Dining which revolves 360º within the hour.
Address:  Victoria Street West, Auckland CBD, Auckland 
Opening Hours: 10:00am to 6:00pm 
---
Additional Things to Do in Auckland 2+ Days
Below are some recommendations on fun activities to do in the Auckland area if you have 2+ more days. 
Visit Devonport.
Devonport is located in the North Shore of Auckland. It's a popular spot as a day trip from the main Auckland area as there are awesome views of Auckland, beaches, antique shops, and tons of restaurants. 
To get to Devonport from Auckland, it's only a short 12-minute ferry away from Auckland CBD. You can catch the ferry from the Ferry Terminal. Driving is also another option. 
---
Take a Trip to Waiheke Island. 
Waiheke Island is on our bucket list to visit in the future. The island has over 96 kilometers (60 miles) of gorgeous coastlines and views, so you're in for a treat when visiting here for a few days.
---
Visit Rangitoto Island for a day trip. 
To get to Rangitoto Island from Auckland, the easiest way is to take the ferry. 
---
Go Skydiving. 
Skydiving is one of the most thrilling adventures to do in Auckland. You get the chance to skydive up to 200 kilometers/hour (124 miles/hour) from various distances – 9000, 13000, 16000, or 20000 feet. Don't worry. You're strapped to an instructor for safety. 
---
Visit Auckland War Memorial Museum. 
Auckland War Memorial Museum is the perfect place if you want to learn more about Auckland, the Maori people, and post-war history. The museum has many exhibits such as Maori and Pacific art collections, a large skeleton of a T-rex, and natural history. 
---
Walk through Cornwell Park. 
We love walking and exploring local parks. Auckland's Cornwell Park is on our list to visit in the future. Based on the photos, this spacious park is full of greenery and has cows and sheep that graze on the grass. During the springtime, the park is a burst of pink with cherry blossoms.   
---
Where to Stay in Auckland
Auckland has plenty of accommodations suitable for your budget and needs if you decide to stay overnight. There are guesthouses, hotels, and Airbnbs. The rooms cost around $50 USD for the hostels and $100 and up per night for hotels. 
Read reviews and find your perfect Auckland accommodations here.
Check out some of the highly reviewed places to stay in Auckland's Central Business District:
We stayed in an Airbnb in the Mount Eden area. We had a private room and shared the bathroom with the family living there. It was a bit noisy in the evening but the cost was affordable at $40 USD for one night. 
---
Where to Eat in Auckland
Auckland has some incredible restaurants to try and has plenty of diverse food options. 
We were surprised at the number of Chinese, Japanese, burgers, tapas, Mexican, pizza, or cuisines available here. Japanese food is one of our favorite cuisines and we were thankful to see the fresh sashimi and sushi options everywhere.
If you're on a budget, there are plenty of cheap eats to enjoy in this city. 
Note: The cost of food in New Zealand is higher than what we're used to in Vietnam. Since we've been living in Ho Chi Minh City for over 4 years, we're used to more budget-friendly prices. Yet, we enjoyed what we ate in Auckland.  
Since we had limited time, we tried a few places in the Mount Eden and Onehunga areas. These areas are great if you want a more casual ambiance versus the downtown area. 
---
Zool Zool Ramen and Bar
We ate at Zool Zool Ramen and Bar for ramen or "zoolmen" noodles which were delicious. The Zoolmen is similar to a pasta texture with concentrated broth. We ordered one teriyaki chicken zoolmen and one seafood ramen.  
There are vegetarian items here – vegetarian ramen, gyozas, tofu salad, and vegetable tempura.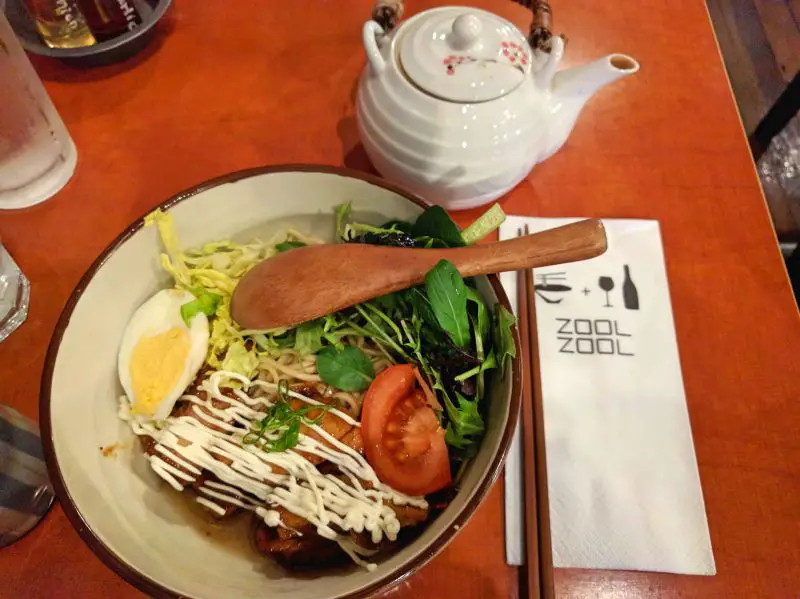 Address: 405 Mount Eden Road, Mount Eden, Auckland
---
Onehunga Cafe
Onehunga Cafe is open for breakfast and lunch. There are a variety of food options available from traditional breakfast of toast, pork belly or chicken waffles, to sandwiches and shared platters. 
The menu has a dedicated vegan section and has options such as vegan summer toast, tacos, beetroot salad, and more. There are also gluten-free options. 
On our visit, this restaurant was still open for dinner. We had a pork belly Po-Boy sandwich, a shared plate of seafood (fried calamari, shrimps, fish of the day), and a salad. It was plenty of food to eat. 
Address: 259 Onehunga Mall, Onehunga, Auckland 
---
Final Thoughts
We hope you're inspired to visit Auckland, New Zealand for a day. Although the Auckland day trip went by quickly, we look forward to a return trip and exploring the outer areas of Auckland and the neighboring islands. 
If you've been to Auckland before, where else should we visit? Let us know in the comments below.
Save this post to your New Zealand Pinterest board!