If you have one day in Pismo Beach, California, what should you do? 
Pismo Beach is a small beach town located in San Luis Obispo County. This city is a fun place to visit if you're going on a road trip along California's coastline. Whether you're into relaxing on the beaches or want to go on an adventure and driving an ATV, there are plenty of activities to keep you occupied. 
We had the chance to visit Pismo Beach as a side trip from San Luis Obispo (SLO). Since we spent a weekend at SLO, we wanted to explore more of the neighboring areas and see the hype around Pismo Beach. 
In this post, we're sharing what to do on your Pismo Beach day trip and important details on how to get there and where to stay. 
*Disclaimer: This post contains affiliate links. If you click on them and make a purchase, we receive a small commission. There is no additional cost to you. Appreciate the support.
---
How to Get to Pismo Beach
How to Get to Pismo Beach from San Luis Obispo
It'll take 14-20 minutes of driving 12-14 miles to get to Pismo Beach from SLO. 
From SLO to Pismo Beach, there are two routes to take: 
From 101 South and Exit 191A for CA-1 South. Click here to see the directions in Google Maps.
Take CA-227 South and turn right on Price Canyon Road. Click here to see in Google Maps.
---
How to Get to Pismo Beach from Santa Barbara
Santa Barbara, another beach town, is only 1.5 hours away from Pismo Beach. The distance is 83 miles. 
From Santa Barbara to Pismo Beach, take 101 North to CA-154 West/San Marcos Road to connect back to 101 North. Click here to see the driving directions. 
**As a heads up, CA-154 West is a mountainous route. If you get dizzy, just continue to take 101 North from Santa Barbara. 
---
How Long Do You Need to Visit Pismo Beach?
Pismo Beach is a small town since many of the highlights are along the beach. You can spend a few hours up to a full day, especially if you hang out at the beach and go shopping in town. 
If you have 2 days in Pismo Beach, then it's even better to space out your sightseeing.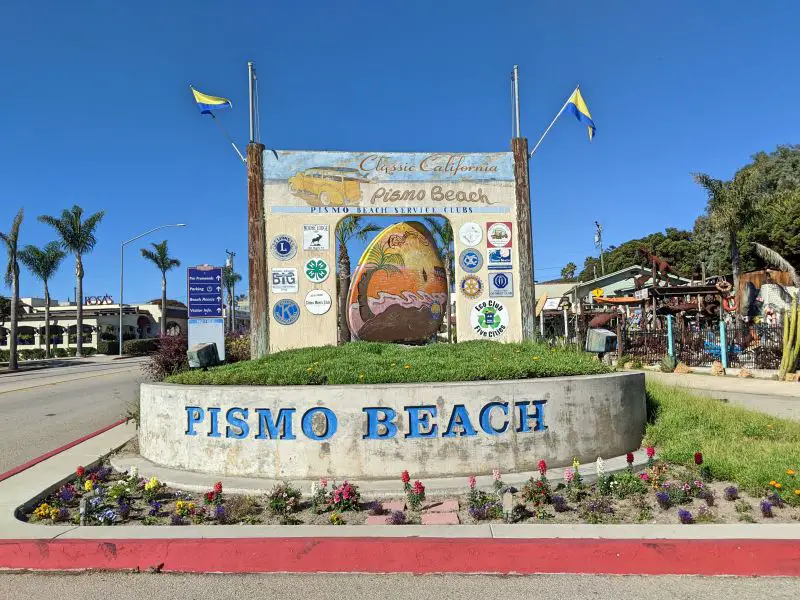 ---
Parking
There is street parking and paid parking lots available in the Downtown Pismo Beach area. For the street parking, there are 2-3 hour spots (no meter required), so you'll need to check the signs. If you plan to stay longer than 3 hours, it's recommended to go with the paid parking lots. 
It can get very busy on the weekends and holidays, so it will be challenging to find parking. The roads are 1-2 lanes wide. 
---
Top Things to Do in Pismo Beach for the Day Trip
Depending on what you want to do, feel free to pick a few activities below to focus on. Don't feel obligated to do everything since there is only so much time.
1. Visit Monarch Butterfly Grove. 
One of the coolest experiences to have in Pismo Beach is to see the monarch butterflies. They're only available in the Monarch Butterfly Grove from late October to February. The butterflies fly from the northwest and Canada and use the grove as a stopping point in the migration to warmer climates.
The grove is a small area with a paved path so it's easy to walk through and wheel-chair friendly. It's also a family-friendly attraction to visit and has FREE admission. Children will love seeing these butterflies in the natural environment. 
You get the chance to see thousands of orange and black butterflies cluster together in the Eucalyptus trees. They huddle in groups so they don't get blown away from the winds or storms. There will be plenty of butterflies in the air finding another spot in the grove. 
During our visit, there were 22,445 butterflies present in the grove. Typically, there is a tour but that has been canceled this season. 
Tip: To photograph the butterflies, you'll need to have a zoom lens to get the close up shots. 
Behind the grove is the North Beach Campground and connects to the beach. 
Address: 400 S Dolliver St, Pismo Beach, CA 93449
---
2. Hang Out on the Pismo Beach Pier Plaza.  
It may not seem like much but there are a few exciting things to do on the pier. 
Stop by the Visitor's Center. It's an inviting place since it's in an Airstream trailer. You can't miss it since there are surfboards at the entrance.
Pick up some snacks and gifts at a gift shop on the pier. 
If you're a fan of fishing, you're allowed to fish from the pier. There is a sink with running water on the pier to clean your catch. We saw a few people with their fishing poles. 
Watch the waves from the seating areas. 
Note: It can get windy at the pier, so bring a jacket. 
---
3. Take a photo with the Pismo Beach large letters. 
It's an Instagrammable photo spot with large Hollywood letters of "Pismo Beach" next to the pier. You can't miss it on the way to the pier. 
---
4. Lounge on the beaches of Pismo State Beach. 
Pismo State Beach stretches for 17 miles and covers the towns of Pismo Beach, Grover Beach, and Oceano. You can pick a spot where you want to go and hang out for the day. Enjoy the soft sandy beaches, get some Vitamin D, and splash in the water. 
If you're hanging out on the beach next to Pismo Beach Pier, take the slide from the parking lot to the bottom of the beach. It's a fun opportunity for children to reach the beach. 
We saw quite a few people surfing in the waters so you can practice your skills here.  
---
5. Ride an ATV or drive your car on Pismo State Beach. 
One of the memorable opportunities is to rent an ATV and drive it along the beach. It's such an adrenaline rush to drive an ATV. The cost to rent an ATV for an hour is $100 so it can be a bit pricey. 
A cheaper option is to drive your vehicle onto the beach. It's recommended to have SUV or a 4 wheel drive vehicle so the vehicle doesn't get stuck in the sand. To visit this area, enter via West Grand Avenue at Grover Beach. The cost is $5 per vehicle. Read more information here. 
Note: These opportunities are only available until March 18, 2024. According to this article, driving any vehicles onto Pismo State Beach will be banned to preserve the wildlife and the beaches. 
---
6. Visit Oceano Sand Dunes. 
If you love sand dunes, add a visit to Oceano Dunes (also known as Oceano Dunes State Vehicular Recreation Area and Oceano Dunes SVRA). It's along Pismo State Beach in the town of Oceano and one of the most memorable places to visit in the Pismo Beach area.
What is awesome about this place is that ATVs and vehicles are not allowed here. Therefore, you can wander through these picturesque dunes without any disturbances or crowds. 
You're welcome to go sledding down the dunes if you have snow sled or saucers. Otherwise, walking on the sand dunes is so peaceful. 
This place isn't far from Pismo Beach so it's a perfect addition to your day. 
---
7. Shop in the Pismo Beach main town or the outlets.
The main Pismo Beach town has shops selling souvenir items and snacks, such as taffy, so you can pick something up as a souvenir. 
If you prefer going to the outlets and saving money with shopping, head to the Pismo Beach Premium Outlets. Your favorite name brands are here such as Nike, Kate Spade, Ralph Lauren Polo, and more. Click here for more information. 
Address: 333 5 Cities Dr, Pismo Beach, CA 93449
---
8. Eat clam chowder and seafood.
Did you know that Pismo Beach is home to the Pismo clam? You can find clams along Pismo Beach, which is why many restaurants offer fresh clams on the menu. (Or, you can also go clamming yourself for the adventurous route.)
Clam chowder is an excellent choice to try while you're in the area. The seafood is also just as delicious. 
Here are some recommended places to eat clam chowder in Pismo Beach:
Splash Cafe – It's a popular place to eat in Pismo Beach and you can't miss it with the long lines. We loved eating here! The menu has a lot of options from fried seafood, clam chowder bowls, burgers, and more. 
We tried the clam chowder (no bread bowl) and a fried seafood combination (calamari and fish). The clam chowder was better than expected due to the creamy soup and the number of clams. There was at least a clam or two with every spoonful of soup. 
The fried seafood combination was also good. You can choose two items, so we did calamari and fish. There is a fried shrimp option, so we'll try that next time. The calamari and fish were lightly battered and had enough seasoning. The calamari was delicious and cooked perfectly; the fish was slightly dry. The dish came with plain curly fries which was a nice touch from the typical curly fry seasoning. 
As a heads up, the line is long so you may not want to come here if you're hungry. We waited in line for over 20 minutes to reach the cashier. Luckily, it didn't take too long for the food to come out. There is indoor and outdoor seating available. Check out the menu here. 
Address: 197 Pomeroy Ave, Pismo Beach, CA 93449
(There is a second location at San Luis Obispo at 1491 Monterey St, San Luis Obispo)
Pismo Fish and Chips – Visitors love eating at Pismo Fish and Chips for the fresh seafood and various options. Check out the crowd favorites of the clams or seafood chowder, shrimp or fish tacos, fish and chips, and grilled fish platters. There are also burgers and sandwiches for sale. Click here for the menu. 
Address: 505 Cypress St, Pismo Beach, CA 93449
Ada's Fish House – This place uses fresh ingredients on the menu. Check out unique foods to try such as lobster mac and cheese, lobster rolls, and cioppino. There is clam chowder and fish and chips as well. There is indoor and outdoor seating here. Check out the menu here. 
Address: 558 Price St, Pismo Beach, CA 93449
---
9. Take a stroll through the parks. 
Pismo Beach has a few parks for everyone to enjoy. While some have playgrounds, the highlights are seeing the oceanside and beautiful views along the walking paths. Here are a few parks to check out:
Dinosaur Caves Park – This is a fun place for children as there are dinosaur theme playgrounds and sculptures (ie: dinosaur eggs). Visitors can also walk around and see the views of Pismo Beach and the ocean. 
Spyglass Park – This is a quieter park that has grills, picnic benches, and playgrounds. Visitors can access a small beach from here. 
Eldwayen Ocean Park – It's a small park recommended for picnicking. Unlike the other two mentioned, there isn't a playground here. 
---
10. Visit Pismo Beach for the monthly events. 
Depending on your visit, you can schedule a trip around a few memorable events in the area: 
Clam Festival – This annual event takes place in mid-October and has everything related to clams. Check out the parade, clam chowder cook-off, clam digging, and more. 
Classic California Christmas – Get into the Christmas spirit in December by seeing Christmas tree lights, watching the Santa surfing competition, listening to carolers, and more. 
Stay up to date with the latest events here. 
---
Where to Stay in Pismo Beach
Since Pismo Beach is close to San Luis Obispo and Santa Barbara, it's not necessary to stay overnight. In transparency, we did not stay over in Pismo Beach as we were based in SLO. 
If you plan to stay overnight in Pismo Beach, check out these accommodations based on the high reviews. 
Check the availability for Pismo Beach accommodations here. 
Oxford Suites – If you're looking for a home away from home, check out Oxford Suites. Past visitors enjoyed the clean room with a comfortable bed, awesome location off of 101 highway, and the breakfast. The cost of the room for 2 people for 1 night starts at $180. Book a room at Oxford Suites here. 
Hilton Garden Inn – Hilton Garden Inn is a part of the Hilton hotel chain, yet visitors enjoy the location. This place is only a few minutes' drive from Grover Beach and close to the downtown area. For a 2 person occupancy, the room cost starts at $145 per night.  Reserve a room at Hilton Garden Inn here.
Spyglass Inn – Looking for the ocean views from your hotel room? Spyglass Inn may be the perfect spot for your overnight. Visitors enjoy the large room and location as it's close to a beach. There is an on-site restaurant if you prefer to eat in. The cost of the room starts at $215 per night for 2 person occupancy. Check availability at Spyglass Inn here. 
Shell Beach Inn – Guests love the hospitality at Shell Beach Inn. The beach is close by. Plus, this place is next to the Dinosaur Caves Park. The cost of staying here for one night starts at $210 for 2 person occupancy. Book a room at Shell Beach Inn here. 
North Beach Campground – As we mentioned earlier, North Beach Campground is a well-maintained campsite right behind the Monarch Butterfly Grove. There is a picnic table, running water, a spot for setting up a camp, and a communal bathroom for overnight visitors. It's a fun and unique place to stay overnight in Pismo Beach. Bonus – It's only a few minutes' walk to the beach. More information on how to reserve a spot is here. 
Final Thoughts on Pismo Beach Stopover
Pismo Beach is worth a visit to spend one day. You'll have plenty of activities and sightseeing activities to keep you occupied. Enjoy as much of California's coastline as possible in Pismo Beach as the ocean waves are beautiful.
If you're continuing your journey in Southern California, check out our other posts below: