Returning to Vietnam when there are travel restrictions and the pandemic is a challenge. Vietnam closed its borders to tourists and travelers due to the COVID situation on March 22, 2020. 
As you know, we've been living in Ho Chi Minh City, Vietnam for nearly 4 years. We spent the last 1.5 years (from January 2020 to July 2021 in Vietnam) without returning home to the U.S. In July 2021, we finally had the chance to return to the U.S. to get our COVID vaccine and see family and friends.  
We originally thought it would take just over a month to return to Ho Chi Minh City. However, just after we left, Vietnam went into a full lockdown to prevent the spread of COVID. 
It took some time – almost four months for the government approvals, paperwork, booking flights, and quarantine hotel. Yet, we made it back!
We just finished quarantining at the hotel and wanted to provide our experience of what we went through to get back to Vietnam at the end of November 2021. 
***Just note that the rules change often on how to enter Vietnam. Stay up to date with the current regulations and ask others for questions in this Post COVID Return to Vietnam FB Group.
*Disclaimer: This post contains affiliate links. If you click on them and make a purchase, we receive a small commission. There is no additional cost to you. Appreciate the support.
---
Who Is Allowed to Enter Vietnam?
At the moment, only foreign experts and people traveling for official/government purposes can enter. For foreign experts, they must be sponsored by a company. Justin's company sponsored us so we fall under this category. 
Family members of the foreign experts and appropriate members related to the official/government people are also allowed to enter. 
What about Vietnamese citizens? They can return to Vietnam through specific tour packages which have a similar quarantine stay for at least a week (if vaccinated). Otherwise, they'll need to wait until the county resumes commercial flights. 
When can foreign tourists return? Vietnam has a vaccine passport where fully vaccinated visitors from certain countries are allowed to enter. Tourists must be on a tour package, stay at the specific hotel, and follow the agenda. At the moment, Halong Bay, Danang, Hoi An, Nha Trang, and Phu Quoc are open to tourists. Click here to read more. The country will try to resume more normal international travel in 2022. 
---
Is a quarantine after arrival needed?
Yes. At the time of publishing, the Vietnam government requests foreign experts to stay at a quarantine hotel for 8 days if fully vaccinated or 14 days if not vaccinated and then 7 days of self-monitoring at home. 
For the quarantine hotel, meals are included in the package.
In order to be released from the quarantine hotel, guests must take a COVID test the day before leaving and receive a "negative" result. The final documentation with a negative result is given to everyone at checkout. 
---
What Is Needed to Enter Vietnam?
Everyone needs to have the following documents before entering Vietnam. Having a printed copy of the document is needed.
Vaccination card with two doses – The vaccination card needs to be recognized by the Vietnam government. Check out the list here. If not, they'll need to be certified by the nearest Vietnamese Consulate office. 
Visa application 
2 passport photos (4cm x 6cm) for visa – If you're from the U.S., the regular size photos of 2 inches x 2 inches will not work. 
Approval letter from Vietnam People Committee
Approval letter from Immigration Committee
Commitment letter of the sponsored company who will pay for COVID treatment if it's caught. – This is similar to having travel insurance up to $50,000 coverage. 
Transportation letter from the Airport to Quarantine Hotel 
Copy of the Negative RT-PCR test – taken 1-3 days before your flight depending on your airline requirements.
Health declaration QR code – This needs to be completed 24 hours before arriving in Vietnam so you may need to be completed during a layover. 
Clean U.S. dollars for visa – exact change recommended.
---
How Long Does the Process Take?
After arriving back in the U.S. in mid-July, we were first told that it would take 7 weeks to process the visa and paperwork. Unfortunately, Vietnam decided to lockdown the country, so offices were closed for months. In the end, it took us 4 months to re-enter Vietnam and get approval from the Vietnam government. 
Four months is not a typical amount of time. We've heard people receiving approval in 5 weeks up to 2 months. 
---
Should You Use an Agency? 
Yes, this will be helpful. Hiring a reputable agency in Vietnam that knows the process of filing the proper paperwork and booking flights and quarantine hotel will help expedite the return. 
Justin's company already worked with Nhi Gia Trading and Service, based in Ho Chi Minh City, and they were helpful during the entire process. 
It's also recommended to have someone in Vietnam communicate with the agency. This will make life easier and have fewer communication barriers. Luckily, the admin at Justin's company helped as a middleman between the agency and us. 
---
How to Book Flights Back to Vietnam
Since there aren't any commercial flights to Vietnam, foreign experts must book a special flight with airline offices located in Vietnam (ie: Singapore Airlines, Emirates, Korean Airlines, Cathay Pacific in Vietnam). Expect to pay a higher cost for these flights as the airlines may fly into Vietnam 1-2 times per week. 
Booking online does not work. Justin tried to contact airlines (not through the Vietnam office) and didn't get anywhere with the reservation process. In addition, we heard stories that airlines would have flights listed online, and customers would pay for them, but then they weren't available and were canceled. Contacting the airlines' Vietnam office does give you responses but it's much delayed compared to working with a local agent.
The airlines need specific approval documents before booking such as vaccination cards, approval letters, transportation information, and quarantine hotel). Therefore, working through the airlines' Vietnam office is a must. 
It's possible to contact the airlines yourself for pricing, dates, and back and forth communication regarding the documents. The easier route is to use the agency to deal with the transaction. 
How Much Does it Cost to Return?
It will vary from person to person as the flight and hotel costs will vary depending on the needs. The government does not pay for these costs, so visitors or the company sponsor will need to cover the charges. Below is the cost that we know of. 
RT- PCR COVID Test (Results in 12 hours): $150 x 2 people = $300
Flight from San Francisco to Ho Chi Minh City on Singapore Airlines: ~$2000 x 2 person =  $4000
Quarantine Hotel Cost at Ibis Saigon Airport Hotel (1 room for 2 people): $1350
Transportation from Ho Chi Minh City to Hotel: $145  
Single Entry Visa: $25 x 2 people = $50 
Total for 2 people: $5,845 USD
**Note: There is a fee to the agency but we don't know the actual cost of it. Therefore, the total is higher. 
---
Our Experience from San Francisco, California to Ho Chi Minh City, Vietnam
We decided to take Singapore Airlines since we value the high-quality service, clean planes, and good food. We've taken this airline before and enjoyed the service. Plus, the layover was also perfect for us as it wasn't too long. 
Flight Information
From San Francisco (SFO) to Singapore (SIN) (SQ 33) – Flight takes approximately 17 hours 
Layover in Singapore for 3 hours
From Singapore (SIN) to Ho Chi Minh City (SGN) (SQ 178) – Flight takes 2 hours
Before Traveling to Singapore
We took a RT-PCR test 2 days before our departure to Singapore. For Vietnam, the results needed to be within 3 days of departure. 
We made a reservation through Worksite Labs to do the test nearby San Jose Airport since it was closer to our house. 
Worksite Labs offers three tiers for pricing – $90 for results in 24 hours, $150 for results in 12 hours, and $250 for results in 1.5 hours. We chose the mid-tier level. 
Taking the test was quick and easy. We went through a "drive-thru" testing site. 
A lab technician gave us a bag, instructed us to do two swabs with a larger q-tip and a thinner q-tip, and then placed them into a tube. We were surprised that we had to do the test ourselves considering the high cost. 
Within 12 hours of testing, we received a text that our results were ready through the portal and we needed to print out a copy and also an electronic copy to upload to Vietnam's Tokhaiyte portal. 
Flight to Singapore (SQ33)
When arriving at SFO airport, check in was fine. We didn't have any issues as we had all the proper documents for travel. The customer service person spent half an hour on us completing a Singapore Airlines checklist for entry to Vietnam and confirmed our vaccination and documents. 
It felt great to board a plane again. We were on an Airbus A350-900 plane and it was configured differently than usual. About ⅔ of the plane was Business Class, while the ⅓ of the plane was Premium Economy. There weren't any regular economy seatings, thus, the higher price for the flight ticket. 
Premium Economy was great for us since we had more legroom and space between the TV screen. 
The plane wasn't full, about 50% capacity. There was plenty of space between people for social distancing. 
Each seat received a pillow, blanket, headphones, bottled water, and a care package with a mask, hand sanitizer, and alcohol wipes.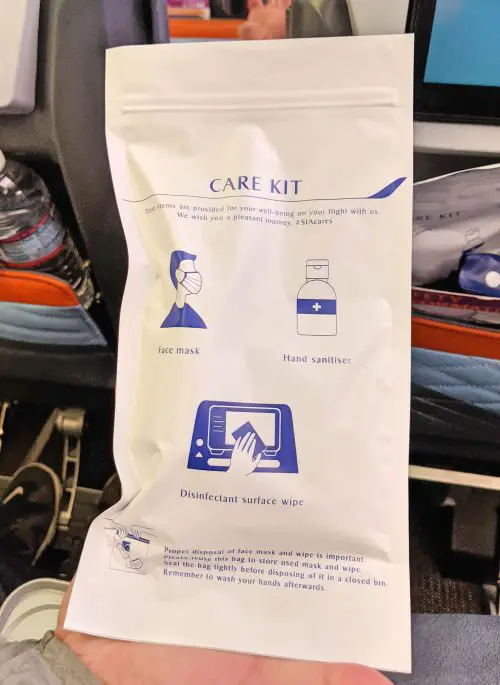 The special meal choices were limited on this route. Normally, we like to order one seafood meal option, but it wasn't available this time. Luckily, there were a few vegetarian options available. (We had to update the request on the Singapore Airlines website 2-3 days prior to the flight.)
The movie options had plenty of Hollywood Blockbusters and newer releases. We filled up the flight time by watching lots of movies, such as Cruella and Jungle Cruise. 
One thing that we noticed was that drinks and snacks weren't distributed during the non-meal times. You had to call an attendant for requests.  
Arriving in Singapore
Our Singapore layover was a short 3 hours. 
We landed in Terminal 3. Unfortunately, we couldn't explore the other areas of the Singapore Changi Airport as we would have loved to see Jewel Changi Airport in Terminal 2. That'll be saved for a future trip! 
We hung out at the SATS Priority Lounge using a Priority Pass. The lounge was quiet and we tried the laksa noodle soup for breakfast.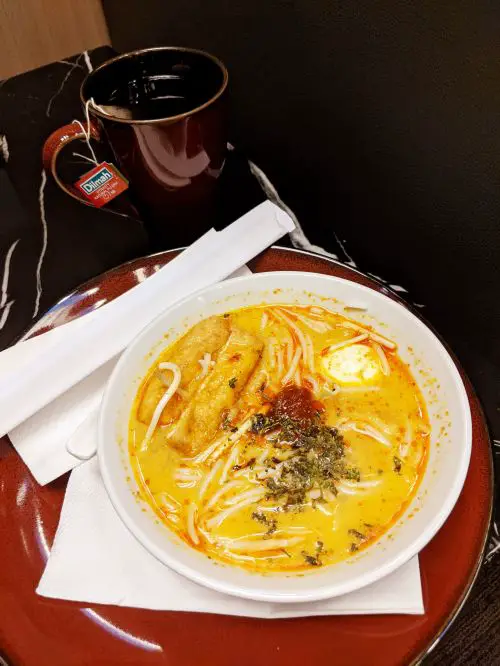 We also completed Vietnam's Health Declaration through Tokhaiyte Portal and received a QR code. This QR code is needed when entering Vietnam's airport. It must be done within 24 hours of your final flight to Vietnam and can't be done before that.
Flight to Ho Chi Minh City, Vietnam (SQ 178)
When heading to the Ho Chi Minh City flight gate, we didn't have to go through the process of checking documents. Just needed to have our luggage scanned and then go to the gate for departure. 
The flight was short and sweet. Only two hours!
The plane was the same as the first flight – Airbus A350-900. Yet, there was a smaller Business Class and majority Economy Class seating. Similar to the first flight, it wasn't full so there was plenty of space between guests. 
This time, we had a special request meal of a seafood option which was seafood noodles. They were nice and crispy. The other breakfast options were porridge or a Western breakfast of scrambled eggs. 
As with the movie options, they were the same as the first flight. 
Arriving at Ho Chi Minh City 
We finally made it to Vietnam after the long travel! 
1. Proceed to the Health Control Area
Once we got off the plane, we went to the Health Control Area. We showed a copy of the Health Declaration QR code on the phone and receive a paper copy. This must be kept to use for entry, exit, and transit areas of the airport. 
2. Getting a visa on arrival 
**If you already have a visa or temporary residence card, then you can proceed to immigration.**
Since our previous visa expired, we had to get a visa on arrival. The experience was a bit chaotic and unorganized than we last remembered. 
While there are lines for individual visa applications and cashiers, there wasn't anyone around to help out and direct people. 
We eventually found the application on a counter and completed it. Then waited in a long line to drop off the visa application and passport.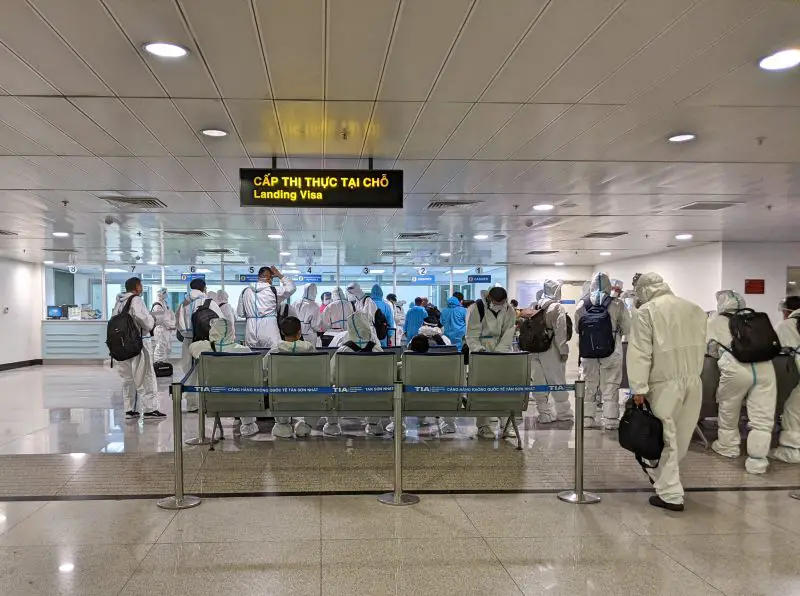 Once our names were called, then we paid for the visas (single entry is $25, multiple entry is $95) and received our passports. Don't forget to have clean U.S. dollars to pay for the visa. 
We proceeded to Immigration and then finally to our checked in luggage.  
3. Picking Up Checked In Luggage 
It was already two hours since going through the process at the airport and our checked in luggage was just hanging out. We picked them up and then proceeded to our shuttle transportation. 
4. Transportation from Airport to Quarantine Hotel 
We waited in line to get our shuttle to our quarantine hotel. 
After giving them the transportation confirmation, we received two Personal Protective Equipment (PPE) of full-body coverage to wear on the shuttle. 
We saw many groups of people wearing PPE that they bought before arriving in Vietnam, but it's not necessary unless you feel unsafe without it on the plane ride.
Our quarantine hotel, Ibis Airport Hotel, is only 2 minutes away from the airport. So we had the shuttle all to ourselves. It was a bit silly that we had to wear the PPE, but we're just following the protocol.
How was our quarantine hotel like? We're going to give a cliffhanger, so you'll need to wait until the next post here. 
---
Final Thoughts
We loved our time back in the U.S. and seeing family and friends that we haven't seen in 1.5 years. Plus, we had the chance to go hiking and going on two trips to Southern California (San Diego, Solvang, Julian, San Luis Obispo, and Pismo Beach are the highlights).
Yet, we're thrilled that we've finally returned to Vietnam. We're thankful to everyone who helped us from the Admin at Justin's company and Nhi Gia Team. 
We're not done with this series yet as you're itching to know how life is like during our 8-day quarantine. It'll be our next post.