As you travel through East Java and experience exciting outdoor adventures, consider adding a short stopover in Malang to see bright, colorful houses. 
Located in the Kota Malang, Jiwa Timur, south of Malang, two former slum areas – Kampung Warna Warni Jodipan and Kampung Tridi – worked with a group of students from Malang University in 2016 and local artists on this community project. 
The goal was to improve the living conditions by upgrading the village area with a new splash of paint (oranges, yellows, pinks, all colors of the rainbow), display local street art, and bring the community together. 
And now the villages are a hot tourist destination to take photos. 
In this post, we'll share helpful tips on how to visit these colorful houses in Malang. You may be inspired to add this spot to your itinerary! 
---
About Malang Colorful Villages
There are two main villages to explore – Kampung Warna Warni Jodipan and Kampung Tridi. 
Kampung Warna Warni Jodipan was the original neighborhood that had the upgrade and then Kampung Tridi followed up afterward. 
Kampung Warna Warni Jodipan focuses more on murals and street art. You'll love the variety of animals, celebrities, and daily life depicted on the walls. We experienced something similar when seeing street art at Jamal Mural Village in Jeonju, South Korea. 
Kampung Tridi focuses on 3-D interactive artwork. You can pose at various photo spots such as a satay cart, heart, potted plants, and so much more.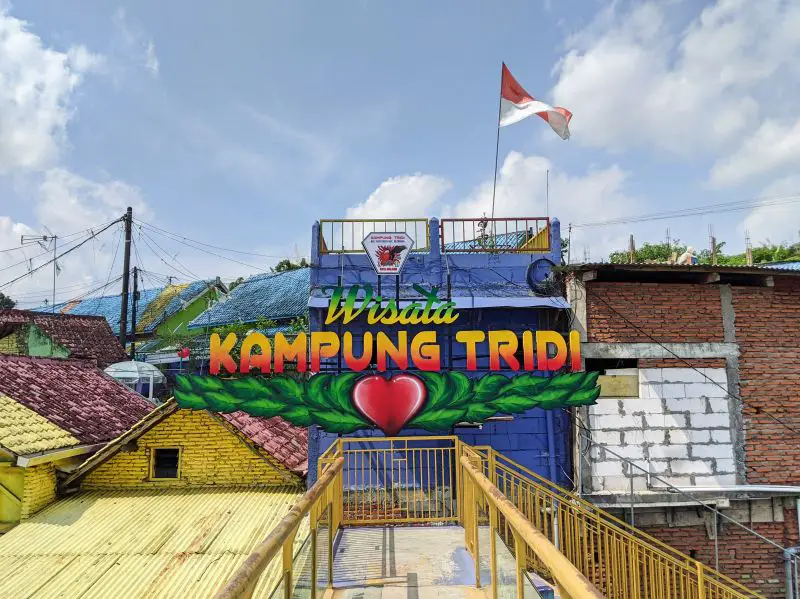 Both neighborhoods are great for taking photos and selfies. You can't help but smile at the rainbow colors used for the houses – pinks, yellows, oranges, and more! 
It's easy to wander through the alleyways to take photos or even stop by a local shop to buy snacks or drinks. You can go at your own pace and people won't bother you. 
TIP: Since you're walking through a neighborhood and people live here, please keep quiet and be respectful. 
As a heads up, you'll need to cross a sturdy yellow bridge between Kampung Warna Warni Jodipan and Kampung Tridi and pay a separate admission.
The villages also have public toilets to use and are maintained. There is a small fee of 2,000-3,000 IDR ($13-.20 USD) to use them. 
There is a third colorful neighborhood called Kampung Biru Arema. We didn't get a chance to visit. 
From the overpass area, we saw this neighborhood with pastel blue and purple houses, opposite Kampung Warna Warni Jodipan and Kampung Tridi. The colors looked similar to Morocco's blue city, Chefchaouen. 
---
How to Get to these Rainbow Houses in Malang
The colorful houses are about 600 meters (.4 miles) away from the Malang Train Station. It'll take 6 to 10 minutes to walk there or a 2-minute drive by car. Click here for the directions. 
Or, there is a bus from Stasiun Kota Baru (Malang Train Station) to the stop, Indiana Guna Aneka Warna B. The route is every 15 minutes. Then, you'll need to walk for a few minutes to get to the entrance. Click here for the route. 
If you're visiting Malang from other cities, it's recommended to hire a driver or take a ride-hailing car or motorbike (ie: GoJek) to get to these colorful houses. 
We came from the Mount Bromo area so it took over 2 hours as it's 61 to 126 kilometers (38 to 78 miles) away depending on the route. 
We saw two entrances to enter the neighborhoods. They are on opposite sides, so you can choose depending on your drop-off point. 
If you go to Kampung Tridi first, there is an entrance at the start of the overpass off Jl Gatot Subroto road.
If visiting Kampung Warna Warni Jodipan first, then there is an entrance off of Jl Gatot Subroto and Jl. Ir. H. Juanda road. 
As a reminder, you'll cross a yellow bridge to travel between Kampung Warna Warni Jodipan and Kampung Triti.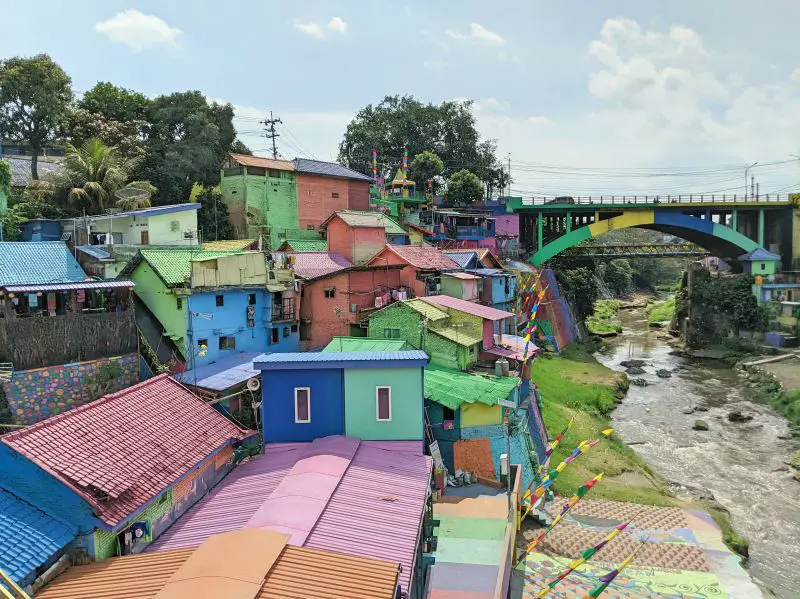 ---
Admission Cost
Each section costs 5,000 IDR ($.33 USD) to enter and the funds support the villages. Since we went through two neighborhoods, we paid 10,000 IDR ($.66) per person. 
For the Kampung Triti neighborhood, you get a free gift. You can choose any handmade keychain made from felt material. We saw a few elephants, animals, and uniquely shaped ones. All are adorable!
---
How Much Time Do You Need?
You can spend as much time as you want here. The neighborhoods are large so you can wander through each of the alleyways to explore. 
Unfortunately, we had 30 minutes to spend. We would have loved to spend longer (or even an hour) exploring but we needed to get to our next destination – our homestay nearby Tumpak Sewu Waterfall.
We visited on a weekday afternoon so it was very quiet. We can imagine that the weekends are more crowded here. 
---
Final Thoughts
If you're in Malang or passing through the area, definitely add a visit to these brightly colored villages. The admission supports those living there and the community. Plus, the rainbow colors brighten the mood and you'll love your time taking photos here. 
Need ideas on other places to visit in East Java? 
Have you been to other colorful villages around the world? Let us know where we should go next in the comments below.