Utilizing award travel can save you money and allow you to fly in style. We booked our trip from San Francisco, California to Santiago, Chile and using our American Airlines AAdvantage miles before the March 2016 mileage devaluation. Our business class seats cost 100,000 miles round trip and $57.66 per person. Normally it would cost nearly $7000 round trip per person for those business class seats. This was the first part of our travels before going to Easter Island.
Redeeming for award travel can sometimes lead to slightly longer travel time due to more layovers, but the journey is part of the fun. This gave us the opportunity to fly on different planes and see different airports.
The First Leg: San Francisco (SFO) to Charlotte (CLT) Airbus A321 (twin-jet)
Class: First (no Business cabin available)

Food: Yes

Entertainment: No

Flight Time: 5 hours
Seating in First class had 4 rows of seat in a 2-2 configuration. The seats were wide and comfortable, but the plane was dated. You could see remnants of US Airways logos around the plane. We had the opportunity to try some of American Airlines's fine dining options for breakfast.
We tried the vegetarian quiche. Flavor was good; the crust was a bit soggy.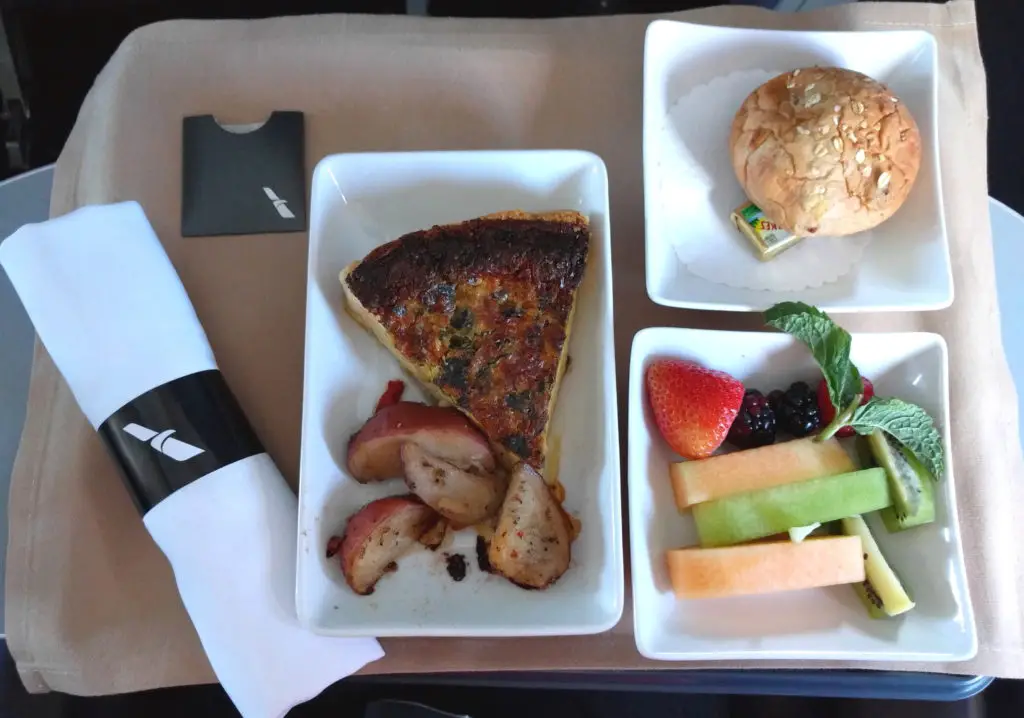 The Second Leg: Charlotte (CLT) to Dallas (DFW) Airbus A321 (twin-jet)
Class: First (no Business cabin available)

Food: Yes

Entertainment: No

Flight Time: 2 hours 40 minutes
This flight put us on the same type of plane as our last flight. This flight was shorter and the dining options a little bit better. They started us off with a bowl of warmed mixed nuts and beverages shortly after takeoff while we relaxed and enjoyed the view.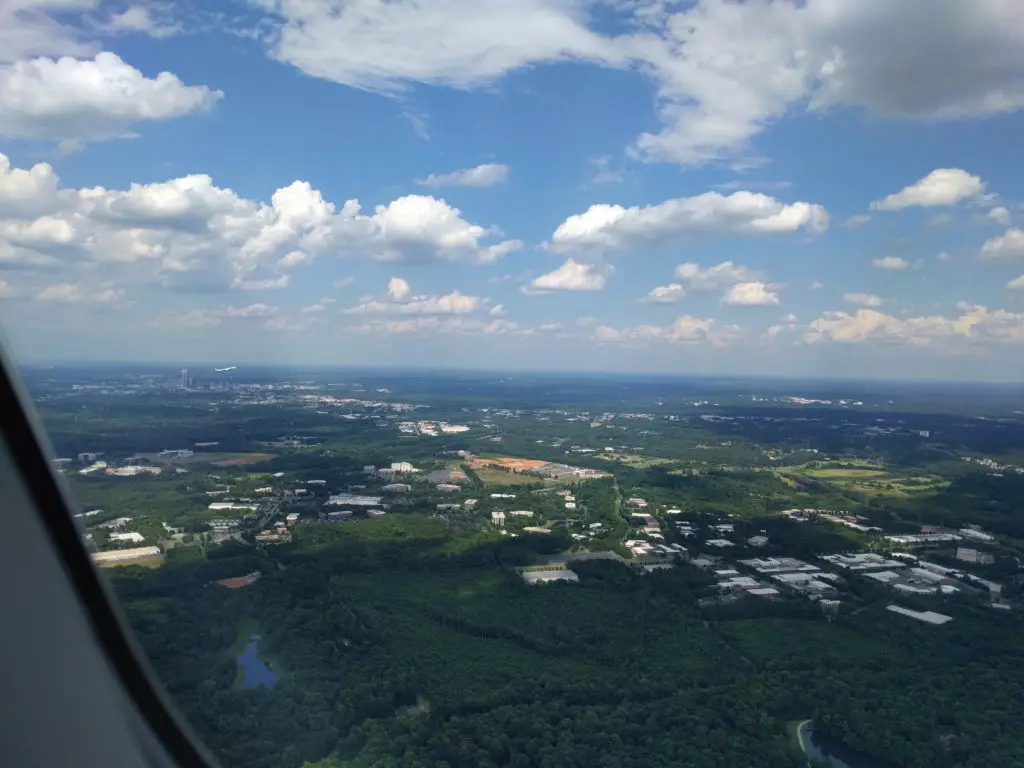 For lunch we had a classic southern treat: shrimp and grits. The shrimp and grits were tasty and reminded us of the time we spent in New Orleans 3 years ago.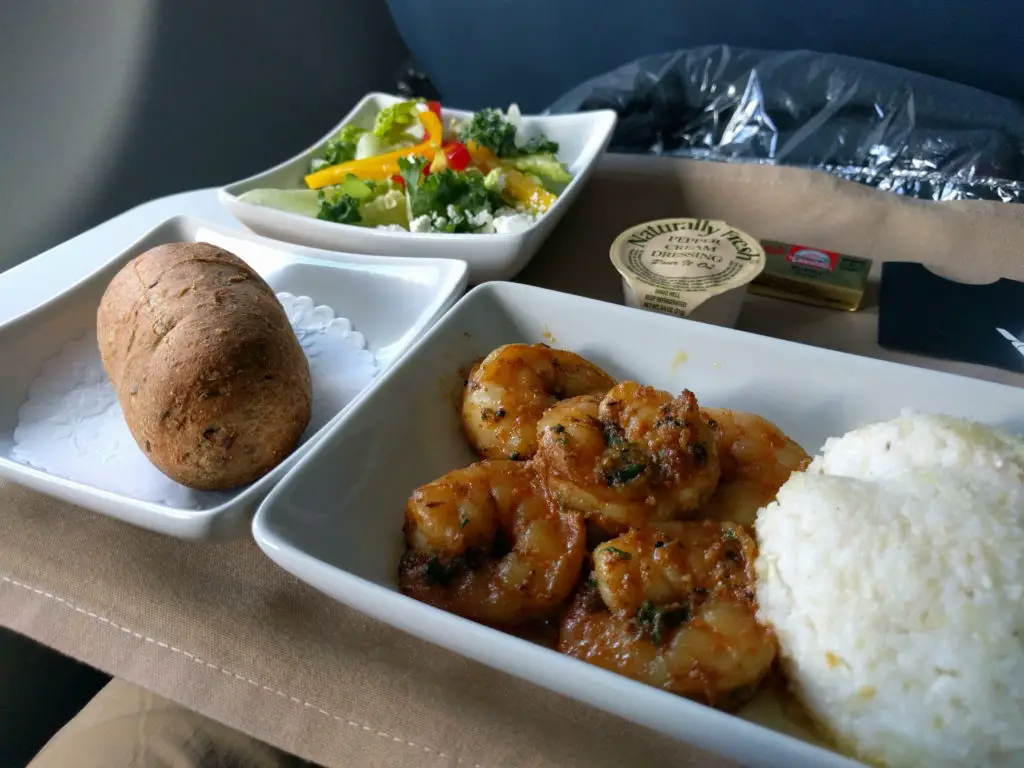 After the meal, there was even a surprise dessert – a warm chocolate chip cookie!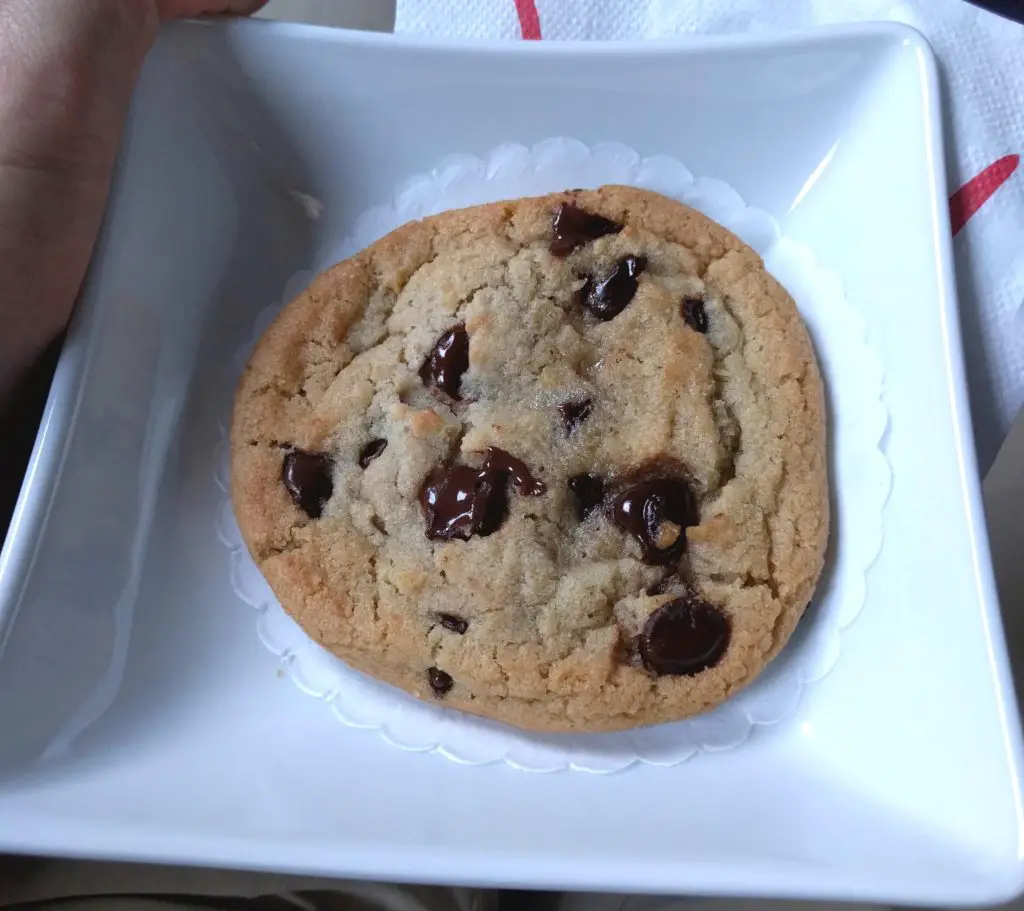 What a way to send us off to our next flight
The Third Leg: Dallas (DFW) to Santiago (SCL) Boeing 777-200 (twin-jet)
Class: Business

Food: Yes

Entertainment: Yes

Flight Time: 9 hours 25 minutes
Finally we made it to the third and final flight to Chile (before heading to Easter Island of course). The plane was recently updated in a 1-2-1 staggered configuration. Rather than take the two middle seats to be right next to each other, Jackie took seat 7L and I took seat 7H so we could wave "Hi" to each other during the flight.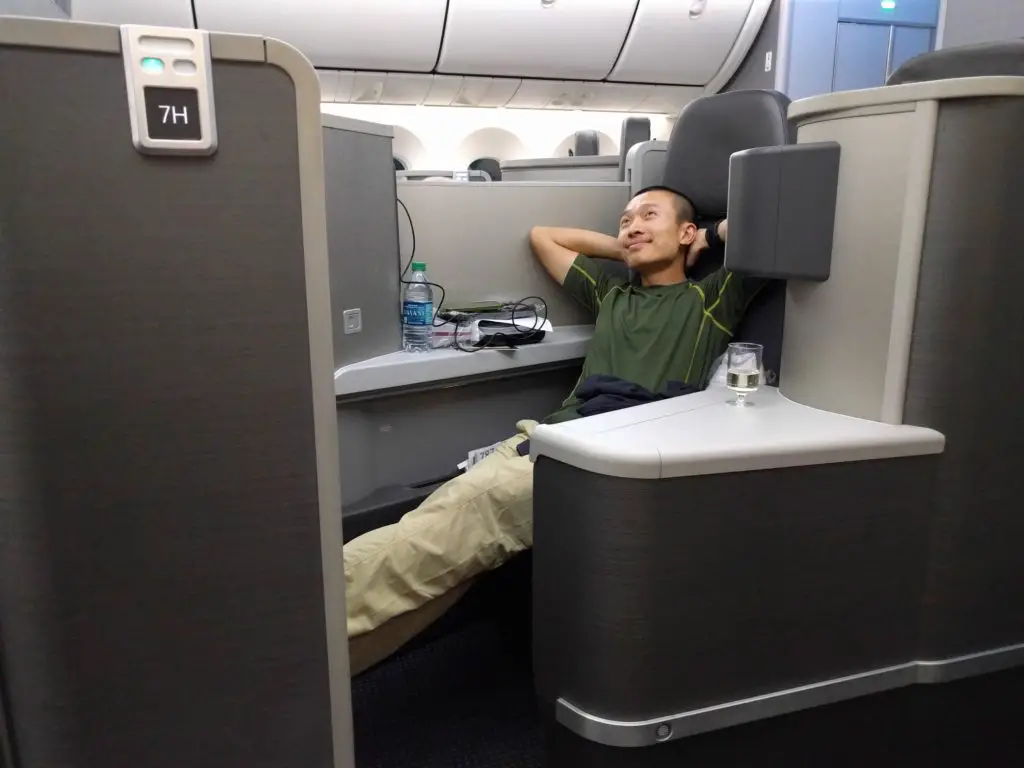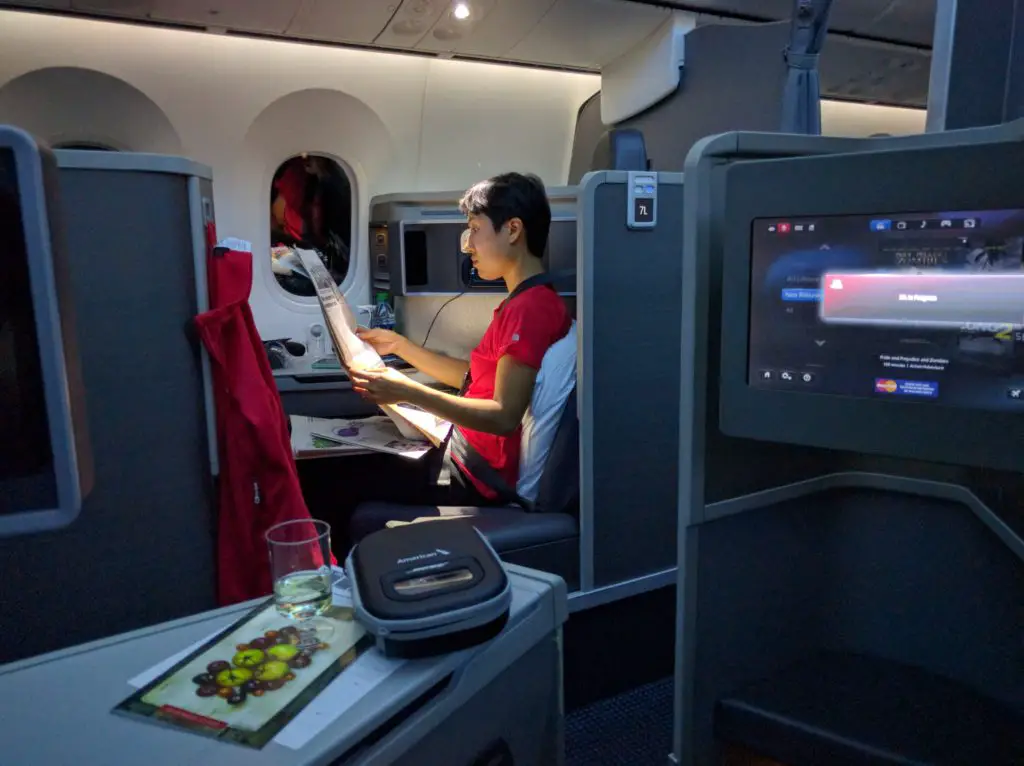 The seats were spacious and had the ability to lie flat accommodating those over 6' tall. We are short and definitely appreciated the extra space.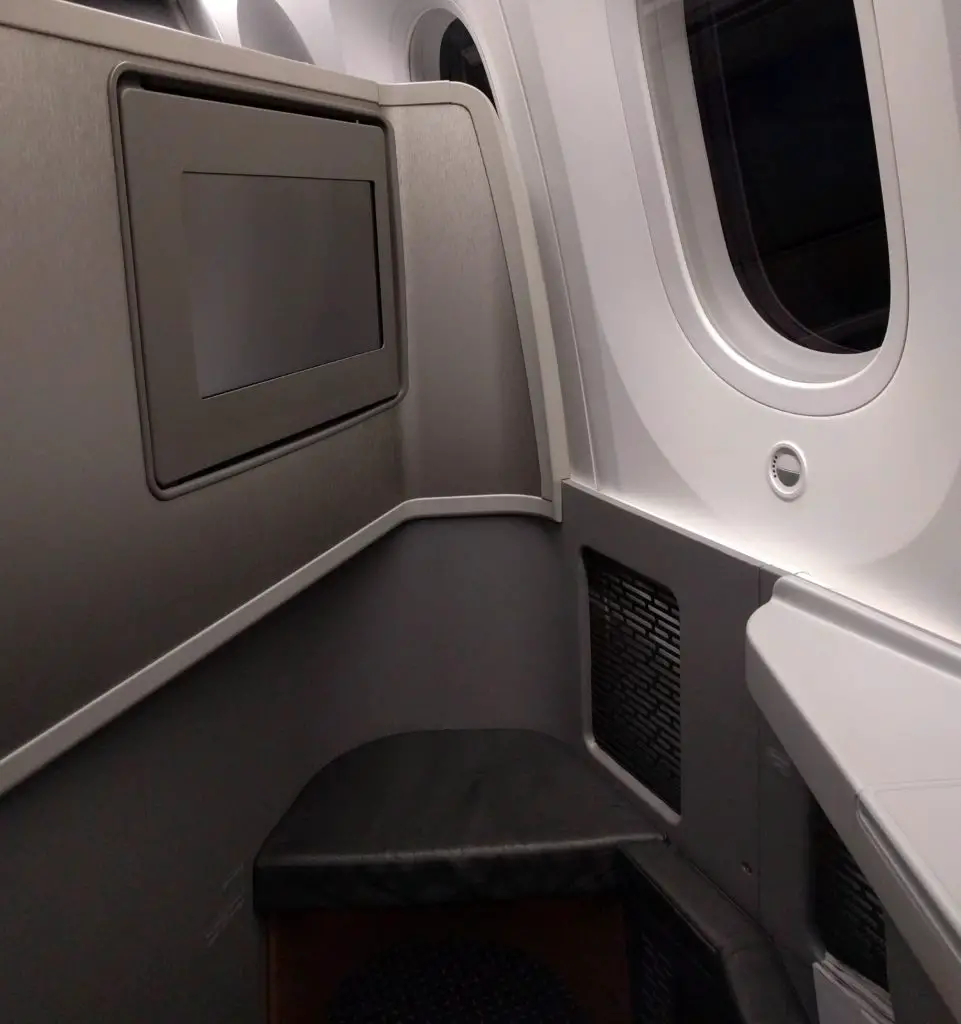 Other amenities included:
Cole Haan amenity kits

AC power outlets and USB ports

Bose Noise Cancelling headphones

16-inch touchscreen with in-seat remote giving access to over a hundred movies, tv shows, radio stations, and video games

Wi-Fi (pay to use – we did not use this)

A walk-up bar continuously stocked with various snacks and drinks
Being in Business class meant that you have a little bit of pampering. Drink options were plentiful and the menu had some good choices.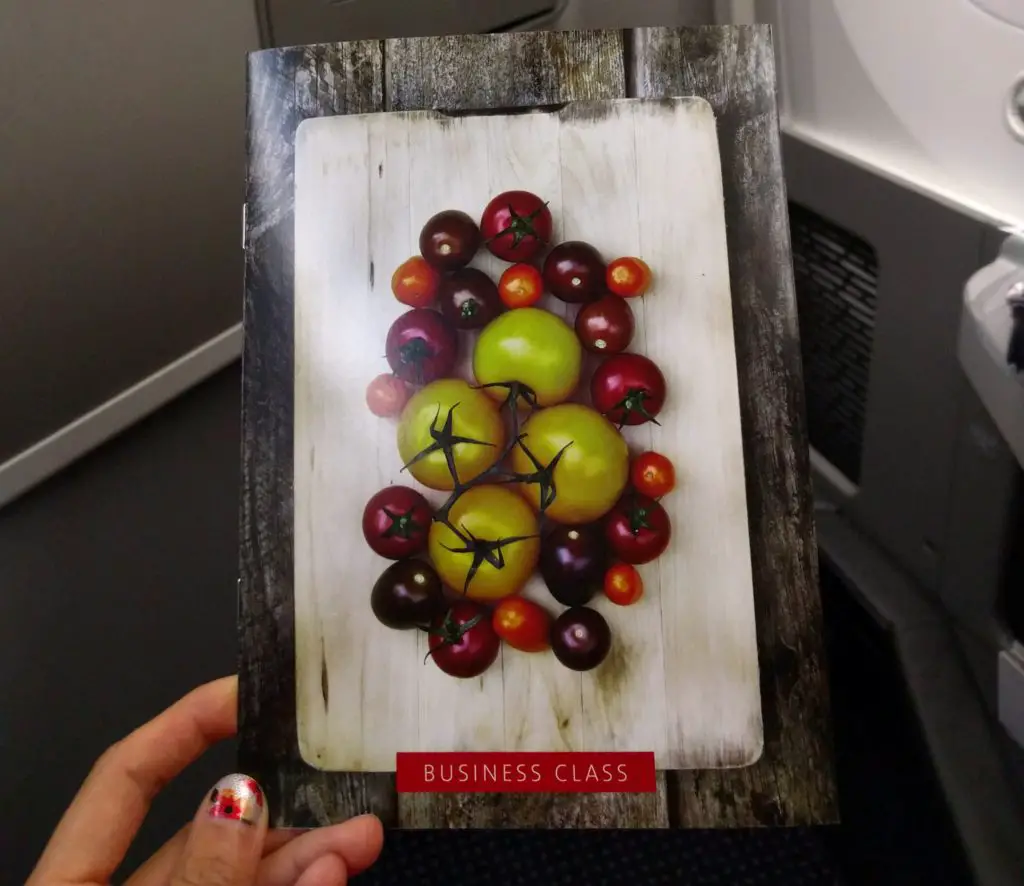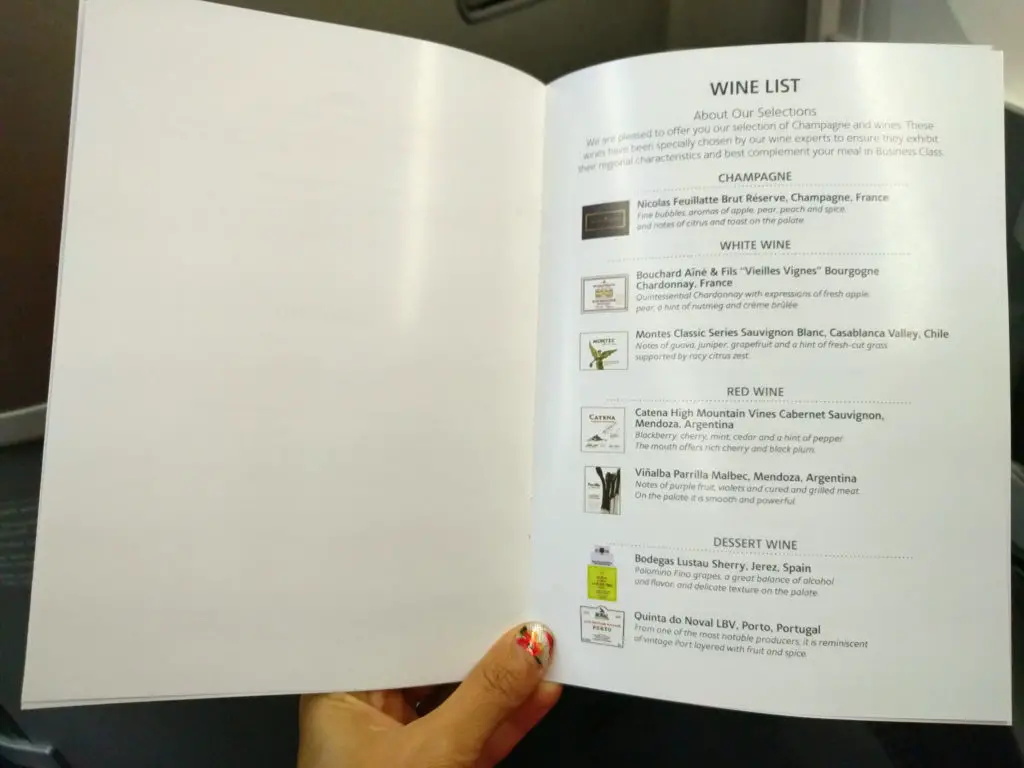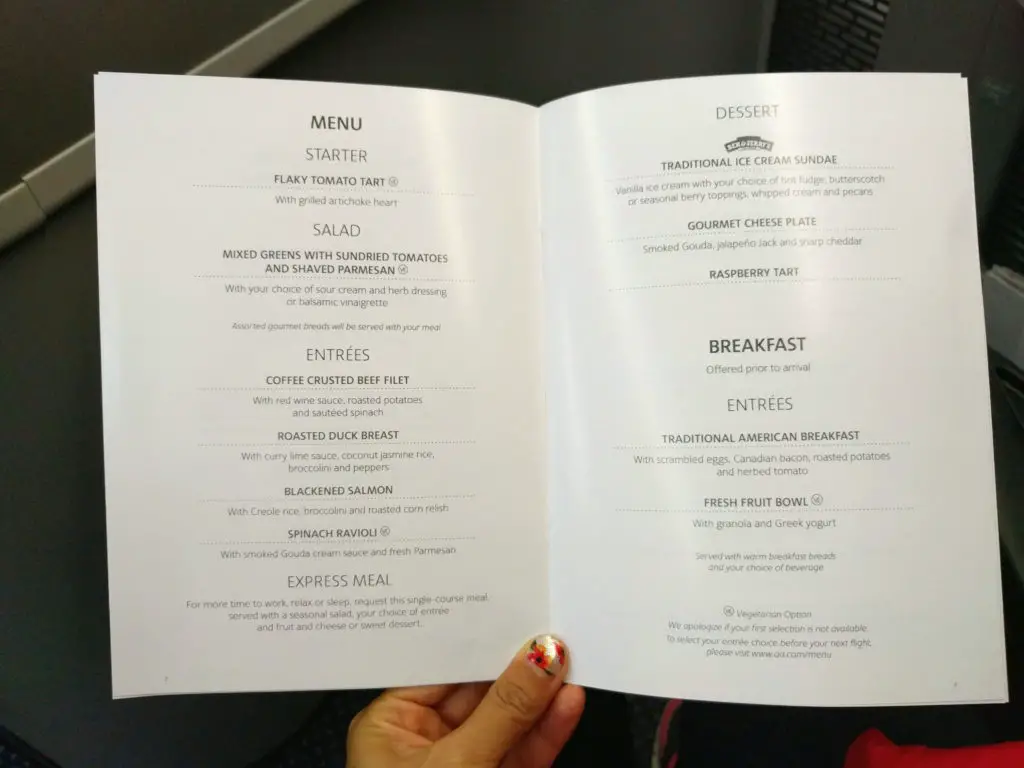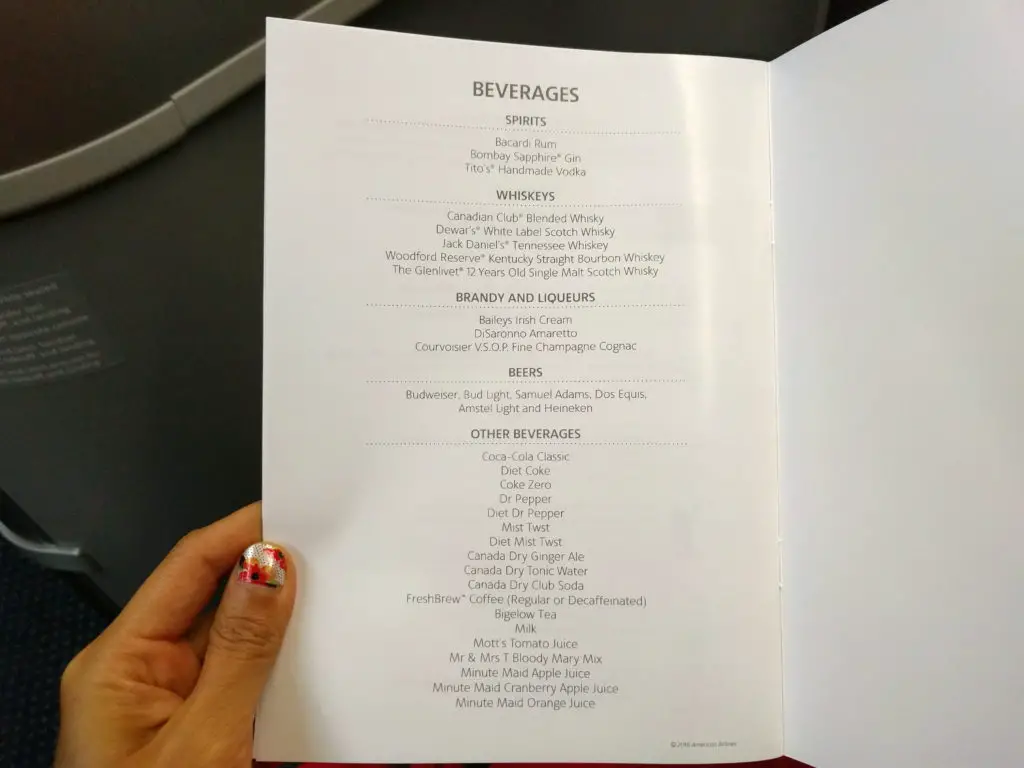 For dinner, we started with a flaky tomato tart with grilled artichoke heart and a mixed greens salad with sundried tomatoes and shaved parmesan. The tart was nice and flaky and the salad was fresh with a good amount of parmesan shavings.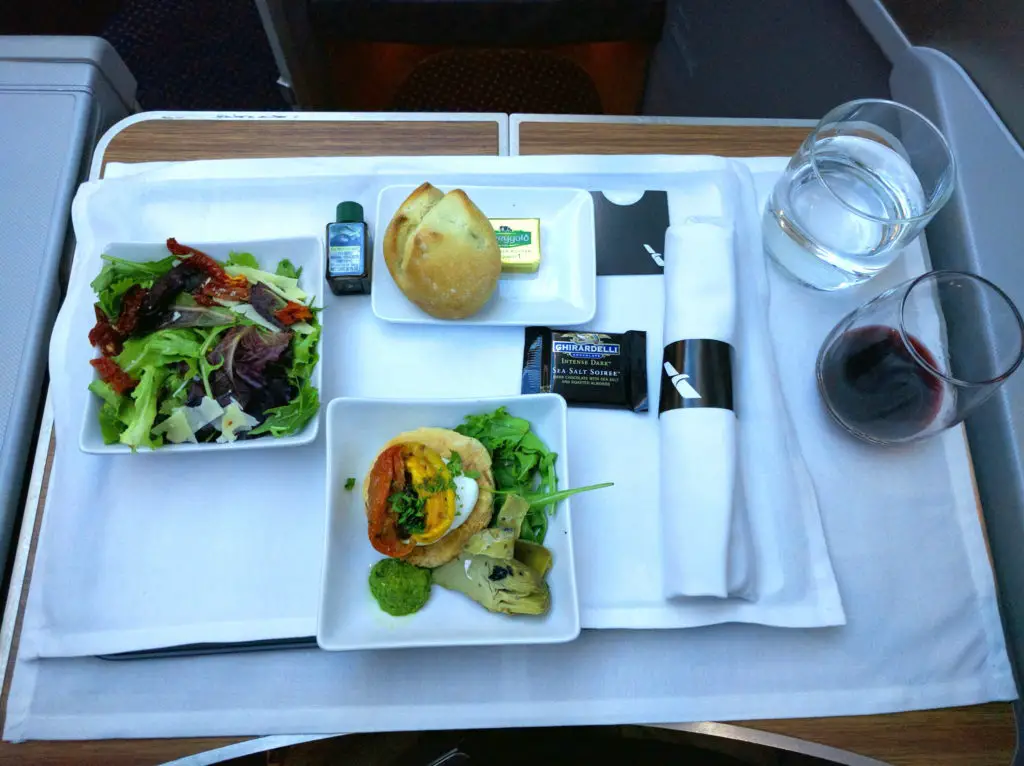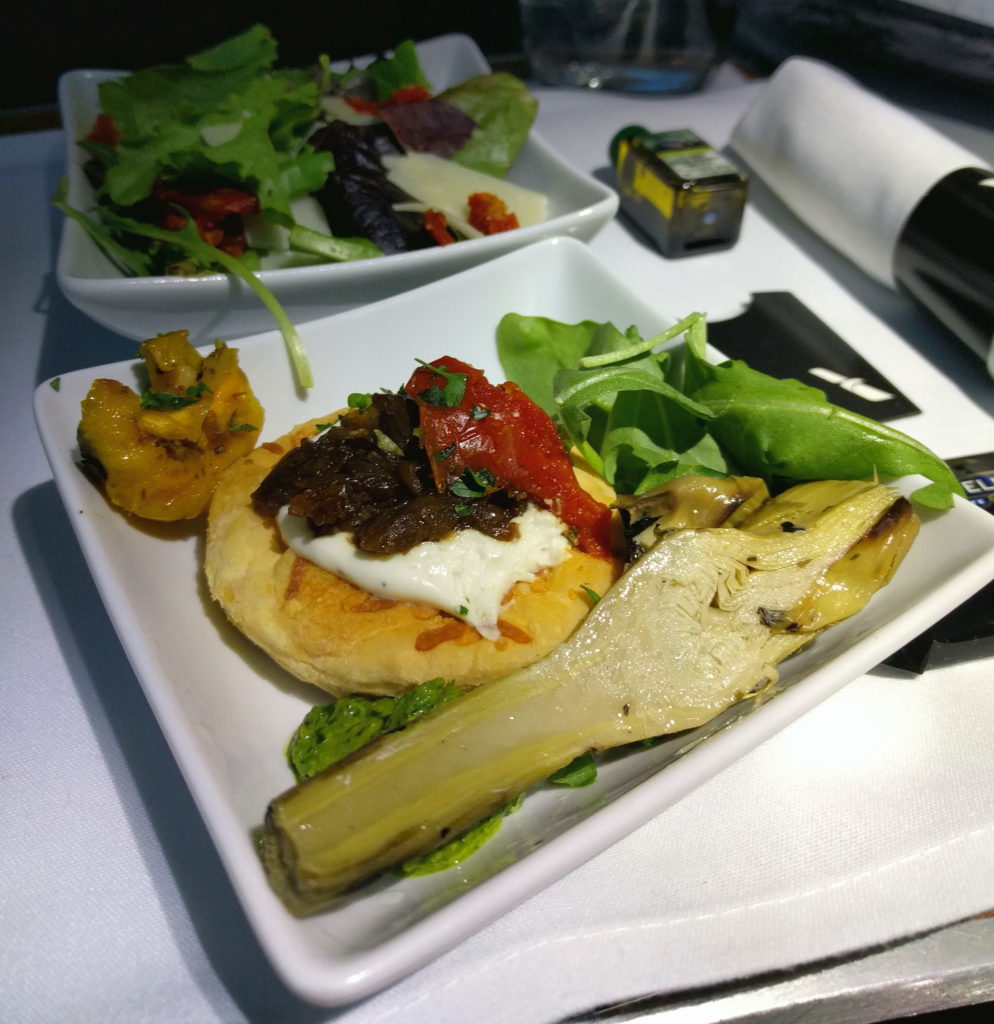 For the main course, we had the blackened salmon with creole rice, broccolini, and roasted corn relish. The salmon was cooked pretty well considering limitations of reheating on a plane and had good flavor.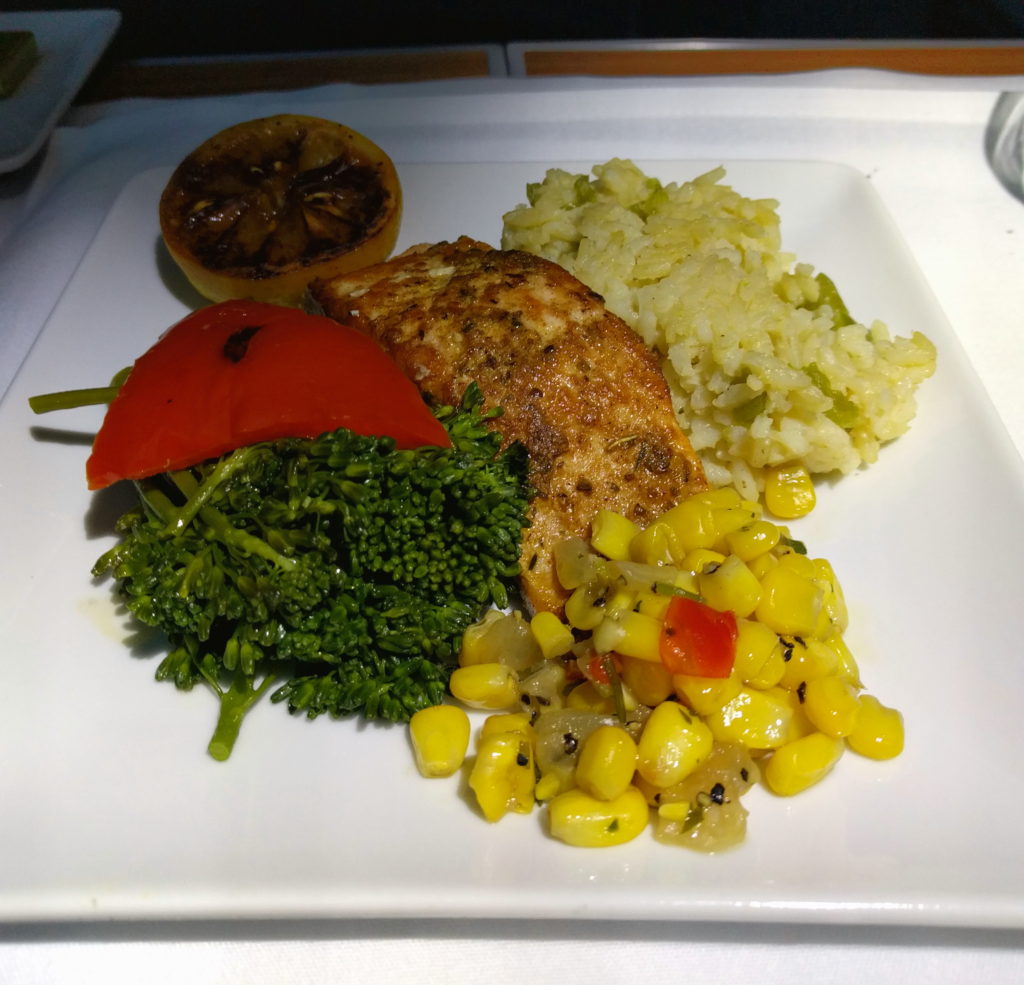 For dessert, we had the raspberry tart. It had good flavor and was warm, but had a soggy crust.
We heard the ice cream sundaes are good too. Definitely something for another flight since we didn't have any room left in our stomachs to order a second dessert. The cabin lights dimmed following the meal service. Seeing that we don't sleep too much on planes, we powered through 3-4 movies each before breakfast.
For breakfast, we had the fresh fruit bowl with granola and greek yogurt accompanied by a hot flaky biscuit. This was a good energizer before landing in Santiago.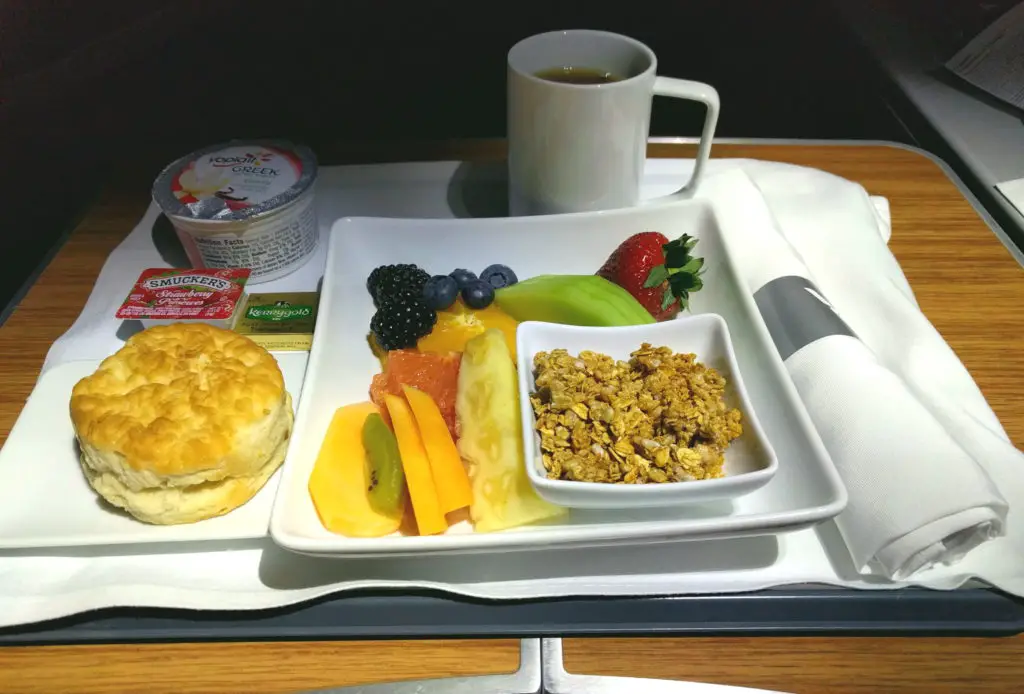 We usually set a pretty low bar for American based airlines like AA, United, Delta, etc, and were impressed with the level of service, comfortable amenities, and quality of food from the American Airlines Business class product and would gladly fly it again.
Have you flown business class before? What is your favorite part about the experience?