Interested in visiting Bu Gia Map National Park for a weekend trip? 
Bu Gia Map National Park (Vườn Quốc gia Bù Gia Mập in Vietnamese) is one of Vietnam's national parks to explore. 
Located in Binh Phuoc Province in southeast Vietnam and bordering Central Highlands, this national park is considered an off-the-beaten-path spot as it's not as crowded with local tourists. The park was established in 2002 and has over 26,000 hectares of land and forest area. 
This place is perfect for a weekend getaway from Ho Chi Minh City to escape the crowds of the main cities and enjoy nature. 
Many visitors spend at least 2 days/1 night here to go on a beginner-friendly hike, visit waterfalls, wade through streams, and spend a night at a campsite. 
I had the opportunity to go on a group tour with a local tour company, Atrip, in April 2022. This trip had 13 people (I was the only foreigner in the group). The main focus was hiking and camping. 
What made this trip extra special was that our trip was specifically tailored to have vegan meals (plant-based food only; no animals). Most of the camping trips have BBQ pork or chicken. Since I'm a pescatarian (a person who eats seafood and vegetables), it was a nice change to have vegan meal options.
Continue reading about what to expect on a Bu Gia Map National Park trip for 2 days/1 night.
*Disclaimer: This post contains affiliate links. As an Amazon Associate, we earn from qualifying purchases. If you click on them and make a purchase, we receive a small commission. There is no additional cost to you. Appreciate the support.
---
Overview of Trekking Bu Gia Map National Park Hiking
Challenging level: Easy-Moderate
Distance: 7.5 miles (12 kilometers) total. The first day is 4 miles (6.4 kilometers) and the second day is 3.5 miles (5.6 kilometers)
Summit height: 700 meters (2297 feet) (max elevation)
Time to complete: 2 days/1 night at a campsite
Helpful tips: Tuck your pants into your high-cut socks to prevent leeches from crawling up your legs. Wear hiking shoes or shoes that have traction.
---
How to Get to Bu Gia Map National Park from Ho Chi Minh City
Since we're taking a tour, the starting point is in Ho Chi Minh City (District 1). From Ho Chi Minh City to Bu Gia Map, the distance is 200 kilometers (124 miles) and will take 4.5 hours one way. The tour included a private van for transportation.
---
How Much Does a Bu Gia Map Tour Cost?
Each person in the group paid 2,100,000 VND ($92 USD) for a 2 day/1 night trip with vegan meals. 
The usual cost is around 2,600,000 VND ($113 USD). Please share your dietary restrictions with the tour operator in advance. 
The cost included the following:
1 national park guide (required) and 1 tour guide from Atrip for our group of 13 
Camping equipment (tents, sleeping mats, and blankets) [Sleeping bags were mentioned but we received fleece blankets]
1.5-liter water per day [We received 2-500mL bottles and could refill the bottles with boiled river water or herbal tea]
3 vegan meals a day (breakfast, lunch, and dinner) on Saturday and Sunday
Transportation to/from Ho Chi Minh City in District 1 in a private van 
First aid kits
Travel insurance
A hat and certificate of completion from Atrip
The price above does not include tipping. This is optional. 
---
What to Bring On Your Bu Gia Map Trip
Since it's only 2 days and the tour operator has mostly everything taken care of, you don't need to bring too much stuff. 
You want to pack as light as possible as there aren't any porters for this trip. 
Backpack – You'll need to have a backpack that is large enough to carry your clothes and travel essentials for the trip. Here are our favorite Osprey men and women backpacks that we use for our hiking adventures.
1-2 Sets of clean clothes and socks – You'll want to change your clothes when you arrive at the campsite. It's best to bring lightweight and quick-drying clothes. 

Tip: Ask your tour operator if you plan to go to Bu Gia Map by private transfer, then you can leave a set of clean clothes in the car.

Light Jacket – The evenings may be chilly so you want to have a light jacket on hand. I used the Patagonia Houdini. You can get something similar at Uniqlo. 
Umbrella or poncho – Since you're located in South Vietnam, it can rain at any time on your trip. On the second day, it poured on our way out of the national park. 
Swimsuit (optional) 
Camera – You'll need to bring a dry bag if you have larger photography gear. Using a cell phone to take photos is fine too. 
Portable power bank – Once you enter the national park, there isn't any reception or outlets to recharge cameras and cell phones. You'll need to bring a small power bank to recharge devices. Buy this power bank. 
Sunhat – Protect your head from the sun with this hat.
Sunglasses – Here are our favorite sunglasses for hiking!
Sunscreen – I use this travel-size sunscreen.
Insect repellent – The insects are brutal in this area. Wear insect repellent everywhere on your body. I was attacked on my back and ankles. Buy this travel-size insect repellent or use Tiger Balm. 
Snacks – Any candy or trail mix will help refuel your energy. 
Sandals – These can be used when walking around the campsite and on the second day when going through streams. 
Headlamps – The campsite is dark once dinnertime and the evening activities are over. Wear a headlamp to be hands-free. Or, you can use the light on your cell phone. I used a Black Diamond headlamp.
Toiletries – Toothbrush, toothpaste, napkins, hand sanitizer, face wipes, etc
Small towel 
Extra water – I suggest bringing extra water if you get thirsty or don't want to drink boiled river water or herbal tea. 
Medication or any other personal items
Trekking poles (optional) – If you need extra support with hiking, then trekking poles are recommended. You can also find a bamboo stick in the forest. 
Sleeping bag liner (optional) – Sleeping bag lines are used for extra warmth and to keep the sleeping bags clean. Since we received a fleece blanket instead of a sleeping bag, the liner was another layer to keep me warm in the late evening/early morning. 
Small pillow (optional) – The tent does not come with a pillow, so you can bring your own. It can be bulky so you can roll up clothes to create a small pillow. 
---
Related: Check out our Vietnam packing list if you have a longer trip to this country.
---
What to Wear On Your Bu Gia Map Hike
Long-sleeve technical shirt – Wear a moisture-wicking shirt to absorb sweat and dry quickly.
Hiking long pants – Long pants are a must for the trek to prevent leeches and insect bites. You can tuck your pants leg into your socks. 
Trail running shoes or any shoes with traction –  Do not use waterproof or Gore-Tex hiking boots or shoes as water will collect inside and will not drain. Any athletic shoes with traction on the bottom is good, especially when the forest area is muddy. 
High ankle hiking socks or socks
Sandals – This is needed on the second day as you'll be walking through the streams. (Note: I just wore trail running shoes as I didn't feel comfortable walking through the rocks in sandals).
---
Schedule of the Bu Gia Map National Park Hiking Tour
The schedule may change depending on the weather conditions.
Day 1: Saturday
5:30am – Departure from District 1

8:30am – Breakfast in Dong Xoai

district, Binh Phuoc

11:30am – Lunch at the National Park dining area

12:50pm – Visit a S'tieng house (one of the ethnic minorities) and animal protection area

1:30pm – Drive to the hiking starting location

2:00pm – Start hiking 

4:15pm – Arrive at the campsite. Hang out by the waterfall.

6:00pm – Dinner

8:00pm-10:30pm – Hang out time. 
Day 2: Sunday
7:00am – Breakfast

8:30am – Start hiking

12:00pm – Arrive at the lunch spot along the stream

12:30pm – Lunch

1:40pm – Start hiking back to the parking lot

3:00pm – Arrive at the parking lot. Change clothes.

3:45pm – Arrive at the Dak Mai Waterfall

4:00pm – Head back to Ho Chi Minh City

7:00pm – Dinner in Binh Duong

10:00pm – Arrive in Ho Chi Minh City, District 1 
My Bu Gia Map National Park Tour Experience
Day 1: Saturday
MORNING
It was an early morning pick-up at a meeting spot close to Tao Dan Park in District 1. Most of the car ride was spent sleeping. 
We had breakfast at Quán Chay Thiện Lạc in Dong Xoai. There were three vegan noodle choices – ​bánh canh, hủ tiếu, or bún riêu. I tried bún riêu as I usually have bánh canh and hủ tiếu, and it was yummy.
On the way to the National Park, we played a few games, hosted by the Atrip guide. The memorable one was where you say a name of a fruit in Vietnamese (for me it was English) based on the number of syllables. For example cam (orange) for 1 syllable, thanh long (dragon fruit) for 2 syllables, etc. This game can be used in any language!
We arrived at the National Park area to have lunch. Many groups stop by here before heading to the park. We had fried tofu, young bamboo, stir fry choy sum, pickled mustard greens, soup, roasted peanuts, and rice. 
---
AFTERNOON
After lunch, we met our guide from the national park. He is from the S'tieng ethnic minority group. 
He took us to a local S'tieng cultural house. Volunteers can stay at the house and also care for the animals there. The care of the animals is questionable as there are non-native animals in cages such as a baboon and an Asian clawed otter. The cool thing about this place is that you could buy fresh pork, chicken, chicken eggs, and jackfruit from the garden. 
Unfortunately, it rained as we explored this area. We waited for the rain to stop before heading to the car to drive to the start of the hike. The start is about 25 kilometers (15.5 miles) away on a windy road. 
Note: Once you enter the national park, there is no more cell phone reception. You will be off the grid! 
It's time to start hiking! Since it just rained, the hiking path was very muddy and slippery. The trail wasn't technical as it was just going down the mountain. The hiking poles helped many people in our group.
The forest area was beautiful with the tall Tung trees and twisted branches. The trees and plants are similar to what you'll see at other national parks such as Con Dao and Cat Tien. There was plenty of shade from the trees. 
Tip: Check your shoes and legs occasionally for leeches. If you already tucked your pants into your socks, then it's no problem. 
We reached the campsite after two hours of hiking. The campsite area was separated by two main areas with a waterfall and the waterfall's pool in between. This was perfect as another tour group also stayed here for the weekend. 
Since we had some downtime, many people lounged by the waterfall or swam in the water.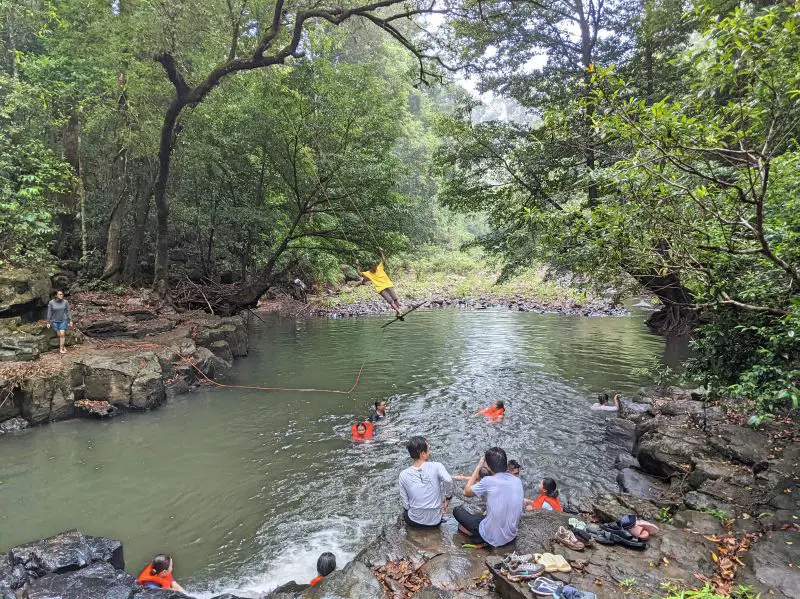 ---
EVENING 
The dinner was a feast! It was the first time that our chef and the team created a vegan menu and it was delicious. All of the ingredients used were local and grown in the national park. 
We had banana leaf salad, corn, sticky rice with mung bean (cơm lam), veggies, porridge, and soup. I was impressed with the flavor and the quantity of food given to everyone. 
The rest of the evening was spent either hanging out at the waterfall to find fish or playing card games. 
As with the tent and sleeping situation, it was fine. Everyone shared either a 2-person or 3-person tent. We received a fleece blanket instead of a sleeping bag. The tent also had a sleeping mat for more comfort.
---
Day 2: Sunday
MORNING
The team made a simple breakfast of stir fry noodles with veggies and vegan chả lụa (vegetarian sausage). Instant noodles (a necessary breakfast item for Vietnamese locals) was also another breakfast option. 
After breakfast and packing up our things, our group took a few group photos around the campsite and then continued to hike to our lunch spot. 
Along the way, we crossed many streams about ankle-length high. It seemed like there were more water crossings here than when I went on my Hang En trip in Phong Nha. 
While walking through the streams may seem easy, there were lots of rocks in the water. There was some balancing needed. A hiking pole or stick would be useful here. I was glad to wear my trail shoes instead of sandals since there were some sections where I could have tripped over the rocks.
The nature area was filled with pretty wildflowers and butterflies. The area was quiet as it was only our group. 
We also came across a makeshift contraption that you could sit on and someone pulls the rope so the contraption can move.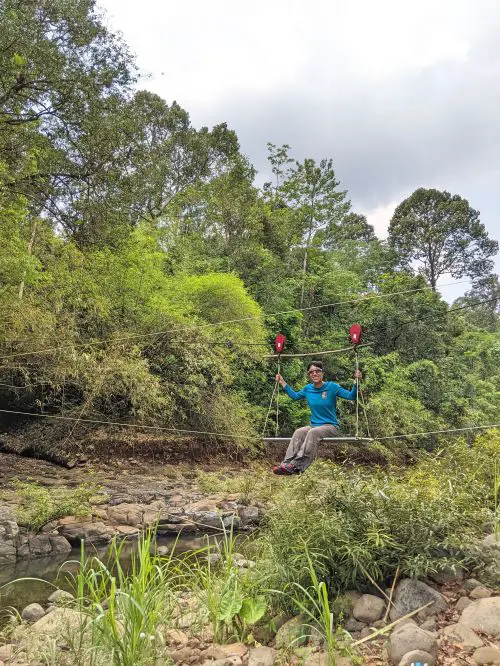 ---
AFTERNOON
We arrived at the lunch spot and had a quick rest. Some people went to the stream to dip their feet in the waters to cool off. 
For lunch, we had morning glory vegetables, young jackfruit with mushroom, stir fry mushrooms, corn, and rice. It was the last meal that the national park cooking team made for us. We appreciate their hard work and keeping everyone fed.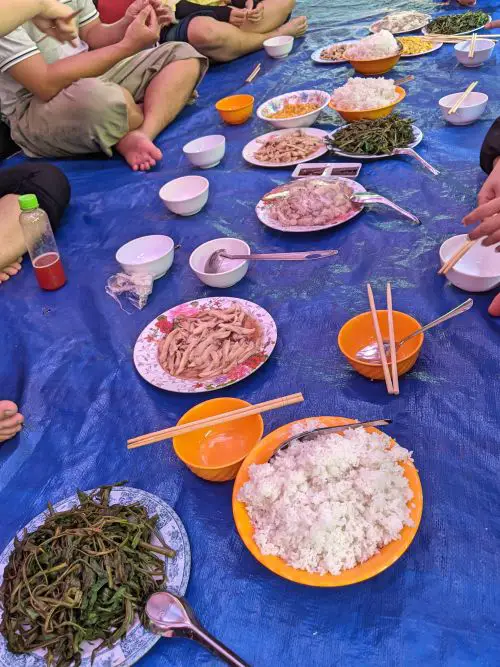 Afterward, it was time to head back. Instead of walking through the streams, we took a shortcut through the forest to head back to the parking lot. The hiking route wasn't too difficult. 
The only issue was the rainstorm. Luckily, we had our umbrellas and ponchos to protect our clothes. It took some time to head back through the forest area as everyone carefully made it up the mountain, but we made it to the parking lot. 
After changing our clothes and boarding the minivan, we drove to Dak Mai Waterfall (Thác Đắk Mai). We were supposed to see this waterfall on Saturday afternoon but it was postponed due to the rain. 
The waterfall had small cascades so it wasn't attractive to see. I heard that the waterfall is fuller during the rainy season. Unfortunately. the area also had a lot of garbage left behind by other tourists. 
---
EVENING 
It was time to head back home to Ho Chi Minh City. 
On the way, we stopped by Thanh Công Rest Stop, a bus rest stop for dinner in Binh Duong. A vegan dinner was already prepared for us – mushroom stir fry, bittermelon with carrots and daikon, tofu with cauliflower, omelet (not vegan), vegetable soup, and rice. It was a delicious meal with tons of vegetables to end the trip.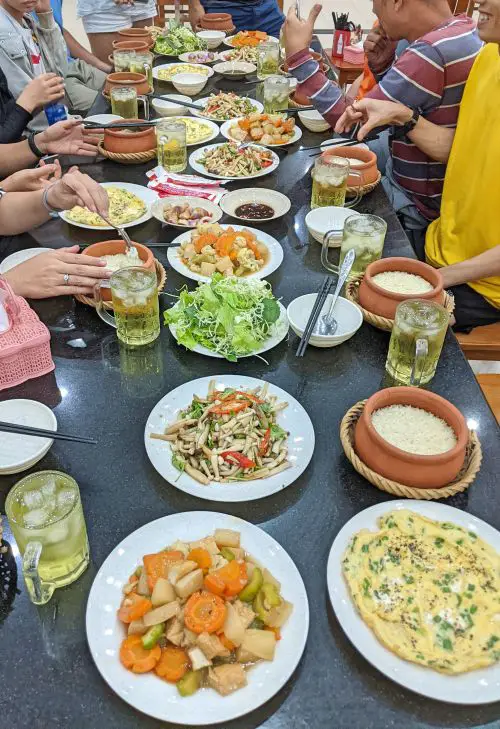 The rest of the ride was filled with karaoke and rest. 
We also received a certificate of completion from Atrip. It was a nice way to remember the weekend excursion. 
---
Frequently Asked Questions
Can you visit Bu Gia Map National Park without a tour? 
Unfortunately, you'll need to have a tour guide as the hiking routes are not marked. The guide can be hired through a tour operator or by contacting the Management Board. 
---
What is the weather like at Bu Gia Map? 
Since you're located in South Vietnam, the weather is hot and humid in the 30s (°C) /mid-80s (°F) all year round. There is a chance of rain so you'll need to prepare for any rainstorms. 
---
Are there a lot of mosquitoes? 
Yes. Prepare lots of insect repellent. The mosquitoes are hungry!
---
Are there leeches? 
Yes, you'll need to tuck your pants legs into your socks to prevent leeches.
---
Is this hike suitable for children?
Yes. As long as children can hike and walk a long distance, then it will be fine. 
---
Final Thoughts
Bu Gia Map National Park is a fun place to visit for a weekend and to enjoy the nature areas.
By joining a tour, everything is taken care of. All you need to do is pack your essential items, have fun hiking on an easy trail with plenty of rest, and soak in the natural beauty! The tour guides and team did an awesome job keeping us safe during our trip.
While you're in Binh Phuoc for a longer trip, consider visiting Ba Ra Mountain to do a short hike. 
Check out our other Vietnam posts for inspiration: