Want to go on a hike on your day trip or weekend trip to Vung Tau in South Vietnam? Check out Minh Dam Mountain (Núi Minh Đạm in Vietnamese). 
Located near Vung Tau in Long Dien of Ba Ria – Vung Tau Province, Minh Dam Mountain is a unique spot to hike as it's a former military base of Vietnam's revolutionary army. We can see why this place was chosen as a former base with plenty of hiding spots in the vast forest area and opportunities to spot enemies along the coastline. 
Currently, locals visit Minh Dam to explore the gorgeous views of the ocean, pretty pagodas on the hills, secret spots and caves in the forest area, and encounter wildlife (monkeys and bats.) 
We had the chance to visit Minh Dam for 2 hours after hiking Nui Dinh Mountain in the morning. As you know, we're always looking for exciting hiking trails to check out since we're living in Ho Chi Minh City and would recommend this one. 
The hiking routes aren't too technical and many are easy to do so all hiking abilities are welcome here. Also, the trail isn't crowded so you can visit a few places in a short amount of time. We had a group of 50 hikers and had the whole area to ourselves!
If this sounds like a fun activity that you want to do, continue reading this guide on how to hike Nui Minh Dam and what to expect with hiking here. Afterward, you can head to one of the beaches in Vung Tau for some relaxation time.
While you're in Ba Ria – Vung Tau area, check out this other hike in Vung Tau: Nui Lon (Big Mountain).
*Disclaimer: This post contains affiliate links. As an Amazon Associate, we earn from qualifying purchases. If you click on them and make a purchase, we receive a small commission. There is no additional cost to you. Appreciate the support.
---
Minh Dam Mountain Hiking Overview
Minh Dam Mountain is one of the top places to visit in the Vung Tau area. While it's not located in the main Vung Tau city, it's a nice getaway spot away from the visitors. Plus, it's doable to visit here as a day hike from Ho Chi Minh City. 
Challenging level: Easy-Moderate
Round Trip Distance: Various starting from 1.4-3.5 kilometers (.90-2.15+ miles)
Summit height: 280 meters (918 feet)
Time to complete: 1-2 hours
---
How to Get to Nui Minh Dam
From Vung Tau to Minh Dam Mountain
If you're already in the Vung Tau area, then it's easy to get to Minh Dam Mountain. Either rent a motorbike or hire a private driver or taxi. Just remember to have the driver wait for you when you finish the hike as cell phone reception is spotty on the mountain.
If you need a place to stay in Vung Tau, click here for options.
Have your driver take you directly to the mountain top. In Google Maps, look for "Historic Area of Minh Dam" or "Khu di tích lịch sử Minh Đạm." Click here to see the directions on a map. It'll take about 30-35 minutes by car to get here from central Vung Tau. 
There is a parking lot and you can visit different trails from here.  
---
From Ho Chi Minh City to Minh Dam Mountain
Hire a driver or ride a motorbike to get to Minh Dam Mountain. From Ho Chi Minh City's Ben Thanh Market to "Historic Area of Minh Dam" or "Khu di tích lịch sử Minh Đạm," it's 98 kilometers (61 miles) and will take 2 hours 15 minutes or longer depending on traffic. 
Take the CT01 Highway leaving Ho Chi Minh City and connect to QL51 Highway heading to Vung Tau. When you get closer to Vung Tau, take the DT44A road which goes along the coastline and then you'll enter the Minh Dam entrance and drive up the mountain to the parking lot. Click here to see the directions on Google Maps.
---
When To Do the Minh Dam Hike
Minh Dam can be hiked at any time of the day. It's not crowded and the trail has plenty of shade. There is a pagoda in the Historical Relic area and it's open from 7:00am to 6:00pm daily. 
Since the trail is in South Vietnam, the weather is consistent all year round. Expect the average temperature of 27-30℃ (81-86℉). 
During the rainy season (May-October), it's not recommended to do the hike since it can be slippery. Yet, it doesn't rain all day long during this season. You'll need to monitor the rain since it can happen at random times of the day. 
---
What to Wear for the Minh Dam Mountain Hike
Technical t-shirt – Wear moisture-wicking shirts to absorb the sweat.
Comfortable hiking pants or shorts – Wear anything comfortable for you to move in. 
Walking or running shoes – You do not need hiking boots here so wear any shoes that have traction. Any type of walking or running shoe would work great here.
---
What to Bring for the Nui Minh Dam
Backpack, Running Vest, or Fanny Pack- The hiking isn't long but we suggest that you wear a backpack, a running vest, or fanny pack to hold your essential items. We suggest a small backpack such as these: men / women Osprey. 
A bottle of water – Bring a bottle of water with you or you can buy drinks at a kiosk in the parking lot area. We recommend that you use this reusable water bottle to reduce plastic waste.
Cash  
Trash bag – Keep the mountain clean! There is trash on the mountain which is a shame. 
---
Admission Cost to Minh Dam
It's free to access this area. Yay!
What to Know About the Nui Minh Dam Hike
The best place to start the Minh Dam Hike is from the top of the mountain at the Historic Area of Minh Dam (Khu di tích lịch sử Minh Đạm) and the parking lot. 
We know. You're probably thinking that we're hiking and we should cover as much distance as possible! 
While you could start at the bottom of the mountain and make your way up to the parking lot, the roads are currently in construction. Once you reach the parking lot, there are a couple of trails that lead to pagodas and other exciting attractions to visit. Therefore, you'll be on your way hiking from there!
There isn't any specific hiking route so we'll share some places to visit on Nui Minh Dam.
1. Visit Bach Van Dong Temple. 
From the parking lot, there is a hiking route that goes to two places of worship, Bạch Vân Động and Bạch Vân Điện. We visited Bạch Vân Động and it's about 1 kilometer (.60 miles) from the parking lot. The hiking path is made of a stone path so it's really easy to walk on. 
Once you reach the temple, you're rewarded with some awesome views of the ocean and a few hotels and buildings along the coastline. There are a couple of levels to view this coastline. 
You can also do some praying while you're in the area. 
---
2. Visit Bong Lai Pagoda/Bong Lai Mountain. 
From Bạch Vân Động, continue climbing up the mountain until you reach a small cave with a narrow vertical opening. Here is what we call the "Bat Cave" as you'll see a few bats flying around in the dark areas of the cave. It's not dark and scary as light penetrates from the cave openings. 
If you continue through the cave, you'll reach a forest area that leads to the Bong Lai Buddhist Temple (Bồng Lai) and Bong Lai Mountain. 
This hiking path goes through the forest area so you'll walk on the dirt path. Just be careful with the raised tree roots from the ground and the twisty branches above your head. You'll encounter some paths going down the hill but nothing too difficult. Luckily, the hiking path is shaded so your hike will be cooler. 
To find the Bong Lai temple, follow the arrows and signs. It's not difficult to find. Once you reach the temple, check out Bong Lai Mountain which is the highest point in the temple area. 
It's only a few steps away from the temple. You'll need to take off your shoes before walking into the praying area. Then, you can peer over the rails to see the oceanside views. 
Unfortunately, the view isn't as clear compared to Bạch Vân Động due to the trees, yet it is a higher view. 
---
3. Check out the Split Stone / Flagpole. 
Whenever you see photos of Minh Dam Mountain, this spot of Split Stone (Hòn Đá Chẻ) with the flagpoles is often shown. There are two flagpoles with the Vietnam flags and the views overlook the Long Hai Beach area. (Unfortunately, the flags are tattered from the winds and hopefully get replaced soon!)
To get to this popular spot, you'll go through the Historic Relic area and take the stone stairways up the mountain. It's not technical but the stairs can be slippery with dry leaves on the ground. When you see this sign, continue straight to go up the mountain until you reach Hòn Đá Chẻ. 
The round-trip distance is 1.5 kilometers (.90 miles) and can take 30-45 minutes to complete.
Once you see the flagpoles, you've arrived!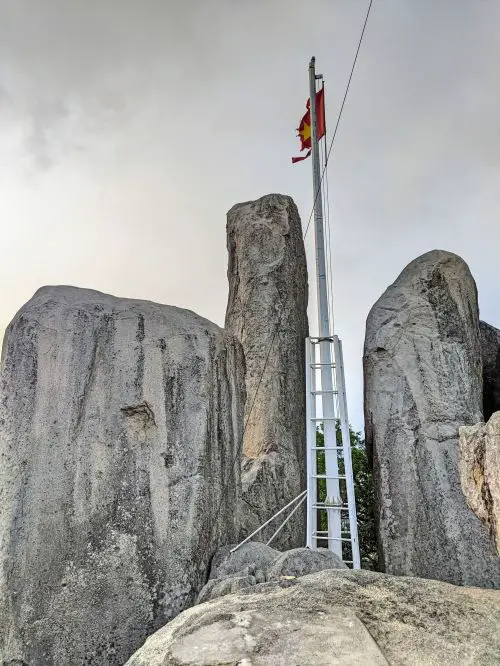 This view is so gorgeous! We prefer this aerial landscape view versus at Bạch Vân Động as you see the beach resorts along the coastline, fishing boats in the ocean, and green plots of farmlands. We can't forget seeing the green forest area that we hiked through!
You can also climb up the huge boulders to see a higher view of the area. Be careful on your way down the rocks since there aren't any ropes or tree branches to hold onto. 
---
4. Explore the Minh Dam Historic Area. 
Next to the parking lot is the Minh Dam Historical Area. There is a beautiful pagoda and a paved walking route that passes by more caves and historical sites. Unfortunately, we didn't get a chance to go through the walking path due to our limited time.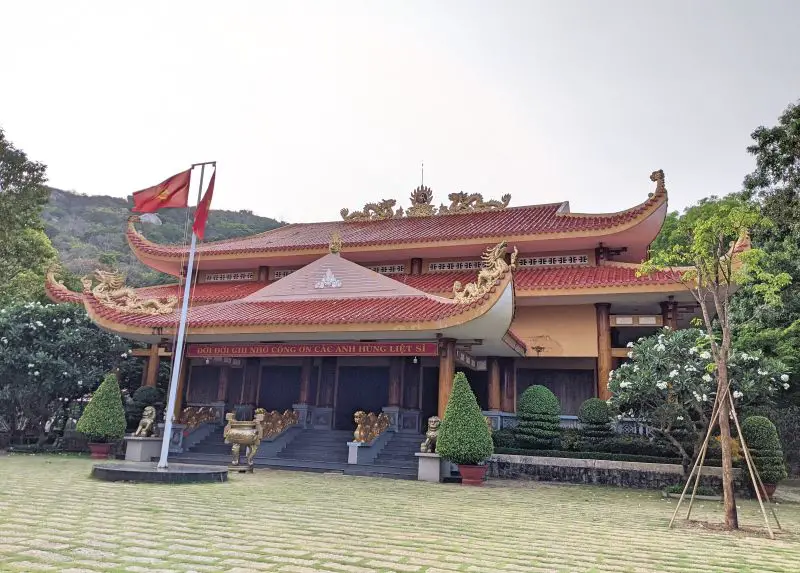 ---
5. Say Hello to the Monkeys. 
During our visit, we saw families of monkeys around the parking lot. Many minded their own business while others started trouble. Most of them hung out in the area looking for food left behind by visitors (one monkey drank water from a water bottle). It was adorable to see a handful of baby monkeys clinging to their mothers for support. 
As with any wildlife, do not feed the monkeys or get too close to them. Monkeys in Vietnam are notorious for stealing food and bright, shiny things from visitors. (We had a hat and water bottle stolen when we visited Can Gio Monkey Island near Ho Chi Minh City.) 
---
Final Thoughts
Hiking Minh Dam Mountain is a fun, easy way to get some exercise and enjoy a nature walk when visiting the Vung Tau area.
It's a good alternative for travelers or those living long-term in South Vietnam who prefer to spend their time outdoors versus on the beach. 
We hope you consider adding this place when you visit Vietnam.
If you have any questions about this hike, let us know in the comments below. 
Want to experience more hikes in South Vietnam? Check out our hiking posts: