Whenever we ask someone about visiting Vung Tau (Vũng Tàu in Vietnamese), the first thing we hear about is to relax on the beaches and eat seafood. While Vung Tau is a coastal city in South Vietnam and a popular spot for locals as a day trip, holiday, and weekend destination from Ho Chi Minh City (Saigon), there is more to do than just beaches and relaxation. 
Since we're fans of hiking and the outdoors, there are surprisingly some incredible hiking trails in the Vung Tau area! 
Vung Tau has two mountain ranges to go hiking – Nui Lon (Núi Lớn or Big Mountain) and Nui Nho (Núi Nhỏ or Small Mountain). We had the opportunity to hike Big Mountain after hiking Nui Dinh Mountain earlier in the morning. 
Nui Lon didn't disappoint us. It's an exhilarating adventure to do in Vung Tau as the hiking route is steep, has sketchy portions, and includes major scrambling on rocks. Since the hiking trail is hidden and not easy to navigate, you'll need to go with a local who knows the route. 
If this sounds like your type of hike, continue reading on how to hike Nui Lon (Big Mountain) in Vung Tau. We'll also include important hiking tips about this route.  
*Disclaimer: This post contains affiliate links. As an Amazon Associate, we earn from qualifying purchases. If you click on them and make a purchase, we receive a small commission. There is no additional cost to you. Appreciate the support.
---
Nui Lon Mountain Hiking Overview
Big Mountain is a short, yet challenging hiking trail to conquer. While there are different ways to get up on the mountain, navigating through the huge boulders and rocks is an adventurous way and not easy. You can easily turn the wrong way and get lost. Therefore, you must go with a local who knows the route and trail. 
Depending on your fitness level, you can do an out-and-back route on the mountain or continue through the mountain. 
As a side note, the easiest way to reach the starting location is by following the Vi Ba Road. You can also start the hiking trail at a local park on the mountain. 
Challenging level: Challenging
Round Trip Distance: Various – up to 4.8 kilometers (3 miles) 
Summit height: 245 meters (803 feet)
Time to complete: Around 1 hour 20 minutes
Helpful tips: Go down the hill very carefully. Grab onto any sturdy bamboo branches and trees. The width of the trail is narrow and sometimes is only a foot wide!
---
How to Get to Big Mountain in Vung Tau
From Vung Tau to Nui Lon
Since you're already in the city or stayed overnight prior, the easiest way is to hire a motorbike and park in the lower streets of the mountain. The nearest spot to the hiking entrance is along Vi Ba Road. Or, take a taxi to a specific drop-off point.
If you need a place to stay in Vung Tau, click here for options.
Our hiking group leader hired a bus as we came from Ho Chi Minh City and parked along Vi Ba Road. 
From Ho Chi Minh City to Nui Lon
Hire a driver or ride a motorbike to get to Vung Tau. From Ho Chi Minh City's Ben Thanh Market to Vi Ba Road (the starting location), it's 99 kilometers (61.5 miles) and will take 2 hours 15 minutes or longer depending on traffic. 
Take the CT01 Highway leaving Ho Chi Minh City and connect to QL51 Highway heading to Vung Tau. When you get closer to Vung Tau, take the QL51B Highway and the local streets to get to Vi Ba Road.
---
When To Do the Nui Lon Hike
Vung Tau is hot and humid, yet the mountain top is windy. The weather is consistent so the average temperature is 27-30℃ (81-86℉). You can start the hike at any time of the day, but early morning or late afternoon would have the ideal temperatures. 
During the rainy season (May-October), we can imagine this route to be slippery. There is barely enough foot space on the trail so the rain could wash away the trail. DO NOT attempt this hike in the rain. 
---
What to Wear for the Nui Lon Hike
Technical t-shirt – Wear moisture-wicking shirts as you'll be sweating on your way up. 
Comfortable hiking pants or shorts – You'll need to wear pants where you can move freely as you'll be climbing up and down boulders. 
Trail running shoes or running shoes – Hiking boots are not needed here and would be a little too heavy for the route. What you need are trail running shoes since they have more grip on the soles. Or wear running shoes that have traction.
---
What to Bring for the Nui Lon Hike
Backpack or Running Vest – You want to have your hands free during this hike, especially during the scrambling part. We suggest a backpack such as these: men / women Osprey. Or, you can use a running vest to hold your essentials.
A bottle of water – Bring a bottle of water with you. Use this reusable water bottle to reduce plastic waste.
Gloves – We recommend that you wear gloves to protect your hands from scratches from the rocks. We didn't have these gloves on hand but wished we brought them. 
Cash  
Trash bag – If you decide to snack on the mountain, take all the trash with you in a trash bag or backpack. 
Health or travel insurance documentation – Something may happen on the mountain where you'll need medical attention. With the sketchy paths, anything can happen! Buy travel insurance here to ensure your safety. 
---
Admission Cost to Big Mountain
It's free to access this trail. Hooray!
What to Know About the Big Mountain Hike
Ascending the Mountain
We parked along Vi Ba Road and walked towards the mountain. Along the street are vendors selling produce and cold drinks. After 10 minutes or so of walking, there is an unmarked entrance that starts the climb up the mountain. You'll see the beige rocks as a stairway up.
The hiking route zigzags up and down through the mountain. This is where the hiking gets sketchy since the mountain is STEEP. Here are some tips:
Go down slowly and take short steps. It's not a race so take your time!! 
Don't forget to breathe and stay calm. Yes, you may be shocked at how steep it is and there isn't much foliage or branches to hold on to. 
Watch out for any dry leaves so you don't slip on them.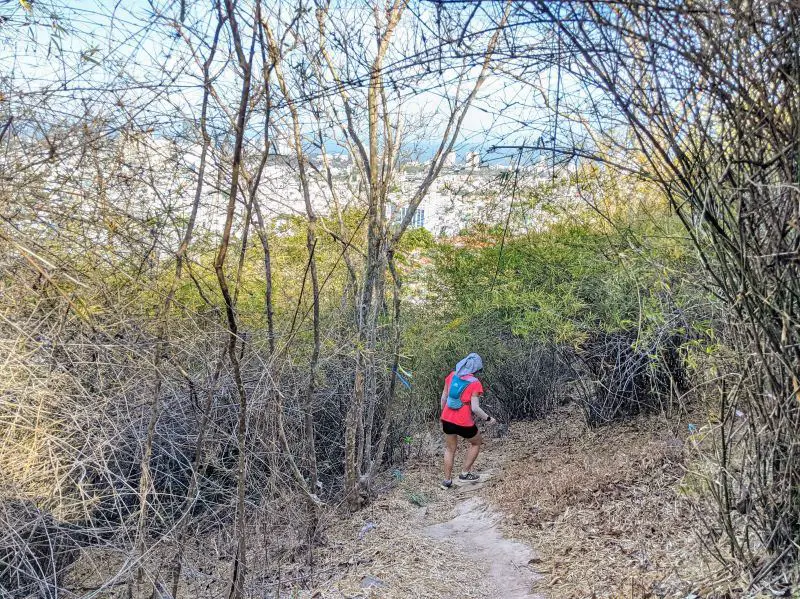 When you see these two signs (an arrow with a red tip and says 45km and an arrow with a blue tip and says 25km), turn left and continue the path up. If you turn right, you'll head back down the mountain (which is what I did on accident!)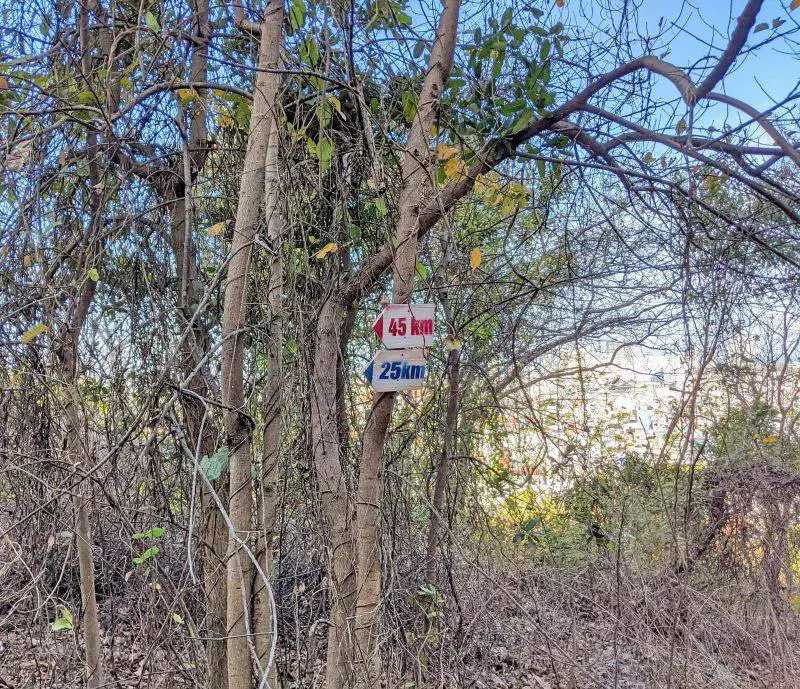 Rest Point #1
You'll climb up a set of boulders and will even have a rope to hoist yourself up the mountain.
In about 15 to 20 minutes, you'll reach the first rest point. Hoorah! You've reached the first rest point. 
The view from this resting spot is GORGEOUS! We didn't realize how beautiful Vung Tau looks from above. It doesn't look like we're in Vietnam since the buildings are modern-looking. Plus, it's cool to see the boats hanging out in the Vịnh Gành Rái Bay in the afternoon. 
On the right-hand side, you can also see the white Jesus Statue on Small Mountain. We'll visit that spot on a return trip to Vung Tau.
As a heads up, this resting area is windy so you may not want to spend too much time here. 
Rest Point #2 
Continue the trail to the second rest spot. It's more zigzag through the forest area for another 15 minutes until you reach the second rest point. 
This rest spot requires some scrambling down huge rocks. You'll get another view of the Vung Tau's neighborhoods. 
There isn't much space for taking photos so if there is a group of 10 or 20, then you'll need to go down to this point in batches. 
Descending the Mountain
Remember how we suggested that you bring gloves? Once you descend, this is where the gloves will be helpful. 
After the second rest point, descending the large rocks is another hurdle. You'll need to work some tricep muscles to lower yourself down from the rocks. 
On the way down, some parts of the trail are narrow – like only a foot-wide.
My story: I somehow lost my footing on the slanted trail and slid down the mountain slowly. It was a shock at first and luckily, I slid about a foot down, so Justin and another hiker hoisted me back up. There weren't any injuries. After brushing off a layer of dust, we continued on!
Just watch where you're walking on the trail! Also, grab onto bamboo branches or tree branches whenever you can. We found ourselves needing to lunge towards a tree trunk since the path down was again, STEEP.
With the help of our local guide, we eventually made our way down the mountain and onto the street. It felt awesome to be on flat land again. 
What an adventure hiking on Nui Lon!
---
Final Thoughts
Would we hike Big Mountain again? Yes!! We would love to take the road route and see where it leads on the summit point. Regardless, this hidden and thrilling Nui Lon hike in Vung Tau is one of the memorable experiences that we've had living in Vietnam!
Inspired to conquer more mountains? Check out other hikes to do in South Vietnam: