Nam Du Island (Đảo Nam Du in Vietnamese), located in the southern part of Vietnam and south of Phu Quoc Island, is a beautiful island to visit. 
Located in the Kien Giang Province, Nam Du is an archipelago that has 21 islands. The largest mainland island is Hòn Lớn, also referred to as Nam Du. 
Currently, the island has many local Vietnamese visiting here to relax on the beaches, see the beautiful blue waters, eat fresh seafood, and enjoy a different part of Vietnam. 
What we love about the island is that it's not as touristy and filled with international visitors, such as Phu Quoc Island. Therefore, you can still enjoy the island's charms. 
In this Nam Du travel guide, we're sharing what it's like to visit Nam Du Island and how to plan a trip here. 
*Disclaimer: This post contains affiliate links. As an Amazon Associate, we earn from qualifying purchases. If you click on them and make a purchase, we receive a small commission. There is no additional cost to you. Appreciate the support.
---
Nam Du Island Travel Tips
Are foreigners allowed on the island? 
Yes, they are. There used to be a restriction where foreigners needed to register in advance for a permit in Rach Gia. It looks like this has been removed as we were able to visit in August 2022 without any issues. 
---
How Many Days Are Needed on Nam Du Island? 
Nam Du Island is a nice place to relax and it's small so you only need 2 days here. We spent a weekend here from Ho Chi Minh City and it was a good amount of to escape the craziness of the city. 
Our schedule was leaving HCMC on Friday at 11:15pm and returning on Sunday after 11:30pm.   
---
Should you visit Nam Du Island on your own or via a tour? 
It depends on your travel style. 
Nam Du isn't a large island so you can explore on your own. The language barrier can be an issue though. You'll need to be comfortable with speaking basic Vietnamese or go with someone who knows the language. 
Another option is to go on a tour. We saw a few Vietnamese tour groups on the island as they wear the same hat. We went with a tour group that focuses on expats and locals, which we'll mention below. 
Our Recommendation: Roji Coffee/Saigon Hikers
We went on a tour with Roji Coffee/Saigon Hikers. Roji Coffee leads a group of locals and expats to weekly hiking, camping, and cycling events around South Vietnam. Many of the trips are 1-day but some that are multi-day. 
The Nam Du tour was a lot of fun. Our group had 15 guests plus the 3 leaders. It was a good size group to meet everyone. 
The Roji Coffee team did an amazing job organizing everything from the schedule, transportation, accommodation, 3 meals/day on Saturday and Sunday (with tons of seafood!), and snorkeling day trip. The organization and planning exceeded expectations of what we would have been able to do on our own. 
Communication was great. We were continuously updated with the plan as there was a group chat on Zalo, one of Vietnam's apps for chatting. 
The cost of the weekend trip was very reasonable. At the time, we paid 2,800,000 VND ($120 USD) per person. We didn't have to pay anything extra except for any other beverages or food not included in the trip. 
---
Best Time to Visit Nam Du Island
Since Nam Du Island is in Southern Vietnam, the weather is consistent all year round. It's always hot and humid. The ocean breeze is pleasant to make the weather feel cooler. 
The rainy season is from April to October while the dry season is from November to March. 
We visited in August which is during the rainy season and it did rain during our trip. The rain was random throughout the day and we were caught in the rain on the way back from the beach. The temperature was between 29-32℃ (84-90℉) in the daytime. 
Just bring a poncho or umbrella, or hide under shelter until the rain passes. 
Don't forget to stay hydrated when you're visiting here! 
---
How to Get to Nam Du Island from Ho Chi Minh City
Travelers will need to be in Ho Chi Minh City before heading to Nam Du. It'll take over 7 hours to get to Nam Du Island, so plan accordingly!
Step 1: The budget-friendly and most convenient transportation option to get from Ho Chi Minh to Nam Du Island is to take the overnight bus. 
The overnight bus heading to Mekong Delta departs from the Western Bus Station (Bến xe Miền Tây) in Binh Tan District, close to District 5. 
You'll need to buy tickets from Ho Chi Minh City to Rach Gia. The ride will take 5 hours one way. 
We used the Futa Bus, one of the well-known bus companies in Vietnam. Since we only had a weekend trip, we departed Ho Chi Minh City on Friday at 11:00pm to arrive in Rach Gia in the morning (around 4:00am). 
Buy tickets from Futa directly. (You may need to ask a Vietnamese friend if there are issues with purchasing the tickets or payment). Tickets are around 190,000 VND ($8.10 USD) one-way. 
Step 2: From Rach Gia Station, take the free Futa shuttle or taxi to the Rach Gia Harbor. 
Step 3: From Rach Gia Harbor, you'll board the Superdong Speedboat to Nam Du. The ride takes 2 hours. Our speedboat departed at 6:10am. 
It's highly recommended to buy the speedboat tickets ahead of time as there are limited departure tickets. Our tickets were 206,000 VND ($8.80) each way. 
You'll do the reverse when coming back home.
---
How to Travel Around Nam Du Island
If you're staying on the main Nam Du Island, you can walk or ride a motorbike. 
We didn't see any cars on the road. It would be challenging to drive around by car as the roads are narrow and won't fit the car. 
Even when driving a motorbike, you'll need to drive slowly to let others motorists squeeze by. 
---
Where to Stay on Nam Du Island
Nam Du Island does not have any large resorts, so you'll stay at local guesthouses and homestays. Many of these places have basic accommodations. As long as you have air-conditioning or a fan, then it'll be a pleasant stay. 
Click to see accommodation options on Booking.com or Agoda. 
Here are some places to stay overnight on Nam Du:
---
Our Recommendation: 
We stayed at Nhà Nghỉ Huy Hoàng (Huy Hoang Hotel), located in a quieter area of Nam Du Island. This guesthouse is 1.4 kilometers (.87 miles) away from the Nam Du Wharf (where the speedboats depart).  
Book a stay at Nhà Nghỉ Huy Hoàng on Agoda here. 
There are three floors of rooms. Each room has two beds, air conditioning, shampoo, towels, and an ensuite bathroom. 
We had a room on the second level and it was a pleasant stay. The room was a decent size and was clean. From our room, we got an amazing view of the sunrise. 
The beds and pillows were on the firmer side, so it may or may not be comfortable for you.  
Breakfast wasn't included in our room, but there were a few local noodle shops around the hotel area for a meal. We ate at Quán Ăn Năm Thu, located a few stores away. 
Since we took a tour, this place scheduled everything for us from the motorbike pick-up and drop-off to/ from the Nam Du Wharf, snorkeling day trip, and dinner. They even had their own port attached to the hotel.
If you decide to stay here, it's best to know basic Vietnamese. We don't think the people running the guesthouse know English. 
---
What to Pack for a Trip to Nam Du Island
Since you're on an island and the weather is hot (yet slightly cooler than in Ho Chi Minh City), you won't need to pack much. 
We suggest checking out our general Vietnam packing list to get an idea of what to bring. 
Here are must-haves to bring with you on your trip:
Swimsuit and sandals
Sunscreen (reef-safe sunscreen is best!)
Hat and sunglasses
Identification such as passport and temporary resident's card
Dry bag (optional) – Keep your stuff from getting wet, especially if you go on a snorkeling day trip
Poncho or umbrella for the rain 
Toiletries 
Cash 
---
Things to Do on Nam Du Island for a Weekend Trip
1. Take a snorkeling day trip to smaller islands. 
The best way to cool off is to go on a snorkeling day. From the main island of Nam Du, there are a handful of speedboats that does day tours to visit a few islands and go snorkeling somewhere. 
Our accommodation had its own boat to take us on the day tour. The trip included a visit to 2 islands, go fishing, and go snorkeling. 
Dau Island (Hòn Dầu) was the first stop. It's a small island that has a few photo spots along the ocean. You can sit on a swing, Bird's nest, or hang from a palm tree. It's not advisable to swim in the water and the waves are rough. There is a place next to the pier that sells drinks or fresh coconut (from one of its many coconut trees). 
Mau Island (Hòn Mấu) was the second stop. We ate fresh seafood at one of the restaurants such as shrimp, crab, shelled seafood, and squid. The area had a few piers so it's a popular spot to drop off tourists for swimming and hanging out by the water and the small beach.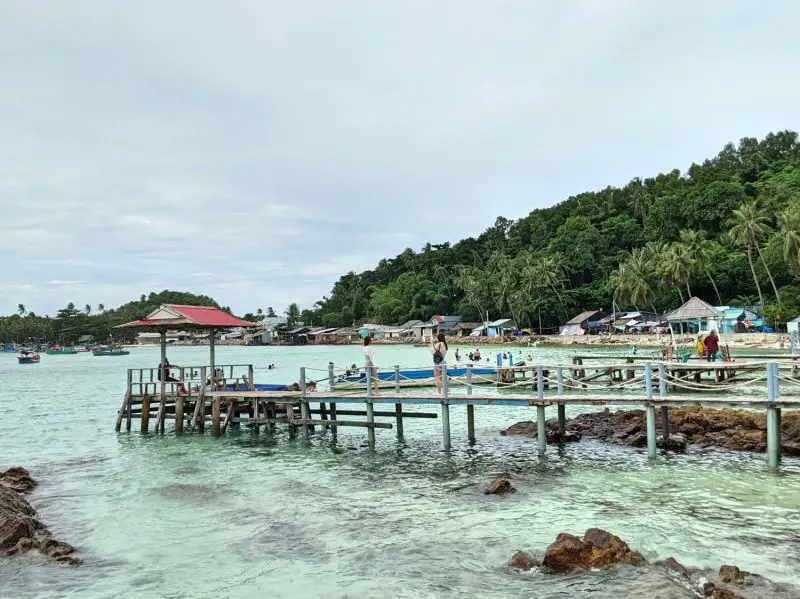 The next stop was to go fishing. We went to a place that farms fish in the ocean. After awing at the large fish, we practiced our fishing skills by using plastic circle wheels instead of a fishing rod. (The group caught a few fish and we ate them at dinner.)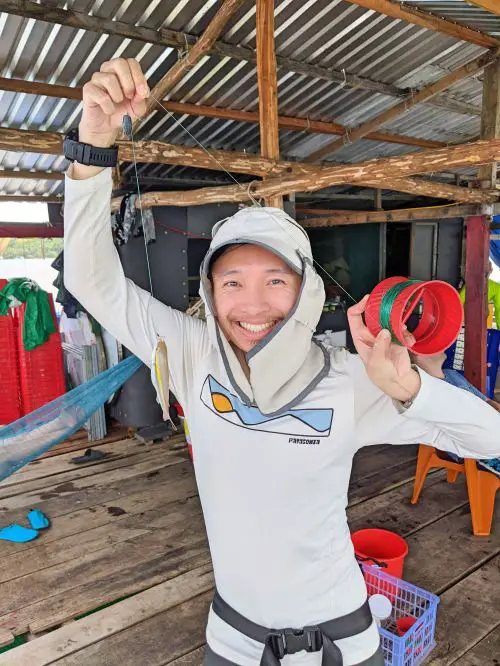 The last stop was a snorkeling area. The water was quiet and calmer than the two islands we visited earlier. 
While the waters were blue and there were fish in the water, unfortunately, the coral reefs were dead. We saw many locals standing on top of the coral reefs which continuously causes damage. This is a similar experience to what we saw at Phu Quoc Island. 
We hope there is more awareness in the future to not step on the coral reefs; otherwise, the snorkeling areas in Vietnam will be desolate of any natural beauty in the future. 
---
2. Explore the main area nearby the wharf at night. 
After a day of exploring, it's time to enjoy Nam Du's nightlife! Head to the port area to eat the freshest seafood, enjoy drinks, and participate in karaoke.  
If you want to have a seafood meal, choose your seafood (don't forget to ask the cost per kilo) and have it cooked any way you'd like. Popular seafood includes sea urchins, blue-boned fish (in a hot pot style), shrimp, and small crab. 
We also mentioned enjoying a cold drink next to the water. One of the drinks that you must try is mentioned below.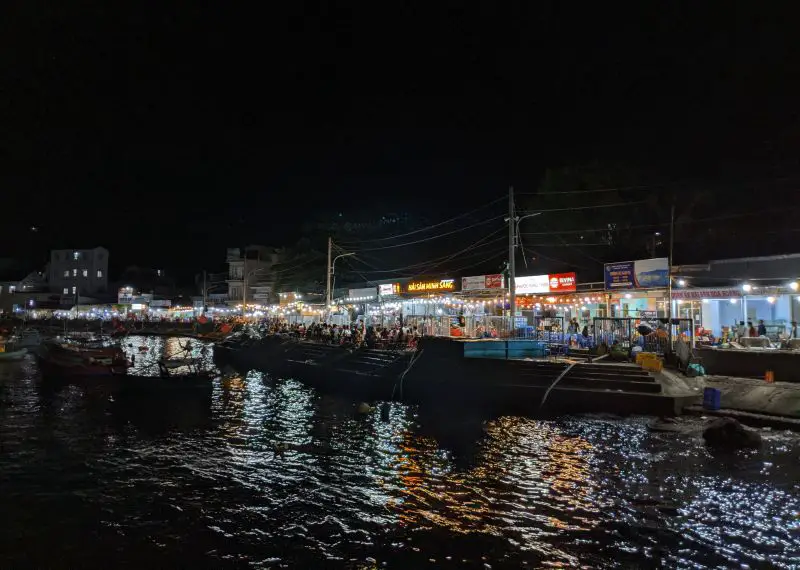 ---
3. Drink iced tamarind. 
When visiting Nam Du, a unique drink to try is iced tamarind (đά me).
Along the port, you'll see everyone selling souvenirs of plastic jars and giant pots of this thick brown syrup on display. This is the tamarind pulp mixed with pineapple (optional) and sesame seeds. It seems that everyone has their recipe. 
The drink has a few tablespoons of tamarind pulp, seeds (optional), peanuts, and half a cup of ice. 
It's refreshing with the mix of the sweet and sourness of the tamarind. The addition of seeds and peanuts provides extra texture to the drink. It's a delicious drink to try to cool you off from the warm temperatures. 
---
4. Relax at the Cay Men Beach.
Who wants to go to the Caribbean in Vietnam? Head to Cay Men Beach (Bãi Cây Mến), located on the southwest of the island. It's 5 kilometers (3.2 miles) from the Nam Du Wharf. 
It's a small beach area with tall palm trees and blue waters. It's such a peaceful area. Plus, you get to enjoy the ocean breeze. 
If you prefer to hang out, the beach has a covered area with plastic chairs and tables and hammocks. You can order drinks and food here. We had a seafood lunch here; although, the prices will be higher compared to what you will get at the wharf area. 
As a heads up, the dining area is on the beach and there isn't much gap between the waves and seating. Therefore, the waves WILL encroach and will get your feet wet. 
To get here, you can ride a motorbike or take a walk. Our group walked about 5 kilometers each way and it was a fantastic opportunity to get exercise, get some Vitamin D, and see the coastline. 
---
5. See the sunrise. 
The sunrise on Nam Du Island is out of this world! If you're staying on the west side of the island, then you must wake up early to see the sunrise. Check Google on when the sunrise will occur. 
The view of the vibrant orange sun overlooking the ocean water is worth getting up early. You'll also see the fishing boats out and about during this time. 
Final Thoughts
If you're looking for some paradise in Vietnam, then Nam Du Island is a good option to spend a few days. 
Currently, the island is focused on local tourism but we can foresee gaining traction with foreigners in the future. 
Hope you get the chance to visit this Vietnam destination in the future. 
Looking for other Vietnam Islands to check out?
*Disclaimer: Headed to Nusa Islands? This post contains affiliate links. If you click on them and make a purchase, we receive a small commission. There is no additional cost to you. Appreciate the support.