Map of Where to Spend NYE in Asia
---
Exciting New Year Eve's in Central Asia
1. Ras Al Khaimah, United Arab Emirates
Ras Al Khaimah is an exciting developing destination in the UAE and offers a range of activities.
In 2023, the Emirate beat its own Guinness World Record for the longest firework show at over 4.7 km (2.9 miles). 
The stunning display combines pyrotechnics, drone shows (with over 670 drones), and music. It's an awesome masterpiece to witness! 
The NYE events start with carnival and children's activities from around 2:00pm. Concerts, DJs, dance, street performers, and even crowd karaoke will make this a New Year's Eve to remember. 
The main events are at Al Marjan Island and the area is closed off. If you have a rental car, park it in the designated area and continue on foot. 
Tickets to the event area are around $3.50 for adults (0-12 free) and are available online.
The best place to watch the fireworks and enjoy the festivities is Al Marjan Island but you get a great view from Al Hamra Village too and you might rent an apartment or villa there for the night. If you need a hotel, book well ahead as it's becoming a very popular event. 
Several airlines fly directly into Ras Al Khaimah International Airport, and Sharjah and Dubai International Airports are only 45-80 minutes away.
---
Fun New Year Eve's Celebration in South Asia
2. Goa, India
By Penny, GlobeTrove
Goa is without a doubt one of the best places to be on New Year's Eve. 
The state is located on the west coast of India and its traditions are a little different from the rest of the country because it was a Portuguese colony instead of a British one.
Both Christmas and New Year are big events and are well-loved by the locals. 
On New Year's Eve, you'll find everyone gearing up for midnight mass. Well the Catholics in the state at least. These religious celebrations are held in almost every church in the state and are held at night. There are morning masses for those who don't make it to the night services. 
Another popular activity is to head out for a dance. You do have to book your tickets in advance but you will find that they are held all across the state with local bands playing music. People often choose a spot depending on who is playing.
All in all, New Year's Eve and New Year's Day are definitely celebrated with a lot of pomp and festivities!
---
Best New Year Eve's Spots in Southeast Asia
3. Ho Chi Minh City, Vietnam
By Jackie and Justin, Life Of Doing
Ho Chi Minh City is Vietnam's largest city and it's the city that never sleeps. The New Year's Eve celebrations are energetic. 
Major events occur around the Downtown area in District 1, so locals and tourists stay here from the late afternoon to past midnight. This will be the most crowded area in the city. 
Nguyen Hue Walking Street has a stage set up so people can watch musical performances, hang out, blow vuvuzelas, and enjoy a midnight countdown. This walking street is closed to cars and motorbikes so pedestrians can walk around freely. 
A dazzling fireworks performance is shown at Landmark 81 or the entrance of the Saigon River Tunnel in Thu Duc City (formerly District 2). Many people wait along the Saigon River to see them, so go early to claim a spot. 
Another way to see the fireworks is to find a rooftop bar or restaurant with unobstructed river views. Many rooftop restaurants have a special NYE menu so reservations are required. 
A smaller firework show is shown at Dam Sen Theme Park in District 11. 
Afterward, the NYE parties continue well into the early morning in Bui Vien backpacker area or back at home.
Pro Tip: Walk around as much as possible and cross the streets safely. Requesting a Grab ride-hailing car or motorbike for transportation will be impossible since the roads are highly congested or closed due to the fireworks.   
---
---
---
4. Hoi An, Vietnam
By Joanna, The World in My Pocket
Hoi An is a great place to spend New Year's Eve. The entire city is celebrating through fireworks and colorful lights everywhere. 
Colorful paper lanterns float on the water, which is usually overflowing the banks due to the rain. 
Unfortunately, December is quite a rainy month for Hoi An so while it won't be a dry New Year's Eve, it will be a memorable one.
The best place to be to watch the New Year's fireworks is actually on a boat on the river. Many boat owners will invite you into their boats, but make sure you negotiate the fee beforehand. 
As it's a special celebration, they will hike up the fees, sometimes even ten times more. This is not really an issue, as it's quite cheap anyway. 
Watching the fireworks from a boat is very special. The firework show is quite impressive and lasts for around 15 minutes. It reflects in the water and makes the entire atmosphere very colorful.
Releasing paper lanterns on the river at midnight is also very popular.
---
---
---
5. Singapore
By Karen, Foreverkaren.com
Singapore celebrates both New Year's Eve (on December 31st) and Chinese New Year. With warm temperatures in the mid to high 20s °C (high 70s to low 80s °F), you won't need to bundle up to enjoy the outdoor festivities. 
It's a city that likes to celebrate, so its displays are "over-the-top."
While the New Year's Eve fireworks take place in Marina Bay, many destinations offer various celebratory events. 
Sentosa Island offers a relaxed atmosphere with a beachfront party, or you can head to Universal Studios, where you can ride all day and enjoy its own firework display at night.
Gardens by the Bay, the Singapore Flyer, and Clarke Quay offer unique ways to celebrate. Whether you're looking for the best fireworks views, an all-day event, or a great place to dine, you'll have many choices.
If you plan to 'dine and watch' around the Marina Bay area, you must make reservations early, as the best places fill up fast. 
For aerial views of the fireworks display, booking at the Marina Bay Sands Hotel rooftop deck provides an unforgettable way to ring in the new year.
---
---
---
6. Bali, Indonesia
By Victoria, Guide Your Travel
Bali, a captivating island in Indonesia, is the ultimate must-visit destination for an unforgettable New Year's Eve celebration. Its stunning landscapes, rich culture, and welcoming locals promise a magical experience. 
Start your festivities at Kuta's renowned beach parties, where lively music and joyful crowds create an electric atmosphere. 
Immerse yourself in Bali's unique traditions during the festive season. Witness the magical Ogoh-Ogoh parades on New Year's Eve Eve. Giant statues were paraded through the streets and then burned to symbolize the purification of evil spirits.
Embrace the island's spiritual side by joining traditional ceremonies in Ubud, where locals welcome the New Year with vibrant processions and mesmerizing fire dances. 
As the clock nears midnight, head to Nusa Dua for the most spectacular fireworks displays, illuminating the night sky with a burst of colors. Alternatively, watch fireworks from the tranquil beaches of Jimbaran or Sanur for a more serene experience.
Remember, Bali's popularity during this time means accommodation and flights book up fast, so plan and book early. 
Additionally, be cautious of pickpockets in crowded areas, use reliable transportation services, and negotiate fares before hopping into a taxi. Read this post on what to know before traveling to Bali here. 
---
---
---
7. Kuala Lumpur, Malaysia
By Catrina, 24 Hours Layover
Kuala Lumpur is a must-visit place to spend New Year's Eve due to its vibrant celebrations and exciting atmosphere.
At New Year's Eve, the area around KLCC is very busy as everyone comes to watch the spectacular fireworks displays at midnight. 
There is lots happening around here, and a wonderful atmosphere so it's a great spot to be!
You can also enjoy the fantastic fireworks display without all the crowds by heading to one of the many rooftop bars in the city. Sky Bar, Heli Lounge Bar, Marini's on 57, and Atmosphere 360 are all great bars with stunning views that you can check out, just remember to book in advance.
The city also hosts other various countdown parties at popular nightlife spots and entertainment hubs. Celebrate here with locals and fellow travelers and enjoy live music, performances, and a lively festive ambiance. 
For the best street food at a great price and an amazing atmosphere, head down to Jalan Alor Food Street.
Many landmarks and streets in Kuala Lumpur are also beautifully illuminated with colorful lights and decorations during the New Year season, adding to the festive spirit of the city.
---
---
---
8. Manila, Philippines
The city of Manila is the capital of the Philippines and the oldest city in the country. It's located in Luzon, the largest Island in the country. Manila serves as the country's political, cultural, economic, and educational center.
In Manila, Filipinos are well known for their festive spirit and love for celebrations, and New Year's Eve is no exception. 
Families and friends gather in their homes or malls to witness the New Year's countdown with fireworks displays and loud firecrackers at midnight to welcome the New Year with a bang. The skyline is lit with colorful bursts of lights, and you can see fireworks from various parts of the city.
Mostly, people go to Mall of Asia, the largest mall in the country, to witness the beautiful fireworks displays while waiting for the new year countdown. 
Aside from fireworks displays, there are also street parties, where the streets of Manila come alive with parties and celebrations. Many local communities organize street parties with music, dancing, and other forms of entertainment.
Visiting churches is also a tradition for Filipinos to start the new year by attending mass, or giving thanks and seeking blessings for the year ahead. 
The city's streets can get extremely congested, and transportation may become challenging but still can be a worthwhile and memorable experience. 
---
9. Chiang Mai, Thailand
By Kate, Kate Abroad
While most tourists flock to the islands and beaches down south, Chiang Mai has a more authentic local atmosphere where the calendar New Year (Thai New Year is typically around April) is celebrated with a traditional lantern release. 
The main celebrations take place at Tha Phae Gate, just outside the walled Old City, where you'll find plenty of light displays and of course food stalls. 
The city starts gearing up for New Year early so you can find street entertainment, food, and other smaller events in the days leading up to December 31st. 
For a more relaxed way to wind down the year, book a table at one of the riverside bars and watch lantern lightings while enjoying some khao soi and cocktails. 
Or head to North Gate to join the partygoers and make the most of the cheap drinks.
Chiang Mai is very walkable so you can walk between spots if you want to experience a bit of everything.
---
10. Koh Phi Phi, Thailand 
If you're looking for a memorable way to ring in the New Year, then Koh Phi Phi should definitely be on your list. 
The island's lively beach parties, particularly on Loh Dalum Bay (the main beach on Koh Phi Phi), are legendary, with an infectious energy that lasts until the early morning. 
Musicians, fire dancers, and DJs create a festive atmosphere, with travelers and party-goers from across the globe contributing to the eclectic vibe.
As the clock ticks closer to the New Year, the excitement on the island escalates, culminating in a communal countdown. At midnight, a fireworks show lights up the sky above the bay.
Koh Phi Phi's draw isn't limited to its New Year's Eve celebrations. The island's daytime activities are just as fun. Its beautiful beaches, especially Maya Bay and Long Beach, are ideal for a relaxing dip in the clear blue water.
Remember to book your accommodations in advance, as the island gets busy during New Year's. 
It's highly recommended to find a place near Tonsai Village for proximity to the main festivities and some of the best restaurants.
---
11. Krabi, Thailand 
By Abbey, Tripsonabbeyroad.com 
The best place to go in Krabi is down to the area of Ao Nang, which is the town right on the shore. 
Start your night out at one of the beautiful seaside restaurants or hit up the night market in the center of town. 
Keep your eyes peeled for the street vendors to be selling the floating lanterns. You cannot find them in the stores, as it is technically illegal. 
For 2023 New Year's, the vendors sold the lanterns right on the street for 100 baht ($2.90 USD) each! 
It's recommended to grab more than one lantern so you can set one off right away and then again at midnight! 
As you look up into the sky you'll see thousands of orange glowing lanterns floating around with fireworks going off in the distance. 
Make your resolutions as the lantern floats away into the distance and you'll feel just like you're floating in the air as well! 
---
Amazing New Year's Eve Celebrations in East Asia
12. Kamakura, Japan
While many people associate New Year's Eve with champagne kisses and counting down for the ball to drop, New Year's Eve is a sacred holiday in Japan.
The most traditional decorations you'll see will be made of rice straw, pine trees, and bamboo. The Kadomatsu and the Shimekazari are good luck symbols. Kadomatsu is found at the entrance of a house and Shimekazari is a wreath found on the front of the door.
At Buddhist temples across Japan, visitors may be able to witness the joya no kane ceremony. Out of the many temples in the area, Hokokuji Temple in Kamakura is a great local Buddhist temple to visit.
Right before midnight, the temple bell at Hokokuji Temple will be struck 108 times. It's said that 108 represents the number of human desires, which lead to pain and suffering. 
This ritual is to drive away those negative emotions from the past year. 
Some years, 108 people will ring the bell one at a time, and other years it's a priest from the temple that rings the bell 108 times.
As the bells ring starting at midnight, reflect with the community around you for the hope and prosperity of what the new year may bring.
---
---
---
13. Kyoto, Japan
If you're looking for a big party, Kyoto, and Japan in general, are not the places to go for New Year's Eve. Celebrations are based on family and Buddhist traditions.
At midnight, there will be no fireworks but bells ringing at local temples. The ceremony is called Joya no Kane and is performed to wish everyone a safe and happy New Year. 
The bell is rung 108 times, with the 108th being at midnight. 108 symbolizes the number of desires people are said to have according to Buddhism.
After the bell rings and in the days after, people visit temples to wish for a peaceful New Year. 
Be aware that some of the more popular temples such as Fushimi Inari Shrine and Yasaka Shrine get very crowded.
After New Year's Eve, the celebrations continue with many festivals and rituals around Kyoto. Kemari Hajime is held on January 4 at Shimogamo Shrine. Very simplistically, it comprises priests dressed in colorful traditional costumes playing an ancient form of football (soccer).
The most interesting festival lasts for 5 days at the Gion Ebisu Shrine. It's held from January 8-12. Here you can see women in traditional costumes and try local foods from the stalls.
It might not be your normal way to spend New Year but it'll be one to remember. 
---
---
---
14. Taipei, Taiwan
By Min, Taipei Travel Tips
Talking about New Year's Eve in Asia, you must attend the fireworks from Taipei 101.
The Taipei 101 fireworks are 5 minutes long and stunning. You don't want to miss any second of them. 
The fireworks are launched from different levels of Taipei 101, unlike those from Sydney, Australia, and Hong Kong.
The best place to watch the fireworks is from National Sun Yat-sen Memorial Hall (國父紀念館). There are also some New Year's Eve parties in Taipei; the one in W Taipei is the most iconic since it has a great open pool, an excellent bar vibe, and the best fireworks view.
The tea houses here open late for New Year's Eve. Due to Taipei's various public transportation, there is no need to worry about how to get back to hotels. 
In recent years, camping in the mountain with family and friends has been popular among the locals. Enjoying the sunrise of the new year is also a very unforgettable experience.
---
15. Lijiang, China
By Pafoua, Her Wanderful World
Lijiang, China is located in the Yunnan Province and is surrounded by the majestic Jade Dragon Snow Mountain. 
On New Year's Eve, the streets of Lijiang come alive with music, dancing, and acrobatics performances to honor the coming of the New Year. 
The city is home to some of China's most impressive cultural sites, such as the Ancient City of Lijiang with its labyrinthine streets lined with cobblestone bridges, stone walls, and wooden houses.
Dotted with temples and pagodas like the Black Dragon Pool and the Mu Mansion, the city has a unique charm that will make your New Year's Eve celebration spectacular.
If you are visiting during Chinese New Year, Lijiang has the Naxi Torch Festival where villagers light long paper torches to welcome the rising sun and to bring good fortune for the coming year.
Whether you want to immerse yourself in local culture, explore ancient temples, or experience a vibrant nightlife scene, Lijiang is the ideal destination to ring in the New Year with style.
---
16. Seoul, South Korea
By Ashley, Culture Snapshots
Seoul, South Korea is a must-visit for New Year's Eve. Not only is South Korea's capital a great place to visit in general, but there are also special events for New Year's Eve.
Each year, there is a countdown and fireworks show that takes place around Lotte World Tower in Jamsil. Lotte World Tower is the world's 6th tallest building, standing at 554.5 meters (1819 feet). 
At midnight, fireworks are shot off from the top of the skyscraper.
If you want to celebrate New Year's Eve which is unique to South Korea, go to the bell-ringing ceremony at Bosingak, a famous pavilion with a bell in Jongo. During this ceremony, the bell is rung 33 times at midnight.
Celebrating the New Year by watching the first sunrise of the year is also popular in South Korea. This activity is best done on one of the mountains around Seoul for a better vantage point.
And if that's not enough, you can party until the sun comes up at spots across the city, with popular areas to go out including Gangnam, Itaewon, and Hongdae.
---
---
---
Final Thoughts
Which of these places are on your bucket list to celebrate New Year's in 2024 in Asia? 
We hope you get the chance to visit one of these cities or islands and enjoy the festivities and parties. 
While the traffic and crowds may be overwhelming in certain cities, it'll be worth the visit to any of these locations to have a fresh start to the new year. 
Many thanks to our travel blogging friends for sharing their recommendations. 
Happy travels!
Like this post? Save it to your Asia travel Pinterest boards.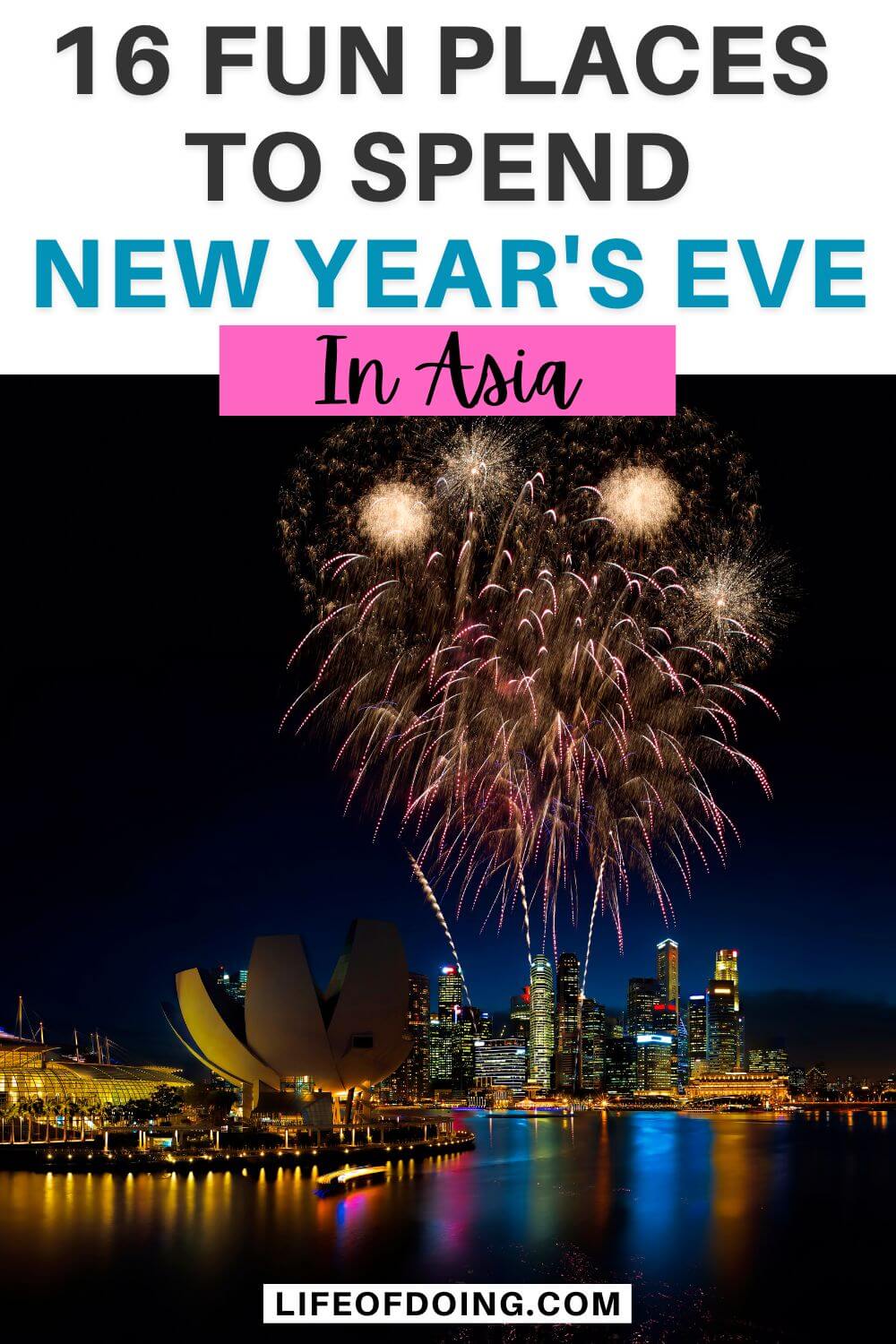 Featured photo & pin #1 photo credit: kjorgen via Depositphotos.com