Bali has some of the most beautiful waterfalls to visit. They're surrounded by luscious jungles and the cascades are breathtaking. 
If you're a waterfall chaser, then a visit to Leke Leke Waterfall needs to be on your radar. 
Located in the Tabanan Regency in the northern part of Bali, Leke Leke Waterfall (also known as Air Terjun Leke Leke) is a small and gentle waterfall to visit. 
What is great about visiting this waterfall is that it's one of the quieter ones that we've been to. So you could have the waterfall to yourself. 
You can stop by Leke Leke before or after Ulun Danu Beratan Temple or if you're passing through Ubud on a day trip. 
In this post, we're sharing our Leke Leke Waterfall guide on how to visit this place, what to expect, and other helpful details. 
*Disclaimer: This post contains affiliate links. As an Amazon Associate we earn from qualifying purchases. If you click on them and make a purchase, we receive a small commission. There is no additional cost to you. Appreciate the support.
---
Do You Need a Tour Guide for Leke Leke Waterfall?
No, Leke Leke Waterfall is one of the easiest waterfalls in Bali to reach by foot. 
The dirt path from the entrance to the waterfall is flat and not technical. You don't need to worry about river crossings or anything as extreme as Sekumpul Waterfall. 
It takes about 15 to 20 minutes to arrive at the waterfall. 
Therefore, older guests and children can do this waterfall walk easily. We went with my mother-in-law and took our time to reach the waterfall. 
Plus, the walking route is an out-and-back, so you won't get lost. 
---
---
How to Get to Leke Leke
The easiest way to get there is by riding a motorbike or hiring a private driver to take you.
We always hire a driver for the day as we prefer to not drive a motorbike around the island and worry about navigation. Please send us a note if you're interested in the driver that we've used a few times in Bali. You can contact us here.
Or, you can hire one directly here.  
If you prefer to drive a motorbike, you can rent one from your accommodations or use a motorbike rental company. Click here to reserve a motorbike in advance here. 
Here are the driving times from various areas from Bali to Leke Leke. This will help with your planning and when you should leave:
Ubud – 32 to 35 kilometers / 20 to 22 miles (1 hour 10 minutes to 1 hour 30 minutes) 
Denpasar – 41 to 44 kilometers / 25.5 to 27 miles (1 hour 35 minutes)
Canggu – 37 kilometers / 23 miles (1 hour 10 minutes)
Seminyak – 42 to 44 kilometers / 26 to 27 miles (1 hour 40 minutes)
Nusa Dua – 59 kilometers / 36.6 miles (2 hours)
There is a small parking lot next to the ticketing office for cars and motorbikes. 
---
When to Visit Lake Leke Waterfall
The waterfall is open from 7:00am to 5:00pm, so you can visit at any time during the opening hours. 
While this waterfall is not as crowded compared to other waterfalls, we suggest visiting early in the morning. 
As mentioned before, this waterfall is very small, so the early birds will have fewer people photobombing your photos. You'll have the waterfall to yourself!
---
Leke Leke Waterfall Entrance Fee
There is a ticket office next to the Leke Leke Waterfall entrance. The cost is 50,000 IDR ($3.35 USD) per person. Cash is only accepted as payment.
---
What to Wear
Comfortable walking shoes or flip flips
T-shirt
Shorts or pants
Swimsuit – You'll need to wear this ahead of time as there aren't any changing areas at the waterfall.
---
Things to Bring
Sunglasses
Mosquito repellent
Water (A reusable water bottle is better)
Camera/Phone
Towel (if you plan to swim)
Our Leke Leke Waterfall Experience
Depending on your speed, it takes about 15 to 20 minutes to reach the waterfall from the entrance. 
The entrance to the waterfall has a "Leke Leke" sign. It's a nice welcome sign. 
The path down to the waterfall is paved and has stone stairs until you pass by a small warung for drinks and snacks. This lasts only for a minute or so. 
Note: Since this walking path is an out-and-back route, you can visit the warung when you return. There are some fun Instagramable photo spots with bird's nests here. 
Once you pass the warung, it turns into a dirt path. Luckily, the dirt path is super easy to go through. 
After crossing a bridge, you're almost at the waterfall!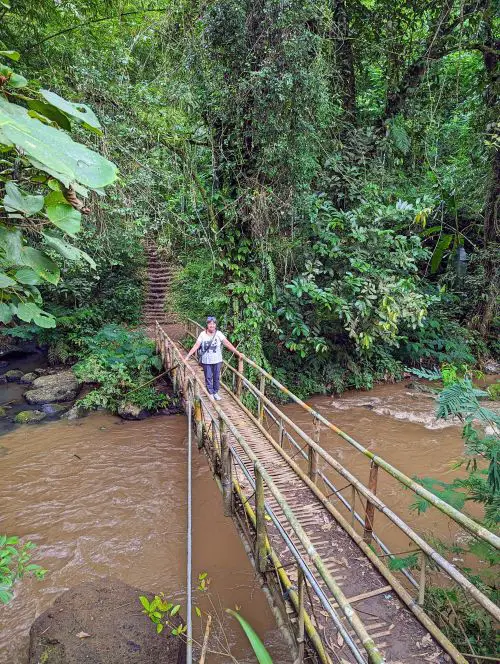 When you arrive at Leke Leke Waterfall, you'll see the small cascade that falls into a small pool of water. The gentle cascade is calming and fits in nicely with the quiet surroundings. 
You could swim or wade in the water but it's not large. 
The main photo spot is on the rocks next to the pool of water. As you can see, there isn't much room for multiple groups to take photos. 
We arrived at the waterfall after 3:30pm on a Sunday and there were about 8 to 10 people at the waterfall. 
Even though we waited for our turn to take photos, there were a few people who disregarded the unspoken rule to not interrupt other people's photos and barged into ours. 
Therefore, we recommend that you visit early!
Anyway, we took some photos for a few minutes and took the same route back to the parking lot to return to our accommodations in Ubud. 
If you wish to hang out around the waterfall, you're more than welcome to. 
---
Is Leke Leke Waterfall Worth the Visit?
Yes, if you're looking for a waterfall that isn't overly crowded, then Leke Leke Waterfall would be a fantastic option. 
The only caveat is that you must arrive early to have more privacy and encounter fewer crowds. 
But if you're looking for huge cascades, then you should skip this waterfall. One of our friends who live in Bali said that the waterfall was like a "water faucet" since it was small. There isn't much room at the base of the waterfall either. 
---
Final Thoughts
Depending on the amount of time you have in Bali, we recommend that you add one or more waterfalls to your itinerary. We suggest that you spend at least 4 days or up to 2 weeks in Bali. 
Leke Leke Waterfall would be an awesome choice as it's easy to get to and has a flat walking path. With the greenery and quietness, it's a nice place to de-stress and unplug for a portion of your day. 
For more tips on visiting Bali, check out our posts: