If you're in Osaka or Hyogo Prefecture and want to experience a unique place, then consider a nature walk along an abandoned railway line. 
This former Japan Railway (JR), Old Fukuchiyama Line, also known as Takedao Abandoned Railway is a lot of fun as you get the chance to walk over abandoned railway tracks and through 6 dark tunnels. Plus, it's free to visit. 
While many people refer to the Takedao Abandoned Railway as a hike, it's more of a leisure walk as the course is pancake flat. Therefore, this walk is perfect for all ages. Many families bring their young children and babies along the trail. You may also see a few dogs getting their daily walk here too. 
In this post, we're sharing information about accessing Old Fukuchiyama Line (Takedao Abandoned Railway) and our experience with the trail. 
If you have additional days in your Osaka, Himeji, or Kobe itinerary, we highly recommend that you visit this place as a day trip. It's a fun place to escape the large cities and to visit a non-touristy area.  
*Disclaimer: This post contains affiliate links. As an Amazon Associate we earn from qualifying purchases. If you click on them and make a purchase, we receive a small commission. There is no additional cost to you. Appreciate the support.
---
Old Fukuchiyama Line (Takedao Abandoned Railway/Train Tracks) Overview
Challenging level: Easy
Distance: 5 miles (8 kilometers) one-way (according to our Garmin watch)
Time to complete: 2 to 3+ hours one-way (You'll stop at many places to take photos)
Helpful tips: 

If going to the trail from Namaze Station, there are portable toilets at the start of the trail. Please use these before hiking as there aren't any other toilets along the trail.
Walk slowly over the old railway tracks as they're uneven. 
The tunnels are dark so bring a flashlight with you. 
---
Best Time to Visit Abandoned JR Fukuchiyama Line
This place would be perfect to visit all year round. Since the walking path is spread out, it isn't crowded with visitors. 
The walking path is surrounded by Japanese maple trees, so walking here during the fall season would be bursting with red and orange leaves. 
In addition, there is a park (親水広場) closer to the Takedao Station. There are rows of cherry blossom (sakura) trees, so it would be a fun place to experience hanami (flowering viewing in Japanese) during the springtime.  
While the path is mostly covered with trees, we see how summertime can get hot here. Click to read tips on hiking in hot weather. 
As with wintertime, it'll be colder so there may be fewer people out and about. So it'll be another cool experience. 
---
How to Get There
Since this place is located in the Hyogo Prefecture, the nearest large city is Kobe and Himeji. Osaka Prefecture is a neighboring area to Hyogo, so Osaka is another starting point. 
The easiest way to get to the starting spot is by taking the train. 
We recommend that you use Google Maps to map out which train line to take and to figure out the train schedule. 
You can use your ICOCA (IC) card, JR Wide Area Pass, or JR Kansai Pass to pay for your ticket as the train stations are along the JR train lines.
You can start the walk either at JR Namaze Station (生瀬駅) in Nishinomiya and finish at JR Takedao Station (武田尾駅) in Takarazuka, or start at Takadao Station and finish at Namaze Station. 
It's up to you where to start! Most people start at Namaze Station. Yet, we saw many people walking in both directions along the trail. 
---
From Kobe to Namaze Station or Takedao Station
It'll take 50 minutes to 1 hour to go from Kobe Station to Namaze Station, or 58 minutes to 1 hour 10 minutes from Kobe Station to Takedao Station. 
---
From Himeji to Namaze Station or Takedao Station
It'll take 1 hour 30 minutes to 1 hour 40 minutes from Himeji Station to Namaze Station or Takedao Station. Namaze and Takedao will take the same amount of time. 
---
From Osaka to Namaze Station or Takedao Station
It'll take 50-58 minutes from Osaka Namba Station to Namaze Station, and 58 minutes from Osaka Namba Station to Takedao Station. 
---
From Namaze Station to Trailhead
We started at Namaze Station and ended at Takedao Station. Once you exit the Namaze Station, you turn right and walk along the main road for 15 minutes. 
Then you'll cross the street when you see signage pointing to the trail. The signs are in Japanese but you'll see cones and large flags to attract attention. 
From there, you'll walk next to the river and start walking.
---
Things to Bring
Backpack to hold daily essentials 
Food or snacks for a picnic or break time 
A flashlight or use the light on your phone for the dark tunnels
Phone or camera to take photos
Wet napkins for daily purposes – We suggest this one. 
Trash bag (You'll need to bring trash with you back home) – You'll notice how clean and spotless this walking trail is so do not litter here.
---
Things to Wear
Comfortable walking shoes (You do not need trekking boots or trekking shoes) – We wore Nike running shoes and they worked well. 
Comfortable t-shirt and pants
Light jacket 
Hat – We recommend this hat for full coverage. 
Sunglasses
---
Our Experience Along Old Fukuchiyama Trail (Takedao Abandoned Railway) 
After exiting the Namaze Station, we turned right and followed the sidewalk.
The first part of the route was along a main road so cars were next to us.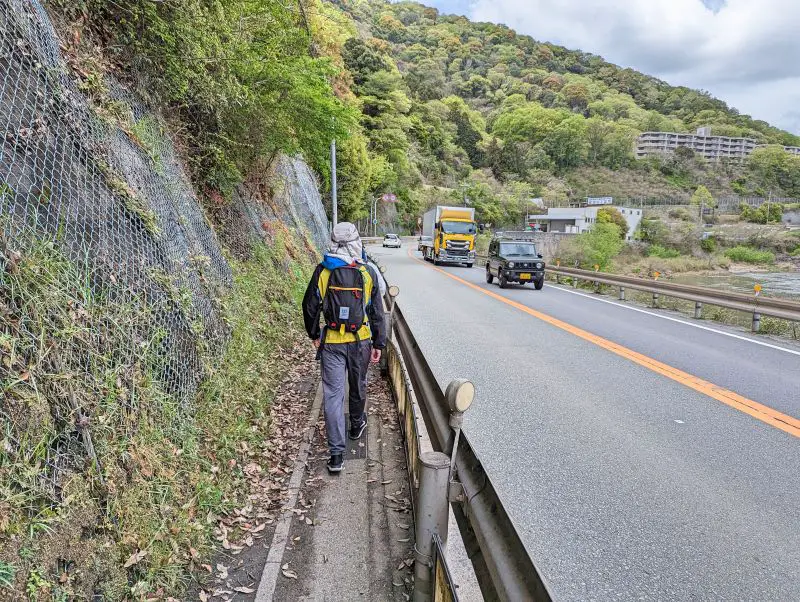 We walked along the road for 15+ minutes until we saw large flags in Japanese and cones directing us to cross the street. 
Once we went on the trail, we didn't have to worry about cars. It's only for pedestrians. 
We saw the gorgeous Muko River flowing next to us. It was the perfect start of the walk with the peaceful sound of the water rushing.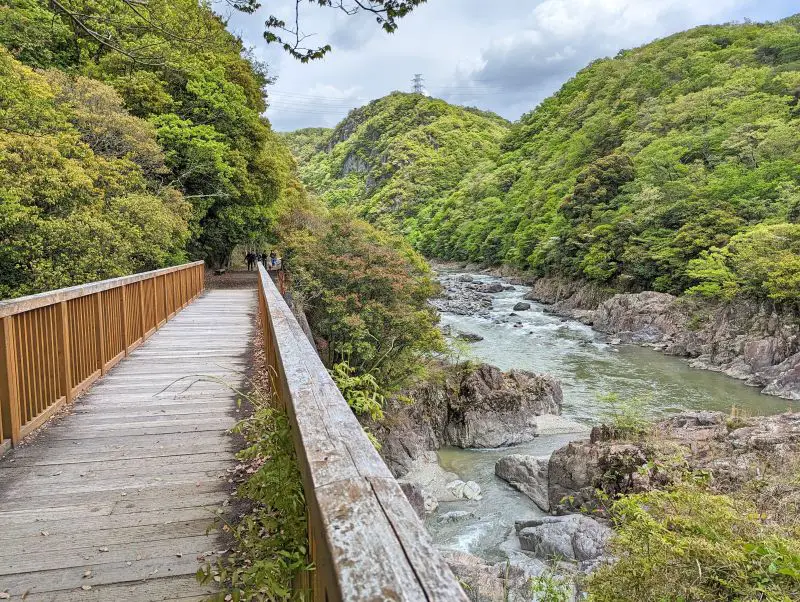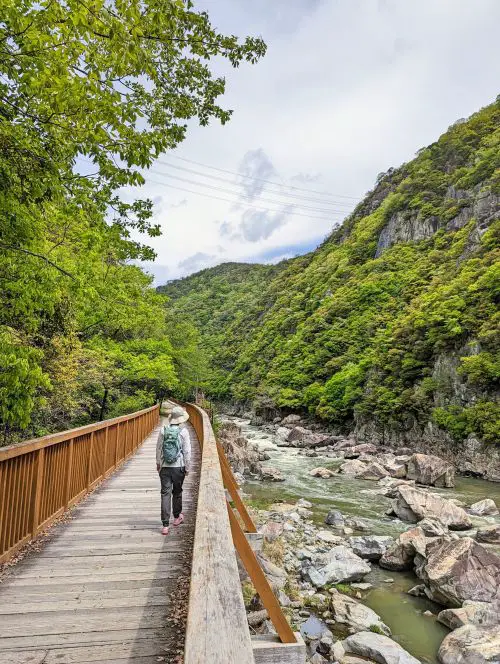 We loved how the Old Fukuchiyama Line, a former JR line, has preserved the former railway tracks. 
While the walking path is flat, walking over the wooden tracks and gravel gave our feet a good foot massage after walking a lot in the previous days. 
Walking through 6 dark tunnels was quite an experience. With the quietness, it felt similar to going through an apocalypse with zombies chasing after us. 
The tunnels were different lengths so some of the longer ones required light. As mentioned earlier, you'll need to have a flashlight or use the flashlight on your phone. 
We noticed the cooler temperatures once we entered the tunnels. So this would be an ideal place to reprieve from the heat during the summertime. 
We also noticed how some parts of the tunnels dripped water. So be aware of any wet areas to prevent slippage.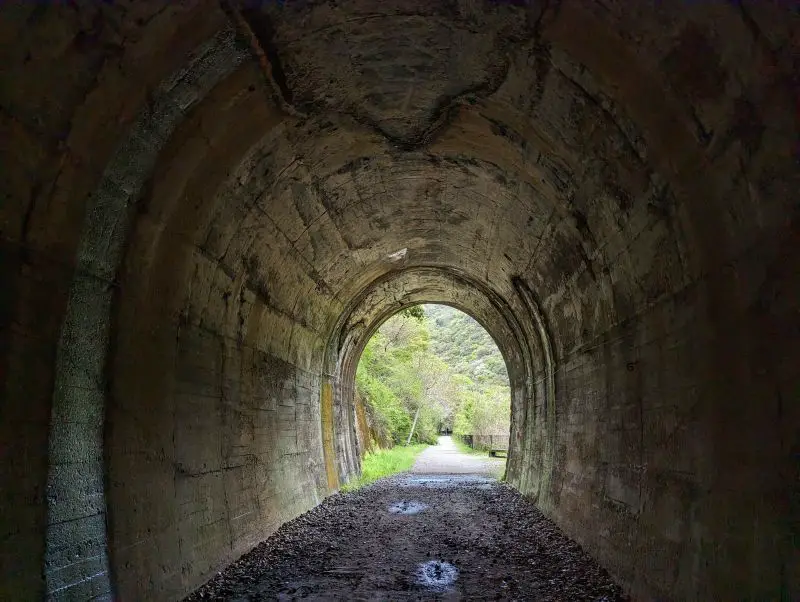 The most photogenic tunnel (tunnel #3) led to a beautiful red bridge. Since the bridge was surrounded by foliage, it was a popular stopping point to take group photos and selfies. You can time it where you can have the bridge to yourself in the photo.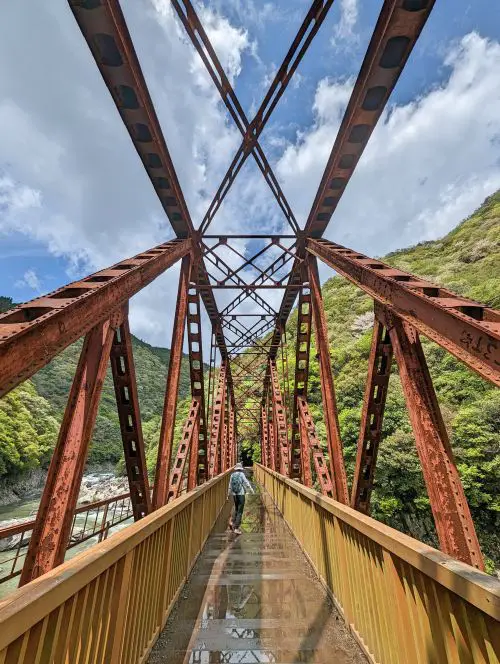 We continued along the walking path and passed by a park (親水広場). 
Many visitors hung out along the riverside and sat on the benches or the floor to have a picnic. As mentioned earlier, this is the spot to enjoy the cherry blossoms (sakura) when they're in full bloom. We missed the full bloom of sakuras by two weeks but saw a few blossoms hanging on the trees. 
At the end of the park, there is a restaurant serving drinks and food. Many people stopped by here for a break. There is a public toilet and a small Shinto shrine, Takedao Inari Shrine (武田尾稲荷神社) worshipping inari (foxes).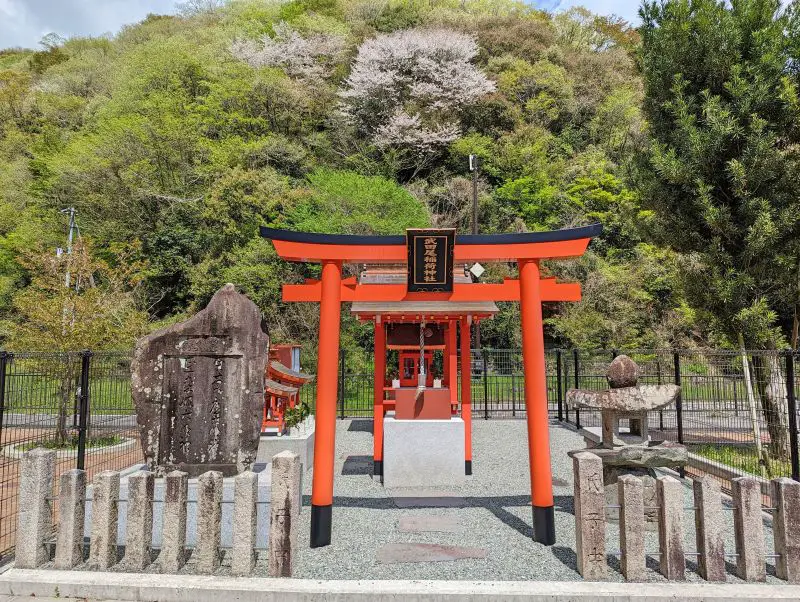 We continued the walk along the river and then reached JR Takedao Station as our final destination. We enjoyed it and reflected on our experiences when we returned to Osaka for the evening. 
Note: You could turn around and do a full out-and-back loop if you want to walk longer. It depends on your schedule and how much you want to walk for the day. 
Final Thoughts
If you're looking for a quiet getaway and an escape from the large cities, then consider adding a walk along the Old Fukuchiyama abandoned railway in Hyogo Prefecture. 
It's a beautiful and peaceful area to walk along the former train tracks at any time of the year. We suggest that you visit this place before it comes too popular! 
Looking for other places to visit nearby Hyogo Prefecture? Read our posts below: