Phu Quy Island (Đảo Phú Quý in Vietnamese) is known as the "Islands of the riches" due to its beautiful coastline, unique black lava rock formation, fresh seafood, and calm island life. 
It's located 120 kilometers (74.5 miles) from the mainland of Phan Thiet in South Vietnam. 
Phu Quy is currently a popular Vietnam island for local Vietnamese tourists to spend at least 3 days or a long weekend here. 
Most foreign travelers do not visit Phu Quy Island since it's an off-the-beaten-path destination. Many visit Phu Quoc Island instead as it's easier to get to. Yet, if there is a chance to visit Phu Quy place, it's recommended to add this place to an itinerary. 
We had the opportunity to visit Phu Quy with colleagues and it was a fun experience. What we love about Phu Quy is that tourism is still underdeveloped in Phu Quy for foreigners so it still has small island charms. Plus, the island isn't crowded so it's a nice reprieve from noise and traffic since we live in Ho Chi Minh City. 
Since there isn't much information on this island, this guide has everything that we know about planning and visiting Phu Quy Island. We're including important tips such as how to get there, what to do, and more.  
Click here to jump to certain areas of this Phu Quy Island travel guide:
*Disclaimer: This post contains affiliate links. If you click on them and make a purchase, we receive a small commission. There is no additional cost to you. Appreciate the support.
---
Things to Know Before Traveling to Phu Quy
Before heading to Phu Quy, don't forget to pick up a SIM Card or an e-SIM so you can get data. 
The wifi at your accommodation can be slow, so it's best to have a SIM card or e-SIM for your phone. 
Buy a SIM card at the Ho Chi Minh City airport on arrival. 
Buy an e-SIM Vietnam plan here. 
---
The only way to get to Phu Quy island is by speedboat. 
We'll share more information below under the transportation section, but you need to arrive in Phan Thiet and take the 2.5 hours speedboat to Phu Quy Island. The island does not have an airport. 
---
Foreigners are allowed to visit Phu Quy Island and pre-registration isn't required. 
Since Phu Quy Island has active military bases, you may have seen information on registration for an entry and exit permit at the Phan Thiet police ward before arrival. 
We went in March 2023 and didn't have to get any travel permits. The travel permits are not needed as of September 2020. 
All we did was show our passport and temporary resident's card (TRC) to the police (person wearing the green uniform) before boarding the boat. They took a photo of the passport and TRC and let us board. This was done each time on the round-trip boat ride. 
---
How many days should you spend on Phu Quy? 
Due to the long travel time to reach Phu Quy, staying at least 3 days/2 nights on the island is recommended. 
It's enough time to explore the island fully and do a day trip to a smaller island, Hon Tranh (Hòn Tranh). You won't feel rushed and can embrace the slow pace island life. 
---
You'll need to know Vietnamese or go with someone who can speak Vietnamese. 
This island is still developing its tourism for local Vietnamese, so there isn't a focus on international guests yet. 
Few people will know how to speak English, so you'll need to know some basic Vietnamese or have a friend help translate on your behalf. 
---
If you're looking for a tour in English, you're out of luck. 
The good news is that you can explore this island on your own. All of the attractions in Phu Quy are free to visit. All you need is a motorbike!
As a heads up, there aren't any explanations of what the attractions are, so enjoy the views and landmarks. 
---
Bring cash with you. 
Credit cards are not accepted on the island. Therefore, it's best to bring enough cash with you. The island has ATMs but we heard that they often run out of money. 
---
Please be a responsible visitor and do not litter. 
While the coastal views are beautiful on the island and worth the visit. 
Yet, to be honest, there is trash everywhere on the island – on the side of the road and the beaches. It's one of the ugly sides of this island. 
The beaches are not well-maintained with washed up flip-flops, glass, debris, and other garbage. The beach nearby our guesthouse was full of seaweed too. 
We only found one beach area with clean sand, so we'll mention that location below. 
Trash is burned daily since there isn't any way to recycle and dispose of trash properly. 
Therefore, it's important to create minimal trash and throw it away in a trash bin. Not on a side of the road as a dumping ground. 
---
How to Get To Phu Quy
Account for at least 6+ hours of travel to Phu Quy Island from Ho Chi Minh City. 
Step 1: From Ho Chi Minh City to Phan Thiet
There are many transportation options to get to Phan Thiet from Ho Chi Minh City. 
Taking the overnight bus is a cheap option as it's $7 USD one-way. Account for at least 5+ hours of travel time. 
Futa Bus, Sinh Tourist, and Phuong Trang are examples of overnight buses that you can take. What is great about the buses is that they have almost lay-down flat seats so you can sleep during your ride. There is a rest stop halfway through the ride for a snack and toilet break. 
The train is another affordable option. To reach Phan Thiet via the Reunification Express Train, the train takes 4 hours. The Ho Chi Minh City railway is located in District 3. The cost is $14-$16 for either a hard seat or a soft seat, respectively. 
---
---
Hiring a driver is another option. It'll cost more to hire a driver since he/she will need to return to the city. 
Riding a motorbike is an adventurous option. If you feel comfortable driving and riding a motorbike, you can make the drive to Phan Thiet. Please follow the road rules. 
Since it's a long drive on a motorbike in the early morning, you may consider stopping by other beach areas, such as Kê Gà, Vung Tau, Mui Ne, or even stop by Ta Cu Mountain, for day trips before going to Phan Thiet. 
---
Step 2: From Phan Thiet to Phu Quy
Take a speedboat from Superdong or Phu Quy Express. The boat ride is 2.5 to 3 hours one-way. 
Need to book the speedboat tickets in advance. Seats sell out quickly. 
Buy tickets online for Superdong here. 
Buy online tickets for Phu Quy Express here. 
There are two types of seating – VIP in the front with reclining seats or regular seats. Round-trip pricing starts at:
Adults: 700,000 VND ($30 USD)
Adults Older than 60 years (Vietnamese locals only): 590,000 VND ($25)
Children: 500,000 VND ($21.25)
Guests receive a bottle of water and a wet napkin.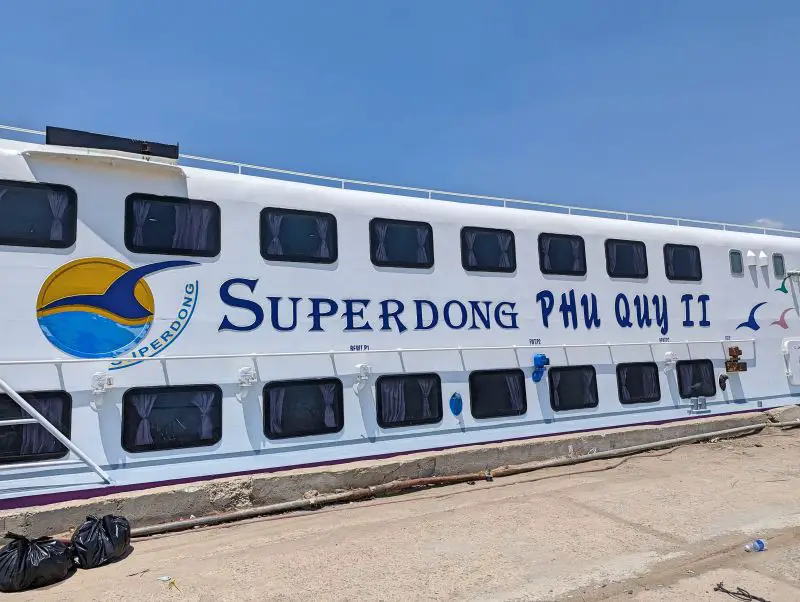 IMPORTANT TIP: If you get seasick or motion sickness, buy motion sickness medicine ahead of time. 
The boat ride from Phan Thiet to Phu Quy was rough. The intense waves swayed the boat a lot. It also didn't help that we sat on the upper level of the Superdong so we felt the most swaying. 
The workers on the boat already knew about the high probability of people getting seasick so they prepared tons of barf bags for people.
While we didn't throw it, everyone around us did. It was a surround sound of barfing noises. The person behind me threw up 3 times per hour. Everyone sitting behind Justin had bags up to their faces. 
From Phu Quy to Phan Thiet, the waves were much smoother. No one threw up on the way back!  
Note: Don't forget that you'll need to arrange transportation from Phu Quy to Phan Thiet and then Phan Thiet to Ho Chi Minh City (or your preferred ending destination)
---
How to Travel Around Phu Quy Island
The only way to travel around the island is by motorbike. Therefore, you need to know how to drive one or share a motorbike with someone who knows how to drive. 
Expect to pay between 100,000-120,000 VND ($4.25-$5.10) per day for a motorbike rental. 
Cars are rare on the island. Therefore, taxis are not available on the island. 
Ordering a Grab car or motorbike is out of the question too. 
TIP: Ask your guesthouse or accommodations to arrange for someone to pick you up or motorbike pick-up at the Phu Quy port. We didn't see any motorbike rentals at the port. 
What we loved about the roads on Phu Quy Island was how wide they are. Plus, they're not congested, so you can cross the street with ease. 
---
Where to Stay on Phu Quy Island
Phu Quy has small guesthouses on the island, so accommodations are very basic. There aren't any mega resorts such as Marriott or Hilton here. 
We saw a few places offering "glamping" options so that is a unique stay. 
Most of the guesthouses are around the port area which is south of the island. This is where many of the restaurants are located, so it's a recommended area to stay. Even if you don't stay in the area, you can ride a motorbike here. 
Click to see options available on Booking.com.
Click here to see accommodations on Agoda. 
TIP: Since there are a few accommodations on the island, you must reserve your room well in advance. 
---
Where We Stayed 
Our group planned a trip at the last minute and only found one guesthouse available to accommodate our group of 9. 
So we booked the guesthouse, ​Nhà Nghỉ Phú Mỹ, for 2 nights. It's located in the northeast of the island, so it's quieter and more isolated compared to the southern area. Luckily you have a motorbike to travel around.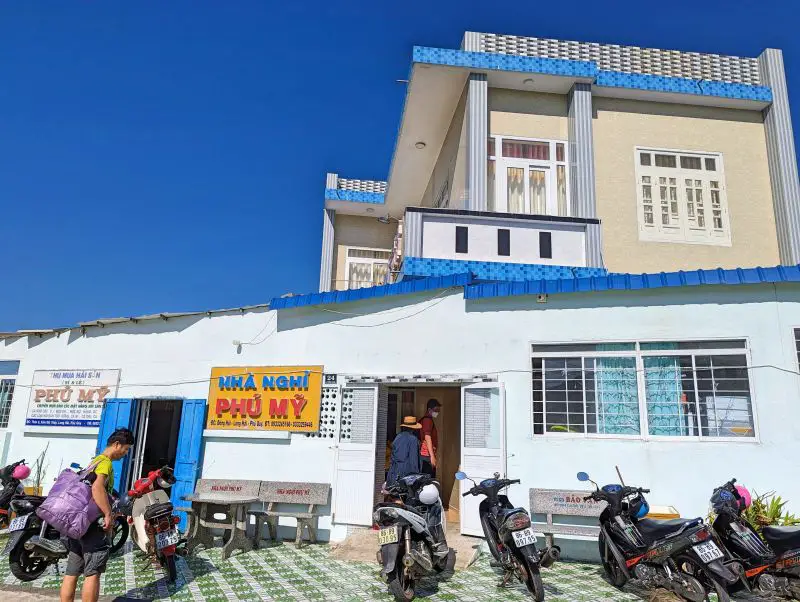 We stayed on the second floor which had 5 bedrooms. Some rooms had two beds with an ensuite bathroom, and other rooms had a bed with a shared bathroom in the hallway. 
The cost of the rooms with 2 beds are 450,000 VND ($19) per night, while the rooms with 1 bed are 300,000 VND ($12.80) per night. 
The rooms have minimal decor. They come with a closet, hangers, mini fridge, fan, air conditioning, and bath towels. We didn't need the air-conditioning as we left the window open all day and felt the ocean breeze. 
TIP: To book this place, you'll need to contact the guesthouse directly. Here is the Facebook page for the contact info. 
The good part about staying here is seeing the incredible sunrise from the roof of the guesthouse. The owner is also friendly and resolved any issues quickly. 
The opportunity for improvement was specifically for our room. We stayed in a corner room to the right of the shared bathroom. 
If you're sensitive to noise, do not choose this room. Whenever someone uses the bathroom, a pumping noise turned on so our sleep was not great. 
The air-conditioning also had a musky smell, so we ended up not using it.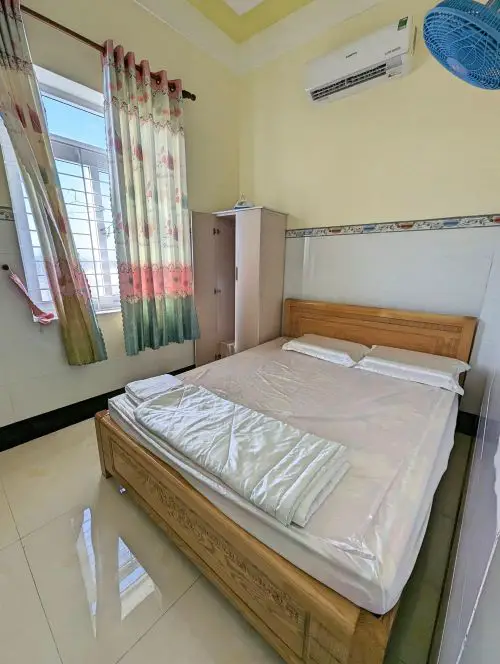 ---
Here are other options to consider that have high reviews: 
My Nhat Hostel (Nhà nghỉ Mỹ Nhật) – This place is located 400 meters away from the port and restaurants, so it's in a prime location. The hostel has rooms with a single bed or two beds. Guests enjoy the friendly owners. 
Huong Duong Hotel (Nhà Nghỉ Hướng Dương) – This place is located close to the port and restaurants. There are rooms with two beds and three beds (perfect for large families). The owner speaks English and provides motorbike rentals. 
---
Phu Quy Map
---
Things to Do on Phu Quy Island
1. Do a short climb up the tallest mountain, Cao Cat Mountain (Núi Cao Cát). 
Cao Cat Mountain is 106 meters above sea level and is the highest peak on the island. 
Visitors must walk up the paved stairs from the parking lot and pass by a dozen golden Buddhas before reaching Linh Son Pagoda (Chùa Linh Sơn) and, then take another set of stairs to reach the peak. It'll take about 10 minutes to walk up. 
Once you reach the top, you'll see awesome views of the ocean and coastline. 
There is a small shrine area with Lady Buddha facing the ocean. From here, you can see a 360-degree view of the island. 
Another highlight of this area is seeing some incredible black-striated rocks along the cliff. These cliffs are referred to as "Vietnam's Grand Canyon." 
After reaching the last step on the climb up, there is a popular photo spot located on the left. You can frame the person sitting on the rocks with the ocean in the background. 
---
2. Take a short hike to the Lighthouse (Hải đăng Phú Quý). 
Looking for another short hike to do on the island? Visit the top of the lighthouse.
To get here, head to Linh Buu Pagoda (Chùa Linh Bửu) and then take a small road to a dead end. 
Note: You'll see a sign on the left side of the street saying that it's a "Restricted Area and No Trespassing." But no one is there to restrict entrance. 
There is a staircase on the right side of the parking area. From the parking area to the lighthouse, it's a 5-10 minute walk up (about .5 miles round trip). 
The climb has paved stairs so it's not technical. But no one maintains the route so leaves pile up on the ground. Be careful with the leaves since you can slip on them. 
The area is shaded with trees so you don't need to worry about sun exposure. Plus, you may see blue butterflies fluttering around. 
The route is easy to follow but it will split into two walkways. If you go left, it leads to a statue of Ho Chi Minh. If you go right, it goes to the lighthouse. 
Once you reach the top of the lighthouse, you can see Cao Cat Mountain and one side of the island. Unfortunately, the view is not as good as the top of Cao Cat Mountain as you can't see the entire island from one spot. 
The lighthouse itself is covered by trees, so there isn't a good photo opportunity of the lighthouse. 
---
3. Check out the large windmills. 
On the north side of the island, you'll see large white windmills spinning. It's great to see that the island invests in a renewable energy source to keep the island running. 
You can park on the side of the road to take photos. 
---
4. Have a photoshoot or see the sunset from Ke Bai Lang (Kè Bãi Lăng).
One of the must-visit spots on Phu Quy is Ke Bai Lang which is one of the embankment areas on the northwest side of the island. 
What is awesome about this place is that there is colorful street art along the walls of the embankment. The street art is based on Phy Quy attractions and the ocean. 
You could also walk down to the small beach area. It's not for lounging around as there isn't much sand. But you can walk into the water when it's low tide. 
This place is a popular spot to see the sunset. Unfortunately, we didn't have a chance to see the sunset from here, but purple and pink skies can be seen across the island at sunset. 
---
5. Swim at Chaoyang Bay. 
Remember how we mentioned that the beaches are not that clean?
Well, Chaoyang Bay is the best place to go for clear, calm waters and a clean white sandy beach. It's located off an unmarked paved road which we happen passed by on our motorbike ride. 
Due to the water breakers, you get to enjoy a relaxing and undisturbed swim. Also, you can lounge on the pristine beach. 
Please do not litter here and bring all your trash with you.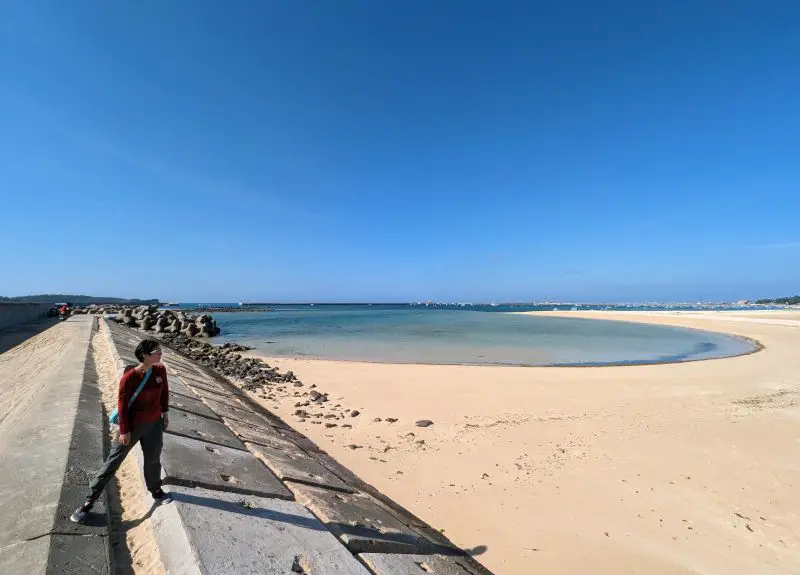 ---
6. See the historical landmark of the Phu Quy flag pole (Cột cờ Phú Quý).
When driving around the island, you'll see a flag pole with the Vietnam flag. It's open all day long. 
Behind the flagpole is a gorgeous view of the coastline. The dark turquoise water splashing against the coast looks just like what would you see on a road trip through Big Sur in California, U.S. You would never know that you're in Vietnam! 
There is a beach, but it's not accessible from the flagpole area. You'll need to drive a few meters away on the main road and then see an unmarked area that has a trail down to the beach.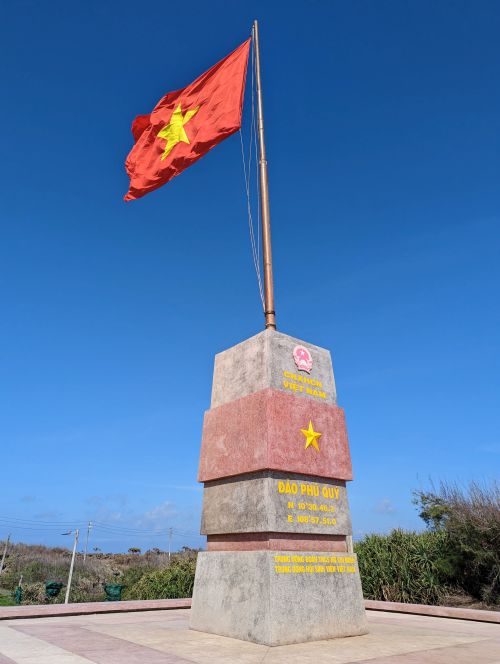 ---
7. Visit a former bunker and the Happy Slot (Gang Hang).
If you're interested in seeing what an abandoned military bunker looks like, check out this place. It's a few minutes drive away from the flag pole. 
While there are signs saying that photos are not allowed here due to entering a military zone, there isn't anyone managing that. So you're welcome to take as many photos of the bunker and the coastal area. 
A popular photo spot is located at the bottom of the area called Gang Hang, also known as the Happy Slot. There are two large rocks between a small pool of ocean water. 
Be careful when walking down to the bottom as the lava rocks are uneven and sharp. 
---
8. Take a short day trip to Hon Tranh Island (Đảo Hòn Tranh).
Hon Tranh Island is a small island to the south of Phu Quy Island. Many people take a day trip to Hon Tranh and can spend about a few hours up to half a day here. 
To reach Hon Tranh, everyone must board a small speedboat from a small beach. Here is the boarding location on Google Maps. It's a short five-minute ride through the calm waters. 
We boarded Cano Tuyền Dương, the yellow-colored speedboat. The round-trip cost is 250,000 VND ($10.60 USD) per person. 
Once you arrive at the island, you're rewarded with white clean sands. It's a big change compared to Phu Quy's beaches. 
The water is perfect for swimming, splashing around, or SUP (stand-up paddleboarding). It's clear, blue, and super calm. The beach area isn't crowded, so you can enjoy a section of the water without any interruptions. 
There are plenty of photo opportunities on the beach or in the water, such as: 
Take a photo with the surfboards on the beach.  
Stand on the beach with the silhouettes of trees around you. This is next to the cafe. 
Or, sit inside a clear plastic canoe on the water. 
One of the unique spots to check out is the forest area. There is a short walking path through the forest where you can sit in the rest area and enjoy the forest bathing or order drinks. The decoration is hip with colorful spinning windmills, old CRT TVs, and hammocks.  
The walking path leads to the edge of the island which has black lava rocks, tide pools, and a cove area for swimming. Be careful when walking on the lava rocks and descending the lava cliffs since they're sharp. 
Note: While the main beach area is clean, garbage does collect on the side of the beach. You'll see the pile-up on the side when you visit the forest area. 
---
Eat on a floating restaurant. 
One of the best experiences to do on Phu Quy Island is to eat on a floating restaurant in the Làng Bè Long Hải, Xã Tam Thanh area. We stopped by here for lunch after visiting Hon Tranh Island. 
To reach the restaurant, you need to take a small boat from the beach to the restaurant. The boat ride is only a few minutes. 
Then you can choose fresh seafood such as crab, shrimp, shellfish, snails, and fish, the amount of kilograms that you want, and the cooking style. 
The fish and seafood are in nets in the ocean, so you'll see them still alive before cooking. 
Note: These places are very busy during lunchtime so it's best to call ahead of time to make a reservation. 
We went to Bè Cá Anh Sáng and enjoyed our feast. We had fish two ways – ½ sashimi and ½ fish soup, grilled sea urchin with egg, steamed slipper lobster, and two types of snails (ốc). 
Recommended Places to Eat on Phu Quy
Since you're on an island, you're bound to eat lots of fresh seafood so enjoy as much as you can!
Cô Chín Bánh Căn
Looking for a breakfast spot? Consider eating bánh căn. Banh can are small circular Vietnamese cakes made from rice flour and has egg or seafood. They're grilled in half dome-shaped terracotta pots. 
At this place, they offer banh can with eggs, a side of boiled egg (chicken or duck), meatballs, and a sweet fish sauce type of soup with pieces of mackerel. 
It's very affordable for breakfast – around 25,000 VND ($1.10) per order. 
---
Bánh Xèo Cô Bảy
Banh xeo is one of our favorite Vietnamese dishes. ​It's a crispy yellow pancake made from rice flour, water, and turmeric powder (which gives it a yellow color). Inside has bean sprouts and meat or seafood. 
Banh Xeo Co Bay is a recommended place since the banh xeo here are half-moon size and super crispy! You can choose from a combo (shrimp, octopus, and pork), shrimp, or octopus. The seafood is fresh too!
You can eat the banh xeo in any way. Since you get a side of lettuce, herbs, and rice paper, you can wrap the banh xeo piece with lettuce and herbs, or use rice paper and then stuff it with veggies and banh xeo. Don't forget to dip your wrapper in the big bowl of fish sauce. 
This place only opens for dinner. Check out Facebook for more information.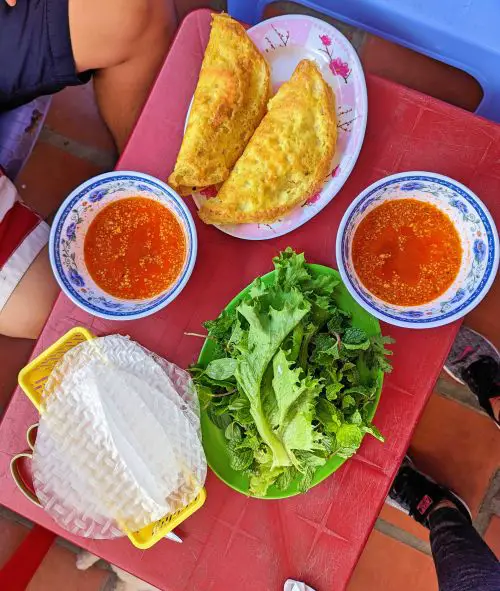 ---
Chè Hưỗng Lộc
Nearby the banh xeo place is a Vietnamese dessert shop to eat che (chè) or drink smoothies. They're reasonably priced from 20,000-30,000 VND ($.85-$1.30) per item. 
We had one chè thái which had durian, jackfruit, and lots of jellies. It was delicious! Plus, we appreciate how this place has shaved ice instead of large ice cubes in the dessert. 
We also ordered one avocado durian smoothie (sinh tố bơ sầu riêng) with no sugar. The avocado was super creamy. 
---
---
Hải Sản Hải Thám Quán
If you're looking for a sit-down type of restaurant, you can consider coming here. This place has a lot of tables, and it's very busy at dinner time. Reservations are not required for this place. 
The menu has a variety of seafood, vegetable, rice, and noodle options. As a heads up, the seafood isn't as fresh since you can't choose any fish or seafood from a tank.
We enjoyed the fried rice with salted fish, morning glory vegetables with garlic, and the fish hot pot.
---
Final Thoughts
If you want to experience an untouristy area of Vietnam, then come to Phu Quy Island. The delicious seafood, cooler ocean breeze, and beautiful coastline are the top reasons to visit this place. 
Would we come back to Phu Quy? Never say never, but we will probably not. We were fortunate to spend time here. Yet, with the long travel time to get to Phan Thiet and the speedboat ride, we feel like there are other places to visit in Vietnam that will be more convenient to get to. 
If you're looking for other islands in Vietnam to visit, check out our posts: