We love visiting Japan from the good eats and the delicious snacks. We stock up on Japanese snacks and teas as souvenirs to bring back home. It's hard to resist the unique flavors of rice crackers, mochi, regional Kit Kat candies, and more. 
Since we haven't been able to travel to Japan for the past two years, what is the best way to get these Japanese snacks? 
One of the best opportunities is to have them delivered right to your house or apartment. We're not talking about ordering off of Amazon or visiting the nearest Japanese market, but having special, curated snacks from Japan monthly through a subscription box. 
Sakuraco is a monthly Japanese subscription box where you receive 20 goodies from Japanese savory snacks, sweets, tea, and household good. On a side note – There are sister brands that you may be familiar with – TokyoTreat (Japanese snacks), YumeTwins (kawaii stuff), and namakenolife (Japanese and Korean beauty products).
The Sakuraco box is such a great idea since the goodies are locally sourced based on the monthly theme. Therefore, you'll have new flavors to experience every month. 
Sakuraco gifted us a January 2022 box with the theme of "New Year's in Kamakura" for us to try. The theme is close to our hearts as we visited Kamakura as a day trip from Tokyo a few years ago and had a memorable time seeing the Big Buddha (Daibutsu) and wandering through many temples. 
Check out our review of the Sakuraco box and see if this subscription box is right for you.
*Disclaimer: We received this complimentary box as a gift from the Sakuraco Team. The review below is our honest opinion about the product.
---
Pricing
As mentioned earlier, Sakuraco has a monthly subscription plan. The pricing ranges from 1 month, 3 months, 6 months, or a full year. It's a better value if you subscribe for more than 1 month. 
Here are the prices in US Dollars before shipping costs. 
1 month – $37.50
3 months – $35.50/month [Total: $106.50]
6 months – $33.50/month [Total: $201]
12 months – $32.50/month [Total: $390]
*Tip: Don't forget to cancel the subscription if you don't want to extend. 
One of the questions asked on Sakuraco's Facebook posts is regarding buying one box only without a subscription. Unfortunately, this isn't an option. Those interested in only one box can subscribe for the month and then cancel the subscription. 
Want to send a gift box to a special person? A gift option is available. There are three options to choose from – 3 months, 6 months, and 12 months. Same prices as listed above. The monthly boxes are shipped after the receiver redeems the gift online. 
---
Shipping & Customs Information
How Much is Shipping?
Sakuraco ships internationally and has a tracking number. The shipping cost is not included in the monthly cost. Expect to pay $10.50-$12.50 depending on your location. More information is here. 
Since we're based in Vietnam, shipping costs an additional $10.50 and would arrive in 2 to 15 business days. We're happy to say that our box was shipped via DHL on a Wednesday and arrived at our apartment the following Wednesday. It took only 5 business days. 
If we were still living in the U.S., shipping would be an extra $12.50 and arrive in 2 to 14 business days.
What About Customs? 
Sakuraco states in the FAQ that they're not responsible for any Customs fees. 
Shipping things into Vietnam can be troublesome and we were afraid that Vietnam Customs would hold the box. In the past, we've had some issues trying to get a watch into Vietnam and Customs wanted an exorbitantly high fee for the value of the watch. We've also heard horror stories from foreigners living in Vietnam who tried to get packages from FedEx and DHL. 
In the original email from DHL, they mentioned that we would need a food safety inspection for imported foods. We didn't know how to do that. 
Instead, we just sent a photocopy of the passport and an invoice. A Sakuraco Customer Service team provided us with an invoice to give to Customs. Thankfully, Customs approved the package for delivery.
---
What to Expect with the Sakuraco January 2022 Box
First Impressions
The Sakuraco box is beautiful. It has sakura (cherry blossom) decor and is sturdy enough for delivery. We're pleased that the box held up during shipping and didn't have any dents. This is due to the box getting wrapped in bubble wrap. 
When opening the box, a pamphlet and a postcard is the first thing that you'll see and then the snacks are underneath. 
The pamphlet is organized into 3 sections: 
Highlights of several local vendors that Sakuraco partnered with for these snacks
Each of the snacks provided in the box with what it is, where it came from, common allergies, vegetarian friendly, and a short description of the item.
A quick snapshot of the area highlighted. (For us, it was Kamakura and the Kanagawa Prefecture). 
The postcard has a greeting from Ayumi Chikamoto, owner of Sakuraco. 
The Kamakura Box includes: 
Pair of Sakura petal chopsticks
Sencha tea bags (x 2)
Matcha cookie
Dried persimmon mochi
Cocoa sablé
Butter sablé
Berry shortcake rusk
Plum and shiso snacks
Brown sugar kuzumochi
Yokohama caramel ring cake
Fresh cream Baumkuchen
Soybean mochi (x 2)
Shonan gold citrus jelly
Chestnut red bean bread
Shirasu pie
Okoge senbei (x 2)
Enoshima tako rice cracker 
*Note: There are some duplicates with the snacks. 
---
The Snack Verdict
We love how many of the snacks are from the Kanagawa Prefecture so it makes the snacks more meaningful. We counted 10 out of 17 items are from Kanagawa. The rest are from various prefectures which we've noted in parentheses. 
The snacks range from sweet to savory. Overall most of the snacks are pretty good. Here is a snapshot of each item.  
Tea & Household Good
Sencha tea (x 2) (Kanagawa) – We're huge fans of the teas, especially after trying various teas when visiting Uji in the Kyoto area. This sencha tea has the light subtle flavor of freshly cut green tea leaves. We wish there were more bags!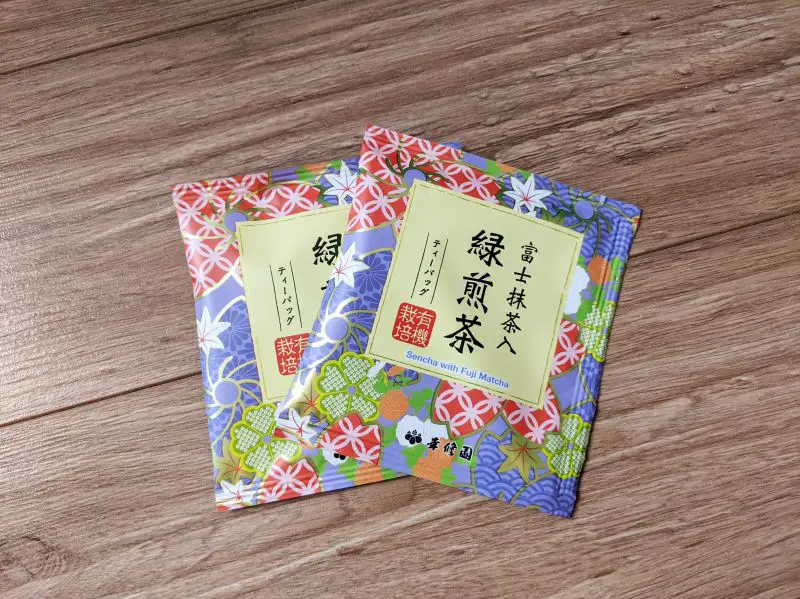 ---
Pair of Sakura Chopsticks (Fukui) – We love how each month has a plate, cup, or household good to use with the snacks. We haven't had a chance to use the chopsticks. They're elegantly made by Tanaka Hashi who has made lacquered chopsticks since 1948.
---
Sweets
Yokohama caramel ring cake (Kanagawa) – If you like to eat sweet breads, then you may enjoy this ring cake. It's a soft yellow cake with sweet caramel topping. This cake is different than the Baumkumchen since it doesn't have any layers. We're not sure why this is a Yokohama flavor but it was too sweet for us. 
---
Cocoa sablé & Butter sablé – We're combining these since they're made by the same company. These wild boar (inoshishi in Japanese) shaped cookies are adorable. One is a cocoa flavor while the other one is a butter flavor. The butter one reminded us of eating a Danisa Danish cookie. 
---
Berry shortcake rusk (Kanagawa) – Wow! We can see why this shop, Kamakurayama Rusk, is highlighted in the pamphlet. The berry shortcake rusk was sweet and had a nice crunch to the sliced baguette; it's almost like a cracker. We would love to visit this shop in the future and try the other flavors. 
---
Chestnut red bean bread (Gifu) – While it's considered a sweet bread, the flavors and sweetness are more muted compared to the Yokohama caramel ring cake. The red bean and chestnut filling satisfied our taste buds since it wasn't too sweet. 
---
Matcha cookie (Kanagawa) – We love matcha and haven't had a chance to try this one yet.
---
Savory
Enoshima tako rice cracker (Kanagawa) – We usually eat shrimp chips so we were surprised to see a rice cracker with octopus (tako) flavor. This flat rice cracker was yummy and had a hint of octopus seasoning. We would buy this snack if we were in the area.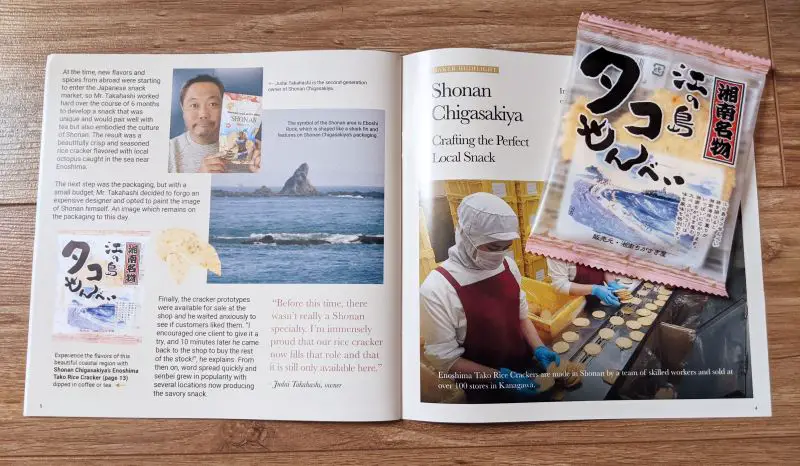 ---
Soybean mochi (x 2) (Niigata) – Oh gosh. These were so delicious! It's more of a thicker rice cracker than the soft mochi texture. The toasted soybeans give the rice cracker some extra crunch. Thank goodness there were two of these crackers.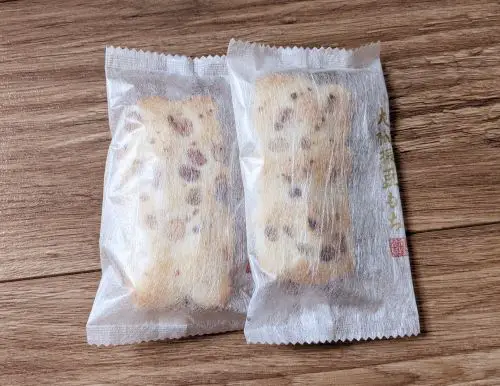 ---
Okoge senbei (x 2) (Tokyo) – We love senbei, and this one is another winner. This rice cracker had more of a puffed rice texture. The flavors are unique with the toasting of the puff and coating with soy sauce.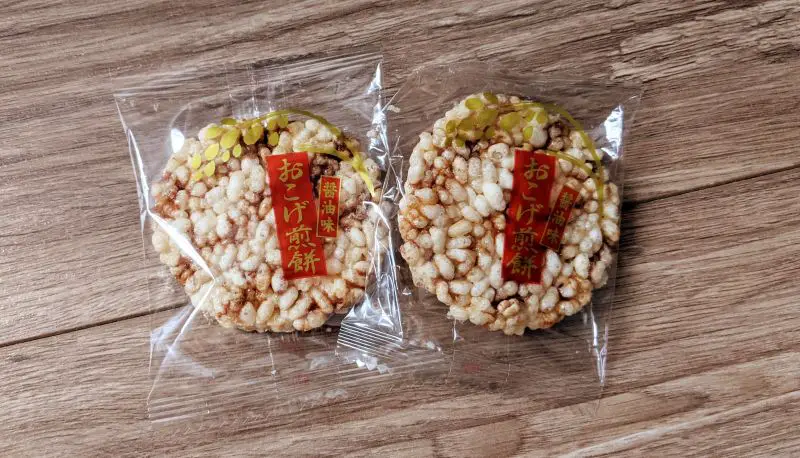 ---
Shirasu pie (Kanagawa) – We haven't tried this one but will share our update soon.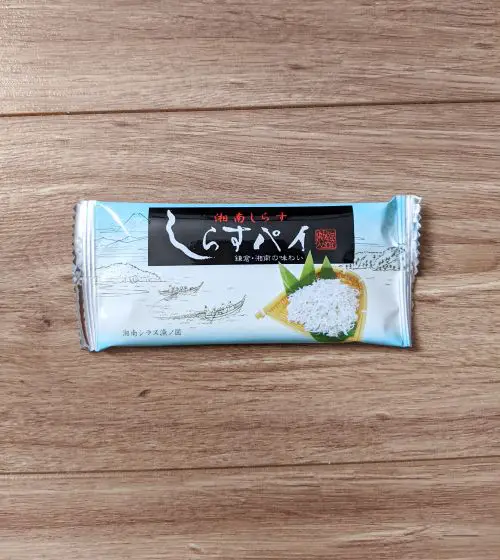 ---
Plum and shiso snack (Kanagawa) – This snack came as a surprise! It's a blend of plum and shiso leaf flavor yet the shiso has a stronger flavor. We liked the crunch of these crackers.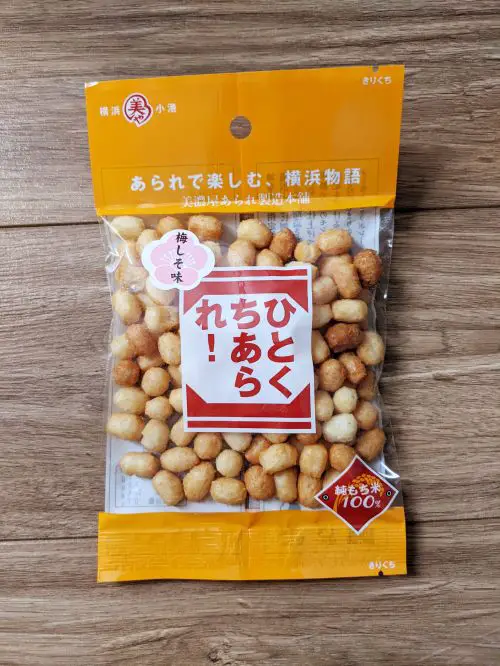 ---
Desserts
Dried persimmon mochi (Ehime) – The soft, fluffy mochi melted in our mouths. These were yummy. Since they were bite-size, you can eat a few at a time. We wish the persimmon flavor was stronger.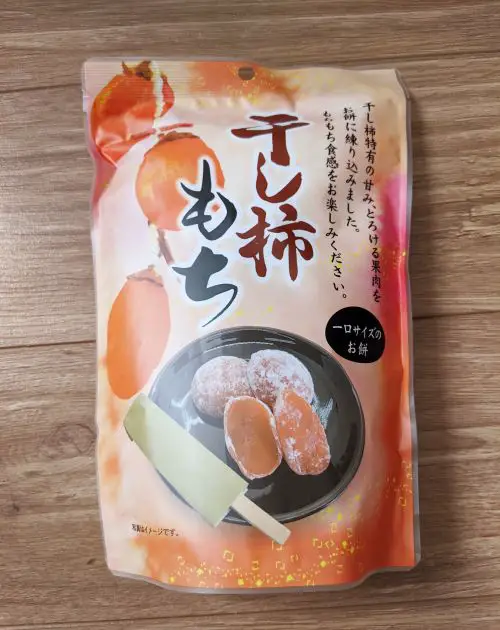 ---
Fresh cream Baumkuchen (Tokyo) – This is a popular snack that you can find at convenience markets. It's a circular German cake with layers. This Baumkuchen is small yet packs a rich flavor. 
---
Shonan gold citrus jelly (Kanagawa) – This unique jelly has a refreshing taste of shonan citrus fruits (also known as golden oranges). It's not too sweet and has small bits of rind in the jelly for extra texture.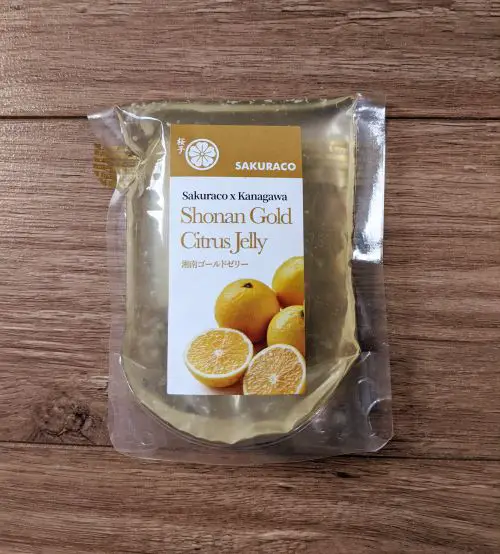 ---
Brown sugar kuzumochi (Gifu) – We haven't had kuzumochi before and it's made from fermented wheat starch. The texture is firmer than a typical Jello dessert. This kuzumochi isn't too sweet and has a slight sweetness from the brown sugar.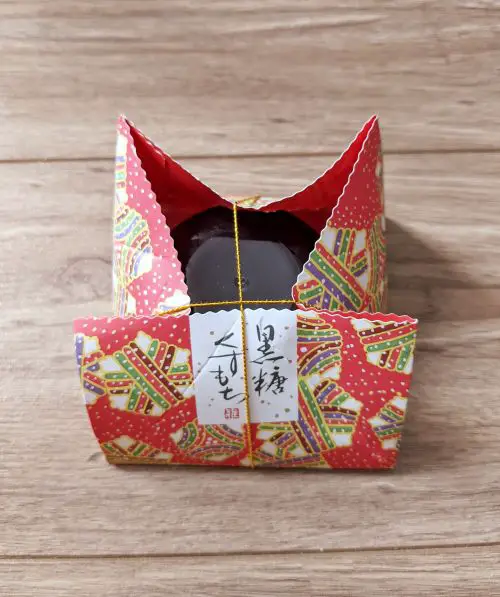 ---
Is Sakuraco worth recommending? 
If you are looking to have monthly Japanese snacks conveniently sent to your house, then it's a subscription box worth trying. Just know that some of the snacks have duplicates so it's not 20 different snacks. 
Since we're living in Ho Chi Minh City, Vietnam, and also have lived in the Bay Area, California, we have access to Japanese supermarkets selling typical Japanese snacks such as Calbee and Pocky. 
Yet, the variety of regional Japanese snacks in the Sakuraco box is a nice touch and it's something that can't be easily bought at a supermarket. 
We would consider getting this subscription box when we return to California and decide to live long-term. It'll be easier to deal with delivery and not have to worry about Customs. The shipping cost doesn't bother us too much since the package is coming from Japan. 
Plus, getting a box delivered to the house would feel like Christmas every month!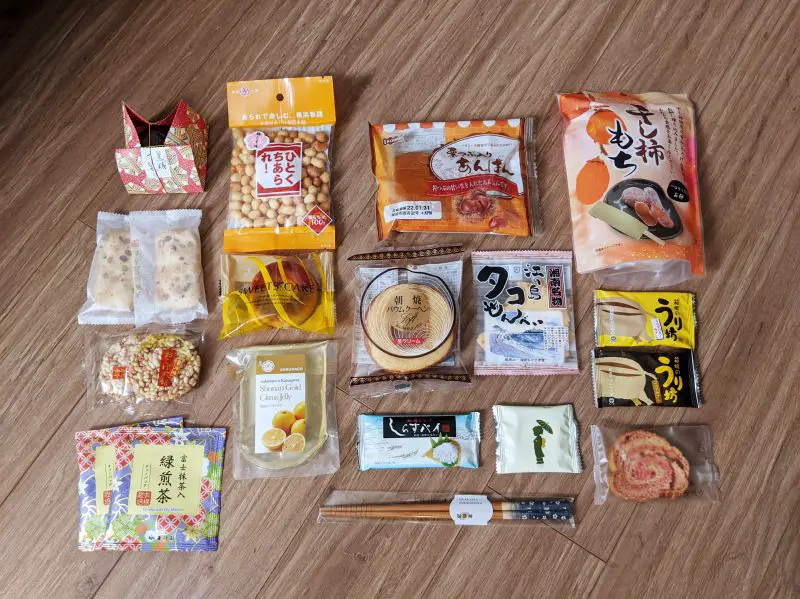 ---
Final Thoughts
Many thanks to Sakuraco for giving us the chance to review this box! We hope you consider signing up for this box after reading more about it. There is still time to get the Kamakura box.  
If you've tried other subscription boxes with Japanese sweets and snacks, please let us know in the comment section how they are compared to this one. 
While we're still anxiously waiting to return to Japan, check out our other Japan posts to get some inspiration: