Interested to see what we went through daily for our Mount Kilimanjaro climb? We completed the Lemosho route in 7 days/6 nights (original plan was 8 days/7 nights). Check out our trip report for Days 1 & 2 below to experience the hike for yourself. Refer to Trip Report Days 3-5 and Trip Report Days 6-7.
Related post on Why Mount Kilimanjaro is Awesome and Challenging.
Day 1 – December 29, 2016
It's the first day of our Mount Kilimanjaro hike and we're excited for the journey! We met our guides from Top Climbers Expedition, Jacob and Ally, at Key's Hotel and had a quick luggage and gear check. Jacob emphasized that we needed 4 layers for pants, 5 layers for upper body, a windproof hat, and scarf or something to cover the face for Summit Day. Check! Everything was ready in our Patagonia Black Hole 60L duffel bag and daypack.
We went to Top Climbers Expedition's office at 9:30am to meet the team, drop off extra luggage (so we didn't need to leave it at the hotel), and left around 10:30am. The top of the van was similar to playing Tetris since everything fit somehow. The van's seating arrangement was cozy with 18 people – Justin, my sister Leslie, and I, 14 from Top Climbers Expedition, and the driver.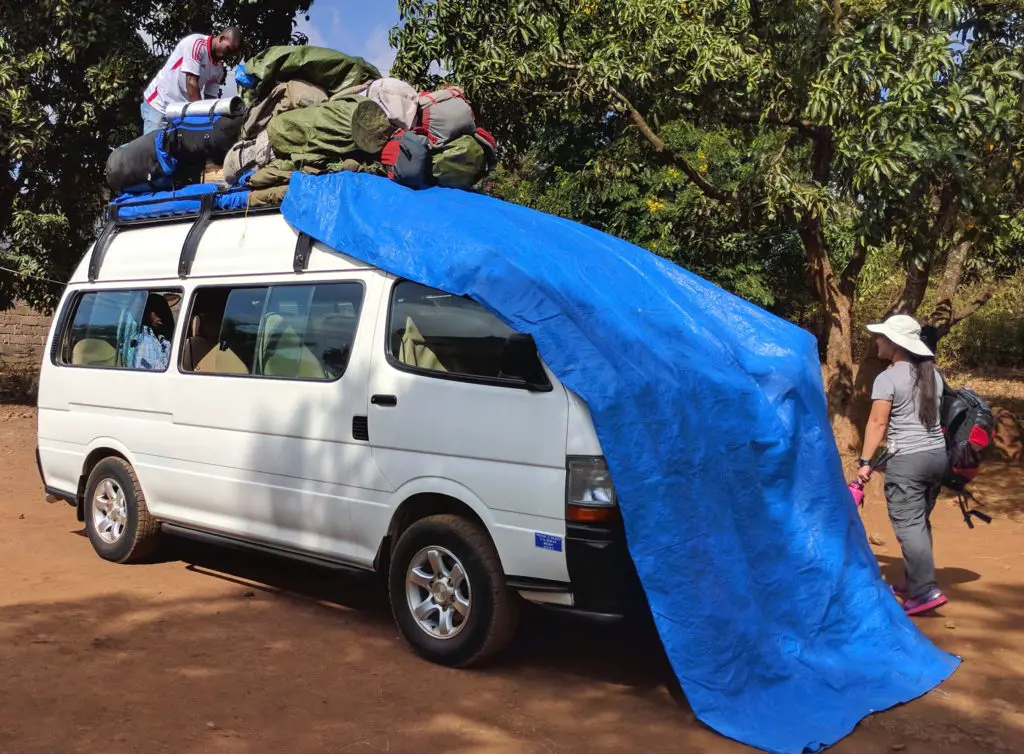 One of our stops was in the city of Sanya Juu. As the TCE team took a break for breakfast/lunch, Jacob, Ally, and other TCE members invited us to eat Tanzanian BBQ beef (nyama choma) with dense maize bread. Eating beef and BBQ meats is expensive as many people eat a plant based diet by growing their own veggies and meat is free range. Justin and Leslie gave the snack two thumbs up with the delicious BBQ flavor. Due to my dietary restriction, I didn't eat any and enjoyed the maize bread with the tomato salsa.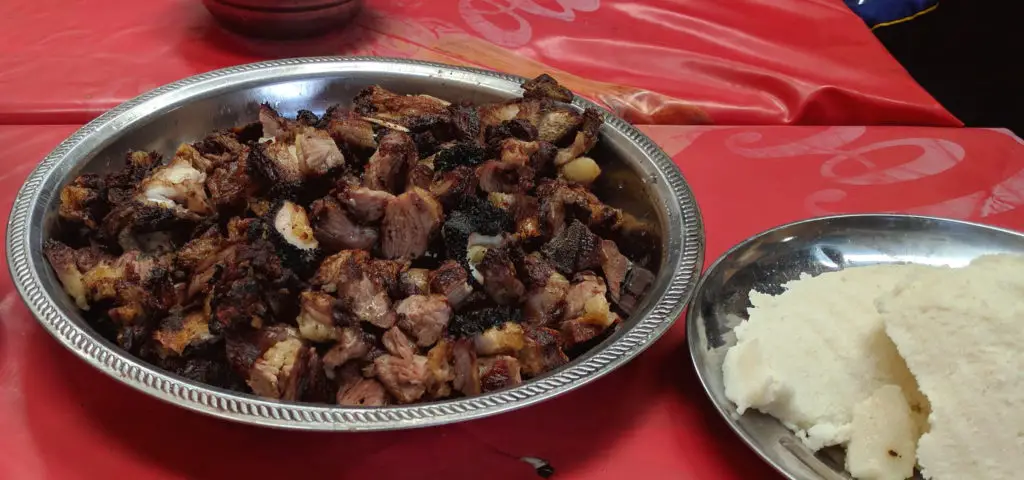 After a few hours on the road, we arrived at the Londorossi gate (2250m / 7382 ft elevation) around 2pm for registration and weighing the bags. We were the last group to arrive and leave the inspection area. It took over 2 hours for processing as there were issues with the weight of the bags with how much porters were allowed to carry. We overheard that some groups arrived at 10am and left at 3pm.
The time passed by hanging out in the waiting area along with five other groups and eating our box lunch. It was the same lunch as the prior day on the Coffee and Materuni waterfall tour.
Leslie noticed something moving in trees far away. We debated for a while. She said a large squirrel, and I said that it could be a flying squirrel. It ended up as a family of black and white colobus monkeys.
After receiving the "okay" to proceed, we took a group photo at the gate sign and drove another 20 minutes to the start of the trail.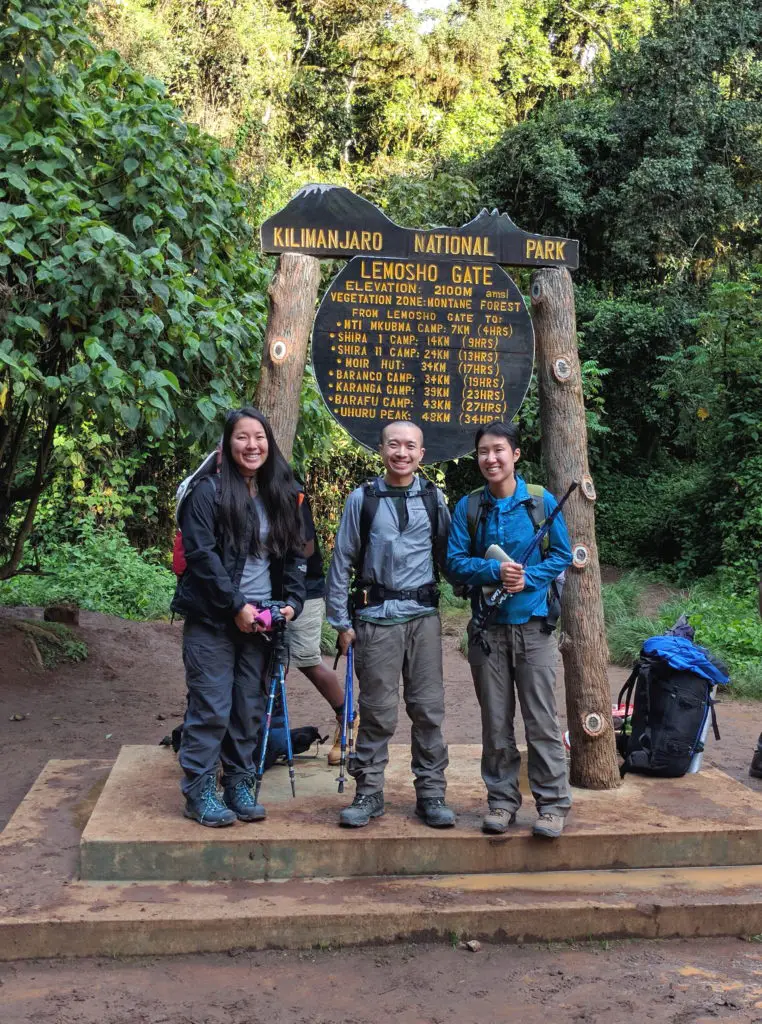 The sun started to set as we began hiking at 4:30pm at the Lemosho Gate (2100m / 6890 ft elevation). It was amazing to see the porters whiz by with the 20kg (44 pounds) of gear on their heads and/or upper back in addition to their personal daypacks. So strong!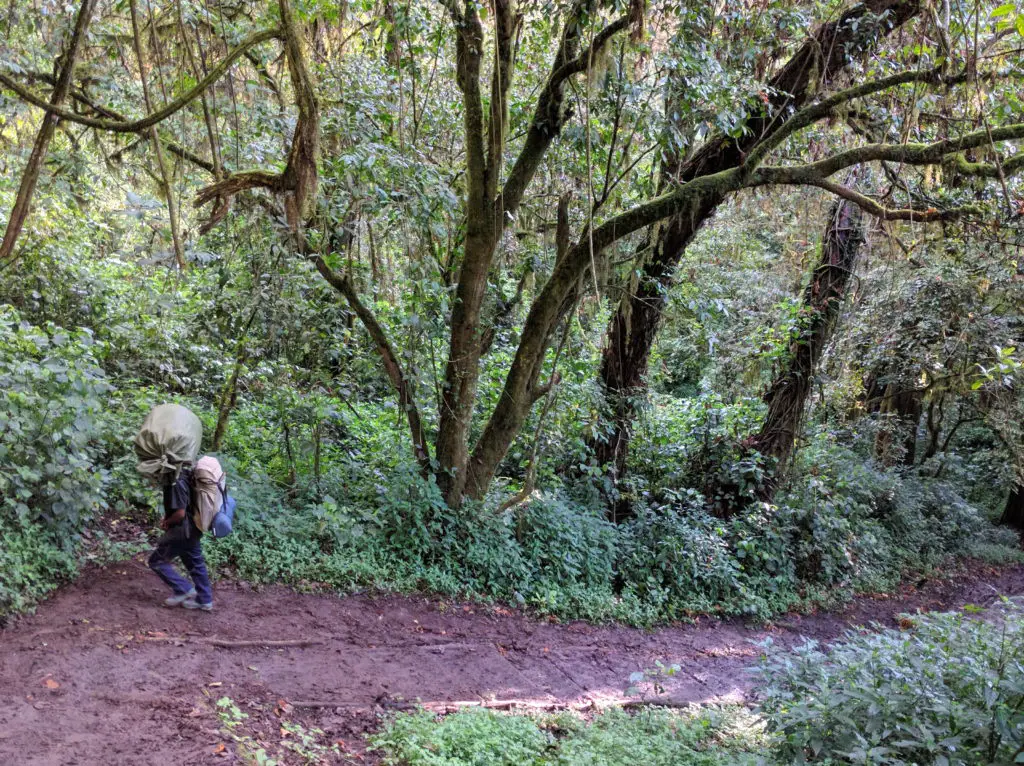 We went through the forest area with luscious green trees and plants. A colobus monkey surprised us and "hello" during the hike. Darkness surrounded us around 6pm and used our headlamps for light.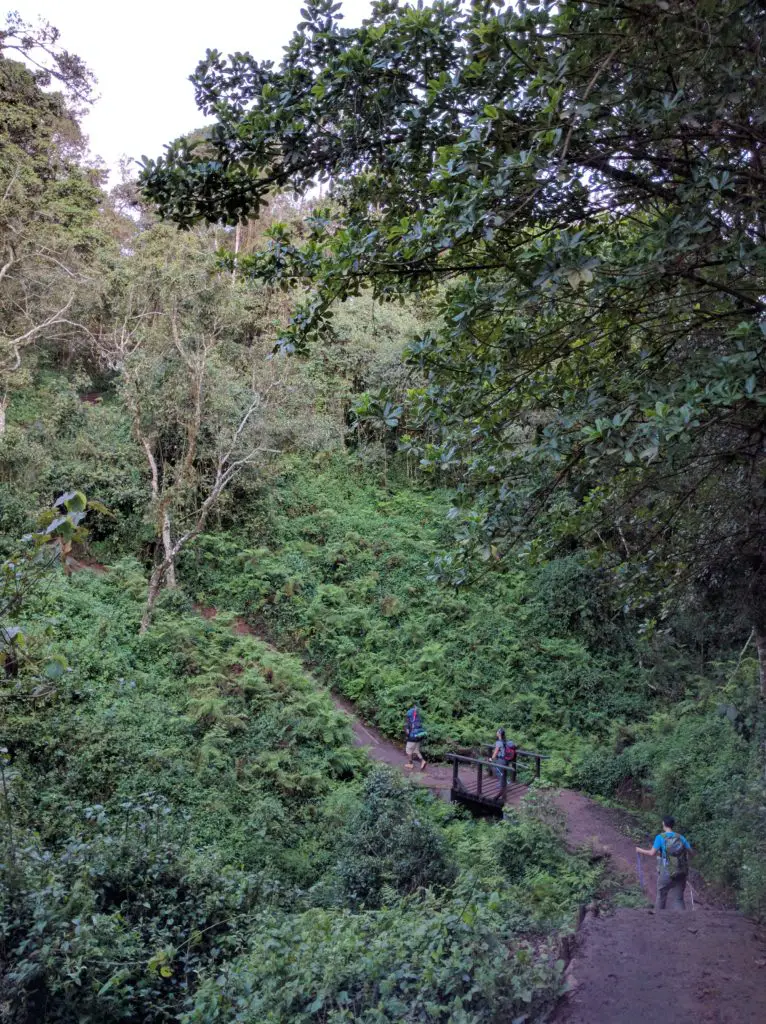 Our last stop was at Big Tree Camp (2780m / 9121 ft elevation) where we signed our names in a visitors' book. The TCE team set up the sleeping tents, amazingly thick sleeping pads, portable toilet, and our mess tent on arrival.
We had tea time at 8:30pm and started the habit of drinking Tanzanian black tea with honey at every meal. Dinner followed with vegetarian spaghetti with veg sauce and soup. A healthy and delicious meal to end the day.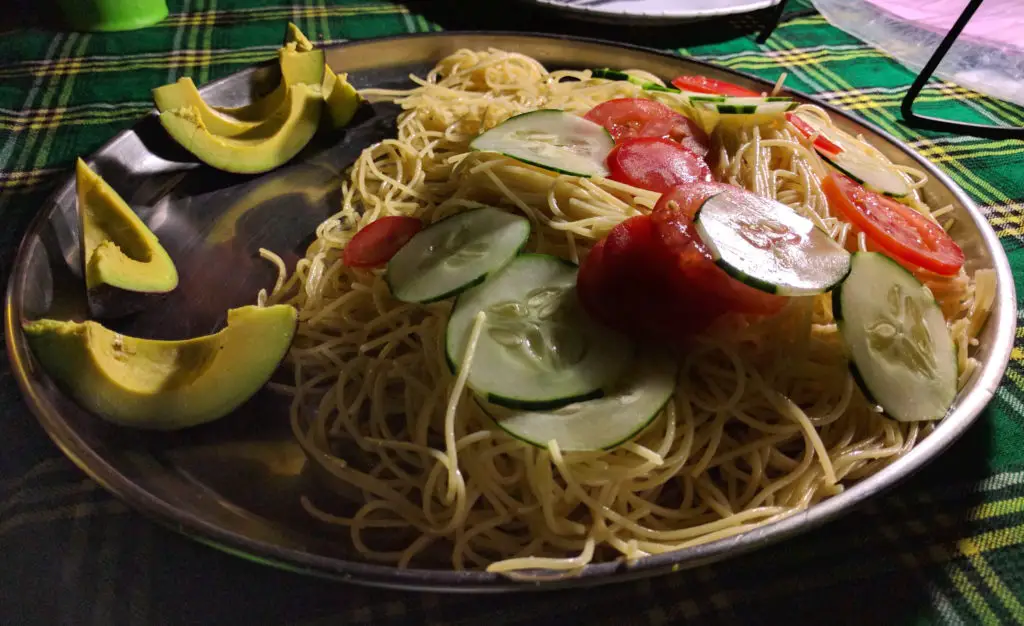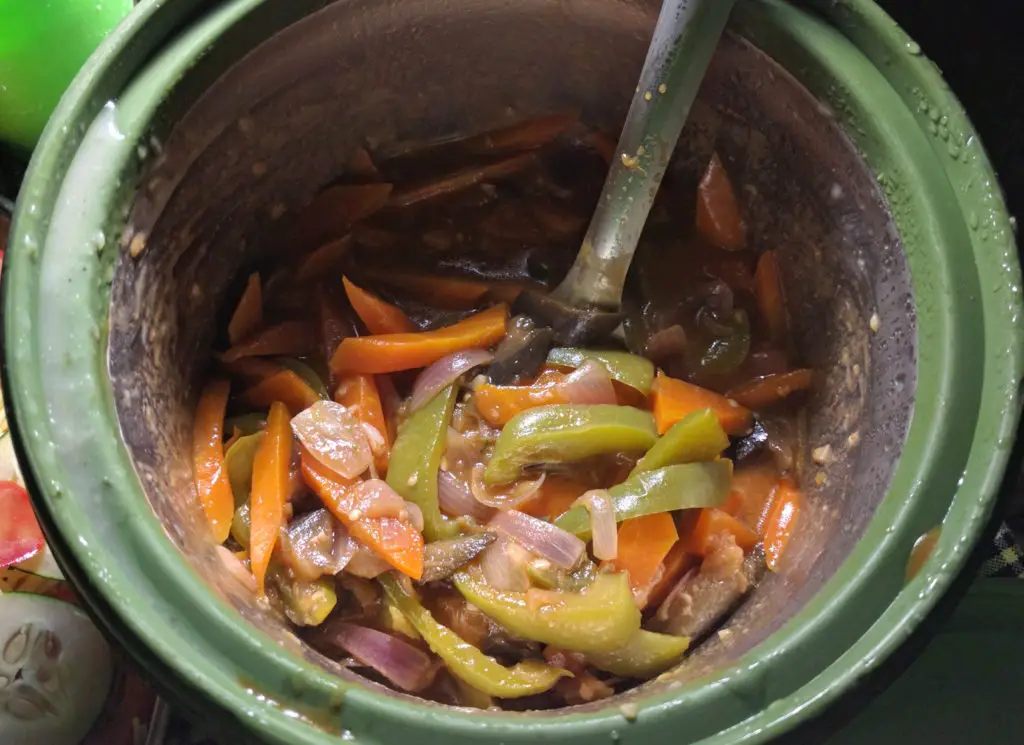 Jacob took our health metrics using an oximeter to determine blood pressure and oxygen amount. This part of our daily checkup. He explained the reason for taking the health numbers; mostly to not get sick on the mountain with severe altitude sickness, high altitude pulmonary edema, or high altitude cerebral edema. All scary stuff. Justin had a low heart rate (from lots of cardio workouts) as he normally does and Jacob was concerned that it was too low. We were told to drink more water to have a higher oxygen amount!
We were advised in the evening to "Wear your headlamp whenever you're outside and in the dark." For protection, the park ranger has the authority to shoot anything that is moving in the dark and may confuse a human with a wild animal.
Total walking distance covered: 7km/4.3 miles
---
Day 2 – December 30, 2016
We're not morning people so our wake up call was bright and early at 6:30am. Frank, our friendly and awesome server, gave us hot tea and hot water to wash up. Our hearty breakfast included eggs, toast, porridge, and fruit (the recurring breakfast for the rest of the week.)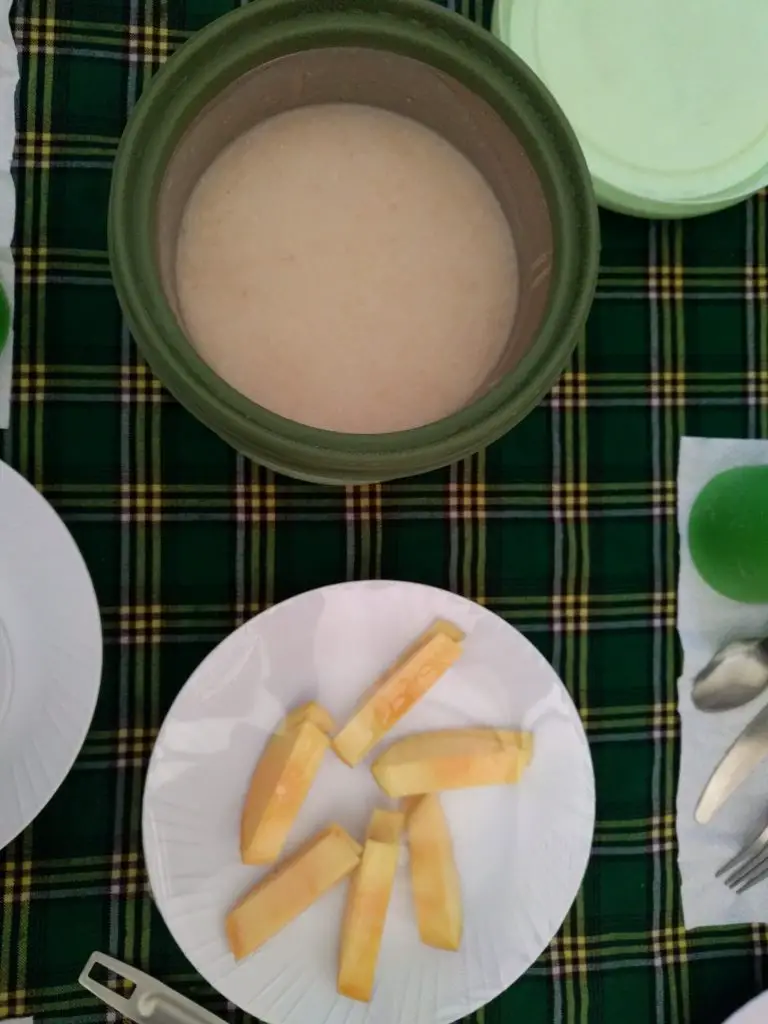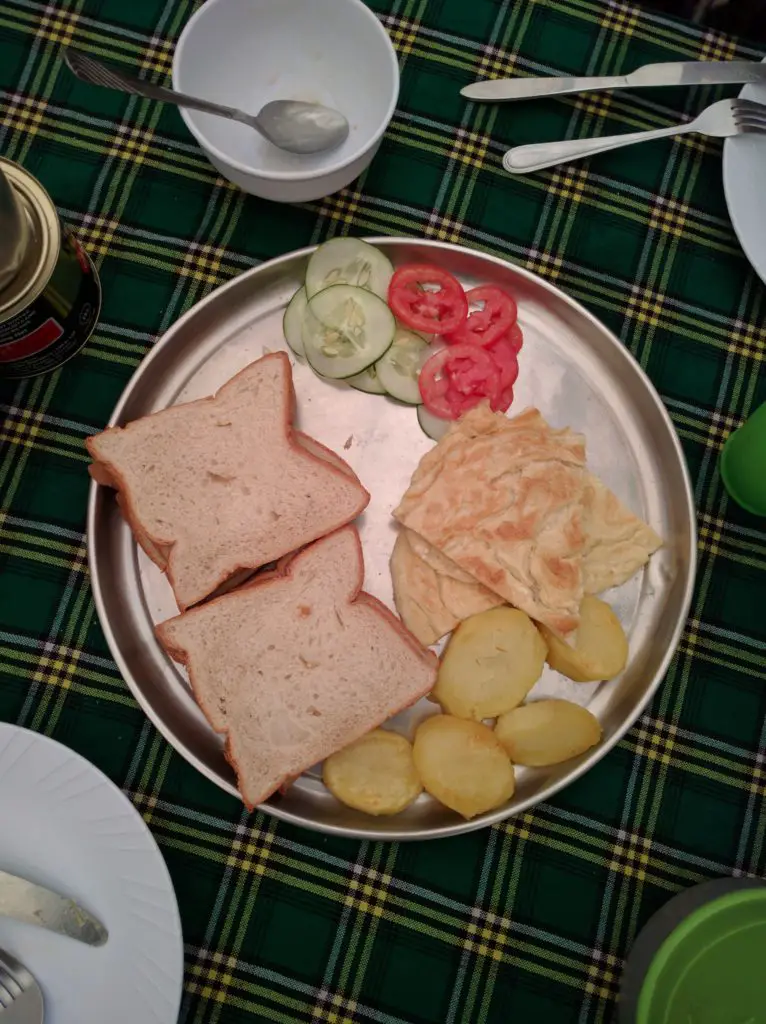 The start of the hike was beautiful as we passed through the luscious green forest and then the moorland terrain. The noticeable difference was the tall trees disappeared and shorter shrubs and plants appeared. The route had more uphills than the previous day, but wasn't too bad. It seemed more crowded with hikers due to the narrow path.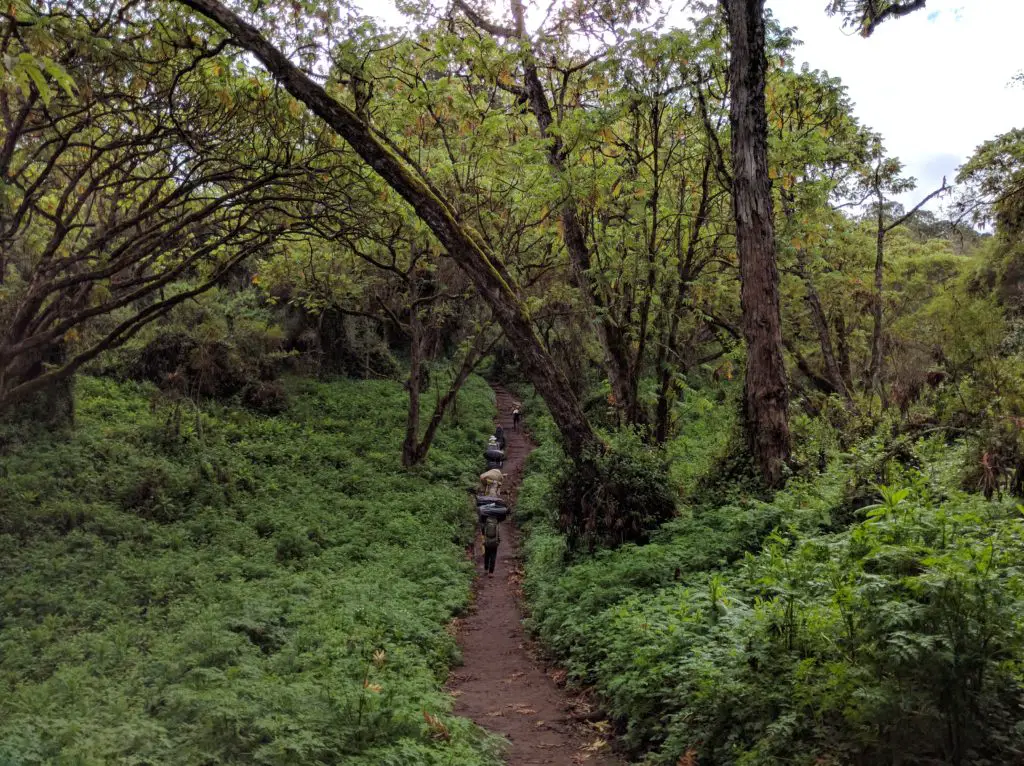 The weather changed after completing the first hour and rained for 3 straight hours till we reached camp. Justin and I didn't use our rain gear as we underestimated how much it would rain. Our Patagonia Houdini, baselayers, and backpacks were soaked. The rain covers were not so effective for our backpacks. My sister had a genius idea of creating a full body poncho out of a garbage bag, so she was dry.
Once we arrived at Shira 1 Camp (3610m / 11,844 ft elevation), we did the ritual of signing in the visitor's book. It was colder at Shira 1 due to the higher altitude and we quickly changed out of our wet clothes. For lunch, we had chapati (my favorite!), carrot sandwiches, beans, and pumpkin soup.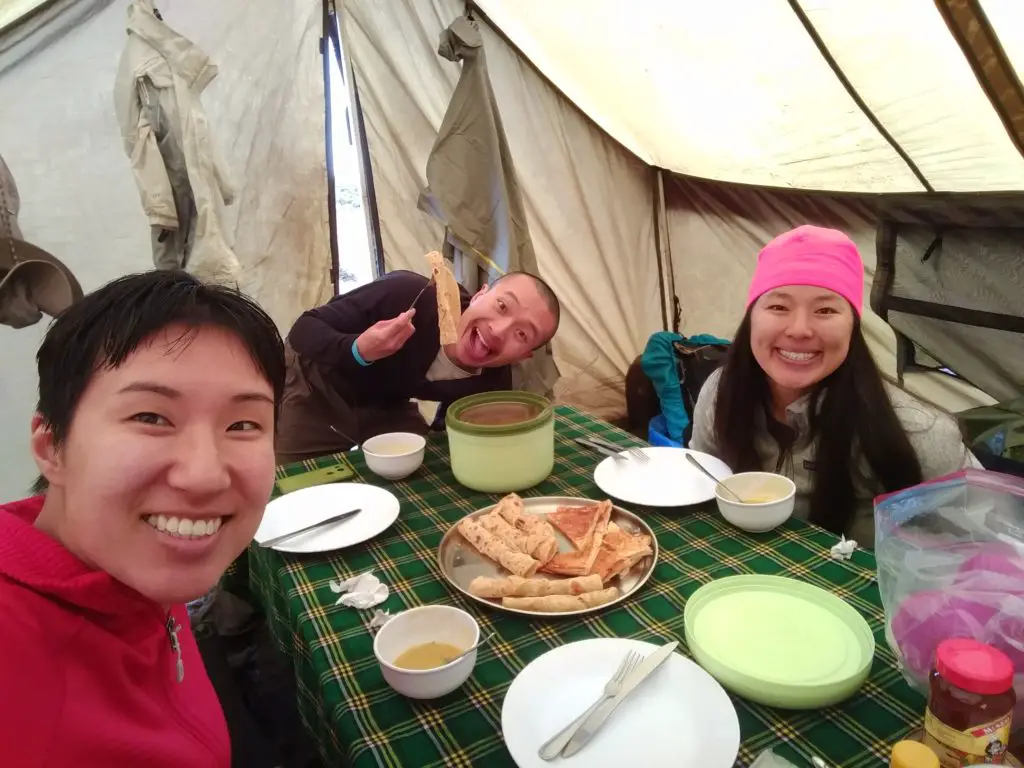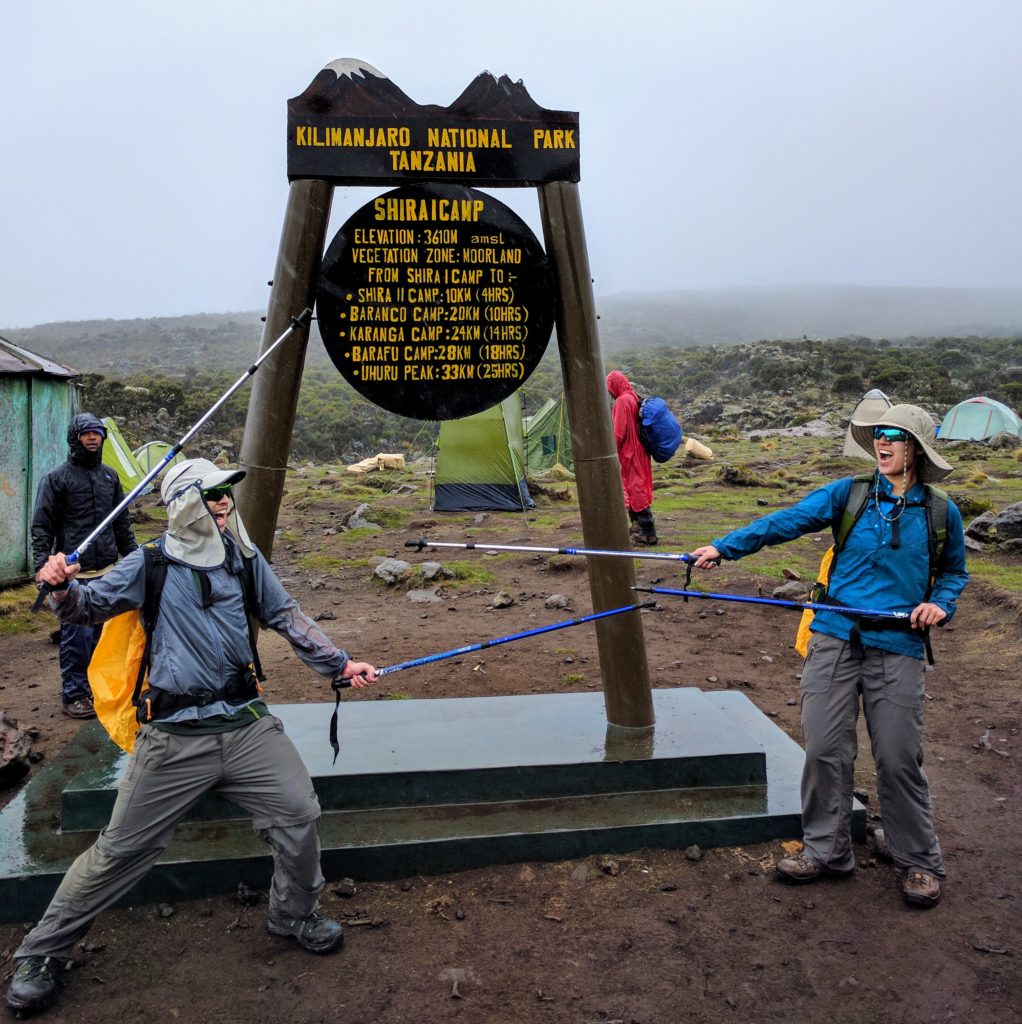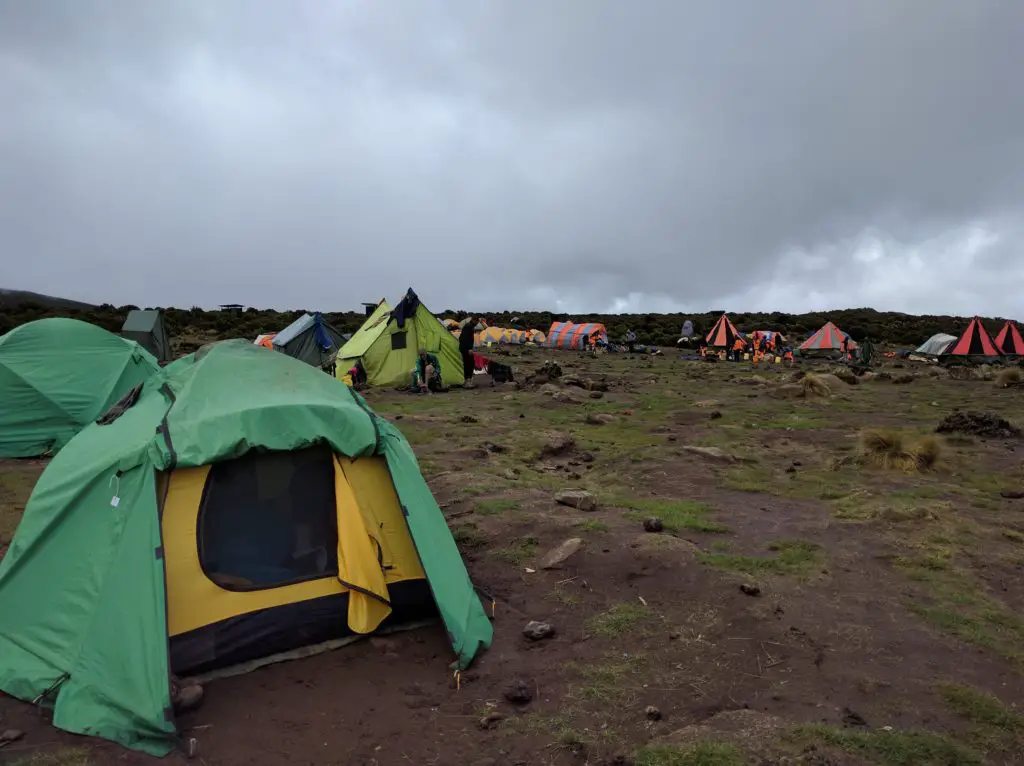 It was nice to take a short afternoon nap and snapped photos once the rain ended.  
We had tea time and popcorn at 4:30pm and dinner at 6:30pm. Dinner was potato soup, spinach, steamed potatoes, fish, and fruit.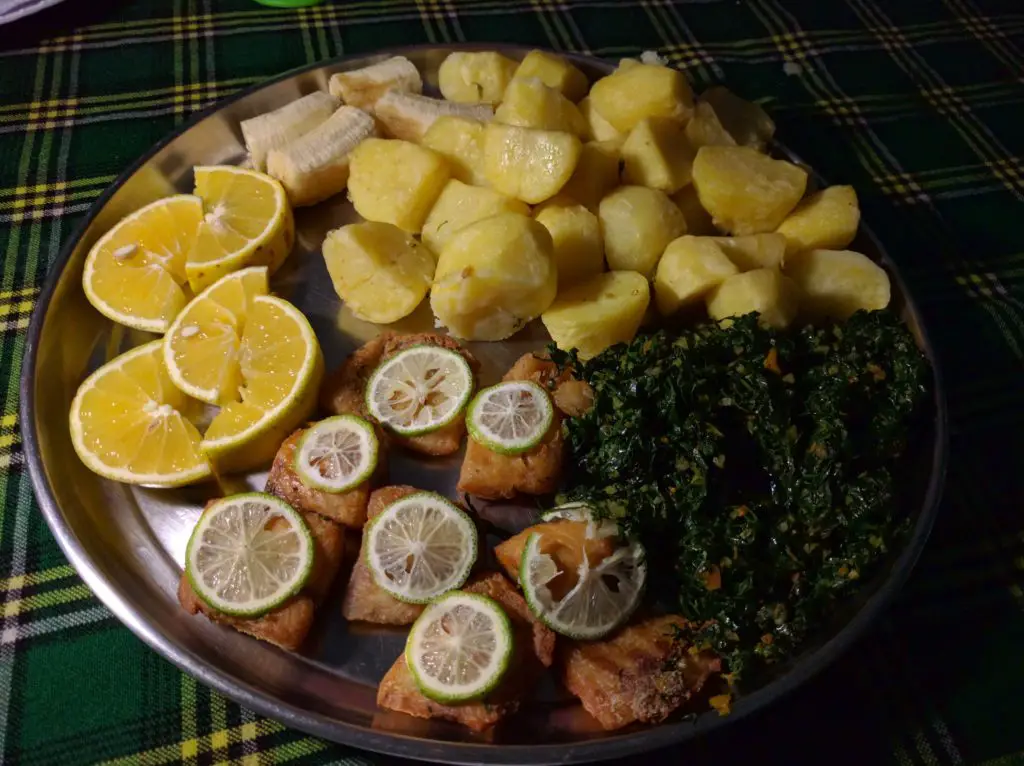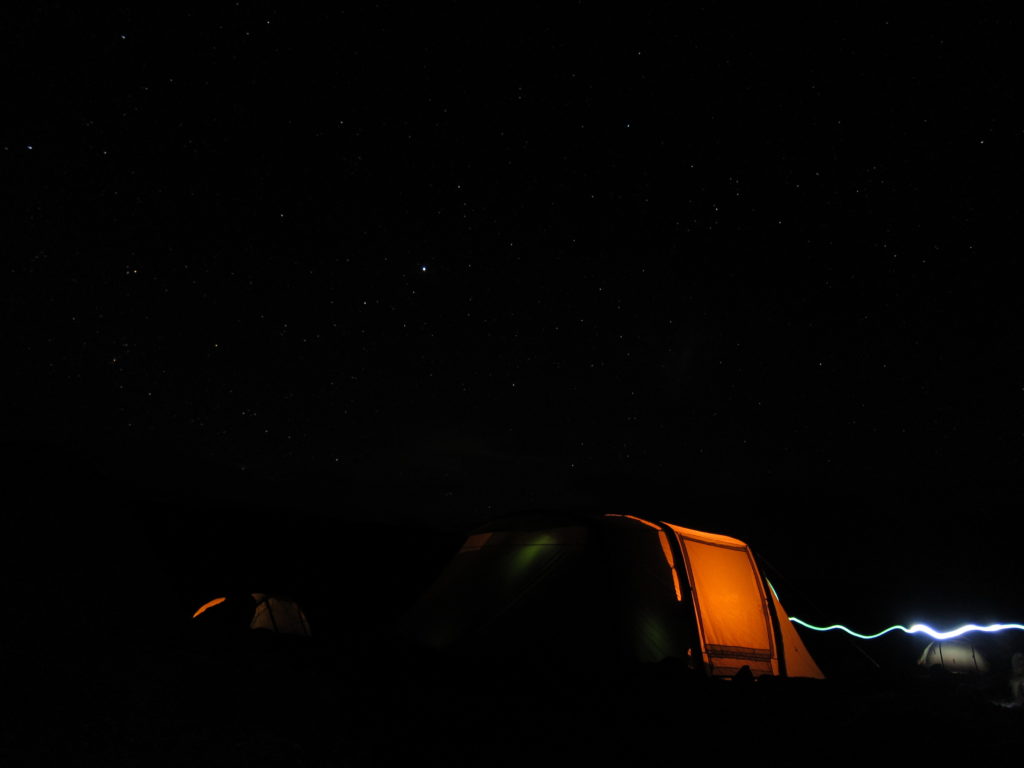 Total walking distance covered: 8.5km/5.2 miles