We're sharing our report of our Mount Kilimanjaro on the Lemosho Route for 7 days/6 nights. Check out our trip report for Days 3-5 below or Trip Report Days 1-2 or Trip Report Days 6-7.
Related post: Why Mount Kilimanjaro is Awesome and Challenging
Day 3 – December 31, 2016
Happy New Year's Eve! The theme of the day was: "Rain, rain go away. Come again, another day." It was another gray day with the rain.  
After breakfast, we trekked across more moorland to the Shira 2 Camp (3850m / 12,631 ft elevation). The course was flatter than yesterday. On arrival, we noticed that Shira 2 had an amazing view of the mountain compared to Shira 1.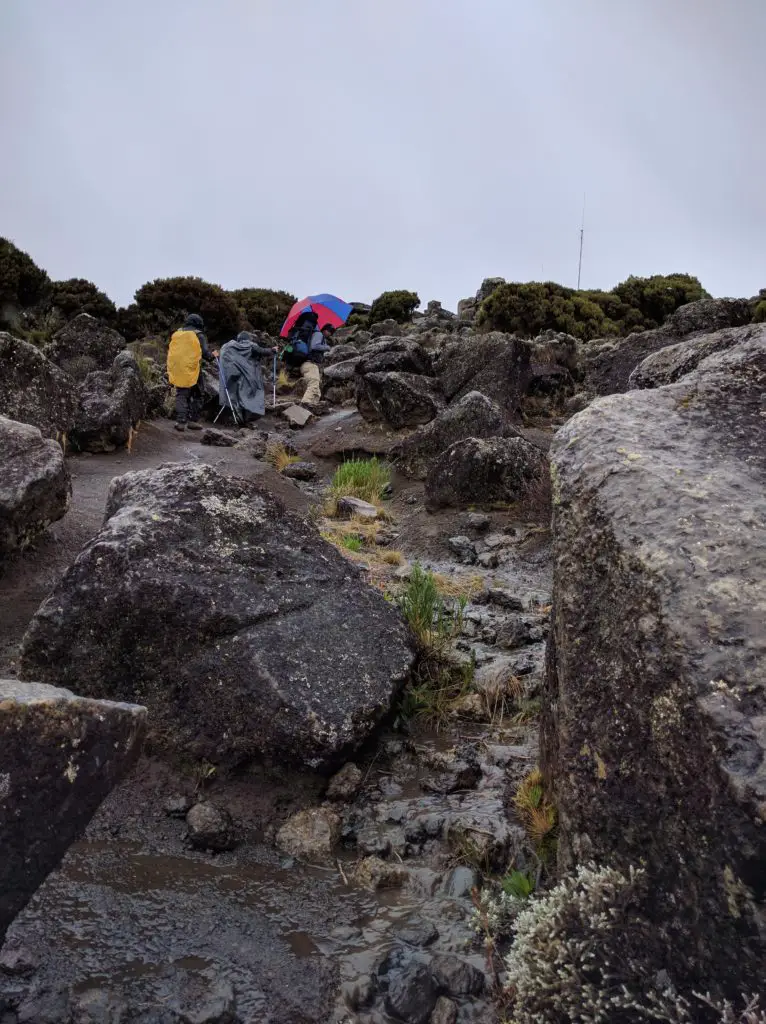 Note to self: Chocolate bars are harder to chew once the temperature gets cooler. It took a while to melt the chocolate in my mouth!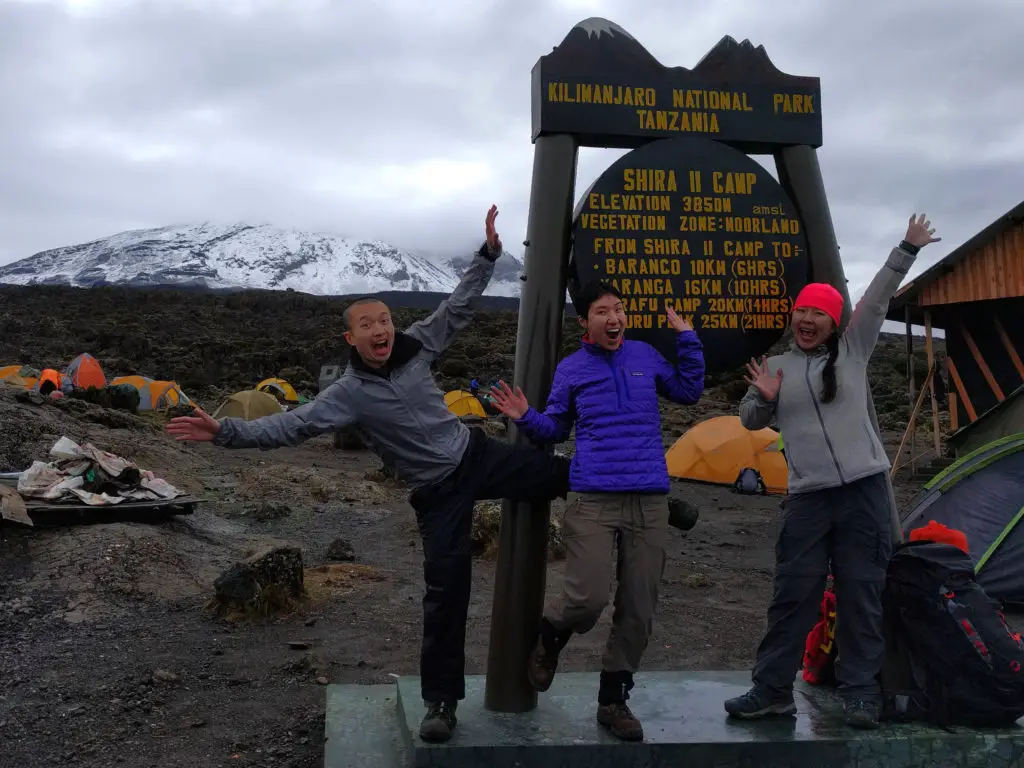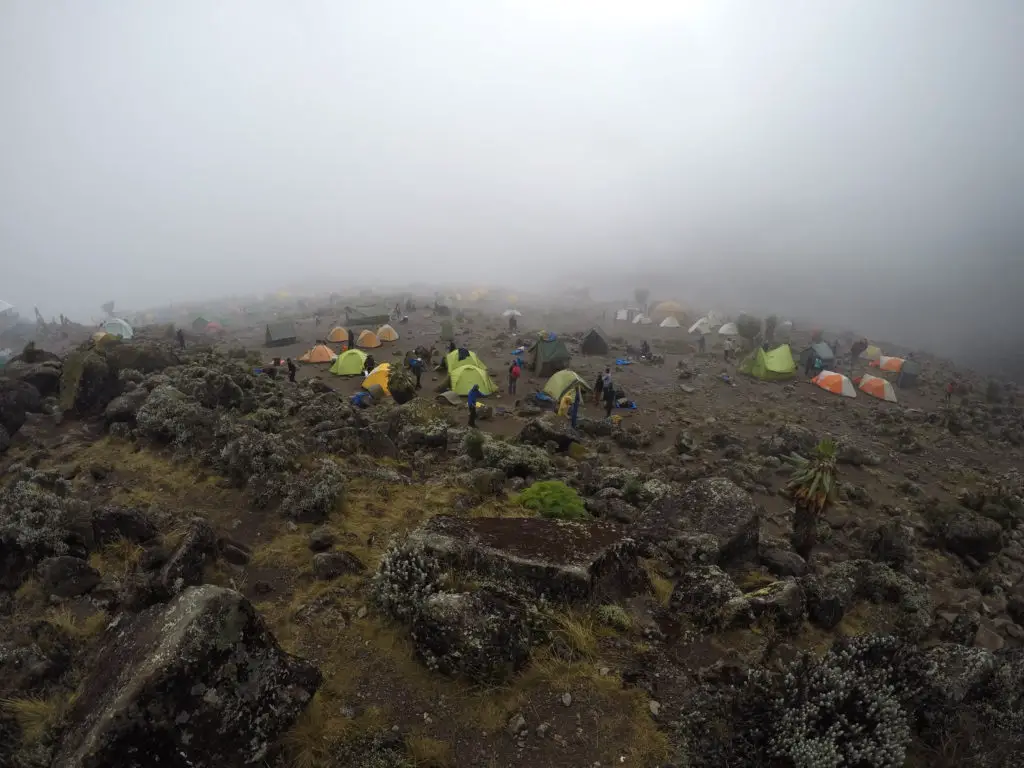 We took an acclimatization walk in the late afternoon after the rain stopped. Appreciated the clear skies for an hour. Jacob and Justin sped up the hill and Leslie and I tried to keep up. It was not the "pole pole" (slow in Swahili) as practiced. Our stopping point was an area with an array of meditation rocks (different rocks stacked on top of each other).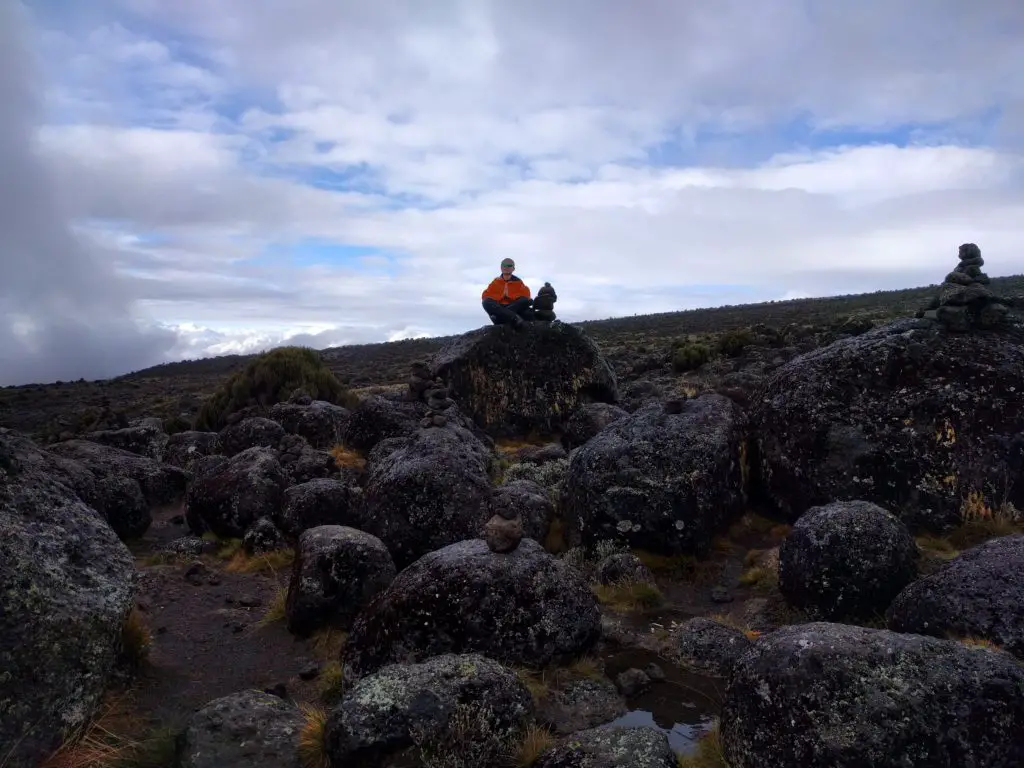 Not surprising. It rained while we headed back, yet saw one of the most beautiful sunsets as we reached camp. (See above in our featured image of the post).
We didn't officially meet everyone from our Top Climbers Expedition team in the first few days, so we hung with the rest of the crew at their tent. Plus, it was nice and warm with the propane gas on! We introduced ourselves and the crew members did the same. We heard how some of the porters wanted to be a guide and asked questions on why he wanted to pursue the field. What a fun learning experience from ours and TCE perspectives to hear about each other's cultures. We received interesting questions and our viewpoints on U.S. politics (this was before Trump sworn into office.)
The rest of the evening was quiet with dinner and sleep. No New Year's celebration for us, but we woke up to shouting, cheers, and noise around 12:15am from others in the camp.
Total walking distance covered: 8km/4.8 miles
---
Day 4 – January 1, 2017
Happy New Year! It was a hard day due to the high altitude and the crazy weather. On the agenda, we hiked to Lava Tower (4600m / 15,092 ft elevation), the highest point of the day.
It rained, hailed, and snowed on us for hours. There was at least 2 hours of hail and we didn't wear gloves. Hail on the hands hurt! We switched off with exposing one hand to the blistering hailstorm and the other hand to the jacket pocket. The original plan was to eat a box lunch at Lava Tower but that did not occur due to the weather.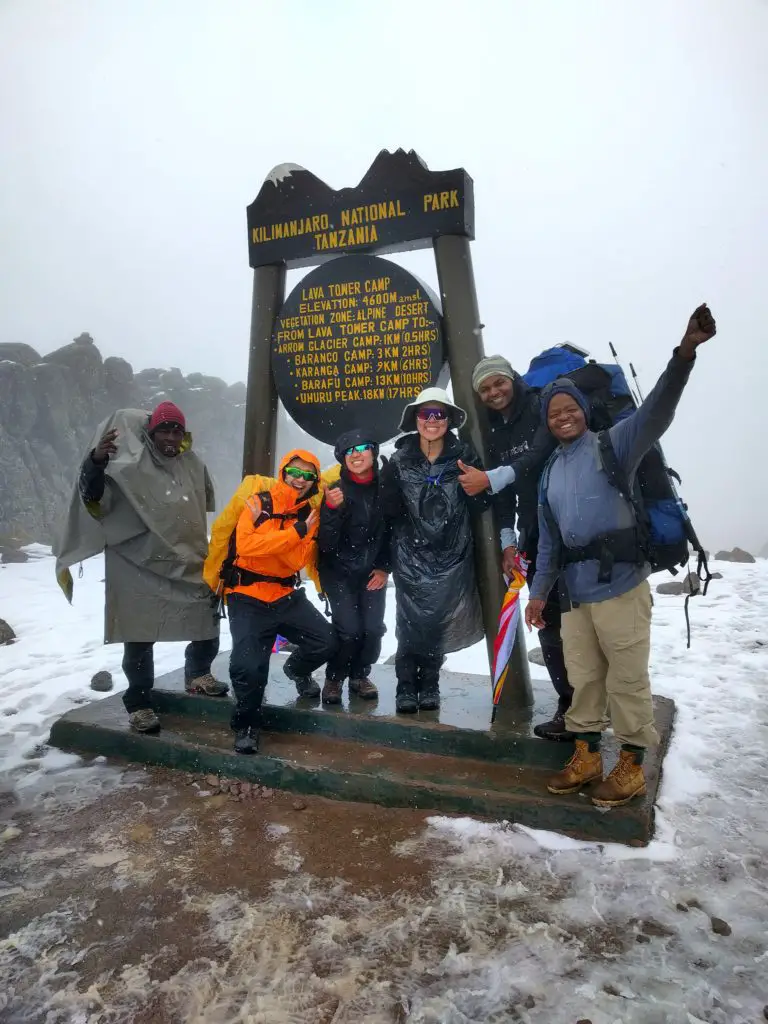 The second half of the trail had more descents and more technical. We crossed over rocks, rushing streams, mud, etc on our way down the mountain. Justin reminded us that we had waterproof boots on so we didn't need to be as worried about getting our feet wet. It's amazing to see how the porters go across these conditions with fairly basic footwear.
We arrived at the Barranco Camp (3960m / 12,992 ft elevation) which was huge (and also with more trash) compared to the other campsites. The Machame route also connected with the route. It was a maze trying to find the campsite that TCE set-up.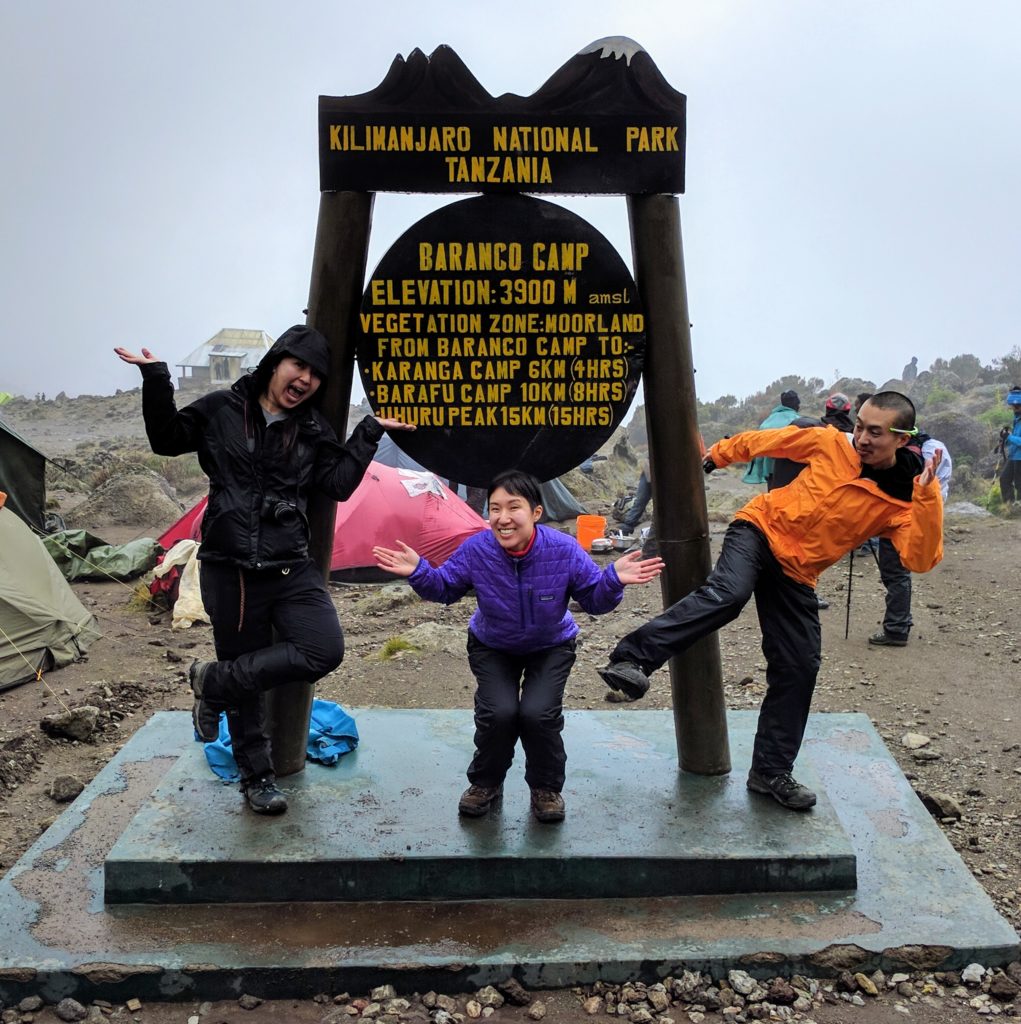 The sun came out for an hour and everyone dried their clothes on their tents, rocks, or anywhere flat. Yay for the sun! Our clothes never dried completely from the previous nights. When the clouds rolled in, everything was rushed back into the tents.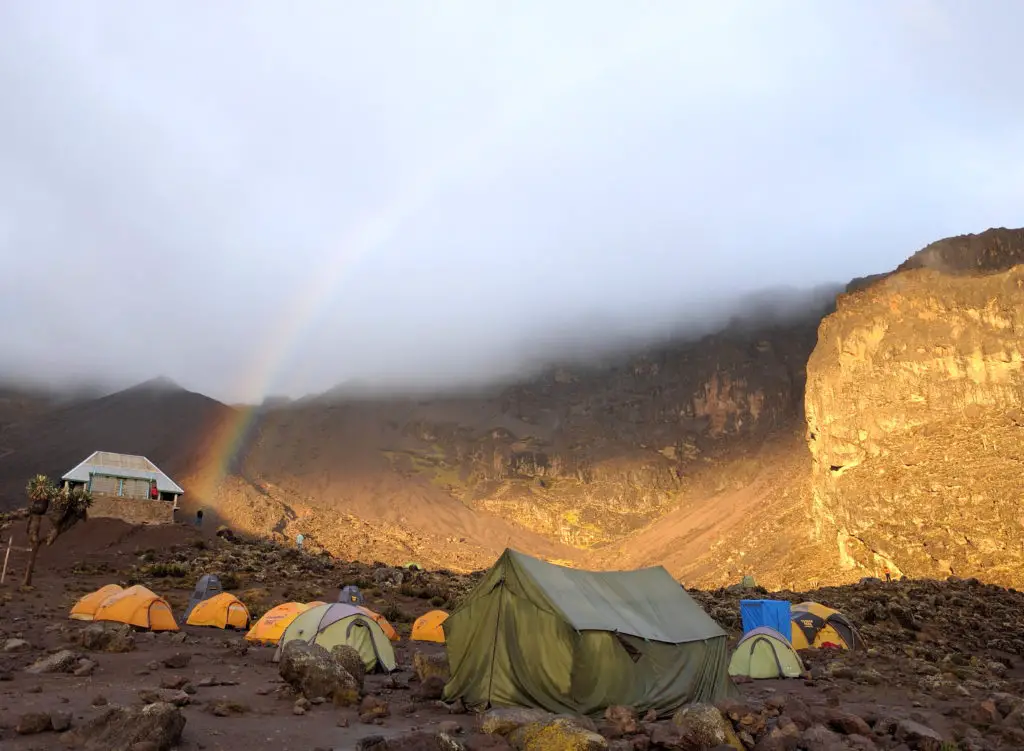 Had an early dinner of potato stew, chapati, mango, cake, and sparkling grape juice. It was such a treat to see a cake made using the propane gas stove. After dinner, we shared the cake with everyone and the juice. Thanked everyone for their support and their efforts. It was a fun way to celebrate the New Year's.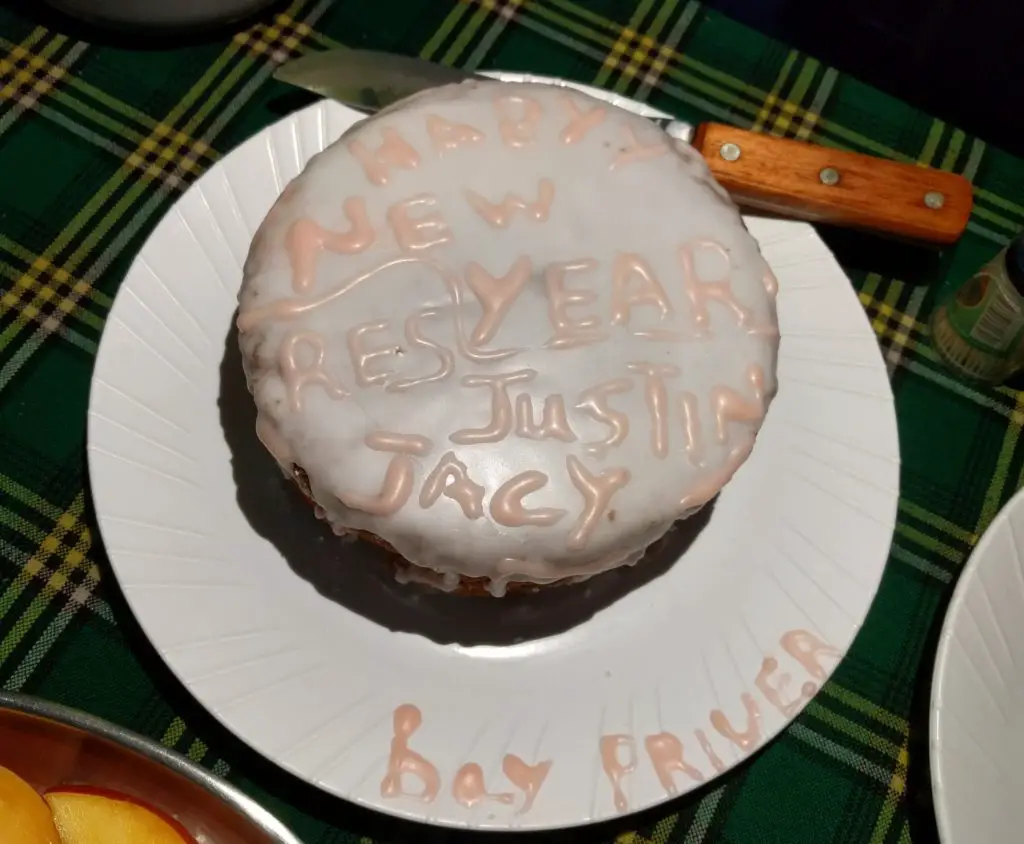 Jacob went to our tent to share an opportunity to climb up the summit faster. With our walking pace, he suggested to combine Day 5 & 6 on the itinerary into one day so we'd arrive at the summit a day early. Day 5 and 6 had a total of 10k (6.2 miles) of walking, and most outfitters skipped staying at Karanga Camp (for day 5). The best part was if we did not reach the summit the first time, then there was a second opportunity to climb the summit. Therefore, we'd finish the hike in 7 days/6 nights instead of 8 days/7 nights (as originally planned), and pay for an additional night for the hotel in Moshi. We were fine with the suggestion.
Total walking distance covered: 10k / 6.2 miles
---
Day 5 – January 2, 2017
It was an early morning to beat the crowds leaving Barranco Camp. We left around 7:45am as there is only one path to get to Karanga ("peanuts" in Swahili) Camp.
We started in the Great Barranco, a huge ravine, and climbed/scrambled over lots of rocks. No trekking poles needed. It was fun to scramble! Everyone passed through the "kissing rock" section where you bear-hug a rock, and it almost looks like you're kissing it. Luckily it didn't start raining until after we finished the challenging sections. We can't imagine scaling the slippery rocks in the rain.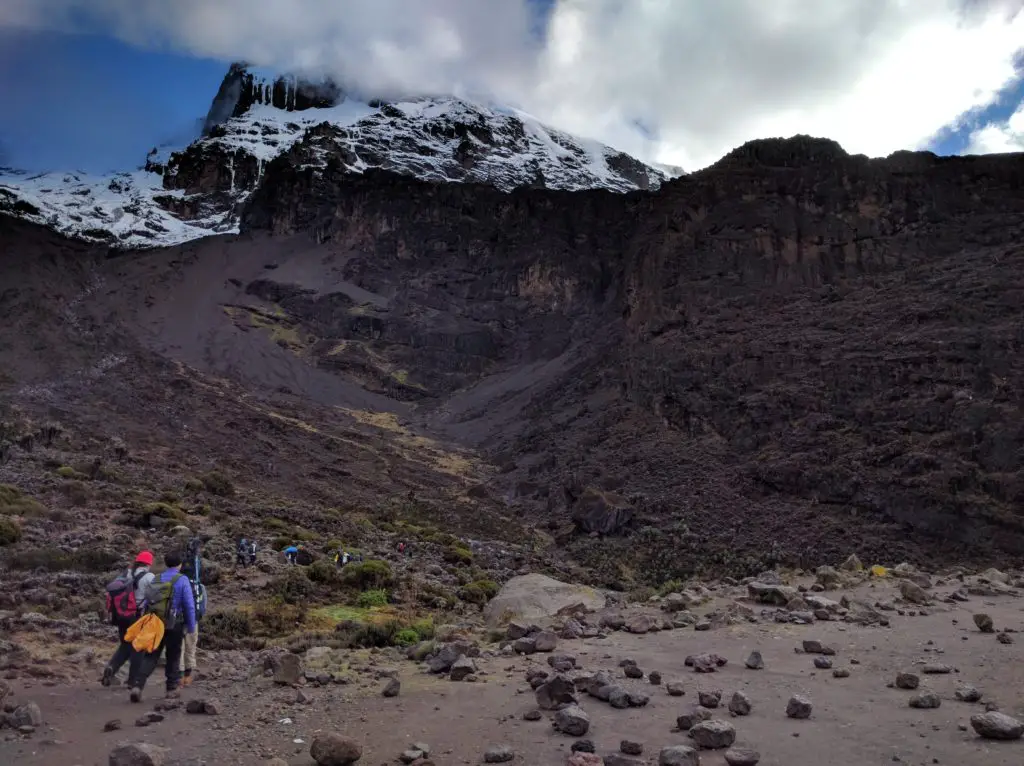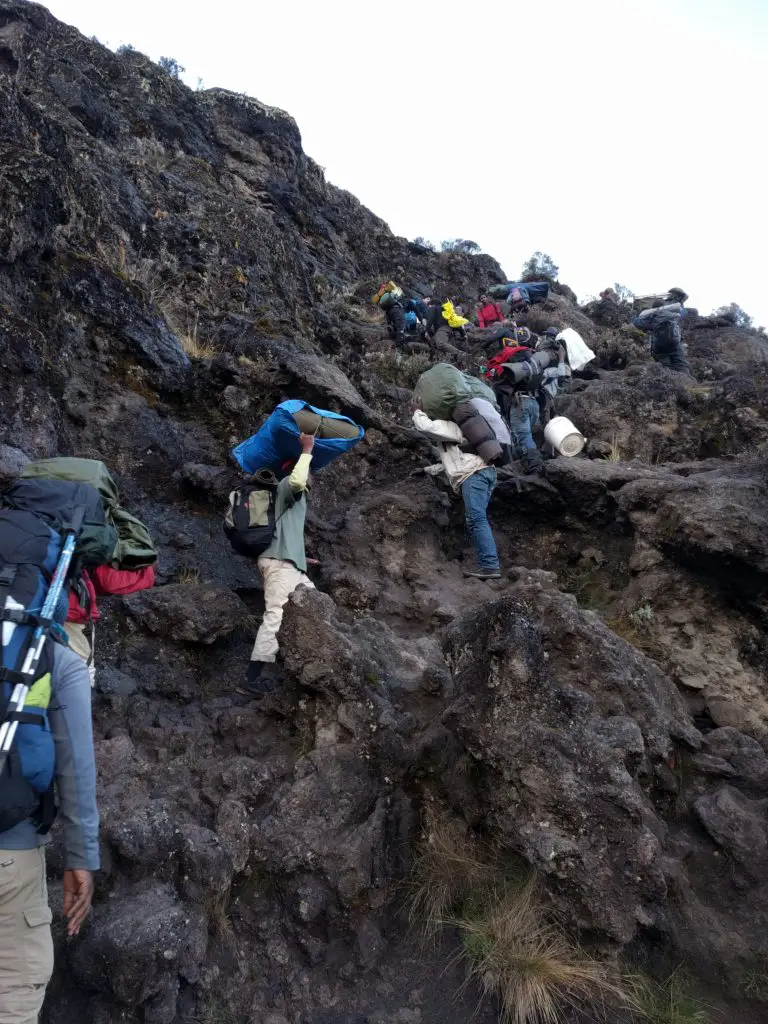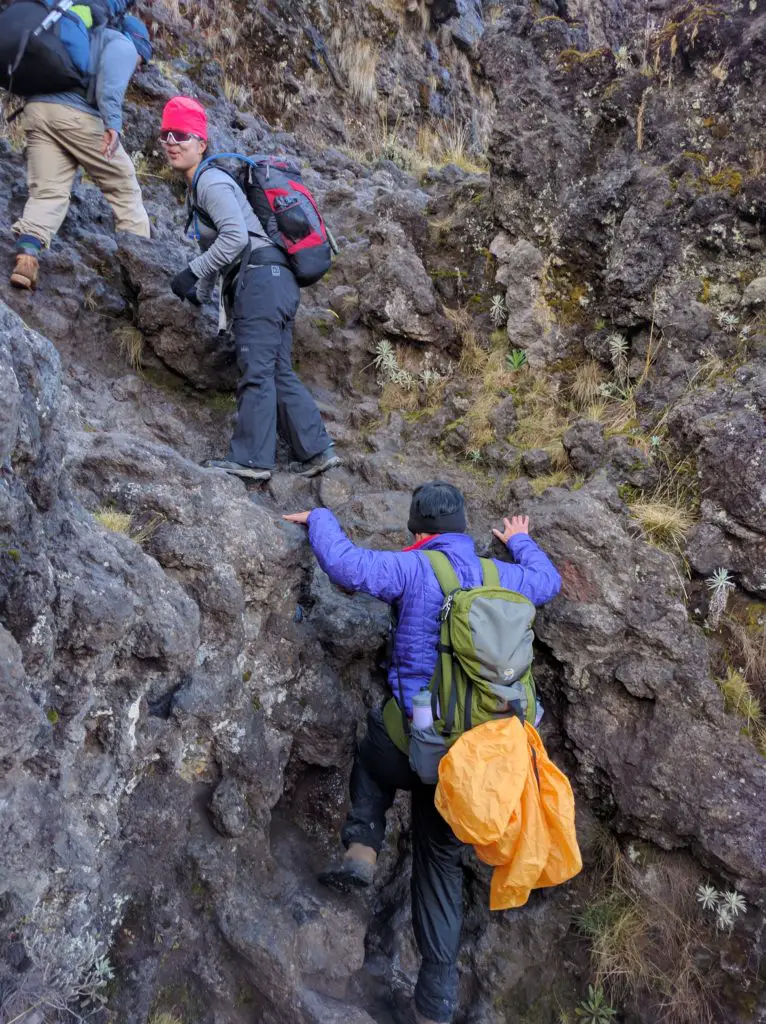 During one of the rest breaks, we took photos from a higher peak and had a view of Mt. Mera in the background. The skies were clear!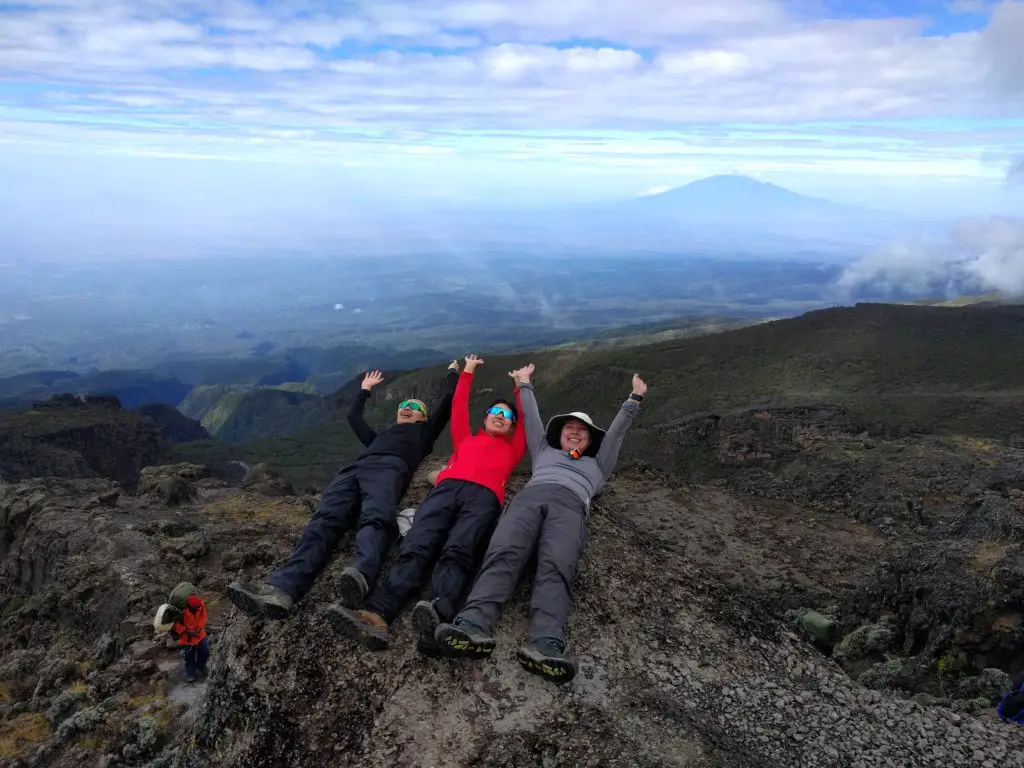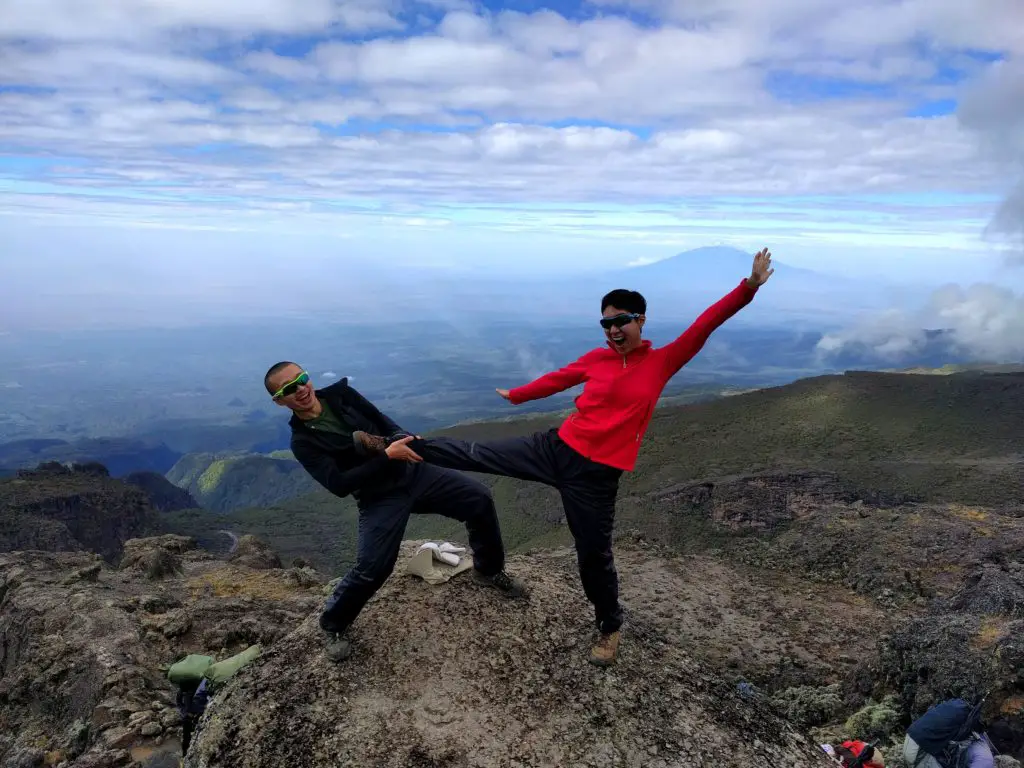 We arrived at Karanga Camp (3995m / 13,107 ft elevation) after four hours. Most people tend to not stay over at this camp and continue to Barafu Camp. We had lunch of fried chicken/potato with egg frittata, fries, coleslaw, and pineapple. Afterwards, everyone packed up and went to Barafu Camp.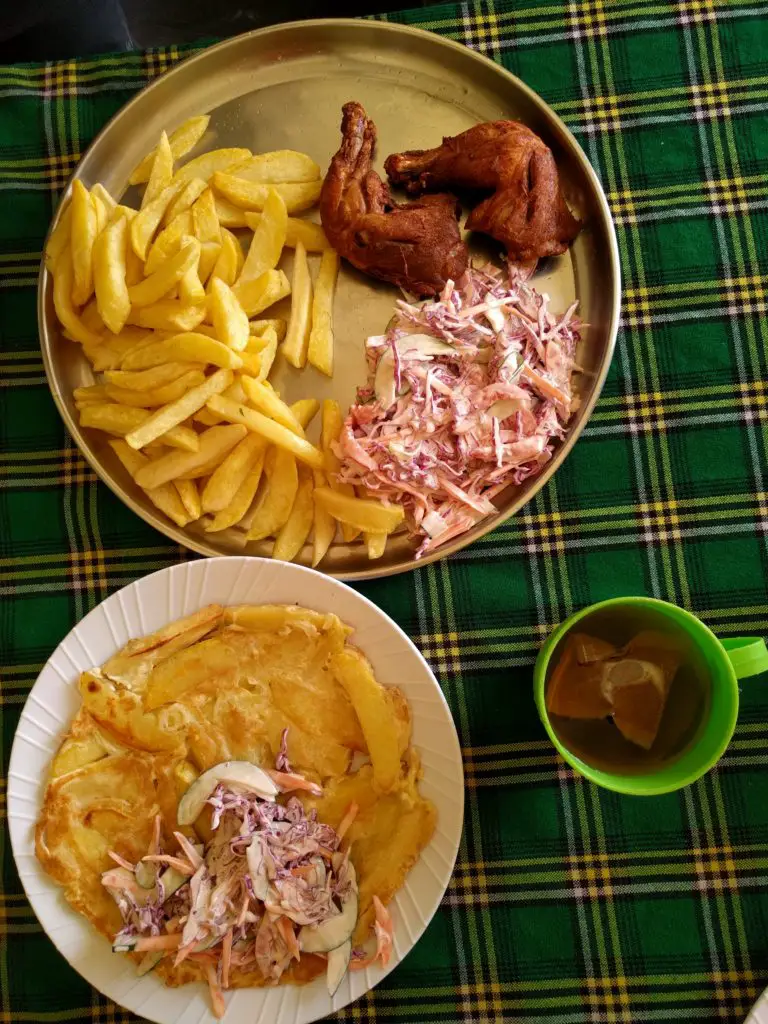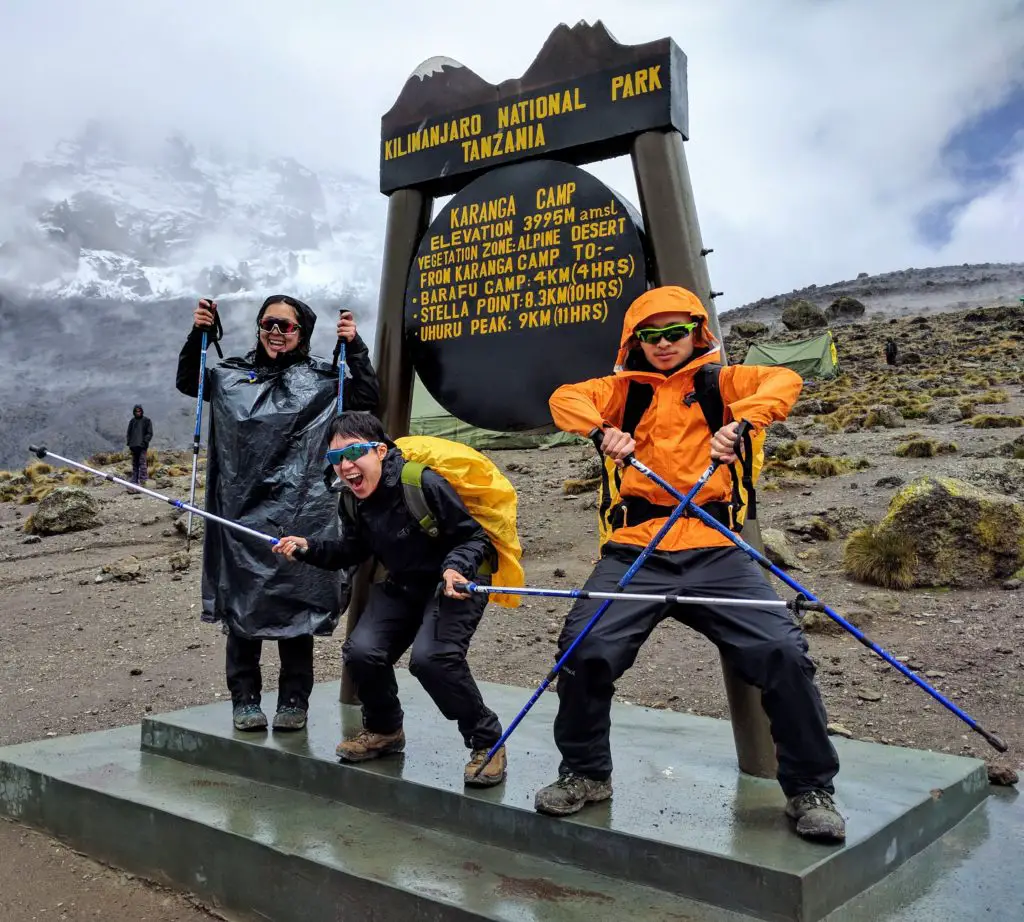 It was a slow and steep hike to Barafu Camp (4673m / 15,331 ft elevation) on a full stomach. Snow fell on us during the walk and took about three hours to arrive to the camp. This was another large campsite since it was the "base camp" before summit day. The team chose a good spot for our campsite as it was halfway up on the mountain trail to the summit.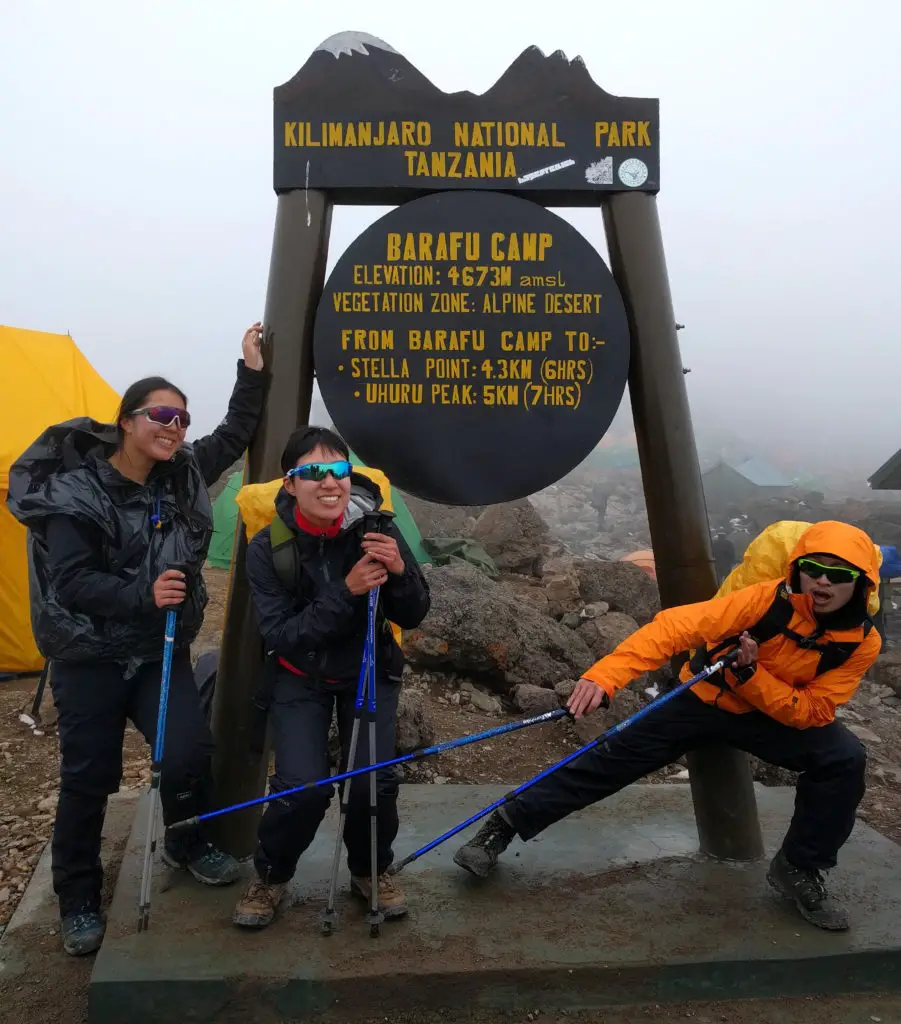 We were anxious due to the Summit Day. The cold and the windiness at camp didn't help. To prepare for the summit attempt, we slept with most of our layers on so we would be ready at midnight. We had off and on sleep for 2-3 hours before the 11pm wake up call with hot tea and biscuits for breakfast.
Total walking distance covered: 8.5km / 5.2 miles (5.5km / 3.4 miles to Karanga & 3km /1.9 miles) to Barafu)