Things to Know When Eating in Hanoi
---
Map
---
Where to Eat in Hanoi Old Quarter
1. Chả Cá Thăng Long
Chả Cá Thăng Long is a well-known place to eat chả cá lã vọng, one of the famous fish dishes to eat in Hanoi. 
In 2023, this restaurant was recognized as a Michelin Bib Gourmand for good quality and good value. 
We went here twice – once for lunch when my mom visited North Vietnam in May 2023 and another time for dinner with a larger group in July 2023, and loved the food both times. 
Chả cá lã vọng is a fish dish that has diced catfish marinated in a turmeric sauce and cooked in a pan with dill, green onions, and onions. 
The restaurant has two options – only fish or a mix of fish and fish stomach. We've tried both versions and they're almost the same. The only difference is that the fish stomach has a crunchy texture, so it may not be your taste or texture. We liked it. 
Note: Unfortunately, there aren't any vegetarian items on the menu for vegetarians, so vegetarians can skip this place. 
The amount of fish is preset based on the number of people dining.  
Once you sit down at the table, you'll receive an individual set of bowls of fresh rice noodles, green onions, cilantro, peanuts, and mắm tôm (shrimp paste). 
Note: The shrimp paste has a potent smell and flavor. So try a small dab before committing to dip an entire piece of fish in it. 
The pan of fish and portable stove is placed on the table. It's a DIY type of cooking style as the fish cooks in front of you. The fresh dill and the fish smells heavenly and will make your mouth water. You'll need to stir the fish and herbs once in a while before everything sticks to the pan. 
Tip: Oil may splash from the pan and onto your clothes. Therefore, you may want to wear dark-colored clothes or clothes that you can handwash the oil stain. 
Once the fish is finished cooking, grab your empty bowl, add some noodles, onions, cilantro, peanuts, and a piece of cooked fish, and enjoy! It's a flavorful and delicious meal, and well worth the wait if the restaurant is busy. 
Chả Cá Thăng Long is successful as there are four locations on the same block. We went to the 2B location for dinner and it's a gorgeous location. The multi-level soft yellow house is decorated nicely and is a good place for group dinners.
Cost: 140,000 VND ($6 USD) per person if ordering fish only  
Address: 6B – 19 – 21 – 31 Đường Thành, Cửa Đông, Hoàn Kiếm, Hà Nội
Opening Hours: 10:30am to 9:30pm 
---
2. Bún Chả Đắc Kim
Bún Chả Đắc Kim is a popular street food vendor selling bún chả. Bún chả originated from Hanoi and has fresh rice noodles and grilled pork meatballs in a dipping sauce. This stall was established in 1966.
In 2023, this place is mentioned in Vietnam's Michelin's guide for street food. So now, it's even more crowded than before. 
The menu has 3 options – 
Justin went here when my Mom and I ate somewhere else. He ordered one bún chả and one spring roll. Since it was his first time eating bún chả in Hanoi (he has eaten it in Ho Chi Minh City before), he said the flavor was decent, although, a bit overhyped. 
The one thing that he liked was the large portions, thus, the higher cost. He was super stuffed after eating his meal. 
Cost: Combo is 110,000 VND ($4.70),  Bún Chả is 70,000 VND ($3.00), Bún Nem Cua Bể is 65,000 VND ($2.75), Extra spring rolls +20,000 VND ($.85) per piece
Address: 1 P. Hàng Mành, Hàng Gai, Hoàn Kiếm, Hà Nội
Opening Hours: 9:00am to 9:00pm
---
3. Bún Cá Sâm Cây Si
Bún Cá Sâm Cây Si, located in an alleyway off of Ngõ Trung Yên in Hanoi Old Quarter, is a popular spot to eat street food in Hanoi. Many food tour stop by here with tourists. 
If you want to try noodles soup with fried fish or fried fish rolls, then you'll need to visit this corner spot.
Google Maps states that this noodle shop is closed at 5:00pm, but it's not true. It's open all day long as two vendors sell fried fish noodles. 
The vendor, Bún Cá Sâm Cây Si Chính Hiệu, has the morning and afternoon shifts from 7:00am to 5:00pm. The other vendor, Bún Cá Sâm Cây Si Tối, has the evening shift from 5:00pm to 11:00pm. 
I went twice on two different visits and both vendors sell the same dishes. 
There are two options – 
Guests also order the fried fish rolls (cá cuốn thịt). But, I didn't order any since the filling may have fish and meat mixed, and I don't eat meat. 
Note: The fried fish and fried fish rolls are cooked ahead of time. If you're worried about food safety and food potentially sitting around for hours, then you should avoid this place.   
I ordered the mixed red noodles (bánh đa cá trộn) both times and they're very flavorful. The red noodles are at the bottom of the bowl with extra sauce and oil for flavoring and topped with boiled veggies (either morning glory or choy sum, depending on the vendor), bean sprouts, fried fish, peanuts, and fried onions. 
The fried fish is yummy. A generous portion is provided. 
The squatty plastic tables have a bowl of chili sauce. Add a spoonful or two for extra spice. 
It's my first time trying the red noodles which are from Hai Phong, another area in North Vietnam and close to Halong Bay. The red noodles have a slight chew compared to the rice vermicelli. 
Cost: Varies from 45,000 to 60,000 VND ($1.90 to $2.55) per bowl  
Address: 5 Ngõ Trung Yên, Hàng Bạc, Hoàn Kiếm, Hà Nội 
Opening Hours: 
Bún Cá Sâm Cây Si Chính Hiệu from 7:00am to 5:00pm
Bún Cá Sâm Cây Si Tối from 5:00pm to 11:00pm
More Information: 
---
4. Phở Cuốn Hương Mai
Phở cuốn is a spinoff from phở (noodle soup), and it's a specialty food from the Hanoi area. 
Pho noodles (made from rice) are rolled out and stuffed with beef, vegetables, and herbs. It's similar to a fresh spring roll but uses fresh pho noodles instead. 
Phở Cuốn Hương Mai is a reputable chain restaurant in Hanoi for local Vietnamese to enjoy phở cuốn. 
The menu is simple and has a few variations of the same thing. All the dishes are topped with beef, diced tomatoes, and yu choy (Chinese green leafy vegetables). 
Everyone receives a bowl of fish sauce to dip the noodles. 
If you're a vegetarian, there aren't many options except for French fries and corn. All of the dishes have meat and vegetables mixed. 
Since I'm a pescatarian (a person who eats seafood and no meat), I ate around the beef and munched on noodles and veggies. I enjoyed the noodles from the phở chiên trứng and phở chiên phồng the most. 
Cost: The dishes are between 55,000 to 150,000 VND ($2.35 to $6.40)
In Old Quarter: Ng. Tràng Tiền/2 P. Nguyễn Khắc Cần, Tràng Tiền, Hoàn Kiếm, Hà Nội 10000
Opening Hours: 9:30am to 9:30pm 
---
5. Pizza 4Ps
Pizza 4Ps is a beloved Japanese-Italian pizza chain in Vietnam. This pizza chain delivers with its motto of "Delivering Wow, Sharing Happiness." 
What makes Pizza 4Ps special is their house-made cheese at their cheese production facility in the Dalat area. 
The founders are Japanese and couldn't find tasty mozzarella cheese in Vietnam, so they decided to make their own instead of importing it. Now, you can find fresh burrata cheese, lactic cheese, and more on the menu. 
There are plenty of classic pizza toppings such as cheese and margherita. Or, there are unique spins such as burrata parma ham, salmon sashimi, and seafood pizza. Seasonal pizzas are available. 
Tip: If you want to try more pizza flavors, you can do half-and-half (half of one flavor and the other half is another flavor). 
For vegetarians, there are plenty of veggie-friendly dishes and pizzas. Try the kale and walnut salad, which is our personal favorite! As with pizzas, check out the kale with lemon ricotta, 4 kinds of mushrooms, eggplant margherita, margherita, or zucchini basil with cheese. 
We eat Pizza 4Ps frequently in Ho Chi Minh City, as it's one of Ho Chi Minh's best pizza places. 
Even though we're in Hanoi, we still eat Pizza 4Ps whenever we can. The food and flavor are consistent at all of the locations. 
Our favorites are the kale and walnut salad, parma ham with large burrata pizza, 4 cheese pizza, seafood pizza, and crab pasta.
Reservations are highly recommended and can be done online. 
Cost: Vegetarian pizzas are 160,000 to 190,000 VND ($6.80 to $8.00). Meat pizzas are 200,000 VND ($8.50+) and up. 
Opening Hours: Varies depending on location. Many are open from 10:30am to 10:00pm. 
---
6. Nha Hang Mr Bay Mien Tay – BANH XEO 
Want to try Vietnamese food from the Mekong Delta, the Western part of Vietnam? Try Nha Hang Mr Bay Mien Tay. 
This place has high reviews for the bánh xèo, a sizzling pancake, so it's a must-try. Choose from pork, beef, chicken, seafood, or vegetarian. 
Other items on the menu include salad, rice noodles with meat, grilled seafood, rice, and hot pot. 
For vegetarians, there is vegetarian rice, rice noodles, or yellow noodles available. Or, you can eat a vegetarian banh xeo with vegetables and tofu. 
We tried the seafood banh xeo and it was decent. The banh xeo is a large size with crispy edges. We wish the middle had more crisp, but we know it's hard to do with the amount of filling. We love the variety of fresh herbs, lettuce, and rice paper that comes with the meal. 
We also had shrimp bánh khọt which is a circular fried cake with shrimp on top. These were super crispy, so they aren't the healthiest. 
We were already full from these two items, yet we also had the young coconut salad with shrimp (gỏi cố hũ dừa tôm không thịt). Normally, it comes with pork but asked for no pork in the salad. Fresh coconut meat with shrimp, carrots, herbs, and peanuts was refreshing to eat.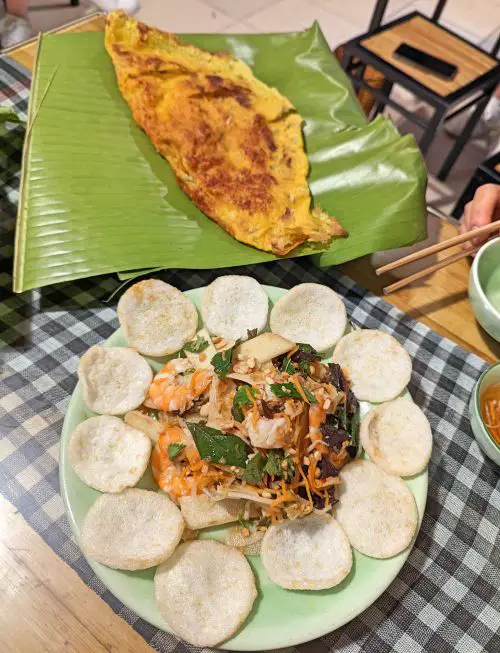 Each person receives a small bowl of fish sauce. If you need more, you'll need to ask. 
Note: If you sit on the first level, your clothes will smell like oil due to the making of banh xeo and banh khot. 
Cost: Banh xeo cost 95,000 to 115,000 VND ($4 to $4.90) depending on filling
Address: 79 Hàng Điếu, Cửa Đông, Hoàn Kiếm, Hà Nội
Opening Hours: 10:30am to 11:00pm 
---
7. Sen Trang An Vietnamese Restaurant (Cumulus)
This vegetarian restaurant is known by two names – Sen Trang An Vietnamese Restaurant or Cumulus. 
Located on the second level of an alleyway on Hàng Bè Street, this low-key restaurant offers both vegetarian and non-vegetarian Vietnamese food options. Many visitors order vegetarian. 
The vegetarian menu has appetizers such as salads, vegan meats, and vegetables. 
Guests also receive free food such as fried tofu with tomato sauce, tofu with banana and purple veggies, fried tofu dumplings, or vegetable soup. It's very generous of the owners. 
We tried the faux vegan chicken with vegetables and stir fry morning glory vegetables. The faux chicken was recommended but it was a little too overcooked for me. The morning glory with garlic was delicious.  
We also received a side dish of tofu with tomato, a large bowl of lettuce and herbs, vegetable soup, and rice for free. The tofu with tomato is highly recommended as it has comforting homestyle flavors. 
This place doesn't use fish sauce, so we received a lemon and salt dipping sauce as a substitute.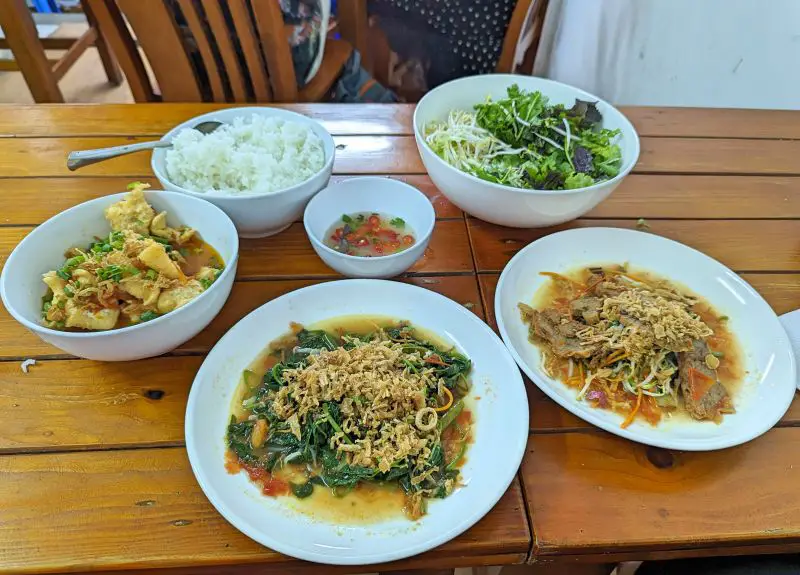 The restaurant gets very crowded during dinnertime. If the second-level dining area is too full, the owner brings you downstairs to the main street in the small dining area. You get to do some people watching of the main road. 
Cost: 75,000 to 95,000 VND ($3.20 to $4.00) per vegetarian dish 
Address: 43 P. Hàng Bè, Hàng Bạc, Hoàn Kiếm, Hà Nội (Look for the sign, "Ocean Star Tour" and then walk through the alley and up the stairs
Opening Hours: 11:00am to 10:00pm
---
8. Miến Trộn Mực
If you're looking for another place to eat street food for lunch in Hanoi Old Quarter, try Miến trộn mực, for squid noodles. 
This small noodle shop is located in the same alley as Bún Cá Sâm Cây Si. It's not a touristy location since only Vietnamese locals eat here. 
There is one item on the menu – mixed noodles with squid (miến trộn mực).
The dish comes with both red noodles and glass noodles and small crunchy pieces of dried squid. Boiled morning glory vegetables, squid cakes, thin pieces of pork sausage (chả lụa/giò lụa), and a side of soup are included. You could add shrimp or crab mixed with pork to the noodles.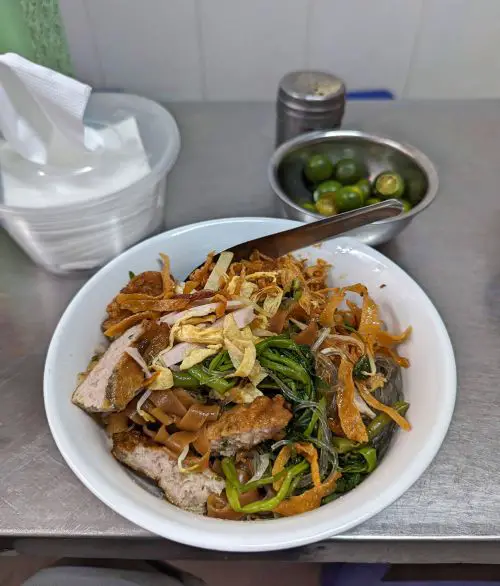 The noodles had a good flavor with the salty and slightly chewy squid. I wish there were more chunks of squid or even fresh squid, but it's not the right area for fresh squid. 
The squid cakes have ground meat in them, so you'll want to avoid them if you don't eat meat. 
The chili sauce on the table is yummy and gives the noodles an extra oomph of flavor. 
The dining area is very small. You'll need to share the squatty tables and seats with others. 
Cost: 50,000 VND ($2.10) per bowl. If adding shrimp (+20,000 VND/$.85) or crab (+10,000 VND/$.40)
Address: 2VM3+847, Ngõ, Trung Yên, Hoàn Kiếm, Hà Nội
Opening Hours: 11:00am to 6:00pm 
---
9. Bánh Mì Chay Vegan
Looking for a light meal or snack to enjoy while walking around the St. Joseph Cathedral area? Consider stopping by Bánh Mì Chay Vegan. 
This is a vegan banh mi sandwich shop and one that I stopped by during my quest to find the best vegetarian and vegan banh mi in Hanoi. 
What is fantastic about this place is that there are 15 vegan banh mi flavors to choose from. All are delicious options depending on what you want to eat. 
Consider trying the mixed sandwich (bánh mì thập cẩm chay). It's a flavorful sandwich with vegetarian sausage (chả lụa chay), seitan, beancurd, braised bread, mushroom, and other soy protein stuffed into the sandwich. The sandwich has an extra kick with the slices of mango with chili powder.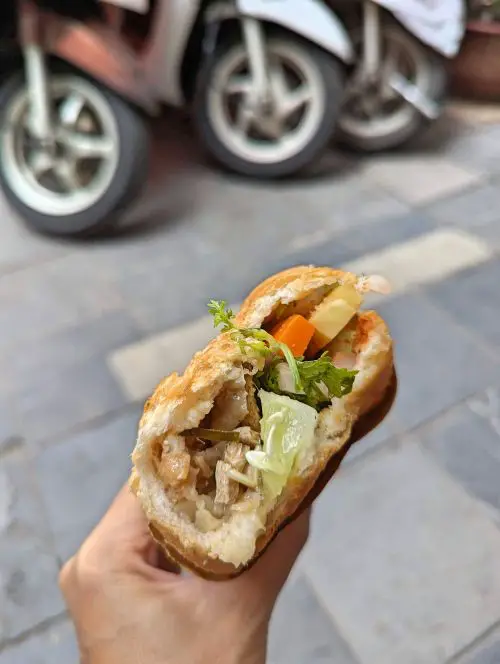 Unfortunately, this shop only has outdoor seats on the squatty chairs in front of the store. But, there are outdoor fans and mist on to help cool you down. 
If dining in, there is free iced tea available in front of the shop. 
Cost: 25,000 to 40,000 VND ($1.10 to $1.70)
Address: 64 P. Hàng Trống, Hàng Trống, Hoàn Kiếm, Hà Nội
Opening Hours: 9:00am to 9:00pm (Monday to Saturday), 12:00pm to 7:00pm (Sunday)
---
10. Kem Tràng Tiền
Established in 1958 in Hanoi, Kem Tràng Tiền is an affordable place to eat ice cream. Choose either an ice cream cone, ice cream bar, mochi ice cream, or soft service ice cream. 
The ice cream cones are pre-scooped so options are limited to whatever is available on that day. 
Otherwise, try a variety of flavors in the ice cream bar form. There are unique flavors such as coconut, taro, rice flakes, green tea, green bean, durian, black sesame and seaweed, and more. Since the ice cream bars are small, you may want to eat more than one!
We tried the durian, black sesame and seaweed, and green bean ice cream bars. The flavors are refreshing and taste just like the actual food item. We understand why this place is always crowded. 
We have a soft spot for durian foods, so the ice cream bar was great. The durian smell isn't too strong.  
The black sesame and seaweed flavor is not as weird as it sounds. The black sesame is the stronger flavor, so you can barely taste the seaweed. 
Lastly, the green bean ice cream tastes a bit heavier due to the beans but still yummy. 
We recommend that you visit in the afternoon as you'll have more choices with flavors. In the evenings, the lines are very long and often run out of flavors near closing time. If one line runs out of your flavor, you can visit another line located inside the building. 
Since it gets hot in Hanoi, the ice cream melts very quickly. Enjoy it as quickly as possible. 
The back of the room has some fun street art. 
Cost: 12,000 VND ($.50) for bars, 15,000 VND ($.60) for ice cream cones
Address: 35 Tràng Tiền, Hoàn Kiếm, Hà Nội 
Opening Hours: 8:00am to 10:30pm 
---
11. Kem Kẹp Singapore – Hawker Star
Have you tried Singaporean ice cream sandwiches? 
The article mentioned Hawker Star as the first company to introduce Singaporean ice cream sandwiches to Vietnam. Hawker Star imports Singapore's Magnolia ice cream to make the sandwiches here. 
Note: There are two copycats of Singaporean ice cream shops between Hawker Star at the Old Quarter location, so make sure that you go to the correct shop. 
The menu has 8 ice cream flavors – durian, chocolate, red bean, peppermint, mango, green tea, sweet corn, and yam.  
The traditional way is to wrap a rectangular block of ice cream with colorful pink and green bread. Or, the ice cream can be placed between two thin wafer crackers.
Since we stayed in Hanoi Old Quarter and we had to try it. We tried one durian and one green tea ice cream. 
Eating ice cream wrapped in a slice of bread is a unique experience. While Justin enjoyed eating the ice cream with bread, it was a bit strange for me. I'll try it with the wafer next time. The ice cream is on the sweeter side and not as rich as other ice cream brands. 
Overall, it's a fun experience to try once. 
Cost: 35,000 VND ($1.50)
Address: 13 P. Đinh Tiên Hoàng, Hàng Trống, Hoàn Kiếm, Hà Nội
Opening Hours: 9:00am to Midnight
---
12. Chè Hương Hải 93 Hàng Bạc
Traditional Vietnamese desserts (chè) are one of my favorite things to eat. If you're in the Old Quarter area, head to Chè Hương Hải to get your chè fix. 
It's a small, local shop that has a few dozen sweet desserts to try. The menu has classics such as sweet potato (chè khoai dẻo), longan and lotus seeds (chè sen nhãn), tofu pudding (tào phở), mixed che with tropical fruits and jellies (chè thập cẩm) and more. 
This place has a QR code for ordering. The menu listed on the ordering system is in English. 
I always love ordering chè thái sâu riêng which has durian, jackfruit, jellies, and other goodies in coconut milk and topped with ice. The durian isn't too strong. My mom tried a small bite of durian for the first time and she said it was a unique flavor but at least didn't dislike it! 
She tried the tofu pudding with black sugar boba and enjoyed it.  
The desserts were delicious and had the right amount of sweetness. We notice that chè in North Vietnam is not as overly sweet compared to South Vietnam, so it's more suitable for our palettes. 
Cost: 22,000 to 50,000 VND ($.90 to $2.30)
Address: 93 P. Hàng Bạc, Hàng Bạc, Hoàn Kiếm, Hà Nội
Opening Hours: 7:30am to 11:30pm
---
13. Cafe Giảng
Have you tried egg coffee (cà phê trứng) before? If not, head to Cafe Giảng. 
We know, it's not a food recommendation, but we needed to add this to the list! 
Established in 1946, this coffee shop tucked in an alleyway has won the hearts of tourists and locals alike with its famous egg coffee. 
What is egg coffee? It's a Vietnamese drink made with coffee, and whipped egg yolks with sugar and condensed milk. The drink is very frothy. 
At Cafe Giang, you can order egg coffee either hot or cold. If you order a hot egg coffee, the mug of coffee comes in a container with warm water to keep the drink hot. 
It was our first time trying it and we enjoyed the flavor. While we're not huge coffee drinkers, we appreciate the balance of flavors of the bitter coffee and the sweeter whipped topping. 
The coffee isn't too strong, but hopefully, you're not too affected by the caffeine if you drink this at night. 
There are also non-coffee drinks such as egg with mung bean, egg with Oreo, egg with cinnamon, egg with Rum, egg beer, egg cocoa, egg with matcha, tea, yogurt, and juice.  
We also tried the hot matcha egg drink. This drink was on the sweeter side with a slight bitterness from the matcha powder. While the texture is more whipped than the egg coffee, it was like drinking the egg custard part of the Hong Kong-style egg tart (dan tat). The flavor was a bit too much. 
PHOTO
If you need a snack to have along with your coffee, the only item on the menu is sunflower seeds. 
Cost: Egg coffee is 35,000 VND ($1.50). Other drinks cost 40,000 VND ($1.70) and up. 
Address:  39 P. Nguyễn Hữu Huân, Lý Thái Tổ, Hoàn Kiếm, Hà Nội
Opening Hours: 7:00am to 10:00pm
---
Where to Eat Outside of Hanoi Old Quarter
14. Ngon Garden
Ngon Garden is a beautiful place to eat Vietnamese food in Tran Huong Dao area of Hanoi. Located in a villa, there is indoor and outdoor seating available. It has plenty of seating for large groups. 
The menu is extensive with make-your-own fresh spring rolls, salads, fried rice, beef, seafood, hot pot, and more. 
The portions are large, so it's great for sharing in a group setting. Also, the Vietnamese flavors are tuned for more Western tourists' taste, so the food isn't strong with the fish sauce. 
We tried a variety of dishes such as customizing our own fresh spring rolls, grilled beef salad, Ngon Garden fruit salad, mini crispy pancakes with shrimp, crab fried rice, grilled goat, grilled fish, flaming prawns in a coconut, and dessert. Everything was yummy.  
Cost: Dishes start at 150,000 and up ($6.35+)
Address: 70 P. Nguyễn Du, Trần Hưng Đạo, Hai Bà Trưng, Hà Nội
Opening Hours: 6:30am to 10:00pm 
---
15. John Anthony Cantonese Grill & Dim Sum
Located in the JW Marriott Hanoi Hotel, John Anthony Cantonese Grill & Dim Sum is a fantastic choice if you're craving Cantonese-style food. 
The name of the restaurant is inspired by John Anthony, the first Chinese person to become a British citizen in 1805. John Anthony worked for East India Company and showed hospitality to Asian traders arriving in Britain as a translator and providing lodging and food. 
Normally we don't eat at the hotel restaurants since they're often on the higher-priced end. But we stayed at JW Marriott Hanoi for one night and didn't want to travel far away from the hotel. 
The menu has traditional and fusion Cantonese food. The menu changes often, but at the time we ordered fried soft-shell crab salad, kung pao prawns, crab yi mein, and truffle fried rice. 
Our favorite dish was the truffle fried rice. This dish is bright green as rice is mixed with spinach. It also came with egg whites and topped with crispy rice, pine nuts, and a slice of truffle. The rice was super crispy and rich with the added truffle oil.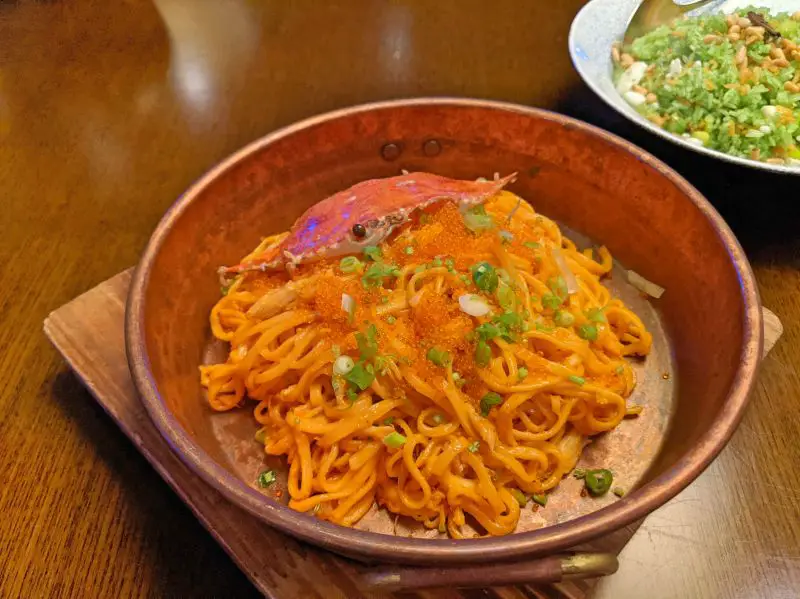 The service was impeccable as the waitress always asked us how the meal was. Our tea cups were constantly refilled, so we were hydrated for the evening. 
Would love to return to try the dim sum as they look delicious. 
Cost: Dishes start at 300,000+ VND ($12.70+)
Address: Inside JW Marriott Hotel, 8 Do Duc Duc, Me Tri, South, Từ Liêm, Hà Nội 100000
Opening Hours: 11:30am to 2:30pm, 5:30pm to 8:30pm 
---
16. Nhà Hàng Sen Tây Hồ
Nhà Hàng Sen Tây Hồ is a well-known buffet restaurant in Hanoi. While we tend to shy away from buffets, this place serves high-quality BBQ seafood dishes and Vietnamese food. 
Located in the West Lake area, this restaurant is worth the drive from Old Quarter. 
There are two main sections for food – 
The outdoor patio area has BBQ seafood such as razor clams, squids, fish, octopus, oysters, and more. There is a steamed shellfish section with crabs and clams. One kiosk serves American-style BBQ ribs with full bone. (Justin said that the ribs were okay and can be skipped. Focus on the seafood instead.)
The indoor seating area has traditional Vietnamese food such as porridge, chả cá lã vọng (fish), noodle soup, sushi, salad, Western food (pastas and fries), and vegetables. The dessert section is heavenly with fresh fruits, can make your own chè (Vietnamese sweet desserts), ice cream, flan, and more. 
You're welcome to eat as much as you want. There isn't any limit. But, we suggest that you grab the amount of food that you'll finish eating. This will help prevent food waste. 
We loved the grilled squids, clams, razor clams, stir fry chayote leaves, and salmon porridge. Yum!  
Reservations are recommended since this place is very crowded. Many groups celebrate birthdays here. 
Address: 614 Đ. Lạc Long Quân, Nhật Tân, Tây Hồ, Hà Nội
Opening Hours: 11:00am to 2:00pm, 6:00pm to 9:00pm 
---
Final Thoughts
Which of these restaurants in Hanoi do you want to visit?
While this is not a complete list of places to eat in Hanoi, it's a fantastic introduction to the various dining options in the city. 
Whether you want to eat in Old Quarter or adventure to other neighborhoods, try new dishes to expand your Vietnamese culinary cuisine. 
We'll continue to update this list as we visit more food spots in Hanoi. Hope we can try more Western food too. 
Happy eating!
Like this post? Save it to your Vietnam Pinterest boards.